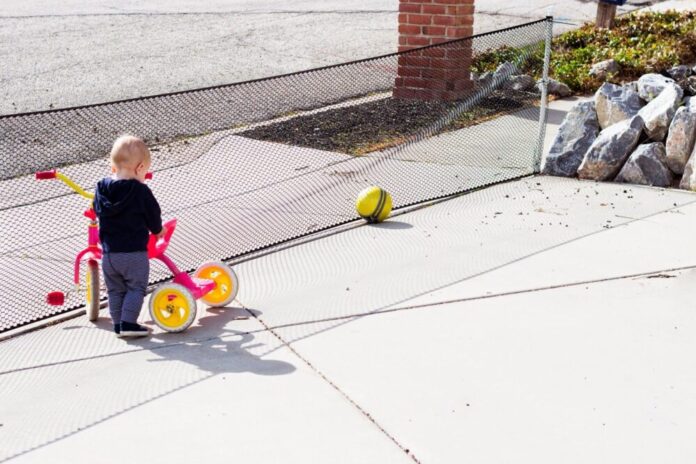 Retractable driveway fence and gates are barriers designed to create visual boundaries around driveway entrances or near playgrounds.
On the other hand, safety signs can be used to alert drivers intending to pull into a driveway, that they need to be on the lookout for kids.
These barriers are used near or within the driveway entrance in order to restrict kids from accessing the streets and also keep vehicles from accessing the driveway especially when kids are playing.

Such safety barriers will keep your child out of the streets and out of danger since they make it difficult for the kids to run to the streets when chasing their balls or other playing accessories. These barriers will also stop kids from riding their bikes or skateboards to the street.
Temporary Retractable Barriers
Guards that have a retractable design are ideal for parents who intend to position temporary barriers.
Temporary guards feature retractable netting along with two poles that keep the balls from moving down the driveway to the streets and also keeps the vehicles from coming up the driveway.
These barriers are retractable providing convenience during assembly and storage. They are lightweight and easy to move from one location to another.
1. Kidkusion Black Driveway Guard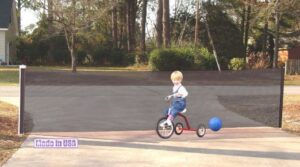 This Kidkusion Driveway Guard features a black net. The net is made of weather-proof polypropylene material.
The net retracts into a storage canister after use for compact storage. The safety guard comes with two end poles made of galvanized steel. Two ground sleeves are included to mount the guard in the ground. This guard is easy-to-install and use. It also dissembles easily.
This unit can be mounted on either side of your driveway. The net is 36 inches tall and extends 18 feet up to 25 feet across the driveway. The unit weighs about eight pounds and is made in the USA.
2. Kidkusion Orange Driveway Guard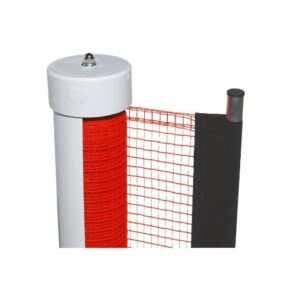 This guard features a bright orange color to ensure high visibility, alerting those driving into the driveway that they need to be on the lookout for children.
This guard comprises polypropylene, a weather-proof retractable net, 2 steel poles and mounting ground sleeves. It is available in two sizes to cover a width of 18 feet up to 25 feet.
This guard is 36 inches tall. It is easy to install and store after use.
3. Play It Safe Driveway Net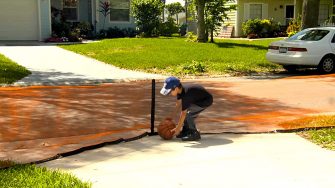 Play It Safe Driveway Net is designed to catch balls or toys from rolling past the foot of your driveway. The net also prevents kids from running to the street. It is easy to install and makes it safe for kids to play outside.
You can install the net straight across the foot of your driveway. You can also install it in a unique configuration of a V shape that funnels items such as balls, toys, or others at the center so that it is easy for kids to retrieve their toys or balls.
The bottom part of the net has extra netting which prevents s objects from rolling under it to the driveway. This 26 ft wide net fits most driveways.
Its bright orange color is easily seen from a distance and creates high visibility for the drivers. It has 2 poles on each end and a center pole to help ground the net firmly.
4. Yellow/Black Driveway Guard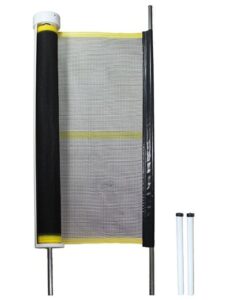 This Driveway Guard comes in black color with yellow highlights. The guard comprises an outdoor weather-proof net that is mounted on the ground using ground sleeves.
The net is attached to steel poles on either end. The net is 34 inches tall and extends up to 20 feet wide. After use, the net retracts into a storage canister while the ground sleeves can be left mounted on the ground for easier assembly during the next installation.
This guard is high-quality and made in the USA.
5. 2 Panel Play Safe Fence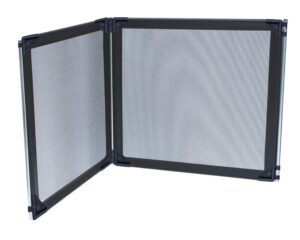 This 2 Panel Play Safe Fence can be used to create a temporary barrier or play-yard in order to keep wandering children within safe boundaries. This outdoor fence features strong mesh panels made of weather-resistant material along with sturdy steel poles.

Each panel is 29.5 inches tall and 32 inches wide. You can use this 2-panel set or add a number of panels as you wish to fit your configuration. The panels are mounted into the ground sleeves making them stable.
Permanent Gates
If you are looking for a more permanent solution, then you can take into consideration these ornamental driveway gates. These are designed for outdoor use and are also corrosion-resistant.
These are high-quality gates with beautiful craftsmanship. They come as dual or single swing gates. Available in different designs.
Kids Playing Safety Signs
Play safety signs come in a variety of designs all meant to alert motorists and even cyclists to slow down as they approach the driveway and watch for children around.  These signs also guide children in areas that they should not reach. Most of them come in bright colors that are highly visible.
Most of these signs are available as boards that have been designed to withstand the outdoor environment.
Double-Sided Caution
Step2 KidAlert V.W.S.
Driveway Safety Sign
Step2 KidAlert Outdoor Boundary Warning Sign with Net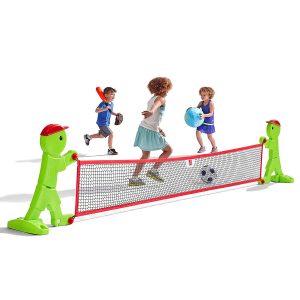 This Kid Alert boundary warning sign with the net is designed for outdoor use. The net helps to catch balls from rolling into the road. It keeps the kids safe and slows down cars. It comes with the safety of men on each side.
The 10-foot fabric net is brightly colored and easily visible. It comes in a compact, lightweight design. It will perfectly fit across a one-car driveway.
It is easy to put together. It comes with foot stakes to anchor the net on the ground. The base has to be filled with sand or water for more weight. The net is removable when not in use and folds up for easy storage. It comes with a storage bag. It is made in the USA.
It is important to note that making use of the guards and signs doesn't eliminate the responsibility for adults to supervise young children.
Both guards and signs should be positioned where there are easily visible by kids and drivers pulling into the driveway.