The Safety 1st Car Sun Shades for Baby is designed to cling effortlessly to car windows. By so doing, the sun shades help protect little ones from the harmful rays of the sun. They are made of see-through materials that will help maintain your view. Well, the material is also durable, thereby, making the sun shades reusable.
Safety 1st Baby On Board Sun Shade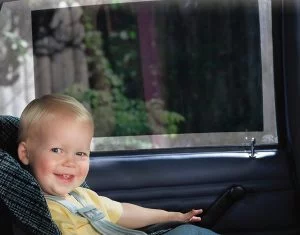 The Safety 1st Baby on board sunshades come in a set of two, with each measuring 13-1/2" by 21". In addition, these sun shades boast a universal size that enables them to securely fit any type of window without tapes or brackets. Despite working really great, the price of these sun shades is within an affordable range.