This MIXED Squishies Megapack comes with a total of 6 Squishies! 4 are on keychains: happy toast, ice cream, panda bun, and cake. Plus a party whale and a jumbo owl, AND get fun bonus stickers and more.
6 Jumbo Slow-Rising Pack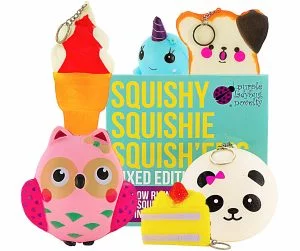 The kawaii jumbo squishies pack features a colorful design and high-quality soft materials to fit conveniently inside your hands. All the squishies from this pack can be used at home, at the office or on the road to convey a simple and effective way to remove stress. You will get popcorn, a cone, cake, and many other fun toys in this pack.
You won't be able to keep your hands off these silly, cute super soft and very slow rising squishies; each order gets you one box which contains 1 set of 6 soft squishies in a stylish decorative box that is great for gifts! Kids love our big soft squishy toy squishie package, making the box of soft squishy toys great presents or individually as birthday party favors for boys or girls.
These Squishy designs in your box with some variations making them fun & collectible. There are a variety of facial expressions on the panda bun and toast squishes plus there are various flavors "colors" of ice cream. 
So useful for stress-relief. Keep them in the office or anywhere to squeeze intense times. Fidget toys help anyone with restless hands as they provide a calming, soothing outlet for energy. Help squeeze away stress with Squishies.
Features
Product dimensions: 6.4 x 6.4 x 2 inches.
Item weight: 12 ounces.
Shipping weight: 12 ounces.
Manufacturer recommended age: 4 years and up.
Customer reviews: 4.0 out of 5 stars.