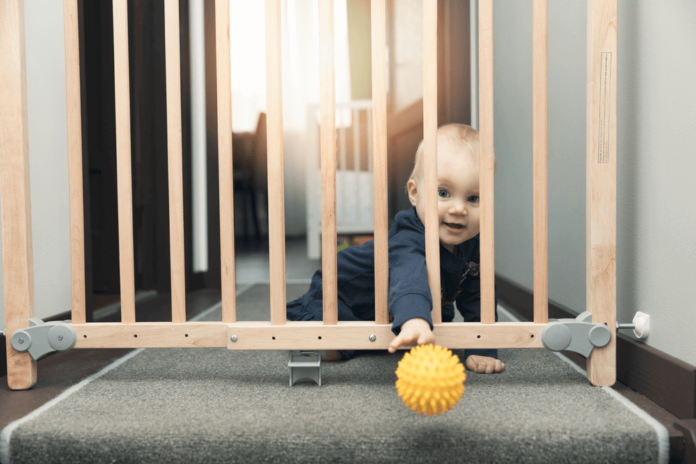 Life and its priorities change drastically after kids. And when little angels start crawling around, it's nothing but their safety that you are concerned the most about.
Installing the best pressure mounted walk through baby gates are just an example to start with.
Kids love exploring every possible place on their little toes. The excitement, inquisitiveness and fun hidden in independently moving around are something that comes natural for babies. You can't keep an eye on every single step your naughty tot takes.
But this adventure may be a risk to your baby's safety. Since all possible dangerous spots, for instance staircases, fire place and kitchen, are in easy access, you just can't stay untroubled any more.
Being a responsible parent, you might be concerned in the same way. And I definitely recommend you to install the walk through baby gates at your earliest in your home.
Why Walk-through Baby Gates?
Walk through baby gates have been a common practice to control the baby moves. Such gates are designed to prevent babies from getting to reach dangerous spaces. Otherwise, little to major accidents are commonly reported when kids reach out to such harmful spots. Falling off, steam or hot water burning, head injuries and poisoning are some of the most commonly occurring accidents.
Types of Walk-Through Baby Gates
You'll be dazzled to know there is a huge variety available in walk-through gates. Out of the huge lot, the two basic forms are:
Hardware mounted Walk-through gates
Pressure Mounted Walk-through Gates
What are Pressure Mounted Baby Walk-Through Gates?
The pressure mounted walk through baby gates are designed to squeeze between two walls or other surfaces because of the expandable spring lock system. A pressure is created to squeeze the gate and hold it in place. The rubber pieces are placed on the sides of wall to protect the gate and walls both.
Why to use Pressure Mounted Baby Gates?
Similar to a curtain rod, the pressure mounted baby gates are commonly used in homes with kids to restrict their movement. It is because of certain highlighting features that these gates are advisable to use.
They are super easy to use. Installation and even removal are not a challenge.
Walls can stay safe from damage as they don't get screwed into walls or banisters.
They look stylish and add beauty to home.
They are economical as compare to the hardware mounted baby gates.
What to Figure out Before Purchasing a Baby Gate?
Your wish to get the best is your right. Since I had once gone through the whole process, I know what is required to look for in the best baby walk through gates.
Reliability, strength and durability everything is important to be considered before purchasing a baby safety walk through gate.
Below is the guide that can be a handy tool for the buyers of child safety gates.
Where do you have to Place the gate?
The child safety gates come in variety of designs and shapes as per the places where they can be fitted in appropriately. Identify whether you need to put the gate on the top or bottom of stairs, doorways or hallways.
How can you Mount the Gate?
Pressure mounted gates are the best in terms of convenience while installation as well as removal. While mounting up a gate, try to choose the one that causes least damage to the walls and banisters. Pressure mounted baby gates are the best in this regard.
Assess the Amount of Traffic
Do consider the amount of traffic the baby gate has to withstand. If you are frequently coming in and out of the gate, a swing open gate is a good option. But if the traffic is less, a barrier gate can be preferred.
Look out for Slat Spacing
The slats in the safety gates must not be more than 3 inches apart. It is because of the danger of head trapping. If your kids are naughty, it is likely for them to make the safety gate one of the most adventurous play stuff. They may try to climb over it or while trying to look across the slats, may get the head entrapped in case the gate has slats with more distance.
Don't ignore the Cost
Though safety of a child is above everything else, but still you need to see the affordability of the safety gate. Pressure mounted gates are cheaper as compare to the hardware mounted gates.
Ease in Installation
Prefer getting the safety gate which is easy to install. Some irregular and angled spaces demand installation kit for a thorough placement of gate. An easy way to install, at times even without drilling into walls, is the best option.
How to Lock and Unlock the Gate?
While you carrying the child in lap, make sure the gate is easy to lock and unlock with one hand only. Especially for locking, a latch indicator is helpful in getting the surety that the gate is properly locked.
With the buyer's guide in hand, you must be ready to pick the best safety gate for your home. The top 5 picks of the best pressure mounted baby gates are provided here for you below.
Baby Gate for Top of Stairs with Banister
The area that demands more care than usual is the top of the stairs.
Stairs are the biggest attraction for kids but at the same time very dangerous for them to climb up and down on their own. The pressure mounted baby gates at the top of the stairs seem to be the most reasonable solution to this problem.
1. Cardinal Gates Stairway Special Safety Gate
This is the stairway gate that offers maximum safety. It has a latch system to keep the gate closed for the kids and one hand easy operation for adults.
This light weighted aluminum gate offers safety and extended variety to satisfy the customers. It has a powder-coated finish with a lasting shine. This coating makes the gate's surface easy to clean.
Installation
The Cardinal gate is easy to install. It mounts at an angle up to 30 degrees allowing location of stud when mounting on a dry wall. The installed height of the gate is 29.5 inches.
The gate width is adjustable from 27 to 42.5 inches. Bar spacing is 2.5 inches.
The Cardinal Special Safety gate for top of the stairs is available in two models. Model SS-30 and Model WG-35 have similar features but with a slight difference in the construction material. The former is aluminum based and the latter one is made of wood.
Pros:
It is a great solution for challenging stairway mountings
Mounting is very easy.
It opens both ways unless one stop is installed.
It is easy to open by adults, but difficult for kids.
Cons:
Installation hardware needs to be improved.
Baby Gates for Hallway
2. Regalo 192-Inch Super Wide Adjustable Gate and Play Yard
Regalo super wide adjustable baby walk through gate is one such product.When it is a matter of getting something for the family, it is rather a smart way to get your hands on a multi-purpose stuff.
Features
It is a Two-in-One option. It can be used to secure the top of stairs from a child's movement as well as it can be expanded into a play yard too.
The Regalo baby walk through gate can be expanded up to 192 inches wall mounted gate and 8 panel configurable play area. Not only this, the panel can be connected to hinged posts that gives amazingly different shapes and uses.
Installation
The all steel design of the walk through gate cum play yard is easy to install. Even the gate can be flattened for easy storage.
This baby gate for top of stairs with banisters is not only suitable for stairs only. It can be used in hallway, doorway or open spaces too.
Pros:
Its compact design is easy for storage and portability.
A two in one option: safety door plus play yard.
Steel construction provides safety and strength that can be trusted on.
It comes along with 4 in 1 metal play yard, instruction manual and wall mounting hardware.
Cons:
The door has a plastic piece, which is chocking for kids if engulfed by mistake.
The door latch is easy to open by kids too.
Best Baby Gates for Doorways
3. Regalo Easy Open 47-Inch Super Wide Walk Thru Baby Gate

This one is an easy set up walk through gate that does not topple and create hindrance for adult movements. But for kids it ensures the safe and restricted movements.
The added stability of the gate comes from the pressure bolts that stops the gate to topple. The four wall protection pads keep the walls from any damage and ensure the safety to them as well.
The gate is made of seamless steel piping that adds durability and impact resistance. No matter how long it remains in use and how much the child knocks hard, the gate can withstand the tough hits.
Regalo safety gate is suited well for the use on bottom of stairs which has a BPA free color. Hence, it is safe for the use of kids and pets too.
Installation
Regalo baby walk through gate for bottom of stairs is too easy to be installed. It doesn't even require any tools or drilling in the walls.
TExpands to fit openings between 29-38 and 42-47 inches wide. Stands 30 inches tall. Hence, it is a perfect gate to be placed in openings and doorways.
The installation of the gate is not at all a hard job. The kit comes with 1 main gate, an extension panel, four pressure bolts, four wall cups and a user guide for easy instructions.
Pros:
It's one hand open and lock system offers convenience in use for adults.
Walls remain safe from drilling.
It is convenient to use.
It is better than wooden safety gates.
Cons:
The gate may be different in dimensions from the dimensions given in manual.
4. Regalo Easy Step Walk Thru Gate
This walk through baby safety gate is perfect for restricting kids' movement in doorways and hallways.
Features
The gate with all steel design adds safety and avoid the gate to topple. The gate also comes with a safety lock feature and it is wall mounted that enhances safety.
Since made of steel, the gate has potential to withstand the wear and tear that occurs due to a daily usage.
Installation
It is a pressure mounted gate that is easy to install. Not much tools are required for the set up. On the other hand, the gate causes no damage to the walls either.
The gate comes along with an expansion kit of 6 inches. This extra wide size makes it a suitable option for hallways too.
Pros:
It is easy to install.
It is perfect for pets too.
It is solidly built gate that offers safety to your kids too.
Cons:
The opening size of gate is too small.
Best Baby Gates for Bottom of Stairs with Banisters
5. The Stair Barrier Baby Gate
Designed specifically for the bottom of stairs, this walk through gate adds attraction to the decor of home.
The USA made baby safety gate is designed with style using high quality retractable fabric. The best feature of the gate is that it can be easily rolled to the sides and removed when not needed.
The stair barrier gate can work with any type of banister. It has an easy to use strap and buckle system that fits to every shape of banister.
Sustainability is a part of the design. The fabric used for this gate is woven with Repreve fibers, a product that is recycled and safe for the earth. Even if you have a staircase outside the home, this one can be placed at the bottom of the stairs. These gates are available as outdoor fabric options that are weather and mildew resistant.
Installation
These versatile baby walk through gates are very easy in installation. The stair barrier installs on an angle unlike any other barrier. These are the only gates that do not required to be drilled into the stair banisters. The easy strap and buckle system makes the life very easy.
The stair barrier comes in Regular fit opening that is 36 to 43 inches wide and Wide fit opening that is 43 to 52 inches wide.
Pros:
It adds beauty to the home decor.
It is a nice alternative to the regular expandable gates.
Cons:
It gets damaged early while snapping and unsnapping.
Conclusion
Children grow well when they are given freedom to explore. This, at the same time, poses a challenge for parents to ensure children's safety by all means. You can neither keep an eye on every single move of a kid nor can you stop them from everything.
A baby safety walk through gate makes the promise of safety possible. Be it the top of stairs or a large hallway, you can restrict your child from reaching out to places that can cause any harm or injury to the little angel.
Our guide to the best pressure mounted baby walk through gates can help you out in raising up your child with confidence and free of fears
.