Parenthood is so satisfying. You get to see innocent souls crawling around, hugging you waiting for you to come home and play with them. You always try to finish your work as quickly as possible and enjoy spending some quality time with them. Babies' spread happiness, and looking them emerging infants to a toddler is a sight to behold.
You know babies before they start to cruise around, try to fiddle around, get holds onto something, climbing up and trying to use their little feet as much as possible. And to encourage this type of behavior, this type of exercise we can use some tools such as baby walkers.
If you gift your toddler with the best baby walker, it will help them to learn to take new steps and use their feet more often without any doubt of falling down.
In this post, we are going to review the top best baby walkers you can buy right now. The market is full of different types of baby walkers; it is hard for a novice to decide which one to go with. In this guide, we are going to help you decide the best product as per your needs and requirements.
Best Baby Walkers to buy 2023:
1. Joovy Spoon Walker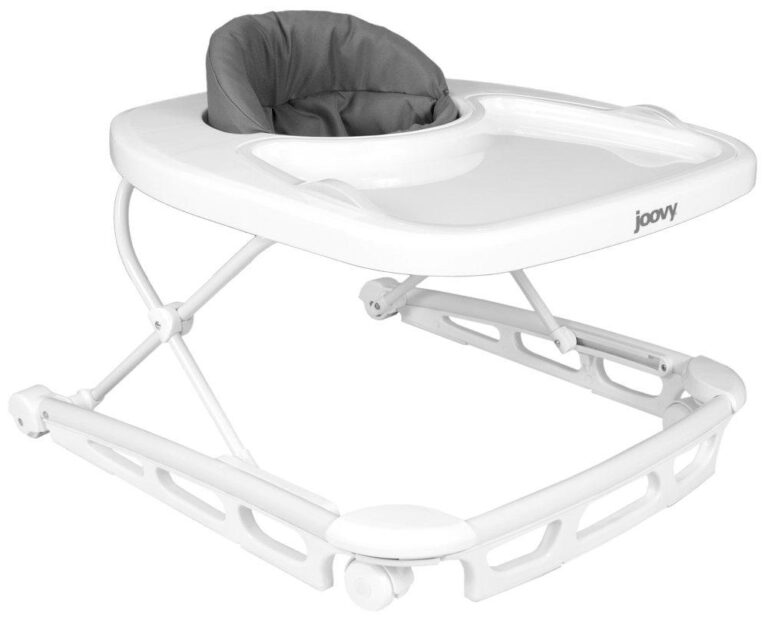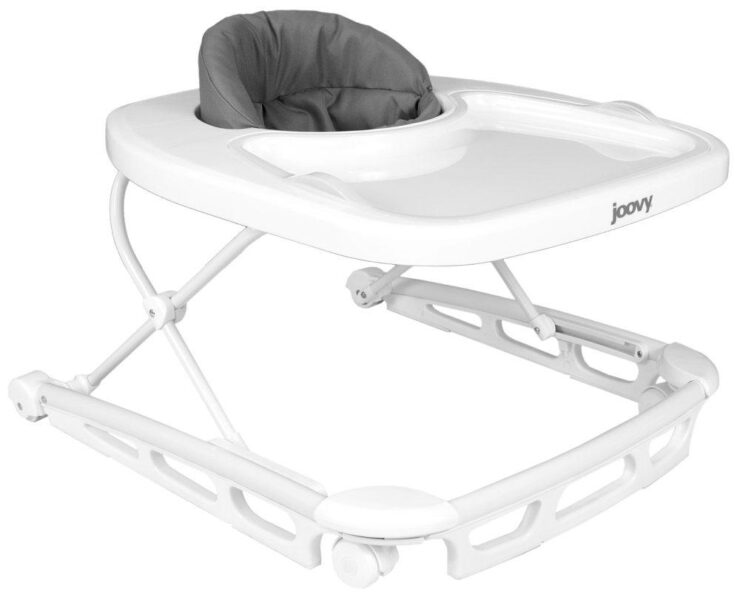 https://www.amazon.com/gp/product/B008BGNT3A
Joovy is one of the biggest names in the world of baby products. The brand has earned a huge reputation in producing quality yet affordable baby products. The brand is known for its super-sized products with ultimate safety and highest grade construction. The brand also induces an amazing range of features in its line of products, that's why it is the household in the niche.
The baby walker designed by Joovy comes with a super-sized tray that is equipped with a separable insert. The insert is dishwasher safe; you can easily clean off any mess. The insert shares a wide base to ensure that the fingers do not get pressed during a ride.
The baby walker shares 18 x 25.5 x 27.75 inches dimensions and can be folded into 9 x 25.5 x 27.5, to help you store it easily or take it around if you are traveling.
Its weight limit is around 30-pounds and max height is 33.5 inches.
The seat pad is quite comfortable and would not cause any trouble for your baby during the ride. The seat is pretty supportive, and you can remove them to wash. The seat pads are machine washable, quite handy for you to clean the stains and wash off the dirt.
This baby walker is a great product to go with if you are kid matches the dimensions narrated above. It is designed with optimum use and makes it easy to fold it. It is BPA, PVC, and Phthalate free.
 Pros:
• Eye-catching design
• Easy to store
• Dishwasher and machine safe components
• Adjustable heights
• Comfortable and supportive seat pads
• Easy to carry around
Cons:
• Pricey
• Wheels do not sail as swift as touted
2. Safety 1st Dino Sounds 'n Lights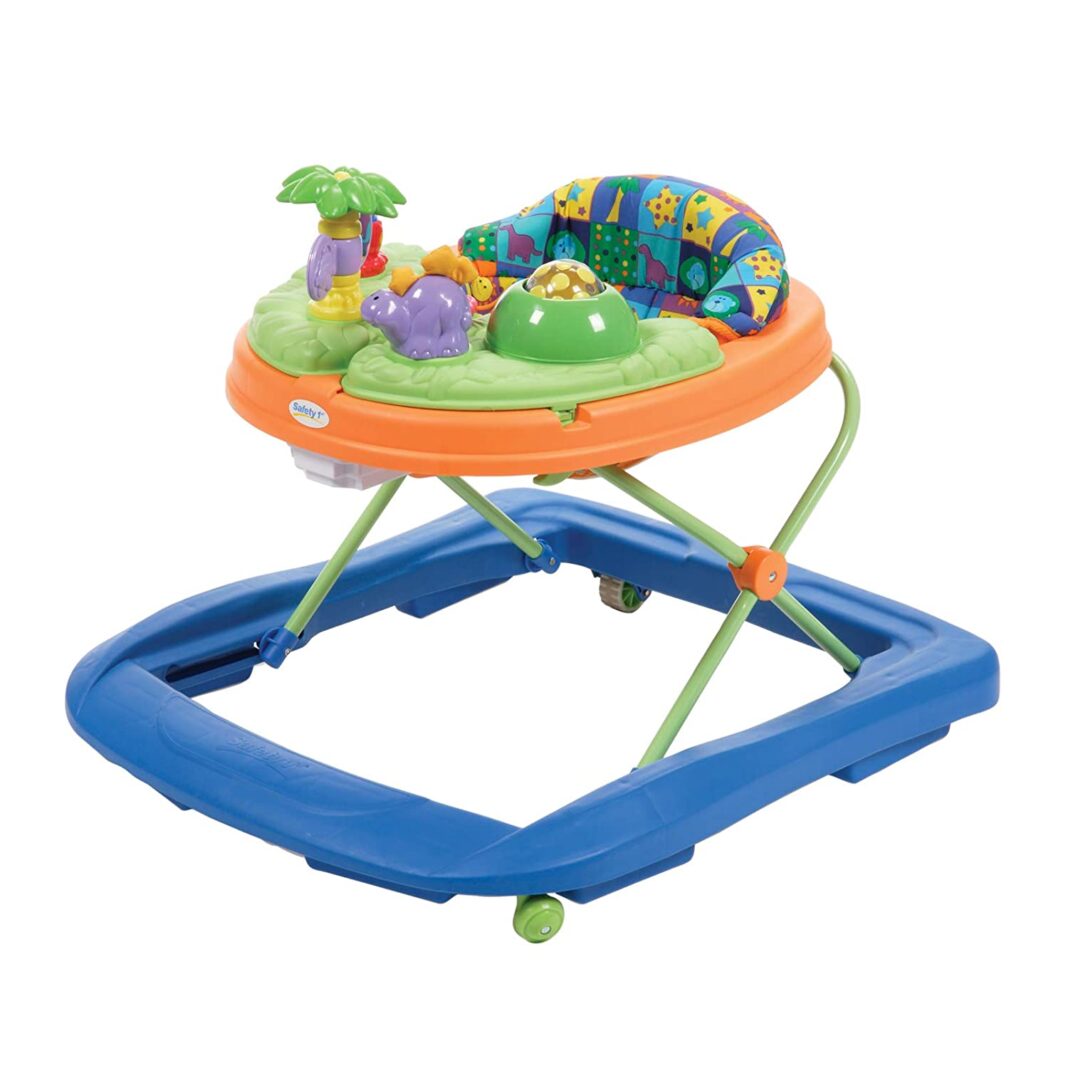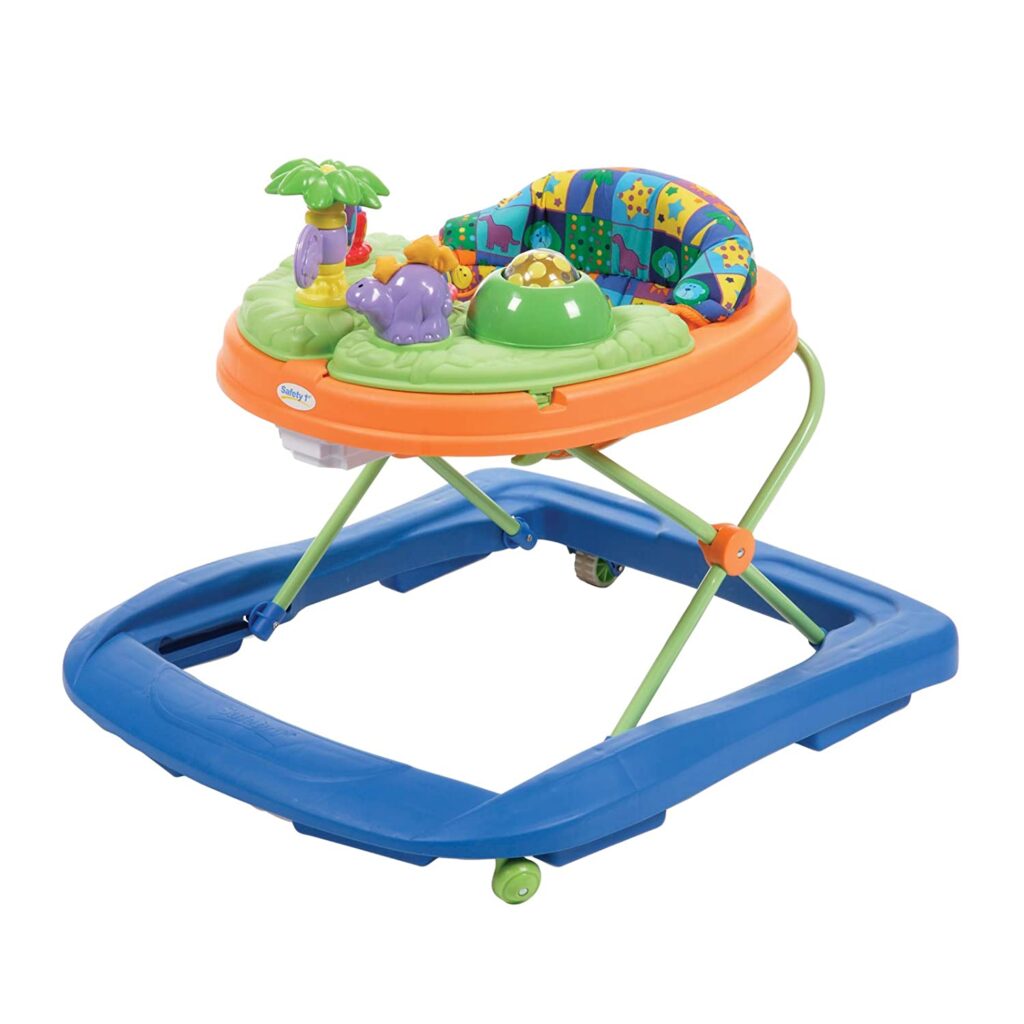 https://www.amazon.com/gp/product/B00EVLIHWM/
The second spot takes on in our list of the best baby walkers; Saftey 1st designed baby walker. The option comes quite handy, and would not be as expensive as our first product was. This comes with an activity tray and shares an amazing range of features along with functionality and performance. It is a sturdy built product, which would be a great option for your baby is taller than normal babies. It is considered as one of the preferred options when it comes to top baby walkers in 2023.
It comes with a large snack and play area is great for babies. The activity tray offers a great playing area for your kid. The components this baby comes adorned with are completely safe and machine washable. The seat comes with padded layers, offers great support, and your kid will surely going to have great playing and learning experience.
The baby walker shares 28.10 x 24 x 22.5 dimensions when fully assembled.
It comes with adjustable heights and shares three different positions. Would not have to worry if your baby is growing so fast, get different positions aligned as per his height. It also comes with playful sounds, and other shares dinosaurs theme along with other animals. It allows a fun and relaxation experience other than learning standing up on the feet.
Pros:
• Different dinosaurs theme to offer a captivating playing experience
• Affordable price range
• 3-different heights
• Compact design
• Lightweight, easy to carry around
• Wheels sails easily on carpet and flood
Cons:
• The performance may be affected in other floors
3. VTech Sit-to-Stand Learning Walker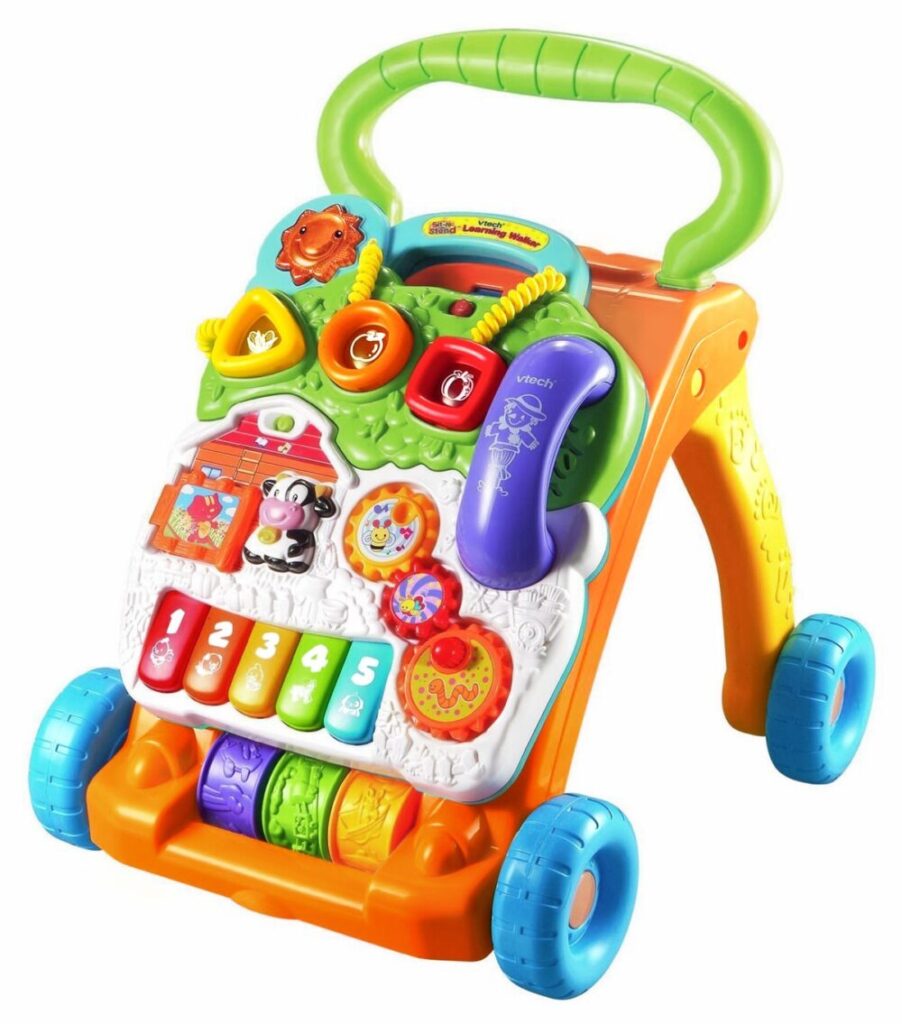 https://www.amazon.com/VTech-Stand-Learning-Frustration-Packaging/dp/B0053X62GK
If you are running short of budget and looking for an affordable option to go with, do not pass VTech Sit-to-Stand Learning Walker. The walker compares to the many others at the same price range comes integrated with an amazing range of latest features. It shares as many good features as other premium range baby walkers.
It comes integrated with animal sounds, musical notes, playful themes, a detachable play phone, spinning rollers, and many more in the row. Its activity center has more to offer, such as rolling rattle on the battle which is a great add-on for little toddlers to experience some playful time.
This is not merely a walker to help your kid learning walking, it is more like a device that helps your kid learn and develop motor skills. Your kid listens to some classic music, learns to differentiate animal sounds along with learning to balance and walk.
The wheels function impressively even greater than some expensive range walkers. Your baby will have smooth sailing around without halting and freezing wheels experience.
The walker shares 16.5 x 14.2 x 18.1 inches dimensions when assembled fully with 6-pounds product weight. It also comes with 2 AA batteries, to help your kid enjoy songs and other playful stuff.
It comes with removable play panels, five piano keys that encourage creativity. Your kid is not going to have a better option than that at an affordable price range.
Pros:
• Offers a great range of songs and effects
• Lots of animals recorded sounds to make your kid learn
• PlusSorter Holes for learning shapes
• It develops motor skills due to its out of the box features
• Wheels have two speeds
• Play Phone and activity center
Cons:
• Tire grips could have been better
4. Baby Einstein Neptune Walker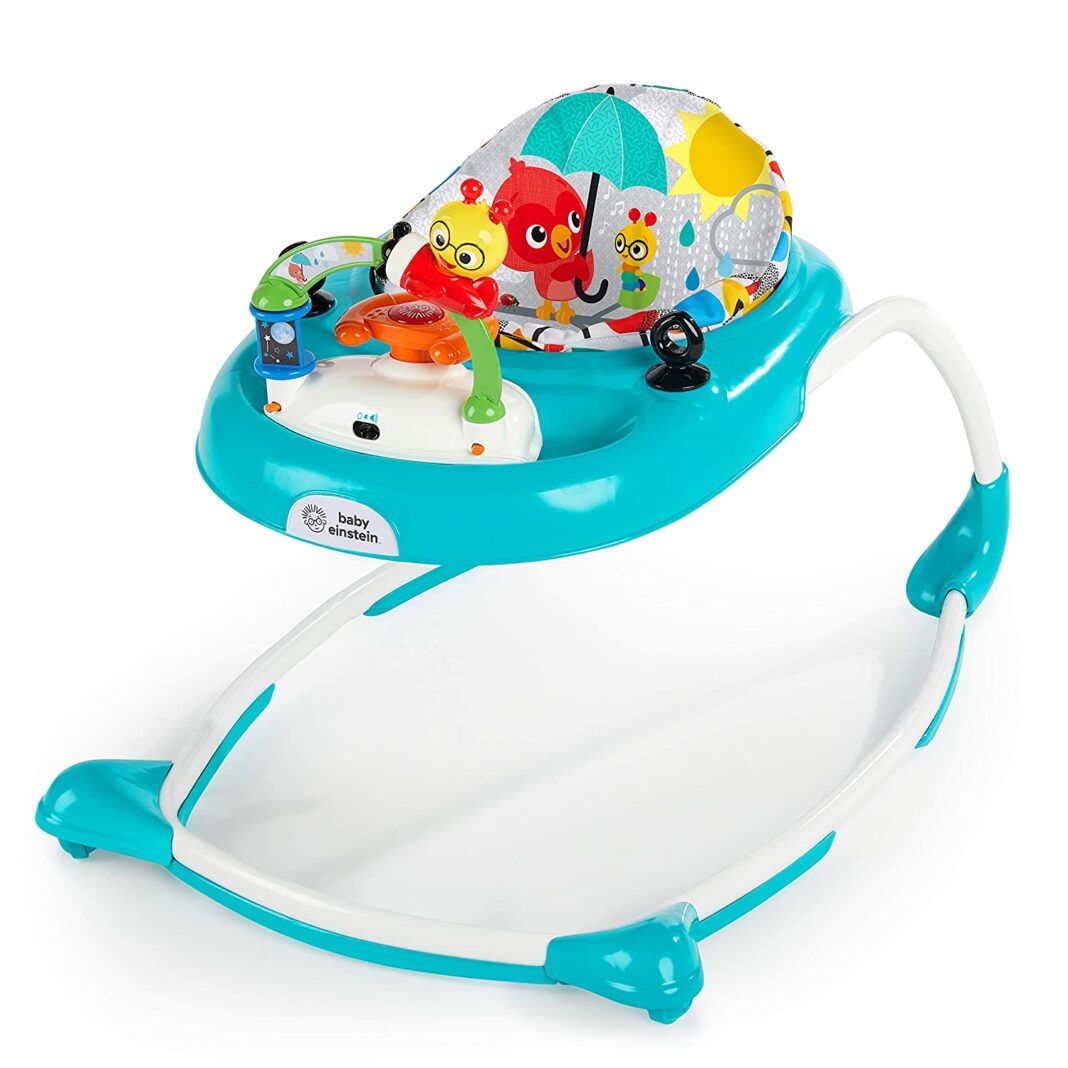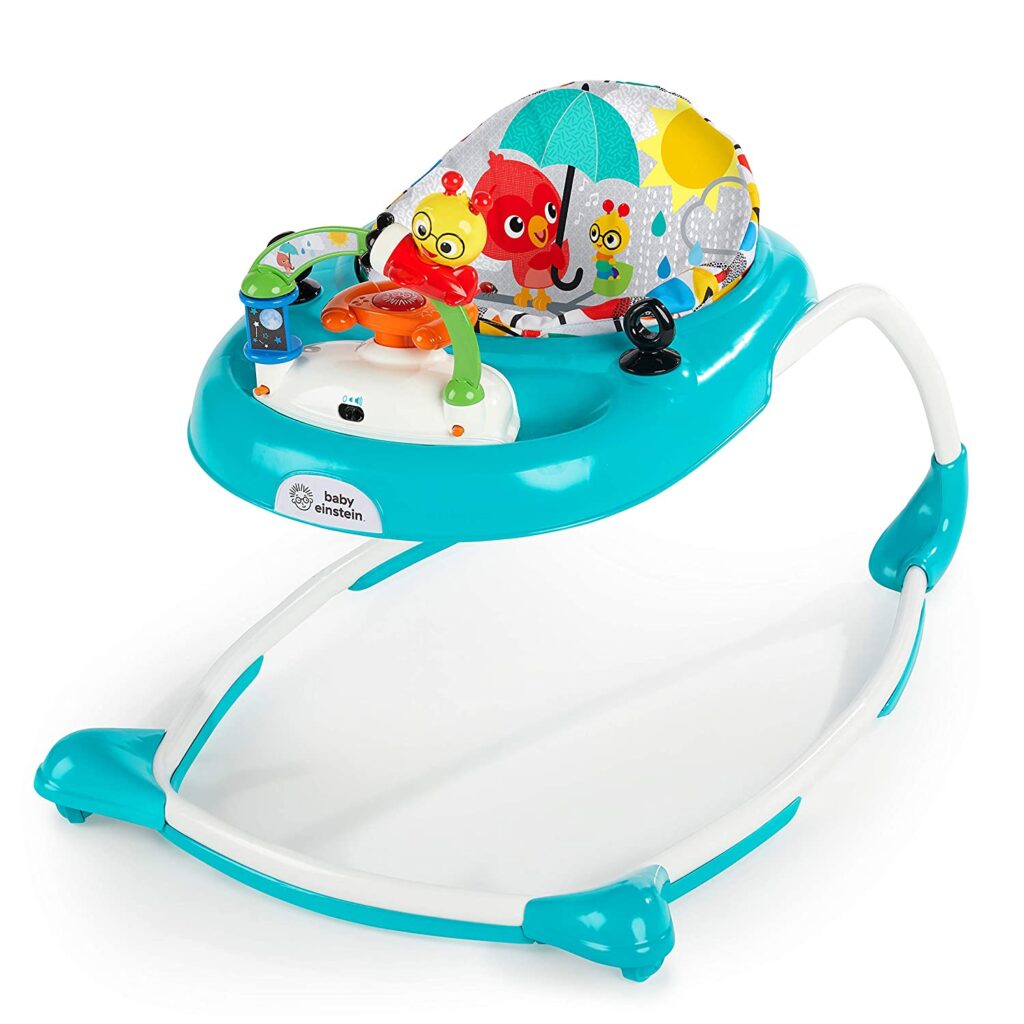 https://www.amazon.com/Baby-Einstein-Neptune-Walker-Explorer/dp/B00FNJ7FR4/
If you are looking for a robust option with colorful ocean design, this baby walker is going to catch your imagination. The innovative design is going to render lots of playful experience, along with helping little ones to stand on their feet.
Along with arrays of impressive features, it comes adorned with, what we love the most is its removable toy tray option. It also shares special loops for attaching other toys. If you attach other toys, ocean-themed lights turn the environment into a captivate scene.
The walker is made of a sturdy frame; your naughty baby is not going to break it off easily. Its assembly is easy, within a few moments you will be able to fetch it up completely. It is basically a fool-proof device, no need to have external assistance onboard.
The baby walker comes adorned with adjustable height. It offers special high-backed seats which render additional support and ensure your baby spends quality time in a comfortable and supporting environment.
The products of all components are machine washable. You can wash off the spillage and other mess quite easily by detaching the components. The baby walker is suitable for kids up to 8-months old.
Yes, there are a few downsides. First is its anti-slip safety features. You might not enjoy optimum safety features but at this price, the features it comes integrated with are more than enough. The second in my opinion is, only the front two wheels turn. This can make maneuvering a little difficult for young babies. If you look at the advantage of these stuck wheels, your baby gets strength while pushing it.
Pros:
• Eye-catching design
• Ocean theme lights
• Well built, sturdy construction
• Reliable product
• It includes activities to develop motor skills
Cons:
• Only two wheels maneuver
• Only provides two heights pre-sets
5. Disney Baby Minnie Mouse Peek-A-Boo Walker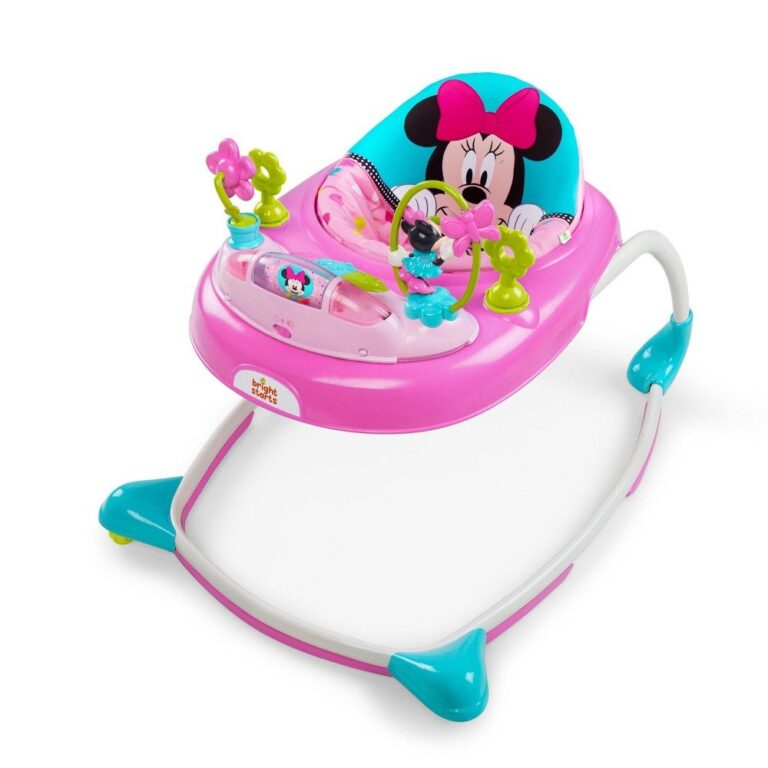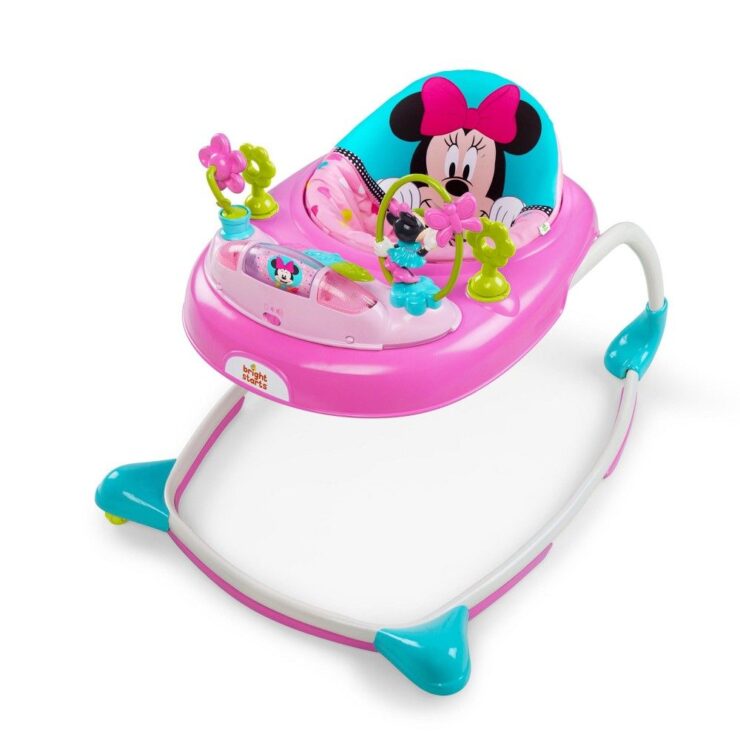 https://www.amazon.com/dp/B01869TZ70
If your baby has touched 9-months age and yet not learning how to walk or getting holds onto something to stand on his feet, you need to buy a baby walker like Disney designed Baby Minnie Mouse Peek a Boo walker. This mouse themed walker is for girls aged nine months who have not started to walk yet.
It comes with a high seat back that offers more than enough support, its seats are comfortable with proper cushioning. The seats are removable, machine washable. You would be able to clean the spillages and other mess by removing the seats.
It also comes with a removable, light-up piano station to help your buddies develop music taste. It shares plastic flowers, and beads to keep your little angles busy.
It comes with three easy adjustable height positions; you can enjoy the required height and maintain high head without going through any big trouble. It also includes a Fabric Care instruction, to help you enjoy the maximum lifespan of the fabric used in the making of the baby walker.
The walker is easy to clean, just take a wet towel and clean off the stains to maintain the optimum hygiene level. The toy frame is good and would not break or torn off easily. You can clean the toys as well without using any harsh cleaner.
If your baby can sit easily, crawls, and can hold a high head, the baby walker is going to offer many hours of unstopped enjoyments.
Pros:
• High seat back provides excellent support
• It includes different toys such as bead chaser, roller drum and clicks flowers
• Plus Removable piano
• Machine washable seat padding
• Cushioned seat padding
Cons:
• Heavy
How to choose the best baby walkers?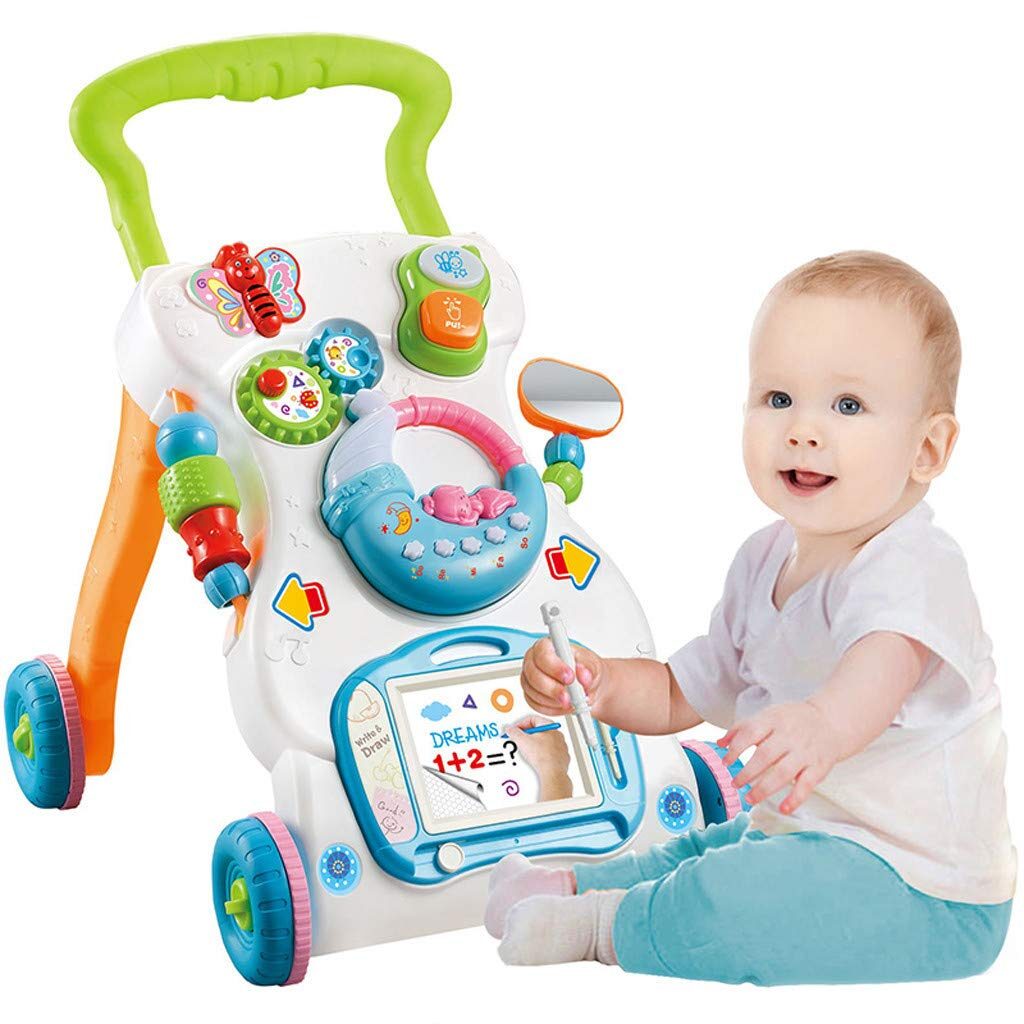 When it comes to buying products for little ones, utmost care needs to be taken off. It is not just about the products we feed to babies but toys and other stuff as well. Take an example of baby walkers, the product should be made of quality material, without using any harsh chemical and should offer great support along with comfort.
Many people do not know which features to look into while buying a baby walker. We are going to narrate some of the important things to consider while stepping out to buy a baby walker.
Quality Materials:
As I narrated before, the baby walkers should be made of high-quality material. The fabric used in for seats and cushioning should be of high-quality along with the other parts such as seatbacks. The components should be machine washable and removable so that in case of spillages or any mess, you could take them off and wash them to maintain an optimum level of hygiene.
Look for sturdy steel frame construction; you can go with sturdy plastic as well as they are lighter. But, do not go with cheaper materials, they will break off easily and you will have to invest in other baby walkers.
Wheels movement: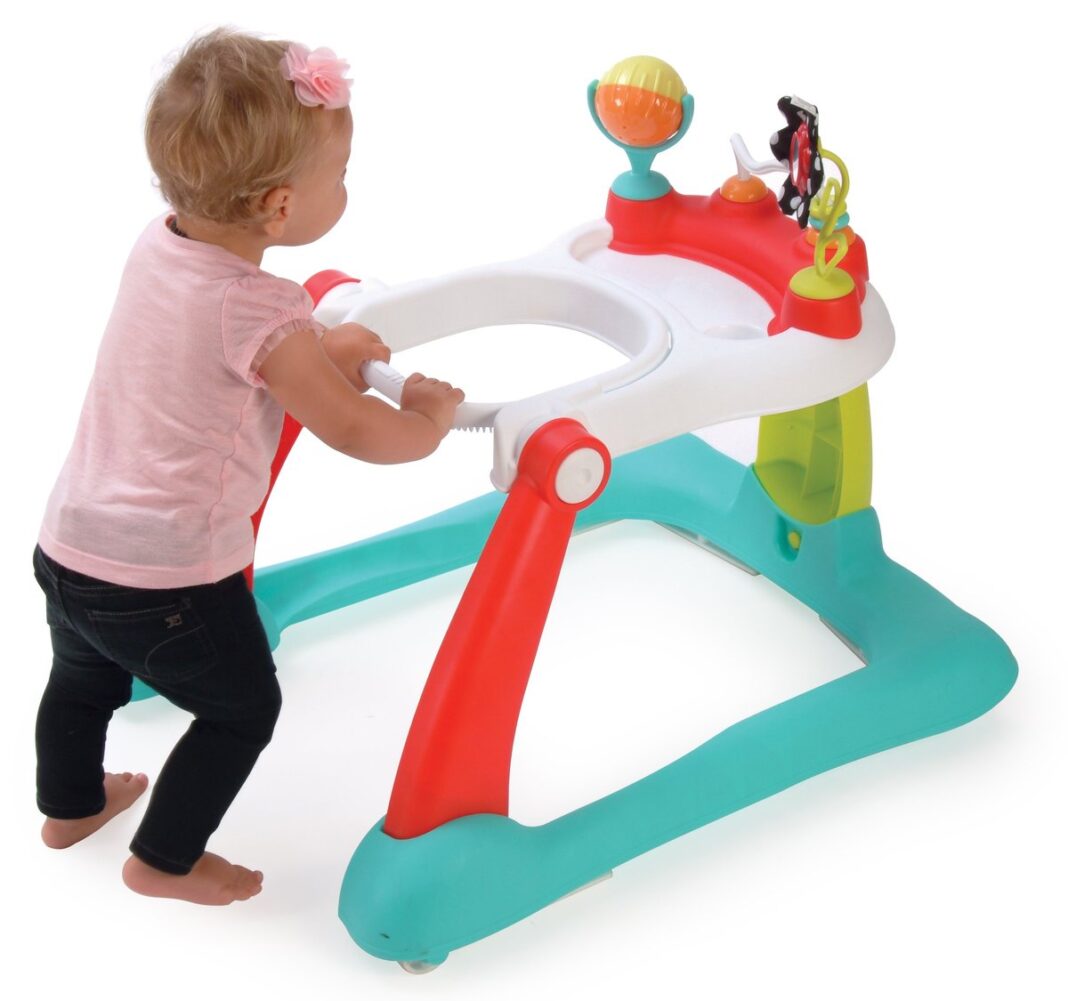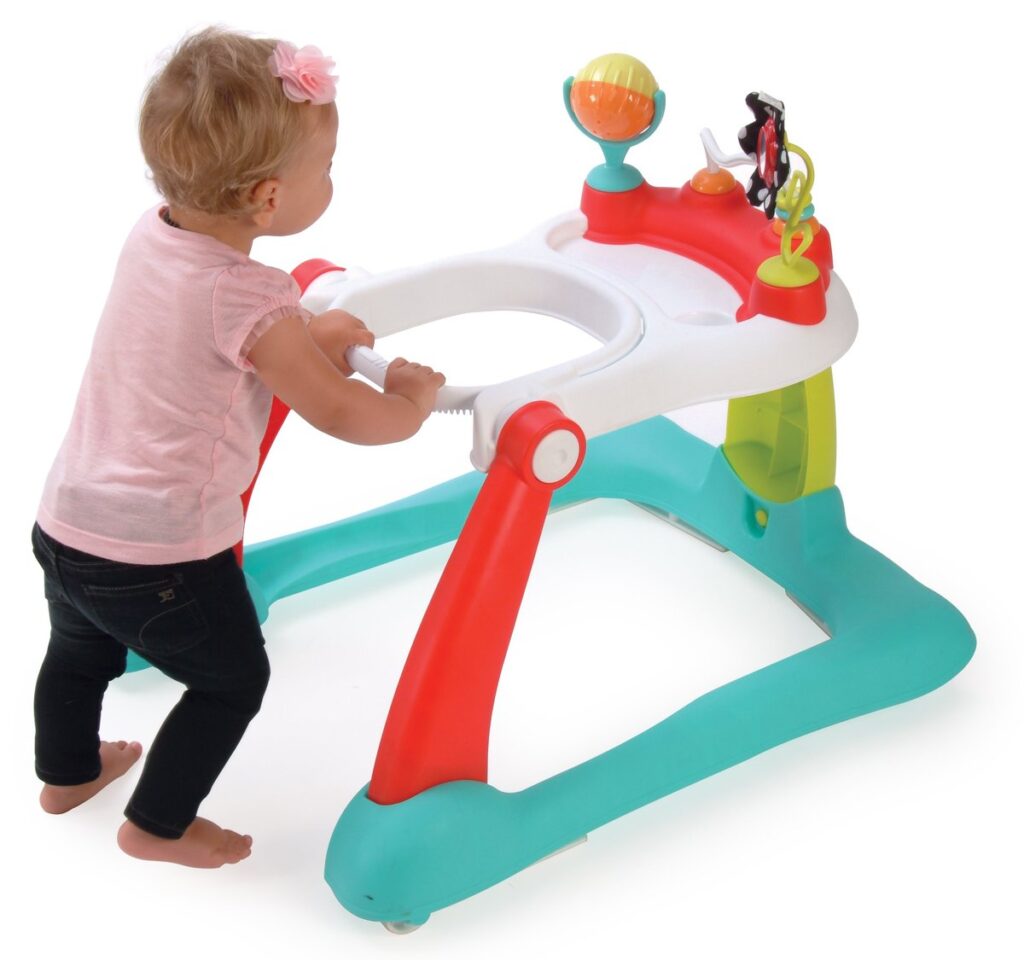 If you are buying a seated walker, it should have free to maneuver feels that allows easier cruising without any hiccup. Your baby should be able to cruise through floors, carpets and anywhere in the house without stuck. I have seen many baby walkers with only front wheels moving, the other two back wheels often stuck and cause halt.
Toys and lights:
Babies love radiant lights. Your baby walker should be equipped with lots of toys with some animal theme integration. Babies love to listen to animal sounds, so take a special look for that. And also look for other toys options to make your baby have some playful time around.
Easy to storage: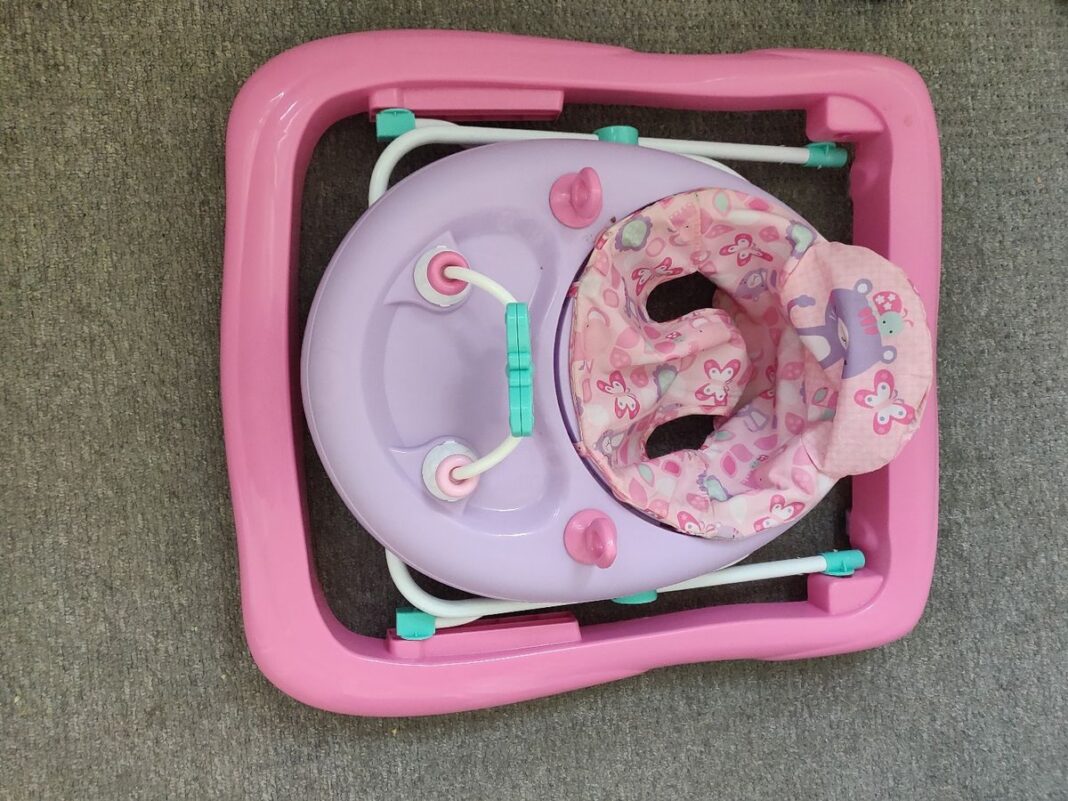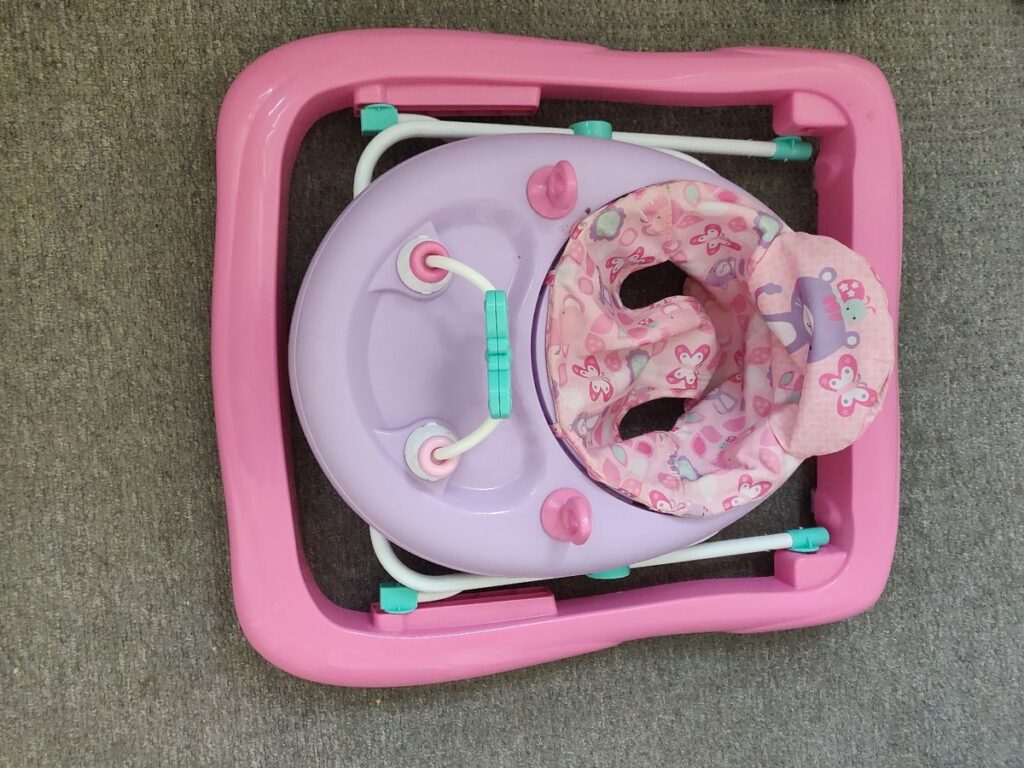 There comes one of the most important and often neglected features. We do not look at the weight and its storage more than often. That's why when we have to carry baby walkers around and need to store, it becomes difficult. So, look for the dimensions when the baby walker is fully assembled as well as when folded.
Height:
Having different heights options are great. The options should be compatible with your baby, as babies are always on the growth. So, look for adjustable heights to offer them soothing playful experience.
Final thoughts: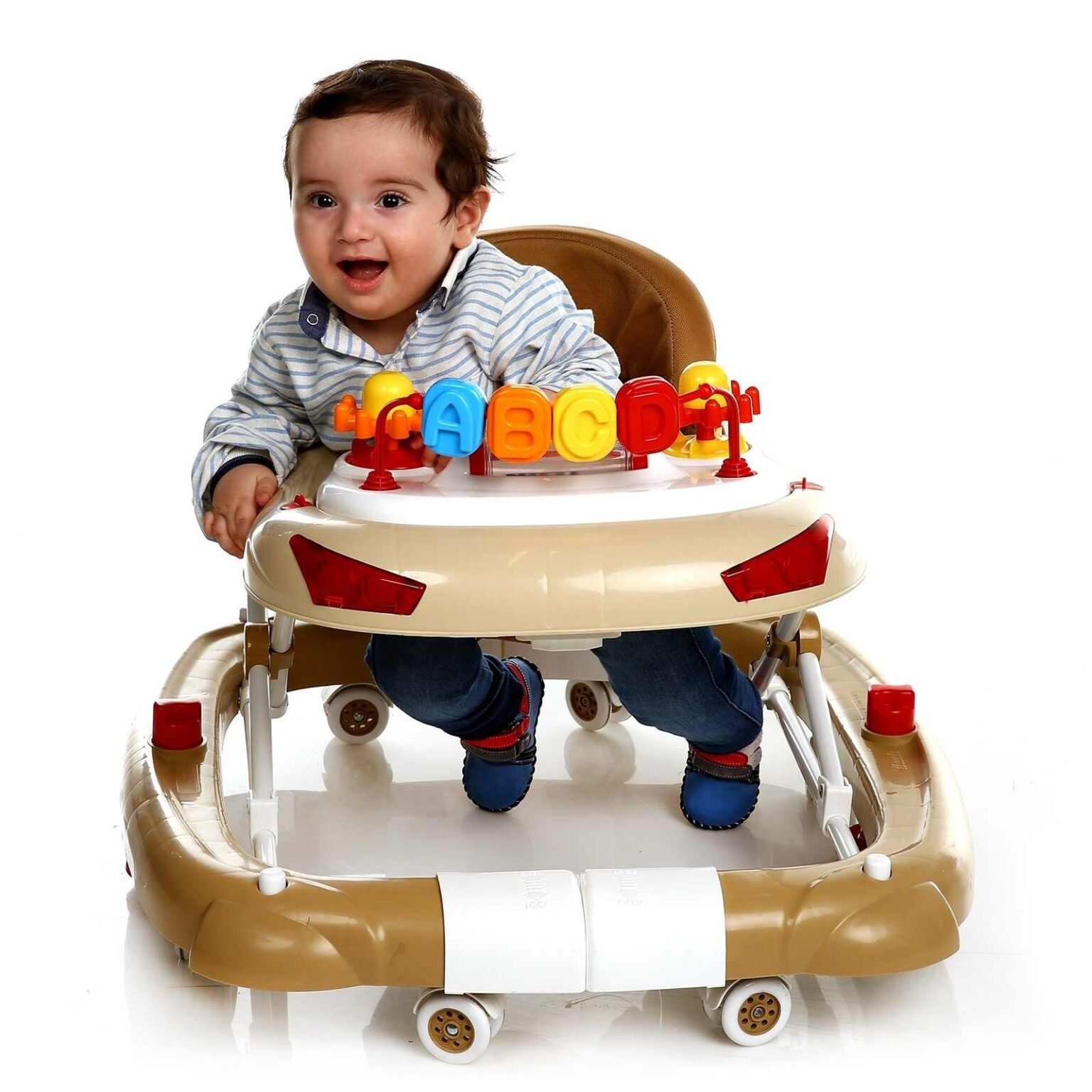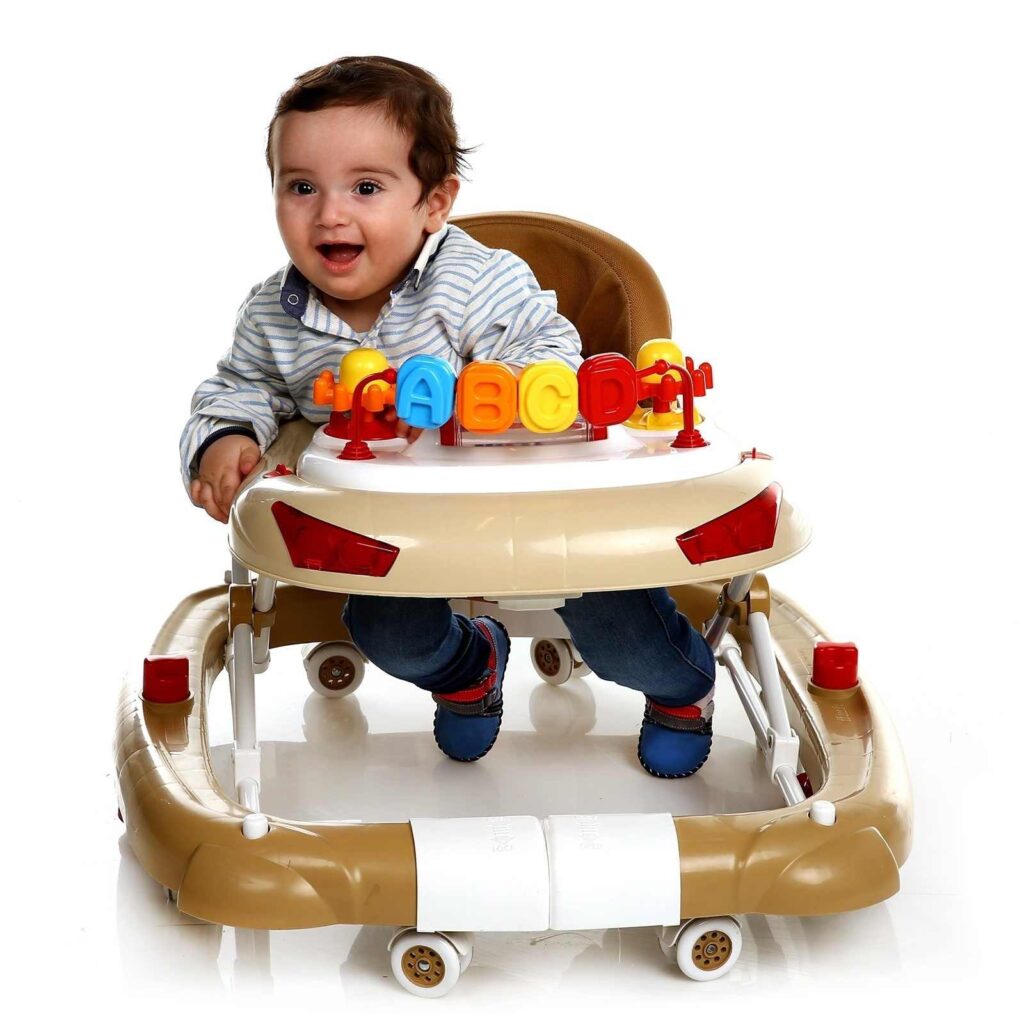 We have suggested top-rated and most followed baby walkers. We have reviewed some top-notch products and also narrated their pros &cons. You can have a bird's eye view of the reviews, and check for which one of them suits your needs.
We suggest that do not spread your legs beyond your linen and opt-with the option as per your budget. Getting a baby walker is vital if your baby has reached 9-month age and still taking no interest in walking. It will help them to learn to walk and produce motor skills.