Being a parent is a fantastic thing. All of you who had the experience of parenting know this. Another thing you also might know is that they grow up quickly. The path from being an infant to a toddler is the one baby crosses very fast. When this happens, they start exploring the world around them. All of a sudden, you will see them crawling on the floor and trying to climb the couch. If your toddler is at this age, you would be advised to take a look at best baby walkers in 2023 we recommend.
Babies grow fast, and in no time, you will need a walker. This device comes excellent as a help item for your toddler. By using it, your baby will learn how to walk, develop muscles, and start walking on its own in no time. The freedom that a child can experience on a walker and a joy that will follow would make you as a parent very happy.
The list of best baby walkers in 2023 wasn't easy to compile as there are many choices, and we were looking to inform you only about the best ones. The list is formed in no particular order, so don't be alarmed if the walker of your choice isn't the first on the list. They are all almost equally good, and your toddler is in for some fun. So, let us start with our first walker.
1. Bright Starts Roaming Safari Walk-A-Bout Walker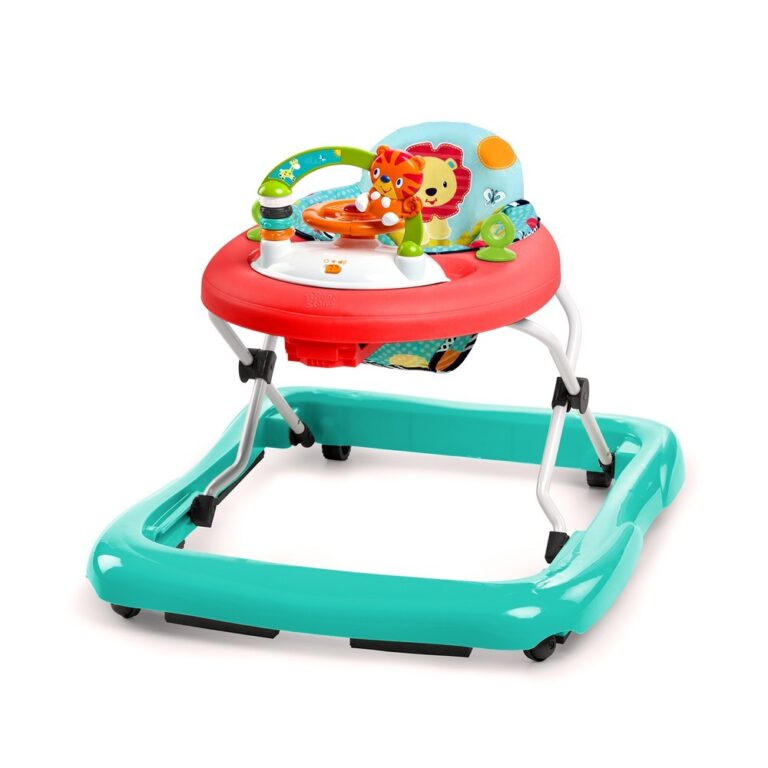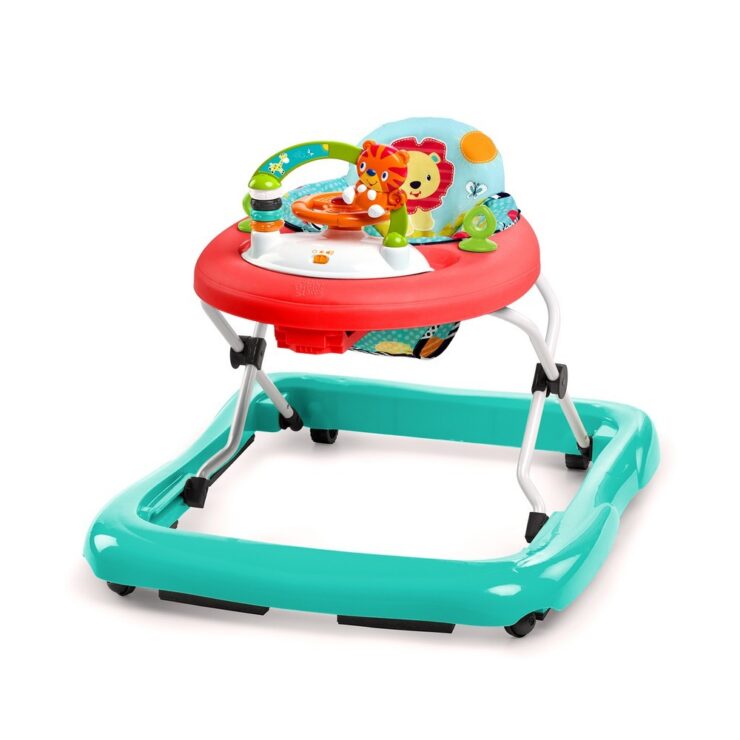 This baby walker is the option you'll find most attractive if you are looking for a combination of usability and design. The design might seem simple, but the idea behind it is functionality. Its central theme is safari, and it comes with toys that can be used or removed depending on your desire.
Bright Starts Roaming Safari Walk-A-Bout Walker comes in three heights and with dimensions of 34 x 28 x 24 inches. The recommended weight of a toddler using it stands around 26 pounds. Considering that your baby will grow faster than it will gain weight, the option of changing height will be beneficial for you with more time passing.
Furthermore, this walker comes with options for lights and music, which is very entertaining for small children. In addition to being innovative and engaging, this walker also has durability and safety traits that make it an ideal choice for your toddler.
2. Disney Baby Minnie Mouse Baby Walker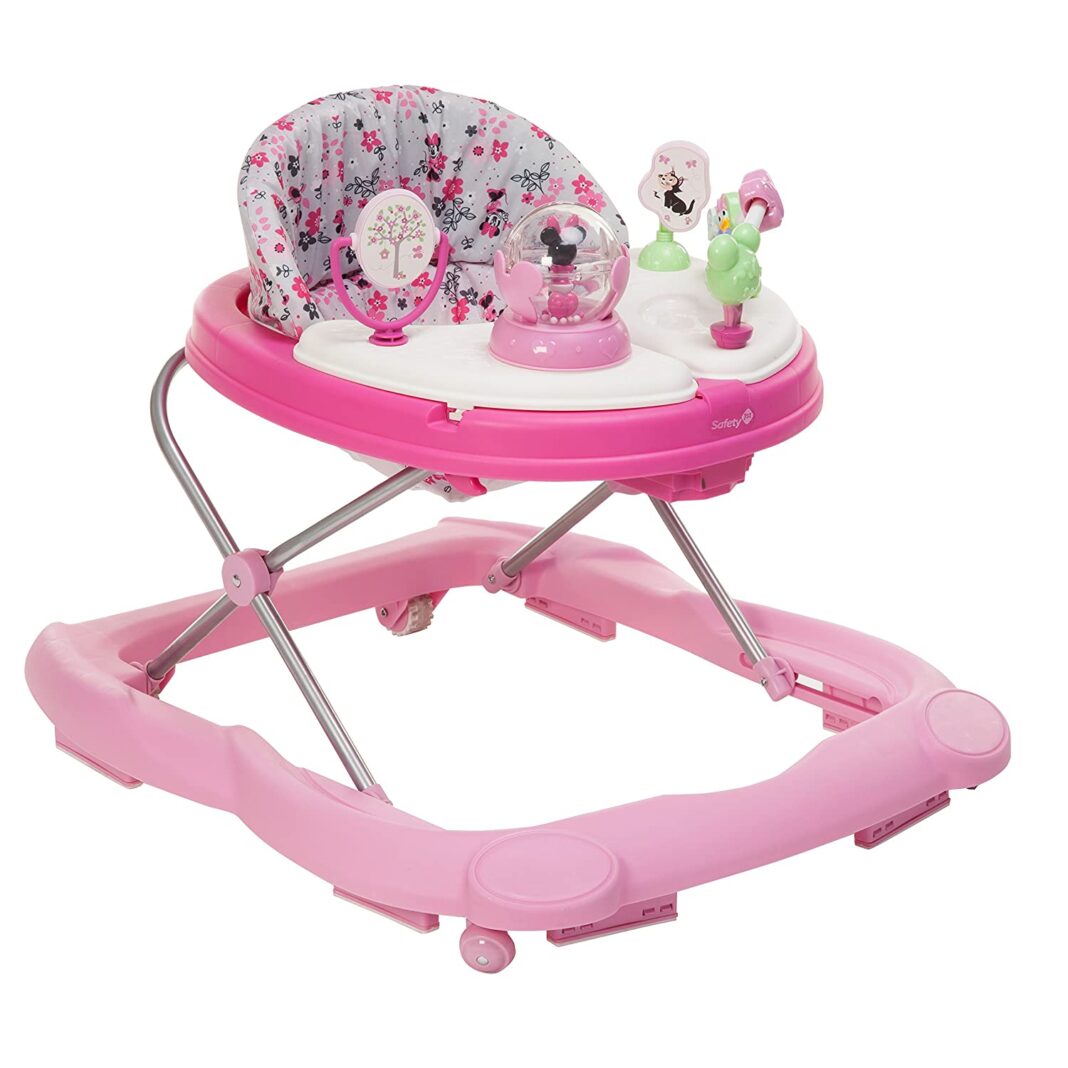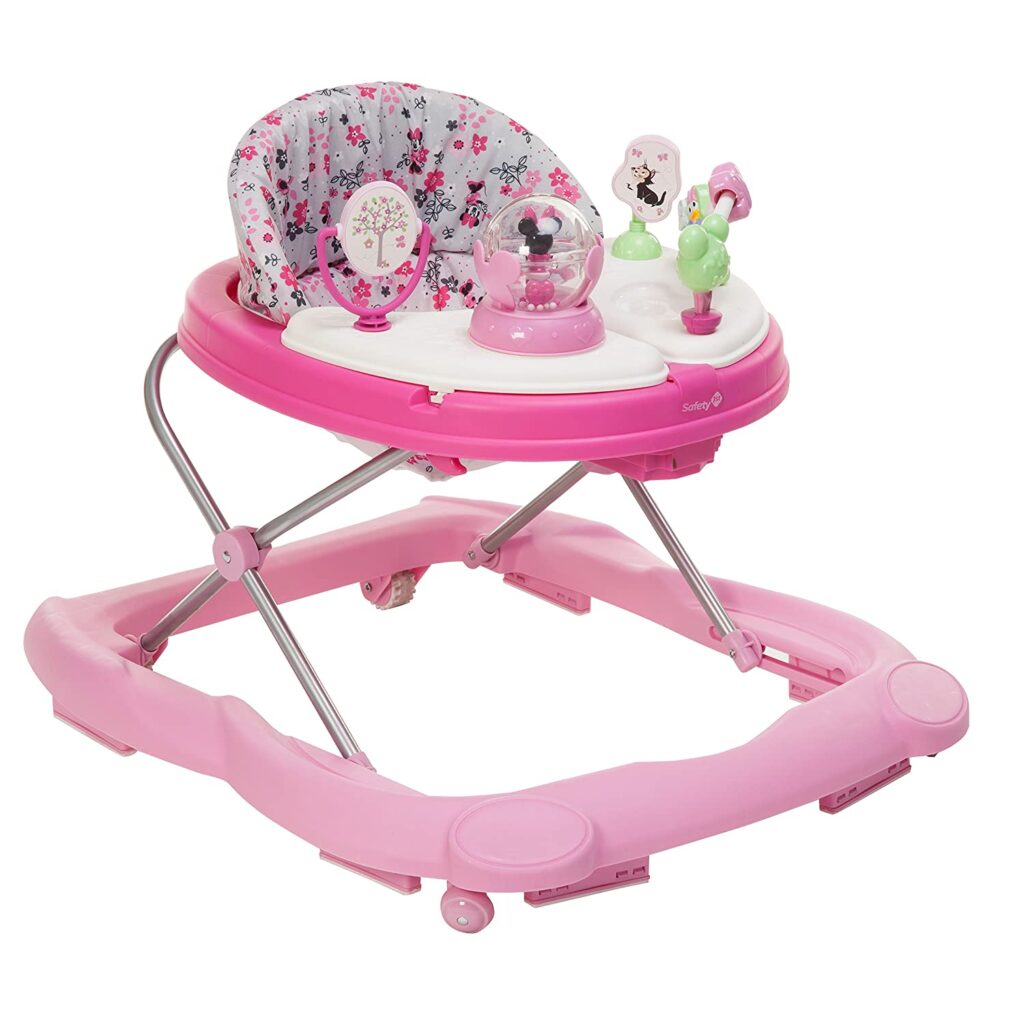 As its name implies, this walker looks like it comes from Disney World, which is mostly associated with children. It can be proud of both its design and performance and many other features that are unique for this model.
Its base is broad, and it's very stable, which is something that many parents approve. Same as the model above, it has three different options for height, which means it will be useful for years. If you opt for Disney Baby Minnie Mouse Baby Walker, your baby will make its first steps in no time. The music module that comes with this device has twelve different songs installed, which can be a great background sound while your child plays with Minnie Mouse toys that also come with this walker.
3. Joovy Spoon Walker, Greenie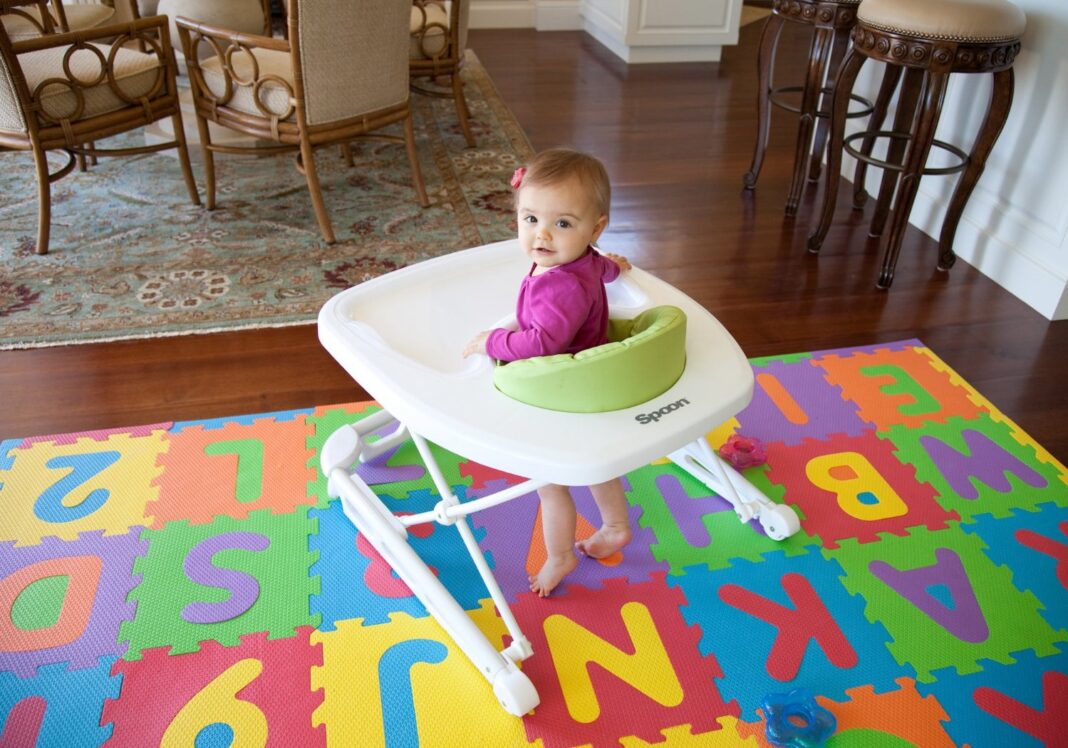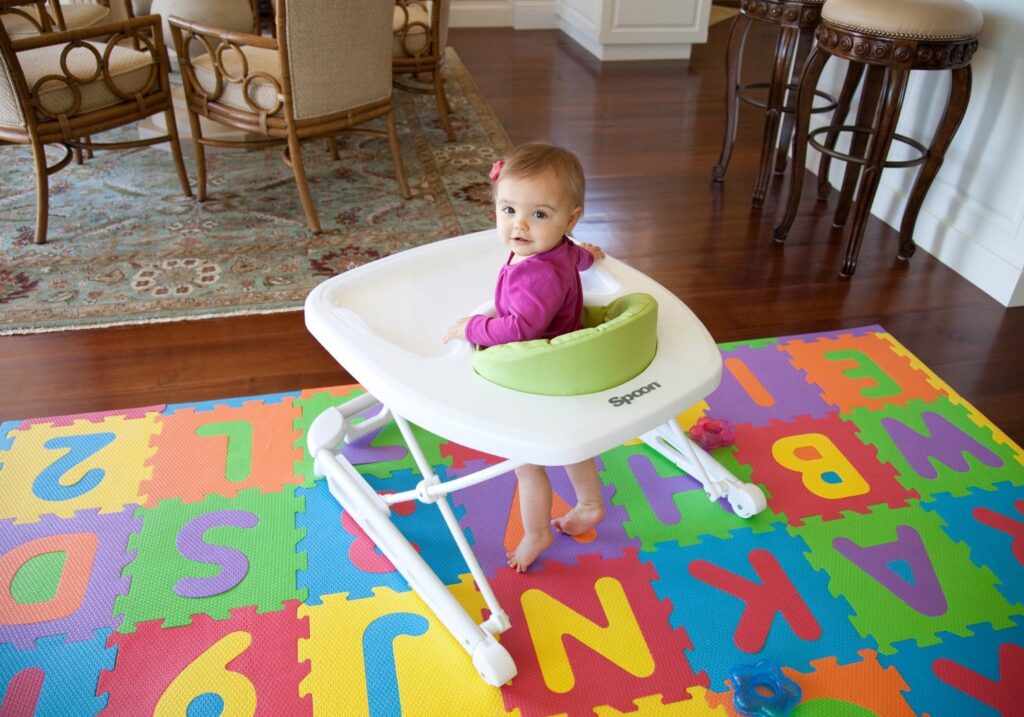 The baby industry is a massive one, and the name that stands out is, without a doubt, is Joovy. If high-quality baby products are what you want, this company has them in store. As we said, this list is not sorted from top to bottom, but if it were, this walker would be our first choice.
Joovy Spoon Walker, Greenie, probably found its way to all best baby walkers in 2023 lists. The reasons are numerous. First, it comes with a large tray that has an insert that can be removed. It's easy to clean, and you can wash it in the dishwasher.
Furthermore, it offers excellent height options. At its highest, this walker stands at 33.5 inches. The weight limit is set at 30 pounds. All of these traits put it on the top of its class. Its dimensions are also interchangeable, and you can shift it between two options – 18 x 25.5 x 27.75 inches and 9 x 25.5 x 27.5 inches. Seat pads are comfortable, and can also be easily washed.
4. Safety 1st Dino Sounds 'n Lights Discovery Baby Walker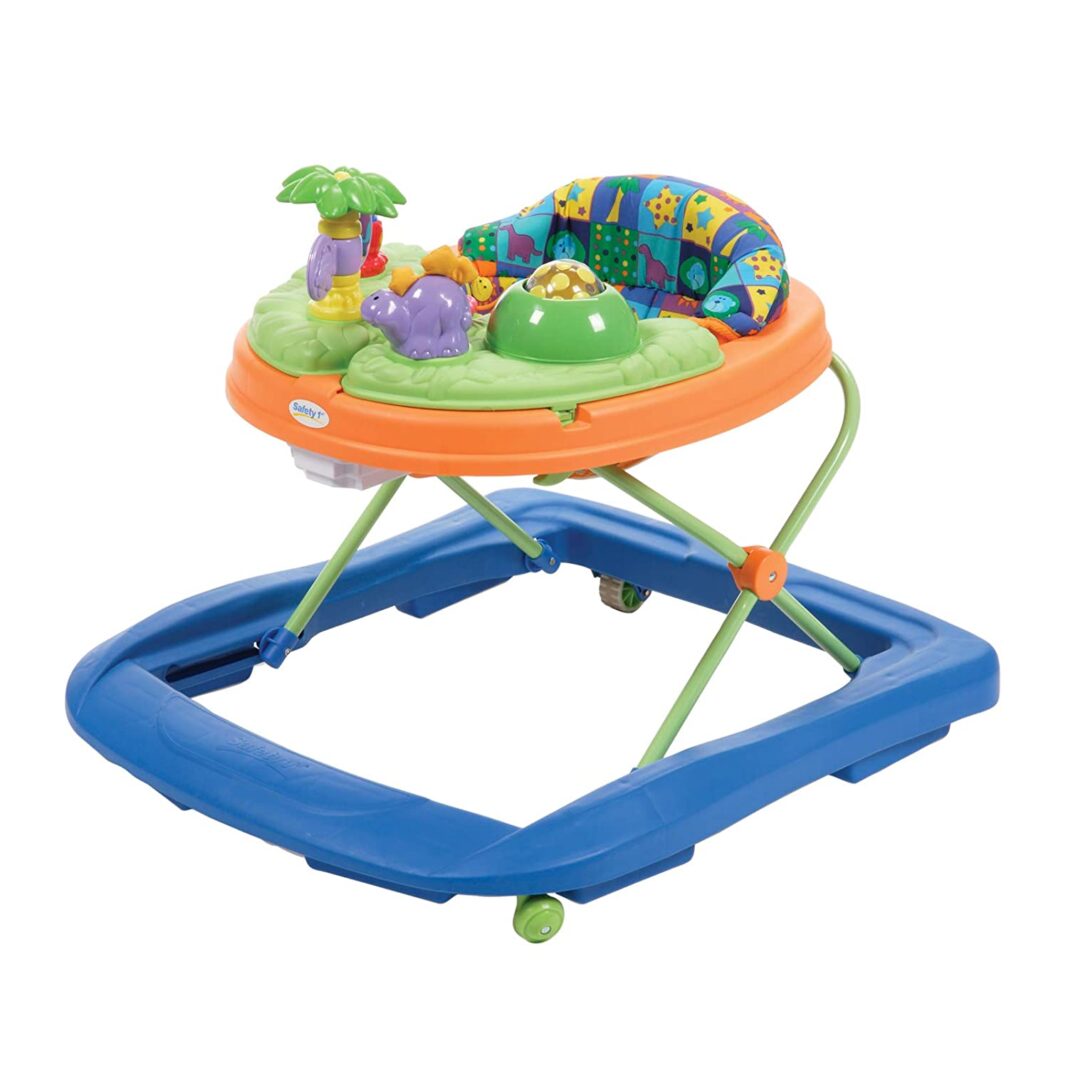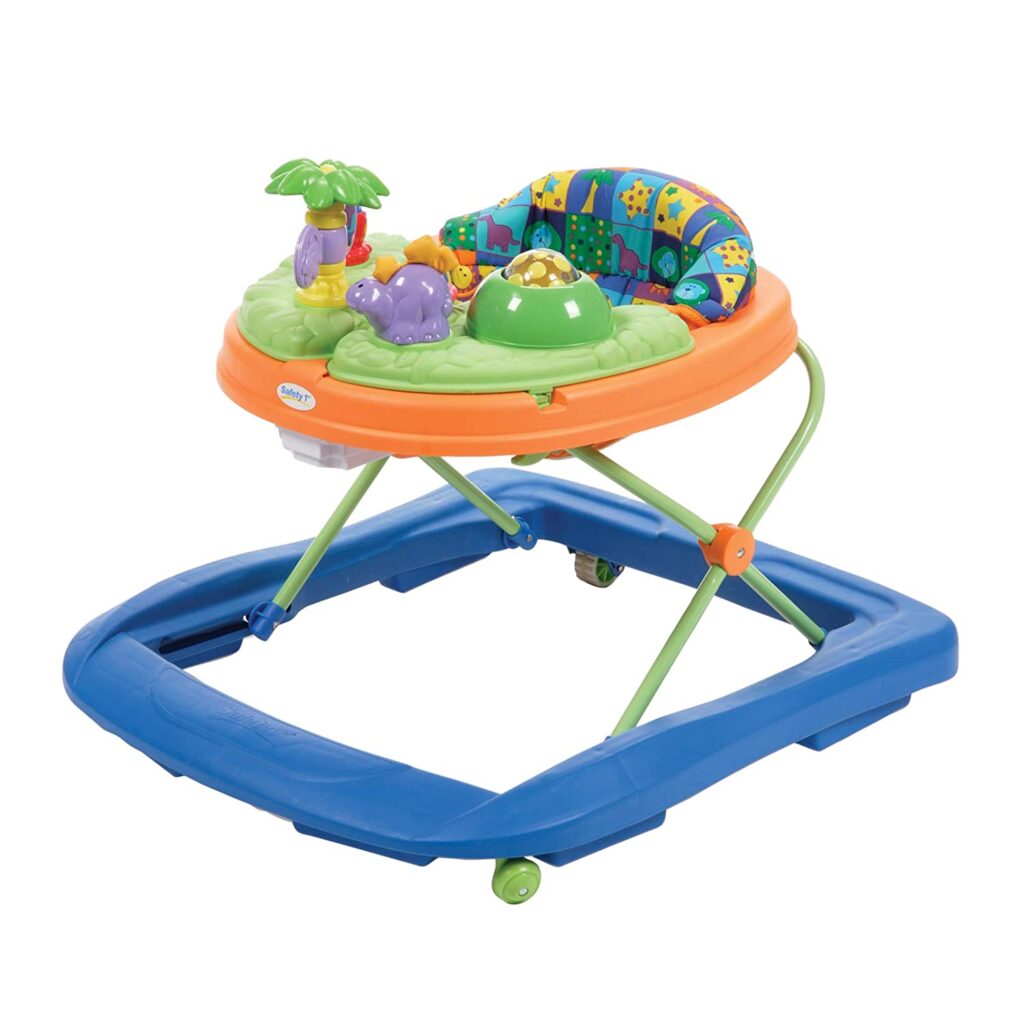 As you can tell from its name, this walker has one thing on its mind – safety. You wouldn't believe how functional this device is. Besides, it's also praised for its performance, which makes it one of the most sought items of this kind.
Your baby can actively use the space of this walker for playing, as its much more significant than on some other models. Your baby can eat on it and play with toys without fear that something would get dirty. All parts of this walker can be machine washed. In its full-size Safety 1st, Dino Sounds 'n Lights Discovery Baby Walker has a size of 28.10 x 24 x 22.5 inches.
Same as most models on this list, it has three different height levels. With it, you can follow your child grow, have fun, enjoy flashy lights, and dinosaur themed music (five songs). One of the options that thrill the parents is that it can be perfectly folded to take as little space as possible and be stored somewhere waiting for another child.
5. Caterpillar & Friends Discovery Walker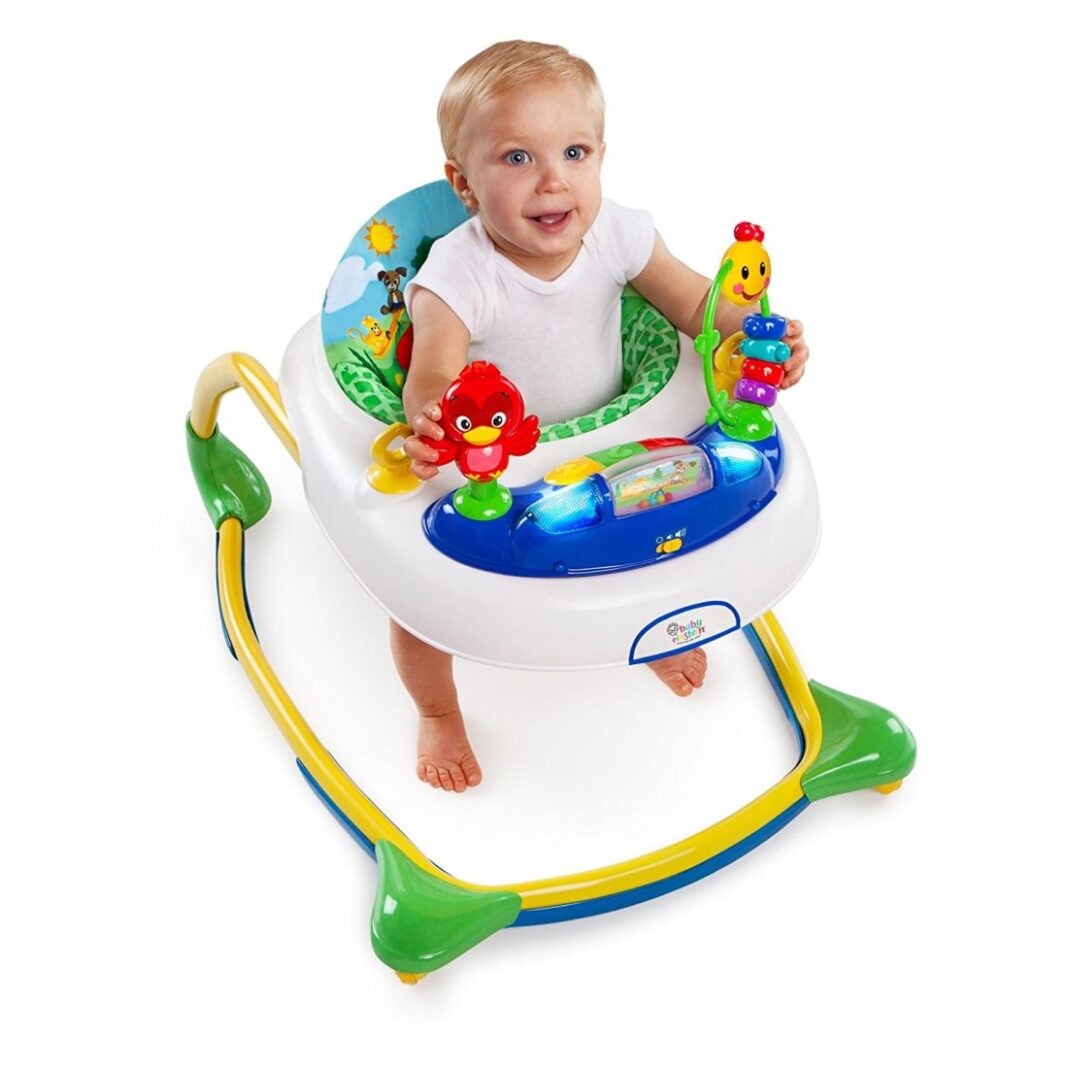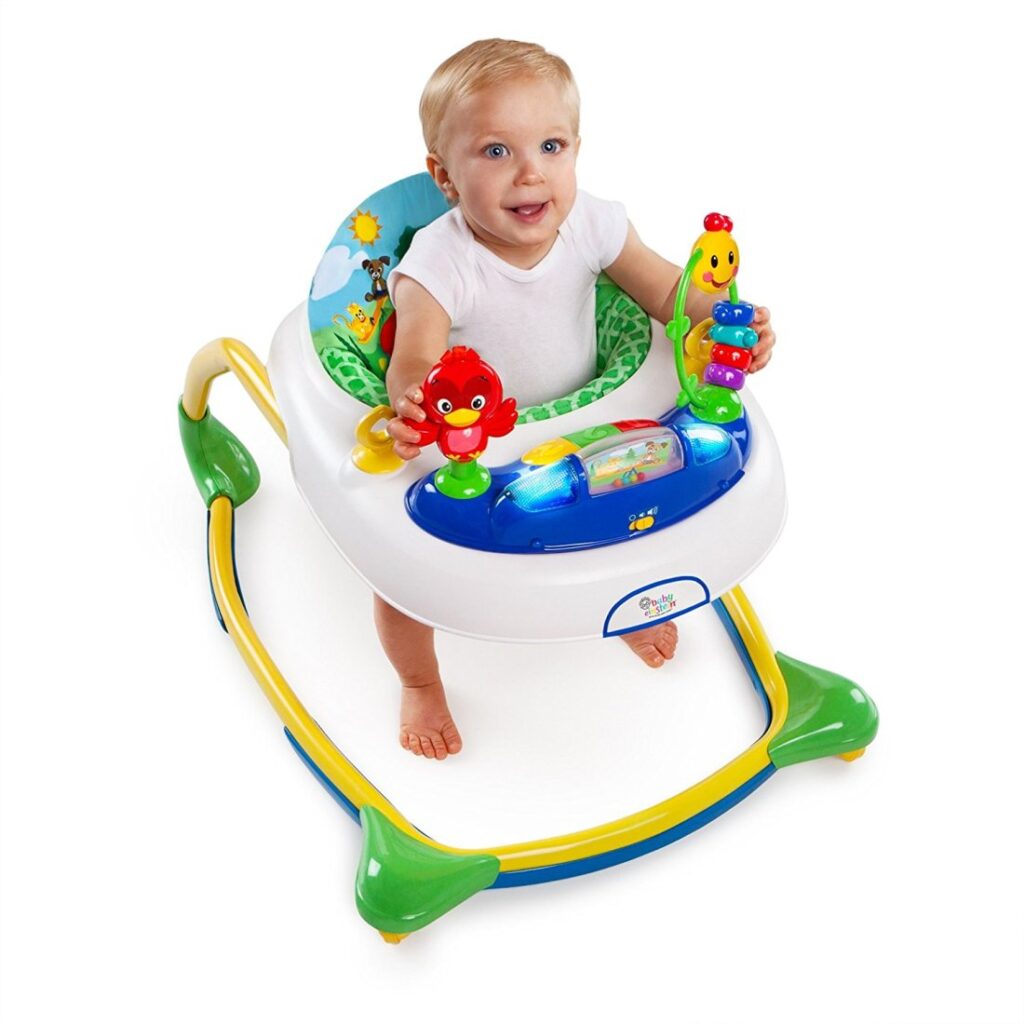 This walker has the looks that are most appealing precisely to children. Its flashy looks and performance are something that your toddler would find very interesting. If you are in a mood for something fun but practical, this walker by Caterpillar and Friends should be your choice.
Many parents who used this walker bragged how their children learned how to walk thanks to its design quickly. Its frame is elliptical, which makes it unique among the walkers we are presenting to you in this article. The platform which occupies its front end and intends for your child to play with can be removed. With this option, the toddler can play with it even on the ground. All parts of this walker can be washed in a machine as it's easy to assemble and disassemble.
One of the most praised parts of this walker is its high seat, which allows better back support for the child. Similarly to some of the models, we also have on this list, it has three different height positions. Caterpillar & Friends Discovery Walker has dimensions of
24.6 x 19.1 x 7.5 inches. The part where it doesn't stand out is weight division, as it an only take up to 26.5 pounds.
6. Combi Baby Activity Walker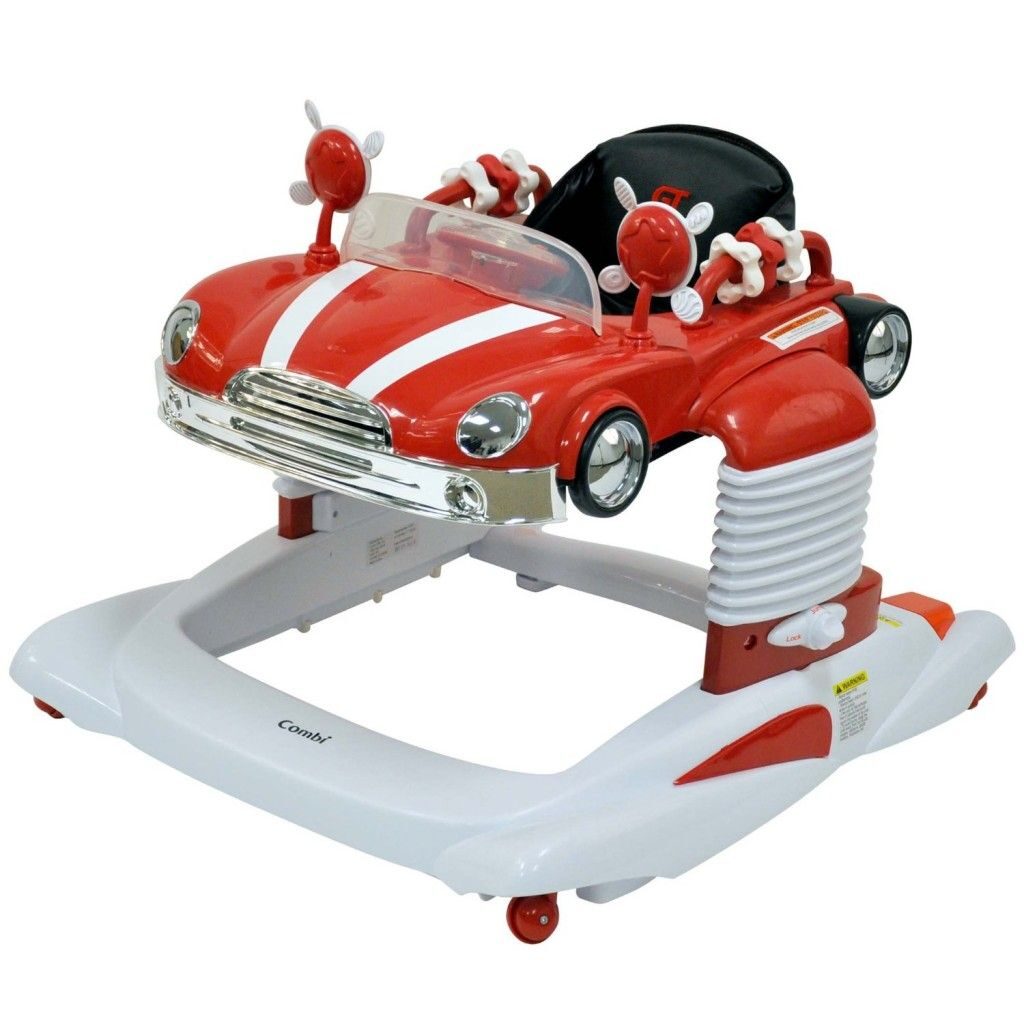 If we were talking about entertaining design Combi Baby Activity Walker would top our list. If you want a fun time for your baby, this walker is the alley to go. Besides, it's equipped with a snack tray and activity walker, which allows it maximum entertainment. There isn't a child out there who won't enjoy lights, siren sounds, toys, and mirrors that come with this device.
Its main threat is simple assembly regardless of the height you choose, as it offers three different sizes as most of these models. Furthermore, its comfort is on another level with a padded seat. Just like some of the models mentioned above, it is machine washable.
7. Chicco Walky Talky Baby Walker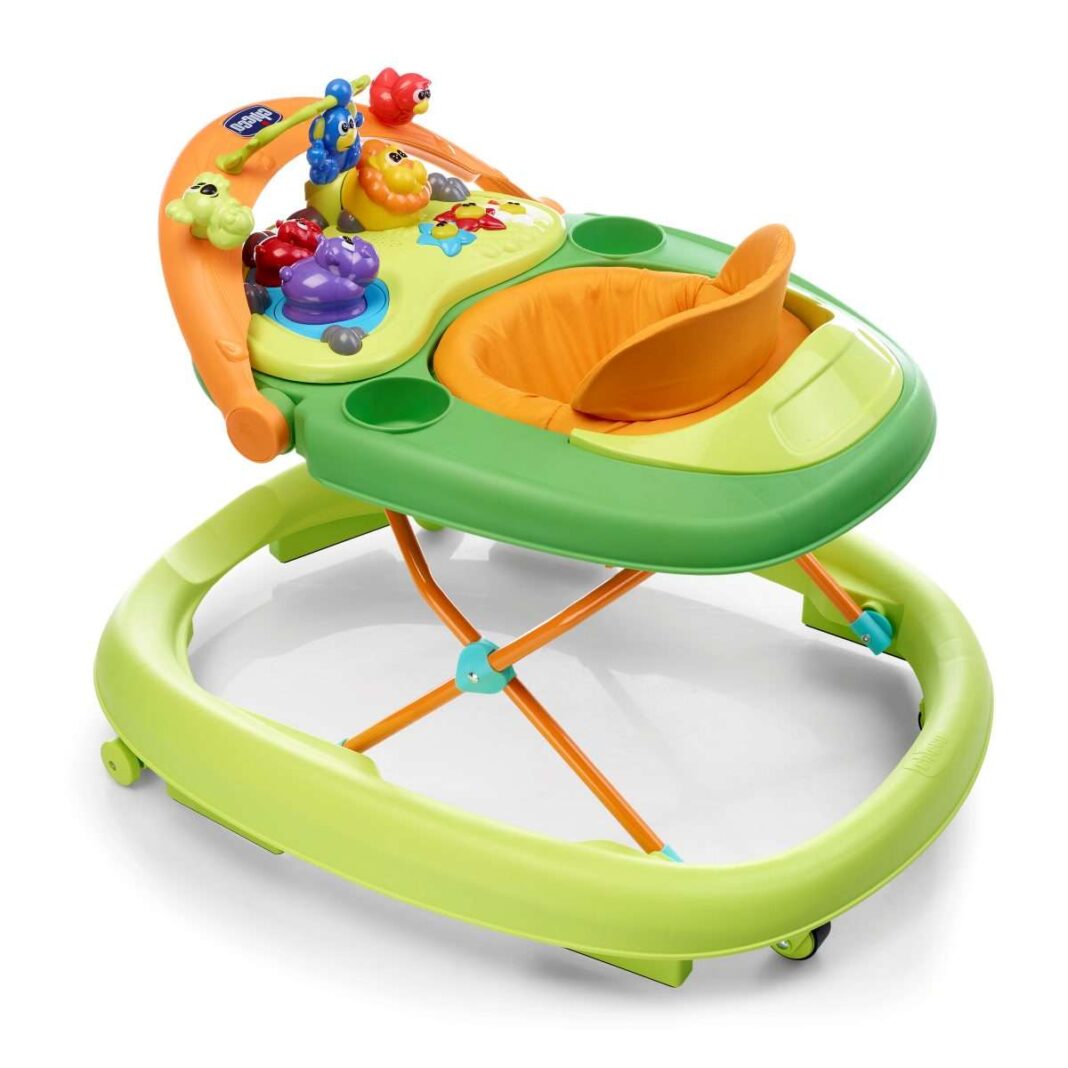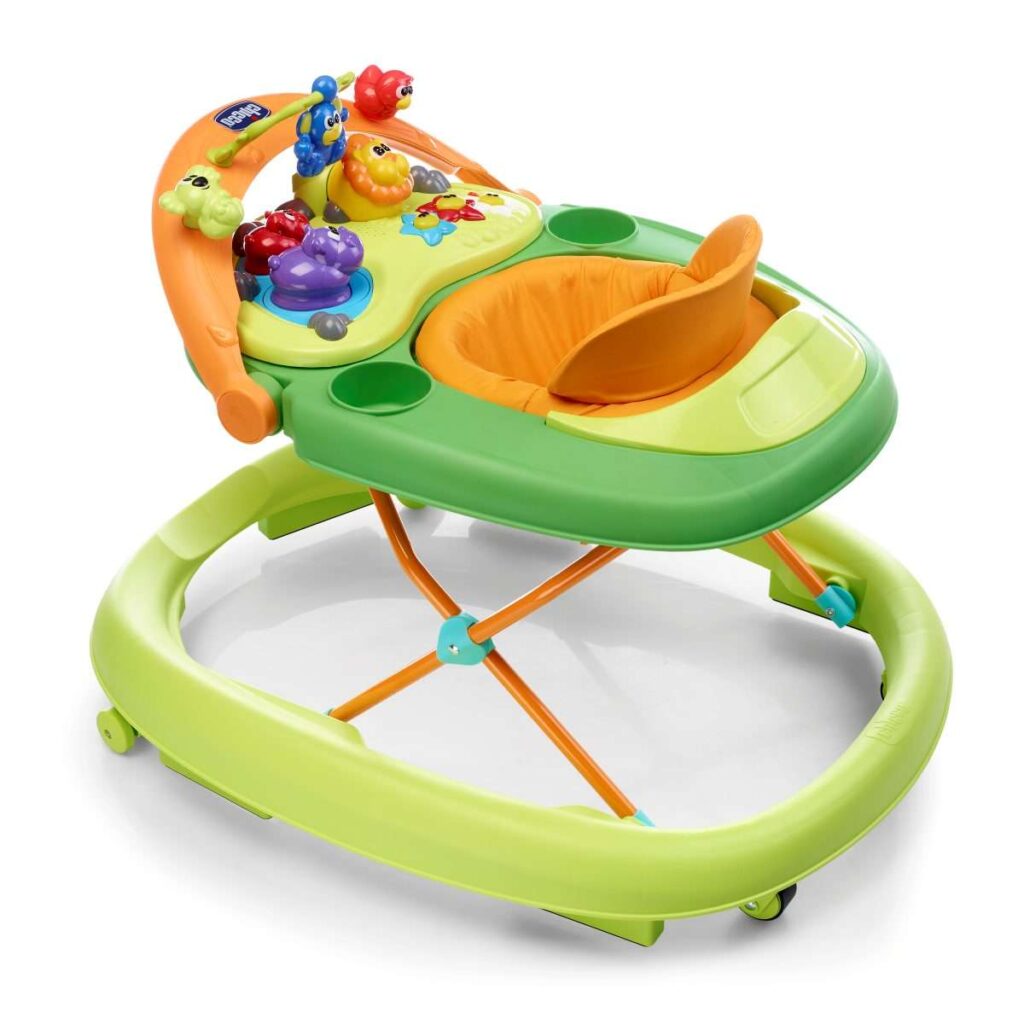 You won't find a more talkative walker than this one. Its removable tray comes with a multilingual option, which makes it somewhat unique. With it, your baby can start learning other languages very early. The tray can be removed, so the learning doesn't stop when the toddler leaves the seat.
The three different height levels reach their maximum size at 33 inches. The padded seats can be removed from the walker and washed separately. Besides the traits regarding dimensions, it can also be folded for better storage. One thing that makes it a choice for many parents is the brake pad, which prevents stepping over.
8. Hape Wonder Walker Push and Pull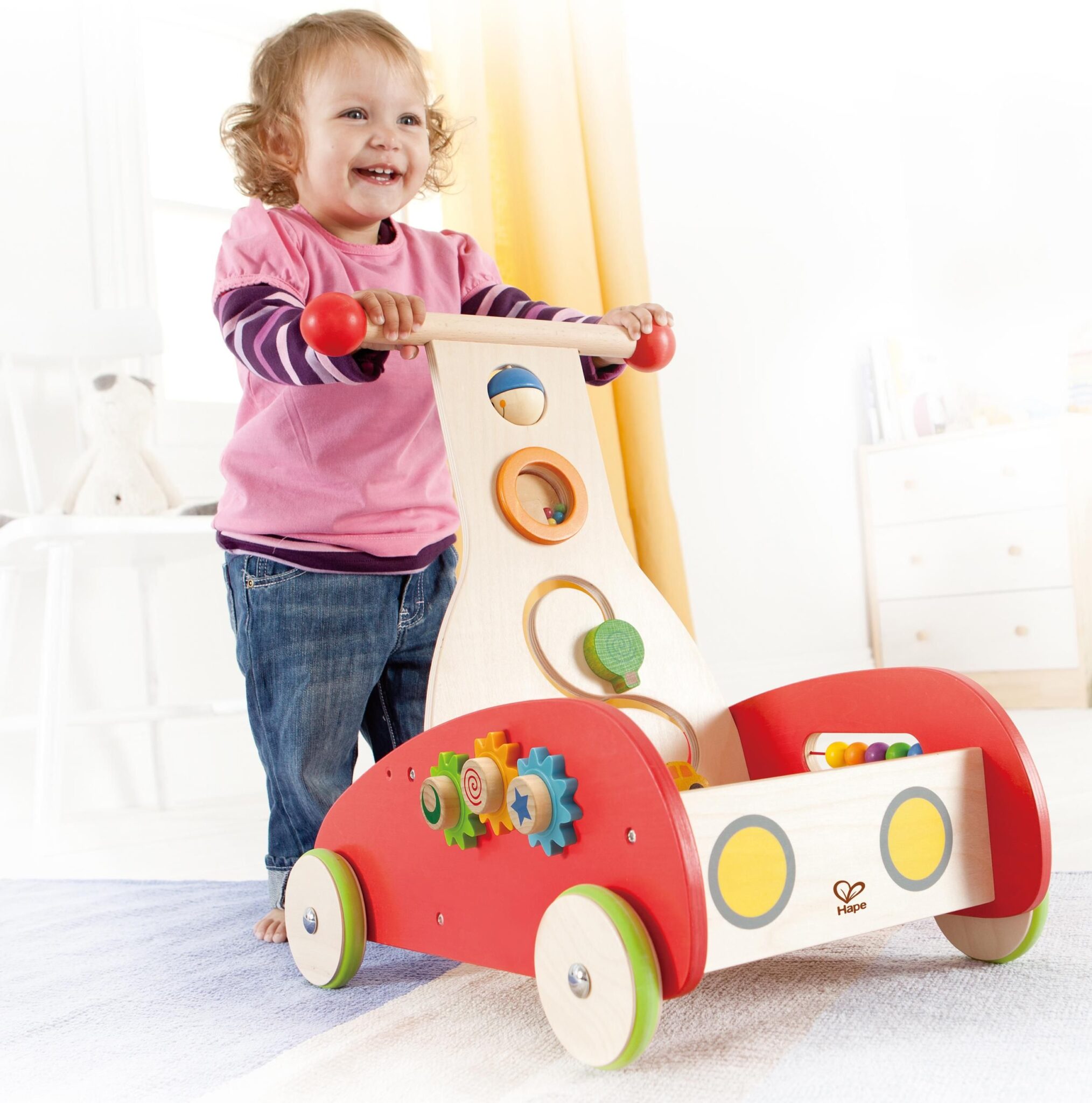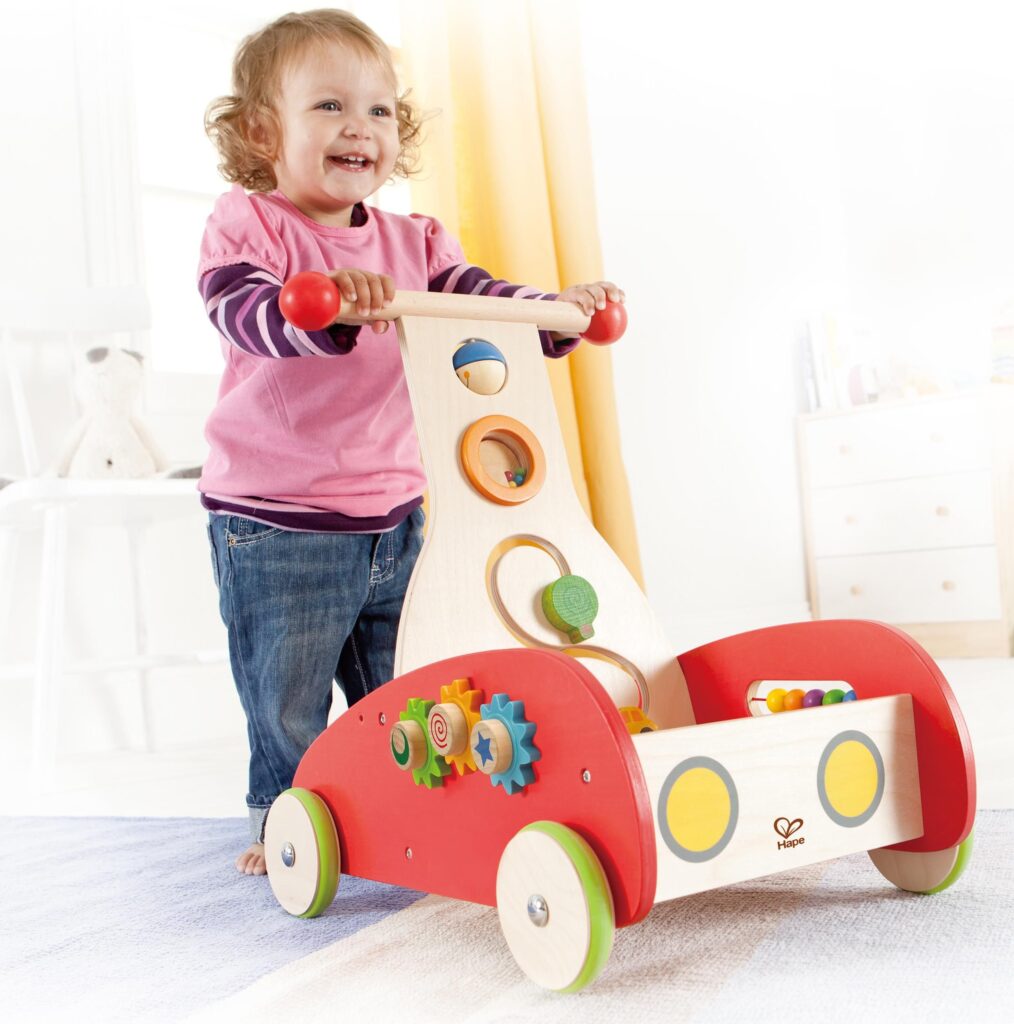 Last but not least is for parents who are not yet prepared to let their children stroll on their own. It is also not the same model as others on this list. Hape Wonder Walker Push and Pull come with five activities, balls in different colors, gears and knobs. Its goal is to help toddlers develop motor skills and coordination.
Unlike its mostly metal and plastic rivals, this device comes with wooden trim. It also has rubber wheels that better grind the floor and different surfaces.
Now that you have seen our list of best baby walkers in 2023, we hope that choosing which one to buy will be more comfortable. After all, getting one can prove to be essential for the growth of your offspring. If you have seen something that feels as the best option for your baby doesn't be afraid to go for it. Baby walkers will aid your loved one to grow and enhance its motor skills on the road to walking on its own. Furthermore, it will give your toddler more independence, provide them with fun, and allow you to take a break.