The Beachfront Baby Wraps are specially designed beach and water use. The light mesh fabric makes this carrier very comfortable for you and the perfect quick-dry material for the pool or beachside fun.
Beachfront Baby Wrap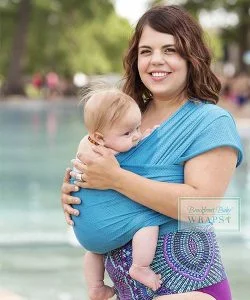 The Beachfront Baby carrier comes in three sizes, so make sure you match up your t-shirt size with the recommended carrier size at purchase. With a recommended weight range of 8lbs to 30lbs, you will find this suitable from just a few weeks old to toddler age.
The beachfront baby carriers are made to carry your child in the optimal position for water conditions, this is very important for the baby's safety. The Baby Wrap is made of a breathable mesh consisting of 100 percent polyester jersey, this is optimal for quick drying once out of the water.
A great feature is that there's enough stretch to feel like this is customized to your shape. The stretch is only in one direction, though, so you don't need to worry about any extra stretching or sagging.
UV protection the wrap affords my child, especially when swimming. People don't need to worry about repeatedly pulling out the sunscreen. It's also nice to know there's one more barrier between the sun and sensitive skin.
Features
Product dimensions: 10.4 x 7.1 x 1.4 inches.
Item weight: 12.8 ounces.
Item model number: WWCBOS.
Shipping weight: 12.8 ounces.
100% polyester jersey mesh lends breath-ability.
For babies 8-30 lbs.
One Size fits parents who wear a size Small, Medium or Large shirt.
Lightweight.