The Moby Wrap is a snuggly, stretchy wrap that is perfect for your newborn baby. You can securely carry your baby around while finishing housework and eating lunch because we know that moms forget to eat sometimes. The Moby has thicker material than other stretchy wraps, and it can be used up to 35lbs. So, it will grow with your baby.
Moby Wrap Baby Carrier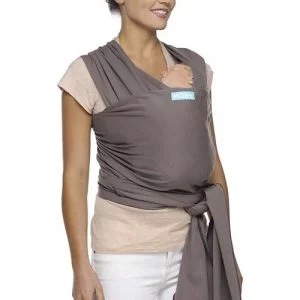 A parent-favorite for its comfort, style, and adaptability, the MOBY Wrap Baby Carrier is made from soft, stretchable and durable fabric that evenly distributes the weight of carrying a baby across the back, shoulders, and hips.
It does require some practice to learn how to use the Moby Wrap for baby correctly. Watch a few tutorial videos for step-by-step instructions. Practice throughout the day at home before you head to the store with it. Once you feel confident using the wrap, it will come naturally to you.
The Moby measures 18 feet, which seems impossible to understand. However, the length allows you to use it for a variety of carries. Using a Moby Wrap allows you to wear your baby front facing inwards and outwards, sideways, and on your back. If you roll it up, the Moby becomes a pillow or a blanket.
When you purchase the Moby, you receive a carrying bag along with an instructional guide. The guide shows you how to use different holds, such as the: Newborn Hug, Hug Hold, Hip Hold, Kangaroo Hold, and Pregnancy Sling.
Features
Product dimensions: 10 x 8 x 8 inches.
Item weight: 1.32 pounds.
Item model number: MCL-SLATE.
Target gender: Unisex.
Minimum weight recommendation: 8 Pounds.
Maximum weight recommendation: 33 Pounds.
Material type: Cotton.
Material composition: Lead-Free.
Imported.