Innoo Tech baby wrap makes your daily life more comfy and simple as you perform your normal tasks. It also contributes to your baby's social, physical, and emotional development. This carrier allows you to spend more moments in a day with your baby as you are close together.
Innoo Tech Baby Sling Carrier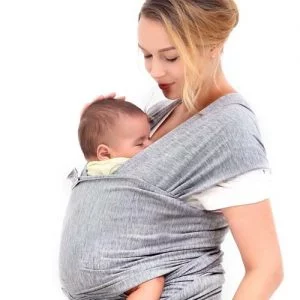 The Innoo Tech baby sling is 4.5 meters long,0.54 meters wide meaning it can provide excellent support for your baby's head, neck, back and gives a pleasant ride for the baby.
The Innoo Tech carrier is made with 95% cotton and 5% spandex, which means that it has breathability and stretch, while still being sturdy. This makes it a good choice for hot days or when exercising.
When the baby is wrapped in a sling, its muscles relax and crying will not come easily. With relaxed muscles, it's much easier for the baby to fall asleep. With the baby near your chest, breastfeeding can be both convenient and private.
Innoo Tech Baby wrap can be washed in the washing machine, so if you get spit up or stains on the material, the machine will clean it all up. The wrap can be used from the time your baby is born until he is 35 pounds, and also comes with a lifetime guarantee.
As one of the wrap positions is inward-facing, you can breastfeed your baby without having to take him out of the sling, making it a discreet and comfortable experience.
Money-Back Guarantee-We believes in all of our products and this baby wrap is no exception. We think you're going to love it, but if you don't feel that this product is for you, let us know and we will refund every cent of your purchase or send you a new replacement free.
Features
Product dimensions: 177 x 22 x 0.1 inches.
Item weight: 1.43 pounds.
Target gender: Female.
Material type: 95% cotton and 5% spandex.
Portable.
Convenient Breastfeeding.
Keep You Comfortable.