By wearing your baby in this wrap, you are stimulating his mind and creating a heightened sense of auditory and visual awareness. It also helps create more special moments throughout the day thanks to being together in a close and cuddled way. CuddleBug baby carrier can be used from the time your baby is born until he is about 35 pounds.
CuddleBug Baby Wrap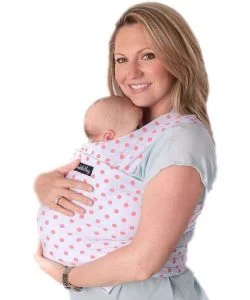 The CuddleBug wrap is available in eight colors, all of which look great with any outfit. This carrier is made of Spandex and French Terry cotton which provide enough stretch to conform to you and your baby's body, but not so much that there is a dangerous amount of extra fabric. The wrap's fabric also keeps your little one warm in winter and cool in summer.
This Baby Wrap allows you to snuggle your baby close while keeping both hands free for activities and tasks. The wrap is machine-washable allowing you to provide your baby with a hygienic and clean carrier. It also comes along with a lifetime guarantee.
The CuddleBug wraps are made from a proprietary blend of French Terry Cotton and Spandex. It has just enough stretch to keep you and your baby safe, snug, and comfortable.
Features
Product dimensions: 69.8 x 7.8 inches.
Item weight: 1.05 pounds.
Item model number: CB2011.
Target gender: Female.
Minimum weight recommendation: 2 Pounds.
Maximum weight recommendation: 35 Pounds.