The Sleepy Wrap Baby Wrap is designed with just the right amount of elasticity, conforming perfectly to your body with no need for constant readjusting, unlike less elastic baby wraps.
Sleepy Wrap Comfortable Cotton Baby Carrier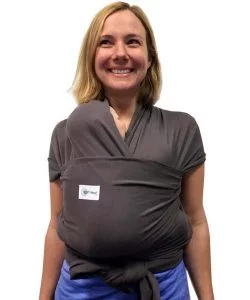 When using the Sleepy Wrap to carry your newborn, toddler or even a preemie, the closeness and lull of your heartbeat will settle and calm your baby.
The Sleepy Wrap is a little shorter in length than some other brands but it will fit most any physique with the 5% Spandex French Terry mix. You may choose to tie the knot in front, in the back or on the side, depending on how much slack you have. 
On the side or in front will make sitting down in the wrap more comfortable as the knot will not be in your back. Each time you tie your wrap, you are creating a custom, ergonomic fit for your baby and the X that forms the seat grows with your child.
The Sleepy Wrap is designed to be used from the very start! If you have a premature baby, you should ask your doctor about Kangaroo Care. This practice can help your little preemie continue to develop by promoting a healthy immune system, thermoregulating and just the sound of your heartbeat can soothe and strengthen your little one.
The safety and support of the wrap provide two of the mainstays of healthy brain development in an infant. Infants who are worn wrapped and carried develop a keen interest in the world around them. They feel safe and secure and so are not scared to look around, venture forth and learn.
Features
Product dimensions: 0.8 x 8.5 x 2 inches.
Item weight: 1 pound.
Item model number: Sleepy-wrap20.
Shipping weight: 1.1 pounds.
5% spandex.
Use this wrap from NEWBORN up to 35lbs.
Stretchy material allows you to EASILY tie your infant snug in the wrap.
Yes Breastfeed friendly.