Your baby is everything to you, he is like a love sponge to you and to him you are. You cannot deny the fact that if you could cuddle or snuggle him/her, you would definitely do it. You wish if you could, well wait. You can! Baby wraps are for this very reason.
They let you cuddle with your baby all day, all night, whenever you want by wearing an origami of baby carriers. You just need to know how to use it conveniently, but that's another topic to discuss.
So, baby wraps. The question arises, how can you find the best one out of all that can ensure comfort and safety at the same time as your baby as well as comfort for you as well. After testing one by one through walking and practice with these baby wraps, we have finally come up with 10 best baby wraps that are available in the market and we're sharing it with you!
Invalid table id.
10 Baby Wraps Of 2023 Reviewed
1. Boba Wrap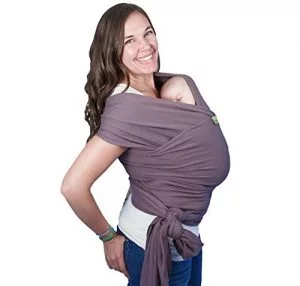 This is the best stretchable wrap that you will find in the market. This product is made up of 95% French Terry cotton and 5% spandex which makes it stretch to the perfect amount that your baby can fit in and be safe in it as well. It's perfect for the newborn baby and toddlers of age until 18 months or with weight 35 pounds. The fabric is machine washable so you don't need to worry about cleanliness.
You can even easily breastfeed with this on. Do we forget to mention that this product is organic? Well, it is. But it is only for front-face carrying. Another disadvantage of this product is that since it is tight it can be uncomfortable for your toddler as well as you in the summer heat.
Also, this product has one size only which is 5.3 meters long. It is a great fit for women of all sizes but it can be a problem for women with the petite figures as they have to stuff some clothes for it to fit rightly.
2. Baby K'tan Original Cotton Wrap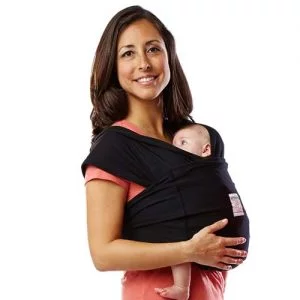 This product cannot be called a wrap as it doesn't require you to learn wrapping skills, unlike other products. It is already made in such a way that you just have to wear it on, as you wear a t-shirt. It is a jersey knit styled wrap made up with 100% natural cotton.
It is soft and you can machine wash it, thus, no need to worry about cleanliness. Unlike Boba Wrap, this one consists of various sizes ranging from XXS to XL.
You can change your position easily, it has both front positions as well back position. However, since its size is equal to your clothing size, it is not suitable for those who are multiple users. Furthermore, it gets stretched out and loosens after long time use. But you can always shrink it back to its original size by washing and drying it out.
If you feel like you don't want to learn wrapping skills or cannot seem to learn it but still need to buy a wrap, then this product is the best option for you.
3. Moby Wrap Baby Carrier for Newborns + Toddlers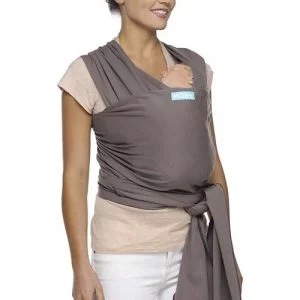 This product is quite similar to Boba Wrap and has the same amount of users almost. Its fabric is made up of 100% natural cotton but there is no spandex included in the material, it feels like a thick t-shirt fabric. Therefore, it is soft and comfortable to wear. It is also easy to use.
It can be easily adapted, the company has a helping guide and if you want, you can ask for a babywearing expert who will help you through their service called "Let Us Help You" so you don't need to worry about learning new holds.
It is 18 feet long so you need to be careful while carrying it in case it gets dragged on the ground or comes in your way while walking. On the good side, it is ideal for various clothing sizes and also caregivers' figures. But, just like Boba, it can get hot while wearing it in summer. Also, it only comes in one position; the front-facing carriers.
4. CuddleBug Baby Wrap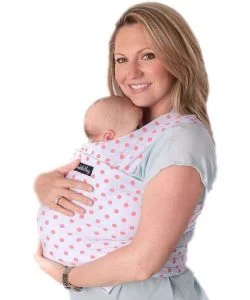 The Cuddlebug is another good choice for baby carriers. Just like Boba Wrap, its material is made out of 95% French Terry Cotton and 5% spandex. It is comfortable yet safe for you and the baby.
Like the other wrap reviews discussed before, it is uncomfortable for the baby as well as you in summer because of the heat, there is no airflow inside the fabric. Otherwise, it is convenient for any other season.
What we love about this product is that it is very easy to use. It has a slightly different wrapping style than the Boba one, but it is very secure. Its wrapping style is a lot easier to do than Boba, and this is why we recommend it.
It comes with 9 different designs so you can buy whatever suits you best. And it is really economical in terms of price. It costs less than $40 on Amazon.  And if you're still unsatisfied with the product, then the manufacturer offers a 30 days cashback guarantee, also lifetime replacement warranty. But, one drawback of this product is that it comes in only one size that is it is 4.5 meters long.
5. Innoo Tech Baby Sling Carrier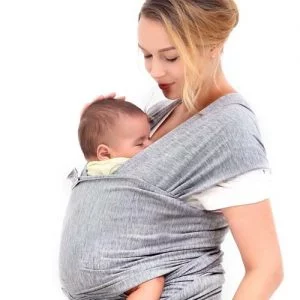 The Innoo Tech Baby Sling Carrier is, in short, the economical version of Boba Wrap. Its fabric is made up of 95% natural cotton and 5% spandex. So, it is very soft and comfortable for the baby as well as you.
But, unlike Boba Wrap, this product is long in length, aside from the price difference. It is 4.5 meters long in length. It may or may not be an issue for the carrier as it is dependent on her/him.
Another feature of this product is a cashback guarantee and lifetime warranty given by the manufacturer at the time of purchase, so it is safe to buy it. This product is sold in only one color, gray, so if you don't like the color, then this is not the one for you.
The fabric material is quite stretchy unlike Boba Wrap and you need to adjust the wrap again and again which can be quite troublesome, especially when you are carrying a baby weighing around 16 pounds or more in it. It is not suitable for long-trips.
6. Baby K'tan Breeze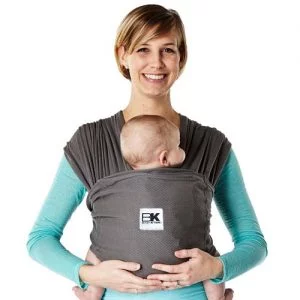 If you love the brand Baby K'tan Wrap, but find it quite uncomfortable to wear in the summer season due to its tightness. Then this brand offers a Baby K'tan Breeze which is a cooler alternative.
The difference between the two is that this product comes with one-half of the loops is 100% cotton fabric while the other half loop is made up of cotton mesh which is best for the airflow. Other than its price and little details, almost all other features are the same as the original one.
This product costs more than the original one but it is more versatile as there are two options in terms of the loop which you can wear around the toddler. The cool side of the loop is for the summer season and the warm side of the loop is for the winter season.
7. Sleepy Wrap Comfortable Cotton Baby Carrier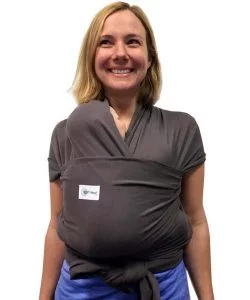 The Sleepy Wrap is designed for newborn babies although it can carry around 35 pounds weight of the baby. It is specifically made for newborn babies. But this one is sold in only one color, dark gray, which is a negative point for someone who wants other color options. Its fabric is made out of 95% cotton and 5% spandex.
One thing to note is that this product's manufacturer is the same as Boba Baby Wrap so the quality of the product will be almost the same, but it is sold at a lesser price. Furthermore, as it is made solely for the newborn toddlers so it is smaller in length that is it 4.5 meters long.
It will get baggier if you carry a baby who weighs more than 10 pounds. This bag is not suitable for you once your baby grows into a toddler.
8. Hip Baby Wrap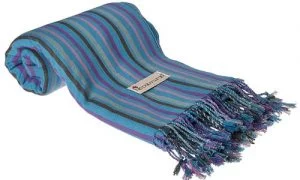 Don't you want the best material wrap for your baby? The softer the baby wrap, the more comfortable your baby will be. The Hip Baby Wrap is a great option for you. This is because it is made up of 100% cotton. However, this cotton is of a different type.
Unlike other baby wraps, this one is quite practical as it can wrap around your front, back and even hip. Thus, you get enough versatility and designs with which you can wear it, making it look not only comfortable but also chic.
Furthermore, it is also quite breathable. So during hot weather, you will not feel uncomfortable. One downside is that it only comes in size six and it is not even made up of a stretchable material. Due to the fact that this wrap is hand woven, it can be safely used as a back carry too. However, the woven material does require a bit of breaking in.
A great thing about this wrap is that it comes in multiple different colors and designs. These styles are super chic and trendy which ensures that even with a baby you are up to date with fashion. Moreover, the colors and designs are beautiful and eye-catching. We guarantee you that you will impress everyone with the Hip Baby Wrap.
Moreover, we assure you that there is no compromise on the quality of the materials used and the design. It is completely up to the mark and can even compete with a lot of the top brands. The best part is that with the excellent quality that you receive, this baby wrap is also pretty affordable (unlike the top brands). Thus, you will definitely be getting your money's worth after you purchase this baby wrap.
9. Beachfront Baby Wrap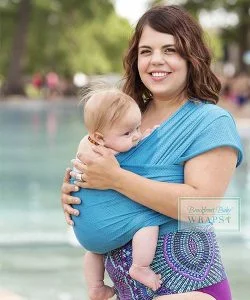 Who does not like to go to the beach and have some fun? Having a baby should not stop you from living your best life. And it will be a lot of fun to take your baby to the beach and help him familiarize himself with the water.
If you are looking for a baby wrap that lets you and your baby have some fun in the sun (in a safe way), then you have come to the right place. The Beachfront Baby Wrap is the perfect option for you.
It is made from a unique, athletic mesh material. This not only makes the fabric breathable but also just the right amount of stretchy. The breathable material makes sure that you and your baby do not feel hot and uncomfortable while in the sun. It maintains a steady air flow. On the other hand, the stretchable material makes it easy for all sizes to use.
It must be kept in mind that the fabric of this wrap only stretches in one direction. It stretches at the width of the baby carrier to prevent sagging. This makes sure that you remain comfortable while carrying the baby, and the baby too is comfortable while being carried.
This baby wrap is pretty lightweight. This becomes an advantage especially when washing because this wrap dries up pretty quickly. Thus, you can easily wear it in the pool, beach, or even in the shower.
The best part is that the wrap comes in three sizes in order to fit different clothing sizes. This is an excellent feature as it adds to the practicality and versatility of the product. Upon comparison with other baby wraps, it was found out that the Beachfront Baby Wraps are a little shorter in size. Thus you will have a lesser amount of fabric to cover you and your little one.
10. Babypeta Baby Carrier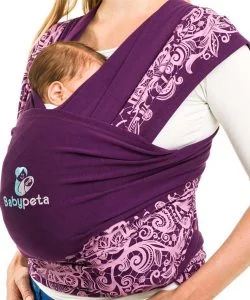 Although this wrap looks very similar to the other wraps, we assure you that it is not. At a first glance, it may seem like it is just another standard, normal wrap. If you think so, then you must look again.
The Babypeta Baby Carrier is a one of a kind baby wrap that is made up of pure, organic cotton and spandex. This might not be new information as other wraps are made from the same materials too. However, there are a few slight differences that may direct your preference towards this baby wrap.
This baby wrap is almost 2 to 3 inches wider than the Boba wrap. However, it does not have a lot of stretchiness as compared to the Boba wrap. This makes it very comfortable and easy to carry around your baby in, especially if he/she is around 18 pounds or more.
The fact that this baby wrap is very easy to use and is also comfortable makes it great for traveling purposes too. Now, whether you have to go for a quick grocery shopping or for a longer trip, you can conveniently use this wrap and you are good to go.
Moreover, it is made in a material that makes it super breathable. Hence it is the perfect solution for hot weather. The breathable material ensures that there is a steady and constant flow of air that is maintained. These features help you and your baby remain cool during the harsh summer heat. It also prevents you from getting a heat stroke.
Furthermore, its super cool design is sure to catch the attention of all those around you. You can wrap it around your body and it looks great even without your baby inside.
How To Choose The Best Baby Wrap
When it comes to products related to your baby, you definitely want the best of things. Parents do not like to spare a single thing when dealing with their baby's comfort. Thus, just like all the other products that you buy, you must also choose the best baby wrap for your little one.
For most young parents, having a baby can be quite overwhelming. Therefore, they do not know what to get and what not to get. Moreover, they also have a hard time knowing what is best for your child. Due to reasons such as this, we are here for you. If you want the best baby wrap for your child, then you have come to the right place. We have it all covered for you.
If you don't have an idea of what a baby wrap is, it is a long piece of fabric – in the form of a knit jersey, gauze, cotton, linen, wool and other materials – that you can wrap around yourself and your baby in order to help you carry him/her on your chest, back and hip.
What better way to bond with your baby than to snuggle with him with the help of a wrap. The fabric of the baby wrap is wrapped around your torso and shoulders. This is so that the weight of your baby is equally distributed across your hips and shoulders. Thus, making it very comfortable.
A baby wrap does not have any straps and/or buckles digging into your child or you. Hence, you will not feel uncomfortable at all. Your child can also remain at ease throughout the time he is placed in the wrap. Numerous different people can use baby wraps according to their own preferences.
These baby wraps are very versatile and there are a lot of ways to use it. Thus, individuals can use it according to their own specific needs. Moreover, these baby wraps are available in a lot of different designs and styles.
Thus ensuring that even with a child, you are up to date with the latest fashion trends and look super stylish and chic. It is because of these very reasons that we love these baby wraps and believe that you can easily find one that suits your needs to a T.
However, the difficult part is to find what baby wrap is the best for you. This is where we come into the picture. We are here to guide you through every step of parenthood. Hence you need not worry about anything. A baby wrap is a personal choice, thus, we have also added a couple of questions for you to answer so that you can narrow down our list of top ten baby wraps to just one.
SizeFabricCottonLinenHempWoolSilkBamboo
Size is very important when it comes to buying the best baby wrap. Whether you believe it or not, baby wraps come in a number of sizes. Just like you buy clothes of the perfect size, you need to buy a baby wrap that fits your and your baby's size. This is to ensure maximum comfort. The base size as it is termed as usually depends on the size of your t-shirt and the amount of fabric that you will need to successfully do a Front Wrap Cross Carry. Individuals of average size are advised to get a size 6 baby wrap for themselves. The parents who are much more petite can even purchase a wrap that is a size lower while the plus size baby wearers can purchase a wrap that is larger than size 6. Given below is a standard general guide to baby wrap sizes and also its equivalent length in meters.
Size 1: 2.0 – 2.2 m
Size 2: 2.5 – 2.7 m
Size 3: 3.1 – 3.3 m
Size 4: 3.7 – 3.9 m
Size 5: 4.2 – 4.3 m
Size 6: 4.6 – 4.9 m
Size 7: 5.2 – 5.4 m
Size 8: 5.5 – 5.8 m
There is no right or wrong fabric when it comes to buying a baby wrap. However, there are often some fabrics that you or your children are allergic to. Thus, it is always better to make sure of what you are purchasing. Moreover, a great deal of what fabric should you get all comes down to your preference and the weather. You would not want a wool baby wrap for the summers now, would you? It is important to keep these little things in mind in order to ensure your baby's comfort and safety. Moreover, it is also important for you to take care of your comfort as well. We are here to give you a little insight as to which fabric is the best for you and your baby.
It is the perfect material for young parents and even those who are trying out a baby wrap for the first time. Cotton baby wraps are very easy to use and wrap around. Moreover, the fabric is super soft and does not feel rough against your skin. It is also good for support and does not need a lot of maintenance either.
Linen is one fabric that does take a little time to break in. However, it is hands down one of the best fabrics for a baby wrap. It is extremely sturdy and supportive which makes it an excellent choice even for new born babies (who need a lot of support since they have no control over their head and neck movements). Moreover, linen baby wraps are highly durable and are sure to last you for a long time. The thin and breathable fabric ensures a steady air flow to keep you and the baby comfortable. These baby wraps are also super easy to clean, thus, are low maintenance.
Similar to linen, hemp is also very breathable and supportive. The fabric is initially a little stiff and crunchy. However, once broken in, it is an excellent choice for cold weather. Even though it has a lot of positives and is super easy to care for, it is not quite cheap. Thus, if you are on a strict budget, then hemp may not be the best option for you.
Wool is soft and warm. It is the most ideal fabric to snuggle your baby close to you especially during the winter season. As a wrap, it provides a great cushion for your baby and also regulates temperature. Moreover, it is also very supportive. However, there is one downside to a woolen baby wrap. It requires pretty high maintenance when it comes to both washing and drying.
Silk baby wraps are the epitome of elegance and beauty. It is the perfect choice for all those who want their baby wrap to have a luxurious feel. Moreover, the fabric is strong and supportive to ensure maximum comfort for your baby. In addition to this, there is one thing you need to make sure of; the weight and thickness of the silk wrap should handle the weight of your child. Silk baby wraps are also very high maintenance.
Bamboo baby wraps are an excellent choice for all those who are looking for something that is eco-friendly. It is hypoallergenic, super soft and 100% biodegradable. Moreover, the material is very breathable to keep you cool during the hot summers. In addition to this, it is also an excellent insulator that keeps you warm during the winters. However, it can be very slippery and hard to tighten. Thus, it is not recommended for first-time wrappers.