A stretchy wrap is an absolute godsend when you have a newborn that just wants to be attached to you 24/7. And the best baby wrap carrier for newborns is the Boba Baby Wrap. Made from 95% cotton/5% spandex it's breathable and flexible, so you'll have no trouble wearing it for hours.
Boba Wrap Baby Carrier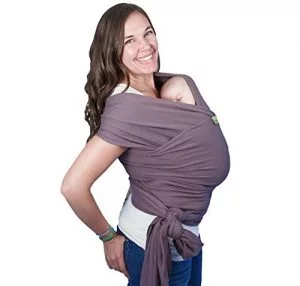 Many parents ) fall in love with the art of wrapping, and the flexibility it allows you when carrying your baby. And a stretchy Boba Wrap is often a stepping stone to a woven wrap which is more suitable for older babies and toddlers.
The Boba wrap is also a perfect baby carrier for premature babies, so if your little bundle of joy was to arrive early, you'd be covered. The only downside to the Boba Wrap is that it can take a little practice to get the wrapping technique just right.
The long lengths of fabric can seem quite daunting at first. But once you've got the hang of it, you won't regret buying the Boba as your first baby wrap! Other stretchy wraps, such as the Baby K' Tan have less fabric, but you have to choose a size – making it difficult for two parents to share a carrier.
Features
Package dimensions: 13.5 x 7.2 x 5.9 inches.
Item weight: 1.94 pounds.
Batteries required: No.
Comfortably wraps babies from birth to 35 pounds.
95% cotton with a touch of spandex to retain its shape.
Machine washable and dries quickly.
Breathable cotton is good for hot climates.
No pressure points, just sweet relief.