Sterilize and dry your newborn and baby bottles quickly and easily with the One Step Baby Brezza Sterilizer Dryer. This universal 4-in1 machine can be used as a Sterilizer only, Dryer only, Sterilizer and Dryer or as a Storage Rack.
This electric machine uses natural steam to kill 99.9% of the germs in bottles, pacifiers or breast pump parts in just 8 minutes, then automatically dries the leftover condensation in your choice of a 30, 45, or 60-minute drying cycle with the easy-to-use control panel.
Baby Brezza Baby Bottle Sterilizer and Dryer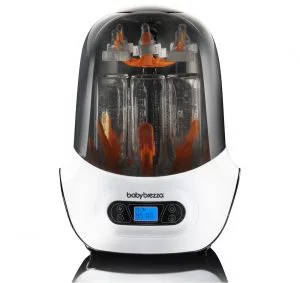 The bottles remain sterile for up to 24 hours, or until the lid is open. The One Step Sterilizer Dryer holds up to 6 bottles plus accessories and works well with all bottle sizes. 1 Year Limited Warranty.
The One Step Sterilizer automatically switches to drying mode after sterilization is complete, and automatically switches off after drying. Holds up to 6 bottles plus accessories. Works well with all bottle sizes and shapes plus pacifiers, and breast pump parts.
The Baby Brezza Bottle best mimics natural breastfeeding. Which not only means optimal development for your baby, but easier transitions from breast to bottle for those who need it. In a sense, this bottle was born for your baby. The plastic Brezza Bottles are made of sturdy polypropylene, which is BPA free.
Features
Product dimensions: 16.5 x 11.5 x 11.5 inches.
Item weight: 6.45 pounds.
Item model number: BRZ0098.
BPA-Free Parts.
Automatic Drying and Shut-Off Functions.
Kills 99.9% of germs quickly.
Universal and easy to use 4 in 1 bottle sterilizer.
Imported.
Easy-to-use LCD control panel.