Deluxe Bottle Sterilizer uses steam to sterilize six bottles at once. This convenient electric steam sterilizer system fits ALL Dr. Brown's bottles and most other bottle brands. Easy to use and operate, this unit features electronic controls with cycle indicators plus an auto shut-off when the cycle is complete. 
Browns Deluxe Bottle Sterilizer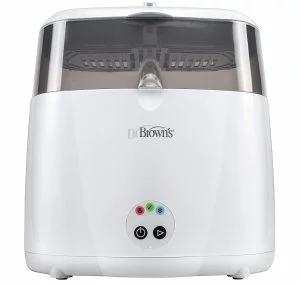 The removable tray is designed to position bottles so steam is directed in each bottle. The built-in accessory tray holds bottle parts, nipples, and even pacifiers. Also includes tongs and measuring cup and features attractive new gray and white design. Note: This device is only compatible with North American "Type B" NEMA 5-15 standard outlet.
Do not exceed the recommended amount of water. Please note that hard water may increase build-up or other residues on the heating plate. If you have hard water, we recommend that you use distilled water
Features
Product dimensions: 13.3 x 12.8 x 10 inches.
Item weight: 5.45 pounds.
Item model number: AC045.
Newly redesigned.
Easy to operate.
Effective cleaning.
Convenient accessory tray.
BPA-free polypropylene plastic or BPA-free borosilicate glass.