Dr. Brown's Sterilizer is uniquely suited to fit Dr. Brown's Bottles. It sterilizes up to 4 bottles. It holds standard or wide neck bottles. The sterilizer is dishwasher safe, uses tap water and includes plastic tongs.
Brown's Microwave Steam Sterilizer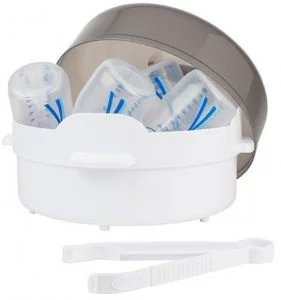 Dr. Brown's brand is well known for creating high-quality products that consumers love at a price point that many can afford. The question becomes, is it worthwhile to purchase a name brand that is so well-known, or can you get by with a generic brand and save a few dollars?
In addition to being able to accommodate Dr. Brown's bottles, other name brand bottles can fit in this sterilizer as well. This is a nice perk and not one that should be overlooked as some other sterilizers don't offer the same flexibility.
Another great asset to this sterilizer is that you can purchase an extended care protection plan in case you are worried that something may happen to it. If you have a concern about malfunctions and the idea of having to replace your beloved bottle warmer, it may be worth it to you to purchase the extended warranty for a few extra dollars to give you some peace of mind.
Features
Product dimensions: 10.5 x 6.7 x 10.5 inches.
Item weight: 1.5 pounds.
Target gender: Unisex.
Material free: Nitrosamine.
Bottle type: Wide Mouth, Vented, Anti-Colic.
Shipping weight: 1.6 pounds.
Made in the US.
t effectively kills all harmful household bacteria and germs.
The tray is also removable for easy cleaning.