The Philips Avent 3-in-1 Electric Steam Sterilizer uses electricity to generate intense steam. Just add water to the base, load the rack, and turn on the power. The unit will operate a six-minute cycle and automatically shut off when complete. The contents will remain sterile for up to 24 hours if the lid remains unopened.
Philips AVENT 3 in 1 Electric Steam Sterilizer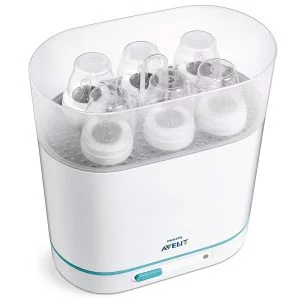 Philips Avent Electric Steam Sterilizer lightweight, compact design makes it ideal for use in and out of the home. Contents remain sterile for up to 24 hours if the lid is unopened.
This electric steam sterilizer has been designed to make sterilizing as simple as possible. With adjustable size, it takes up less kitchen space and the baskets fit both wide and narrow neck bottles.
The 4-in-1 sterilizer has the same benefits as the 3-in-1 with great extras like the dishwasher basket, the process indicator for hassle-free precleaning, and an advanced display to keep you informed.
Features
Product dimensions: 6.3 x 11.4 x 13.8 inches.
Product weight: 3.31 pounds.
Shipping weight: 4.4 pounds.
Manufacturer: Avent.
Department: baby-boys.
Item model number: SCF284/05.
Kills 99.9 percentage of harmful germs.
3 in 1 adjustable modular design.
its up to 6 Philips Avent 11 ounce bottles.
Voltage : 220 240 Volt.
Material: Polypropylene.