When buying a gift or toys for your child, you often think about what to get. You want to get toys that are fun to play with and have educational benefits as well.
You can now put your worries aside because here are some toys and gift ideas that you can consider buying—all of these products I have reviewed are considered keeping in view the needs and desires of an 8-year-old.
With developed technology and media, kids spent most of their time watching tv, movies, using phone or reading comics. They need something productive which will be beneficial for them, and at the same time, it will kill the boredom.
Playing with the toy sets can help in developing skills and boost up their memory. It will also teach them how to play with others, comprising and sharing. That's not all. You can gift them toy sets that also involve physical activities.
Handing them such toys as gifts on their birthdays, Christmas, Easter, etc., they are perfect for any occasion. An 8-year-old boy is at the developing stage, whether it is mental or physical. So an 8-year-old needs some challenging toys that sharp their cognition and deductive skills.
Boys are attracted to play cool games that involve basic coding, car racing, or any physical games like hockey, soccer, etc. They can also show off these toys to their friends and play with them for more fun.
Gift Ideas for 8-Year-Old Boys
1. Holy Stone HS190 Mini Nano RC Drone for Kids Gift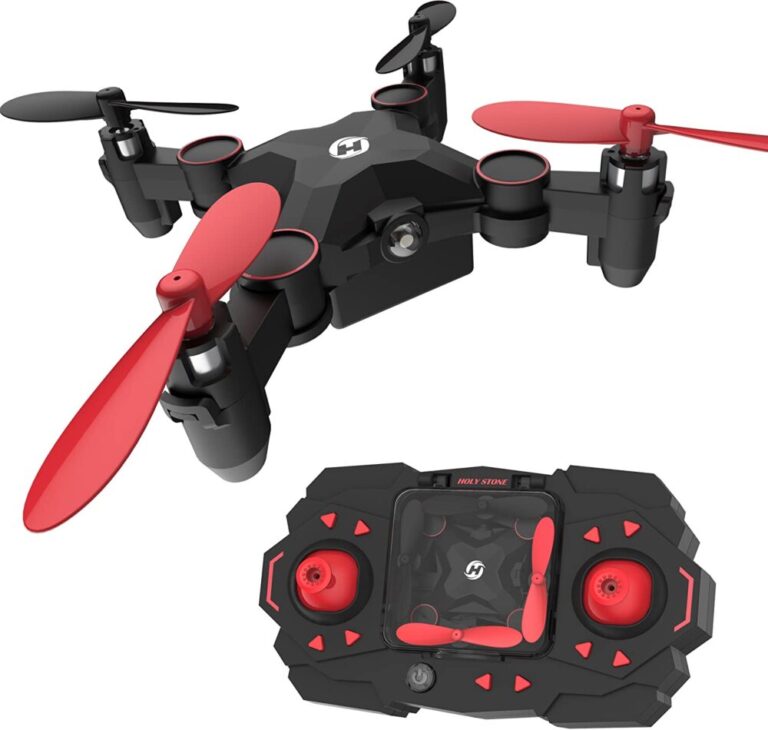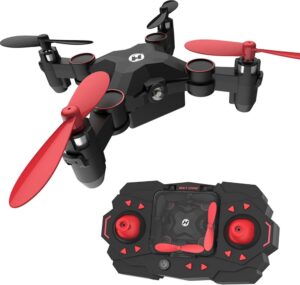 Holy Stone HS190 Drone is an ideal gift for your child. It features an impressive design with some excellent functions. It includes an altitude hold feature that allows the drone to hover about and maintain its height with the throttle stick's help. Just like any other electronic device, you also need to charge this holy stone drone.
It is handy and lightweight due to a mini quadcopter's foldability, which an 8-year-old can hold easily. To control and maneuver the drone quickly, it includes a single key for taking off and landing. It also consists of a headless mode and one key return that allows you to operate the drone smoothly and return to you.
The easy key control makes it best for all players. It features high-speed rotation that allows the drone to flip 3D. The LED lighting system makes it appealing and easy to detect. It will include a manual, screwdriver, crowbar, controller, spare propellers, charger, guard, and quadcopter on purchasing this gift.
Pros
Portable
Budget-friendly
Easy key control
Holy Stone HS190 mini drone is an ideal gift to surprise your 8-year child on his birthday or other occasions. It has many harmless features that allow your child to play actively. What makes it great is its lightweight and portable nature. It also includes maneuvering the controller effortlessly.
2. Avengers Hero Inventor Kit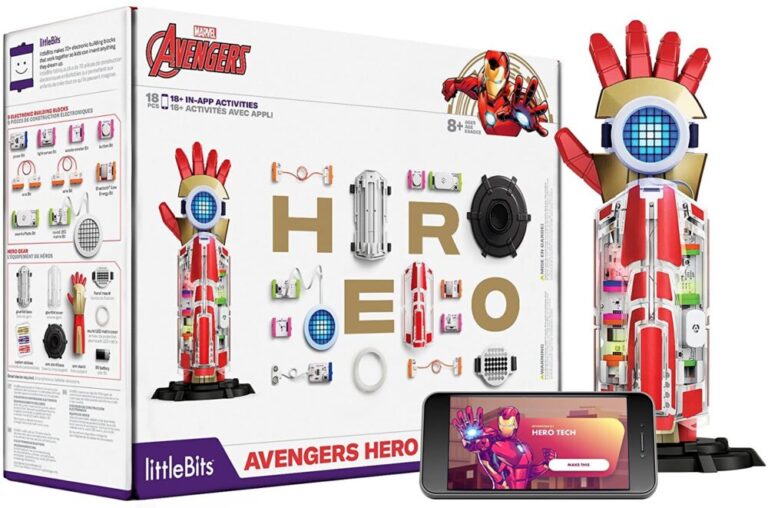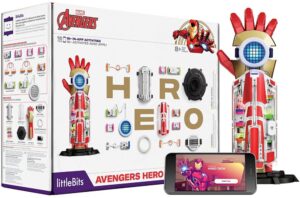 Avengers Hero inventor kit lets your 8-year-old boy become a part of Avengers and experience Avengers hero battle cry. They can also record their own warcry.
The Avengers hero inventor kit box includes LED Matrix, plastic pieces, electronic building blocks, authentic Marvel sound effects, and battery.
It features a customizable gauntlet and offers 18 different activities for kids to code, play, and learn, whether art, engineering, math, science, or technology. With this Avenger Hero inventor, their cognitive and imaginative skills are polished, sticker sheets and household items available along this set help the child reveal his inner superhero.
It does not require any assistance from adults because of troubleshooting guides or video instructions to help the child enjoy active missions by himself. There are three modes: stealth mode, animator creator, and speed tracker, and this variety allows the 8-year-boy to learn basic codings like loops and logic.
Pros
Improves cognitive skills
Playful missions
Smart device
To explore and experience the world of heroes, get your child Avenger Hero inventor kit which proves to be a good gift. It allows your child to learn by playing different activities offered by this kit. Without the help and monitoring of adults, a child is safe to play with it and have fun experiences playing differently.
3. Laser-Guided Real Wall Climbing Race Car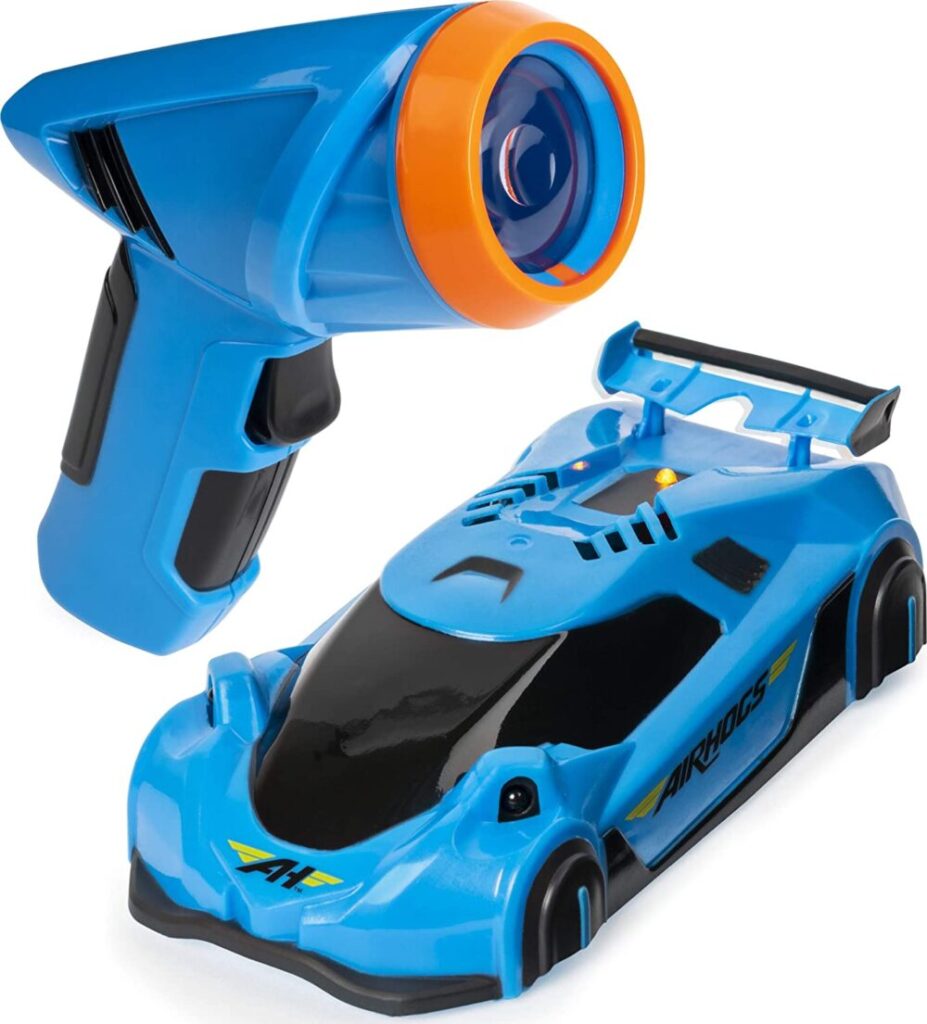 Air Hogs Zero Gravity Laser-guided real wall climbing race car does not need any remote controller to maneuver its functions but rather drives on the wall. Boys prefer racing car toys over many things, and it's not even a regular racing car. It even climbs on the ceiling and ground due to wall climber technology infused in the climbing racing car. Your 8-year-child will love this toy.
It comes with a LED laser gun, a controller that can throw light on a smooth surface, ceiling, or wall wherever you point. The car will chase the laser light within a one-foot radius of the car, which grants it the power to defy gravity. With easy control, it is super lightweight and offers multi-directional control with smooth spin and turn.
USB rechargeable 3 AAA batteries are needed for the controller which not included in the box. When you purchase the Air Hog Laser climbing racing car, you will an instruction guide, a single controller, a zero-gravity laser, and a USB cable for charging. It is not recommended for outdoors.
Pros
LED light controller
Lightweight
Rechargeable batteries
Air Hog, a Zero Gravity laser-guided wall climbing racing car, is an ideal toy that you can give to your child eight years old or above. The wall climber technology allows climbing smoothly on the wall without damaging the wall. It proves to be the perfect gift for Christmas or any other event to delight your child.
4. LEGO Boost Creative Toolbox 17101 Fun Robot Building Set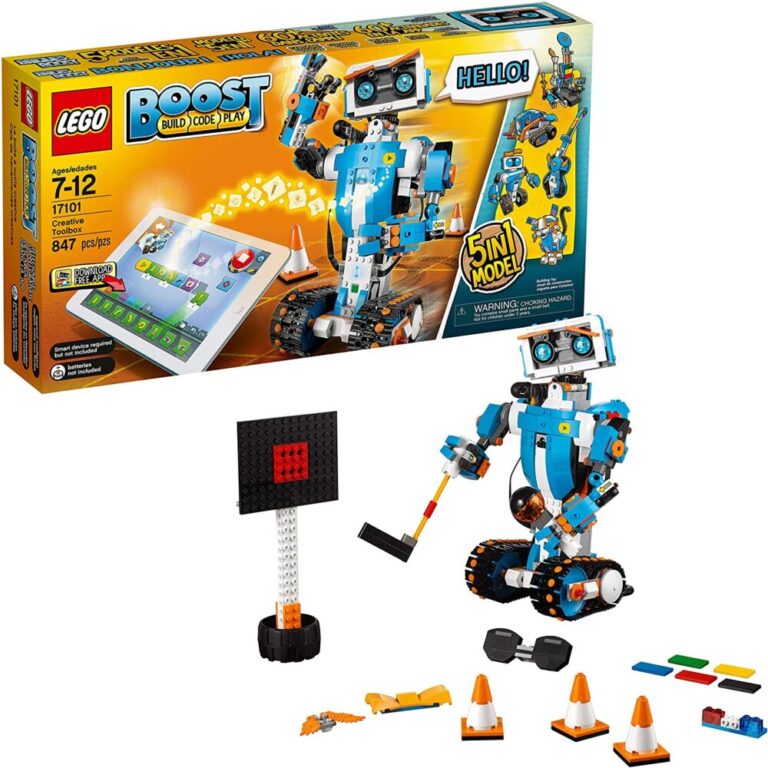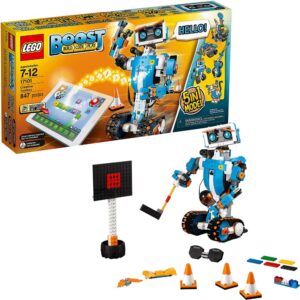 LEGO Boot Creative Toolbox a robot building toy set which is suitable for an 8-year-old or above. It improves cognition and introduces basic coding knowledge. It also gives educational benefits to your 8-year-old, such as triggers curiosity, programing, building, etc.
Your child can make five fantastic multifunctional models from LEGO pieces which are about 847 pieces. This toy is quite popular among the boys mostly, and they love to make a collection of these LEGO models. So if you are considering a gift for your 8-year boy, consider the LEGO robot building set. It also features a LEGO poster and plays mat.
You also download a free LEGO Boost app that your child can construct coding, making these robots dance, purr, and interact through the auto-builder. Thus, it offers endless activities that enhance the IQ of your child. The app is compatible with Andriod, iOS, and Windows 10. They require AAA batteries of 1.5v to perform all the functions. However, they are not included in the set.
Pros
Improves cognition
Make sounds
Free app
A LEGO robot building set is an excellent choice to buy such a toy for your child as it allows brain development and improves cognition. This toy is safe to play with and offers easy handling that does not require any grownups' assistance. It creates curiosity in your 8-year-old and allows him to create five different LEGO models out of 847 pieces.
Read Also: Best Toys and Gift Ideas for 8-Year-Old Girls
5. VEPOWER 2-in-1 Hover Hockey Soccer Ball Kids Toys Set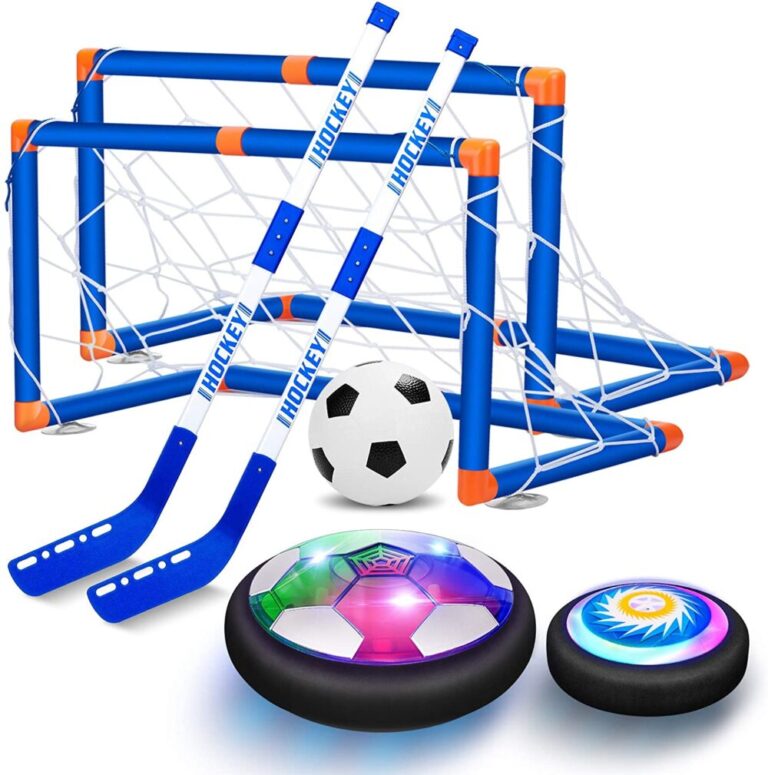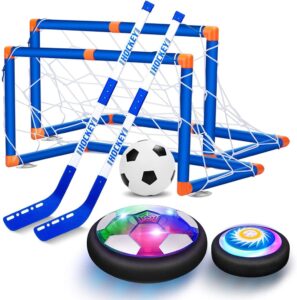 If you are looking for an ideal gift to give your 8-year-old boy on his birthday, then VEPOWER 2-in-1 hover hockey soccer is an excellent option for you to choose. It allows your child to play with this toy set with friends or younger siblings, either indoor or outdoor. It severs both the function. It features multi-colored LED lights that make it catchy and adds to the playfulness. The package includes three balls, two net goals, and two hockey sticks.
A single hockey ball comes with 3 AAA batteries which are not included in the package. Also, one hover is rechargeable powered by a 350mAh lithium-ion battery. It allows total playtime of 40 minutes after charging it for 60 minutes. The inflatable soccer ball offers various ways in which your child can play.
VEPOWER hover hockey soccer set consists of a powerful motor with help to operate the fan that permits it to slide over different types of surfaces such as the hard-wood floor, low-pile carpet, or even tiles, etc.
You can turn the hockey ball into ice hockey or knee hockey or soccer ball; nonetheless, it is perfect for your child to play so many games from this single toy set both indoors and outdoors. The hover ball has a padded safety bumper that does not feel harder to kick or damage the surroundings like walls or furniture.
Thus, it offers playful and enjoyable hours that improve a child's physical health. It is handy and can be easily stored by assembling and disassembling hockey sticks without taking much space.
Pros
Muti-color LED lights
Safety padded bumper
Easy storage
VEPOWER hockey soccer set offers various games for your 8-year-old child to play, whether indoor or outdoor. The hockey soccer comes with a padded safety bumper to protect your child and surroundings from damage. The built-in LED lights make this toy set appealing, something which your child will love to have and play with it.
6. ThinkFun Dog Crimes Logic Game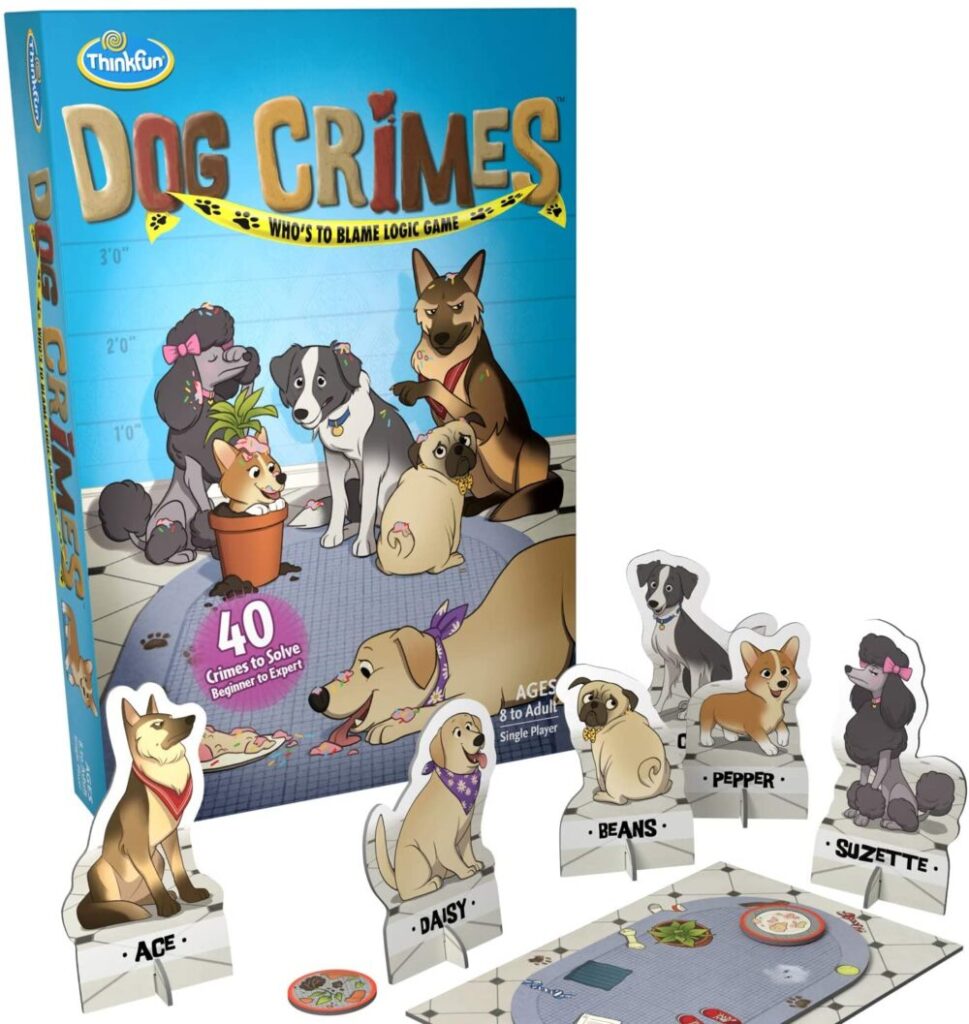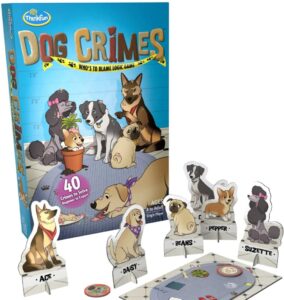 If you want to get something productive for your 8-year-old boy, which proves beneficial for cognition, ThinkFun Dog Crime Logic Game is the most feasible choice.
Playing logic games boosts brain activity, joggles different ideas, and is a good source of reducing boredom. This toy set enhances the memory and processing speed of your child by solving the puzzles. These puzzles are available in four different styles.
This toy set package contains a game board with six dog tokens and six crime tokens. There are 40 challenges that need solutions. It also includes a manual with easy and clear instructions related to this toy set, and the next step is to start playing the game. Your child can play this game with friends to have logical reasoning and lots of fun.
ThinkFun Dog Crimes Logic Game helps your child to develop critical thinking because of tricky challenges. It features multi-level challenges that are the difficulty level which goes from beginners to expert level.
It presents a dog crime scene with six dog suspects, each with unique characteristics. A player needs to identify the culprit with a series of clues and evidence. It features familiar gameplay where players use their deductive reasoning to solve the puzzle.
Pros
Developing critical skills
Four styles
multi-level challenges
The ThinkFun Dog Crimes Logic game is a decent fit for 8-year-old children to reduce their boredom and increase critical skills. It is a thought-provoking game that constantly processes new ideas in mind. This toy set is ideal for developing the deducting and logical reasoning of the child. It features four different themes which you can buy according to your child's liking.
7. Electric Jellyfish Tank Table Lamp with Color Changing Light Gift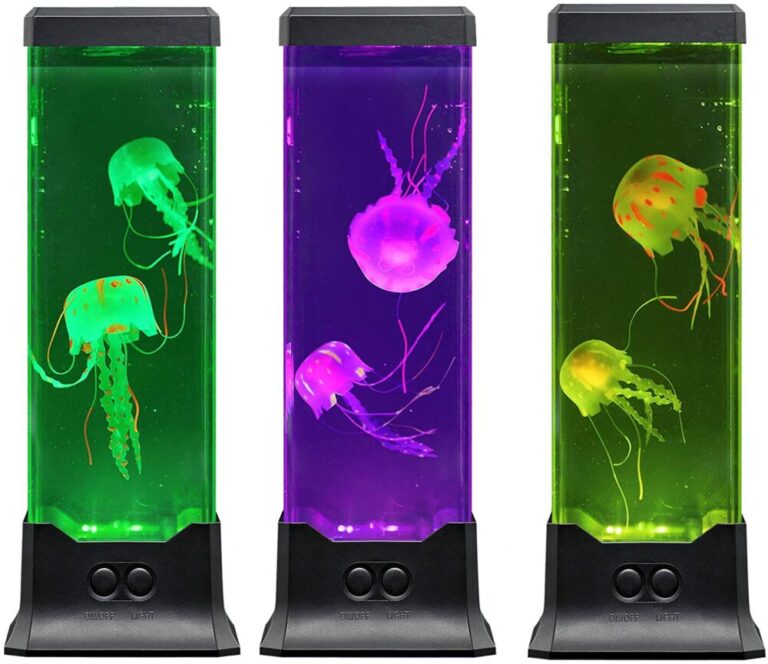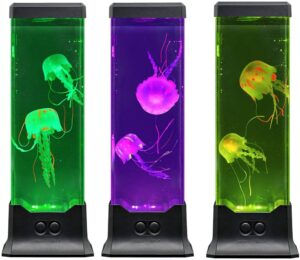 Electric Jellyfish Tank Table lamp can change colors and is a pretty suitable gift you can give your child on his birthday. If your son is bothering you to get him a fish, you can consider buying this product for him since it is easy to take care of this product instead of keeping a real fish.
The jellyfish in this tank seems natural with its tendrils that create some realistic floating effect. The jellyfish is not only the thing you get but also modern decor for the room as well.
This electric jellyfish tank features the LED lights to change colors that fascinate everyone and lit up the room. You can place it in your child's room at night, and with these LED lights, he will have a pleasant night. It can also help your child fall asleep as it soothes and relaxes the mind by creating a calm environment.
The visual of this jellyfish tank is mesmerizing, and it becomes a center of focus. These electric jellyfish tanks are infused with industrial-grade dampeners technology that allows jellyfish to create a Whisper-quiet environment.
It also features four hours automatic shut-off function that is as soon as your child falls asleep, this tank turns off by itself. The tank consists of two buttons. One button is to turn on and off while the other button is to fix lights. So if you lost the remote, then you use these buttons to perform similar functions.
It has a UV-listed adapter that offers over-voltage protection, overheating protection, short-circuiting protection, and over-current protection. Thus, it makes it safe and secure to use.
Pros
One year warranty
Changing LED lights
Automatic turn off
Electric Jellyfish tank allows having a real aquarium experience. This jellyfish tank table lamp creates a relaxing and pleasurable mood. It helps your child to fall asleep and shuts off by itself after it to save the power. It is the perfect gift for your child with environment-friendly features. It comes with one year warranty.
Buying Guide
While buying ideal toys and gifts for your 8-year-old child, you must consider few things before purchasing them and surprise your children with them. Being eight is developing when the child becomes socially more active and energetic while playing games and sports.
Physical Skills
8-year-old boys still have time to go through puberty, so they do not undergo massive changes in physical development, but rather their coordination and skills with which they can perform actions like spinning, jumping, and play active roles in sports-related and nonrelated activities.
They start to get muscle control and can play musical instruments or other activities. It is during this stage where parents can notice if their 8-year-old children have natural athletic potential. The children show the potential with their abilities or whether they are interested in participating in sport or not.
However, physical activities are essential, and it is advised to the parents to encourage their kids to physical exercise with alternate like swimming, biking, running, etc.
Some 8-year-old kids have low self-esteem and lack of confidence which comes as a hurdle in showcasing their talent. Parents need to build their confidence by encouraging them and show them their support. Furthermore, you can get them toys which will boost up their physical ability and physical skills.
Social And Emotional Development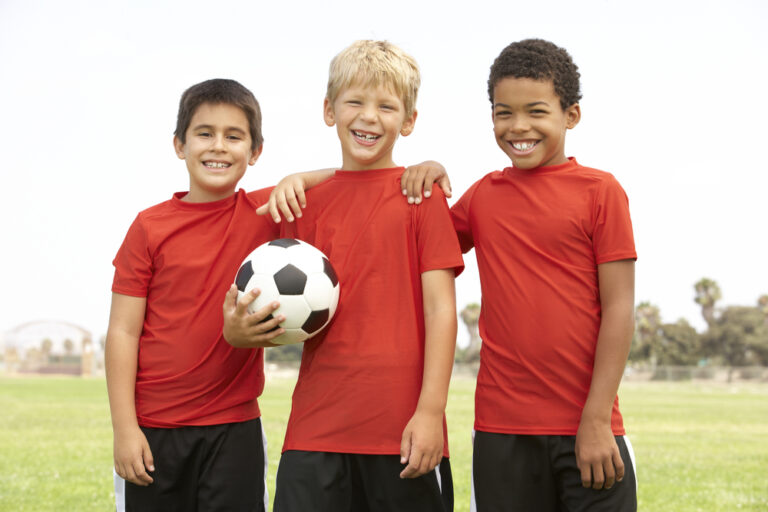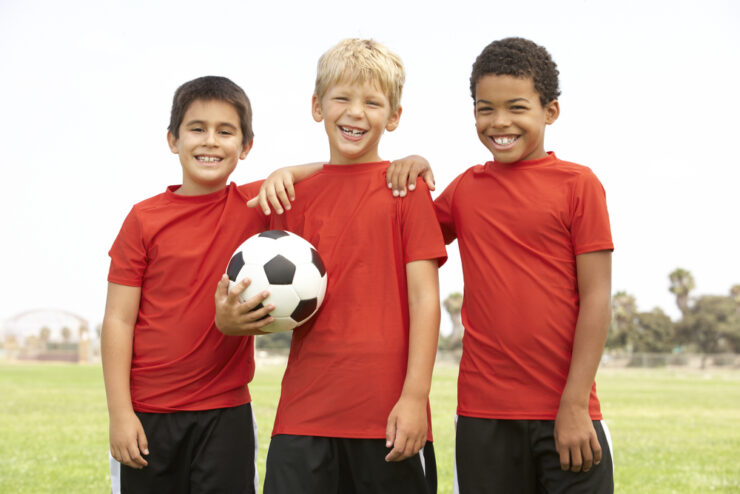 Going to school is where the 8-year old becomes socially interactive and builds relations other than parents and family members. They become socially involved in the classroom and few close friends. All these social contacts are new to them, and some might cope with issues to deal with them. To be socially active, parents need to allow their children to spend time at their friend's homes or attend parties arranged by their friends.
You can get them multiplayer toys set that they can share with their friends, and it can also help expand their friend zone. It helps them in becoming competitive. Kid of this particular age likes to play with same-gender friends.
Playing with toys can help them in boosting their confidence and self-esteem. Emotional development is also essential as it allows a child to explore, understand and interact with other people.
Toys can promote their social competence and emotional stability because they show different emotions, practice communication, and build confidence by playing with the toys. Sharing their toys allows them to experience peer conflict and the exchange of other points of view helps their emotional development. This will make their journey to adulthood easy.
Cognitive And Language Skills
The age of 8 is the prime time of cognition development. Buying a logic game set for your 8-year-old child helps to improve and polish skills like problem-solving, critical thinking, and deductive reasoning. It greatly enhances the attention span, their ability to focus, and their memory. Toys prove to be challenging, and this will also make your child competitive.
Solving tricky and complicated games makes them feel accomplished and increases their self-confidence. Eight-year-old boys can make plans or decisions, such as where they will go with friends or which game they will play. Their short and long memory begins to improve, and they start to present new ideas and have imaginative thinking. An 8-year-old can speak, read and write whole sentences. With this, their vocabulary and pronunciation also improve.
They can make puns and jokes and also understand irony and sarcasm. They also start to develop their preferences about different activities, sports, and subjects. Children at 8 know backward counting and also the concept of reversibility. While playing with toys, they showcase other skills and talents, body language, verbal and nonverbal communications, etc. Thus, toys that match their general interest should be handed to the children.
To Conclude
As a parent, you must consider valuable gifts and toys for your 8-year-old children that serve some productive purpose and reduce their boredom. There are so many occasions in a year on which you gift them STEAM, fun, and playful toys.
You also get them a logic game set that improves their cognitive and critical skills. Giving such exposure to your child at this age will help in developing their mental and physical health. It will make them energetic and quick in response. The top ten recommended toys and gift ideas are as follows.
LEGO Boost Creative Toolbox 17101 Fun Robot Building Set that offers educational benefits like basic coding and programming
VEPOWER 2-in-1 Hover Hockey Soccer Ball Kids Toys Set that can be played indoor and outdoor and also for its lightweight, easy storage and assembling
ThinkFun Dog Crimes Logic Game for its multi-level challenges and helps in improving the critical and deductive skills
This was a detailed review of toys and gift ideas for 8-year-old boys in 2023. You can consider the list mentioned above while buying a gift or toy for your 8-year-old child. All of these products are harmless and environment-friendly that are also low on budget.
Check out some interesting ideas: