Editor's pick
Good choice
Don't miss
Also consider
2Pepers DIY Fairy and Unicorn Nightlight Craft Kit (2 Pack), Fairy Lantern Jars...
Hapinest DIY Journal Set for Girls Gifts Ages 8 9 10 11 12 13 Years Old and Up
Just My Style Glitter, Multicolor
Makey Makey STEM Kit from JoyLabz - Hands-on Technology Learning Fun - Science...
Is your little girl turning 8-years-old soon? Have you been racking your brain for what to get her, but you couldn't decide on what and how? That's understandable as getting the perfect gift for your 8-year-old can be difficult. This age is very bitter-sweet for parents and guardians as your kids start to show independence and enjoy being around friends more.
Nonetheless, you must get your little girl a fun gift that she wants and improves her development.
Top Picks for 8-Year-Old Girls
1. Klutz Mini Pom-Pom Pets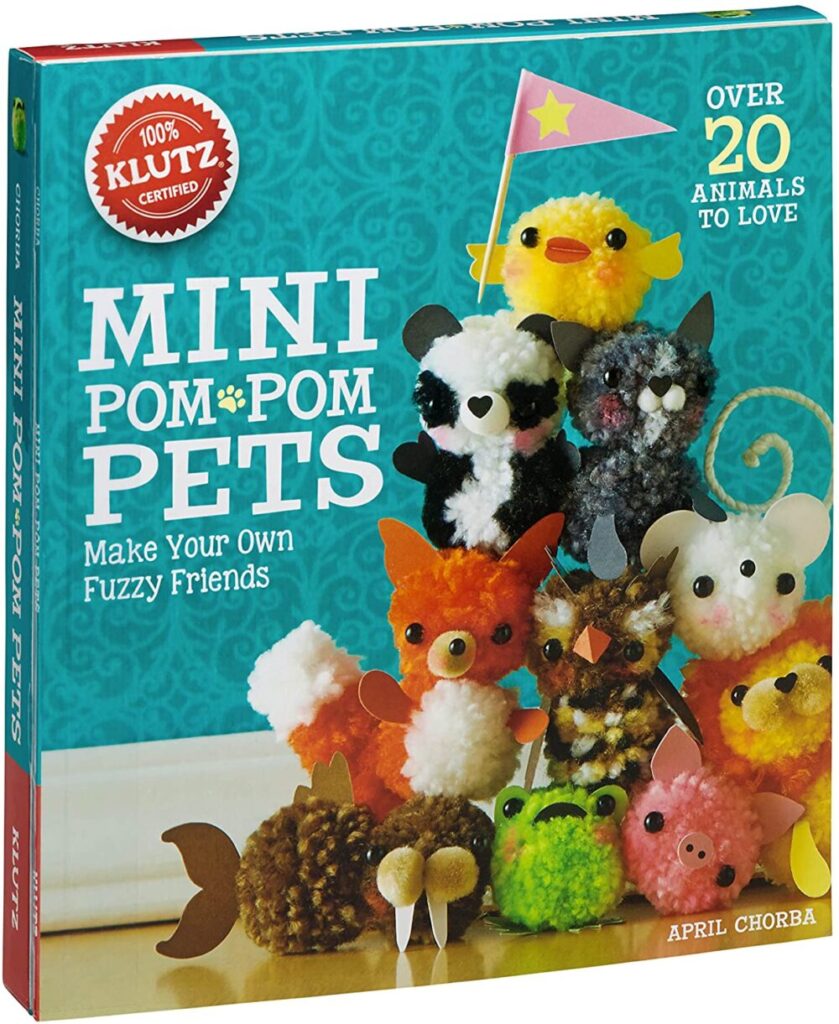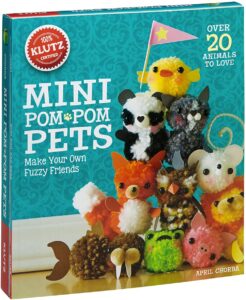 If your little ones are into art and craft, this is the perfect gift for them! This Pom-pom pet set lets your little girl create her little fluffy friends in an easy and quick way. At 8 years old, your kids' fine motor skills improve so they can work with tools and make intricate things. That is why this craft kit is the best gift as they'll improve their skill while making cute little, poofy friends. The kit comes equipped with an instruction manual that is straightforward and easy to follow.
Additionally, it has miniature detail cutouts for eyes, ears, nose, tail, and a pink marker to add blush detailing. It also comes with wires so you can make advanced adult animals. The yarn provided in the kit is nice and soft, and a range of colors is offered. You might have to help your kids for the first few times, but the process is pretty easy, so your kids should be able to do it themselves afterward.
All you need is a kitchen fork, and you weave the yarn around it to create pom-poms. Once you're done creating the fluff balls, you can add the ears, eyes, and nose. If your girl likes a challenge, she can make another pom-pom and connect the head to the body using the wire included in the kit. She can make kittens or puppies or choose from the 20 design options available in the instruction manual.
Pros
64-page instruction manual
20 available designs
Feature details provided in the kit
Fun and Creative
Cons
Method might be difficult for some
Glue might dry out
Klutz Mini Pom-Pom Pets is an ideal gift for your 8-year-old little girl. It allows your child to make cute little fluff balls using a basic kitchen fork. She can make any animal she likes using this kit as it offers yarn in various colors. Other necessary items are already provided in the kit, so you don't have to worry about buying anything separately. This kit is sure to keep her engaged and entertained for hours.
2. GirlZone Hair Chalk Pens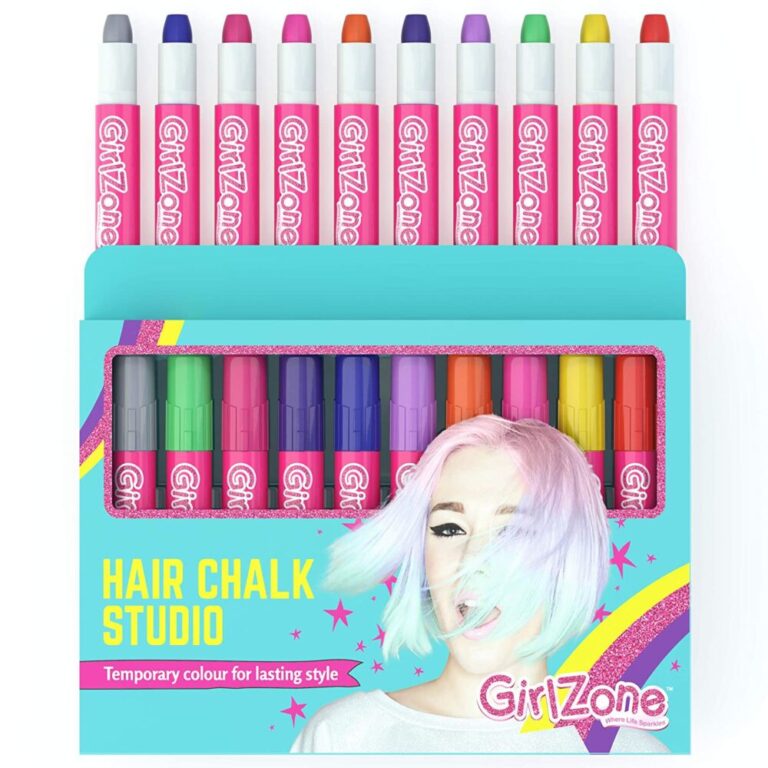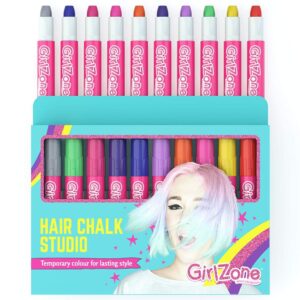 Your little princess is probably more aware of her appearance than she was before. At 8 years, kids take a greater interest in their looks and know what they want and how they want to appear. If your girl likes colors and dressing up, this is a fantastic gift option for her!
If your 8-year-old daughter asks you if she wants to dye her hair purple or pink, you will probably say no! But this hair color set allows your daughter to color her hair in a safe and inexpensive way. You can apply these highly pigmented markers to her hair, and the great thing is that they easily wash out with shampoo.
Furthermore, there are 10 available color options. Five are vibrant and simple shades, while the remaining 5 are metallic hues. She can dye her hair in one color, or if she likes, she can go full rainbow! These colors work better when hair is straightened, but natural hair works fine as well. Additionally, you can use these pens as face paints as well. What's more, the color of these pens works excellently on all hair colors.
Pros
Show color even on dark hair
10 colors (5 basic, 5 metallic)
Use for face painting as well
Safe and skin-friendly
Cons
Not enough chalk
Can leave a waxy feeling
If your daughter loves to add color to her life, this is the gift for her. These easy-to-use hair chalks are vibrant and instantly add a fresh look to your daughter's hair. They are safe for use and wash out without a hassle. Moreover, they double as face painting markers! There is no age restriction on their use, so if you want you, can color your hair along with your little girl.
3. Funko Last Defense! Board Game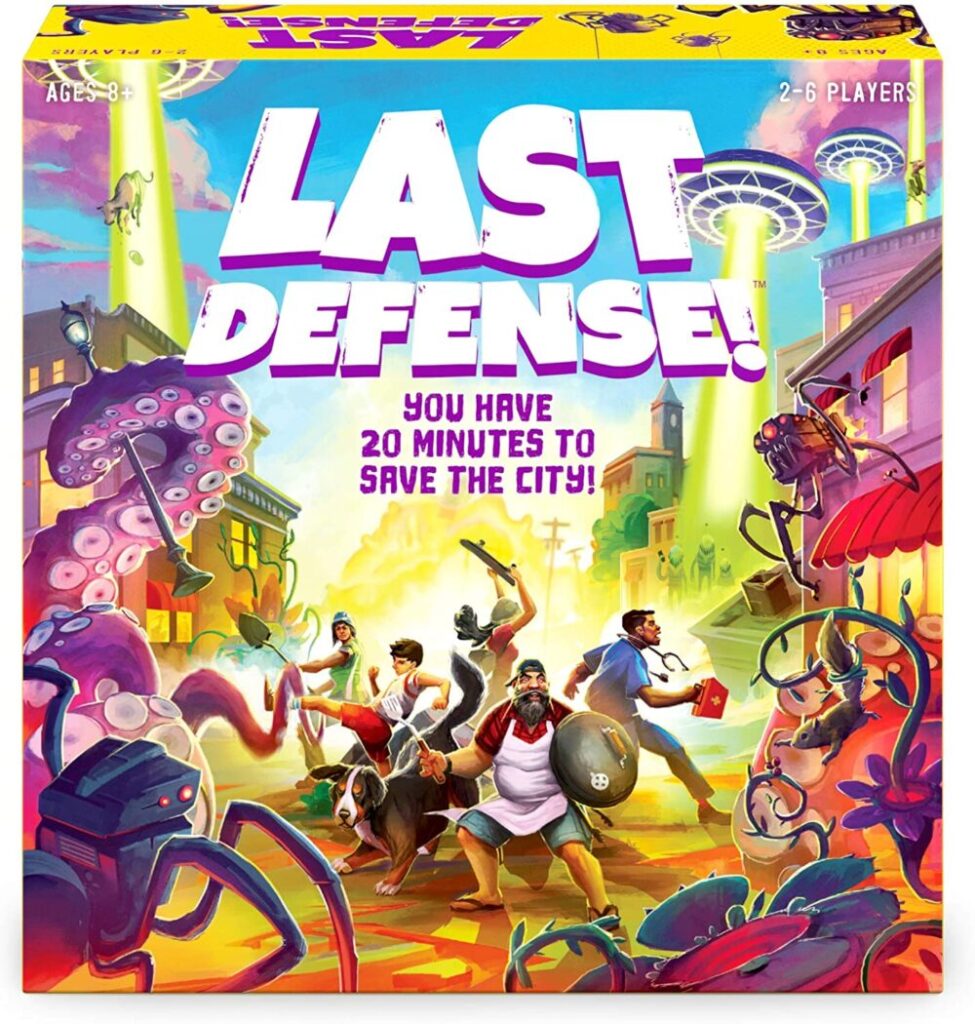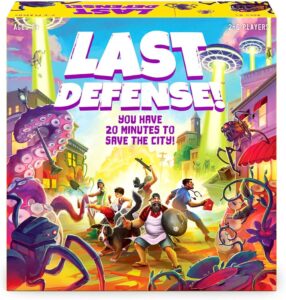 Kids at the age of 8 start developing a sense of belonging and like to play with friends. This is the perfect game to build cooperation and teamwork skills in your child. Funko Last Defence is a fun and interesting game for 2-6 players. This is excellent to play when you don't have hours to spend on a board game.
In this game, the players pretend to be townspeople and work together to solve problems and fight monsters. Additionally, this game uses make-believe, so it also helps your kids to use their imaginations. Moreover, as they have to work together as a team, their overall teamwork skill improves sufficiently.
Furthermore, this game uses an app so that playing can be simplified for the players. You can play this board game in 20 minutes or less. Putting a time restraint like this will help improve your child's critical thinking decision-making skills, further enhancing their cognitive development. They'll also require to Criticalunicate their opinions properly, so it helps to strengthen their communication skills.
Pros
2-6 players
Need 20 minutes or less
Improves teamwork & communications skills
Critical thinking
Cons
Flimsy tool cards
Need app to play
Last Defence! is an enjoyable board game for both kids and adults. In this game, your kids don't have to work against each other but together to win! This teaches your kids the importance of cooperation. This board game significantly improves their critical thinking as well, as they have to overcome obstacles to succeed.
4. Ooze Labs: Soap & Bath Bomb Lab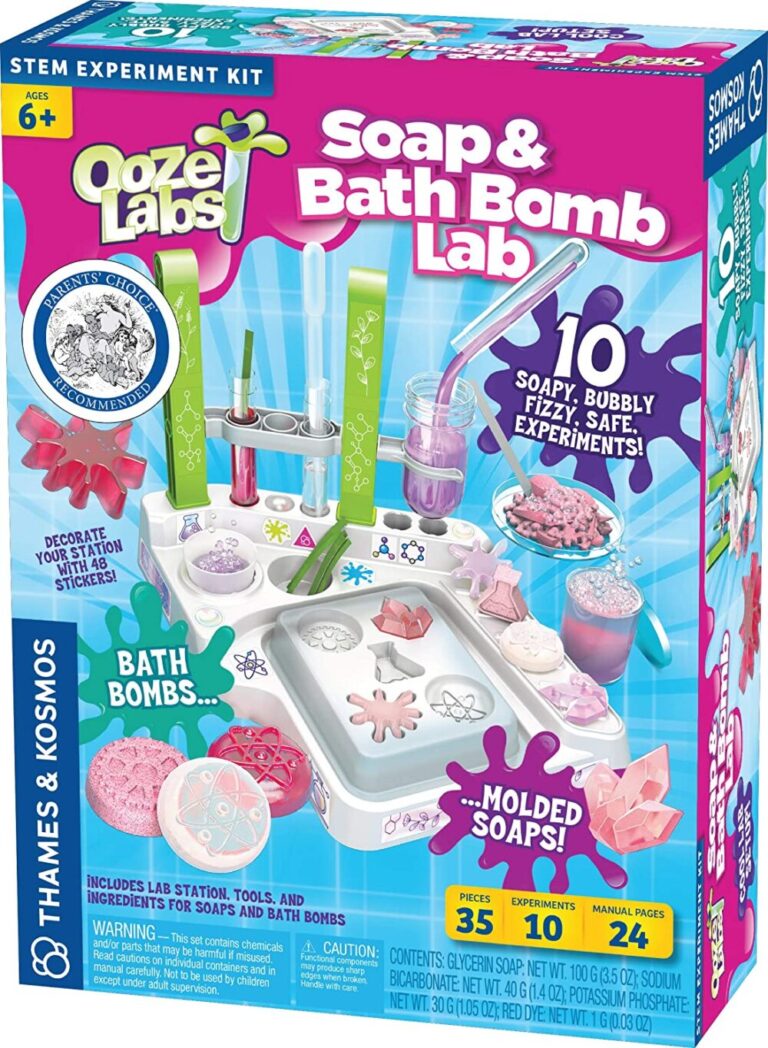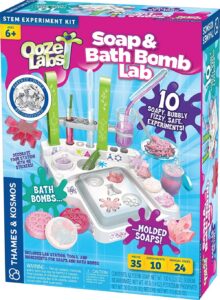 This gift is an excellent choice if you want to buy a gift for your 8-year-old girl who loves experiments. What makes this soap kit interesting is that it uses your kid's imagination and creativity. Kids have to pretend that they are chemists who are working on making products for a company.
Furthermore, kids get to learn about acids, bases, and the science of their skin. Thus, children get to have fun while learning. This kit consists of kid-friendly, non-toxic material so you can rest assured of your child's safety. Additionally, it comes with an instruction manual for guidance.
If you have any other Ooze Labs products, this kit is compatible with those kits as well. This means that your child can play with them as well. This is kit stands out because it has won many awards like A parents' Choice Recommended award winner and Good Housekeeping Best Toy Award.
Pros
Award-winning kit
Craft and science
Imaginative and creative
Non-toxic
Cons
Color might stain bathtub
Scents not included
This award-winning kit is the best gift for your little girl if she likes crafts and science. This soap and bath bomb kit engages your daughter in a fun, experimental way of making soap. It also teaches her about acids, bases, and ph values. Although this is a non-toxic kit, it's better if they use this under your supervision for extra precaution.
5. 2Pepers DIY Fairy and Unicorn Night Light Craft Kit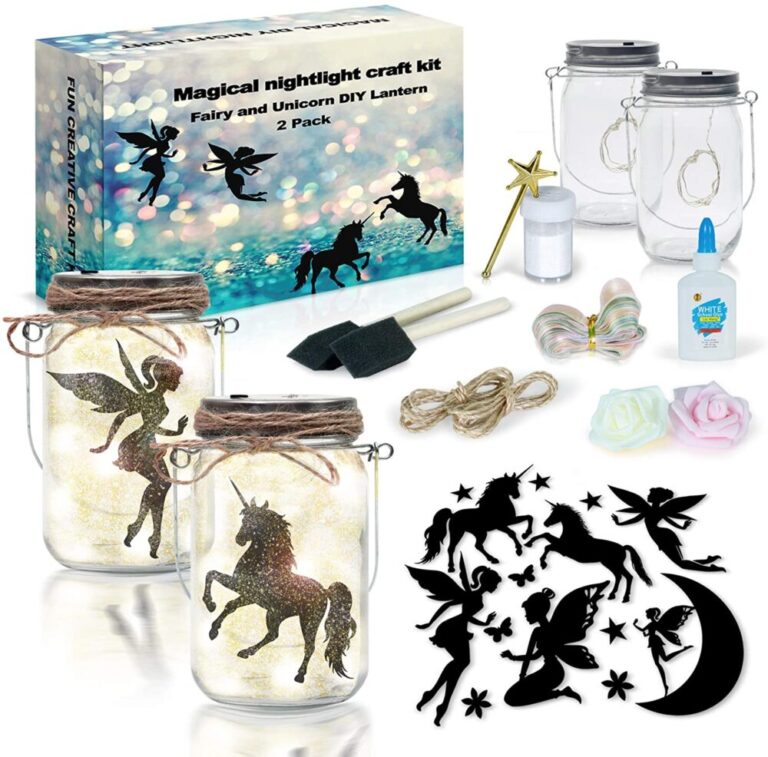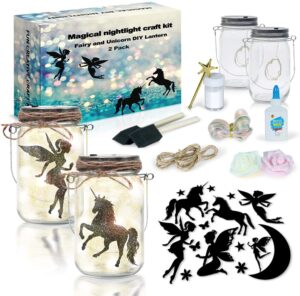 Unicorns, fairies, and everything magical and whimsical is very attractive for 8-year-old girls. They like to explore and imagine, but they like to create even more. As kids reach the age of 8, their motor skills improve sufficiently, including their fine motor skills. This means that they can finish art and crafts projects in a more refined way. If your little girl likes to create magical crafts, this is the ideal gift for her.
This kit comes with material enough to make two lights. Everything is included within the kit, so you don't have to worry about buying anything separately. This kit comes with 2 mason jars with a metal lid and LED lights. It also has glitter, glue, a wand, 6 ribbons, 2 strings of twine, 2 sponge brushes for painting, and several silhouettes.
This kit is excellent for showing your girl's individuality and creativity. She can choose to decorate her light as she pleases. Once she has finished her light creation, she can feel proud every time she sees it next to her bed or any other place in her room. As there is enough material for two, she can even share it with a friend or sibling and have a matching yet unique light.
Pros
high-quality
Material enough for 2
Creativity and originality
Magical light with function
Cons
LED's battery life is short
Might require a stronger glue
This fairy and unicorn night light set allows your daughter to express her originality in a magical way. She can create her unique night light with the necessary material provided in the kit. You can make two lights using the provided material to share it with others or make two of her designs.
6. Hapinest DIY Journal Set for Girls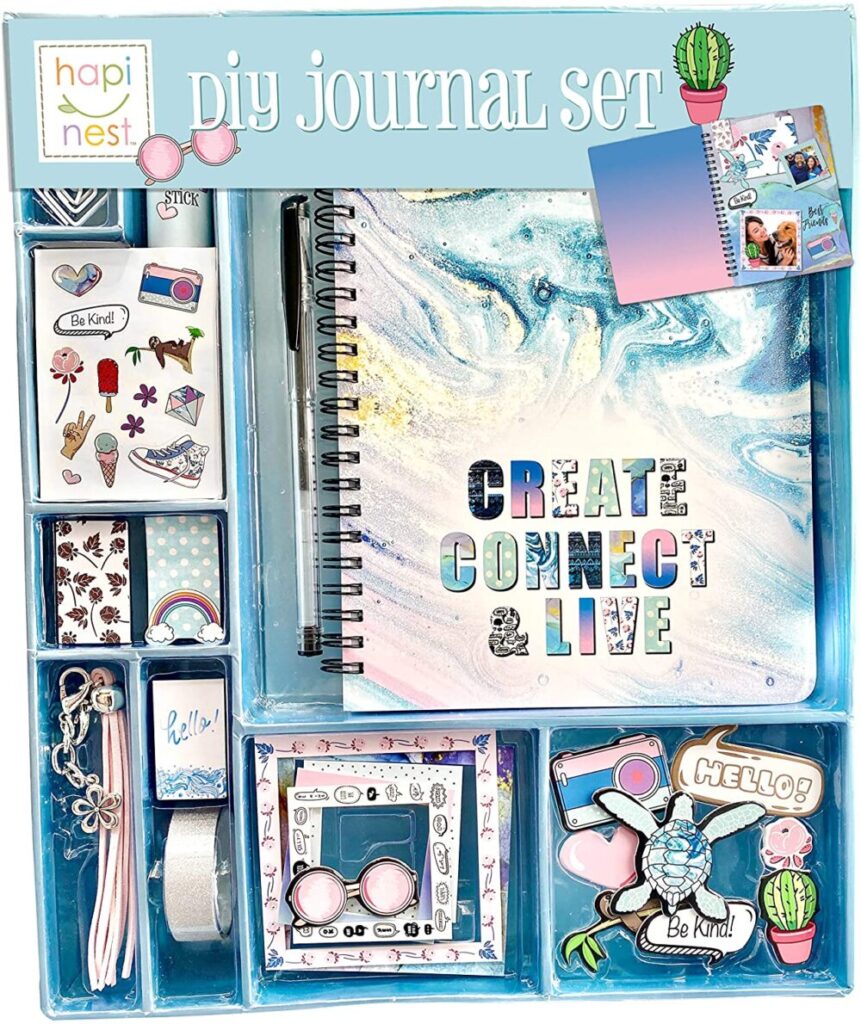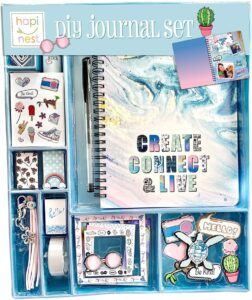 Kids become more independent and desire more privacy. They also start to read and write better than before. In this case, a personal journal to jot down her adventures and feelings is the best gift you can give your 8-year-old princess. She can write about her daily routine, or maybe she can start her writing career from here.
This DIY journal set comes with a 70-page journal, 6 paper clips, and 27 stickers. A pen is also included, along with glue 3 bookmarks and a tassel keychain. But wait, there's more! It also provides you with 2 frames, 9 decorative cutouts, 8 scrapbook pages, and an instruction manual in case your daughter feels overwhelmed with all that's offered.
This set gives you quality and quantity in material for its price. She can jot down her favorite memories and let her creativity flow on the pages of her own little personal space. What's more, the process of writing a journal is incredible, but when you come back after years and read it, it's even more magical.
Pros
Creative outlet
Jot down memories
Improve writing
Help with organizing
Cons
Might arrive with missing items
This DIY journaling set is the perfect set. It offers you excellent quality and quantity at a very reasonable price. Everything is included within the set, from the journal to bookmarks, keychains, scrapbook papers, and many more. It's a picture-perfect gift for your 8-year-old who loves to write or get creative.
7. GlowCity Light Up LED Ball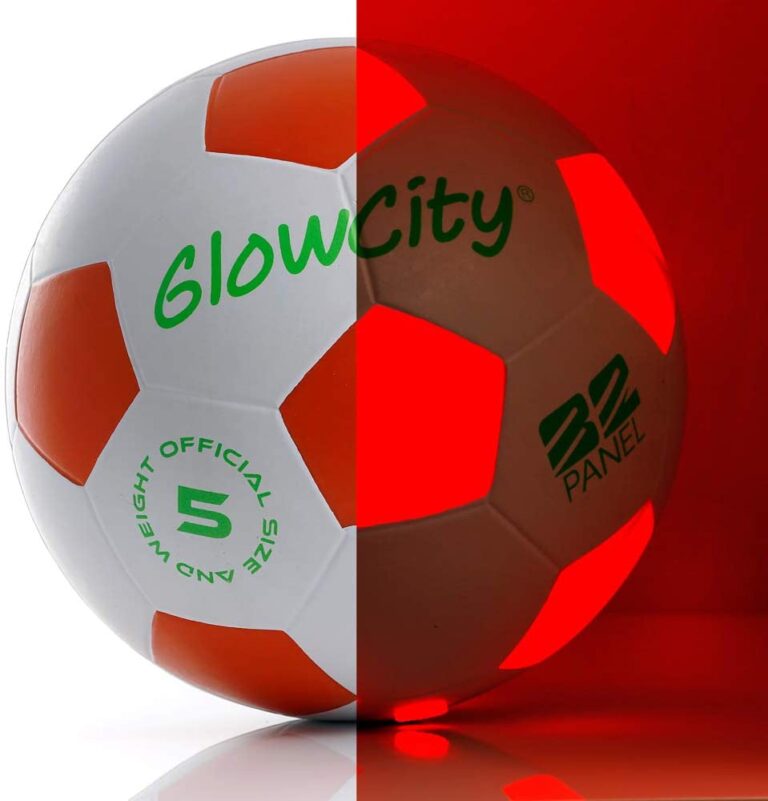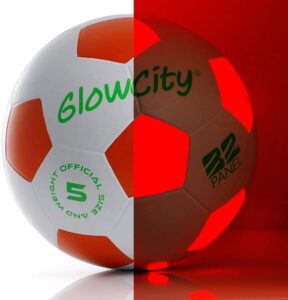 For growing up, physical activity is also essential. So if your daughter is the sporty kind who enjoys playing sports till the late hour of the evening, this the perfect gift. This is a ball that glows at night! What sets GlowCity LED balls apart from other glow-in-the-dark balls is that these balls require no charging up. Because they have an LED light installed in them, they instantly light up.
These balls light up with impact, so as soon as you kick or bounce the balls, they start to glow. They remain glowing for 30 seconds after impact, and if they are left stationary for that time, they shut off. Because these balls have not one but two light-up Hi Bright LEDs, they glow very brightly and can be seen from meters away. The size 5 soccer ball is the right size to take with you for road trips, camping, or even playing at a friend's place.
Additionally, these glow-up balls aren't just all show but are highly durable. They are made of nylon and rubber grommets to protect the batteries while also making the ball 100% water-proof. To top it off, batteries are included in the package with an extra set of batteries to go. Moreover, removing and replacing the batteries is very straightforward as well.
Pros
100% waterproof
60-day replacement policy
Batteries included
Instant light-up
Cons
Comes flat
Have to install lights
These glow balls are a fantastic gift to give your 8-year-old if she's a massive fan of sports. These balls instantly glow with impact from a kick or bounce. They remain glowing for 30 seconds till finally turning off when no impact is provided. Additionally, they are 100% waterproof and come with an extra set of batteries.
8. Walkie Talkies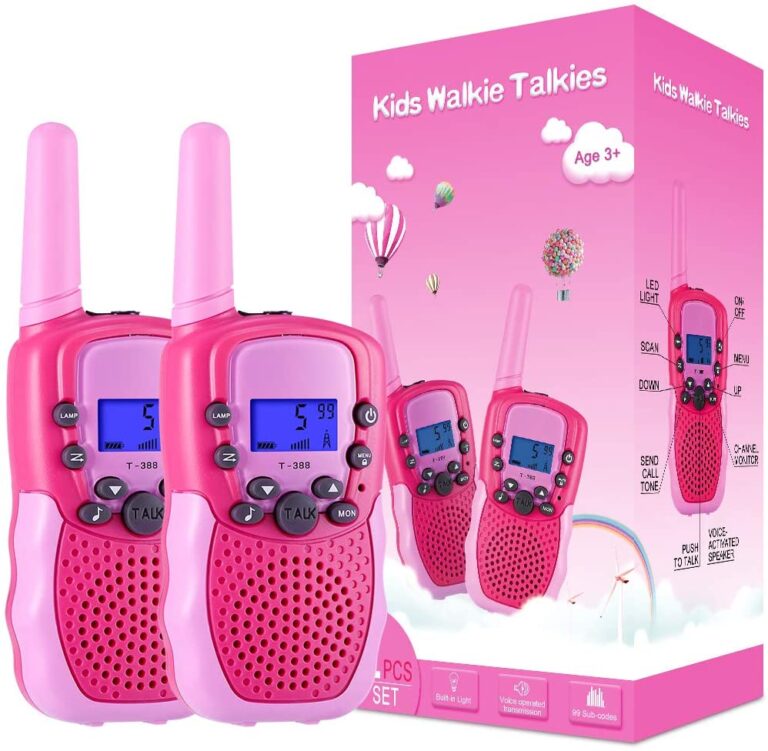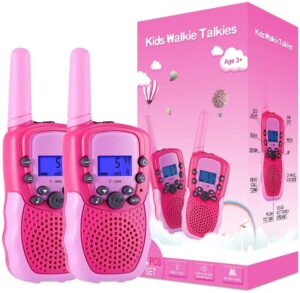 If your kids love to play spies, this is the gift for them. It is small and lightweight, which makes it great for kid's use. In addition to that, it has an exceptional range of almost 3km which means that you can talk to your kids from across the street. If your daughter's friend lives next door, she can use this to communicate with her without a hassle.
Furthermore, as walkie-talkies are designed in a way that only one person can speak at a time, this is a great way to teach them patience. Kids can learn the importance of taking turns with this device. Your child and their friends can use this in both outdoor as well as indoor activities.
Because it has a key lock function, it's not easy for kids to change the channels. The use of a walkie-talkie is very easy for kids to learn as well. Simply push to talk operation and if you want to send a beep signal, double click. Another added feature is that it can connect with multiple channels so a group of people can use it at a time.
Pros
3km range
Easy to use
High-quality
Connects to multiple channels
Cons
High electromagnetic frequency
3km range, not 3 miles as advertised
This walkie-talkie set is a great gift for your 8-year-old if she likes to play spies with her friends. This product is high-quality, and some even claimed that it was better than some adult walkie-talkies. This is a great alternative to a cell phone for your little one with an exceptional range of 3km.
9. Just My Style Glitter Messenger Bag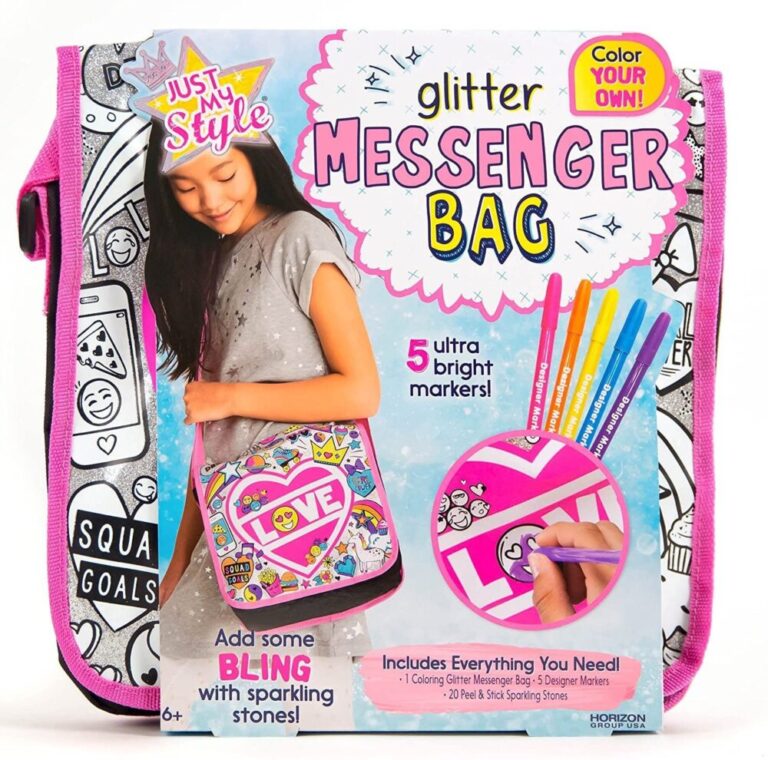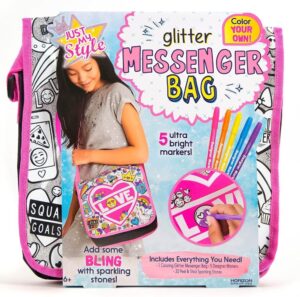 As your daughter grows up, she wants to create more and express herself. This is an excellent way to do both as your little girl will get to create and express herself while also be able to show it to the world. This set comes with 1 glitter bag to carry all your daughter's essentials.
In addition to that, it also includes up to 20 peel and stick shiny gemstones and 5 vibrantly colored markers. As everything is provided with the bag, all your princess has to do is get creative with coloring and bedazzling! She can color her bag in the colors she wants and create interesting designs.
This is an excellent activity for your 8-year-old as she gets to creatively express herself and then also get to use her artwork. This could be a great activity for her to do with her friends. They can help color her bag like they add color to her life. Also, this is a very practical gift as she gets to use the bag for storage as well.
Pros
Creativity and individuality
5 markers included
20 peel and stick gemstones
Practical art
Just my style glitter messenger bag is the perfect gift for your artsy little girl. She can fill in the illustration on the bag as she desires and sparkle it up with her own designs. This is a great way to express her creativity in a practical way. She can color her bag in one go or do it one design at a time, it's all up to her.
10. Makey Makey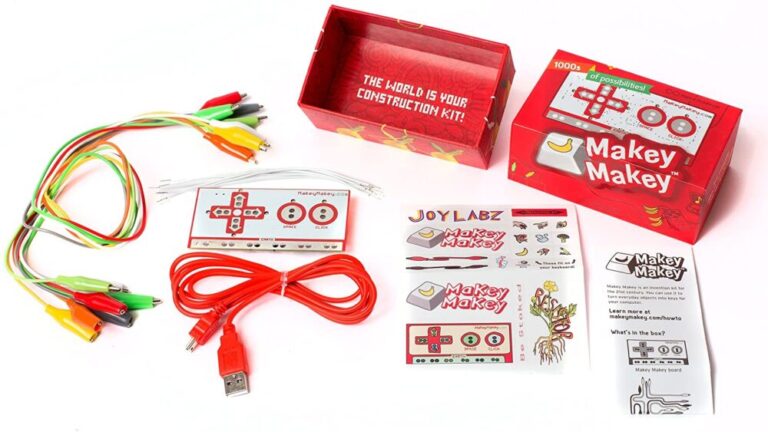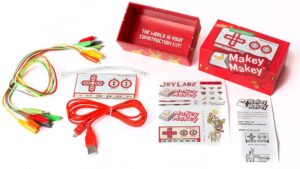 Makey Makey is a great STEM activity for anyone that enjoys creating useful things. This toy was developed in MIT's media lab and allows your children to turn fruits and veggies into keyboards, controllers, pianos, and even touchpads. If your kids find it challenging to execute initially, they can watch videos on YouTube and start from there.
The setup is very easy as well. All you have to do is connect it to your computer using a USB and start creating banana keyboards or Play-Doh controllers. There is no need for any programming or App installation necessary to use this toy. This means that your kid can use it independently with your help.
JoyLabz believes that anyone and everyone can imagine, invent, and create. That is why they are bringing such items to your household to teach your future inventors about technology in a fun and creative way. With over 1000 possibilities, you and your child can create anything you deem possible with Makey Makey.
Pros
Easy to use
No programming/installation needed
1000 possibilities
Promotes creativity & critical thinking
Cons
Clip's springs aren't that strong
Makey Makey is excellent in promoting creativity and critical thinking in your child. Your daughter can take up a banana, turn it into a keyboard, or make a piano out of Play-Doh. Moreover, this ease of use and multiple possibilities make it an excellent gift for your creative inventers.
Buyer's Guide
At the age of 8-years-old kids are starting to show where their interests lie. As they are growing up and becoming more complex and sophisticated in their thoughts and hobbies. This makes it a bit difficult for you as a parent or guardian. You have to make sure that you equip your child with the right tools that will be both enjoyable and good for their future development.
All children are different and grow and develop at different paces. There is no right or wrong pace but their pace. Some kids might quickly get better at cognitive skills, while others might develop motor skills before their peers. When buying a gift for your 8-year-old girl, you need to consider the followings:
Physical Milestone
At the age of eight, your child has grown up to 2.5 inches or 6cm and has started to lose her baby teeth replaced by stronger, permanent teeth. She's also achieved a refinement of skills because her motor skills have leveled up, and she has better coordination and control over her muscles. This is also the age where kids start to show athleticism and can better turn, twist, spin, jump, and perform tasks required in sports.
Moreover, their fine motor skills are all tuned up as well. This means that they can play instruments and use tools. Kids this age are also able to draw better as well and can do intricate things like sewing. In addition to that, your child will also show more internet towards hobbies and start avoiding things that aren't their cup of tea. This is where your job as a parent becomes crucial. You should try to make your kids participate in physical activities to keep them fit and healthy.
Furthermore, you should help them find an activity that makes them happy and unlock their potential. As your daughter will be able to combine techniques she wasn't able to before, like kicking, jumping, running, catching, etc., she'll enjoy sports immensely. So you should try to help her find something that she enjoys but something that helps her improve.
Cognitive and Language Milestone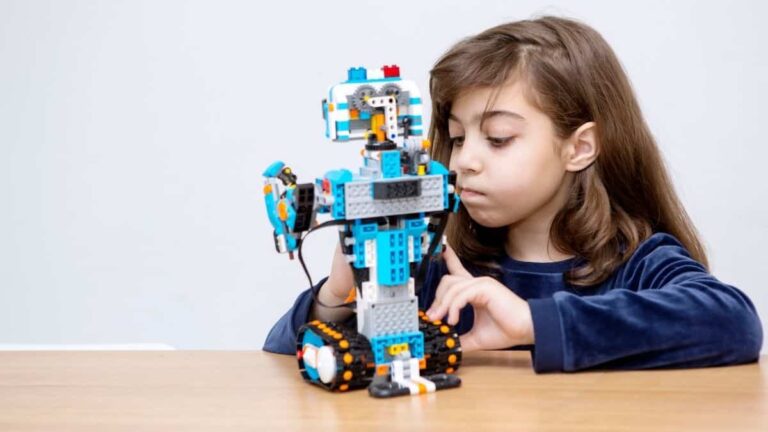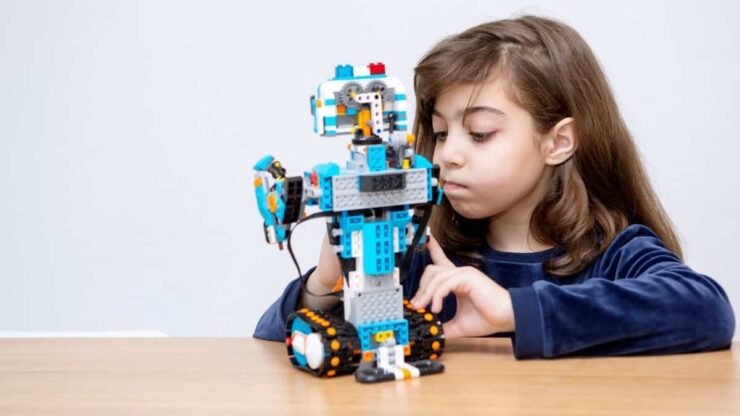 Your little girl will be able to tell you that it's Monday morning or Saturday night. She'll also be able to count in 2s (2,4,6,8,…) and 5s (5,10,15,…). At 8-years-old, she'll also be able to read simple sentences independently. Additionally, kids' attention span increases significantly at this age, and they can concentrate on tasks for longer. This means that DIY kits and books are an excellent playtime option.
Kids can also understand that words can have more than one meaning and start to comprehend puns and jokes. This sparks a sense of humor in your little ones, and they'll begin to understand as well as make jokes. Your children will also be able to language to express and explore their thoughts and feelings. This implies that they will be able to hold longer and more complex conversations with you.
At the age of 8, your little princess will also show excellent pronunciation, and her grammar will mostly be correct. Also, 8-year-olds can learn up to 20 words a day. This number increases as much as she reads. So if you want your young one to have a rich vocabulary, you should get her exciting books. This is also great because kids start to show interest in reading. Science experiment kits are also a great way to help them improve in a fun and interesting way.
Emotional and Social Milestone
As your child enters her eighth year into this world, she starts to understand her place in the world and connection to others. This is also the age where she'll begin to enjoy being around her friends, and peer opinions will matter to her. This is a good time to get her involved in group and club activities like scouts, sports clubs, etc., as they will give her a sense of belonging. She will also learn to share and cooperate with others and show better sportsmanship while playing.
Moreover, she will start showing a range of emotions and will express how she feels. If her self-expression isn't correctly received the first time, she might start to hide her feelings. Another achievement for your little girl is that she will be better at handling negative emotions. Additionally, she might want privacy.
Kids this age are also aware of their body image, and they take great interest in their appearance. They know how they want to style their hair and even want to dress themselves up. In this regard, you can get the games and toys that they can enjoy with their friends. Multiplayers games like board games, sports, dress-up games are a good start. If they like makeovers, you can get them dolls or beauty kits.
Summing it Up
8-year-olds are fascinating as they're crossing many developmental milestones. Kids this age start becoming more robust, smarter, and more expressive. That is the reason why we can't take up a passive role and simply sit back. Kids grow as much as we give space and opportunities to them. So making sure that they receive gifts that will help them improve is very important.
DIY Fairy and Unicorn Night Light Craft Kit allow your little girl to make herself a magical night light with fascinating decor all included in the kit.
DIY Journal Set for Girls is perfect for your little girl to jot down her memories. She can write her stories or secrets while remaining organized.
Makey Makey is an invention kit that offers your little girl the opportunity to invent and create pianos and keyboards out of bananas and play-doh.
Above are three of the best gift options for your 8-year-old girl. Now, check out some other interesting choices: