Best Choice
Good Choice
Don't Miss
Also Consider
VTech KidiZoom Smartwatch DX2, Pink
Creativity for Kids Glitter Nail Art - Glitter Manicure Kit for Kits
Singing Machine Karaoke Machine for Kids and Adults with Wired Microphone -...
Crayola Light Up Tracing Pad - Pink, Drawing Pads for Kids, Kids Toys, Gifts for...
Choosing a toy to gift your 7-year-old girl can be quite testing since they are in a life stage where playing and learning come along with each other. You cannot just get her a toy to mess around with, as she is older than that, neither can you convince her to learn something, as kids of that age can be pretty difficult.
So, the best way out there to teach your 7-year-old something is to make that learning experience pleasurable for her. Remember, along with gifts and toys, you are giving the potential career paths that she can choose to pursue in the future. Now that doesn't require you to worry; we have not rendered your selection harder, rather much easier.
We have chosen the 10 best toys and gift ideas for 7-year-old girls. You can get these to your kid on any occasion and see her learn so many different things along with enjoying playing with her favorite toys.
Top Gift Ideas for Girls
1. Singing Machine Bluetooth Karaoke System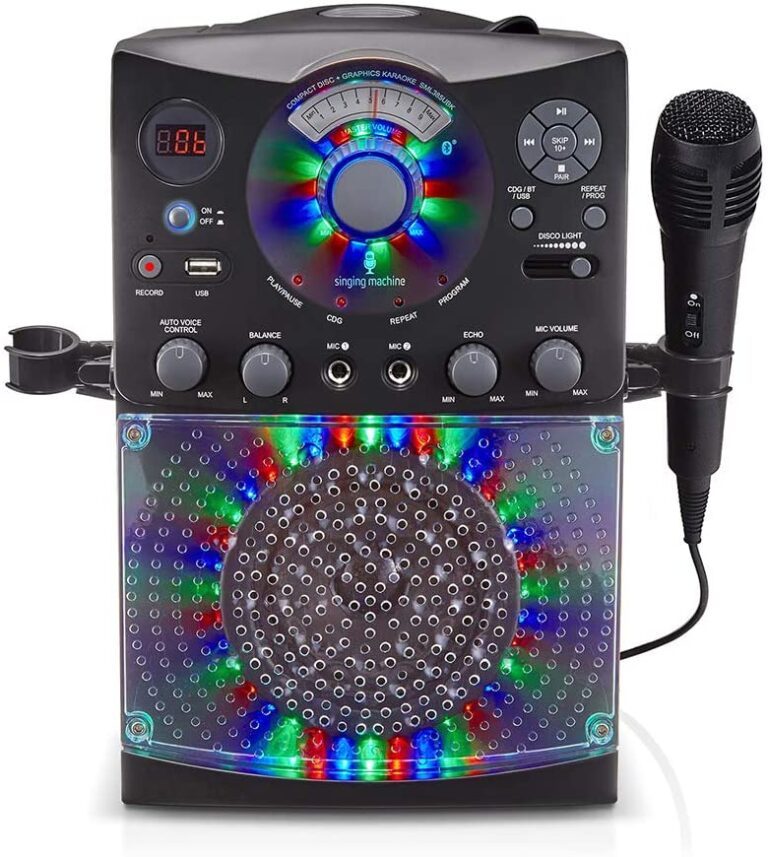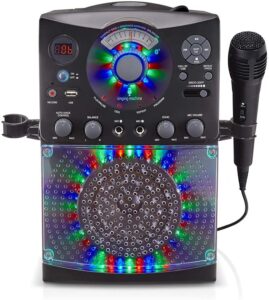 If you have got a budding little singing superstar in your home, then you have to keep fanning that spark in your little girl. This karaoke machine is an amazing gift for your 7-year-old girl who loves to sing.
It comes with a top-loading CD player to play music from CDs. Along with that, Bluetooth functionality allows wireless audio streaming from the phone. The USB input is to play songs through USB connectivity and record the performance as well. Along with that, a line-in jack to play songs through an audio output device.
There are LED disco lights with brightness settings, making this Karaoke Machine real fun in your little girl's party activity with friends. The soundtrack is visible in the two-digit LED display. The speakers are built-in within a wooden cabinet and provide great sound.
RCA cables connect the machine to the TV so you can see the lyrics while singing.
Moreover, it comes with two wired microphone jacks with separate volume controls allowing your kid to sing with her friends.
Pros
Bluetooth plus USB connectivity
Two microphones with separate sound controls
Recording feature
Affordable
Whether it's for your daughter's love for singing or a fun activity for her gathering with friends, she will love this singing karaoke machine as a gift. With various connectivity options, it can play all the favorite hits of your daughter. The powerful sound and fun lights create a party environment.
2. VTech KidiZoom Smartwatch DX2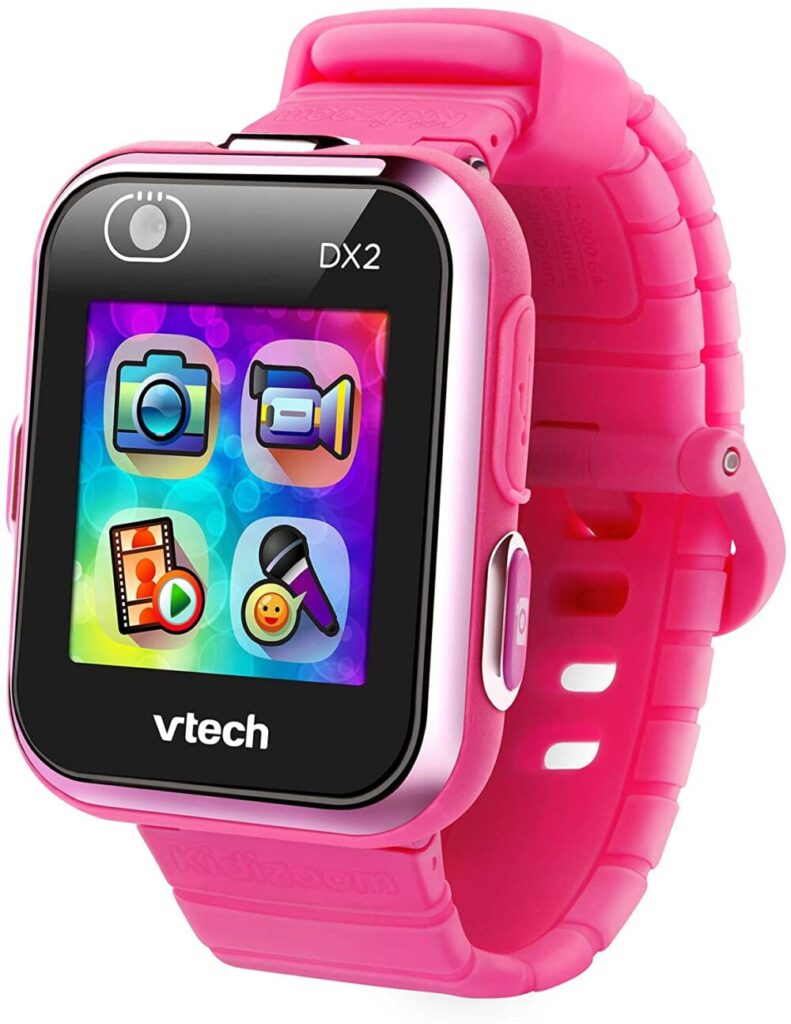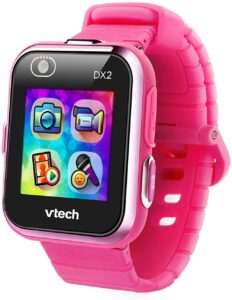 Your tech-savvy 7-year-old girl is going to love this VTech KidiZoom Smartwatch.
Smartwatches are trending these days, but there are very few made for kids. So if your little girl wants one or you think would love to have one, get her this Kidizoom Smartwatch from VTech.
As this smartwatch is for kids, all the features are designed accordingly. The wristband is sized suited to a kid's wrist, and it is secure, soft, and not irritating. The smartwatch is also splashproof (NOT waterproof), ideal for kids as they are not normally as careful as adults.
The smartwatch comes with several features making it a cool interactive option for your girl. It features a dual-camera, 0.3 megapixels each; these are not much but enough for the kids to enjoy. The front camera is at the top of the watch for taking selfies or videos, and the other camera is at the side of the watch to take front-facing photos.
There are funny filters and effects for the photos, which kids these days really love. There is a micro USB cable for charging, which can also be used to transfer files from a computer. Other than that, there are games, a clock, and a pedometer, hence plenty of features for your kid to have a fun time.
Pros
Tons of features
Affordable
Dual camera
Funky colors
This touchscreen VTech KidiZoom Smartwatch comes in cool funky colors, from girlish pink to camouflage, so choose your kid's personality. There are tons of features, including educational, learning features, at a reasonable and fair price. So clearly, this smartwatch is a great gift idea for 7-year-old girls.
3. Crayola Light Up Tracing Pad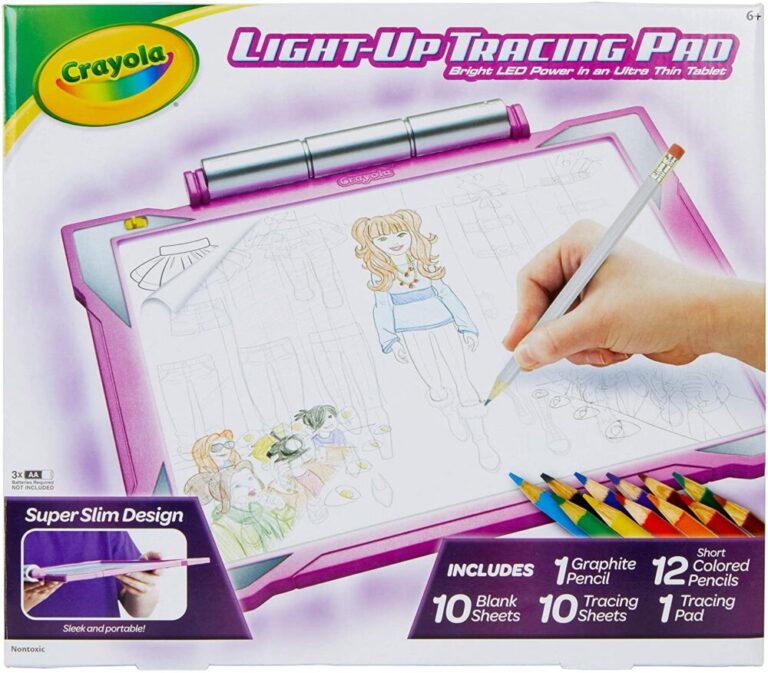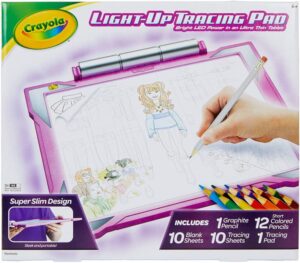 If you wish to bring out the artistic side of your little girl, then this Light Up Tracing Pad is a great option for gifting your kid. This tracing pad is nothing like a regular drawing or tracing pad. The pad looks like a tablet and has an extremely slim design. The LED lights are distributed in the pad's edges, which light up and make the tracing easy and extra fun.
This light-up tracing pad comes packaged with all the tools necessary to create an art piece. This includes short colored pencils, tracing sheets, blank sheets, and over 100 traceable drawings to mix and match to create artistic images. The pad is lightweight, portable, and easy to carry.
Quality-wise, the product is pretty impressive. It is made of sturdy plastic, which makes it durable. Kids particularly adore the LED lights feature; the glow makes it easier to use in the dark plus much prettier. The board is lockable, locks the paper in the frame. It's easier to use for kids.
Pros
Equipped with all the required tools
Affordable
LED lights
Easy to use
Portable
Cons
Batteries are not included in the package (bought separately)
Drawing is fun for all the kids, and it is important to tap your kid's creative side. This Light-Up Tracing Pad by Crayola is one of the best toys and gift ideas for 7-year-old girls, especially if your girl is already a little artist; this will chisel her skills. Also, the brand Crayola is a reputable name, and its art products are highly appreciated.
4. Crayola Inspiration Art Case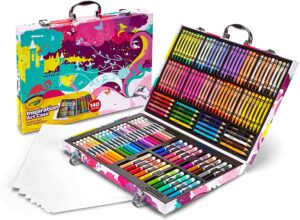 This Inspiration Art Case by Crayola is another wonderful gift to sharpen your 7-year-old girl's artistic abilities. This art case contains about 140 tools of art, including short color pencils, markers, crayons, and drawing papers as well, a complete, portable art kit.
All the art accessories are organized neatly and held firmly in separate sections. The firm organization prevents the supplies from falling and makes the art set portable. Plus, it's also lightweight and sturdy, making it easy to carry around or while traveling.
The different supplies and their various colors will make your kid experiment with them on paper. This strengthens a kid's different skills like self-expression, cognitive, sensory, and artistic, of course. As a parent, you have to be considerate of the development of these facets of your kid.
If you choose to gift this vivid, all-in-one art set to your girl, you are not just gifting her a fun playtime activity but a way to learn and develop her creative skills as well. As for the durability of the product, it is designed keeping in mind the carefree dealings by kids. Made of high-quality plastic, metal clips, and handle, this art kit is highly durable and secure.
Pros
Sturdy, firm storage kit
Portable for traveling
Durable
Neatly organized
Cons
The hinge of the kit is not so strong.
This bright and beautifully designed art case will mesmerize your little girl, and she will love to use it. This will reveal and explore the creative and imaginative facet of her mind. The price is great given the quality and the artistic supplies it offers. Undoubtedly, this Crayola Inspiration Art Case is one of the best toys and gift ideas for 7-year-old girls in 2023.
5. ATOPDREAM Amusing Moon Star Projector Light for Kids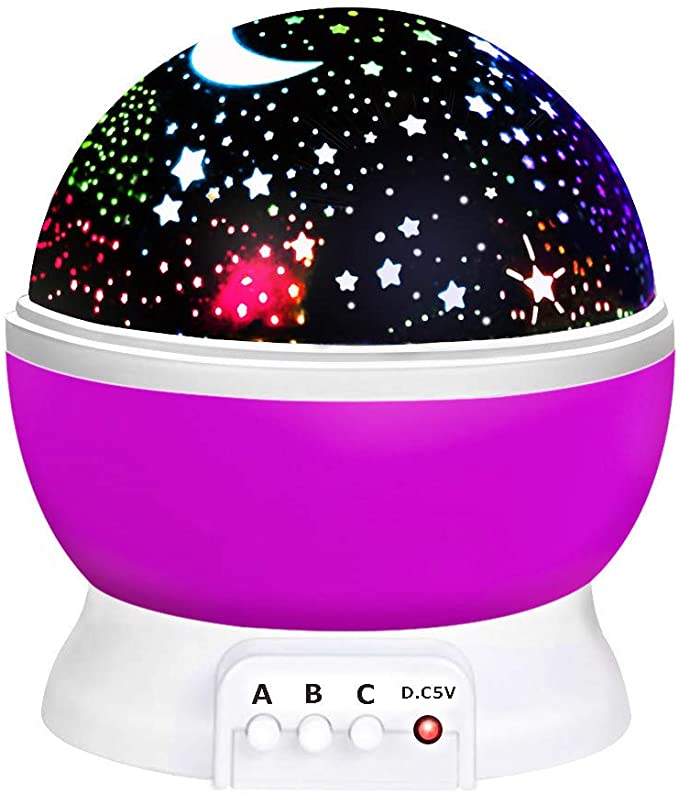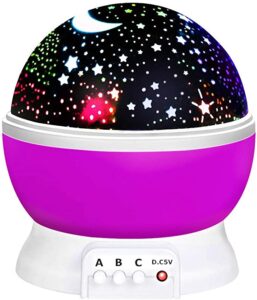 Even if your 7-year-old girl is a big kid now, she can still be afraid of the dark; let this Amusing Moon Star Projector lamp be her partner in her night musings or dreams. This beautiful starlight lamp will bring the wondrous and calm night sky inside your little girl's room; the sparkling stars and night light will have your girl slip into a peaceful sleep.
This high-power LED lamp can project a clear projection up to 15ft. The brightness can be adjusted, and the light is not dazzling but a mild and warm white light, which will not affect your little girl's sleep. Also, it is completely noiseless.
This starlight projector lamp has multiple modes of light switched through the buttons. Button A switches to mild white light. The button B is to switch between monochrome light or colored light. Button C switches to a 360-degree rotary mode, which also creates a little noise.
It can be plugged in directly and work without batteries, or you can work it on batteries in case there is no electricity. It also comes with a dome as a cover, which will change the light into a more dull nightlight.
Pros
Multiple light modes
Projects clearly up to 15ft or 250 sq feet
Mild light
Consume less electricity-only5 watts
Portable
Cons
The package does not come with batteries
Regardless of the occasion, this Moon Star Projector lamp by ATOPDREAM is certainly one of the best toys and gift ideas for 7-year-old girls in 2023. It's not just an ordinary lamp; it will make your girl amused and marveled by the beauty of a night sky, awakening her imaginations.
6. Gili Pop Beads, Jewelry Making Kit, Necklace Bracelet Creativity Snap Set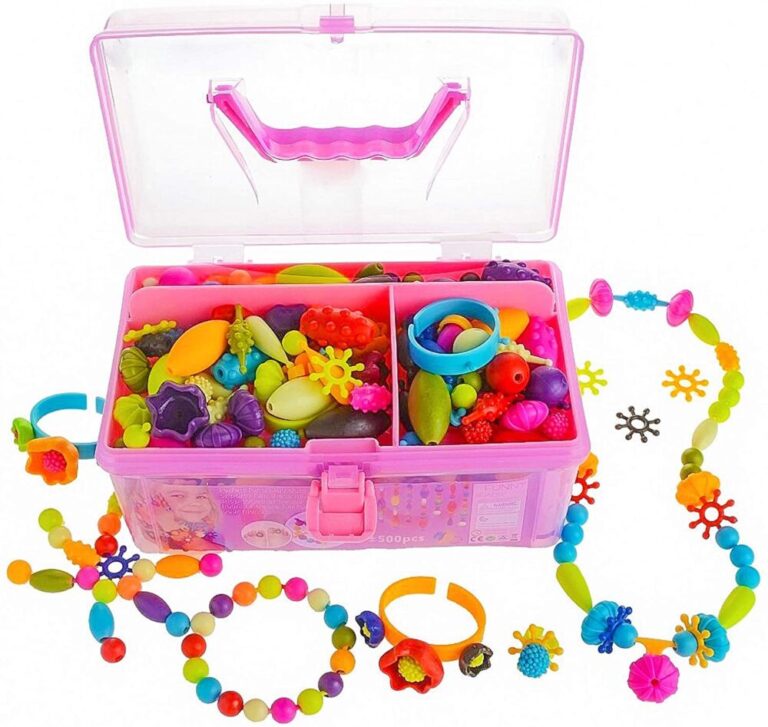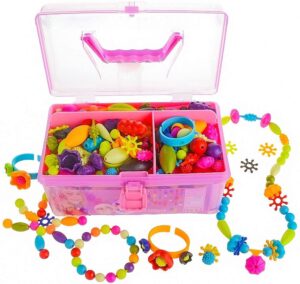 There's no doubt in the fact that 7-year-old girls love to accessorize, and if you add the tinge of creativity while she accessorized, it will double the fun. So why not gift her something to make her create first and then slay it. This Gili Pop Beads Jewelry Making Kit is an absolute fun and unique creativity Snap Set. Now your girl can create the accessories as she likes.
This set contains 500 pieces like beads and accessories in different, vivid colors, shapes, and styles. These ornaments can be put together in myriad ways to create DIY fun jewelry like necklaces, bracelets, or rings. It's very convenient to use, there are no strings involved, and the ornaments' design is easy to snap; they can be put together and snapped apart easily.
Perhaps what makes this creativity snap set one of the best toys and gift ideas for 7-year-old girls is that this creativity snap set is not just for a fun time activity. It's not merely an ordinary accessory set, but it's also a learning opportunity for your 7-year-old girl as well.
The putting together of jewelry is purely based on imagination. Snapping together the beads will develop your girl's tactile skills, hand-eye coordination, and motor skills. What better gift than the one which offers fun and learning at the same time!
Moreover, it's absolutely safe to use, BPA-free and odor-free, and made of high-quality, non-toxic plastic. The kit comes with a handle and is easy to carry around and portable.
Pros
Reusable
500 pieces
Easier to put together and
No strings involved
Offers to learn as well
Cons
The storage bag is not high-quality
Bring out the inner fashionista of your little girl and give her a chance to explore that passion of hers. This Gili Pop Beads Jewelry Making Kit is a great way to spark her imagination. You can also use this time as mother-daughter bonding time by creating jewelry alongside her and coordinating with her.
7. Original Stationery Unicorn Slime Kit Supplies Stuff for Girls Making Slime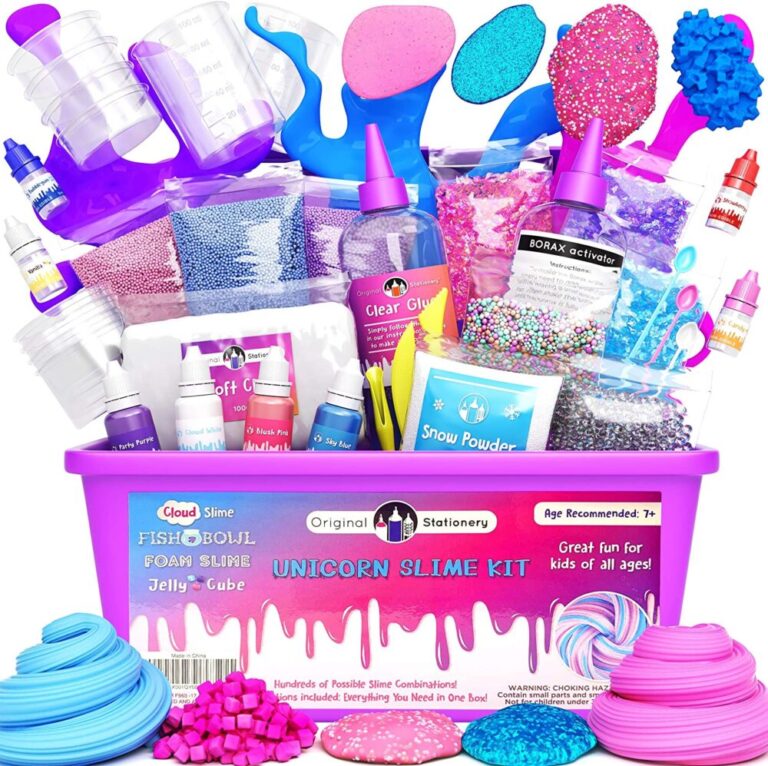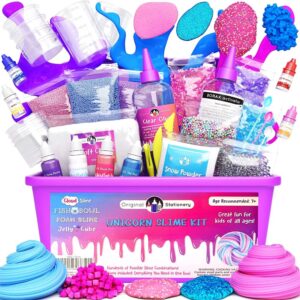 This Unicorn Slime Kit is another brilliant creativity sparking toy and gift idea for your 7-year-old girl, especially if she is a slime lover. The kit contains everything from glue, inks, textures, unicorn beads to slime containers, and much more, everything needed for cool slime creations.
And yes, it's completely harmless, lab tested, and proven to be 100% safe for your kid! There are endless slime creation possibilities with all the bright inks to make unicorn colors, delicious scents to splash, glitter flakes for extra sparkle, beads, pearls, foam balls, snow powder, and squishy jelly cubes.
The possibility of myriad combos will encourage your girl's curiosity. Slime making is not just fun, but it is actually beneficial for kids. It will develop tactile sensory skills, motor skills, encourage mindfulness and focus in your little girl.
Pros
The package includes everything needed for creations
Proven to be 100% safe
Also, a learning opportunity
This Unicorn Slime Kit will have your kid hooked and will minimize her screen time. You can also make it a bonding time between your 7-year-old little girl and you by joining her in her creations. Thus, it's among our list of best toys and gift ideas for 7-year-old girls in 2023.
8. Toysery Bow and Arrow for Kids Set with LED Flashing Lights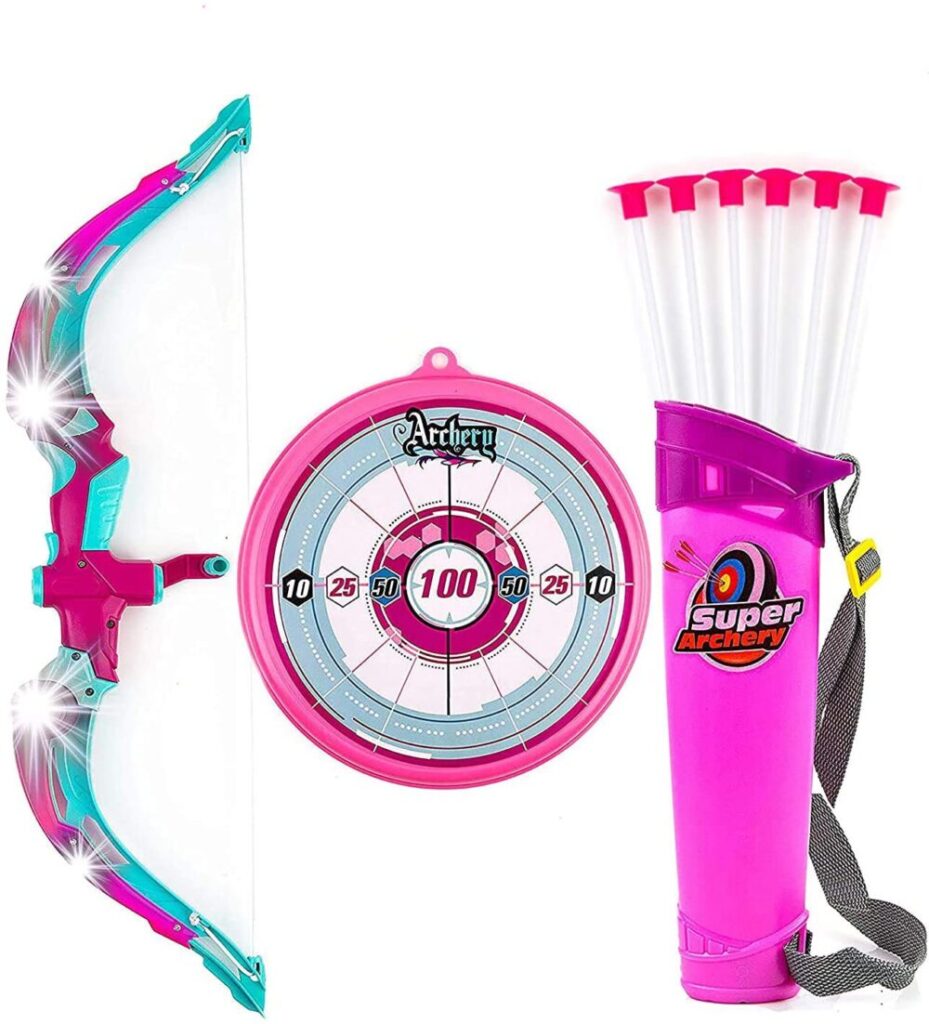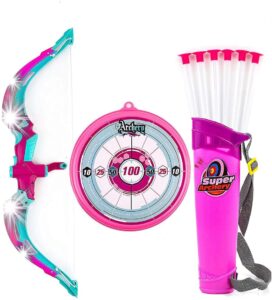 For obvious reasons, your 7-year-old girl needs physical activities as much as she needs fun and learning activities. This Toysery Bow and Arrow Set for kids offers a good and pleasing physical activity for girls. This archery set comes with a lovely-looking bow, 6 arrows, and a quiver.
The set comes with resistant arrows with suction cups, an automatic illuminating bow, a sighting device that aids in targeting, and a mini round target board. It is easy to carry and use; the quiver comes with a strap, making it easy to wear.
As for safety, the LED lights illuminated the bow, and the sighting device helps in making the target. Also, the arrows have suction cups rather than something sharp or pointed, making this safe for your kids.
It is also a great, enjoyable way to develop your little girl's necessary skills, like hand and eye coordination and target aiming skills.
Pros
Encourages outdoor activity
Develops concentration skills
LED lights allow for nighttime play too
Lightweight and easy to carry
Cons
Requires batteries which are to be bought separately
This archery set by Toysery makes an excellent gift if you want to spark your 7-year-old girl's interest in outdoor activities. Along with the physical benefits, it is also an enjoyable way to develop certain precision skills. Hence it makes it to our list of the best toys and gift ideas for 7-year-old girls in 2023.
9. Glitter Nail Art – Glitter Manicure Kit for Kits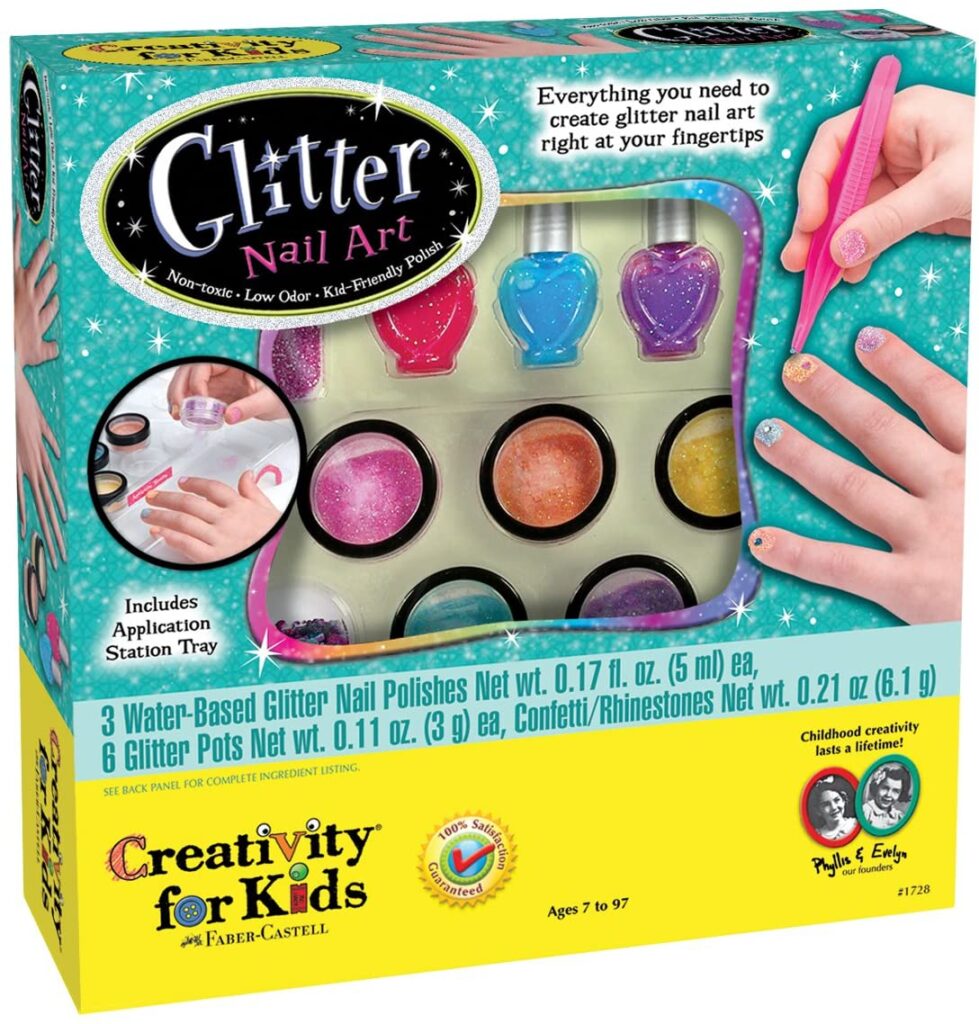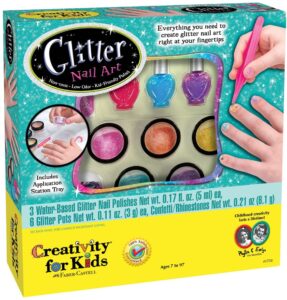 This Glitter Nail Art kit is another incredible toy and gift idea for the little fashionista in your home. This complete kit contains everything that is needed to create cool sparkling nail arts. It includes 3 bottles of water-based glitter nail paints, peel-off glitter polish, 6 glitter bottles, confetti, and rhinestones.
With so many options, girls can create bright, colorful, and personal designs. The application is easy and mess-free. Clean-up is also easy and quick with water. Additionally, it also includes plastic tweezers, a manicure storage bag, a sparkly emery board, a brush, and a tray as an application station.
Also, printed instructions and ideas come along in the package. The products are absolutely kid-friendly, non-toxic, and odor-less with water-based formulas.
Pros
Everything required is in the package
Taps the creative side
It comes with a mesh storage bag
Manicures and pedicures
Cons
The nail polishes dry out easily if not in air-tight containers
The nail polishes are not natural or dye-free
Your 7-year-old girl probably loves nail paints and nail arts; she will love this Glitter Nail Art Kit, which gives them a chance to create their own personally designed nail arts. Thus it makes it to our list of best toys and gift ideas for 7-year-old girls in 2023.
10. Creative Roots Paint Your Own Fairy Door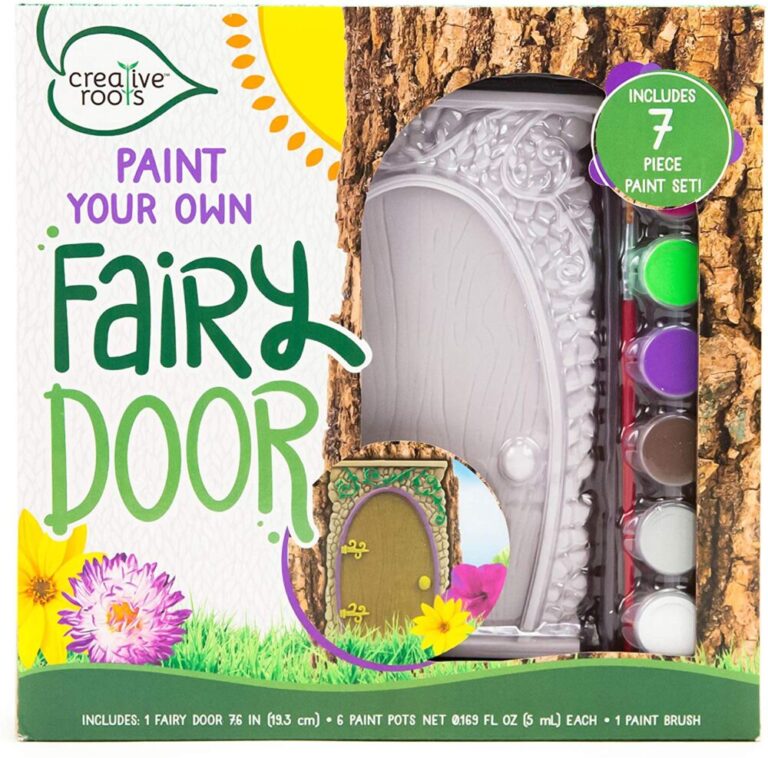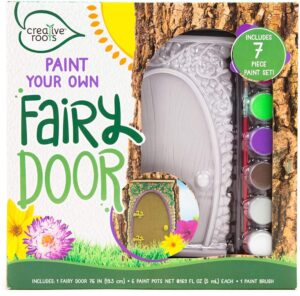 7-year-old girls are undoubtedly in love with everything magical and fantasied; things like these fill them with marvel and imagination. This toy, Paint Your Own Fairy Door by Creative Roots, will be like a dream come true for your little princess, especially if you see her fangirling over fantasy and magic.
It's like a DIY craft; it includes 6 paint pots and a paintbrush with which your little Tinkerbell gets to paint her own little fairy portal into a magical world. The paint colors included are gray, purple, magenta, green, and brown. These colors can be mixed and matched together to create different shades.
The resin fairy door is pretty tough and durable. The fairy door can be placed inside the house or outdoors, like at the tree's base. To prolong the life of the painted fairy door, you can use exterior varnish for protection.
Pros
Includes everything, from paints to brush
Made of resin
Non-toxic paints
Other designs also available
Cons
Requires multiple coats for good color
There are only a few colors included
There are different designs available to choose from as per your girl's liking. A fairy, unicorn, Halloween pumpkin, rainbow, and gnome are the other available designs. The magical possibilities will appeal to your little girl, and she will love to do her part in creating them.
Complete Buying Guide – What to Look For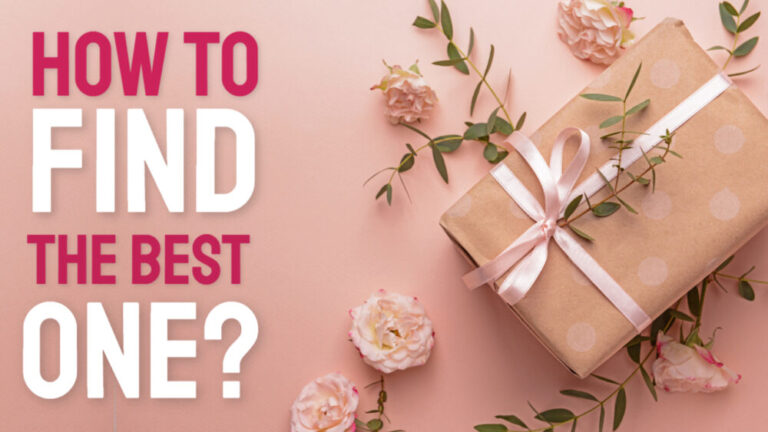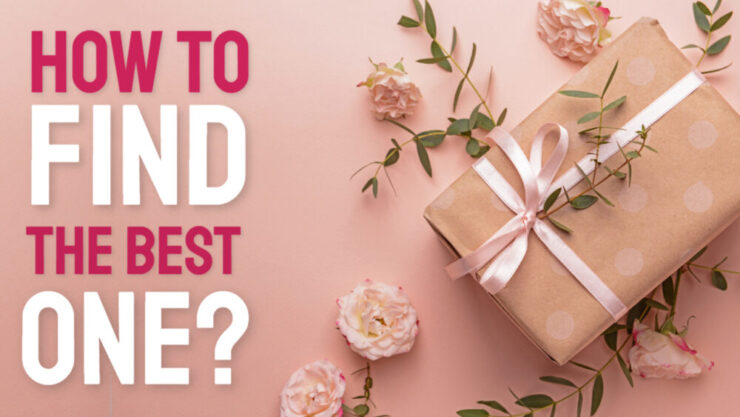 Your 7-year-old girl is in crucial stages of her development in all facets. While buying a gift for your girl, you have to be mindful of her requirements and needs. Rather than choosing just a plaything, you should get her something that will also enhance her learning on different fronts.
Creativity
7-year-old girls want to explore everything, every idea because they are filled with curiosity. It's an important phase in her learning, and you need to encourage that curiosity-driven creativity. Choose gifts and toys for her out of which she can create something on her own and those that spark more creativity in her.
DIY toys, art, and craft toys are the go-to options for you. But if your girl has refined interests, consider those, like if she is interested in arts, then get her something to develop her artistic skills. If she likes to glam up and accessorize, get her toys out of which she can create her own ornaments. You can also bring her toys like legos through which she can build different things.
Imagination
7-year-old girls have strong imaginations and mostly love fantasy and magic realms. You should get her something that will keep her imagination strong, which provides her ways to channel it.
That way, she can bring her dreams into reality and give her motivation to keep doing that in the future. For instance, if she likes fantasy worlds and fairies, then get her something to explore that magical aspect of her mind.
If she loves outer space and space explorations, then give her something to channel that interest. While channeling these imaginations, she can learn something in the process, like writing fantasy stories with her own created magic realms or create space projects for a school fair.
Learning and Skill Development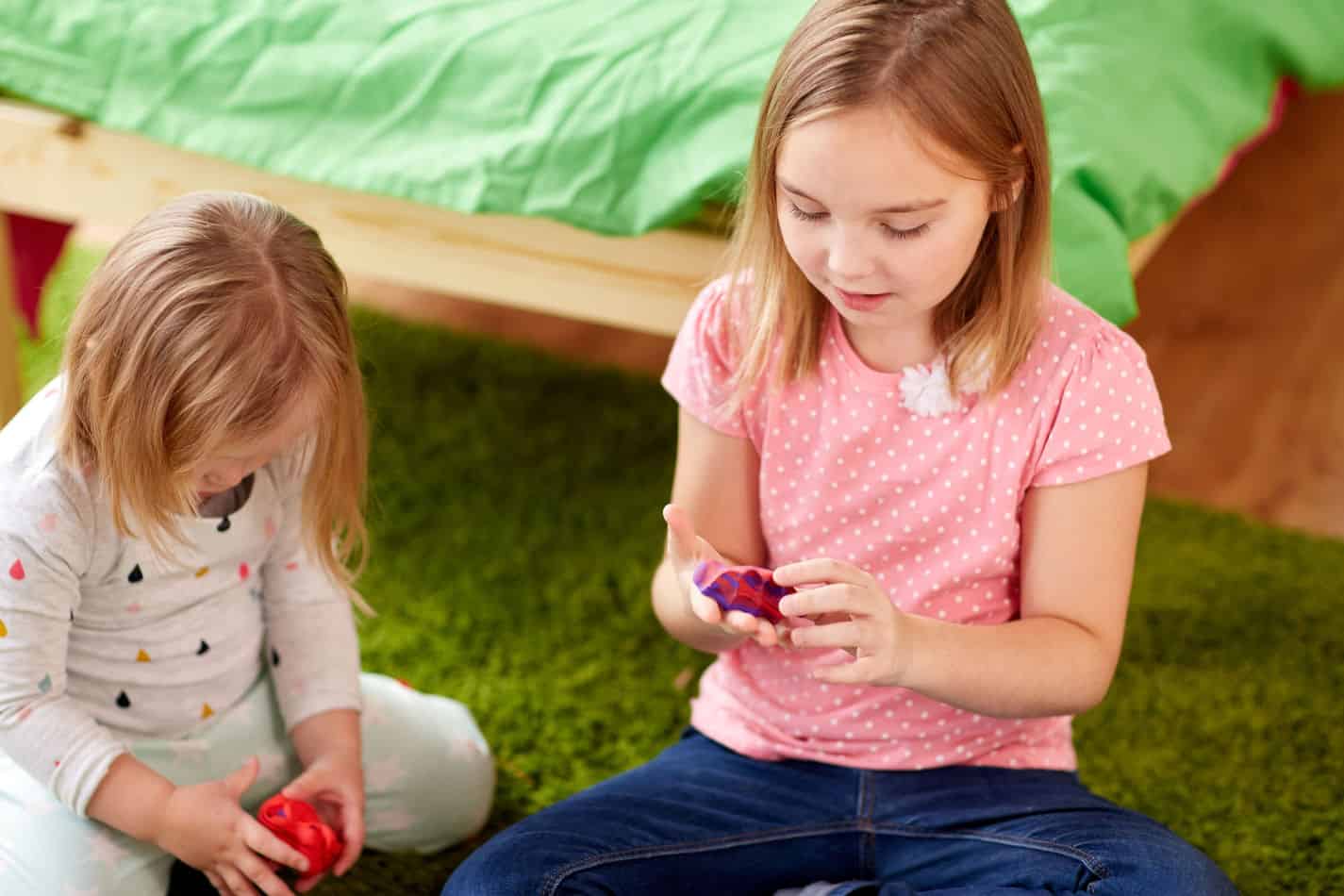 Your little girl's playtime can be a likable time to learn something new as well. Something like different skills or educating her. That will spark her interest in a subject or skill, and you are also giving her a potential career path that is of interest to her and that she will pursue.
Like, If she likes to do fun, surprising science experiments, buy her something like a science kit. So she can enjoy the excitement and thrill of creating little things out of these experiments, and maybe you have a future scientist in your home.
Gifting your 7-year-old storybooks is also a good idea; books are a brilliant source of learning, so she can learn a lot about a lot of things through that. Skills are also necessary to be learned by a 7-year-old kid.
There are certain skills that a kid can learn while playing; in fact, toys are an excellent source to teach her different skills. Skills like sensory skills, artistic skills, motor skills, social skills, creative skills, and self-expression can be learned while playing. These are going to be of great help in your girl's endeavors in the future.
Social Interaction
A 7-year-old girl is likely to have lots of peers and friends, and friends are an important part of this age group's lives. Also, social skills are a must-have for your kid's future journey, and this is the time of life where she learns and refines them.
Activities and toys with which she can play with her friends are a brilliant source to strengthen her friendships and make new friends. Get her something that she can enjoy playing with on sleepovers or birthday parties with her friends. That way, her social skills will be improved, and confidence will build up.
Outdoor and Physical Activities
Physical activities are equally important as those involving education and learning. Outdoor physical activities involving muscle movement are crucial for a 7-year-old girl's physical development and growth since it's an important phase of her life in that aspect.
Think of something like sports equipment; if she's a player in her school's basketball team or some other sports team, that's even better. A bicycle is also a good option that she can enjoy with her friends too.
FAQs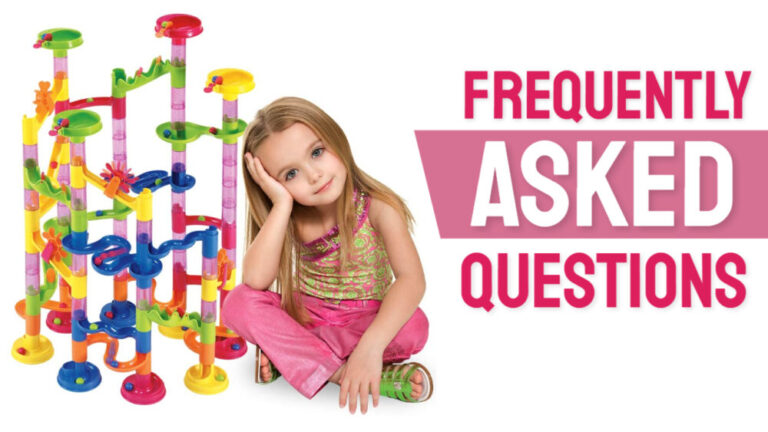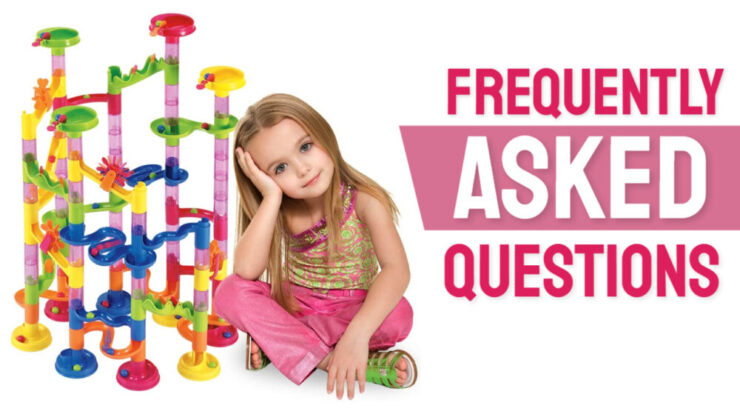 Is my daughter too old for toys at 7?
Toys are not just a way to prevent boredom but are also important to develop the cognitive skills of your 7-year-old kid. Playtime also minimizes your kid's screen time.
What toys should a 7-year old have?
7-year-olds have a developed imagination. The best toys for them will make them write stories, draw pictures, or create things. Those include crafty items or sports equipment.
What do 7-year-olds like to play?
7-year-olds mostly enjoy muscle activities like jumping rope, bike riding, ball games, and others like these. They also like motor activities like drawing, braiding, and jigsaw puzzles.
Conclusion
Now that you have gone through this article, you must have been convinced never to underestimate the power of learning of your 7-year-old kid through playing. Toys and playtimes are not only for their break from study rather;, they should provide learning-induced fun and activity.
The best toys and gift ideas for 7-year-old girls are those that involve active learning and the development of different skills as well. We have shortlisted the 10 best toys to get your 7-year-old girl; here are the top three of them.
Singing Machine Bluetooth Karaoke System to enjoy singing with friends and developing social skills.
VTech KidiZoom Smartwatch DX2 for your technology-loving 7-year-old girl.
Crayola Light Up Tracing Pad to enjoy drawing and develop your girl's artistic skills.
Choose according to your girl's likings and interests to further enhance her skills. Providing your kid an enjoyable playtime plus a learning opportunity is one of the best things you can do for your child, and she will love you for that in the future as well.
Check this awesome offer on Amazon before you go: