Editor's Pick
Good Choice
Don't Miss
Also Consider
B Me Kids School DIY Snack Bag and Bottle - Color Your Own Snack Bag - Decorate...
The Original The Floor is Lava! Game by Endless Games - Interactive Game For...
Micro Kickboard - Sprite 2-Wheeled, Smooth-Gliding, Foldable Micro Scooter for...
World of EPI Fresh Dolls - Lynette (00861)
Editor's Pick
B Me Kids School DIY Snack Bag and Bottle - Color Your Own Snack Bag - Decorate...
Good Choice
The Original The Floor is Lava! Game by Endless Games - Interactive Game For...
Don't Miss
Micro Kickboard - Sprite 2-Wheeled, Smooth-Gliding, Foldable Micro Scooter for...
Also Consider
World of EPI Fresh Dolls - Lynette (00861)
Is your little girl turning six soon, and you don't know what to get her? Buying gifts for 6-year-old girls can be a daunting task as you have so many things to consider. Children at the age of 6 are fascinating. This is the age when they start to express themselves and begin understanding others as well. Kids at this age start to become independent and curious. They want to know and learn so much.
This makes finding the right gift for your little girl even more important. Your child will improve as much as you allow them, so get her something that will help her evolve. There is a lengthy list of toys and crafts available in the market to choose from. This makes it even harder to select a gift or toy that will suit your girl. That is why we have made a concise list of gifts you can choose from depending on your daughter's needs and interests.
Best Toys and Gift Ideas for 6-Year-Old Girls
1. My Encyclopedia of Very Important Things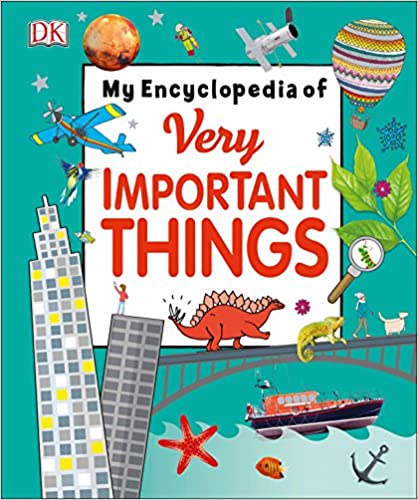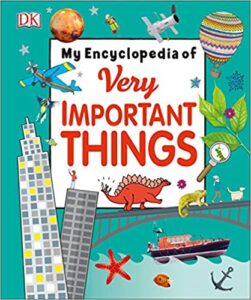 At the age of six, your kids become more curious as they want to know more about themselves and the world they live in. They have crossed their cognitive milestone and can think and work independently, and want to learn more. This is where "My Encyclopedia of Very Important Things" comes in handy.
This is a fascinating book ideal for your curious little girl. This book has an exciting storybook format and is filled with colorful illustrations age-appropriate graphics. Your little girl will remain entertained while reading this book and will get to learn so much through the fun stories and games in this encyclopedia.
Furthermore, this book comes with age-appropriate information for your little girl can easily take-in the fact. In addition to that, this book's contents are complementary to the school curriculum, so she'll get to learn things that will benefit her academically as well.
After opening this book, your little girl will embark on a journey to learn about dinosaurs, cavemen, Egyptians. She'll get to learn and know about herself, people, plants, and animals. Additionally, this book's readability is relatively easy so that you can read this with her, or she can even read it by herself.
What makes this book even more desirable is that it was shortlisted for The School Library Association Information Book Award 2017 and the Best Children's Book in the Junior Design Award 2017. Moreover, this book is part of a series, so you can buy more from the collection for your little girl to know more!
Pros
224 pages
Easy to read
Storybook format
Eye-catching illustrations
Engaging
Teaches about plants, people, places, etc
Cons
Not inclusive of people that aren't white
My Encyclopedia of Very Important Things is a fun and engaging book to quench your 6 year old's thirst for knowledge. This book comes with colorful illustrations and fun games. Furthermore, its storybook reading format makes it easy for your child to read independently as well.
2. B Me DIY Snack Pack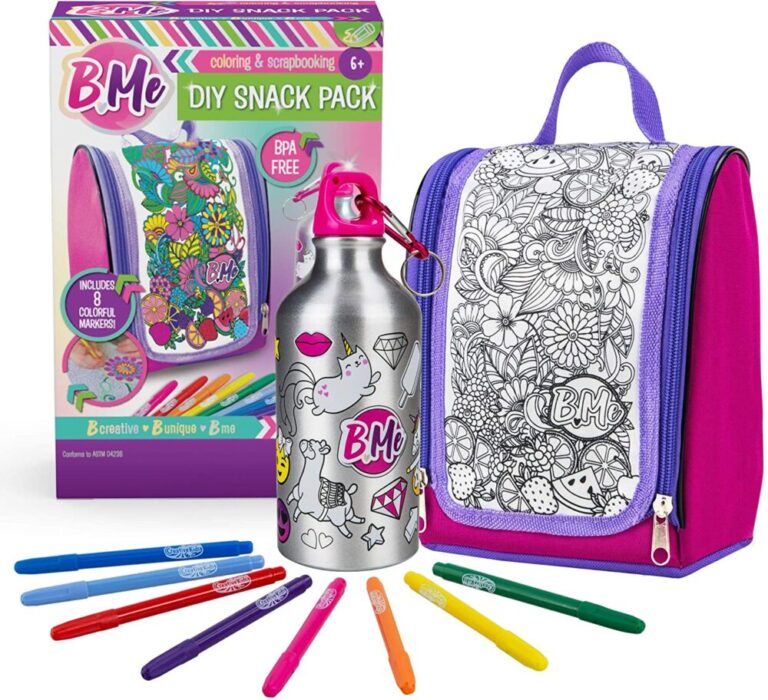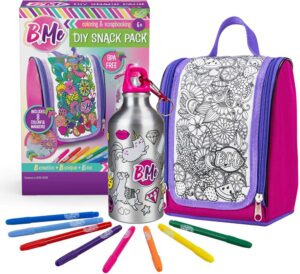 If your little one likes to make everything around her colorful, this is the best gift for her. B Me DIY Snack Pack is a lunch box set with a bag and water bottle, all of which are customizable. Your kid can color the blank illustrations on the bag and bottle, making them entirely original for your child.
This snack pack is for kids age 6 and above so it's an ideal gift for your princess's 6th birthday. She can show her creativity through this snack pack. This is perfect for engaging your little ones in a fun and creative activity. Additionally, the result makes your kids feel proud and accomplished. Your daughter can either color the drawings in one go or take it slow and do it over time.
Your kids can color in the rainbows, unicorns, clouds, and stars as they please with the vibrantly colored markers that are included in the snack pack. This is great because you don't have to go and buy the markers separately. The illustrations on the pack are also very kids friendly as they include donuts, llamas, unicorns, rainbows, stars, all designs which kids adore.
Another feature that makes this snack pack ideal for your 6-year-old is that the water bottle is BPA-free. BPA is a material used in consumer goods and is linked to many health problems like cancer, infertility, etc. As the water bottle in this set is BPA-free. You can rest assured that your princess is healthy and hydrated with this set.
The fabric bag makes this item durable and also provides excellent insolation. This keeps the food and drinks hot during the winters and cool during summer. The bag also ensures that the food remains fresh for hours. This item is excellent to fulfill your little princess's everyday needs while making her happy as she looks at her artwork everywhere she goes.
Pros
BPA-free water bottle
Durable
Promotes creativity
Offers great insolation
Cons
Color might fade after washing
Markers might be defected at arrival
The B Me DIY Snack Pack is an excellent gift for your little one's 6th birthday. This is a snack pack that your daughter can customize according to her liking by coloring the illustrations as she pleases. Additionally, this item promotes your daughter's creativity, concentration, problem-solving, and individuality.
3. The Floor is Lava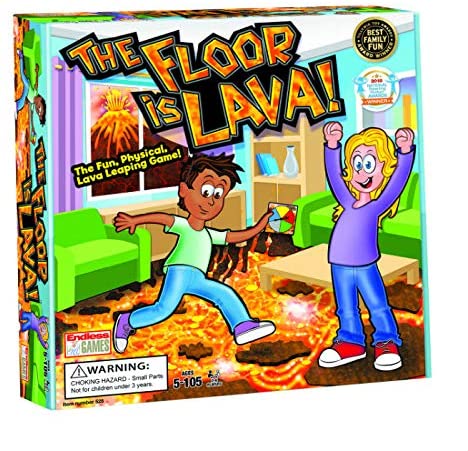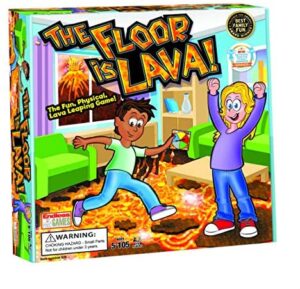 The floor is lava is a game everyone played as a child and enjoyed immensely. Here's an upgraded version of this game that will increase your child's imagination while promoting her problem-solving and motor skills. The instructions for this game are straightforward. You have to imagine the floor is lava and spin a wheel to jump to safety.
This game can be played with 2 to 6 players. As it is a family game, you can play alongside your little ones and have a fun family game night. The set comes with 25 colored "safety island" foam pieces, 27 challenge cards, a game spinner, and an instruction manual.
What makes this game perfect for your little girl's 6th birthday is that it increases her motor skills. At the age of 6, your child is growing and becoming energetic. This means that she needs a healthy outlet for all that energy. This game is perfect for her as it requires her to jump and leap, which increases her strength and balance.
Furthermore, the safety foams are slip-resistant and durable. These foam pieces can also be placed outdoors, which means you can play this game inside and outside. In addition to that, this game is very easy to learn but difficult to stop playing, so you better start playing after clearing everything off your schedule.
The floor is lava also improves your child's cognitive skills. Your daughter's critical thinking will also increase as she will have to think carefully about her every move. If she doesn't strategize her every move, she won't be able to win. Furthermore, you can design the floor plan as you want.
Pros
Indoor/outdoor
2-6 players
Promotes physical strength
Multiple map options
Cons
Spinner needs assembly
Durability
The floor is lava is a fun and engaging game that your children can go on playing for hours. It sufficiently improves their motor skills as they have to jump and leap to safety. In addition to that, it also improves their problem-solving skills as your kids will have to think to save themselves from lava.
4. Fresh Dolls – Lynette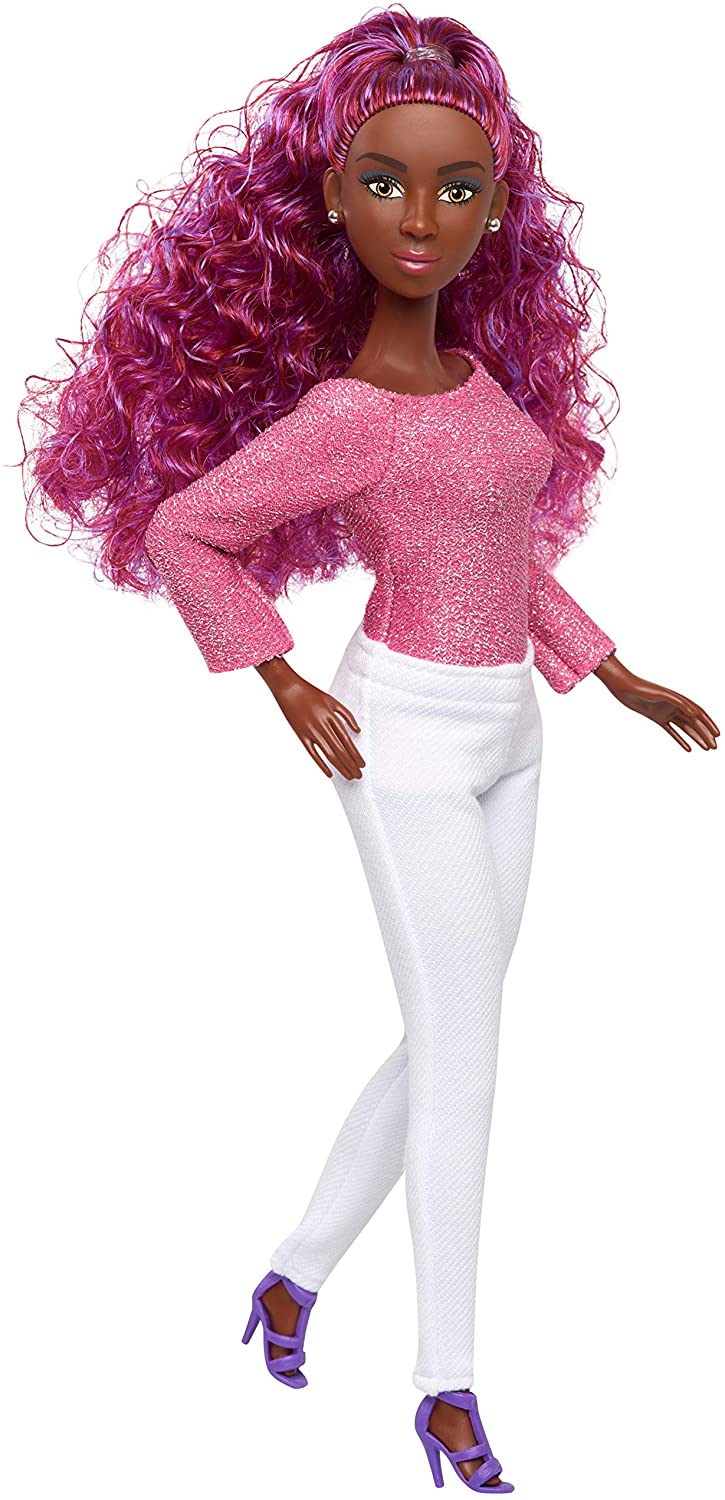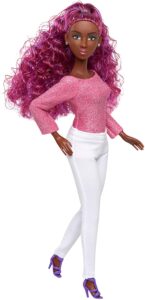 When it comes to dolls everyone thinks of barbies. Although barbies are great, they lack diversity. Fresh Dolls, on the other hand, have a wide range of diverse and multicultural dolls. This ranges from African American, Latino/Hispanic, Afro-Latino, Caucasian, and Mixed race dolls.
The dolls from Fresh Dolls have unique facial features and soft, textured hair. Their skin colors are custom blended, and their body structure is closer to the real body. You can pose their body in multiple ways as there are joints present in the knee, hip, shoulders, and elbows.
You can also move the doll's head from side to side. The hair on the doll's head is washable so that you can say bye-bye to stinky doll hair. In addition to that, each of the Fresh Dolls has her own background story, so your little girl can choose the doll she can identify with most.
Moreover, your little girl can dress the doll up for any occasion as there are several outfit options available on the Fresh Doll website. Your daughter can dress up her doll in scrubs, shorts, or even a party dress. Another feature that adds to their charm is that many Barbie Fashionista items are compatible with these dolls.
Pros
Inclusive style
Realistic body construction
Allows a variety of movement
Inexpensive
Washable hair
Cons
Limited accessories
Not high quality
The Fresh Dolls are one of the best gifts for your daughter's 6th birthday. These dolls have inclusive design and realistic body construction. Each doll has a unique backstory which makes playing with them even more entertaining. The accessory options are limited, but you can use Barbie accessories to make up for that.
5. Fort Kit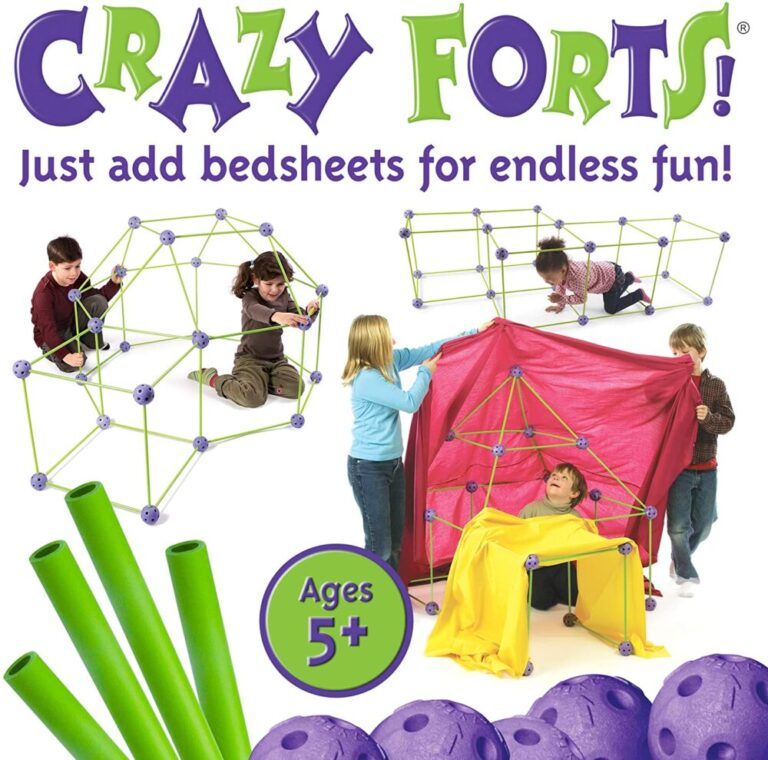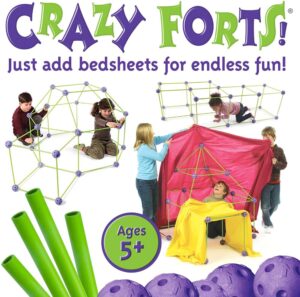 What kid doesn't enjoy playing with a fort? Forts are fantastic to build as they give your kids their own unique space to play-in while also increasing their cognitive skills. This fort kit takes your child's fort experience to the next level. This kit comes with 69 durable and lightweight pieces for constructing your fort.
This kit is made of high-quality plastic and is very lightweight, making it ideal for camping. It is exceptionally easy to build as well. All your kids have to do is connect the sticks to the connecting balls and go from there. If they have trouble figuring out an original design, the kit comes with the 5 best designs to help them get started.
This is an excellent gift for your little princess as it will inculcate patience in your daughter as she constructs her fort. This kit will also help promote critical thinking as your daughter will have to think outside of the box to build her original fort. After your child is done making their fort, just throw on a sheet and, you're good to go.
Pros
Indoor/outdoors
Promote imagination and creativity
Problem solving and patience
Affordable
Easy to construct
Cons
Cover not included
Need to buy two sets for size
6. Micro Sprite Kick Scooter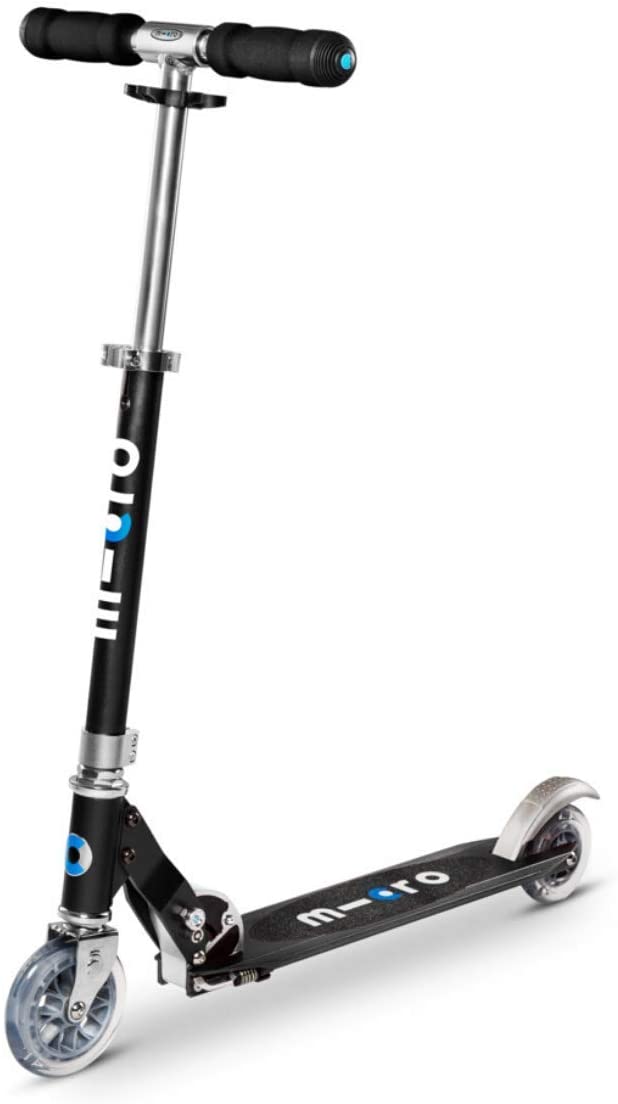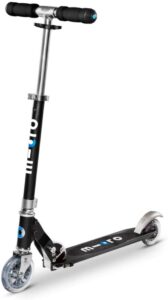 Micro, as a brand, has made a name for itself among parents for durable and high-quality scooters. Sprite Kick Scooter stands up to Micro's reputation as this scooter is lightweight yet strong. The design and material used in making this scooter are all high-quality, making this scooter ideal for your little girl. Moreover, this scooter comes in a variety of colors for your daughter to choose from.
She can go pink, or if that isn't her taste, she can choose the metallic purple or green. This allows your daughter to express herself in her choice of color. Additionally, the scooter is foldable, making it easy to take with you. Also, it has replaceable parts and a 2-year warranty which means that your daughter can scoot away for life.
The scooter doesn't require any assembly, and all you have to do is unfold it and use it. Furthermore, the polyurethane wheels make the wheels durable and also give your daughter a smooth glide. The robust construction makes this scooter sturdy and reduces shaking. This makes it safe for your girl to ride as a shaky scooter could cause accidents.
Pros
High-quality
Durability
2-year warranty
Lightweight and foldable
No assembly required
Cons
Expensive
Small wheels (feel every bump and crack)
As your little girl grows, so does her need for physical activity. At the age of six, kids are have increased gross motor skills, which means that they have better balance and are more confident in their strides. This scooter is the perfect gift for your growing little girl as it will keep her safe from falling. It's also lightweight so you can carry it with you.
7. Creativity for Kids Grow 'N Glow Terrarium Kit for Kids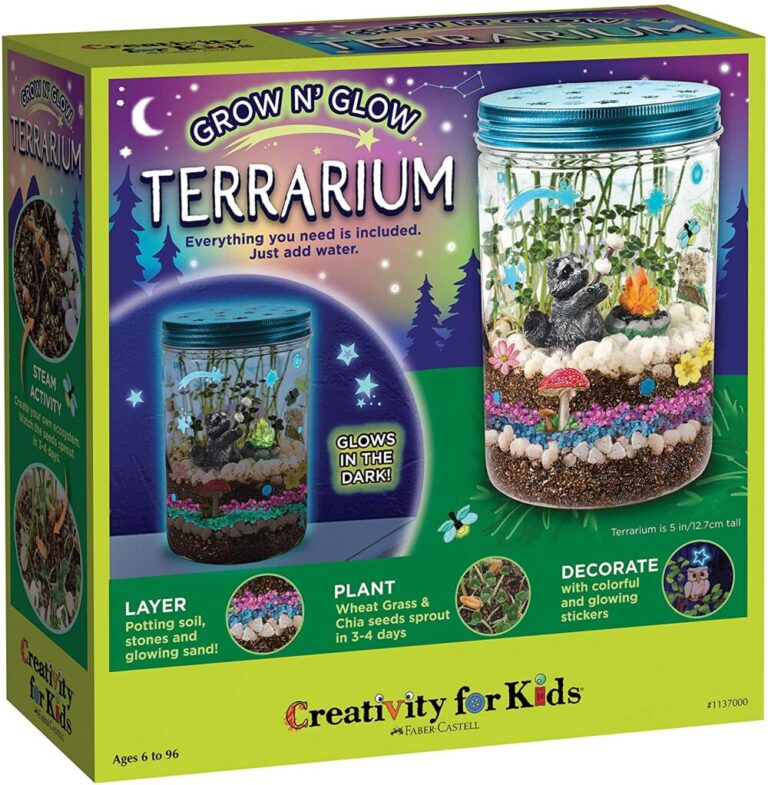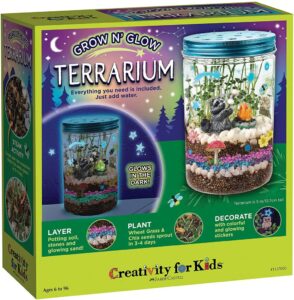 If your daughter has a keen interest in science and art, then this terrarium is the best gift you can give her. This terrarium is magical and fantastical. Through this terrarium kit, your little girl can experience the magic of growing her own ecosystem.
The kit comes with a plastic mason jar, potting mix with vermiculite, chia, and wheatgrass seed, both of which are organic, glow-in-the-dark figurines. All these materials should be enough for two whole plant cycles so your child can have this magical experience more than once.
The fact that this set has vermiculite in its potting mix is marvelous. Vermiculite is a mineral that improves soil aeration while retaining moisture. It also provides nutrients to your plant's roots, cuttings, and seeds resulting in them growing faster and healthier.
Moreover, this kit comes with glow-in-the-dark stickers and figurines that light-up at night. This makes your terrarium seem magical and fantastical. The ecosystem starts to grow within 3-4 days. If you experience some issues, try to water it more and move it to a place with better sunlight.
Everything comes included in the kit, so you don't have to worry about buying any extra items. The items in this kit are non-toxic, making them safe for your child. Furthermore, this kit teaches your kids to be responsible as they have to nurture an ecosystem.
Pros
Combination of science and art
Glow in the dark
Clear instructions
Original design
Takes 3-4 days to grow
Material for two plant cycles
Cons
Water to soil ratio might vary
Might arrive with missing pieces
The Grow 'N Glow terrarium is one of the best gifts you can give to your daughter on her birthday. It is a fun science kit that mixes science with art and comes with glow-in-the-dark figurines and stickers. Through this kit, your little ones can express their originality by creating their designs for an ecosystem in which they'll grow.
8. FAO Schwarz Wooden Castle Building Blocks Set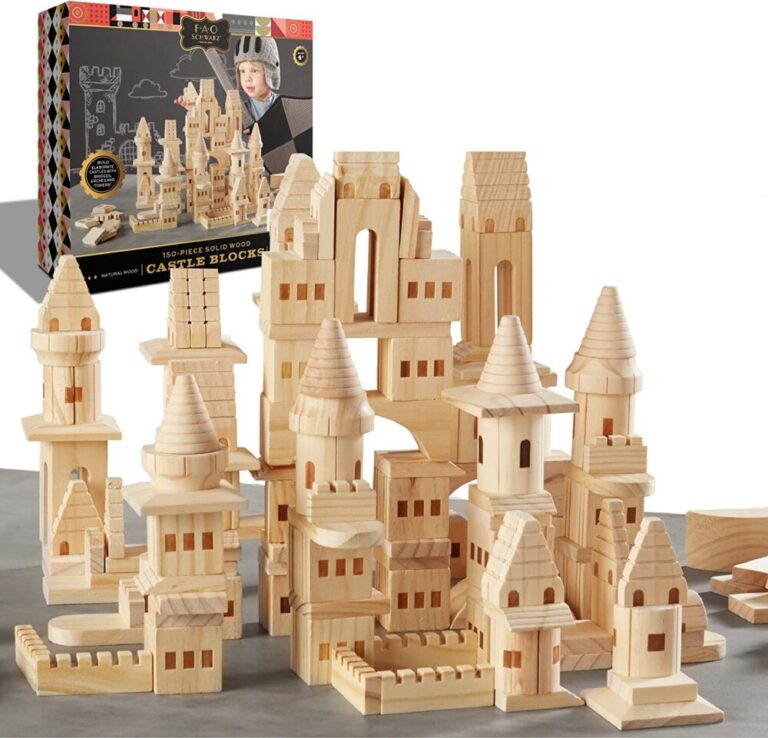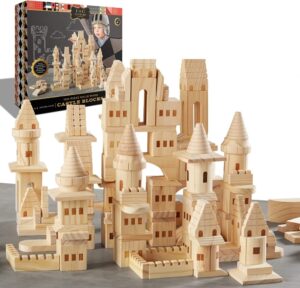 Your little princess needs a castle to feel like a princess! Well, with this castle building block set, she can make her. This building block set is excellent for your 6-year-old daughter as it primates creativity, imagination while also developing problem-solving skills and critical thinking.
The FAO Schwarz Wooden Castle Building Blocks Set comes with 150 wooden blocks, which are durable and safe for your daughter to play with. She can make castles to bridges, arches, and even towers. These are an excellent outlet for her creative mind as she can create as she desires.
Additionally, this form of playing toys that require some engineering sufficiently increases your child's hand-eye coordination while also improving their spatial skills. Furthermore, as these blocks are classic wood and have a basic form, your little princess can paint or color them to fit her aesthetic.
Pros
150 wooden blocks
Improve problem-solving skills
Promote fine motor skills
Group play
Creative
Cons
On the expensive side
Storage container not included
What makes these wooden castle blocks the perfect gift for your little girl is the endless possibility they offer. Your little girl can make whatever she wants with these blocks. Moreover, this set promotes teamwork as your daughter might need to work together with people to create something big. Also, if the plain look is too basic, she can easily customize it by painting or coloring the blocks.
9. PinkSheep Beaded Necklace and Beads Bracelet Set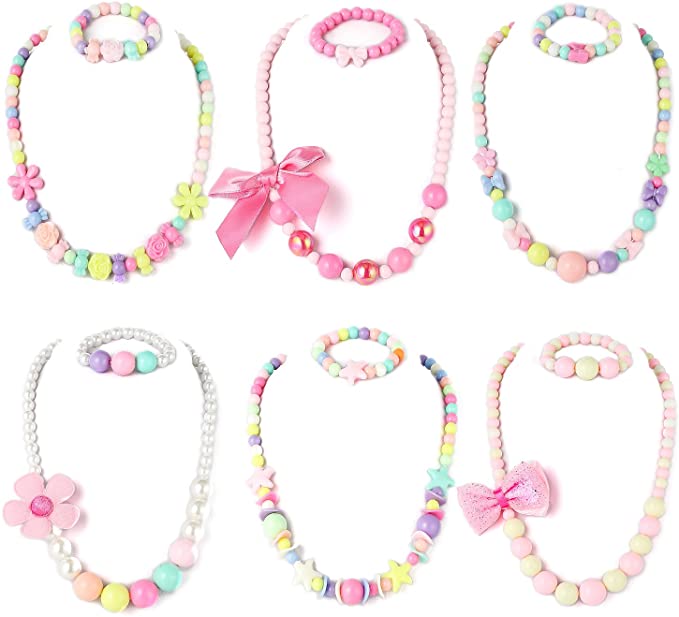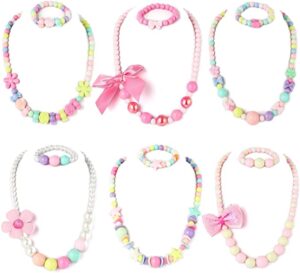 As your daughter reaches the age of 6, she starts to express herself and wants to dress as well. In this case, your little princess needs her set of jewels to shine! The PinkSheep Beaded Necklace and Bracelet Set is a great gift in this regard. This set comes in cool and pretty pastel shades of the rainbow.
Perfect for your daughter's 6th birthday, this set comes with 6 necklaces and 6 matching bracelets. The colors are nice and clean, while the flower design is intricate and unique. These necklaces and bracelets can go with a variety of your daughter's outfits. Furthermore, if she wants, she can share them with her friends.
Another feature that adds to this set's charm is that it comes with a gift bag. The jewelry itself is made of high-quality acrylic, which is exceptionally durable. This makes these items last longer and reduces the chances of them breaking. Additionally, these necklaces and bracelets are skin-friendly and safe.
This necklace and bracelet set has been tested and tired and is entirely safe for your little princess to wear. Moreover, it's lightweight, soft, flexible, and highly durable. The wearability of these items is relatively easy as your little ones can simply slide them on and off. To top it off, the customer service is excellent as well.
Pros
Gift bag included
6 necklaces and 6 bracelets
Easy to wear
Durable and high-quality
Cons
The bow can easily come undone
Elastic not that strong
In short, this is the best gift for your fashionista! It comes with six necklaces and six bracelets to match. the colors are nice and pastel and the quality of this product is excellent. Furthermore, your little ones can easily put the items on and off as they come with a stretchable elastic.
10. Wonder Workshop Dash Coding Robot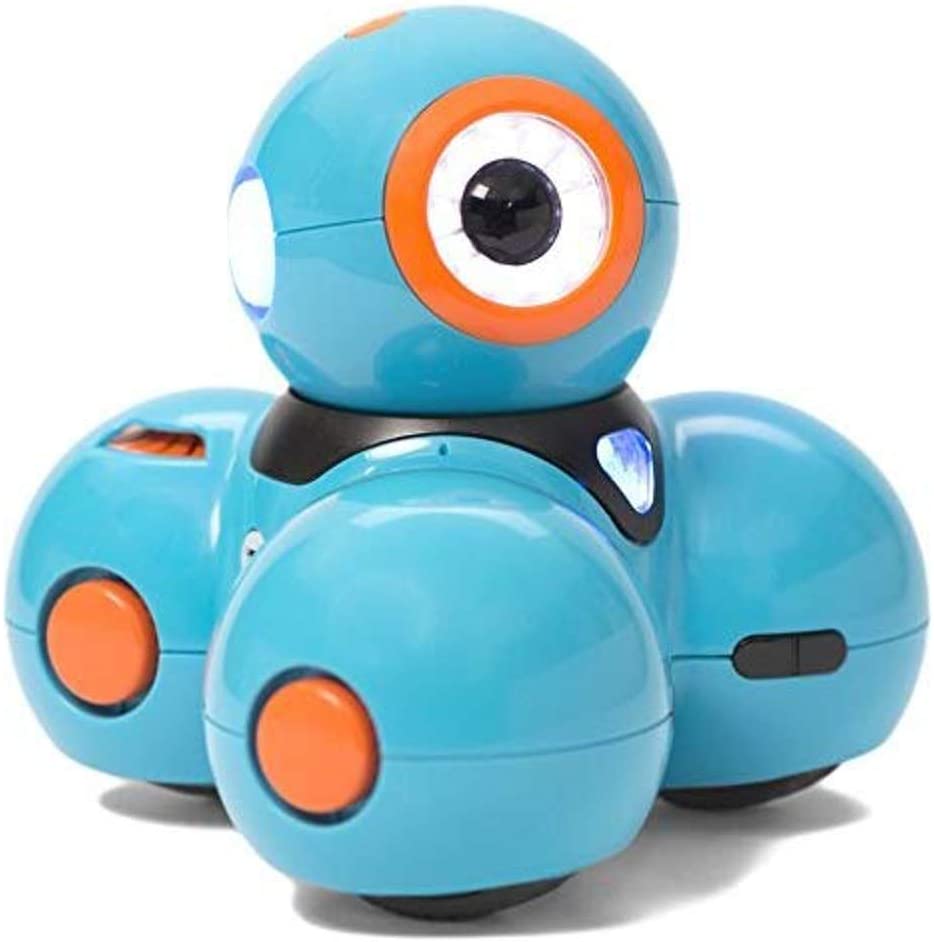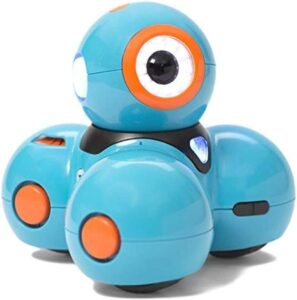 Technology is something that you can't escape no matter where you go. It is present now and will be present in the future. Compared to older generations, young kids aren't fazed by technology. Instead, technology excites kids nowadays. This is where Dash comes in! Dash is a cute little robot that helps teach your little one in coding, and kids learn to program and create apps.
Dash is already charged when it arrives, so you don't need to charge it and start learning right away. Furthermore, this adorable robot is voice commanded and can be controlled with 5 freely available apps. Dash uses an open-ended learning technique, so your kids learn about coding simply and easily.
In addition to that, the Wonder Workshop has a Wonder League which is a challenging and encouraging community. Here your kids can learn through the help of others while improving their teamwork skills and their overall confidence also boosts up. Dash is used in over 20,000 schools, and this number is significantly increasing.
Pros
Easy to use
Voice-activated
Used in schools
Boosts kid's confidence
Cons
Expensive
Battery life is short
Dash is an adorable robot that teaches your child how to program and create apps in an easy and straightforward way. It is easy to use and is voice-activated. Dash is charged when it arrives so that you can start the learning process right off the bat. Coding might not be a life skill your kid needs, but it sure is a skill that will help your kid in the future. So the sooner you start teaching them, the better.
Buying Guide – What to Consider
Buying a gift for your 6-year-old daughter can be a complicated task as you have to keep in mind all the different skills she's acquiring. At the age of 6, your child has overcome many milestones and develops as her own person. Some of the things you need to keep in mind while buying the perfect gift for your little girl's 6th birthday are mentioned below.
Hobbies and Creativity
At 6 years old, your daughter becomes more independent and starts to express her feelings more. She wants to make her own decisions and leave her mark on the world. For this reason, DIY and art & crafts kits are ideal for your daughter.
As your princess wants to get creative, you should think of getting her something that can help fuel that creative energy positively. At this age, she'll also start to form hobbies and interests. Thus, you should get her something that will help her get creative!
Teamwork and Sharing
When your children turn 6 they start to understand other people and their emotions. They become more empathetic and are better able to understand the importance of teamwork. If you want to promote team working skills in your daughter, multiplayer games are an ideal choice.
Multiplayer games show your kids that teamwork makes the dream work! If they want to win and achieve their goals, they need to work with their team, not against them. Also, multiplayer games teach your kids how to share with others.
Sale
Hasbro Gaming Perfection Plus 2-Player Duel Mode Popping Shapes and Pieces Ages...
DUEL OR SINGLE PLAYER MODE: This edition of the Perfection board game features Duel mode, where 2 kids race at once to fit their shapes in the holes; or play...
CHOOSE A COLOR: The game comes with 25 red and 25 yellow shapes, and kids can have fun competing to put the most pieces in the spots on the tray before the...
FAST-PACED KIDS' GAME: Race against the clock in this fast-paced puzzle game. The Perfection game is for 1 or more players, kids ages 5 and up
SHAPE-POPPING GAMEPLAY FOR KIDS: The game is easy to set up and can be played over and over again. After playing, easily store 1 set of shapes in the game unit,...
BEAT THE CLOCK TO WIN: This exciting puzzle game will have kids laughing while they fit the shapes before time is up. The player who matches more of their...
Sale
Think Fun Math Dice Junior Game for Boys and Girls Age 6 and Up - Teachers...
Trusted by Families Worldwide - With over 50 million sold, ThinkFun is the world's leading manufacturer of brain games and mind challenging puzzles
Develops critical skills – Gameplay provides a stealth learning experience, where players learn early math skills through fun gameplay
What you get - Includes 1x 12-sided die, 5x 6-sided dice, scoring track, instructions, and a game-go bag for easy storage and clean-up For 2+ players aged 6+,...
Clear instructions – Easy to learn with a clear, high quality instruction manual You can start playing and solving right away
Toy of the year nominee - Math Dice Jr is hugely popular with parents and teachers, and serves as a great math game for young learners
Outdoor Activity
As your kids reach the age of 6, they have developed gross motor skills and are full of energy. Because they have so much energy in them, they need a healthy outlet to let this energy out. Your kids are also more confident in their jumps and leaps at this age, and their hand-eye coordination also increases.
So to keep your children healthy and fit, engage them in activities outside the house. This way they will get to be in nature and also get a good amount of sun. They can ride their bike or scooter. They can also play multiplayer games with their family or friends.
Dynacraft Hello Kitty 16" Bike
Girls Hello Kitty BMX street bike with front/rear caliper and rear coaster brakes
Hello Kitty handle bar bag, handlebar pad, and streamers
Adjustable/removable training wheels
Bike Dimensions 30" x 24" x 42", 26.01 pounds
Recommended Ages 4 to 8; up to 81 lbs.
DINBIN Complete Highly Flexible Plastic Cruiser Board Mini 22 Inch Skateboards...
🛹Includes: 22 inch skateboard, "waffles" top texture, 85A super soft bushings, 22*6 inch fresh pp deck, abec-7 high speed bearings, 78A 60*45mm high rebound...
🛹Totally portable, safety guarantee - With CE certification, this well-built skateboard is safe to ride and suitable for any level of riders.
🛹Skateboards are the perfect mode of transportation for you. they are a great learning platform to allow you to continue to develop strength, balance and...
🛹Max Load Ability: 220LB (100KGS). It can be used by children, teenagers and adults.
🛹DINBIN SERVICE:unconditional refund is available if you are not satisfied with or don't like the product when you receive it. We also guarantee of 60 days...
Kids Quad Roller Skate,Roller Skates for Girls Boys,with Adjustable Size&Double...
「The First Pair of Roller Skates for your Child — 4-Pejiijar Beginner Skates✨」:Children are more interested in sports After the 3 years old. Skating...
「Safety & Durability — A guarantee for skating beginners to overcome fear✨」: 🧡. Three-point balance support design, more stable and easier to learn....
「Comfortable & beautiful — let children fall in love with this Lighted Wheel roller skate shoes ✨」:💛.Breathable flannel lining,which keep feet loose...
「Convenience & Simplicity — easy for mom and kids✨」: 💛. No shoelace design, never mind if you can't tie shoelaces, with double safety ratchet buckle,...
「4 Size Adjustable — 4-Pejiijar roller Skates can accompany children's growth for 2 to 4 years✨」XS size:9.5C~12.5C,S size: 13.5C~3.5Y.and each size is...
Reading
After turning 6 years old, children's concentration also increases. Kids are able to concentrate on a task for up to 15 minutes. They're also able to read independently. To improve your daughter's cognitive skills, you can get her a book. Through reading, she can increase her knowledge of the world while also increasing her overall cognitive skills.
Bestseller No. 1
Sale
Bestseller No. 2
Sale
Bestseller No. 3
Sale
Bestseller No. 4
Margaret's Unicorn
Hardcover Book
Smith, Briony May (Author)
English (Publication Language)
40 Pages - 09/15/2020 (Publication Date) - Anne Schwartz Books (Publisher)
Bestseller No. 5
FAQs
Is my daughter old enough for DIY crafts?
Yes! At the age of 6, kids start to develop hobbies and become more creative. A DIY kit is perfect for your daughter, and it will give her a creative outlet while also promoting individuality. Just make sure that you organize the different kits neatly to reduce confusion in the future.
My daughter doesn't enjoy board games. What should I do?
Every person is different and unique. Maybe your daughter doesn't enjoy the kind of board games you enjoy. Try a number of board games like puzzles, etc., and soon, you will find a game that even your daughter will find entertaining and enjoyable.
Does my daughter need to know about coding?
No! Your daughter doesn't need to know about coding. But she should learn about coding. Technology is something that we have no escape from. That doesn't have to be a bad thing, but it would be nice if you prepared your daughter for the future by teaching her coding.
Conclusion
Finding the right gift for your 6-year-old shouldn't be as hard as some people make it. It's just that while looking for the perfect gift, you need to keep in mind certain things. Your 6-year-old can concentrate better, read better, draw better, and understand the importance of sharing and teamwork.
She is also more curious about the world around her and wants to leave her mark on it. Your daughter will want to be more independent and will openly express herself as well. She will also be more balanced and confident in her strides. Keeping all these things in mind, finding the right gift for her should be easy.
The Floor is Lava is a fun and interactive game that your kids can play indoors and outdoor. It promotes your kid's gross motor skills as you have to jump and leap.
Fort Kit lets your kids make their own fort easily and affordably. This kit is lightweight and durable, which means you can take it with you. Just throw a blanket on, and you have your very own fort.
Grow 'N Glow Terrarium Kit for Kids is the perfect gift for your kids. This kit combines science with art and lets your kids create their very own ecosystem that glows in the dark.
To sum it up, these are some of the best gifts to give your 6-year-old girl for her birthday or even without a specific reason!