Best Tech
Our Pick
Don't Miss
Fisher-Price Code 'n Learn Kinderbot, Multicolor, Standard (FXG15)
VTech KidiBeats Kids Drum Set, Orange
Fisher-Price Imaginext DC Super Friends Batman Toy Transforming Batmobile Rc Car...
Best Tech
Fisher-Price Code 'n Learn Kinderbot, Multicolor, Standard (FXG15)
Our Pick
VTech KidiBeats Kids Drum Set, Orange
Don't Miss
Fisher-Price Imaginext DC Super Friends Batman Toy Transforming Batmobile Rc Car...
Due to the abundance of screens in every house, kids these days are hooked to watching cartoons and videos on screens. Even though the usage of screens certainly has its perks, but it also has drawbacks. An excellent way to make sure your 3-year-old boy enjoys his playtime while staying away from harm is to get them toys that captivate them while providing them learning appropriate to their age.
A good toy will not only make children's playtime enjoyable, but it can also be quite informative for young minds. This keeps the parents satisfied that their boy is learning something valuable in his playtime instead of spending hours on a destructive video game.
Finding age-appropriate toys is also not an easy job, especially when it comes to young boys. To help you find the best toys for your own preschooler kid or nephew, I have searched the market and found some toys best suited for 3-year-olds. After testing a couple of toys, I have shortlisted the best eight toys that are most popular among 3-year-old boys. The article below has detailed reviews of each one of those toys.
Gift Ideas for Toddlers
It is not an easy task to keeping children especially a preschooler engaged and busy. As they are growing up and are developing their own preferences, it can be a bit of a challenge to make them happy. However, with the right type of toys according to their age and liking, you can not only keep their attention occupied but also make sure that they learn something valuable. Here are the top 8 perfect ideas for toys and gifts for 3-year-old boys in 2023.
1. Paw Patrol Dino Rescue Patroller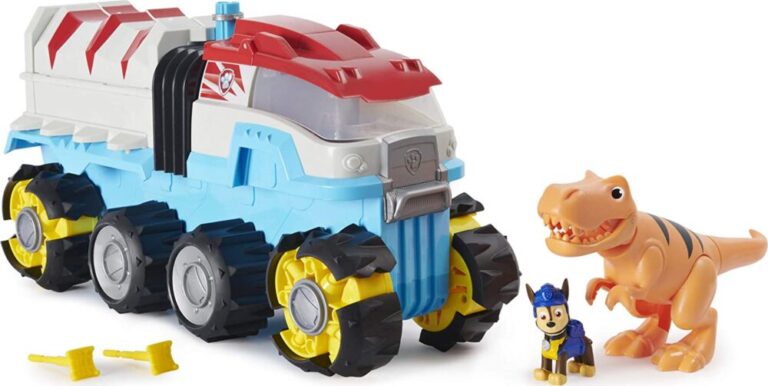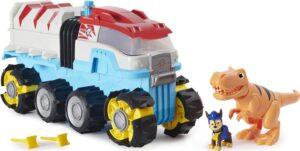 The cartoon Paw patrol is quite famous among young kids, especially boys. This is why this paw patrol rescue toy will be a perfect gift for three years old boys. It comes with a motorized vehicle that looks exactly like the one from the cartoon. There's also a T-Rex dinosaur figure with moving legs and mouth. The box also has one of the members of the rescue team from the cartoon called Chase.
Your child can place Chase in the driving seat, and with just a push of the button, get the vehicle moving. The rescue truck comes with rugged wheels that glide over all kinds of terrains. This will let the child create different kinds of scenarios that involve sand, water, and rocks, etc. All it needs to start are 6AA batteries that also come with the toy.
There are two buttons on top of the vehicle, a red and a yellow. The net launcher emerges when you press the yellow button, and the projectile nets are launched after pressing the red button. With the two projectile nets, they can rescue the dinosaur figure and then easily place it in the back of the truck. This toy allows the child to be imaginative and play out their own rescue operations. One other thing that I noticed is that when it hits something in its path, it creates a loud noise that may irritate many people.
Pros
Comes with batteries
Lightweight
First Paw Patrol motorized toy
Lets the kid be imaginative
Has durable construction
Strong wheels
Affordable price
Cons
Makes loud noise when stuck
If your child is a paw patrol fan, then this car is the perfect gift for his birthday. With the moving Chase and dinosaur figure, he will enjoy creating scenarios from the cartoon and do rescue operations. It doesn't cost a lot either, so that is a plus for you.
2. WowWee Pinkfong Baby Shark Official Song Puppet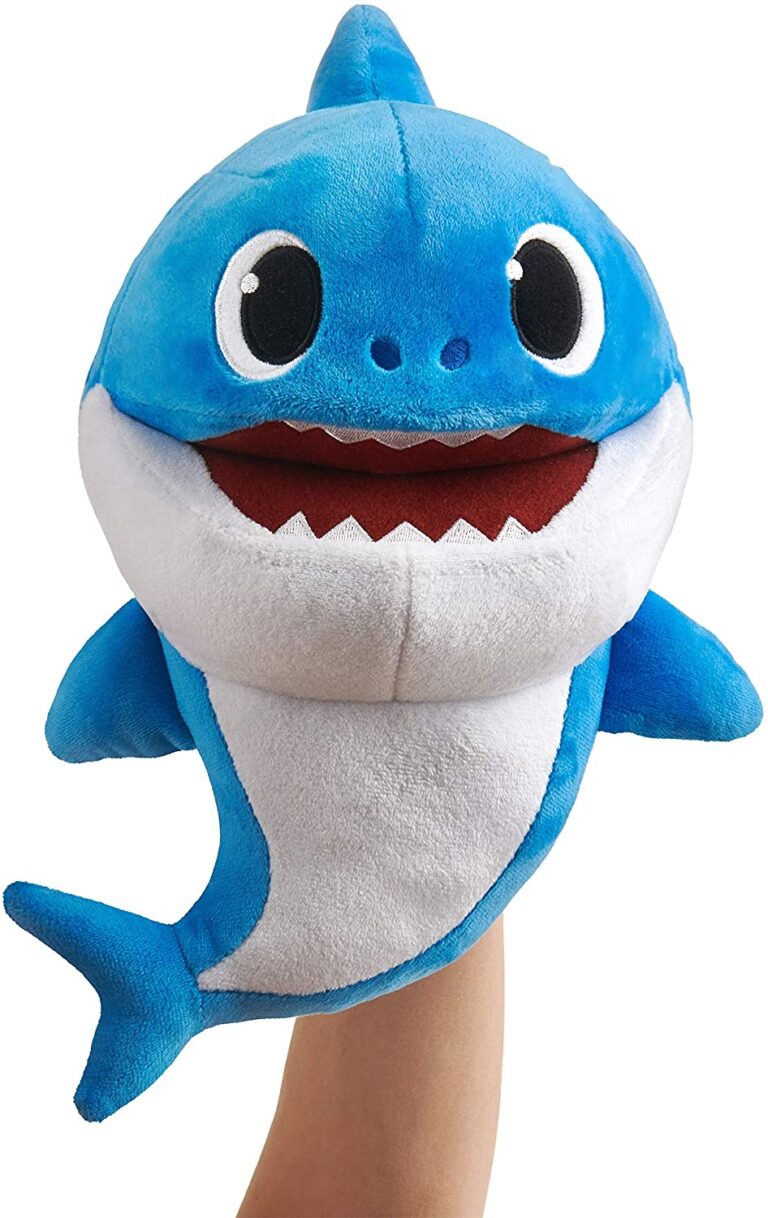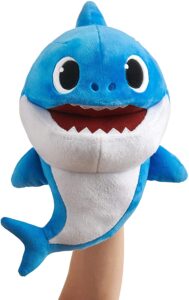 Every young kid, whether a girl or a boy, absolutely loves the Baby Shark poem. Whether it is being played on Tv or the radio in a car, they enjoy it profusely, which makes this toy a perfect gift for 3-year-old boys. It is a baby shark puppet made of plush material, so you don't have to worry about the kid hurting themselves with the toy. It comes in 3 colors that you can pick from; one is a Daddy shark, one is a mommy shark, and then there is the baby shark.
In order to get it working, you need to put your hand in the head of the shark from the back and press the button. It has enough space to fit the hand of an adult. Once you move your hand, the entire Baby Shark song will start playing in English. The best part is you can even control the song's tempo by moving your hand slow or fast. If you move slowly, the slow version of the song will be played, and if you move it with speed, then fast-forward version will start playing.
Batteries operate this toy, so you do not even have to go through the fuss of recharging it after every single use. The batteries are included in the box, so don't even worry about buying new batteries. Another perk is that this toy falls under the affordable price range, so you can get mommy and daddy shark, too along with baby shark.
Pros
Mode of plush
Tempo control
Batteries included
Low price
Lightweight
Cons
Space for hand is too big for a child's hand
Baby shark has a separate place in every child's heart. Kids of every age love everything related to it. Whether you are buying it for your own young son or your nephew, they are going to love and enjoy playing with it and adore you for the special gift.
3. Magna-Tiles Clear Colors 100 Piece Set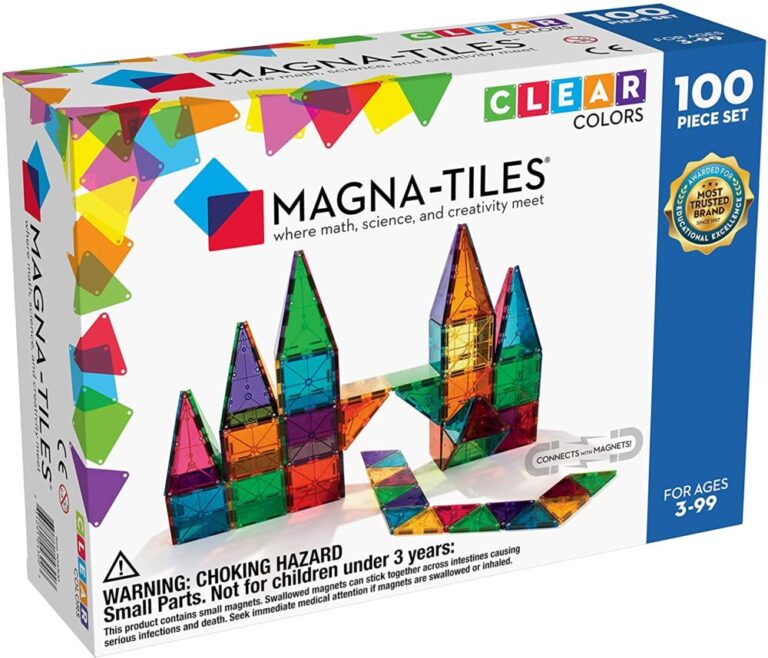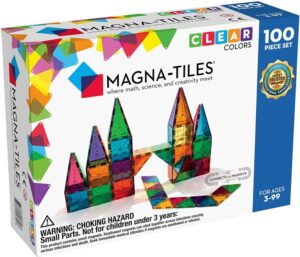 This is a STEM toy (Science, Technology, Engineering, Mathematics) that is both entertaining and beneficial for kids in many ways. What makes this toy a perfect fit for young preschool boys is that it will not only keep them engaged with its colorful pieces, but it also improves their creativity, tactical and problem-solving skills.
It comes with 100 multi-colored, durable pieces made of ABS plastic that is in the form of squares and triangles. The best part is that the tiles have corrosion resistance making them able to endure hours of playtime every day. Its sturdy construction, along with corrosion resistance, gives the tiles a long life.
Each piece has a magnetic strap on all of its sides. The magnets help each tile stick together, and taking them apart is also easy and does not require struggle. If you want the best results, make sure your kids use them on a metal surface. Every tile has been ultrasonically welded to ensure the magnets stay inside, and any accident doesn't happen.
Young kids can use these Magna tiles to create different structures and be as creative as they want to be. They have a safe design and are very easy to use, so you do not even have to worry about constant adult supervision while the child is playing with them.
Pros
Improves creativity
Blocks are durable
Magnetic strap
Easy to use for children
Corrosion resistance
This Magna set of tiles is a perfect gift for any 3-year-old boy that has a knack for building stuff. If you are looking for a toy that will fascinate the kid and have them occupied for hours, invest your bucks in this one. The range of shapes encourages the child to be as creative as they can be.
4. Fisher-Price Code 'n Learn Kinderbot, Interactive Preschool Robot Toy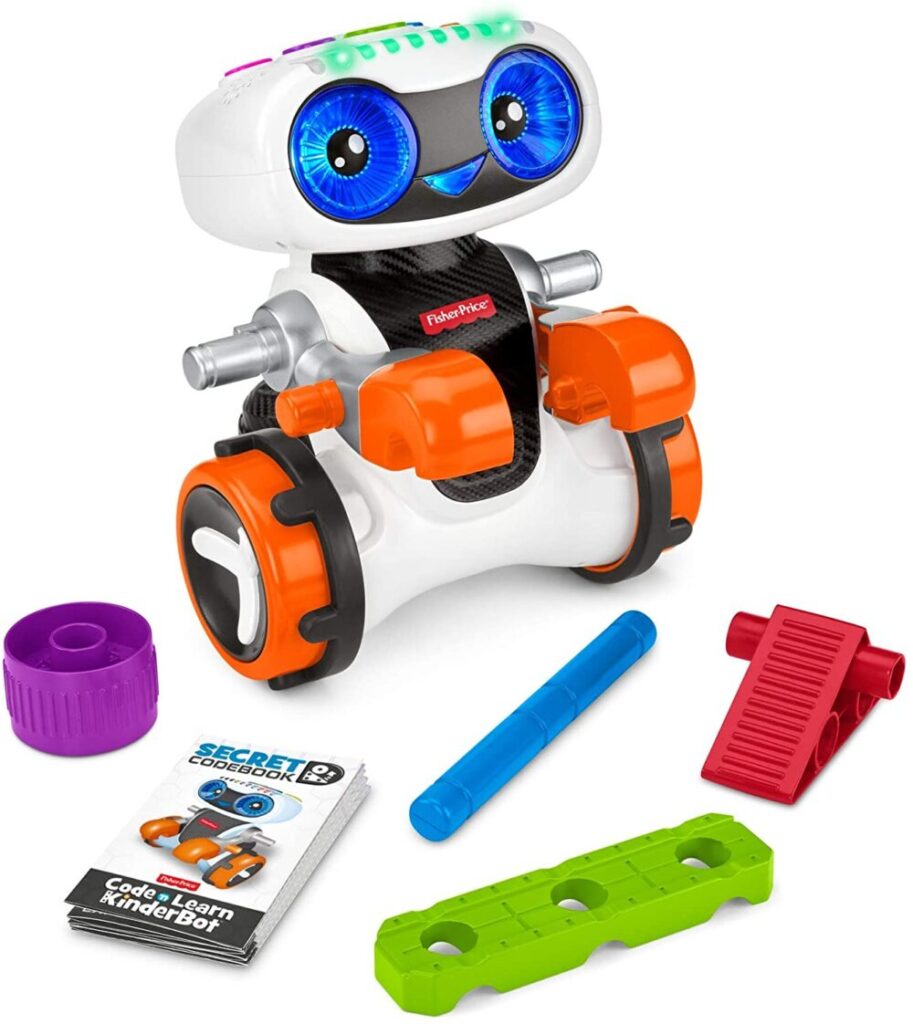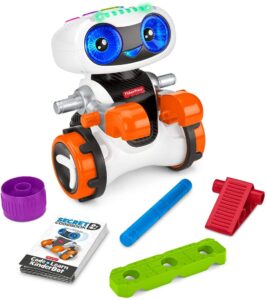 As a parent, it can be challenging to keep your young boys safely busy while keeping them away from phone screens. I have found an ideal toy that will not only keep your young boy occupied but will also make them learn a few things while thoroughly enjoying playing with it. This robot has vivid colors, so that is one factor that will grasp the child's attention. It will not get damaged, even if it gets knocked down from a table, as it has a sturdy construction.
There are three playing modes, free coding, a challenge level, and a third secret code level. In the free coding, just press the buttons on top of his head to feed a direction, press play, and the robot will perform those movements. The challenge mode gives kids small tests and tasks to do, teaches them basic math such as numbers, etc. Once the kid has done the task successfully, it gives them a small dance that excites and encourages them.
The third mode is my personal favorite. It comes with a few extra parts and a small book of codes that has many pre-set secret codes. You need to feed the robot a code by pressing the buttons on his head, and he will do the job. This toy will not only teach coding to your kid but also basic math, different colors, and shapes, etc. Lastly, it has a built-in power down system that turns the toy off automatically if it does not get played with for a period of time.
Pros
Interactive toy
Three different unique modes
Sturdy body
Auto power off
Offers pre-school learning
Cons
Third mode is too tricky for 3-year-olds
STEM toys are all the rage these days as they entertain the kids and offer a great learning experience. This interactive toy will keep your 3-year-old boy busy for hours, and in those hours, he will be learning meaningful things. It is a good way to prepare kids for preschool.
5. Prextex Pack of 2 Cartoon R/C Police Car and Race Car Radio Control Toys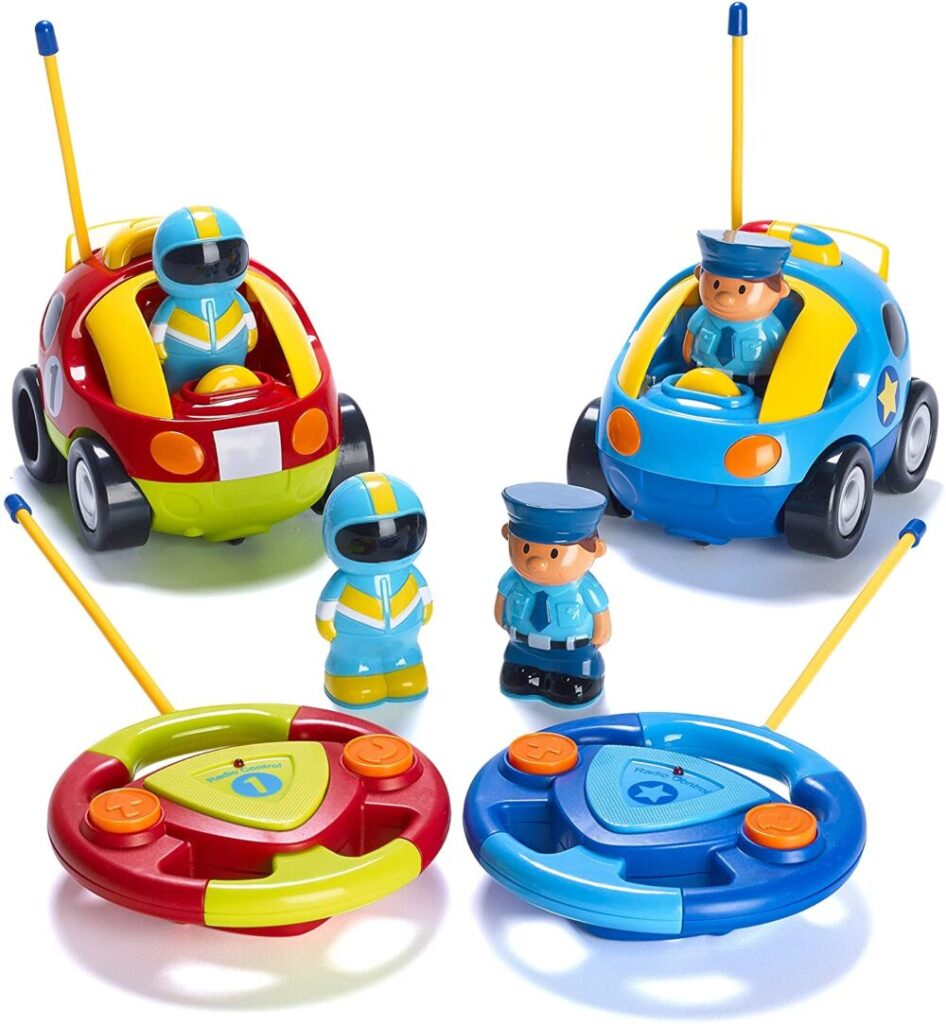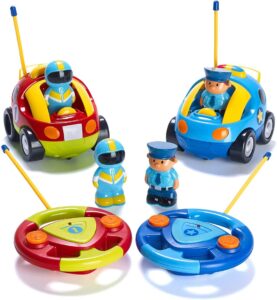 Every boy enjoys playing with remote-controlled cars, and the fun is doubled if they are police cars. There are two cars in the set, one police car, and one race car. The police car comes with two removable policeman figures, flashing headlights, and a preinstalled siren that gives the kids a very realistic experience.
Similarly, the race car also has two removable race driver figures, flashing headlights, horn sounds, and revving engine sound that hikes up the child's excitement level. Each car comes with its own remote control, so two kids can play with it simultaneously. Both the cars have a durable construction that makes them able to withstand rough use. The extra figures for both cars is a great inclusion, as children often lose parts, so if one figure is lost, there is a backup of that figure.
The cars have been made while keeping the tiny hands of kids in mind. They are very light in weight, and their remotes are also small in size, so the little hands of a child can carry them without any difficulty. The remote control's design is very simplistic, perfect for a 3-year-old. It has two buttons, one that makes the car go forward, and the other makes it go in circles. There is a power button on both cars; turn it on and hand the remote control to your child.
Pros
Extra figures for each car
Great price range
Durable design
Lightweight
Simple design
Cons
Sound cannot be turned off
Does not come with batteries
At this young age, kids love playing with remote-controlled cars. This set is an ideal toy for little boys that love playing with cars. With the police car and the race car, they can bring their speeding fantasy to reality. If you have got two young boys, even better, they can both play with it.
6. Stomp Rocket The Original Jr. Glow Rocket Launcher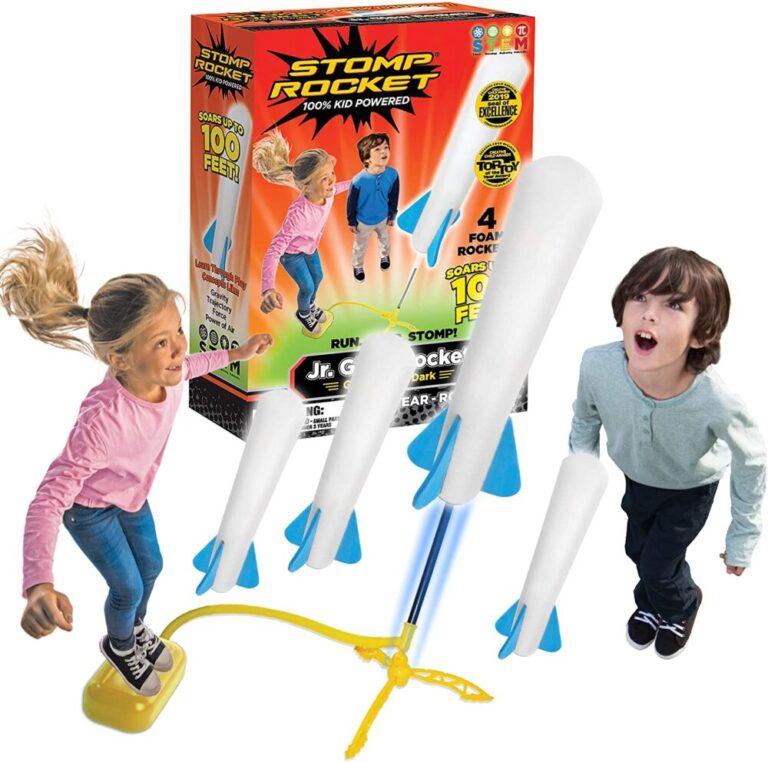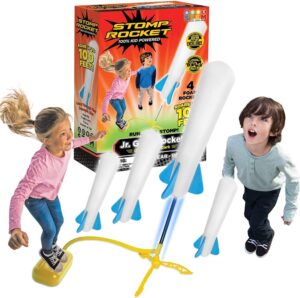 It is crucial to get your kids involved in harmless outdoor activities every now and then to keep them physically active. This toy is highly enjoyable for little kids, especially young boys as they have a knack for throwing things. It comes with a stand for the rocket, a launchpad, a long tube, and a stomping pad in the shape of a small pillow. It is easy to use, just connect the tube to the stomping pillow and put the rocket in its place.
The kid needs to jump on the stomping pillow that will make the rocket go up in the air. The rocket is constructed from foam, so it will not cause any damage, but that means you need to keep an eye out for strong gusts of wind as they can make the rocket fly away. There are four rockets, so your kid can enjoy it properly without running to fetch it after every turn. The best feature about the rockets is that they glow in the dark.
Rockets go as far as 100 feet in the sky, depending on how hard the kid jumps on the stomp launcher. This toy lets the children enjoy their playtime and gives them enough physical activity to burn their extra energy. It has a simple design; a child can assemble and disassemble it effortlessly all by themselves. Along with all these perks, it comes with a lighter price tag, so even if your kid breaks one, you can buy another without any annoyance.
Pros
Very low price
Safe to use
Encourages physical activity
Four glow in dark rockets
Easy to assemble
Cons
Launchpad pieces need to be taped
It's no secret that boys of every age love blowing things up in the air. This stomp rocket is an ideal gift for young boys as it keeps them entertained while encouraging them to be physically active. The safe to use design of this toy will ensure the game does not result in either the kid getting hurt or something getting broken.
7. VTech KidiBeats Kids Drum Set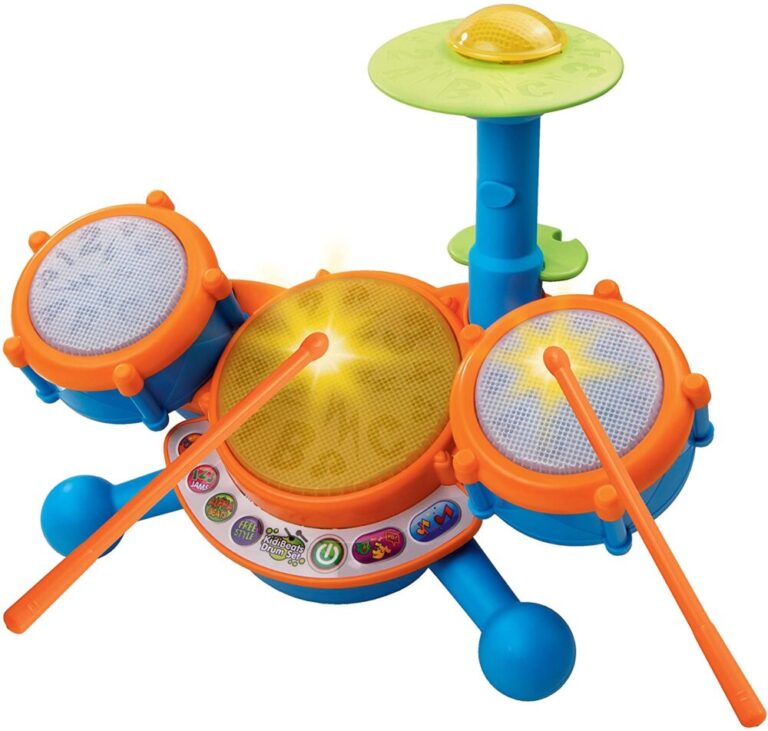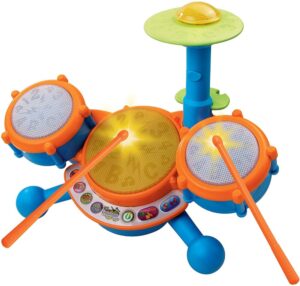 Kids love every toy that creates music and as much noise as them, which is why your kid will thoroughly enjoy this drum set. The small size and lightweight design of the drum set make it even more ideal for young boys as they can conveniently carry it around the house. This drum set comes with three different sizes of drums and a cymbal, and a pair of drumsticks. There is a control pad at the front with different buttons that let you control and switch between different modes of the drum set.
It has a total of four different playing modes; follow along, letters, numbers, and freestyle that allows them to play different types of music. The letter and number mode will see to it that he learns something while enjoying his playtime. You can switch between these modes through the control pad. When the drumsticks hit a drum, it also lights up, which excites young boys.
The default setting also includes background music that is played along with the sound of drums when your child will play it. The background music can be turned off with just a push of a button. Children love musical toys, but they can be a headache for the parents. Keeping that in mind, the manufacturer has added two sound levels to this toy. The volume level is at the back, so your 3-year-old kid may not be able to find it and change the settings; you can switch the sound to the low setting.
Pros
Small size
Lightweight design
Four different playing modes
Two sound settings
Low price
Cons
Drums are a bit too small
This drum set may be the ideal gift for your preschooler's birthday. With the different modes and the music settings, he is going to enjoy playing with this drum set. The letter and the number modes will prepare him for preschool during his playtime.
8. Fisher-Price Imaginext DC Super Friends Transforming Batmobile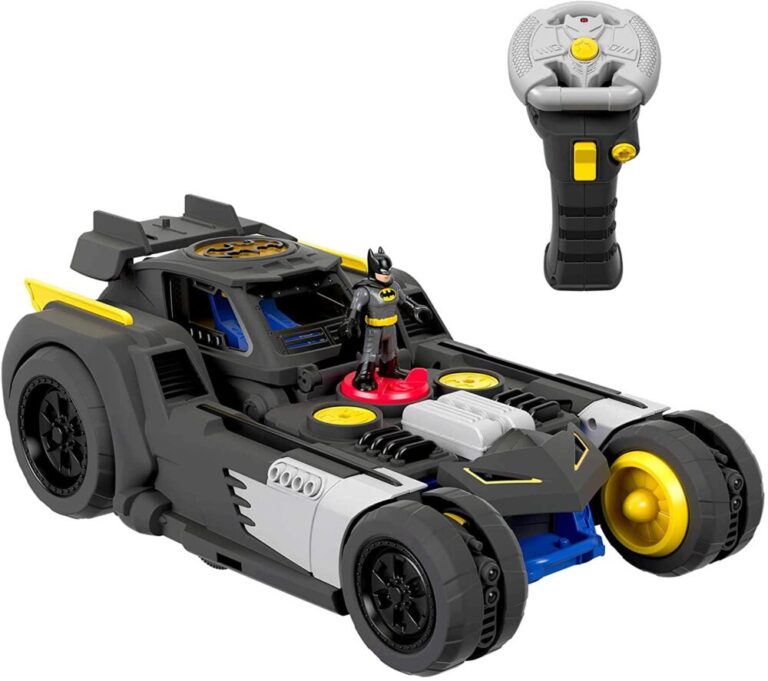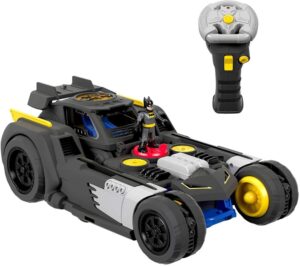 If there is one thing every young boy is obsessed with, it is superheroes like Batman and Superman. If your kid is also a superhero fanatic, he is going to be thrilled upon receiving this transforming Batmobile for his birthday. This car is a recreation of the original Batmobile from the comics, so you can just imagine the kid's excitement.
This car has a small and lightweight design, perfect for young children. It is operated by a remote that has also been made fit for a child's small hands. The remote makes the Batmobile go forward, backward and even makes it spin 360 degrees. It comes with a small figurine of Batman standing at the top of the car.
Upon pressing the transformation button on the remote, the Batmobile changes into a battle mode. When it transforms, the car makes sounds and flashes lights to excite the kids. There are four small disks that come out spinning to hit a target through the help of remote control when the car is in battle mode.
To shift it back to the vehicle mode, simply press the button, and voila! It has a very simplistic with durable design keeping its young audience in mind. Lastly, it comes with batteries so your kid can take it out of the box and start having fun immediately.
Pros
Durable design
Lightweight
Comes with batteries
Transforms into battle mode
Easy to use remote
Doesn't cost a lot
If your kid loves Batman, then he is going to fall in love with this toy; take my word for it. It has been designed in a way to give the child a Batmobile experience quite similar to the one from the movies and cartoons. The lighter price tag makes it easier for you to purchase this toy.
Conclusion
As much fun as playing with children is, it is a challenging job to keep them happy at all times. Due to their small attention span, they get bored of activities and toys quickly. What you need is an attention grasping toy that will keep them occupied for hours. If you are still not sure which toys to get for your 3-year-old son, then here are our top three recommendations.
Magna-Tiles Clear Colors 100 Piece Set encourages young kids to be as creative as they want to be.
Fisher-Price Code 'n Learn Kinderbot offers 3-year-old boys preschool learning in their playtime.
Stomp Rocket The Original Jr. Glow Rocket Launcher with its safe to use design, keeps kids busy and away from harm.
I hope this article was helpful and you found the perfect gift that you were looking for your 3-year-old boy.
Check out some other interesting choices: