Our Pick
Good Choice
Don't Miss
Also Consider
Razor E100 Kids Ride On 24V Motorized Powered Electric Kick Scooter Toy, Speeds...
VTech KidiZoom Creator Cam, Red
Air Hogs, Zero Gravity Laser, Laser-Guided Wall Racer, Wall Climbing Race Car,...
LEGO Chain Reactions (Klutz Science/STEM Activity Kit), 9" Length x 1.06" Width...
Our Pick
Razor E100 Kids Ride On 24V Motorized Powered Electric Kick Scooter Toy, Speeds...
Good Choice
VTech KidiZoom Creator Cam, Red
Don't Miss
Air Hogs, Zero Gravity Laser, Laser-Guided Wall Racer, Wall Climbing Race Car,...
Also Consider
LEGO Chain Reactions (Klutz Science/STEM Activity Kit), 9" Length x 1.06" Width...
As children grow up, over time, they start to show interest in different things. As parents, we find it pretty challenging whether kids are interested in art, sports, toys, books, or something else. But once you find it out, you have to decide which things are the best gifts.
As a boy reaches 7 years of age, you have to look for a gift that will make his day. It is quite a daunting task to find the best toys and gift ideas for 7-year-old boys. In recent years, many new companies are developing cool toys.
If you are looking for the best toys and gift ideas for 7-year old boys in 2023, landed on the right spot. These toys or gifts will surely be helpful for their growth as well as suit their interests. Take a quick glance at the best toys and gifts for 7-year old boys that will make their day fun and enjoyable!
Gift Ideas for 7-Year-Old Boys
1. LEGO Chain Reactions (Klutz Science/STEM Activity Kit)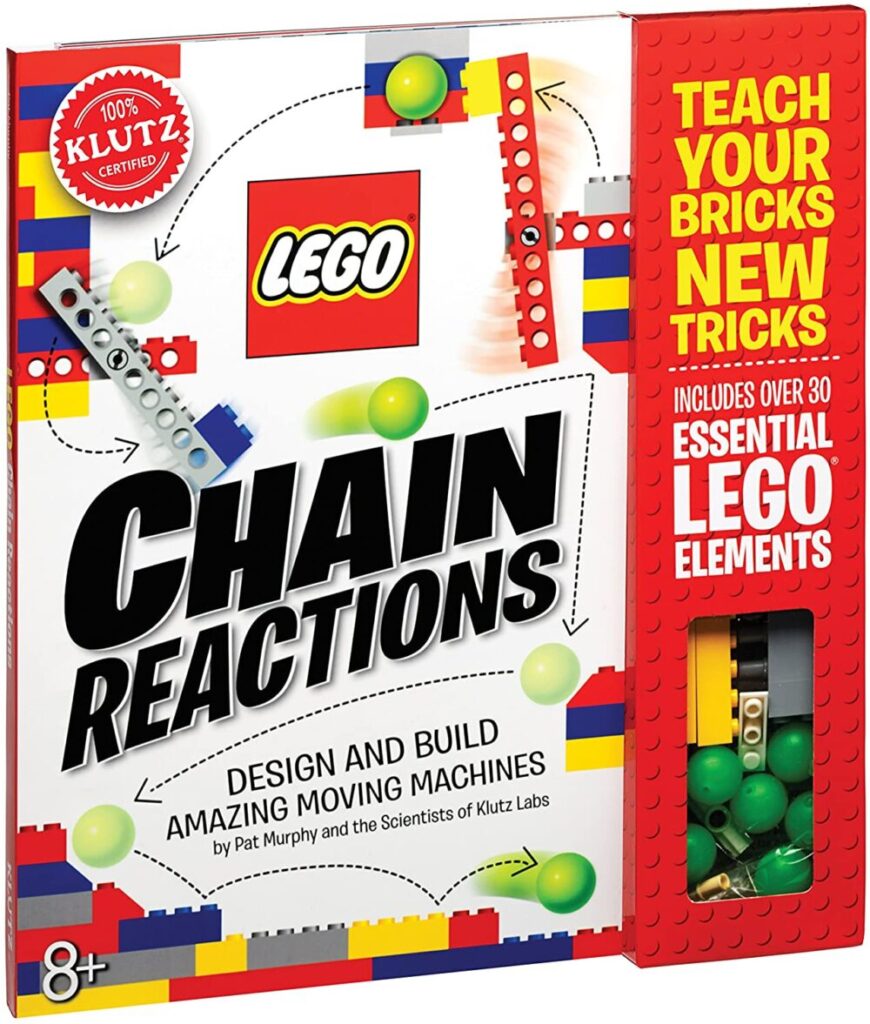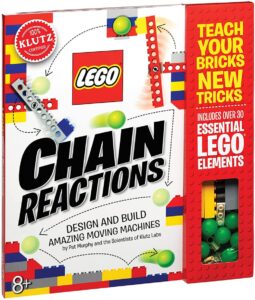 Lego has always been popular among kids. Boys greatly show interest in things related to science, machines, and building, etc. The Klutz lego chain gives opportunities to children to construct new machines on their own. As each kid is unique, he can easily make machines depending on their level of abilities.
This book contains various activities that make your child more creative. This toy allows kids to build 10 different moving machines. It comes with 80 pages with detailed instructions that start from easy(Quintopple, Dominoes) to complex (Elevator Ramp) with precise crystal details. It contains various components like 33 LEGO pieces, plastic balls 6 in numbers,8 paper ramps, strings, paper funnel, etc.
Children can do projects that spin, flings, or roll. With the help of different bricks, they can make long reaction chains. In this way, your child can become a mini engineer. This klutz premium activity allows your child to take their imagination on a whole new level. Likewise, as they are lightweight, so your child can easily take them with him, wherever they go. Just put these pieces together to get the long-chain reaction!
Pros
Step by step clear instructions
comes with extra brick, plot, tiles, and slopes
Creative strategies to construct machines
Enjoyable
All in All, these lego chain reaction books contain the best designs that allow your child to build unique buildings and machines. Break it and reassemble it again to make the more creative designs. If you are looking for Fun activity-based gift ideas, this item can be the right product for your child.
2. Spikeball Standard 3 Ball Kit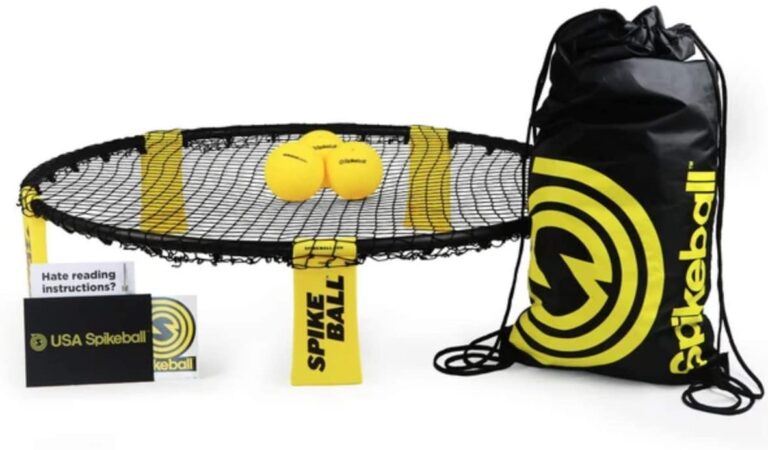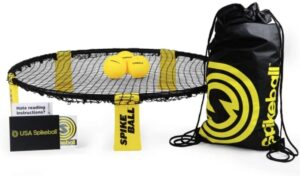 Nowadays kids can't go out due to covid-19 that is prevailing rapidly. So if your kid can't go out to play, then Spikeball standard 3 ball kit is the best indoor-outdoor gift for him. Moreover, if your kid is addicted to bouncing or rolling balls, this can be the best present to make his day.
This 3 ball kit game is fun and super easy to learn. It is easy to play at places like the backyard, campuses, or beaches. Its rules are similar to volleyball rules and convenient to grasp. It comes with 3 balls (similar to volleyball yet smaller in size), 3 feet round the adjustable net. Learn rules in 10 minutes, and you will be hit Monstrous spikes!
This round net is equipped with foldable legs. It can take heavy spikes and has excellent durability. Cool! It comes with an instruction book, whose rules are similar to volleyballs. But instead of spiking over the net, you can spike the ball against the round net. It is a perfect outdoor activity that requires 4 players. Overall, if you have a kid with a lot of energy, this gift will surely entertain him.
Pros
Durable folded legs
A fun activity for work out
Easy to learn
Convenient to carry
Cons
The size of the net is smaller
Rims are flimsy
In short, if you have an active kid who is into balls, this might be a perfect toy for him. It is also suitable for intense workouts and physical activities. Its folded legs can take pleasurable hits. If your kid can't go out to play, this can be the best alternative for outdoor activities.
3. Spooner Boards Freestyle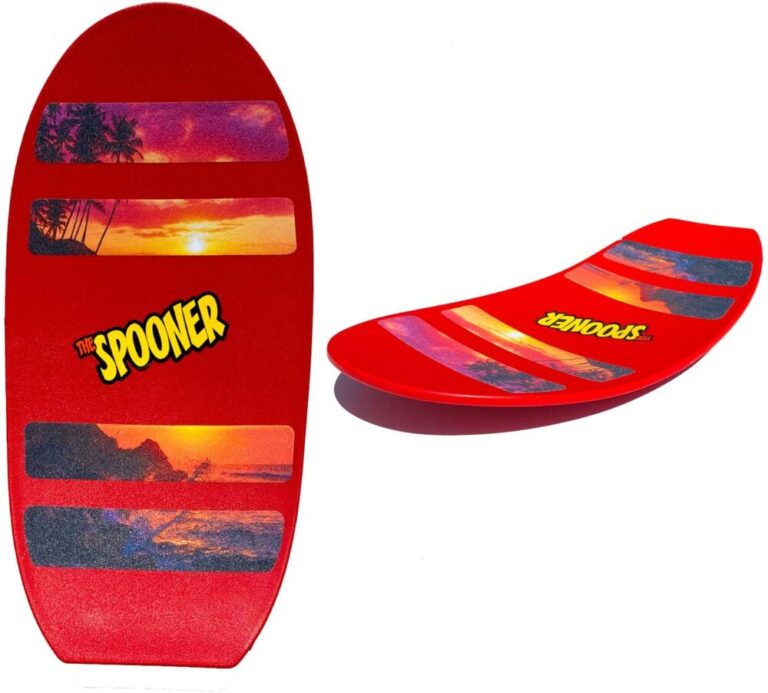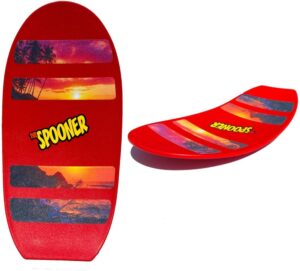 Is your kid showing interest in surfboarding or skateboarding? Well, how about buying a Spooner board for your little one? Spooner Board can be the best gift for a 7-year old boy. This innovative 24-inch board improves overall stability and a balanced experience.
This indestructible board is built with top-quality material. It has a perfect shape and size that works on all kinds of surfaces. This board from the USA is constructed with high-quality polyethylene. As a result, it is lightweight and highly durable, and easy to store.
We tested this solid plastic board which allows kids to do tricks like flipping, spinning, and jumping. Hence, it is an excellent practice tool for balancing skills related to snowboarding or surfing. It can be easily used with or without shoes. Also, it is equipped with grip tape, so you won't easily slip off from the board if you are using it bare-footed.
Pros
Portable
Easy to store
Durable
Excellent balancing experience
Cons
The bottom can get scratches
In short, if your boy loves skateboarding or surfing, a Spooner board can be a perfect gift for him. It is easily accessible and portable. Just practice for a few months, and your kid can get excellent balance and motor skills.
4. The Original Stomp Rocket Stunt Planes Launcher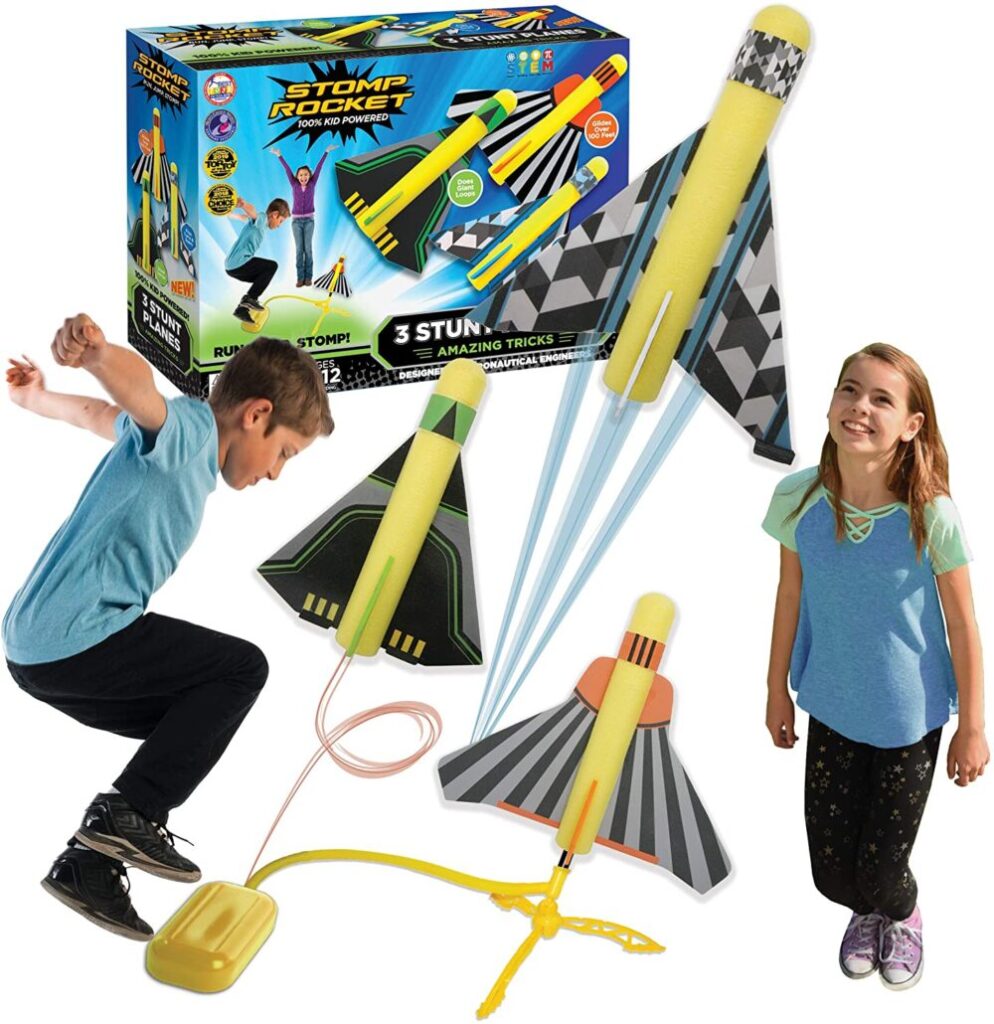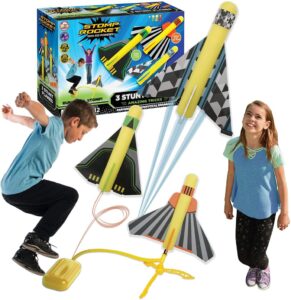 Is your little one crazy about fun rocket toys? Then, a stomp stunt plane launcher is a suitable choice for him. This is a perfect STEM toy that enhances your child's understanding, creativity, and other learning skills. It is an ideal group activity that your child can play outside with his friends.
It comes with 3 stunt planes (that contain looper, glider, and wildcat), an air launching rocket stand, and a stomp pad with the air hose. To glide the rocket in the sky only requires three steps Run, Jump and Stomp! And BANG! You will see rockets soaring in the sky! Moreover, it does not require any battery for its functioning.
As your child cannot go outside due to covid-19 situation, set this toy in your backyard, and you will have a fun and entertaining day. This toy is designed by an aeronautical engineer. Also, it is easy to adjust the plane angle with the help of an air launching stand. Hence, get your rocket in any direction you want. To perform different tricks, it is a perfect toy to test.
Pros
No battery is required
Fun activity
Perfect STEM toy
3 different rockets
In short, this toy can turn into a perfect competitive sport between your child and his friends. The darts are soft that quickly go up in the sky. If you are looking for a fun toy that your child won't get tired of, the stomp rocket stunt plane is a perfect toy and gift for a 7-year old boy in 2023.
Read Also: Best Toys and Gift Ideas for 7-Year-Old Girls
5. Air Hogs, Zero Gravity Laser, Laser-Guided Real Wall Climbing Race Car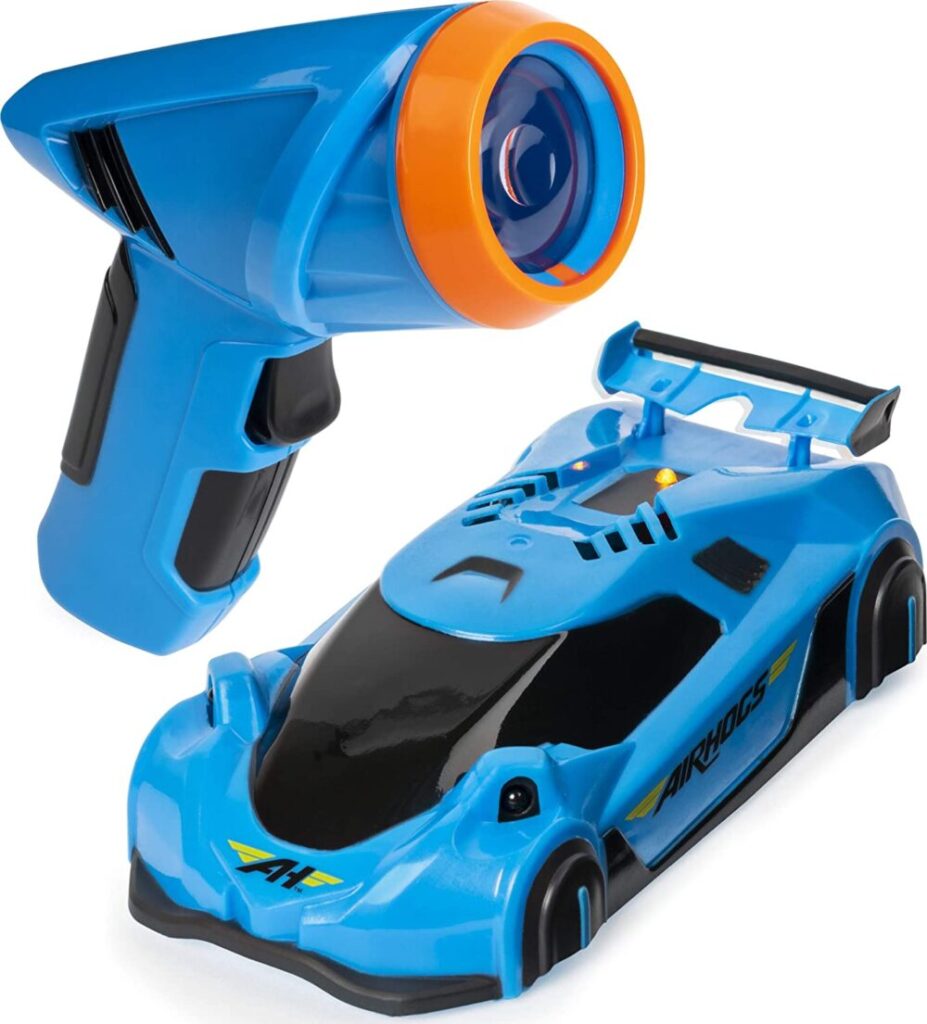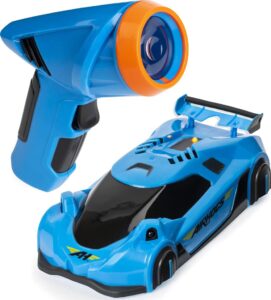 Is your kid a car lover? Then, how about getting an advanced feature car toy for his birthday? The laser-guided race car is a perfect toy that can travel on all kinds of smooth surfaces. Your child won't have any difficulty controlling this cute toy. Just go through the instruction, and he will be able to master controlling this car in a day.
The most outstanding feature is that it has wall Climbing technology. Drive on the wall or ground; it can go anywhere. It is controlled with the help of a laser remote control. Point this laser gun on any surface, and this cutie pie will chase the laser in any direction it is pointed. Cool! Likewise, it is lightweight, so your child will not have any issue carrying it. This excellent zero gravity laser car can take sharp turns or spins on all kinds of surfaces.
This cool toy perfectly defies gravity. To control the car perfectly and smoothly, your kid needs to stand within 6 feet and 2 meters of the wall. If your little one wants to drive it on the ground, you can quickly turn on the switch on the back to the middle position. This, in turn, can save the battery position. Moreover, this little car can be charged with the help of a USB. Fully charge this little one for the best performance.
Pros
Wall climbing technology
Drive-in multi-direction
Perfect laser pointed the remote control
Sturdy material
Cons
Can't drive on bumpy surfaces
Battery doesn't last too long
In a nutshell, this is the best toy for a 7-year old boy. This zero gravity car is super easy to control. It can excellently drive on all kinds of flat surfaces. Ever seen a car going on the wall? Well, this multi-direction racer control car can easily do it because of its wall climbing technology. Therefore, it can be a perfect gift for your loved ones.
6. VTech KidiZoom Creator Cam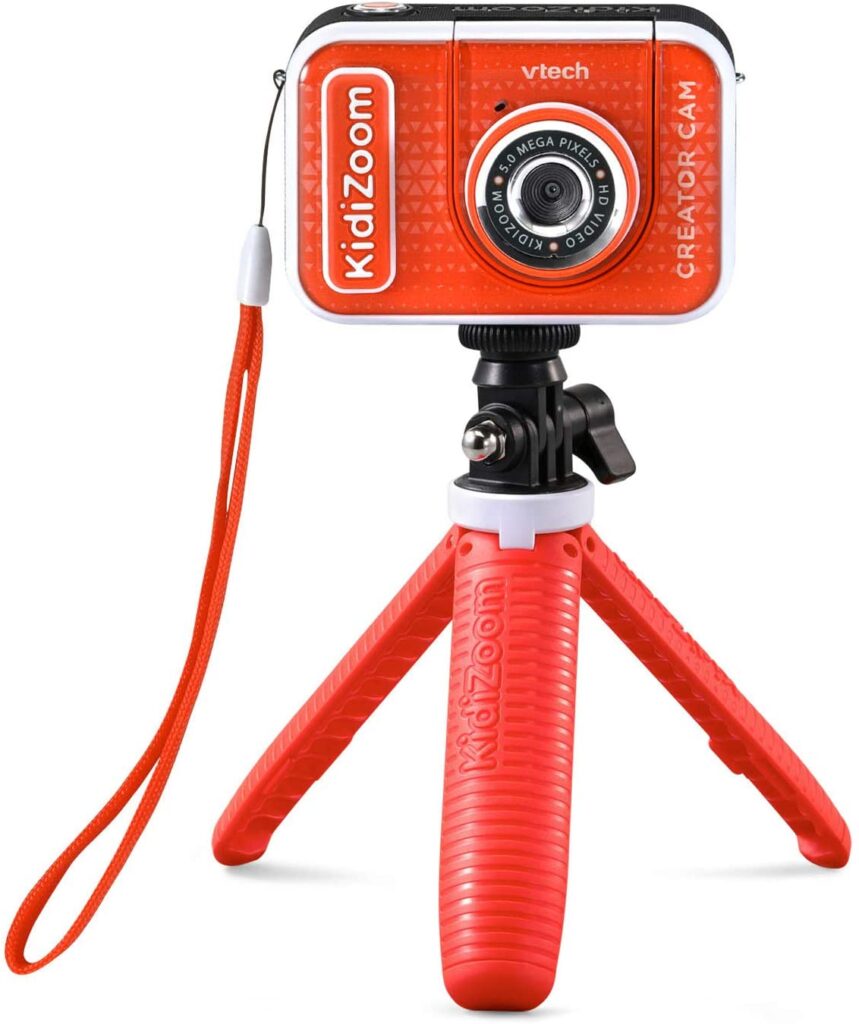 In this digital era, extraordinary innovations are being made. Some incredible toys allow your kid to edit and create their videos by using special effects. If your 7-year-old boy wants to become a mini kid-creator, VTech KidiZoom Creator cam is the best gift for him.
Your kid makes incredible videos with this excellent HD camera. This an opportunity for a child to show his creative skills. This camera comes with an incredible 20 animated background and a green screen. It also contains a tripod stand that can act as a selfie stick and a strip, making it easier to hold a KidiZoom camera in your hand. Moreover, it is lightweight, so your child can take it with him to long trips or events.
This camera functions as a regular camera. As it has in-built memory storage, so it can save 1430 low-resolution photos or 120 high-resolution pics. Coming to its green screen background, you can hang the green screen in the background to create incredible videos. Easily record the videos and go creative tool modes for a variety of effects.
Also, it is equipped with lithium-ion batteries that you can recharge with the help of a chargeable cable. Similarly, this camera can also become a held-hand game unit that involves 3 different games. Awesome! Further, to capture a cute selfie, just flip up the lens of a camera. It is a perfect gift for your kid to capture beautiful moments at his birthday party or other holiday events.
Pros
20 animated background effects
Include both pics and videos
Easy to use
Awesome creative tools
Removable tripod stand
To summarize, if your kids are making their pics and videos, this can be an ideal gift for a special event. Your kid can quickly learn to use this camera in a few days. It is a perfect gift to make memories on a particular day with special background effects. Hence, it will undoubtedly please you.
7. Razor E100 Electric Scooter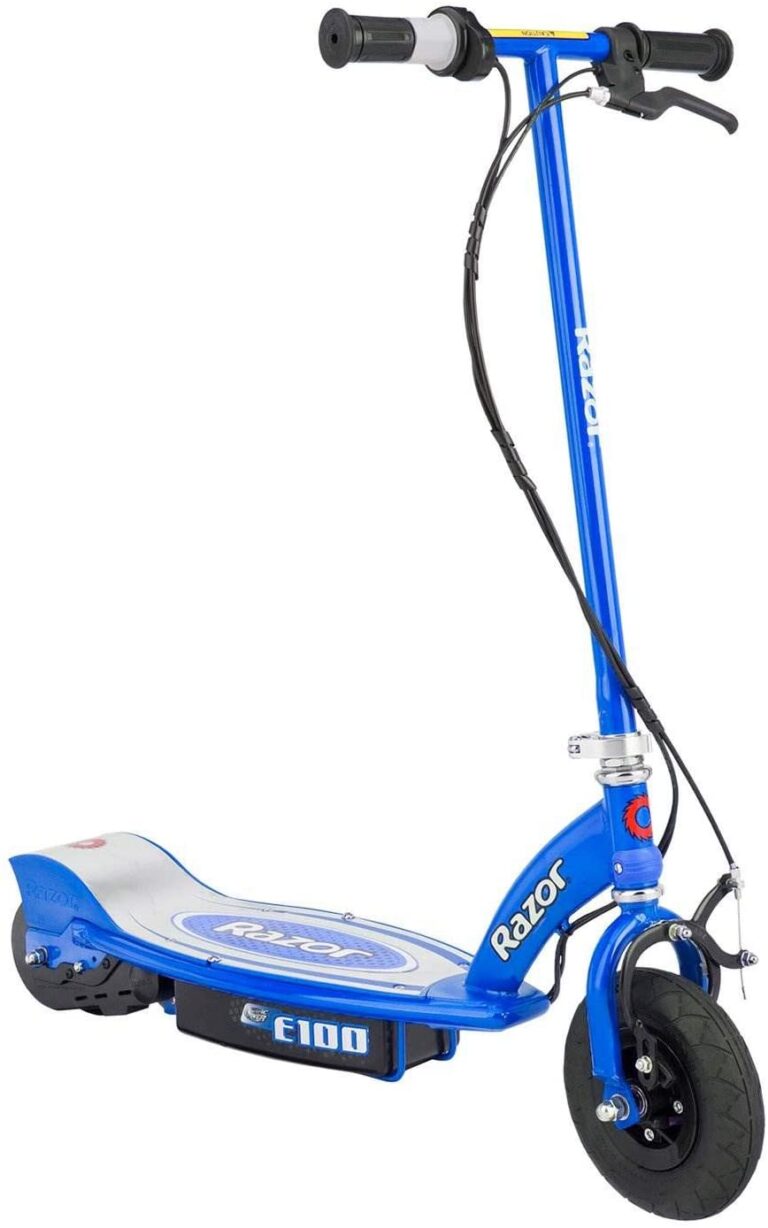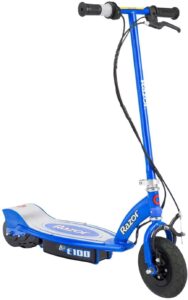 Is your boy turning 7-year-old soon and aren't sure what to get him? Then, how about Razor E100 electric scooter? This awesome electric scooter is equipped with a powerful 24V battery and twist-grip throttle. So, you can easily travel 10 mph around the neighborhood.
Moreover, it is convenient to use. Your kid will be a pro in one day. It also comes with adjustable handlebars, making it easier for kids to ride this scooter. Similarly, You can't forget about its construction! It is constructed with high-quality steel, which gives it a sturdy look. Likewise, unlike traditional scooters, you don't need to push it with your feet. Just trigger the motor with a slight kick and BOOM! You are ready to go.
Further, it is easy to store. Likewise, it has rechargeable batteries that can be charged with the help of a charger. It is equipped with a single-chain motor that allows your child to travel with ease. Hence, it is an excellent gift for a 7-year-old kid.
Pros
Powerful motor
Can travel up to 40 minutes
Fast and convenient
Chain-driven motor
In closing, give your kid a taste of freedom with the help of this fantastic electric scooter. It is a perfect vehicle to travel around with a group of friends. Its sleek design gives it an excellent outlook. It entirely operates on batteries, so what more you need. Indeed, this present will satisfy your little one.
Buying Guides
At 7-year-old, your kids start to become more active, independent, and curious. They would want to experience new things. Moreover, as kids grow, their curiosity begins to grow more, and they start to have good control over their bodies. They thirst for new knowledge. Therefore, the following points should be kept in mind:
Suitable Age
Whenever you are buying something for a kid, make sure it is appropriate for his age. With each passing year, he desires to try new things. He's not a toddler anymore who would still want small toys. But still, there are some toys which might not be suitable for them. You should observe your child and buy him that gift which suits his interests. As a parent, you can either directly ask him or observe him.
Physical Development
7-year-old is a pre-teen stage, where they will start to gain more height. Kids at this age become physically more developed. Moreover, they will become more imaginative and complex thinkers. At this age, they can balance themselves significantly. They will start to climb high places, jumping, to hope, and their vision will outgrow.
At this age, they can easily carry their stuff. As at this age, they have good balancing coordination, so they can easily ride two-wheel vehicles. Moreover, they will start on a challenging path. Likewise, at this age, children become more active. You will see them challenging their friends and participating in competitive contests.
Moreover, they will start to read and write better at this age. They will quickly solve tricky puzzles, climb on a wall, ride a bike, be creative at technological things, and other stuff. Hence, as a parent, you need to look for the best toys and gifts to suit their preferences.
Educational and Social Skills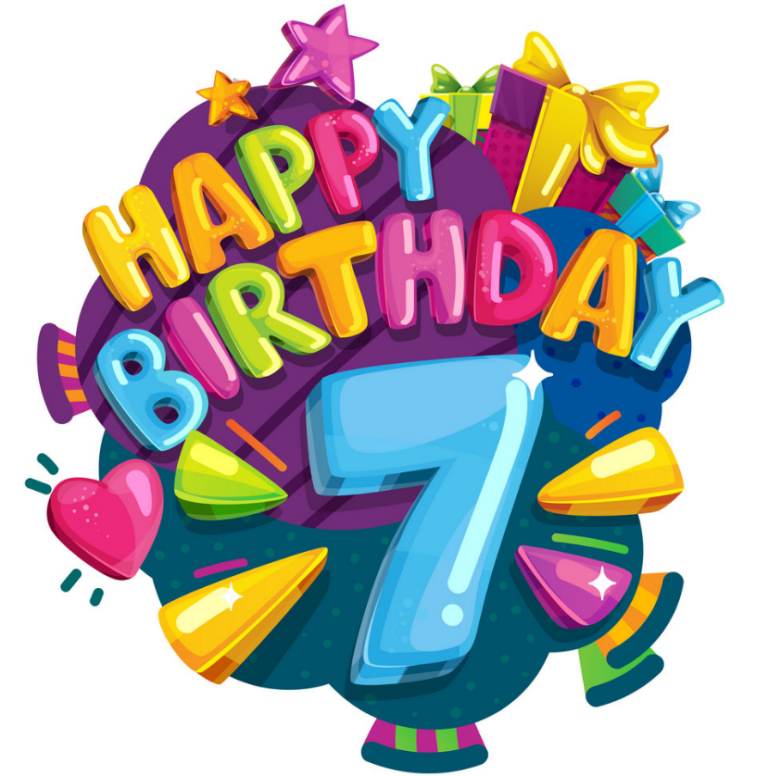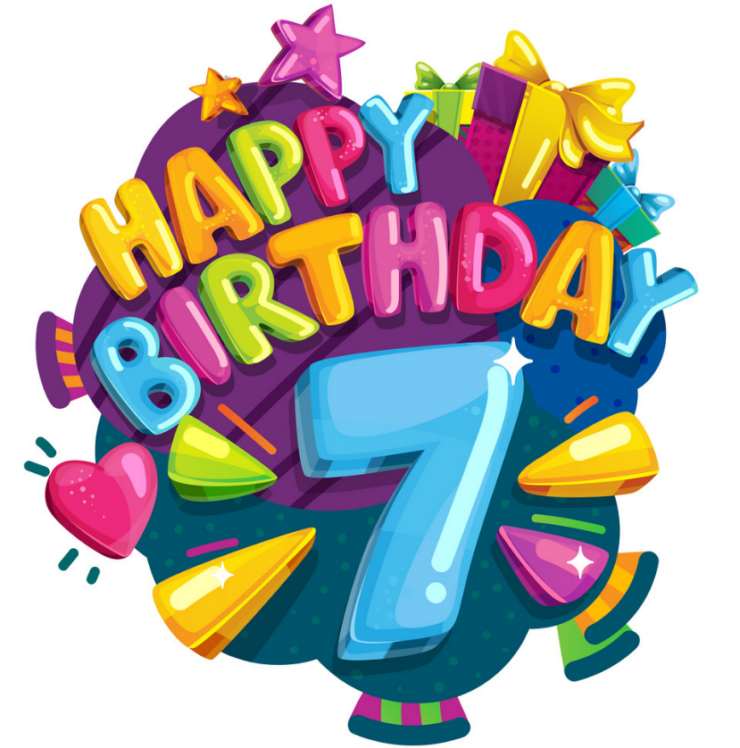 A 7-year old is an age when a child will have a more enhanced vocabulary, knowledge, and social skills. As he enters the seventh year, he will start to understand more about the environment. At this age, he will be able to enjoy a good time with his friends. He will come to know whom to connect with and with whom not.
They will be able to count numbers perfectly, tell days and nights, time, etc.; they can read independently and be able to enjoy time alone. Along with that, they will be more interested in science, sports, technology, and other complex concepts. They will care about the opinion of others.
At this age, their social horizon will grow. Whatever they have learned, they will like to share their knowledge with others. That's why as a parent, you can give them presents that will enhance their concepts. You can buy them science-related gifts or sports. Books can also be a great option to strengthen vocabulary. You can also get your little one a video editor camera if they inspire to be a mini video editor.
Language and Emotional Skills
At this stage, your little boy will be able to express his thoughts more freely. Moreover, he will have more enhanced linguistic skills at this age. Moreover, at this stage, they will understand that some words have more meaning in different contexts. They will be able to understand jokes and will develop a good sense of humor. In short, their mental ability will also grow with physical development.
At this, he will start to exhibit more emotions, either positive or negative. He will be able to tell his likes and dislikes. He will also want privacy at some point. He will also understand the feelings of others by putting himself in other situations (empathy).
Hence, books, construction machines, or sports toys that involve competition might be a good gift for your child. Science experiment toys can also be the best gift for him.
Wrapping it Up
7-year-old age is the pre-teen stage where children become more brilliant, physically developed, and expressive. They will have more understanding skills and be very active. That's why at this stage, finding the best gift can be challenging. As a parent, giving a gift that will benefit your child is essential.
The Original Stomp Rocket Stunt Planes Launcher perfectly flies in the sky that only requires three steps; Run, Stomp and jump!
VTech KidiZoom Creator Cam is a perfect gift for your boy to jot down his precious memories. With 20 animated background effects, it makes your pics and videos more special.
Air Hogs, Zero Gravity Laser, Laser-Guided Real Wall Climbing Race Car is a perfect toy for your kid that comes with excellent wall climbing technology. This multi-direction car runs on all kinds of smooth surfaces.
To conclude, above mentioned items are the best gift for a 7-year-old boy. Kids at this age become more independent and curious about the world. That's why getting them the right gift that will help in their overall development is significant.
Before you go, check out also:
Sale
FAUX BOW Original 4.0 Lizardite - Impact Foam Tip Kids Bow and Arrow - Kids...
DON'T ACCEPT IMITATIONS: The Faux Bow 4.0 gets a sleek new look from the original foam blaster bow and arrow. Now with a performance spinning handle so you...
GET UP AND GET ACTIVE: Boys and Girls will love sporting their impact foam bow & arrow. So fun and easy to shoot, just load the arrow, pull back & watch your...
SAFE AND LONG LASTING: Durable, lightweight, impact foam tip arrows provide safety, power and fun! Our Impact Archery set is made with high quality materials,...
DESIGNED IN CALIFORNIA: More than anything, our foundation is built on fun. Anyway you play, and if you're smiling and laughing, we at Faux Bow have done our...
INCLUDES: 1- Bow (18.2"x 13"x 2.5"), 6- Durable foam tipped ultra-light impact arrows. This is a quality impact archery toy with real bow feel. Kids ages 8...
ThinkFun Laser Chess Two Player Strategy Game and STEM Toy for Boys and Girls...
Trusted By Families Worldwide - With Over 50 Million Sold, Thinkfun Is The World'S Leader In Brain And Logic Games
Develops Critical Skills – Playing Builds Reasoning And Planning Skills And Provides A Great Stealth Learning Experience For Young Players
What You Get - Laser Chess Is A Fun Two Player Strategy Game And Stem Toy With Real Lasers Included, Perfect For Lovers Of Brain Games Like Chess Or Other...
Clear Instructions – Easy To Learn With A Clear, High Quality Instruction Manual. You Can Start Playing Immediately
English (Publication Language)
Sale
MINGKIDS Night Light for Kids Dinosaur Toys,2 in 1 Rotating Projector Lamp with...
Dinosuars Projects around Room: Through this dinosaur toys for toddlers, your kids will experience the aera of the dinosaurs! Let them play with these dinosaur...
Various settings - The settings vary between different lights, a sun light (it looks like a white light), and the ability of the projector to rotate. There are...
Help Them relax in a soothing Atmosphere:Kids fall asleep peacefully looking at these gently glowing dinosaur or cars. The gentle glow will not keep your child...
Ease of use - The two films are super easy to change out. You spin the semi-circle shell and the replace the films
Gift for boys. I will accompany him in darkness night. And overcome the scare to darkness when him 1-2 year old. I will inspire his interest to universe and the...