RC or remote control car. What a great toy, isn't it? Honestly, if at this point you are thinking about what you could buy as a gift for Christmas or New Year, but have no idea, maybe an RC car would be the right thing. Yes, some will say, "but it's a gift for children, not adults." However, we believe that it doesn't matter how old the person you are giving this RC toy to is, because fun and a great time are guaranteed.
 Really, there's no person in the world who wouldn't be interested in racing RC cars, right? Plus, you can bring some of the video games like Rocket League right to your backyard. Therefore, buying an RC car is definitely a great choice. If you are looking for some of the best models, for a limited budget of up to $100, then you are in the right place. Check out below which are some of the best models of 2023. So, if you're ready, let's get started.
1. RASTAR BMW i8, 1:14 BMW Remote Control Car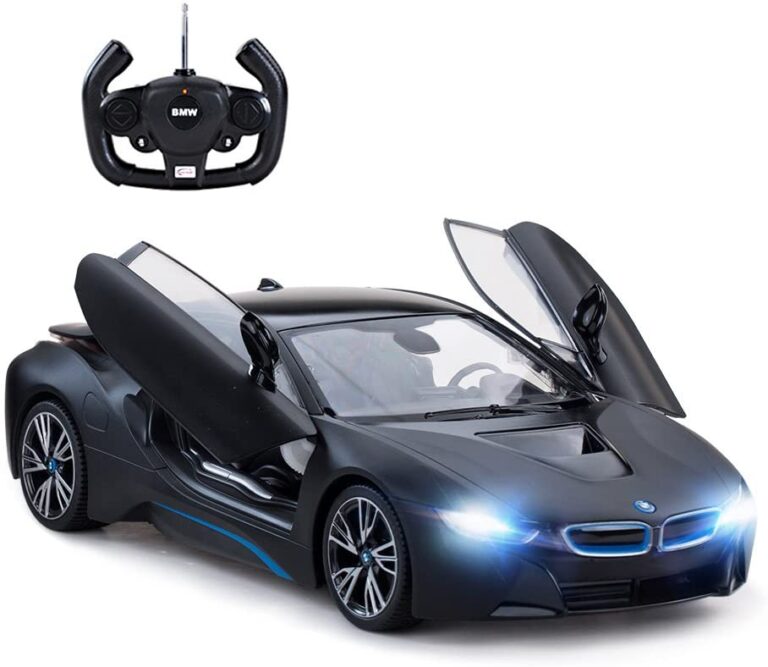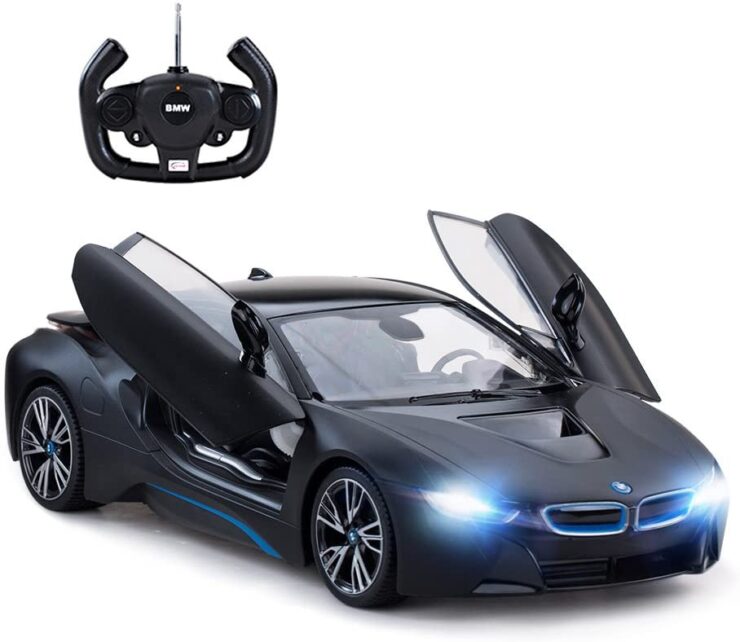 Racing in a brand-new BMW i8? How about that? Okay, maybe not exactly "in it", but definitely to race. Perhaps the first thing that comes to our minds when mentioning RC cars is that they are massive vehicles capable of overcoming various terrains, obstacles, at high speed, etc. Still, we think it might be an exciting experience to have one like this. Indeed, this RC car, officially licensed by BMW, will bring you a great experience, and at the same time, it fits perfectly into your budget. Since for about $40 you can get one BMW i8 RC car, that means that you can buy two pieces and enjoy together with another RC racer, while not getting over a limited budget.
Speaking of appearance and performance, we can say that this toy is made in a 1:14 scale, with all the details like scissor doors, taillights, and LED headlamps. In short, attention has been paid to detail to make the scaled-down version as credible as possible. When it comes to performance, we can say that the maximum speed of this BMW i8 RC car is 5 mph (about 8 km/h), as well as that the remote control (included in the package) has a range of about 98 feet (about 30 meters). Although the remote control has a shorter range and the car itself has a lower top speed, the biggest problem is that you don't get batteries. Namely, you need 5 x AA batteries for the car, while the remote control requires one 9V battery. Our advice is to buy rechargeable batteries to reduce costs. All in all, this RC car definitely deserves 4th place among the best RC cars under $100.
2. DEERC Remote Control Car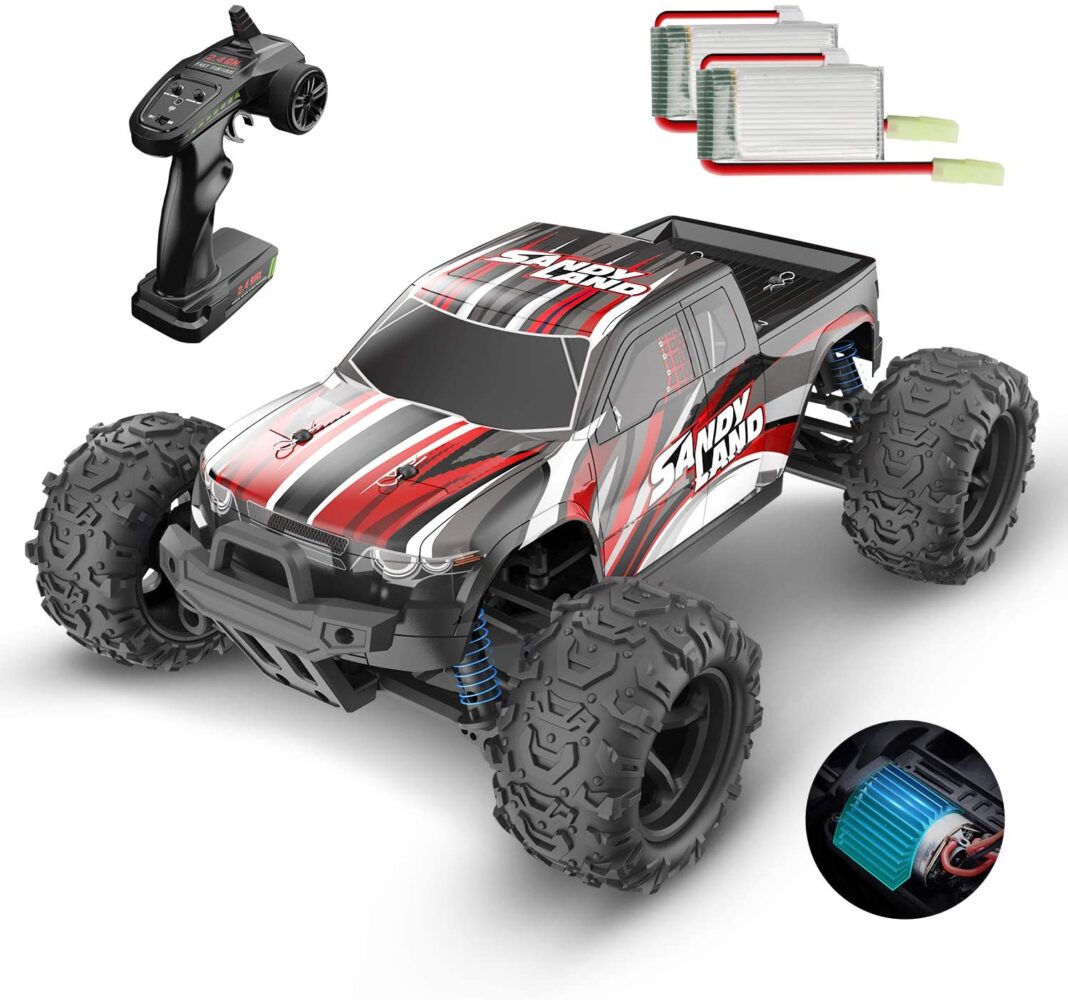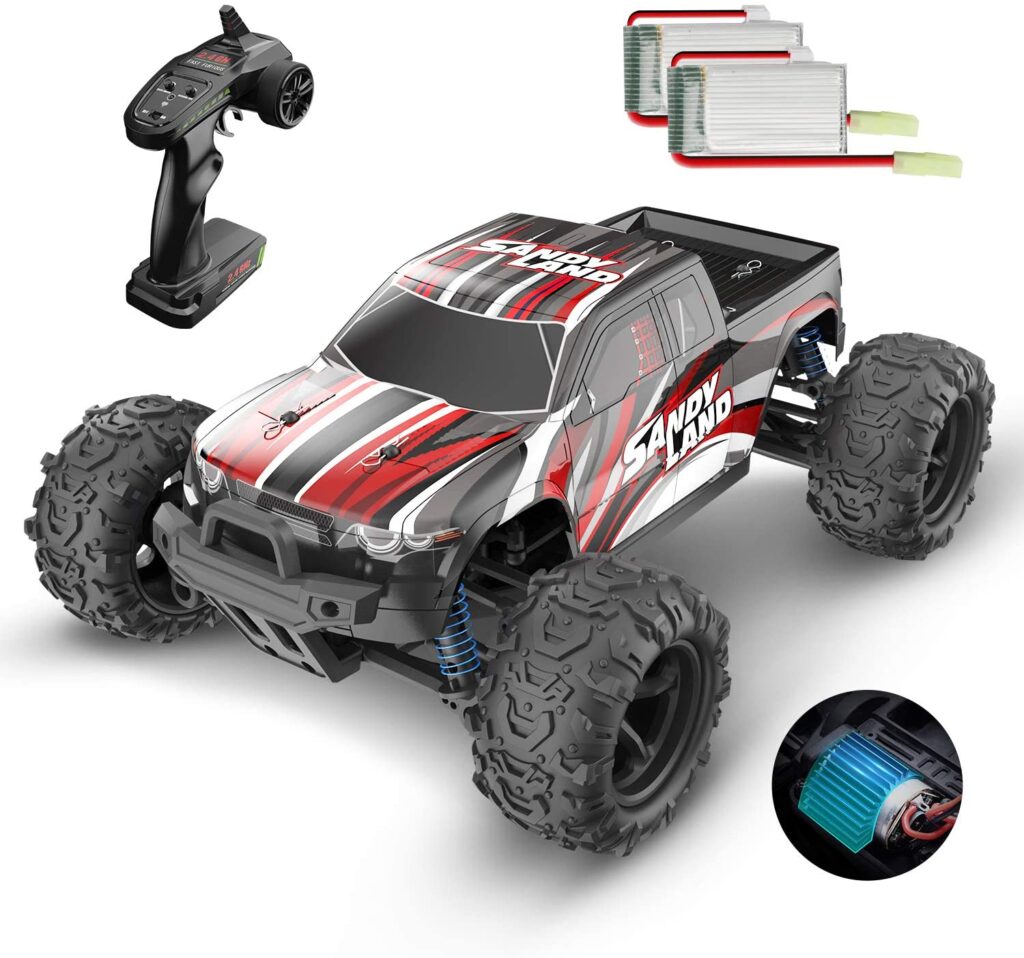 If you're a bit into RC cars, then you've probably heard of the DEERC brand. This company has presented some really great RC models in previous years. Now, the turn has come for their high-speed racing car. Yes, this is racing as well as an off-road 4WD remote control car. The great thing is that this car actually has top performance, and you can get it for a pretty affordable price. You can even fit in to buy three for the aforementioned $100 budget. In terms of performance, it is definitely worth mentioning the maximum speed of 25 mph (about 40 km/h).
The remote control has a range of 263 feet, and it is important to say that you also get rechargeable batteries in the package. Additional features that we must mention are the shock absorber system (a good thing for off-road driving), direction spinner, anti-jamming feature for 2.4 GHz remote control, etc. The aforementioned anti-shock system and bumpers on the front and rear further enhance the durability of this RC car to a higher level. Lastly, the option that surprised us the most was lifetime free repair and free return. Because of all this, you should definitely consider buying this high-speed RC racing car by DEERC.
3. Firestone RC Truck 1/16 High-Speed ​​Racing Car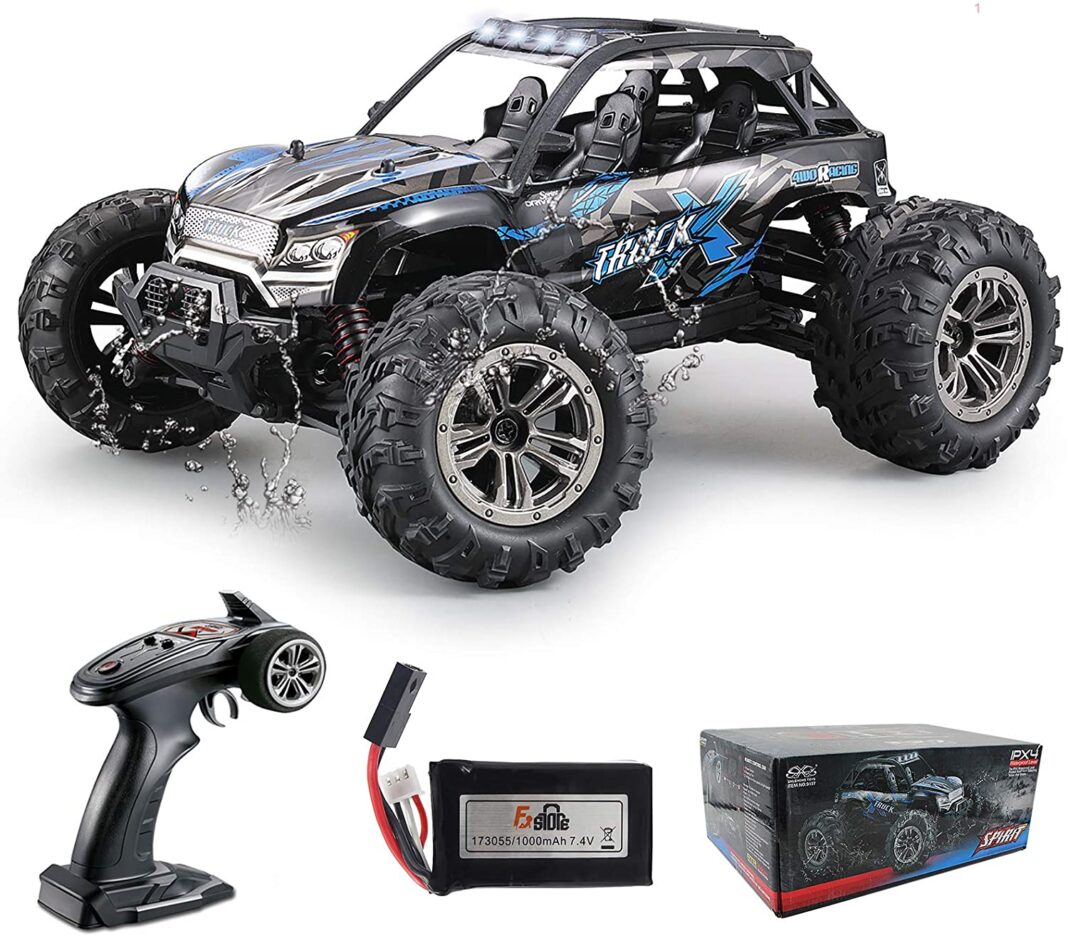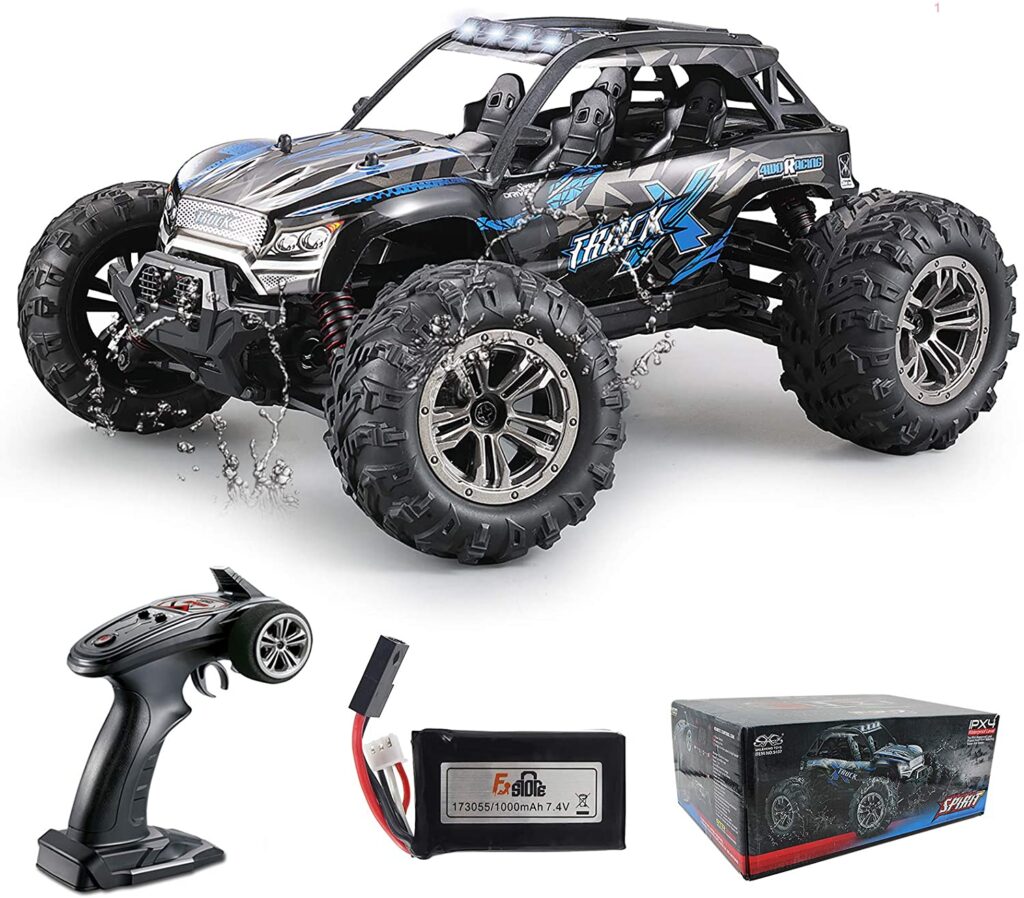 So, as you can deduce from the name, this RC truck is also a high-speed racing car, and it is made on a scale of 1:16. It is manufactured by Firestone. In terms of performance, it is somewhat "weaker", so to speak, compared to the next model at no. 1, but it still has impressive characteristics. First of all, there is a 4×4 drive. In addition, this one also has a waterproof function which makes it great for both wet terrain and dry terrain, but also for RC racing. In short, the Firestone RC truck is great for any condition. An independent all-wheel suspension system certainly helps.
The parameter where it is lower than the previous YEZI RC car is the maximum speed (36 kilometers per hour). In addition, there is only one battery (7.4V, 1000mAh) that can last a maximum of 30 minutes but can be easily recharged using the USB port. Still, the thing that might bother you is the lack of batteries for the 2.4GHz radio remote controller (up to 80 meters range). You will have to buy it yourself. In any case, we can say that this RC truck/car is quite deservedly positioned at number 2 on our list, overall.
4. YEZI 1:18 Scale Large RC Car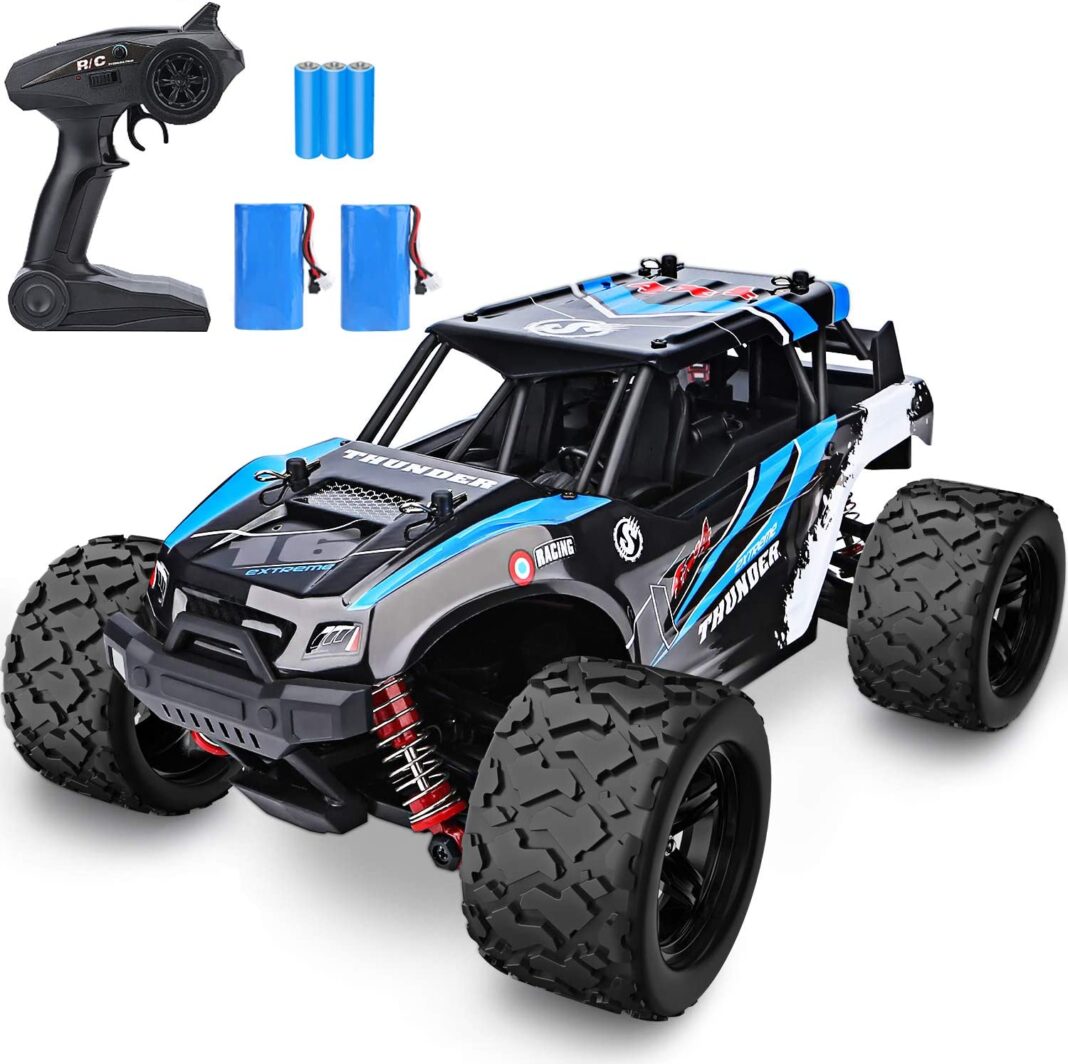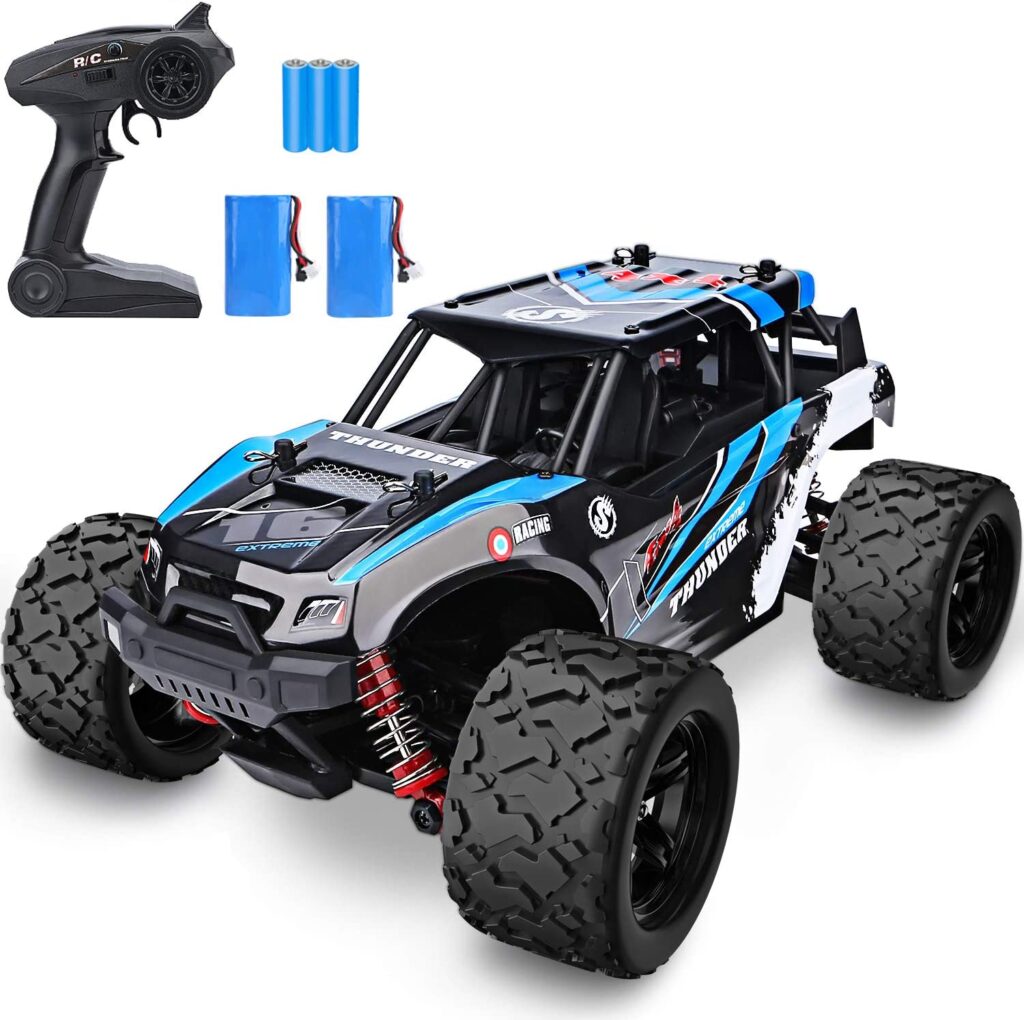 When it comes to features, perhaps this great RC car by YEZI has the most interesting specifications and features. First, it is made on a scale of 1:18. Another interesting thing is that it has a 4×4 drive. This means that it is able to easily overcome various obstacles, both on land and on water. Wait, what? Yes, you read that right, this RC car is even capable of going in the water, due to its waterproof feature so there is no fear of electronic component failure.
The great thing is the 2.4 GHz radio control system that has a range of about 80 meters and is super responsive for vehicle steering. Of course, the remote control comes with 2 rechargeable batteries (both last up to 40 minutes). If you thought this was all from this high-speed RC racing car, then you are wrong. The "high-speed" feature that we have mentioned several times is perhaps the most prominent in this car. Believe it or not, this RC car has a top speed of 46 km/h. Crazy, isn't it? With a fairly affordable price, but also top features, this one by YEZI certainly belongs to the very top of the list of the best RC cars in 2023 at a price of less than $100.
Conclusion
RC cars have always been interesting and brought great fun to both children and adults. Therefore, buying one of these, especially now in the holiday season, is simply the best thing.