Buying a gift for children is not hard at all, that is true until your boy turns ten! When boys turn ten, it becomes a totally different story. The toys that kept them occupied and entertained them before no longer engages them. They want something that is fun yet challenging. But do not fear. This shortlist of the best toy and gift options will surely help you find the perfect gift for your 10-year-old champ.
Gift Ideas for 10-Year-Old Boys
1. Dungeons & Dragons Adventure Begins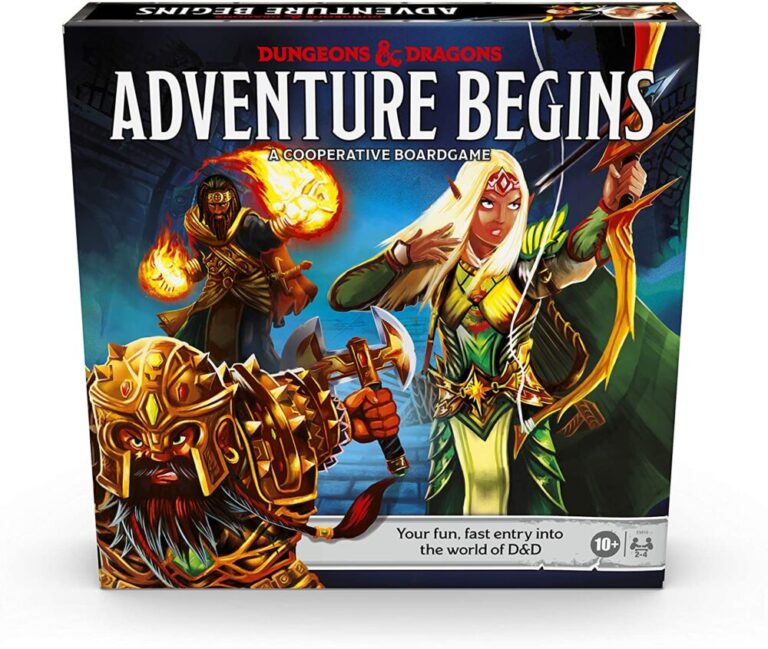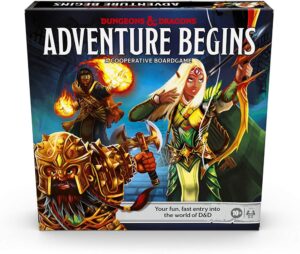 If you're a massive Dungeons & Dragons fan, this is the perfect gift to get your son into it as well. This game is beginner-friendly for 2-4 players aged 10 and above. This game will take your little boy into the fantastical world of D&D without a hassle. What's more, your kid gets to design their own character, which keeps their imagination alive as they have to get creative with character design.
In addition to that, your kid gets to work together (not against) to fight monsters. This is perfect as it will help develop cooperation and team working skills. The game comes with 4 plastic figurines to match the character your kids choose, like the human, elf, Dragonborn, and the dwarf. The dungeon master (the storyteller) changes with every move, so everyone gets to narrate the story.
Furthermore, the setup of this game is very straightforward and quick. You can easily set it up in 10 minutes and learn the rules in an extra 10. Anyone can easily get into this game. As it focuses on roleplaying, it sufficiently improves your kid's social skills. There are a number of cards you'll encounter, so even if you experience the same route, the story will be different.
Pros
A different story every time
Easy entry and gameplay
Create your own character
Cons
Same effects for all characters
In short, this game is very close to the storytelling aspect of the original D&D. Even though tactically, it isn't very challenging but is the perfect game to ease your child into the fantasy world of Dungeons & Dragons. Your kid will get to create their characters, and the story is never the same, even if the route taken is the same.
2. Magical Mixing DIY Kit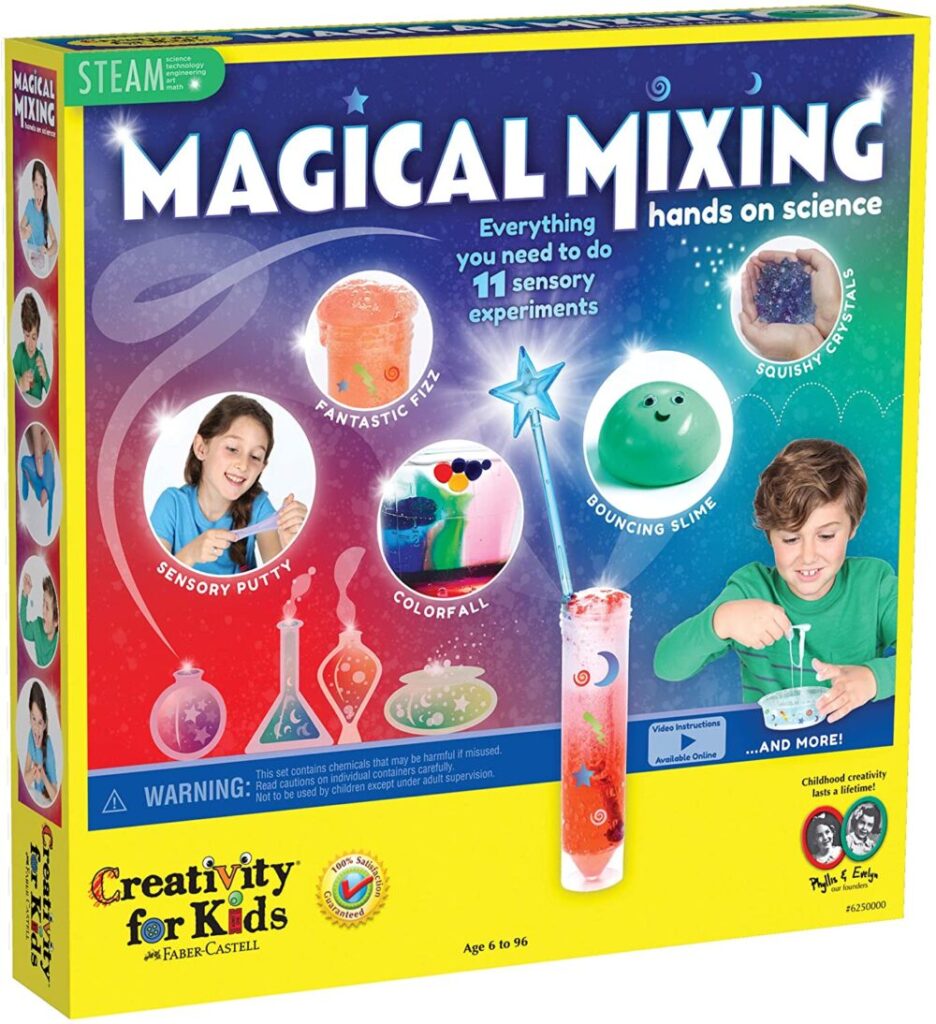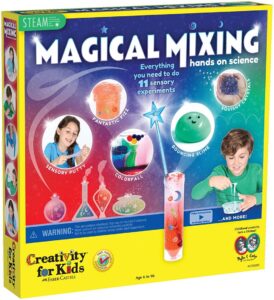 If your kids like to create and experiment, then this is the gift for them. This magic mixing kit allows your kid to cook up experiments and even lets them create their own. Moreover, they get to learn about science with these hands-on experiments. This kit also includes tactile experiments so your kids can feel what they create, like bouncy slime and magic putty.
What's more, the kit has 11 experiments, and the tools required to perform these are included in the kit. These include test tubes, a pipette, scoops, magic mixing wands, potions, powders, and formulas, all of which are safety tested. This makes them safe for use for your kids. Furthermore, the kit comes with a step-by-step instruction manual to perform experiments without mistakes.
In addition to that, kids learn about the "hows" and "whys" behind these experiments. This makes this kit an excellent starter to introduce your children to STEM subjects. As this kit has tactile experiments as well, it helps in the sensory development of your child. With this kit, your kids can make everything from bouncy slimes to fizzy formulas. They can even make squishy crystals and perform color transforming experiments.
Pros
1 experiments
Equipment included
STEM activity
Tactile experiments (sensory science)
To put it simply, this is the best gift for your 10-year-old if he's an enormous science enthusiast. This kit comes with all the necessary equipment you need to perform the 11 experiments. What's more, the "chemicals" are safety tested and are 100% kid-friendly for your kids to play with.
3. Laser Remote Control Race Car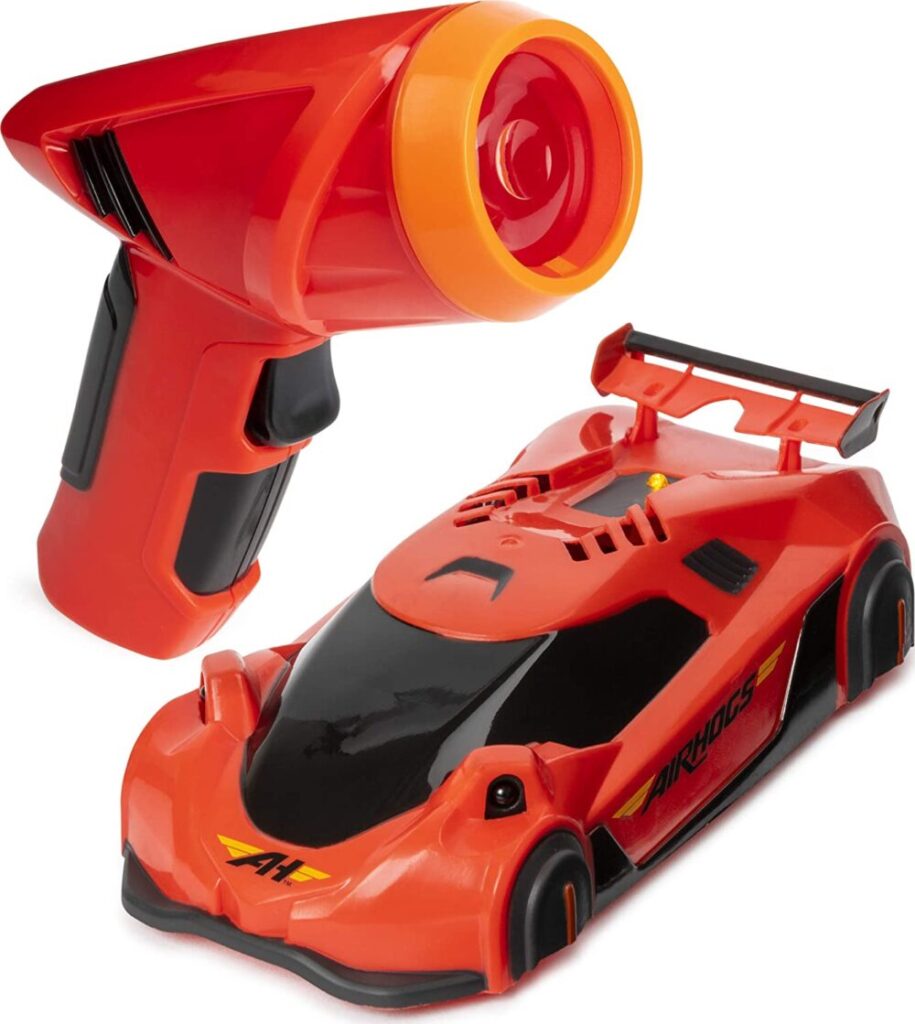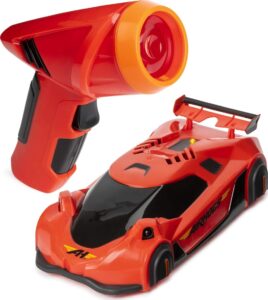 Remote control cars never disappoint when it comes to gifts for boys. This car is different as it takes the remote control feature and lets you drive this car on walls! Yup, you saw it right. This remote control car lets your kid go speeding onto the walls. And it's not just limited to walls, mirrors, windows, closets, and even ceilings become a race track when it comes to this remote control car.
This ability to drive on to surfaces other than the ground is possible because of a vacuum system. It comes with a laser light control so you can control where the car goes. Because it has a laser controller, you can easily make the car go from ground to wall and even make it do tricks like spinning and all. The car itself is USB chargeable, while the controller requires AAA batteries (not included).
Furthermore, it has front and rear lights, which switch on depending on which side the car is facing. The car is built using durable, lightweight plastic which can easily withstand falls from the vertical track. In addition to that, this remote control car has even won an award, namely the Good Housekeeping Best Toy Award 2019.
Moreover, the light "laser" light control is a LED light, so you can rest assured that no laser light will harm your kids. The packing is very sturdy, so a safe delivery is guaranteed. What's more, the USB cord required for charging is provided with the toy. In addition to that, this car is lightweight, which means that it won't push anything off your walls and won't cause damage to the walls either.
Pros
Award-winning
Durable and lightweight
USB chargeable (cord included)
Doesn't damage walls
Cons
Takes 1 hour to charge
Doesn't work smoothly on rough walls
In conclusion, remote control cars never disappoint, and this is no exception. This car is the best gift for your 10-year-old who likes to race his cars. What's more, he can drive this car on any smooth surface, whether horizontal or vertical. The car is made with durable material, so even if it falls from the ceiling or the wall, no worries, as it'll withstand that without a hassle.
Read also: Best Toys and Gift Ideas for 10-Year-Old Girls
4. Laser Tag Sets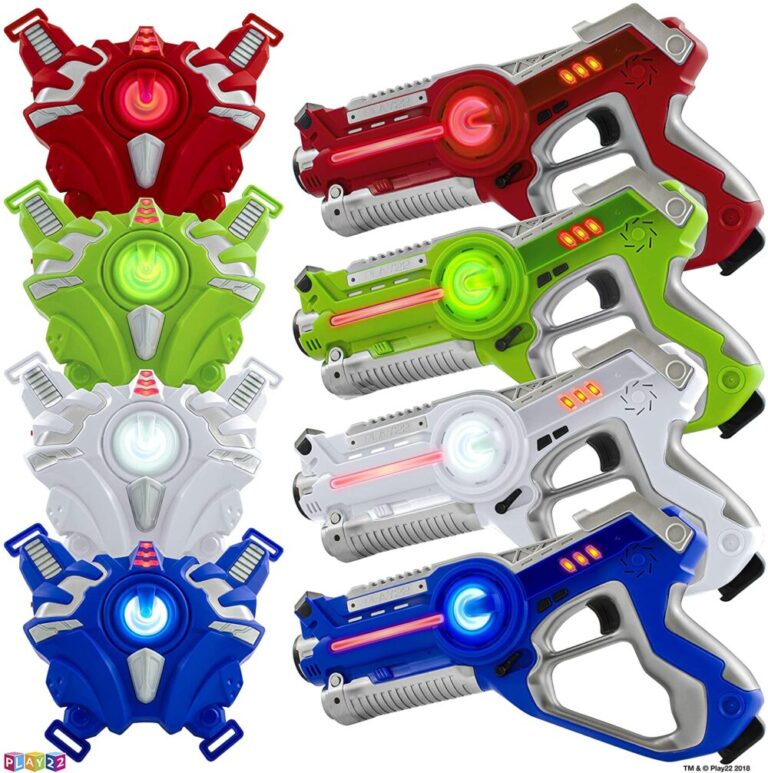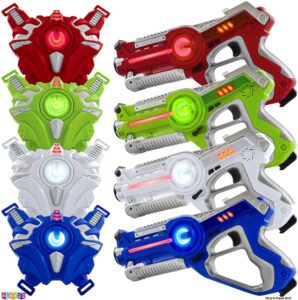 10-year-old kids love to take a part in group activities. For this reason, this is one of the best gifts for your son. Because he'll be able to play laser tag with his friends for hours on end with this set. This set comes with 4 guns and vets, which are all color-coded, so there's no mix-up of the teams. Moreover, you hear a sound every time some is shot. This adds to the whimsy of the play, making it more interesting.
In addition to that, the set comes with four different types of guns. A pistol that has 12 bullets and reduces 1 life point if you get shot by it. Then there's a shotgun that has 6 bullets and reduces 2 life points. The machine gun is similar to the shotgun as it reduces 2 life points and has 6 bullets. Lastly, the rocket launcher, which only has 1 missile but, if hit, takes away 3 life points. To boot, the strike distance for the guns is a striking distance of 130 feet. So your friends aren't safe even at long range.
Furthermore, you can play with this set both indoors and outdoors. If you buy 2 sets, then you can play with a larger group of people. The more, the merrier! The set requires 28 AA batteries you'll have to purchase as they're not included. In addition to that, the family can have a blast playing together with this set. The kids, adults, and even the grandparents can participate. It's fun for all, guaranteed.
Pros
130 ft range
4 types of guns
Vibrates when shoot/shot
Cons
Expensive
Difficult to understand instruction manual
To put it simply, this laser tag set will make the perfect gift for your 10-year-old boy. He can play with his friends and even with his grandma with this set. Moreover, this set comes with 4 different types of guns with a range of 130ft. The cherry on top is that the customer service is excellent as well as the product.
5. PlayMonster Secret Agent Maze Game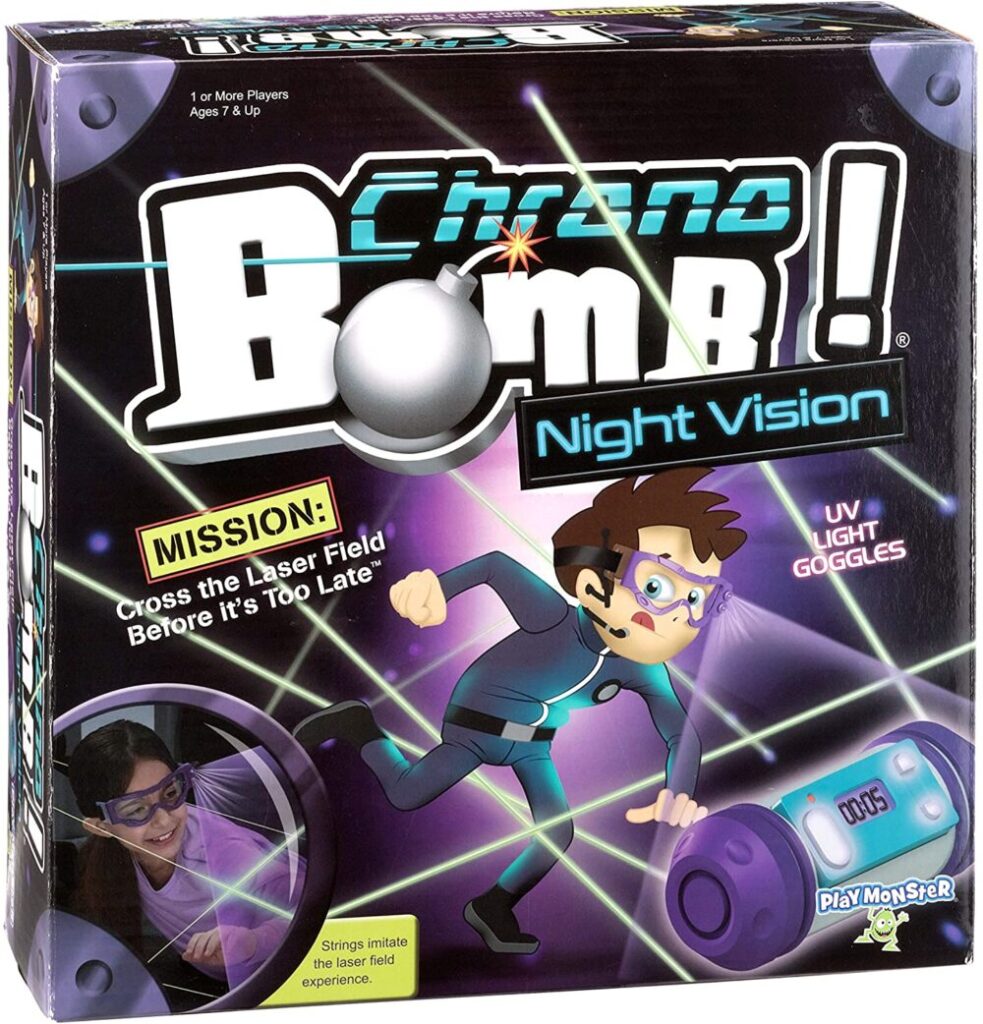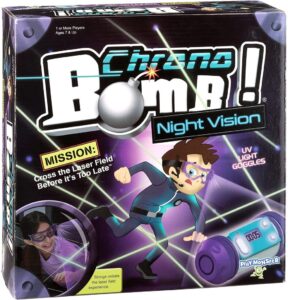 At the age of 10-years-old, your kid's fine motor skills, balance, and coordination have developed exceptionally. This means that they can partake in a lot of things that require those skills. For example, your kids will have a blast as they try to save themselves from "laser" to stop the bomb from exploding! This game allows them to do all this in an exciting way.
With PlayMonster's Secret Agent Maze Game, your kids get to pretend to be secret agents that have to find and defuse the bomb on the other side of a laser maze. This "laser" maze is made of strings with sensors in them, so if someone accidentally touches them, they'll be out in timeout. That's why it's crucial not to touch the strings because the more time you take to reach the end, the more time the bomb has to explode!
The set comes with 37ft long strings with rubber clamps at the end. This is so you can secure the strings. Hence, the string won't move when the kids play. It's also advised that you don't allow more than 2 kids to play at a time. This is because the more the kids in the maze, the more chances of the string coming loose. The set also provides you with UV goggles to make the string glow-in-the-dark.
Suppose the basic game is too easy for your 10-year-old, that understandable. Kids at the age of 10 like more complex and challenging games. For this purpose, you can add the game cards to give them missions while also trying to defuse the bomb. Another benefit of this set is that you can set the "lasers" up differently each time. This adds a variety of routes that yours will have to go through.
Pros
UV goggles
37ft sensory string
Mission cards to add difficulty
New set-up each time
Rubber clamps for security
Cons
Need 2 sets for size
Only 2 players at a time
This game is perfect to gift your 10-year-old. It will help with enhancing their critical thinking as they try to make their way through the maze to diffuse the bomb. What's more, you can make the game more challenging by adding mission cards. Additionally, it even comes with night vision goggles for a full-fledged secret agent effect.
6. hand2mind Animal Science Kit for Kids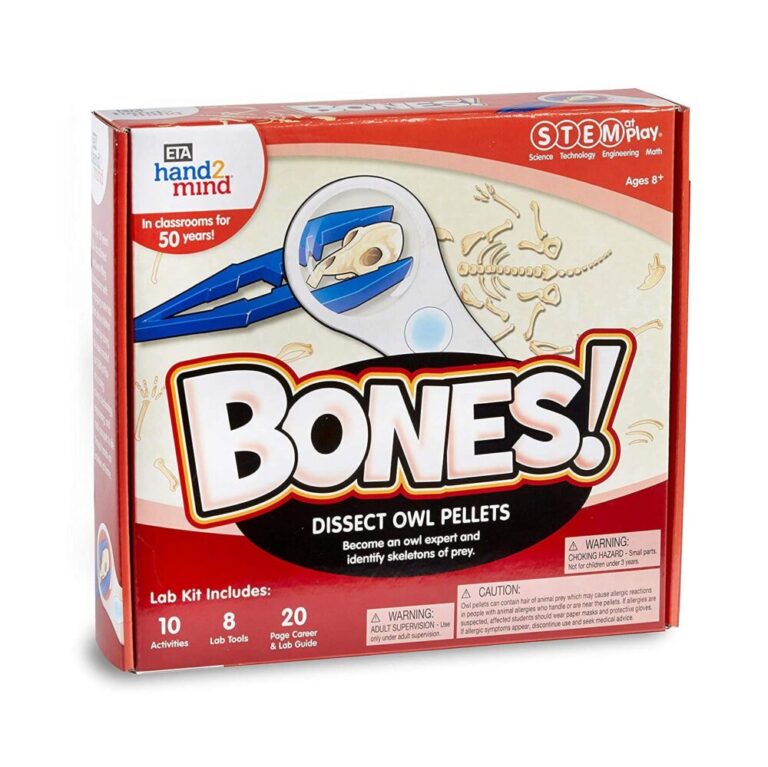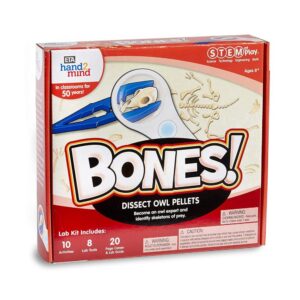 At 10-years old, your child will start to show interest in a variety of things. Some of these interests might even become their lifelong hobbies. So if your kid is into biology and zoology, this is the best gift for him. This kit lets your 10-year-old dissect real owl pellets while also examining and identifying animal bones. They can also conduct experiments to convert the hard bones into soft, rubber-like things.
This kit is a great start to get your little one into STEM activities. This set comes with 10 experiments for your kid to perform. Furthermore, the tools needed for the experiments are also provided. The lab guide that comes with the kit is 20 pages long and is filled with colorful pictures. It also has facts, scientific principles, and information to enhance your child's knowledge further.
Moreover, the lab guide relates the experiments to the modern world. This is great as it reinforces the information in the kid's mind. What's more, the guide will also help you understand the experiments so you can help your little one. This kit is a great hands-on activity to teach your kids about STEM subjects. Furthermore, it comes with storage, so you don't lose track of anything.
Pros
STEM activity
10 experiments
20-page lab guide
Hands-on activity
Cons
Pellets are delicate (easy to break)
What makes this animal science kit one of the best gifts for your 10-year-old is that it's a hands-on activity. This STEM kit lets your kid identify and dissect animal bones. Moreover, the lab guide that comes with the kit is jam-packed with information and scientific facts. The pellets are delicate, so soaking them before use will reduce the chances of breaking.
7. What Do You Meme? Family Edition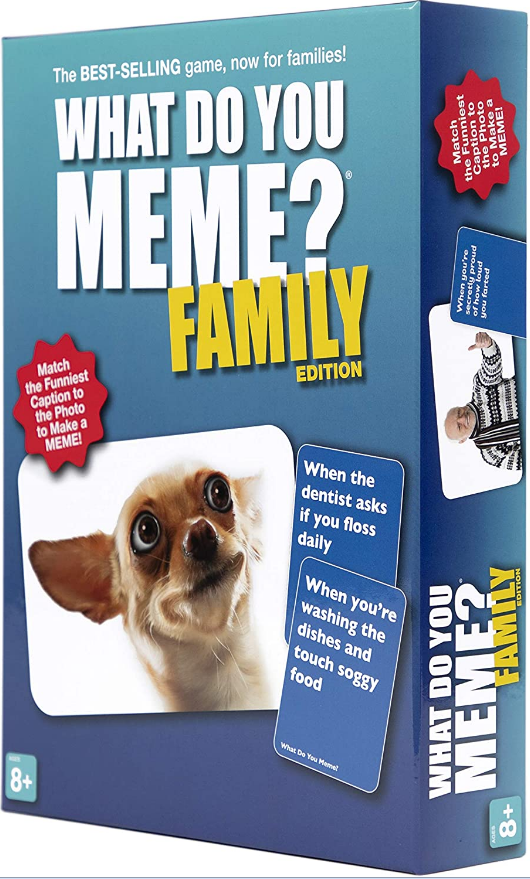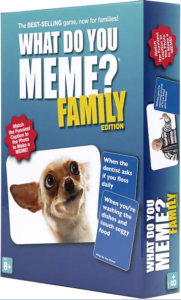 After turning 8-years-old, kids start to develop a sense of humor which sets in at 10. If your 10-year-old thinks that he's too cool for the fam because he speaks "memes," this is the ideal gift to give him. This game can be played with up to 20+ players, which means that the whole family can play this easily.
The game is very straightforward. Every player gets to choose a caption card to caption a meme image. The winner gets decided by the judge of that round. If you want to win, you can choose a caption that appeals to the judge's humor. In addition to that, the possibilities are endless.
Each set comes with 65 photo cards and 300 caption cards. This gives you a wide range of captions you can allot to the reaction picture. Most of the jokes are bathroom-related, so if you can't laugh with your kids about farts, this is not the card game for you. All in all, this is a fun game to play with your 10-year-old for hours filled with laughter.
Pros
3-20 players
300 caption cards
Family-friendly
Rotating judge
Cons
Stand is flimsy
Excessive bathroom humor
In conclusion, this is an excellent gift for your 10-year-old if he's a big fan of memes. With this card game, he gets to create his own memes while having a fun time with his family. A rotating judge decides the winner, so there's no chance of it being unfair. This is a game to get your kids to turn their screens off, undoubtedly!
Buying Guide
At the age of 10-years-old, your kid might start exhibiting a mixture of behaviors. This is because, at 10-years-old, your kids are not children anymore and have entered the domain of the tween. Furthermore, they're not exactly teenagers as well. This is why your kids might seem more mature at times and still act like children. When your kids turn ten, they cross several developmental milestones. Understanding these milestones can give you an insight. This will also help you in making decisions that will better benefit your children's growth and transition into adolescence.
Physical Development
When your child enters their tenth year of living, they will experience growth spurts. Girls tend to show significant growth at this age and tend to tower over boys. This is no reason for concern as your little boy will grow to be a big tween in the following years. In general, kids tend to gain 2.5 in (6 cm) in height while gaining 7 lb (3 kg) in weight. The rate of physical growth tends to differ for everyone, which might cause some concern because kids might worry about why they're growing faster or slower than their peers.
Moreover, your kid's agility, speed, coordination, and balance will improve significantly. In addition to that, they'll have better control over their fine and gross muscles. This means that they can play basketball, football, dance better, and even start practicing more seriously. Furthermore, as their endurance increases, you will see them running, riding a bike, etc., for extended periods. Your 10-year-old will keep improving their fine motor skills so that you will see an improvement in handwriting over the years.
Emotional and Social Development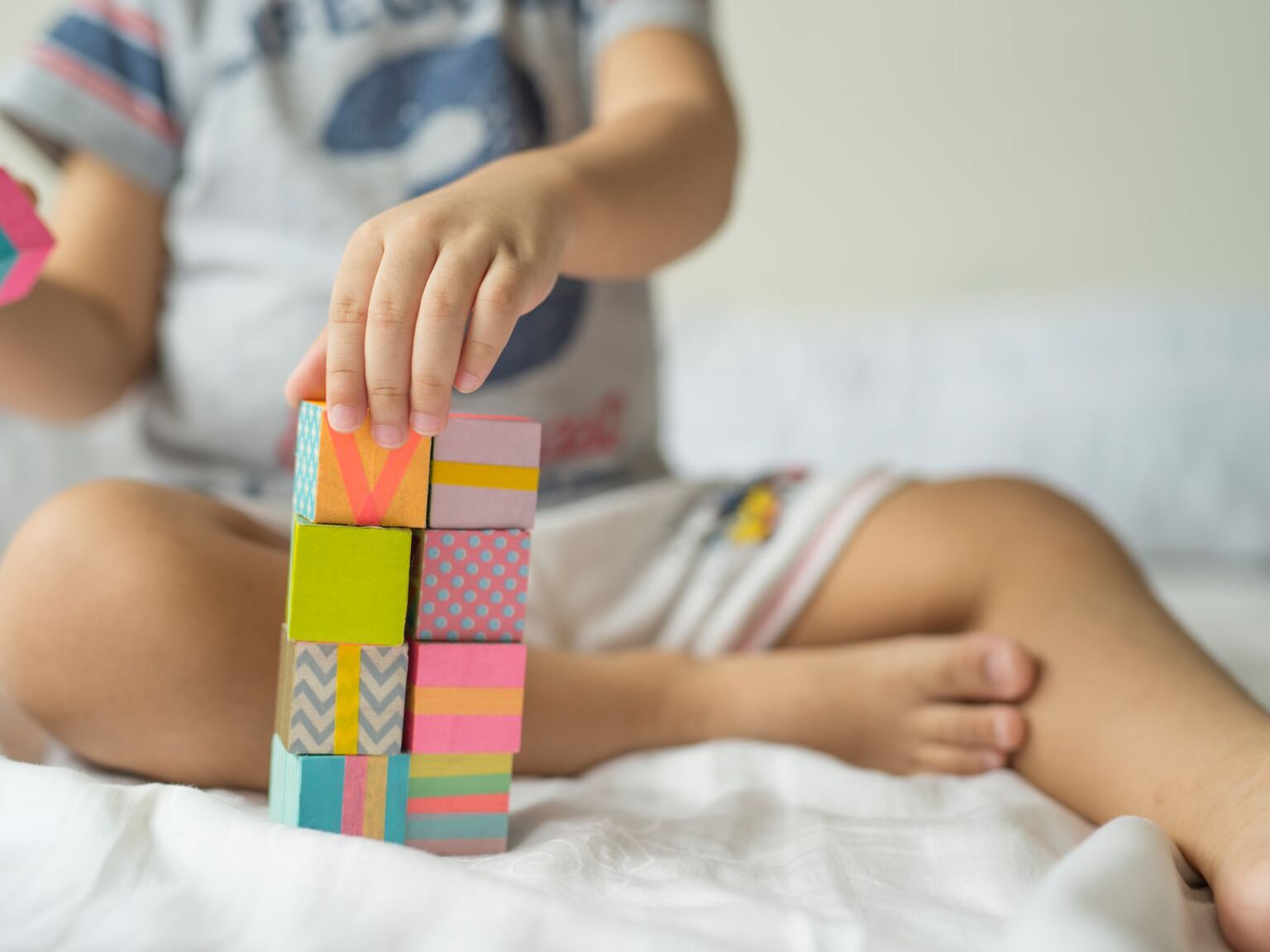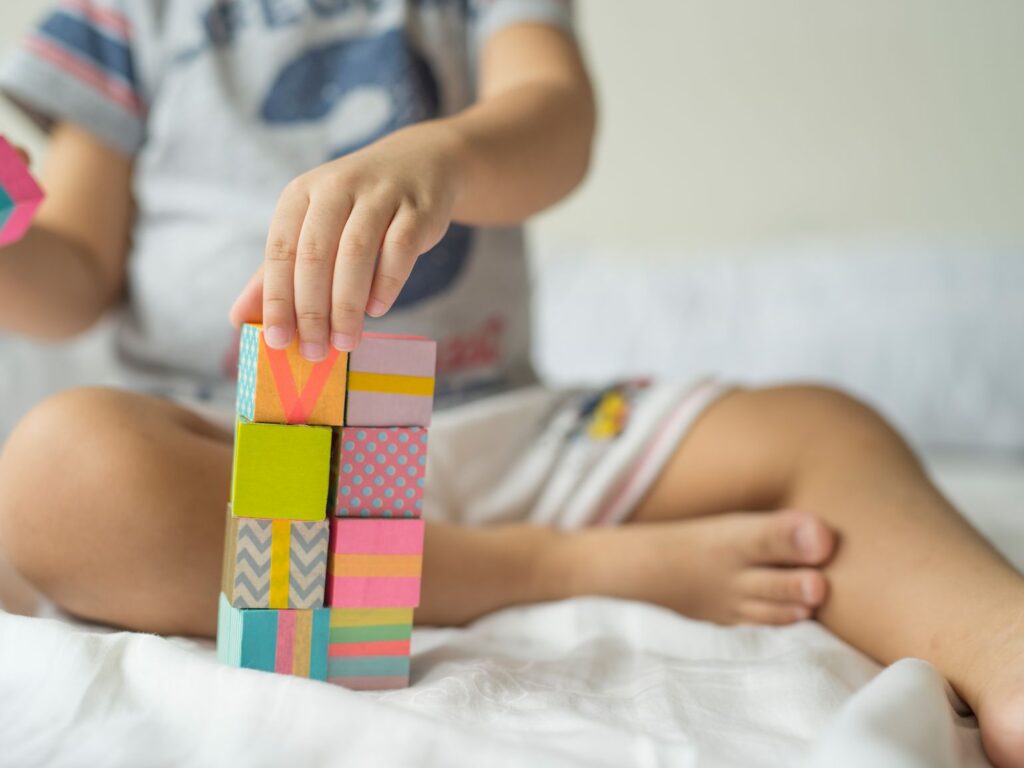 As your child enters this phase of a tween, they will exhibit better control over their emotions. But you will see some childish outburst every now and then. This is because they're trying to adjust to new physical changes in their body and social setting. At this age, kids want to be accepted by their peers, and fitting in is very important for them. Due to this, you will observe them admiring and imitating their peers. They will have the same or similar likes and dislikes as them.
What's more, kids at this age are more accepting of parental or family beliefs but might show irritation to those in charge. They will also start to question authority. Moreover, they will enjoy being with friends and will ask for privacy. Boys tend to be less jealous compared to girls when it comes to friends. This is because boys mostly form friendships based on mutual interests (not personal feelings compared to girls).
Kids at ten might also say that they don't have any interest regarding the opposite gender all while trying to get their attention. This is important to note as you should teach your son that teasing and pranking are not appropriate ways of showing affection. To 10-year-olds, peer acceptance is crucial, and poor approval can drastically affect their behavioral and emotional growth. As a parent, you should help your child deal with uncomfortable emotions in a healthy and positive way.
Language and Cognitive Development
When your little one enters their tween years, you will notice that they have started thinking and sounding more "grown-up." This is because 10-year-olds have the language skills and cognitive abilities to gather information and form their own opinions and thoughts. They are better able to express what they're thinking and can criticize works as well. At 10-years of age, kids can even write simple stories. As kids cross their first decade in existence, their learning and cognitive growth observe a rapid increase.
They can better manage and organize their stuff, thus will require less adult supervision while doing homework, etc. In addition to that, their reading skills will increase tremendously. This means that they will enjoy reading books that are more complex and have longer chapters. What's more, your 10-year-old will be able to hold conversations with people of all ages and will be a delight at dinner parties.
Playtime
As your child has crossed many developmental milestones, you'll need to switch things up during playtime. As they'll enjoy being with friends so multiplayer games will be fun and exciting. You can enroll them in clubs or sports teams to promote physical health and teamwork. As kids start to take an interest in reading, you can get them books of their interest and/or informative books to get them interested in things.
Getting them STEM kits and toys will be beneficial as they can get a head start with those subjects. Kids at this age will also take a keen interest in electronics. This means that your 10-year-old will have a blast with video games and photography. But try to keep it in moderation. Moreover, kids start to take notice of pop cultures like singers and dramas. Your kid might even say that they want to be a singer or actor in the future.
To Sum It Up
Buying a gift for your 10-year-old boy can seem like a daunting task as you don't know what they will like. The toys they liked before, bore them while those for teens are too advance for them. Well, you're not to blame. At 10-years of age, kids cross a number of developmental milestones. This concise list was compiled keeping those milestones in mind.
Laser Remote Control Race Car lets your little boy drive his car on walls and even ceilings. The car is durable and lightweight so a few falls won't do any harm. Moreover, it leaves no marks on the walls and doesn't knock anything off as well.
PlayMonster Secret Agent Maze Game is perfect for your little boy who loves challenging games. In this game, kids have to sneakily cross the "laser" maze to defuse the bomb and save the world. What's more, the mission cards adds something extra for those who love a challenge.
Laser Tag Sets will have your kids playing laser tag for hours.  This set comes with 4 different guns and a spectacular range of 130ft. Furthermore, they can play this game outdoors as well as indoors.
Above are three of the best toys and gift ideas for your 10-year-old boy. These gifts are great because they allow your kids to use more than one skill while engaging in play. In addition to that, your kids can play with these for extended periods due to their durability. So get your kids one of these toys or gifts and watch them have a blast!
Check out some other interesting gifts: