It takes a lot of effort and dedication to raising a healthy child. Besides fulfilling their basic and crucial requirements, parents also need to keep them happy and entertained.
Did you notice kids feel very happy to hit things and produce various sounds? The sound coming out of banged things makes them curious. Wouldn't it be great to bring them a baby drum set?
 It will not only keep them busy and entertained but would channel their energy in a positive way. Besides, beating a drum set will also help in the development of their motor control.  sIt will also increase their musical ability.
Types of Baby Drum Sets
Realizing these advantages, here we have highlighted a list of the 9 best baby drum sets. It will assist you in choosing the best option for your little one.
Invalid table id.
So, keep scrolling to know about them.
1. Halilit Bongo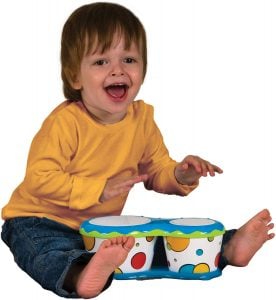 This one small drum set could be one of the best toy choices for your baby. It is lighter in weight. So, your baby won't feel any difficulty to carry it around.
Colorful designDelightful music
This Halilit Bango consists of two small drums. They have bright colors to grab the attention of your little one. When kids will bang on it, it will help in developing fine motor skills. Playing with a drum set can also assist in auditory sensory development.
This Bongo drum comes with pre-tuned heads. It is used for the purpose of producing great sound. Moreover, its body is made strong. So, you won't need to worry while your kid is banging hands on it.
In order to give a real-like drum beating experience, this toy contains professional standard drum skin. It produces delightful and good quality sound.
2. Bright Starts Light & Learn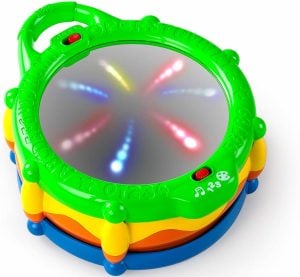 Are you looking for a drum set that offers multiple benefits? This Bright Starts Light & Learn could be a great versatile option. It comes with the following features:
Three playing modesMesmerizing light showPortability
As we have already mentioned, this drum set comes with a versatile option. So, it has three different playing modes.
It includes counting, colors, and music. You can teach your baby counting and colors through it. However, when you are done, you can switch to music mode to dance and play around on it.
Another remarkable attribute of this drum set is its light display. The baby taps hands on it, and it sets the light display on the motion. With each tap, the lights create an optical illusion of tunnels.
It could be a great source of attraction for your little ones.
The manufacturers of this drum set have added an easy-to-grab handle on this toy. So, your baby can hold this toy conveniently and carry it anywhere.
Besides all its amazing features, it also comes with a built-in mirror. Wouldn't it be mesmerizing for your baby to see its image in the mirror?
3. Little Tikes Tap-A-Tune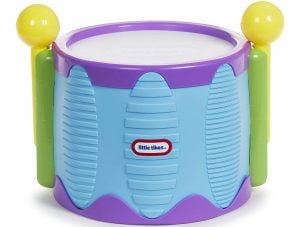 Wouldn't it be super amazing that your baby mimicking a real drum playing experience? This Little Tikes Tap-A-Tune drum set can help in achieving it.
Here are a few of its remarkable features:
Colorful appearanceVersatility
Babies are greatly attracted to colorful designs and patterns. The makers of this drum set understand this thing. This is the reason; this drum set contains color combinations that can appeal to babies.  
The round body with clipped sticks and multiple colors is what your kids will adore about this toy.
This drum set lets your baby plays music in two ways. Firstly, they can tap their little hands on it to play music.
However, this toy comes with sticks too. Your kids can beat them on the drum. There is another good thing about this drum.
Its sides contain texture that produces sound too. So, this drum will produce sound regardless of the point your baby is hitting.
4. Amosting Educational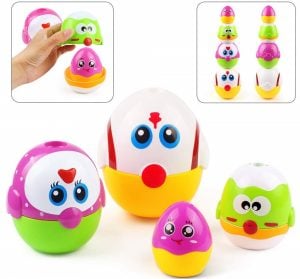 This Amosting Educational toy is another versatile drum set option for your baby. Here are a few of its remarkable features:
Safe materialsVersatilityAdjustability
The most remarkable feature of this Amosting Educational toy is its safe manufacturing. The edges of this toy are round to protect little hands.
Moreover, its lights are soft. So, it wouldn't affect little one's eyes in any way. Besides, the material used is BPA-free, Lead-free, and non-toxic.
This toy is not just a drum set. Rather, it offers a set of keyboards to be played like a piano. Your baby would surely love playing the piano and beating the drum.  
It produces the sounds of different animals and instruments.
Another amazing attribute of this toy is its adjustability. It allows parents to set the volume according to their choice.
Moreover, it also comes with multiple keys to manage its functioning. All these attributes together make it one of the best baby drum sets.
5. Bright Starts Safari Beats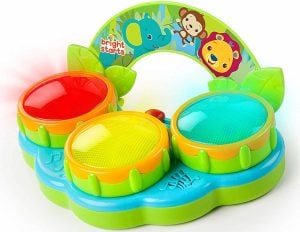 This Bright Starts Safari Beats toy is a good choice for those who love jungle theme. Here are more of its distinguishing features:
Vibrant colorsNumerous melodies
The thing most adorable about this drum set is its appearance. It has a jungle theme with animals' pictures and small leaves.
Moreover, this set is covered with three big buttons/drums. They have green, red, and yellow color. The overall combination of handle, pictures, and buttons can fascinate young minds.
As we have already mentioned, this toy has three pads. On a hit, they produce various sounds. It includes fun melodies and musical sounds. Moreover, it also produces the animals' voices.
Well, that's not all. The pad of this toy will produce lights when your baby will hit them. Combining all these traits, this Safari beats could become the best choice for your baby. And we don't need to mention, how much baby loves things with lights and sounds.
7. iSee Infant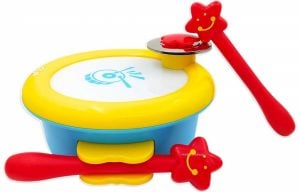 This iSee Infant drum set could be a great option to improve your baby's creative skills. It comes with the following specs:
Simple and uniqueCreative tool
The thing we like about this baby drum set is its unique and plain design. It doesn't involve any complicated edges or corners. It is beneficial in the term; it won't store dirt or other trash inside.
So, you won't need to spend a long time cleaning or maintaining it. Moreover, its color combination is also vibrant. The bright yellow, blue, and red colors will appeal to your little one.
This iSee Infant drum set comes with a small drum, two sticks, and a built-in Cymbal. Thus, it allows your kid to engage with it and produce creative sounds.  
It will, later on,n, help your baby to develop cognitive and sensory development. Moreover, this drum contains clips to hold the sticks. So, you won't need to worry about losing them.
8. VTech Beats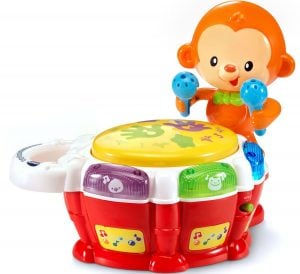 This unique drum set comes with a variety of features that can keep your baby engaged for a long time. Here are few of its remarkable attributes:
Versatility Fascinating appearance
This Vtech Beats comes equipped with a variety of sounds and melodies. It produces more than 70 melodies. Moreover, it can also make your baby learn about colors, music, and animals.
This toy is not a simple drum set. Rather, it contains a fun animated toy on it. Moreover, it also possesses big buttons and the main drum pad.
This toy is also made very colorful and charming for kids. All these features together can be a great source of fascination for your baby.
9. Infantino Cover Band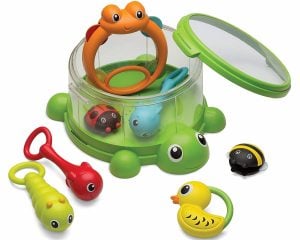 If you are looking for multiple benefits out of a drum set, this toy could be the best option. Why? Here are the reasons:
Versatility
This Infantino Cover Band is not just a drum set but a full eight-piece percussion set. It includes maraca, bell rattle, tambourine, and two castanets.
These pieces not only give a charming appearance to the drum set but can be used as a rattle. Moreover, they are made suitable to be held by little hands.
Once your baby gets done with playing, you can store all of them inside drum storage.
10. Fisher-Price Laugh & Learn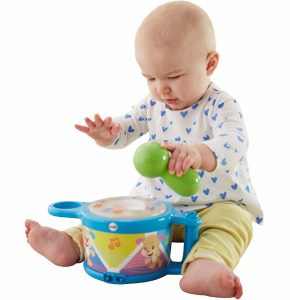 This Fisher-Price Laugh & Learn drum set is another great playing tool for kids. It comes with the following attributes:
Two modesConvenience
This baby drum set is versatile. It allows two different playing modes. One of them teaches babies music, lights, and phrases. The other one plays recognizable songs to let the baby enjoy it.
This toy produces sound and lights to keep your little one fully engaged. It also gives a huge amount of convenience with its rattle storage place. Its side handle allows you to carry it conveniently anywhere.
Benefits of a Baby Drum Set
You might find it useless to buy your baby a little drum set. If this is a case, stay relaxed, and read the benefits of a drum set for your baby below:
The topmost benefit of introducing your kids to music and melodies is the improvement in their cognitive skills. Some researches have shown that exposing children to music at an early age can give multiple benefits.
It includes improvement in their logical and critical thinking. Kids who keep involving with music perform better in these categories as compared to their fellows.
Moreover, infants have the ability to grasp melodies and tempo faster. They start doing it before they get familiar with colors and shapes. What's more?
The baby drum set can be a good source for your baby to relieve their stress. It is not like that only adult feels stress. Babies and younger kids also face anxiety and emotional problems.
So, if you think your baby is emotional or has problems expressing feelings, a drum set can help.  It will give her a channel to constructively express herself.
Well, these are not all benefits of giving your baby a drum set. It will also help in improving gross and fine motor skills. Kids will learn to hold sticks and develop their hand-eye coordination.
However, if the drum set you choose is advanced and versatile, it will teach colors, shapes, and numbers too. Such batman toys have interactive settings to help kids learn better.
If we think in-depth, playing the drum can even assist in improving social skills. At the start, your child might start by taking turns with a friend or siblings. Later on, they will learn to coordinate with others.
This feature could be particularly helpful for children who have special needs. They are in need of support and playing drums can give boost their cognitive skills and social benefits.
How to buy the right baby drum set
As we have already mentioned in the previous section, a drum set could bring multiple benefits for kids. Now, if you are thinking about which drum set to buy, we are again here to help.
Luckily, it is not a very complicated choice to make. You would only need to consider a few things before making a final purchase.
Your child's developmental level is the first thing you think about while purchasing a drum set. If you have an infant, a simple drum set could be a good choice.
Babies get easily entertained with lights and different sound effects. They don't need advanced toys or other complicated features. A classic style drum with simple tapping would help in introducing them to your baby.
If you have a toddler or an older kid, it's better to buy some advanced level drum set. It should involve sticks and other superior features. A drum that teaches patterns, colors, shapes, and alphabets could be a great choice for these kids.
The second important factor that plays a crucial role while buying a baby drum set is your budget. Usually, drum sets are not very expensive.
A small amount would be enough to buy a decent drum set. However, it is very much possible that you might get attracted to some advanced drum set while shopping.
So, it's better to decide earlier about the amount that you can spend on purchasing the baby drum set.
The third thing to consider before shopping is your and child's preference for toys. Some parents don't want to allow their kids to play with electronics or battery-operated toys.
They instead prefer to go with a more classic style. If this is the case with you, there are some drum sets available that beats with simple tapping.
In case your kid loves lights and sounds effects, you can go with an entertaining drum set. It will have advanced features.
The last point that asks your consideration is the purpose of purchasing the drum set. It is an important question that can greatly impact your selection.
Do you need a drum for educational purpose or fun? It is because few drums have the capability to teach kids about letters, numbers, colors, and patterns.
Similarly, few drums help with improving memory with the sequence of its lights. There are also a few models that focus only on drums.
So, it all depends on your choice and the purpose of buying a baby drum set.
A brief history of the baby drum set
Have you ever thought about how today's drum band system has started? If yes, here's a brief history of drums:
The history of using drums dates back to 6,000 BCE. They are also found in the Mesopotamian region that dates back to 3,000 BCE.
The history shows that North and South American natives have also been using drums with their own versions. They were mostly constructed using wood or gourds.
They used to beat drums in their religious ceremonies and tribal rituals. Different cultures have been creating and using drums for more than thousands of years.
In the starting days of drum bands, each drum was played by a different person. But, it used to create a problem of coordination. The result sound effect was cumbersome and difficult to coordinate.
So, the companies who used to produce musical instruments invented the solution. They started merging drums so a single person could play all of them. It includes playing snare, bass, cymbal, and others at the same time.
The Illinois, Ludwig & Ludwig Co. in Chicago introduced the foot-operated bass drum in 1909. However, later the Jazz era in New Orleans asked for the more customized drums. It led to further innovation in drums. 
In 1930, Ben Duncan teamed up with other musicians and introduced the standard drum arrangement. This innovation worked well for everyone.
This advanced setting comprised of one bass drum in the center. It further included a snare, one raised tom-tom, and a one-floor tom-tom. However, few also prefer to add cymbals to the band.
Conclusion
The baby drum set could offer great assistance to improve their development. However, sometimes, it gets confusing for parents to buy the right toy. Therefore, In this piece, we have reviewed a few best baby drum sets. It will help you in choosing the most appropriate option for your little one. We have also discussed a brief guideline, history, and benefits of drums. We hope, it will aid in clearing your confusion about drums.