We share your difficulties and want to give you the most comprehensive and best guide on how to go about buying a stroller for your beautiful child. We know it is hard to cope up with catering to all the needs of a special needs kid, without causing any discomfort, or being hefty on the pocket.
Therefore, it is time to give you the best information about strollers for special needs and disabled children. As one of the parents was concerned, if a stroller was big and strong enough to cater to the weight of 60 lbs of a 7-year-old. Many of the parents in that conversation thread were not as understanding of your needs and bashed with hurtful comments. They pointed out the clear obvious that the kid should be able to walk.
 But not many consider what the other might be experiencing. It was an emotional experience for us after reading all the comments from parents. But on the other hand, it made us realize the limited choice of a parent with a special need, or disabilities has to pick from.
A regular stroller for a growing family, would not be able to take on the weight of an older kid and the design is not able to accommodate someone of the weight and height, comfortably. The seat is not roomy, thus becomes a cause of discomfort after a long period of time.
Therefore, you need not worry any further, we got you covered on all the difficulties you face online by getting to know what is best. So, after comprehensive research and analysis we have narrowed down a shortlist but surely will fulfill all the requirements you have been on a hunt for a while now. The look, comfort and weight issues have been addressed in the strollers we present to you.
Strollers for Special Needs and Disabled Children
The needs and demands of special needs and disabled kids are completely different than an abled child because they would require a stroller when they are old enough to not be able to be carried by their parents. Or when have grown out of their stroller and can not fit into their previous stroller for big kids, as an ordinary stroller can accommodate the weight and height of kid as old as 5 years.
Not more than the weight limit of 75. Special needs kids would still require a stroller because like regular kids they still won't be able to do regular stuff and require your love and support. Therefore, it has come to our attention that a regular big kid stroller is also not sufficient enough to hold the weight and be sufficient for their size.
So, we took it upon as our mission to find a stroller that could dealt with such problems efficiently. Higher capacity is a necessity that should be able to carry an older child or even a teenager, yet still not look like a wheelchair. Moreover, the high weight capacity should be able to be used for many places for your teenage disabled kid.
There are not many manufacturers that address the needs of a special, or disabled child, but fortunately, we were able to find some that had expertise in stroller designs for your disabled child. The article features 3 of the best strollers right now in the market for special needs and disabled children.
We have written this article in support and special advice for parents with children suffering from a wide range of physical and mental disabilities that are in need of stroller. The previous strollers are no longer of use because they seem to have grown out of it.
Also, the parents were on a hunt for a long time in search for a stroller that would be comfortable for their child and serve them for many years to come. For example, if you are looking for a stroller that can easily fit your 10-year-old autistic child with no difficulties, as he or she is not able to walk long distances or someone who is completely disabled. You have landed on a mine of stroller knowledge. Get ready for some amazing new knowledge and features you wanted.
1. Special Tomato ELO Push Chair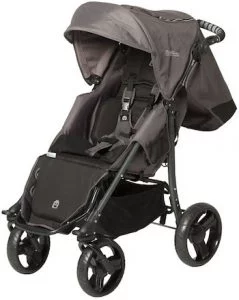 This is one of the lightest strollers in the market, Special Tomato Elo Push Chair for any child with special needs. We have given you a complete review of this model, Special Tomato Elo Push Chair weighing about 22 lbs only. This also means the manufacturers of Special Tomato Elo Push Chair have taken upon themselves to make the design weigh less than an ordinary stroller.
If you want to compare the size of the stroller, well BOB Revolution FLEX jogger might be the perfect example to compare the size. It is bigger than the regular everyday stroller, so your child can fit in comfortably and surprisingly, it is not even excessively bulky to worry about.
After looking at the interior and exterior of the Special Tomato Elo Push Chair, we proudly recommend it to be fit for daily you. If you are wondering what kind of use can be dealt with ease. Well, daily strolls, running errands to the nearby stores, trips to the malls, or park and also, for occasional off-road explorations on hard-packed gravel tracks.
Your big and taller kid with special needs can easily fit in, such as 50 inches. Parent reviews suggest that many parents with a child suffering from any type of cerebral palsy, or either have autism opt for Special Tomato Elo Push Chair.
Quick Overview – Reasons to choose Special Tomato Elo Push Chair
After comprehensive analysis and comparison, it is one of the best strollers for children suffering from some form of physical, or mental disability. Parents long for something that would last a long time and usability is to the fullest, so after going over the review's parents deem it best for children up to the age of 4 to 6 years old.
Any child who has surpassed the weight limit of a regular stroller, and is over the weight of 60/75 lbs can easily fit into Special Tomato Elo Push Chair. No need to worry about the weight of your child anymore. You stress about this particular matter has been lifted.
One of the best models, the Special Tomato Elo Push Chair for daily use as it is not heavy, or super bulky. But an important thing to remember is that it is not meant to be jogging friendly. You can go on a jog, or run with it.
Specially modified and manufactured stroller made for special needs and disabled kids are hefty on the pocket, but luckily this particular model is an affordable one. Moreover, for more details about the price and availability, you can check up Special Tomato Elo Push Chair on Amazon.
Special Tomato Elo Push Chair as a stroller for a child with a disability – Full Review
The prior thing we would like to bring your attention to the Special Tomato Elo seat which sets it apart from the rest of the stroller models currently on the market. Wondering what distinguishes it from the rest of the array of the stroller? Well, it is the padding on the seat, as the seat is cushioned and provides complete support to your child. Helps sit in with an upright posture and complete backrest. Moreover, the seat fabric can be easily removed and another bonus that it can be washed in your washing machine.
 It would not even require that much effort in washing it by hand, which makes it ever so awesome in any occurrence of spills, or vomiting. There is no need to worry about the stains because the machine washable fabric makes it ever so easy to get rid of all the stains.
Also, an important factor that not all strollers come with a detachment of the whole seat cover for intensive cleaning purposes. This is a huge advantage as a whole. If you can not get a spill-proof cloth, does not mean you have to keep it dirty.
Furthermore, we know that sometimes you require special protection and padding to keep your child safe if they are fidgeting. So, the manufacturer's od Special Tomato Elo have taken into consideration extra cushioning, as it comes with additional lateral pillows and a head cushion.
The head cushion plays a crucial role in keeping your angel's held securely in place while supporting their body. Besides, if you encounter any bumps on your way it will surely protect him, or her from bumping from side to side. No worries, these additional pillows are removable, so can be adjusted according to the needs of your child.
Say bye to the days in which your child had to experience any sort of discomfort in their stroller while sitting, or even fitting into the seat. The interesting feature to note is that any child with special needs or disabilities can sit back and relax, unlike a wheelchair in which you had to sit completely upright.
The seat is at a beautiful angle of 20 degrees which helps in the posture and not force them to be taught all the time. This particular angle is fixed, but you can easily adjust the backrest. Wondering how much can one adjust the angle? You can recline it vertically about 75 to 25 degrees. Also, if you are running an errand and your child falls asleep the lowest position is perfect for him, or her to take a nap.
The perfect stroller for a nap on the go. The leg rest is another special feature that I love. Because it is adjustable up to 15 degrees from a horizontal position. If you are wondering how is this a helpful feature. Well, it can be used to support a child with special needs to keep their legs straight while they suffer from bending their knees. Moreover, another great additional feature is the foot block, which can be attached to the leg rest for added comfort according to the child's needs.
Apart from this for maximum protection of any special needs child, there is an 8 point harness. You are wondering what an 8 point one, as you have heard about a 5, or 3-point harness, most probably. Well, it is divided into sets of two: a 5-point harness for holding the upper body and a 3-point harness for the pelvic and hip region.
The chest and shoulders are comfortable and relaxed, as it has nice padding. Moreover, it won't cause any hindrance in your child's movement, but instead, give comfort along with protection. That's all any parent would desire in a stroller from their special needs or a disabled kid from sliding or falling out.
Besides, this amazing 8-point harness is not a regular thing in ordinary strollers; therefore, it sets it apart from other strollers in the market. Taking a closer look at the canopy, which has a flip-out sun visor and is one panel, only. If this stroller is used for a bigger special need, or disabled kid, no worries. Sun is kept out of the eyes at all times along with shading their head. Keeping an eye out on that angel of yours from the peek-a-boo window has become ever so easy.
Special Tomato EIO – Conveniences for parents
Comfort was the top priority of the manufacturers of special tomato ELO, for both parent and child. The design is quite thoughtful, making it a convenient and user-friendly model for special needs.
The storage unit beneath the seat has a decent capacity to hold around 10 pounds sufficiently, which is big enough to hold a backpack or medium-sized diaper bag. The additional pockets are useful to keep valuables at hands length because they are situated at the back of the stroller. Also, the two mesh pouches can hold beverages that are right at the sides of the special tomato ELO stroller.
The adjustable handlebar has made it convenient for a couple to cater to their needs, as it can rotate from 30 to 40 degrees from the ground. So, it makes the best option for a short and tall parent combo.
The user-friendly parking brake is one touch. It prevents the stroller from straying away, of at any point you are busy with something. Keeping the stroller secure and safety proof is a priority; therefore, the rear brake can be operated with afoot to get it running in no time.
Where you can use the EIO Push Chair?
Going out with your special needs, or disabled child if was a problem before. Now, ELO has the solution to all the problems and made going out ever so easy, as taking strolls on the paved and unpaved ground is possible. Moreover, now simple tasks like running errands, shopping, or anything can be done all thanks to ELO with your little angel safe and protected. Also, large wheels are non-inflatable with rear wheels 11 inches and fore wheels 9 inches. They can take on any rough surface, furthermore, on locking the fore wheels gives them greater stability.
If you are worried about a bumpy ride and causing discomfort for your child, then your stresses are a thing of the past. There is an extra spring suspension that absorbs all the shocks from a bumpy surface, and not allows the stroller to wiggle, a lot! Days of your child bumping into her or her stroller are of the past.
Special Tomato EIO Push Chair – Specification
A more spacious seat than any ordinary stroller of this special model for special needs kids, in order to accommodate an older, larger child with ease and no discomfort. Even after reviewing parent reviews on different sites, parents assure the seat size is amazing to accommodate up to a 6-year-old. The manufacturers release the height which can be fit easily into the stroller: 50 inches maximum and head height 26 inches. Moreover, the removal of the canopy can be a plus point for using special tomato elo for a taller disabled kid.
Some of the important specifications you need to know before purchasing this particular model are: amazing storage capacity of 90 lbs. As mentioned above recommended height is 30 to 50 inches, with seatback length of 24 inches. The seat size is 14″ x 12″ (W x D); whereas the seat to footwell size is 13 inches. Previously mentioned, handlebar height is 30 to 43 inches. The stroller folding dimensions are 43″ x 24″ x 20″ (L x W x H) and open stroller dimensions 46″ x 24″ x 45″ (L x W x H). Stroller weight of 22 lbs.
2. Special Tomato Jogger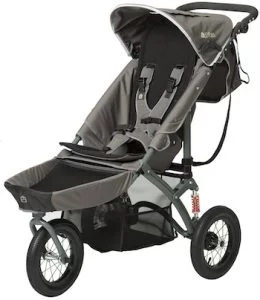 This is particular jogger is the best fit for all surfaces for special needs, whereas jogging and walking on rough, uneven paths is not possible. Wondering why? Because of the pneumatic tires, outstanding suspension and well-padded seats for maximum comfort.
No, say your goodbyes to bumpy rides! Now, exercising with your disabled, or special needs kid is possible without compromising their safety. All the hot selling jogging strollers are heavy compared to this amazing 27 lbs. it isn't huge, or bulkier than them.
Quick Overview – Reasons to choose Special Tomato Jogger
Perfect for a special needs' child with moderate disability
Active parents can go on light walks and jogs with their child, even on uneven surfaces
One of the lightest strollers on the market specially designed for special needs kids
An upright position of the seat helps your child to fix his, or her posture
Special Tomato Jogger as a stroller for a child with a disability – Full Review
Much like the EIO, Jogger is also very well padded. The upholstery is not just removable, but also reversible which is really useful. Moreover, even the seat fabric and the insert can be removed and washed in a machine. This is really convenient, mostly because of the continuous difficulties faced by a special child, who might also spit often. This stroller comes with a warm fleece side which can be used during winters and a canvas insert with is an ideal option for summer days.
However, when comparing the EIO stroller and the Tomato Jogger stroller, it is important to keep in mind that Jogger does not come with lateral back pillows. This can be quite uncomfortable. Nevertheless, a special tomato sitter or liner can be added to the stroller to provide extra support for the child.
One excellent feature of this stroller is that its 8 point harness can perfectly hold the child and keep him/her in place by the chest and hips. In regular strollers, you only get a 5 point harness. Therefore, a stroller having an 8 point harness is very advantageous, especially when using the stroller for a child with special needs. It does an amazing job of preventing the child from falling out or sliding side to side.
The seat of the jogger stroller comes with an adjustable backrest with 10 degrees from vertical being the highest position. Moreover, it also goes down to 50 degrees from the vertical. Although the recline isn't very deep, it is just enough to fit the child's needs and for resting during walks.
One of the best features is also the non-adjustable leg rest with side guards which keep the legs of the child from falling out of the stroller. The only negative for me is the small canopy. It doesn't provide much shade but at least it covers the baby's head. However, a peek-a-boo window is present
Special Tomato Jogger – Conveniences for parents
When having to take care of children with disabilities, the last thing that parents need is a stroller which would only be inconvenient. Nevertheless, the Tomato Jogger has a rotatable and adjustable handlebar which makes pushing easier than a regular stroller. The settings for the height are 35 to 43 inches from the ground. Hence, whether you're 5'0" or 6'3", the stroller can be adjusted according to your comfort and needs.
The rear suspension, sturdy and lightweight framework, 3 wheel design with a lockable front wheel are all a few features due to which the stroller rolls with ease which is essential when the child already has special needs. It is very convenient that the stroller only weighs 27 lbs. There are many strollers heavier than this including BOB Revolution FLEX and PRO, Baby Jogger Summit X3 and Chicco TRE.
The overall height and wheelbase length of the Tomato stroller is quite similar to that of normal jogging strollers. Although it is difficult to be managed in a small grocery store, it is still ideal for trips to the zoo, Disney or other amusement parks.
The storage basket which is present below the seat is also one thing that parents love about this stroller. It may not be big enough but can still hold a backpack and even some groceries. Just like most jogging strollers, the Special Tomato Jogger also has a wrist strap which is why the stroller won't roll away from you! Moreover, this stroller for a child with special needs is very easy to fold: it can be done in just one step.
Where can you use Special Tomato Jogger
This jogging stroller for special children or children with disabilities is not only ideal for parents who want to go on a run but can also be used on long distances. Moreover, you can use this during brisk walks. If the neighborhood you live in has mostly country gravel roads, then Special Tomato Jogger is probably your best option as it would move like a breeze.
This model of the stroller has 12" wheels which come with pumped tires. Moreover, the wheels of Special Tomato are compatible with more terrains as compared to those of the EIO Push Chair. On top of that, it also absorbs bumps and shocks because of the rear suspension. It doesn't matter if you are moving on grass, gravel pathways or woody trails; this stroller can handle anything and would move like a breeze.
Special Tomato Jogger – Specification
When compared to the EIO Push Chair, the Special Tomato Jogger has a longer seat even if the difference is very slight. Moreover, it also has a higher weight carrying capacity which means that it can accommodate a taller as well as a heavier child.
If you are searching the market for a jogging stroller which is ideal for an older child with special needs or a stroller for a child with a disability who weighs approximately 60 lbs, then the special tomato jogger is one of the best choices. The age limit for the stroller is 7 years and the height limit is approximately 5'0" to 5'2".
There are a few dimensions that you need to consider. These are given below. You can compare them to those of your child.
The total weight that the stroller can carry is 110 lbs while the maximum head height is 27 inches. On the other hand, 25 inches is the seatback height. The dimensions of the seat are 14" x 12" and the seat to footwell height is 15 inches.
Moreover, the handlebar is around 35" to 43" from the ground and the size of the wheels is 12 inches. The overall dimensions of the stroller are 42" x 26" x 43" which is the length, width and height respectively. When folded, these very dimensions become 21" x 33" x 16". The weight of the stroller is 27 lbs in total.
3. Advanced Mobility Freedom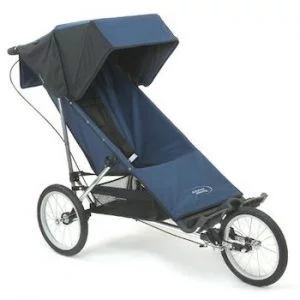 This stroller which has been specially designed by Advanced Mobility, Division of Baby Jogger is probably the largest stroller for a child with disabilities. Its maximum weight carrying capacity is 200 lbs! Hence it is not only suitable for older children who have special needs but also teenagers and even adults with disabilities.
When I was writing this article, I went through many online reviews that were written by parents who had already bought and used this stroller. Of course, this stroller was mighty popular amongst buyers, regardless of the passenger's age or size.
This stroller has been used by parents for kids with special needs with an age range of 7 to 13 years. These children suffer from disabilities like cerebral palsy, epilepsy, mental disorders and autism. However, it is also important to keep in mind that the seat is spacious enough to accommodate adults. (Check these customer reviews on Amazon #1 & #2).
It is not only the size of this stroller that makes it a parent favorite, but also the fact that it can be used on various kinds of terrains and even on places where is difficult for a wheelchair to go! Thus there are compromises on a fun time for your child, filled with adventure and exploration.
The Freedom Stroller is the best option for families who have an active lifestyle and enjoy running in marathons or just spending time in the woods or moors. Moreover, if you want to use it as an everyday stroller for walks or shopping trips, then it's going to help you out there too. This is as it can easily accommodate a disabled child or teenager who has outgrown a regular stroller. You can use the Freedom for a 100-pound child or a teenager who is 4'7" tall, and you would still find that there is room to spare.
Quick Overview – Reasons to choose Freedom Stroller
One thing that many caregivers of disabled children/teenagers love about Freedom is that it doesn't look like a conventional wheelchair but can go to multiple places where a wheelchair can't.
It is so spacious and hence can last with you for years! Even with a 4'7" child, it has plenty of room to spare.
It is an excellent option for a 10-year-old child, a teenager and even a short adult with disabilities.
It is great to use while running in marathons or local runs as well as for walking on uneven terrains.
Freedom stroller is a long term investment (price and discount can be checked on Amazon).
Advanced Mobility Freedom as a Stroller for a child with a disability – Review
Let me make one thing clear right from the start, Freedom stroller is most comfortable for children aged 5 and up. For toddlers, it just might be too huge. Nevertheless, it is important to keep in mind that it doesn't come with an age limit. Everything depends on the size of the passenger.
Upon reading the customer reviews on Amazon, I found out that many parents use this stroller for disabled children who are over 4ft tall. Despite their height, children still have room to grow in it. Other than that, it is also spacious for teenagers and short adults.
It is common sense that a stroller that holds a big passenger would be large in size itself. This is the case for Freedom as well which is much bigger as compared to a regular stroller. However, surprisingly it is not at all that heavy. It weighs around 30 lbs which are equal to most single joggers such as the BOB Revolution PRO.
The seat comes with a padded bottom and back and a 5 point harness that keeps the child from sliding out of the stroller. Moreover, the harness can even be adjusted slightly to accommodate a growing passenger. For an even comfortable resting position, the seat can even be reclined.
According to the manufacturer, caregivers also customize the seat through additional body cushions and supporting pillows made by other brands. Although the Freedom stroller is made specifically for a child with special needs, it may not prove to be efficient if the passenger requires postural support. If this is the case, it is important that you discuss with your physiotherapist first whether buying Freedom is a good idea and if you'd be needing additional pillows or not.
The fixed leg rest and plastic footwell are extremely easy to clean of sand or mud. However, there aren't any sidewalls to prevent the legs from falling out of the stroller.
The best part is that the Freedom stroller can be customized using Advanced Mobility accessories. Due to this, the footwell can be extended by 5". Moreover, a roll cushion makes the seat slightly deeper and ensures that the passenger doesn't slide down on the uneven ground. It's especially essential for someone who can't maintain a seated position.
Also, the large canopy provides a good amount of shade for the passenger. It also comes with a viewing window for the parents.
Advanced Mobility Freedom – Conveniences for Parents
The parent's comfort was kept in mind while designing the Freedom. Its weight is similar to single joggers; it can be easily lifted to the car trunk, even by a short person. The stroller's weight is evenly distributed which is why it is easy to push and maneuver. However, this may become a little difficult when the child reaches 150 lbs.
The handlebar is set at 40 inches from the ground and is non-adjustable. Although it is a good position for most people, it can be uncomfortable to push for parents who are shorter than 5'2" or taller than 6'2". The storage basket is not that huge but can still fit your essentials, even for a day trip. A mesh pocket is also present which can hold your wallet, phone, keys etc.
A dual parking brake is present which is operated by foot. Freedom is the only stroller in this ranking which has an additional handbrake. It works like a bike handbrake and allows you to control the speed especially when going downhill. It also comes with a safety wrist strap.
The folding mechanism is the biggest drawback. Freedom has a different frame construction in order to hold a heavier passenger which makes folding a bit hard (involving plenty of dissembling). However, you'll be much quicker once you get the hang of it.
Where can you use Advance Mobility Freedom?
That fact the Freedom stroller is all-terrain and can be used while running is very advantageous. I am not even talking about a once-in-a-while light jogging. Parents have been found using Freedom while running marathons with their disabled children.
This stroller comes with 3 16" wheels and pumped tires. Because the front wheel is locked, the stroller becomes ideal for running/walking on unbeaten and rugged surfaces. Moreover, the large, air-filled tires ensure a smooth sailing ride.
The best part is that Freedom comes with an additional set of swivel front wheels. These work like a dream on flat and urban surfaces, increasing the stroller's agility. However, note that these wheels are only to be used while walking in order to make the stroller more maneuverable, especially around corners.
When compared to regular strollers, or other strollers for disabled children, the Freedom has a much longer wheelbase. Hence, it isn't very ideal for tight and crowded spaces like small supermarkets or a crowded mall. Unfortunately, Freedom stroller is not allowed in Disney because of its length.
Most parents use it for marathons, walks in moorlands, woodlands, parks or the countryside.
Advanced Mobility

Freedom

– Specification
The stroller is suggested for children 5 years and up, but it has no age limit. The seat is spacious and can even be used for adults.
It can carry around 200 lbs of weight and maximum head height is 29" – 30". Moreover, the height of the seatback is 27" while the seat size is 18" x 15" which is the width and depth respectively. The seat to footwell size is 17" and the handlebar height is 40" from the ground. The size of the wheels is 16". When folded, the stroller dimensions are 68" x 30.5" x 41" (L x W x H). However, the folded stroller dimensions are 20" x 30.5" x 53". The total weight of the stroller is 30 lbs.
For me, strollers for special children are a very important topic and most websites overlook it. I wrote this article specifically for parents who need a specialized stroller for a child with special needs. I hope it helped narrow down your options. Remember that these strollers are very different from regular big kid strollers.