If you are one of those parents who are in the hunt for a stroller for your child, but it has to be top-notch, reliable, safe and comfortable. We have got you covered to find the most reliable stroller among parents, after going over reviews, comments and extensive research.
There is an array of the stroller to pick from for your big kid! No need to stress about finding the right brand with all the necessary features, with all the tests carried out to ensure the safety and protection of your child.
No weather needs to stop you from enjoying you, and your child from a fun stroll at the park. No more saying no to playdates at the park with your kid's park friends, just because you could not find the perfect stroller! We have narrowed down a list of the best stroller for big kids by closely considering parent reviews and most bought strollers.
The old stroller that you had invested a long time ago has been outgrown by your growing champ? Well, no worries you could reuse the old stroller for future kids, or donate it to someone who has been looking for one. Be the knight in shining armor for someone.
You never know which good deed becomes your very own blessing in disguise. We might as well make you choose your very new stroller for your fast-growing kid, who does not like their angel grow into the beautiful individual we see them as.
Any parents' dream is seeing their child grow out of their old stuff, and be bigger and stronger than their fellows. Even if your child has outgrown their previous stroller, it surely does not mean they are not the same newborn baby you brought from the hospital, yesterday. It is as if no time has passed and you went out to lose your pregnancy weight with your munchkin.
They might have grown-up to be the energetic fun-loving 4 or 5-year-old, but that does not mean they would miss a ride. Any kid would be excited to ride a stroller and spend quality time with their parents.
Moreover, a stroller is surely not only for fun and games but can be utilized in other times of need, such as going to school. There are times your child might feel tired or exhausted from playing all day in the schoolyard, and walking home might seem a hassle.
This is the perfect opportunity to take out your stroller which you bought for your big kid. Make their life a little easier, and give them a ride on their very on a chariot, a ride to school, or home. No more hearing fuses from the little one walking all the way home on their tiny legs, as they might not be able to walk the entire distance.
Also, not many parents are lucky enough to have a school near to their home, so using a stroller is the best option to opt for. No need to drive all the way, besides it will only contribute to pollution, because of carbon emissions.
Furthermore, some of the parents might be in a distressful time in their life, as their child may have gone through some surgical procedure. The medical procedure might have inhibited the child from overexerting themselves while walking, so spin on their stroller better cheer them up!
Also, they do not need to walk all the way to someplace, they can comfortably relax in their stroller while you push them around. Sadly, for some parents, a stroller might not be a luxury item, or for convenience, but a necessity, because their child could have some medical condition.
The medical condition might make it tough for the parent to carry their angel everywhere; therefore, investing in a stroller is perfect. Make your life a little easy with all the stress around you after your child's suffering. We are here to help you out regardless of the reasons you are willing to make an investment in a big kid stroller.
The right stroller for your child is on our list with diverse features, height and weight limits. There are 15 big kid strollers along with 2 wagons that are alternatives but serve the same purpose. Hopefully, we are able to make your decision easier.
Invalid table id.
Best Strollers for Big Kids
These redefined strollers are specially designed to accommodate big kids. If you are wondering what the weight limits these strollers can uphold, well we got you covered on that part. They have been designed and engineered to easily carry a tremendous weight of 75 lbs to 50 lbs. Moreover, if your child is slightly bulky and taller than the rest of his peers in his preschool, and loves to take a stroll to school.
Then, this is perfect! Strollers have a higher weight limit to keep their customers' service satisfied and use the product longer, with a longer seat feature. Just to make life much more convenient for you and your child, once you land hands on these amazing strollers. We have in store for our 17 best-rated strollers for big kids:
Umbrella stroller for big Kids
The new trend-setting strollers in the market, popular among many parents nowadays your very own Umbrella stroller! If you are among those who have not had the chance to look into this particular product and understand the massive increase in popularity.
Well, we would like to inform you that they are the next perfect stroller for your monthly family trips, sudden travel plans, or just a simple day trip. No more stress over how to explore the National Reserve Park with your kids, without exhausting the little munchkins.
Umbrella strollers seem to fit the category of easily packable, and easy to carry as they are super lightweight. Any parent would understand the tremendous amount of difficulty one faces while you are handling a big kid, who has a mind of their own.
Therefore, the manufacturers have made life easier for parents, as they have introduced a new foldable technology. This very advanced technology has made it so compact that it can easily be fit into the carry-on luggage compartment when you are on your next airplane ride. No better way to spend time with your child, other than explore the world together!
We would like to shed light on the idea that not everything small, compact and lightweight necessarily means it is of low quality or has fewer features. You need not worry about bad quality, or not getting your money's worth, we have done extensive research.
After going over many models, we have decided on an umbrella stroller to be fit for your little angel! It does not matter if your kid is light and small, or bigger than most, we have an array to pick from. The umbrella stroller accommodates all weights and sizes. Comfort and safety are not compromised, even after making a new and improved compact lightweight stroller.
1. GB Pockit Plus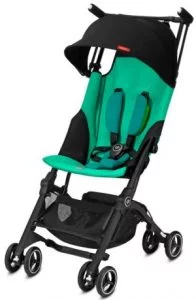 You no longer need to worry about your kids who are a bit older. The GB Pockit Plus has you covered. This lightweight stroller is perfect for kids who are not only older but also taller. Moreover, the seats are also wider which is unlike all the other conventional strollers. Parents are always searching for the best of things to provide their children. Hence, many parents were looking for upgrades in the strollers they had to buy.
This stroller meets all their requirements while staying small, portable and easy to handle. However, Pockit Plus is still approximately 3.5 lbs heavier than the last version. Nevertheless, it still managed to stay lightweight. Due to this, it is extremely easy to lift because the total weight is not more than 13 lbs. One difference between this and its previous version is that this upgraded form is slightly bigger in size when folded. It is around one inch wider in each dimension.
Nevertheless, it takes up very little space which is convenient if you have a small living space. Furthermore, it is so easy to store. You can stow it under a restaurant table and even keep it in a small car behind the seats – it is all smooth and continuous. You do not have to worry tirelessly anymore on how to store your baby's stroller properly without damaging it. It is a flawless design that has won the hearts of its customers. Thus, topped our chart for a stroller for big kids.
If you are looking for the comfort of your child, and convenience in carrying a stroller. GB Pockit Plus is your best shot to the perfect stroller in 2023. This stroller has a very own folding mechanism which allows it to be folded into a compact size, as little as to be easily fit into a handbag. Imagine! A compact stroller that has a space for resting, for your toddler while on a walk. When the 5 or 4-year-old is well rested and ready, you fold it back into your handbag.
Moreover, what caught our attention from other strollers was the completely redesigned canopy of this big kid stroller model, GB Pockit Plus. If you are wondering whether your child would be safe from all the UV rays on your hike, or one day trip? No need to worry any longer. It has the most amazing canopy,
which is larger in size and rounder that allows it to do its particular job. It ensures the baby is protected from the dust, wind and sun. Even though the canopy is not as long as expected, but it seems to do its best work in the most vertical position.
A reclining backrest is the additional feature in the GB Pockit Plus model because the manufacturers decided to provident the best comfort and relaxation. Had a long night with homework, or a dinner with family? Your toddler did not sleep well at night and needs to take a quick nap to their school ride.
This reclining backrest can become their very own portable moving bed on wheels. Moreover, planning your baby's first-ever Disney playdate? Having second doubts about your little explorer being tired? Well, this handy dandy stroller with the amazing reclining technology, makes life easier in times of need where your child is tired.
Henceforth, if you thought they had missed one of the most essential features parents look for in a stroller, such as storage unit, and small wheels. The creators of this legendary stroller for big kids have got your back. They are still ensuring the parent demands are met, or even improving the demands to a notch.
Also, if you are not one into lifting, or pushing heavy objects, this GB Pockit Plus makes dreams come true. It is easiest to push on not so smooth terrain. Any place with flat, paved, titled, or marbled ground, such as park paths, malls, airports, etc. The size is a key feature to attract a customer base, as they can easily maneuver in tight and narrow spaces, such as mall aisles, crowded airports, or even the sharp corners of museums.
What do other parents think?
The new and improved version, GB Pockit Plus is quick to get fame and increase its fan following. But the parents are either in love or not raving about this new ravishing stroller. The reviews have narrowed down the parents think this is worse than the original stroller.
On the other hand, some parents are totally in love with it and have raved about this new old to their friends, and other parents. Moreover, if you are looking for proof and need to be sure about a model before purchasing this stroller, you can check out Amazon. There are customer reviews that would make it easier for you to choose, wisely! We have taken out to look over the model and gathered pros and cons for you, after extensive research.
Keep in mind
Any explorer, who wants their baby to experience the woods, or see the sunset from a high point after a long trek on a bumpy track. Well, this stroller would be your worst nightmare, as it is especially not sufficient for bumpy surfaces. It has the same non-existential suspension system and wheel as the previous model. They too were not suitable for a rough surface, and this model as well.
3 Reasons Why You Will Love GB Pockit Plus
A perfect stroller for big and taller kids than their fellow age fellows. The seat in this model can easily accommodate your kid, and provide a warm, cushioned hug while on a stroll in the park.
Wondering if after buying a stroller, could you go to the coffee house, sit and relax? Well, your prays have been answered, while you unwind and your child sleeps. The stroller can easily be folded and kept under the table; moreover, can be super folded to fit into a handbag as well. This feature makes its customers happy and content.
No more worrying about carrying your kid all day in their favorite theme park, and returning home with a backache. Day-to-day trips and travels have been easier than ever. Even after your angel being able to walk, sometimes feels tired and wants to rest. Now, they have their very own stroller to take a quick power nap, besides you can enjoy with your significant other while your baby sleeps.
2. GB Pockit
One of the main highlights of this fancy colored and clean looking stroller is the weight. The GB Pockit is the lightest stroller in the market for big kids, with weight as less as only 9.5 lbs. Even after being one of the most lightweight strollers, it can still accommodate a weight of up to 55 lbs.
if you want to see wonder in the folding world. This stroller will amaze you on how tiny a stroller can be folded into a tiny package. This lunchbox size packed stroller can easily be fit into a hand-carry compartment, on an airplane, or bus. Moreover, this stroller is light and compact can be carried in your bag with an effort, or hassle.
Wondering which is the perfect travel stroller for big kids? After careful analysis, we can assure you GB Pockit has managed to make it in this list by after the most suitable features a traveling parent demand. Any urbanite would understand the fast-moving world, and wants their child secure and protected when on the run to success.
Therefore, the demand for a lightweight and small in size, but made from top-notch material is a necessity. Any urban parent would want a stroller for their big kid to at least the last 3 years, or more. This design is sturdy and good to take on the everyday challenges of the world with a head start. We have seen parents wanting a stroller to serve their growing angel, with plenty of space and comfort.
Sharing a personal experience, my daughter when was 3 years and around the weight of 38 lbs and 38 in had enough space to wiggle and play around in GB Pockit. This stroller becomes my very own option after going over the parent reviews online, which convinced me that any 4 to a 5-year-old kid can fit, easily. Moreover, convinced me that this is the stroller of my dream, and would be adequately fulfilling the purpose to the greatest.
Besides this, if you are wondering would all the essentials and toys of your baby would go in this compact stroller. The manufacturers have kept in mind the importance of storage space; therefore, made the big stroller design specially designed with a basket beneath the seat. This storage unit can uphold up to 11 lbs of all the important stuff you require for a day trip, or just an evening stroll.
Even though it is a small stroller, but comes with all the perks and upgrades of a heavy and big stroller. We did not expect much from it, but apart from its convenient weight, it has lockable front wheels. The fore wheels with the locks and pivoting power make it less easy to be swiveled; moreover, increase the handling and maneuvering power.
Also, on uneven surfaces, the locks on the wheels make it stable and the ride less bumpy. It is an important feature that many hiking parents look for. Your very own GB Pockit model has an amazing navigation system, along with a convenient push system that allows it to be handled easily in narrow spaces, such as aisles, airports, etc. No need to worry about getting stuck in crowded places. We have got you covered with this new model.
What do other parents think?
From one parent to another, we have gathered all the thoughts, reviews whether positive or negative about the stroller. We have it for you! There is no harm in knowing what other parents have to say, better safe than sorry.
There are about a couple hundred reviews on Amazon, which either rave about the GB Pockit, or complain. So, we made it easier to pick. Here is a list of pros and cons to make your decision a little less reckless, because having the knowledge before buying is smart.
Keep in mind
If you can not give up your adventurous hikes with your kid, or have an unpaved way to your kids' school. This might not be the stroller for you, since it is not as smooth as it is on flat surfaces. The small wheels can get stuck easily on rough terrain.
Furthermore, if you thought you would be lucky enough to land a reclining seat mechanism in this model. Sorry to break it to you, but this old version of GB Pockit does not offer a reclining seat, only the new model, GB Pockit+ has this feature along with others.
The newer and improved model in a higher budget range has a multiple position seat reclining position, along with an infant car seat. Besides if you have a little more to invest a stroller, this would be better.
3 Reasons Why You Will Love GB Pockit
If you were hunting for a real space saver stroller, this might win your heart. It can easily be folded into your bag size or kept in the storage room of your small apartment. Or if you don't have a storage unit in your apartment, you can easily keep it under your bed, It does not take up a lot of space. Also, can be folded and kept under the shopping cart while on a weekly grocery trip.
No problem accommodating a big kid, as old as 5 years. Even though it is a lightweight stroller, but it can withstand the weight of your child with ease. No need to worry about the child's comfort, the manufacturers of GB Pockit have you covered.
Light and compact design with all the features a traveling stroller should have. It is perfect for your chubby little angel on a trip.
3. UPPAbaby G-LUXE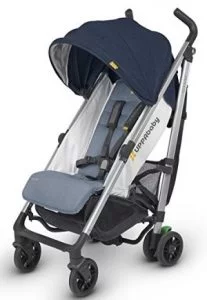 Even though this stroller is among the expensive strollers, but we thought this deserves some recognition. We included it in the rankings because it deems to be in the top, as it has topnotch features.
This stroller is made from durable and tough material, which makes it sturdy enough to hold the weight of a child up to 4 years, easily. Moreover, we were impressed with the impressive seat design that has a 20 inches long backrest, and a seat as deep and wide as 13 inches.
Also, under the canopy, there is an extra 7 inches to make your tall child sit comfortably with touching their head to the canopy. There is plenty of space for the big kid to sit and relax. This is a good sign for a big and taller kid than his peers to sit easily but may not have enough space for a quick nap. As there is no head support above the 20-degree angle at the back to keep their head.
Furthermore, speaking from personal experience my daughter loves to ride in her G-LUXE stroller after a long day at the theme park. Sometimes, she is tired of school and wants to relax, so my 4-year-old does not mind to sit back and relax. After going over customer reviews, it came to our attention that the model before this one was preferred greatly by parents with children older than 2 years.
The reviews shed light on how the seat is spacious enough to fit a 4-year-old kid with ease because the seat is comfortable and roomy. Besides looking over other models of G-LUXE, the 2018 model is perfect for big and tall kids, as it can withstand 55 lbs without any issues. Moreover, it has many great features, but this model is better. We would recommend you to buy this one instead of the model other than the 2018 model.
If you are wondering what is the benefit of one front wheel design that this new model has to offer? Well, a single fore wheel design is beneficial while pushing the stroller on not so smooth surfaces, such as gravel. But this does not mean it can withstand the bumpy terrain without causing some discomfort to your child; therefore, G-LUXE 2018 is not suitable for uneven terrains.
On the other hand, pushing the stroller on flat surfaces is easy. The canopy design comes with additional features after its upgrade. The canopy has its very own 3 extendable panels which give maximum protection from the sunlight. Furthermore, the extra sun visor can be popped out any time to give maximum protection to your little angel.
If you are an avid coffee drinker and were finding a stroller with a cup holder already installed, and not paying extra for additional accessories. This stroller has a cup holder, along with other useful features, such as a single-handed reclining system and an all-wheel suspension system.
Imagine all these convenient features in a single stroller. Amazing, right? Also, with weight as much as just 16.3 lbs it more than convenient to carry it on your shoulder with the very inclusive convenient strap. Henceforth, the folding might take days of practice to ace it in the first go, but with the time you will be managed in no your first attempt.
What do other parents think?
Moreover, this model UPPAbaby G-LUXE 2018 is up for grabs on sale price since winter 2018, but not a lot of views are available online. It seems to gain more popularity with time. You can check reviews on Amazon and make your decision on whether to buy It or not.
The previous model of G-LUXE has been reviewed over 200 times, whereas this model has not been on the market for long. It does not have many reviews online, as it was launched sometime around winter 2018. But this surely doesn't mean it isn't of good quality with many advantages. Time will tell its worth. We have highlighted the main drawbacks and praises for this product below:
The advantages outweigh the disadvantages. For more customer reviews and the latest prices fo the UPPAbaby models, check out on Amazon.
Keep in mind
A point to remember, this is the priciest stroller that made it in the list for big kids, even though it is lightweight among them.
3 Reasons Why You Will Love UPPAbaby G-LUXE
It has a self-stand which takes up minimum space, even though there are strollers that can be folded into the size of a small box. Those don't take as much space in the small apartments, but the self-stand requires less space as well.
The seat is wide, deep-set and long enough to easily accommodate a bigger kid. Moreover, it has a high weight limit which makes it a perfect fit for big chubby kids.
The manufacturers of UPPAbaby G-LUXE guarantee a topnotch stroller with high-end materials and fabrics being used to make it.
4. ZOE XL1 BEST v2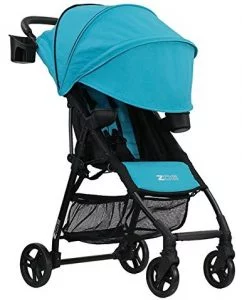 This stroller made the list of lightweight strollers for big kids with the least price and getting all the wonderful features of an expensive one. If you are wondering if it could be folded up into a compact size to fit under the restaurant table with ease and open up seamlessly.
The manufacturers of ZOE XL1 BEST v2 has got you covered on all the closing and storing stroller problems. Life has been made easier, whenever you go out as a family to your child's favorite ice-cream parlor, or a trip to the museum, or one day trip in the train.
No need to worry about space issues, this model can easily fit into t into your small car trunk, because of the compact fold. Moreover, if you are worried about carrying it around, it is almost weightless. It weighs about 11 lbs that makes it much more convenient to carry without the extra hassle.
The seat is the child's very own cushioned safe haven, that can recline up to 165 degrees. A deep reclination at a cheap price, along with a large canopy to protect your child from harmful rays. Even though the stroller is small and compact, but the canopy size is huge enough to cover your child till the knees, easily!
Reviews have got us assured that a 4-year-old big and tall kid can easily fit into this roomy stroller. There is ample headspace for your kid to sit back comfortably without hitting their head on the roof of the stroller. This significantly cheaper stroller has the same fore wheel suspension system as any expensive stroller, along with small, lightweight wheels.
After reading reviews and conducting a few experiments, we would highly recommend to not to take this stroller out on unpaved paths. Any uneven surfaces would make the stroller bounce. But on the other hand, it can easily be maneuvered on a paved surfaces, indoor floors, and sidewalks.
Any parent would be lucky to land a stroller in this price range, but imagine all the accessories you would most likely pay a lot for in other strollers for big kids? Well, we have some great news!
There are many accessories already inclusive in this amazing price, such as a belly bar, parent cup holder, child snack cup, and child cup holder. Only under the price range of fewer than 150 dollars. For further details, you could look at other reviews and comments regarding the new model, ZOE XL1 BEST v2.
What do other parents think?
After reviewing as many comments and customer reviews on Amazon about ZOE XL1 BEST v2, we are able to gather the pros and cons of this product. We tried making it less of a hassle for you to pick and choose, but not every parent raved about the same features. Since, some of you would still like to go over the reviews on Amazon yourself, below is a link to visit and check out customer reviews.
Keep in mind
Another point to note before getting your hands on this model, ZOE XL1 BEST v2 that the storage unit beneath the seat is not made of a stiff material. Instead, it made from a mesh material that makes it less durable and delicate. On the other hand, many parents preferred a single action brake, but these are not any major drawbacks that would make us change our minds about this lightweight stroller for big kids.
3 Reasons Why You Will Love ZOE XL1 BEST v2
This is the perfect choice for any parent on a tight budget, and are desperately in need of a stroller for their kid.
If saving money was among the top priorities, along with getting a topnotch stroller for big kids, with an array of selected accessories in a low budget. This stroller is an excellent option for reconsider, as it comes with accessories, such as cup holders for child and parent, snack cup, etc.
Perfect for your 4 to a 3-year-old angel to enjoy a day trip. It could be a simple one day trip to the theme park, or a road trip to the carnival two towns ahead.
Full-sized strollers for big kids
Wanting a lightweight umbrella stroller? Why not? They are convenient to carry around, as they are easy to lift due to their lightweight, but not providing all the features any full-sized stroller would have.
Therefore, we wanted to give you the option to choose from light and awesome full-sized strollers for your older child, with an extra weight limit and bigger and longer seats for your child. We have a list of 3 top strollers that caught our eye for toddlers.
5. Baby Jogger 2016 City Mini GT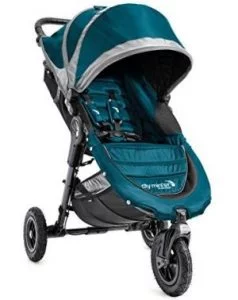 This stroller for big kids is the perfect match for a metropolitan lifestyle, with a maximum capacity of around 65 lbs. This weight limit is among the high points for an average stroller; therefore, it can easily be used for your tall and big child.
Also, shockingly it seems to have the longest seat size that we have yet, witnessed on the market. If you are tall and your child is genetically going to be taller than his fellow age kids, so no worries.
This stroller can easily accommodate a kid to sit comfortably over the 40 inches while sitting, and not touch the roof. Plush fabric is used to make very cushioned and safe seats. Furthermore, there are adjustable seat reclination, adjustable seat belt heights, along with the canopy to adjust according to the time of day. All these adjustments to provide a perfect and comfortable ride, for your angel.
Also, not many strollers right now provide a footrest, but the creators of this stroller, Baby Jogger 2016 City Mini GT has made it a mission to provide comfort in all ways possible. If you are one of those parents concerned about the rise in global warming, and the harmful UV rays it brings into the atmosphere. Well, no need to worry as parents raved tirelessly about the extendable huge canopy which provides a 50+ protection from sunlight.
Now, strolls in the park are not so worrisome on sunny days! Not many lightweight stroller comes with a peek-a-boo window in the canopy, to keep an eye on your precious angel, while on the run to grab your morning coffee.
This isn't any fancy stroller that you can pull out for a fashion event, but it is an everyday stroller. You can run your errands on a day-to-day basis wondering where to leave the stroller or shop with your baby, and even use public transportation. Save the environment by using public transportation, instead of calling a cab, or taking out your car, for every errand.
Even after being the lightest stroller in the market, it has big stroller wheels. Life has never been easier, as it makes it easier to handle the stroller on all kinds of surfaces, whether rough or smooth. Now, grass tracks or unpaved roads are not an issue. This might be the best full-sized stroller in our opinion for big kids. The adjustable handlebar another crucial feature a lot of parents demand in a stroller.
This is because not a lot of parents are of the same height, one might be taller than the other. Therefore, for both the partners when taking turns on pushing the stroller can adjust it according to their comfort and convenience. Also, the hand-operated brake helps you achieve maximum control of the stroller. You can at any time easily stop and slow, down immediately.
Looking for a patented folding mechanism? This stroller, Mini GT has got you covered. Besides, this is the most interesting and convenient folding mechanism, as by just raising the strap the stroller self-folds. Henceforth, the self-locking technology makes the stroller a winner, as it stays in its place while transportation and storage.
Another interesting feature, the strap in the seat's center can be used to carry the stroller. Moreover, it weighs around 22.5 lbs which is not that heavy and can be easily carried. Also, surprisingly when folded it can be more compact than a lightweight stroller. It takes less space, then!
What do other parents think?
Ongoing over the reviews many times, Amazon had over 150 reviews and not a shocker majority are positive. It has gained massive popularity as a stroller for big kids. After intensive research, we have gathered some advantages and disadvantages for the stroller. Even though the praises are moreover the complaints, such as:
Keep in mind
If you have a child who likes to look around and observe the environment, an upright position is a must. But this model's most upright position is not straight enough, for your child to see the world through his/her explorer's eye. Moreover, you could go over your allocated budget after buying all the necessary accessories.
3 Reasons Why You Will Love Baby Jogger 2016 City Mini GT
If you are distress about the medical condition of your child, who has difficulty walking for a long time, and carrying is no more an option; as your child has grown to be tall and bigger. This stroller has heard your prayers, as it is roomy, because of the tall canopy. Any tall, or old kid can easily fit in and enjoy their ride in this stroller.
The design has outclassed our expectations, as it is compact, slim and folds with ease. It makes tops the strollers in the market, due to the convenient design for the toddler.
Also, ease to push even with a variety of height of parents, with a child as big as 4 years old.
6. Britax 2017 B-Agile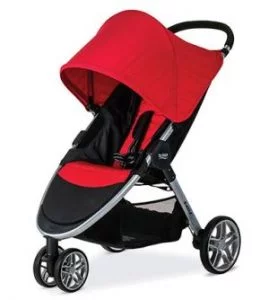 We are in love with this lightweight stroller, that weighs around 18 lbs just a bit over the umbrella stroller's weight. Moreover, a lightweight stroller has a massive capacity of 55 lbs to carry the weight of a healthy child. The creators of Britax 2017 B-Agile has made it lighter and easier to carry by using an aluminum frame.
The 3-wheel design with dual and sturdy fore wheels makes it wonderful on rough terrains, such as city sidewalks and gravel tracks. Looking for a tight turning radius, and easy maneuverability? Well, this stroller has both, along with all-tire suspension for a super smooth ride, without any bumps. The brake isn't as easy to use, but it allows the stroller to not wobble and stand in its place.
The peek-a-boo window in the huge canopy makes it a great lookout on your child, as it is made of mesh. It also provides ventilation for your child, apart from protection from the sun's UV rays. Britax 2017 B-Agile provides a multi-position reclination to choose the best position according to your child's comfort and requirement.
Moreover, this special design has a large mesh storage unit beneath the seat which is readily available to hold all the essentials of your baby. Even so it's big enough to accommodate your shopping bags with ease. It can single-handedly be folded.
What do other parents think?
Before purchasing anything it a must go over the customer reviews to know the pros and cons of an item. The reviews we found online were by a landslide positive, as most of them had 4- and a 5-star ratings. It has upheld its promises and become the top-selling strollers in the US. After going over more than 100 reviews, the advantages and disadvantages are as follows:
Keep in mind
Parents have mixed reviews about the reclining ability of the seat, as parents suggest it could be better in the upcoming models. Moreover, the seat needs to be evenly pulled and adjusted, or else the seat will be lopsided, but it is easy to recline. Not much of a hassle.
3 Reasons Why You Will Love Britax B-Agile 3
It is quite easy to push the stroller, remembering it has a big kid in it.
It can easily accommodate a 40-inch child tall, which means around the age of 3 years it would be the best option to choose from.
There are many discounts available on this model, and it is not on the hefty side of the price range in big kid strollers.
Double strollers for big kids
Do you have twins? Are they taller than most other kids their age? Do you need a double stroller for them? I found some double strollers with a high weight carrying capacity (100 lbs) and seats that can carry tall kids. Here are a few options.
7. Baby Jogger 2016 City Mini GT Double Stroller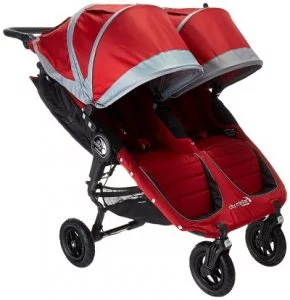 This stroller is excellent because of its versatility. You can use it on all sorts of terrain. It weighs almost around 32.6 lbs which is quite a lot, but do keep in mind that it is still a double stroller. It can hold a weight of 50 lbs per seat. The height from the seat to the canopy is 21 inches which is a lot as compared to other strollers. Many parents have reviewed that even kids that are 4 – 5 years of age can fit inside.
Definitely a stroller made for big kids! The rubber wheels are made in such a way that you can use the stroller on smooth pavements and sidewalks as well as rocky roads. It comes with handlebars which can be adjusted easily so both tall and short parents can push with ease.
Moreover, it can accommodate infant car seats and comes with a brake that can be controlled with your hands. Furthermore, the seats can recline individually and the canopies can also be adjusted individually. Both canopies come with peek-a-boo windows. And the best part is that the stroller folds itself! This makes life a hundred times easier.
What do other parents think?
When I checked it on Amazon, it had more than 100 reviews. This is what most parents think
Keep in mind
This is NOT a jogging stroller, despite what the name suggests.
3 Reasons Why You Will Love Baby Jogger City Mini GT Double
Can be used for kids of different ages as well as twins. Has a great balance, so won't topple over.
Very easy to maneuver and push
Can hold around 100 lbs. the high seats can carry tall and chubby 3-year-olds or an average-sized 5-year-old.
8. Maclaren Twin Triumph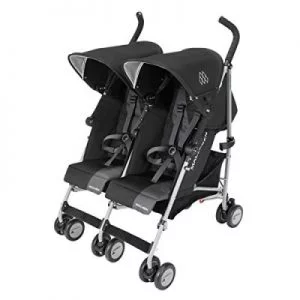 Children fill our lives with so much joy but they grow up so quickly. It seems like they were just born yesterday. However, no matter how much happiness they bring us, it still gets a little difficult when finding the correct stroller comes into question.
There must already be enough worries in your life, from taking care of the kids to taking care of the house, to looking after yourself. You no longer have to worry about a mere stroller! The Maclaren Twin Triumph has you covered.
It is one of the best strollers out there for older kids, if not the best. The best part is that it can accommodate two children. Having twins can be so tiresome, especially when you have to carry both of them at the same time. Well, you should better take a sigh of relief because this stroller can carry two kids!
Moreover, it does not matter if the children are chubby or round. You don't have to sacrifice your comfort at the stake of your baby's cuteness because this stroller can hold a child of up to 55 lbs. It is really tough to find a stroller which has such a wide range of weight limit.
Its combined weight holding capacity is 110 lbs which are unlike any other stroller in the market. Furthermore, the basic weight of the Twin Triumph is only 21.2 lbs which is an excellent weight for a double stroller and makes it easy to handle.
Another good news is that the Maclaren Twin Triumph might actually stay with you for a very long time. You can literally use this stroller from the time of your kid's birth up until the baby goes to school. This is only a one-time investment and you will not have to spend money on a stroller again and again.
Buying this stroller would be a great way of saving up on some well earned, well-needed money. Even children who are 4 years old and 40 inches tall can easily fit into this stroller without any difficulty.
The children would not have to squeeze in, thus, preventing pains in the leg and back and without compromising on the child's posture. The stroller even has a footrest which adds on to a comfortable ride. This is definitely one of the best strollers for kids who are tall.
Furthermore, this weather-friendly stroller is ideal for rainy days. The canopies are made out of a waterproof material which would prove to be helpful on days when you have an important task and cannot leave the babies alone, but it's pouring down in torrents. Moreover, the canopies are adjustable which means that you can bring them forward and quite low which further adds on to the protective element of the stroller.
This multi-purpose stroller is not only effective on rainy days but also on sunny days in the middle of June. We all know how unbearable the heat of the summer can be, thus these large canopies also provide protection from the heat and harsh glare of the sun. Furthermore, it comes with UPF 50+ which gives extra protection from the sun.
With the ozone layer depleting and global warming at its peak, the sun rays are having multiple adverse effects on the population. Moreover, there is more exposure to ultraviolet radiation than there ever was before.
This can not only lead to premature aging but can also cause skin cancer. The UPF 50+ canopies ensure that your child's sensitive skin and eyes are protected from these harmful rays. The peek-a-boo windows also allow you to keep an eye on your child.
The seats can recline and can also be adjusted in four different positions. It also has a leg rest which can extend quite far. Thus, proving to be comfortable for tall kids especially. Twin Techno boasts six dual wheels, which makes it the best option for flat surfaces and smooth terrain. The large mesh basket under the stroller provides a large storage space.
You can keep so many different items in there, from the babies' essential items to your purse, and even a few large shopping bags! This stroller is the best option if your child is older or if you want a stroller for both, a big kid and a baby. This is because the stroller has two different seats instead of a single large one for both babies. It is an excellent stroller for everyday use. You can use it in parks and playgrounds, as well as on your shopping trips with kids.
What do other parents think?
Many parents have given their reviews on Amazon, this is what they think.
Keep in mind
Although the stroller works ideally on smooth and flat roads, it would give you a lot of trouble on bumpy and rocky terrain.
3 Reasons Why You Will Love Maclaren Twin Triumph
The seat is large enough to accommodate an average 4-year-old kid. Moreover, it has such a wide weight range, hence it can easily be used for toddlers who are generally heavier than other kids their age.
It is lightweight, and thus extremely simple to manage and maneuver. This proves to be helpful especially when you have to travel with kids who are not only older but also heavier.
It is ideal to be used as a travel stroller for larger kids or even as an everyday stroller to be used in the city.
9. ZOE XL2 BEST v2 Double Stroller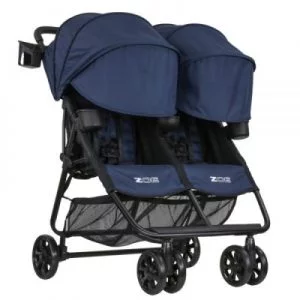 City life can be extremely tough and asks a lot from you. The large crowds, the traffic and the smoke can really take a toll on your body. What you do not need is another stressful day trying to push through the crowds with a stroller that is carrying your children. The ZOE XL2 BEST is surely the best option as the name suggests.
It is a double stroller and is extremely lightweight. It only weighs 17 lbs which are unreal for a double stroller. Most strollers in the market definitely weigh more than 17 lbs so buying this stroller can be a great deal.
Furthermore, the fact that it is perfect for big kids too just adds on to the whole package. Having two kids does not mean that you have to cut down on your wishes or the things you want. You can still enjoy your life and take time out for yourself.
You wanted to take that trip to the Bahamas or did you want to enjoy some time in Venice? Were you planning on taking your kids to Disney World in the summer? You have nothing to worry about!
All those dreams about family trips would become a reality with this stroller because it is perfect for travel! Moreover, it is also a great stroller for going about and running errands in the city. Sometimes, you can get a call from your family telling you that they are paying a visit in the evening.
There is nothing in the fridge to serve them and you cannot leave your children alone, so what do you do? With the ZOE XL2 BEST, you can simply place your kids in the stroller and go do your groceries. This way, your work is done and your kids can enjoy some fresh air as well.
It is advised that the weight you put on the stroller is approximately 50 lbs per seat which makes the total weight carrying capacity of the stroller to be around 100 lbs. This stroller has extremely long seats which is an important feature. The bottom of the seat up to the canopy measures 23 inches. Passengers who are 3 to 4 years in age can also be accommodated by this stroller.
The ZOE XL2 BEST is extremely light in weight which is one of the things I love about the most. Nevertheless, this is not the only admirable feature. Despite being lightweight, it is still extremely durable.
It is made out of an aluminum frame which adds on to its strength and long-lasting quality. Furthermore, it can fold very easily and quickly. Many parents complain that they have to spend a lot of time in order to just fold the stroller and this can prove to be very inconvenient.
You don't have to worry about such things at all neither would you have to spend five minutes outside your car or outside a shop trying to figure out how to fold the stroller while a huge line of people wait for you to be done. With the ZOE XL2 BEST, you can save yourself the embarrassment and the time! Moreover, the two-child cup holders can hold your kid's sippy cups and bottles.
There is even a parent cup holder so that you can enjoy your coffee or any other drink that you like without having to worry about it spilling. You will not even be fussing over pushing the trolley with one hand while holding a coffee cup in the other. Another great addition is the belly bar, but it does not just stop here! The belly bar comes for free!
The stroller comes with huge sunshades which can be extended forward according to your own liking. Moreover, it also has storage pockets which further adds on to the convenience of parents. You can keep a lot of your essential things in here such as keys, phone and wallet. Usually when out on walks or strolls, a major worry of parents is losing their valuable items.
This pocket helps you keep all your items safe. The stroller also boasts large canopies that have peek-a-boo windows. These windows allow you to keep an eye on your child. Moreover, the windows have a magnetic opening and closing system, thus your children won't even be disturbed. It is such a hassle to open a window manually, it may get stuck or make noise, all of which can cause a disturbance and ruin sleep for your kids if they are taking a nap. However, with the magnetic peek-a-boo windows, this will not be a problem at all.
The wheels of the ZOE XL2 BEST are truly the best! They can rotate and thus roll extremely smoothly which makes pushing it and maneuvering it a task that parents look forward to rather than run away from. However, this is not an off the road stroller. It works best for parents who are living in the city and need to keep an eye on their kids but do not have to move around on rough terrain.
What do other parents think?
This stroller is extremely popular! You can see how many reviews it has by clicking here. Following is what other parents think.
Keep in mind
Despite the fact that the stroller moves easily on pavements and smooth surfaces, it is not perfect for off-road strolling.
3 Reasons Why You Will Love ZOE XL2 BEST
It is the most lightweight double stroller in the market for big kids. It is super simple to carry and even push which is a must deal when working with two older kids.
Accessories are included in the entire package so you don't have to spend extra money on essential items. This might not be the case with other strollers out there. The money that you save can be spent on other important items for your baby.
This is a multipurpose stroller. If you are searching for a stroller that you can use on vacations or day-long trips, a stroller you can use within the city when going out for a casual stroll or shopping, then the ZOE XL2 BEST is ideal for you.
10. Maxi-Cosi Dana For2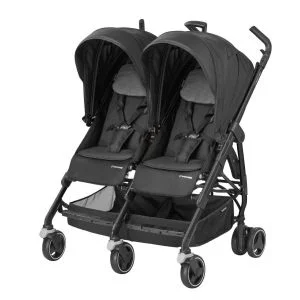 This double stroller is ideal for kids who are slightly older. This is because its minimum weight carrying capacity is approximately 50 lbs per seat. This means that both the seats together can hold a combined weight of approximately 100 lbs. The most difficult and time-consuming task is trying to find a perfect stroller for older kids but with the Maxi-Cosi, all your worries can fly out the door!
This stroller is ideal for older children, even children who are up to 4 years old. Moreover, there is so much room inside to ensure that your kid is seated comfortably. There are 23 inches from the very bottom of the seat to the top of the canopies! Thus you do not have to stress about your kid having to squeeze in or sitting in a bad posture.
Wave goodbye to leg and backaches, say hello to comfort! This baby stroller is also extremely ideal if you have two kids of different ages. I know how difficult it gets when trying to manage two kids altogether. However, it doesn't matter if you have twins or an infant and a toddler, this stroller would work best for children of all ages and sizes. You can even accommodate one toddler seat and one infant car seat in here which is so convenient.
There are so many more ideal features that I love. One of these is the large canopies which are great for a hot summer day. We all know how hot and uncomfortable it gets during the middle of the year. Moreover, babies are really sensitive to high intensities of light.
The large canopies can be forward to cover the baby's face and protect them from any type of bright light, including sunlight. The canopies even have peek-a-boo windows so you can keep an observant eye on your children while you are strolling; you won't even have to stop to do so.
The seats can recline in multiple positions. Your kids can sit up straight in order to have a snack and watch the scenery around, or they can lie back down and have a good nap. The Maxi-Cosa Dana For2 is extraordinarily easy and convenient to maneuver and swerve around, especially on crowded streets and tight spaces. This is because the wheels roll smoothly. A parent cup holder is also included along with a large basket that can easily hold all the essential items of each and every member of the family.
Although after you have folded it, it is not exactly the smallest stroller out there, it is still way more manageable and easy to carry than most other double strollers. The Dana For2 is around 35 lbs in weight and 31.5 inches wide. Hence, it fits through normal sized doorways with ease.
What do other parents think?
I looked up this stroller on Amazon to see what parents think of it. Is it worth their money? Here are their reviews.
Keep in mind
The small wheels of the stroller works ideally on flat terrain, however, it may cause serious problems on rocky, uneven ground.
3 Reasons Why You Will Love Maxi-Cosa Dana For2
The seats are really long and the stroller can hold a large weight with ease. Thus, it is great for older kids.
Whether you have twins who are older in age or siblings who are close in age, this stroller would work best for you. The comfort of both kids throughout the travel is ensured.
The stroller can hold a total weight of up to 100 lbs. so don't worry if your child grows fast!
The current rate and discounts can be checked here.
Jogging stroller for big kids
Are you worrying because you love jogging with your little baby but he/she is growing up faster than other kids his/her age? Are you stressed because you can't find a new stroller which can accommodate your child anymore? There is nothing to worry about!
There are some exceptional jogging strollers out there for big kids because of their large weight carrying capacity. Moreover, they also have multiple recommendations. Just choose one of these many strollers and you're good to go.
11. Joovy Zoom 360 Ultralight Jogging Stroller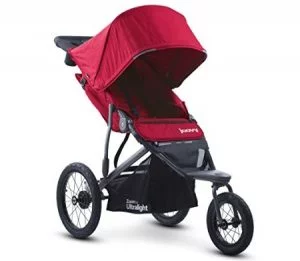 This is the most recent version of the Zoom 360 Ultralight. This stroller only weighs 25.7 lbs which are extremely less compared to other jogging strollers in the market. I think that this is one of the best jogging strollers for older kids because it can hold a maximum weight of around 75 lbs. Moreover, the long seat can carry a child that is even 44 inches long.
Furthermore, even when this stroller is holding the complete 75 lbs of weight, it is still so easy to maneuver and turn and is very tough and well built. It is also so difficult to find a stroller that can hold all your essential items and is travel friendly.
The Zoom 360 Ultralight has a mesh pocket inside of its seat. This is so convenient because you can keep your toddler's snacks, toys, books, etc in here. Moreover, it can also hold small items like your phone, wallet, keys, etc.
This jogger also boasts big wheels with air pumped tires. The back wheels are 16 inches while the front one is 12 inches. Another important feature that is really useful while jogging is that the front wheel can be locked in place. This keeps the front wheel straight and adds stability when running, especially over uneven terrain. Moreover, when unlocked, the front wheel rotates which is why the stroller becomes easy to maneuver because of the dexterity. It also then becomes easy to control it in large crowds and while turning corners.
The canopies are large and provide shade and protection from the harsh sunlight and also other high light intensities. The canopy has a peek-a-boo window which is exceptionally useful when on a run because you don't know when you need to keep an eye on your kid. With these windows, you can spy on your kid whenever you want, without causing any disturbance.
I especially like the material that is used to make the canopy. It is so light and allows air circulation. A very pragmatic parent organizer is also present. Say goodbye to fretting over losing things or items scattered in the stroller. Now you can keep your phone in a pocket that is secured with a zipper. You can even keep two water bottles in the beverage holders.
Now, the best for the last: the Zoom 360 Ultralight is definitely the cheapest stroller out there on the market today. Thus if you are tight on your budget but still are in need of a good jogging stroller for older kids, then this is the one for you. You can save plenty of pennies to buy other essential items for yourself, the baby or other accessories for the stroller. Hence, if you are short on money, don't think twice before buying it!
What do other parents think?
It is a very popular jogger among parents. The ratings on Amazon are great! There are over 200 reviews at the time of my writing this! Here is what many parents think.
Keep in mind
It is very huge and bulky even when folded, hence would probably take a lot of storage space. Nevertheless, the wheels can be taken off which makes it easier to store and carry.
3 Reasons Why You Will Love Joovy Zoom 360 Ultralight
It is extremely cheap and still made out fine quality material. Moreover, it is very sturdy.
The capacity of the seat to hold an individual is very large. It can even accommodate a 7-year-old!
It is very lightweight but still super well built. This makes it ideal for running or strolling, especially with a heavy kid!
12. Special Tomato EIO Push Chair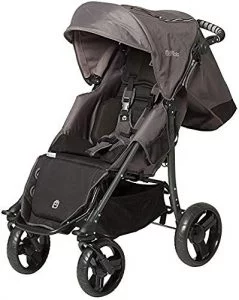 Raising a kid with special needs is already difficult. This stroller is made to make your life easier. This is an excellent stroller for kids who are older and have special needs. It ensures maximum comfort and is so easy to push around and maneuver. The weight of this stroller itself is 22 lbs which very light than most conventional strollers.
Moreover, it can hold 90 lbs. The dimensions are 45 x 24 x 46 inches and it comes with a 2-year warranty. Moreover, it is easily folded. An essential feature is the adjustable back and foot panels. You can adjust the seat at the right, most comfortable angles for your child. The stroller is made of latex-free material which is resistant to peel and tear!
Moreover, it is hypoallergenic, so the child won't have any reactions to it. Everything is padded for extra safety and the wheels are airless, so you can say goodbye to flat tires. The strong body harness can keep even a fidgety child strapped! Despite its size, it is lightweight and has plenty of storage to hold all your goodies and essential items.
What do other parents think?
Parents rate this a 9/10
Keep in mind
Despite being expensive, it is a must-have if you have a child with special needs, because it is worth the money! It makes your life easier and is a very comfortable vehicle for your baby.
3 Reasons Why You Will Love The Special Tomato EIO Push Chair
It is well padded and the harness is durable and secure
The large airless tires ensure that you aren't stranded with a flat tire.
Large storage space for all your travels.
13. BOB 2016 Revolution PRO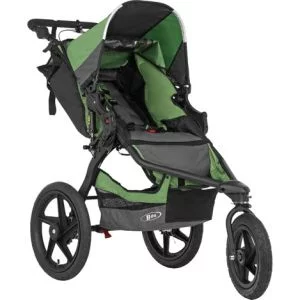 If you ask me, I think that this is the best single jogging stroller for older kids. When my daughter was 8 months old, I started making use of it. It can carry a weight of up to 75 lbs and weighs 30.5 lbs itself. It is extremely durable and well-built which makes it ideal for carrying bigger children. Due to the large wheels, it works excellently on uneven terrain, sandy beaches and cracked pavements.
The two back wheels are 16 inches while the front one is 12.5 inches. Moreover, the front wheel has two positions. It can be rotated in order to provide easy movement and it can also be locked in place for when you are running or jogging on rough ground. This ensures more stability. The suspension system absorbs all the shocks from bumps and rocky ground, so you can use this almost anywhere.
The adjustable handlebar comes with 9 various positions. You can use it comfortably regardless of your height. The foot-operated parking brake and the handbrake ensures maximum control over speed while jogging downhill. It is not exactly the smallest stroller, but it does its job which is moving easily on rough roads. The folding size matches other strollers, but the wheels can be taken off which takes less space.
What do other parents think?
This has over 100 feedbacks on Amazon and mostly all good. Here is what most parents think.
Keep in mind
It is expensive but you can save around $100 via discounts. Check current prices here.
3 Reasons Why You Will Love BOB Revolution PRO
Large carrying capacity. Can fit big toddlers.
Excellent shock suspension system.
Runs smoothly on all sorts of terrains.
Double jogging strollers for big kids
14. BOB 2016 Revolution PRO Duallie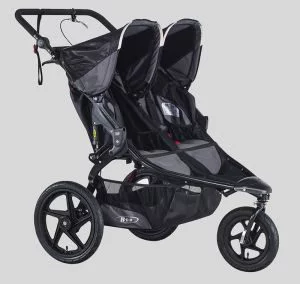 This is my absolute favourite stroller and can hold two kids of 50 lbs each. It weighs 36 lbs which is pretty fair but it is a heavy duty stroller. It works best on multiple terrains. I have jogged with this for over a year on places like beaches, snow, wooded areas, countryside etc. 
It just glides perfectly! It has both: a handbrake and a foot-operated one for maximum control. Handbrakes are essential when jogging in hilly areas. The back wheels are 16 inches and the front ones are 12.5 inches.
The front wheels can be locked in place. They can also swivel which helps in maneuvering. The tires are air-filled which are great for bumpy roads. It has adjustable handlebars and a great shock absorbing system.
What do other parents think?
These are the Amazon reviews summed up.
Keep in mind
Very expensive but definitely worth the price
3 Reasons Why You Will Love This Travel System
Foot and hand brakes make you feel safe on all terrains
Can be used for different aged and sized kids
Excellent suspension system which absorbs shock.
15. Baby Trend Navigator Double Jogger Stroller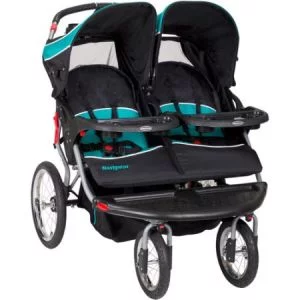 This is an excellent choice if you have twins or kids close in age. Each seat can hold 50 lbs and 42 inches. Parents even use it for 5 – 6 year olds. It has 4 wheels. The front two can rotate but can also be locked for stability. Pneumatic tires allow it to move on uneven ground.
The parent tray has storage space, cup holders and even a loud MP3 player! Two mesh windows are present under the canopy which allows airflow. The multi-position recline system gives extra comfort. The canopies' position can be adjusted according to the sun. The stroller itself weighs 43 lbs but can be folded easily. When folded, it resembles most double joggers and might take up space.
What do other parents think?
It has more than 150 reviews on Amazon. Here are some.
Keep in mind
Although it is heavy, carrying it to put it in the car trunk is manageable, even for small women.
3 Reasons Why You Will Love This Travel System
It is very popular and parents rate it highly
The maximum weight carrying capacity is 100 lbs, so it can carry two 5-year-olds or two toddlers with different ages and sizes.
It is very cheap and you won't have to spend much.
16. Veer Cruiser – Stroller Wagon Hybrid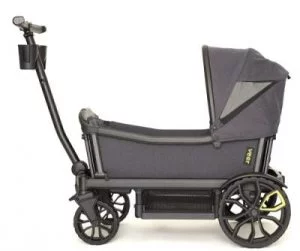 If you are searching for a stroller that can last you for a long time, the Veer Cruiser should definitely be on your list. It can be used for infants, toddlers, preschoolers and even for older kids. Thus this wagon proves to be a very clever investment as it can last you for a couple of years.
Moreover, if one of your children grows old while the other one is still young, this stroller can come handy. There is no need to buy a new stroller for your younger child when you already have one that can be used for him.
An interesting feature present in this wagon is that it can be used with an infant car seat. Furthermore, it can also be used as a child's wicker cradle. Thus, it serves to be a useful product as it can be used since birth. This wagon is also convenient for parents who have an infant and a toddler. Now both your children can go out with you.
The older child can be easily accommodated in the built-in seat. On the other hand, your younger child can use the infant car seat that is fastened to the frame of the wagon. This ensures that both the children are comfortably seated in the stroller at once. The stroller proves to be a perfect combination for two children; whether they are infants, preschoolers or even kids.
The handlebar can be adjusted which is very convenient for parents. They can alter the height of the handlebar according to their ease and comfort. This prevents unwanted backaches and other such problems.
Furthermore, it is equipped with foot-operated brakes that prove to be very useful in avoiding sudden accidents. The presence of a suspension system and large wheels with knobby tires ensures that the wagon can be used on all types of terrains.
Fenders are present on the back wheels. Thus you need not worry about the muddy terrain since they no longer will be a problem. This stroller wagon hybrid is a must-have for parents. It is super convenient to use and makes sure that your children have a comfortable ride. Therefore, you can bring your children along with you everywhere.
The Veer Cruiser wagon also has a large storage basket. This is very convenient as you can store a lot of your essentials together with the baby's diaper bag. All your essential belongings are easily accessible this way. You can go for a long trip without having to worry about where to store your things
The wagon's seat has a three-point harness.  It also has a canopy that can be removed and attached as per your need and the weather conditions. The canopy protects your child from the harsh sun rays. Furthermore, each seat can hold a passenger who weighs almost up to 55lbs. This means that a 7 – 8-year-old child can be comfortably accommodated in the seat.
This stroller is the perfect option for one or more children. It can even be used for children who have grown older. Moreover, it can be used for an older child with special needs. No matter how old the child is or whatever his needs are, this stroller is the perfect solution for a comfortable ride.
What do other parents think?
This stroller is quite heavy on the pocket and is also bulky. It weighs around 32.5 lbs. However, it is very durable and will last you for a couple of years.
3 Reasons Why You Will Love Veer Cruiser Stroller Wagon Hybrid:
It is a great investment for years. Just this one stroller can last you for a very long time. Furthermore, it can not only be used for one child but for two!
It has two cup holders and a child tray. You no longer have to pay extra for these added features.
This wagon has a high weight limit. It is quite large and can be easily used for an older kid or for a child who weighs more.
17. Keenz 7S Stroller Wagon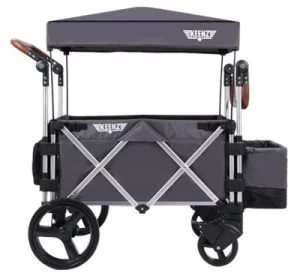 Are you on a strict budget and looking for an inexpensive stroller? Worry no more. You have come to the right place. The Keenz stroller is a high-quality stroller that you can get for a very low and reasonable price point.
This stroller can be used for older kids and has a lot of extremely cool and convenient features. You do not have to pay a lot of money to get the features that you want in a stroller because this one has you covered. It is an amalgamation of the advantages offered by a few of the best strollers and wagons. A few amazing features are discussed below.
First of all this wagon has not one but two adjustable handlebars! The highest setting for these handlebars is almost 43". The fact that is can be adjusted means that parents can alter the height according to what suits them the most. Thus, in this way, they can be comfortable while moving the stroller around.
Furthermore, this stroller can be easily pushed or pulled. This makes it very easy to move your child around in the stroller whichever way you want to. This feature also ensures that the wagon maneuvers smoothly and the child has a comfortable ride. It is very compact and small, weighing about 29lbs only. This is very convenient and small for a stroller wagon that can accommodate up to two grown children.
The interior of this wagon is covered in soft padding which ensures your child's comfort. In addition to this, the back cushions present also make sure that the baby is seated comfortably and has a relaxing ride. If your child is feeling sleepy, the padded interior and cushions guarantee for a peaceful nap. Furthermore, each of the two seats present has a 5-point harness.
The wagon can accommodate weight up to 110 lbs, including both the passenger and the essential belongings. It has a roof that can be drawn back together with a mesh sunscreen. Mesh material is one of the hot trends these days. You do not want your stroller to look outdated especially when you are in sync with the latest fashion trends.
Thus the sunscreen is not only trendy and pleasing to the eye but also very practical. It protects your child's delicate skin against the harsh winds, scorching heat and sun rays and the heavy rains. Furthermore, it prevents the stroller wagon from overheating. Thus, maintaining a comfortable temperature throughout the stroller and making sure that your baby is cool.
While buying a stroller, parents need to make sure that it has high-quality wheels that help in smooth maneuvering of the ride. The Keenz 7S stroller has 7.28" front wheels and 11" rear wheels. These wheels make it possible for the parents to use this stroller on all types of terrains. Furthermore, all the wheels have a tread pattern and a spring suspension system.
Often at times, parents stroll around on a bumpy or hilly terrain where the speed can go out of control. Also, due to the bumpy terrain, the stroller has to face a lot of jumps. In situations like these, things can go out of control. In order to avoid any harmful and unwanted incidents, the wheels and suspension system prove to be quite useful. Furthermore, the front wheels can also be locked in place on a rough trail in order to avoid accidents.
The presence of a large storage bin, together with an added built-in shoe compartment, proves to be very feasible. The storage bin large enough to store all your essentials. You can not only keep your personal belonging there but also your child's. Along with your phone, wallet and purse, etc, you can keep the baby's diaper bag, snacks, and even a few toys.
This wagon is great as it can also be a stroller for your children. It is a perfect stroller alternative for older children, or for two heavy kids. In addition, children love to ride in this stroller wagon as it not only guarantees a comfortable ride but is also extremely fun. The open-top gives the children a complete 360-degree view which makes the ride extremely fun as they observe things happening around them.
Furthermore, this wagon can be also be used for children with special needs. It can hold a passenger who weighs up to almost 110 lbs. Thus, this stroller has a great life and can be used for a long period of time. Some parents even use it for children of up to 11 years old with some medical conditions. Thus, this stroller is a lifesaver as it lasts you for a good couple of years without having to buy a new one. No other stroller can accommodate a child this grown up so the Keenz stroller is the best option.
What do other parents think?
This wagon has been accessible for buying on the market for a long time. In addition, it is also very popular on Amazon and a many positive reviews. Most of the parents claim that they never saw themselves buying a wagon but this one was worth it. A few features that parents have often mentioned are discussed below.
Keep in mind:
When folded, the stroller takes up a lot of space. The fold is bulky which is why it is hard to fit this stroller in a car trunk or other small storage spaces.
3 Reasons Why You Will Love Keenz 7S Stroller Wagon:
Super convenient as it can easily carry older children as well. Most bigger children cannot fit into any other stroller. Therefore, this one is the best.
A wonderful choice for parents who have an active and healthy lifestyle and want the same for their children.
A lot of fun not only for the children but also for the parents.
Usually, a standard baby stroller is designed and created in such a way it can easily hold a child weighing almost up to 30 or 40 lbs. This means that the stroller can be used until the baby turns 2 – 3 years old. If a child weighs more than this, it could be a problem because the stroller is not made to accommodate such a large weight. However, there are times when a child seems to be bigger for his age.
This is because every baby has a different pace at which he or she develops. This might result in a few babies being bigger than those their age. Furthermore, unwanted medical conditions are also a major reason as to why a child may develop and grow differently.
Many strollers do not think about such aspects and cater to the needs of these children and their parents. However, it feels extremely great and wonderful when stroller manufacturers do listen to such concerns and also reply and cater to such needs.
A couple of strollers are available in the market for older children. Thus it is not difficult for parents to find something that perfectly matches their needs. Older children are also of different types. In other words, they may vary in size, etc. A different stroller can be found for different children.
Each stroller has distinct and varying features. Some might have a different weight limit, others may have a different size of the seat, and yet others may or may not have a storage bin. Whatever stroller you want, and whatever features are best for you, all depends on the needs of the parents and the children.
Thus it does not matter for whom you are buying the stroller. It makes no difference whether it is for an older child or for someone with a medical condition. Whatever the situation is, parents need to ensure that they buy what is best for them. This means that they should not get what they want but rather what they need.
Parents must make sure that the stroller they buy has all the features that their child and the parents themselves need. Furthermore, they should see that each and every feature only adds to their convenience. They should also know what sorts of places they usually go to so that it is easier for them to know what type of stroller they should buy.
Parents must not forget that it is highly unsafe to continue using the stroller especially if their baby exceeds the weight limit. This can prove to be very dangerous. In situations where the weight limit is exceeding, the stroller becomes very unstable and can tip over quite easily. Moreover, the stroller can also break. These incidents lead to unwanted accidents that may cause severe injury.
Moreover, it is also an uncomfortable ride for the kids if their head is in contact with the canopy and their feet are touching the ground. This makes the ride very uncomfortable and maybe even painful for the child. Therefore, in order to avoid such situations, parents must take all the precautionary measures. Furthermore, they much ensure that the baby is small enough as to not exceed the stroller weight limit.
FAQ Section: