Best Choice
Good Choice
Don't Miss
Also Consider
AGPTEK Bluetooth MP3 Player for Kids, 8GB Children Music Player 2.4 Inch HD...
MP3 Player for Kids, AGPTEK K1 Portable 8GB Children Music Player with Built-in...
eKids Frozen Sing Along Boom Box Speaker with Microphone for Fans of Frozen Toys...
VTech Rock and Bop Music Player, Blue
With technological advancement and emerging of various tablets and smartphones, parents are getting more and more worried about how much screen time their children have every day. Over the past two decades, screen time for children up to two years of age has almost doubled. They spend more time online, watching cartoons, instead of engaging and playing with other kids, jumping ropes, drawing, and listening to music and stories.
Best MP3 Players in 2023
In this article, we're looking into the best MP3 players for kids, which will give children a portion of technology but cut their screen time. The youngsters can now enjoy their favorite songs and stories wherever they want, since they won't be trapped in front of a screen, and have their imagination flourish.
1. AGPTEK MP3 Player for Kids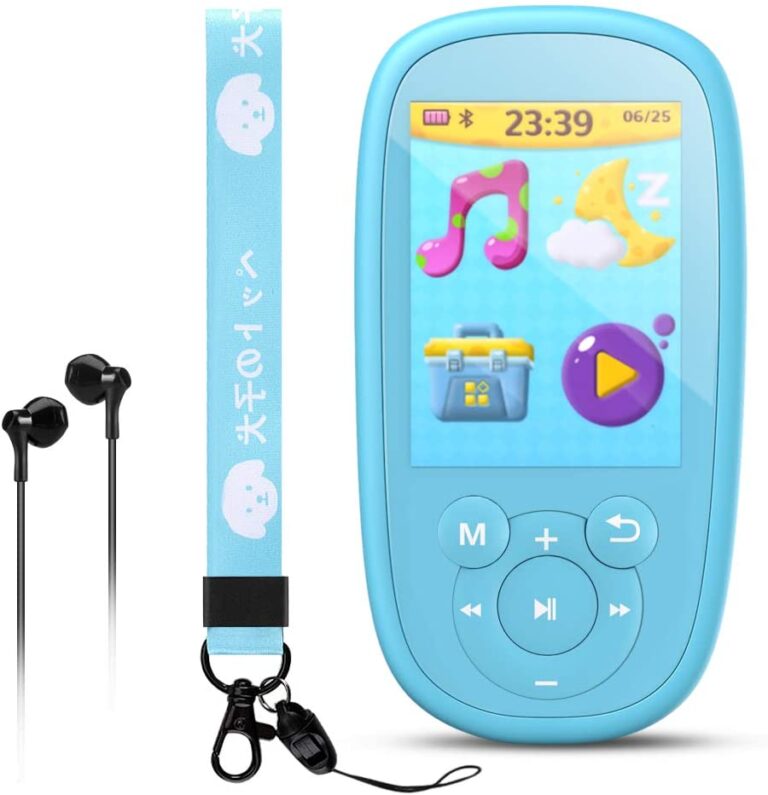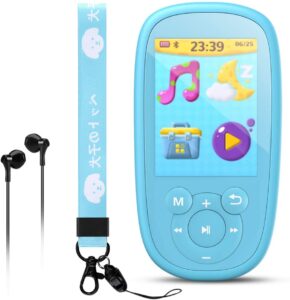 This MP3 Player for Kids by AGPTEK comes in baby pink and blue to cater to every kid's preference. It's an extremely lightweight player, making it easy for your youngest to take it on road trips and share their favorite tunes and tales with their friends.
This device comes with a pair of wired earphones, built-in speakers, Bluetooth function, and 8GB of built-in memory, making it easy to store up to 4,000 songs. With its ten built-in soothing sounds, including piano, sounds of wind and waves, white noise, and lullabies, this player can also serve as a baby sleep soother, helping them fall asleep while, at the same time, enhancing their memory and attention.
The player by AGPTEK supports alarm function and can be a reliable partner for language learning, thanks to its intelligent A-B repeat, lyrics synchronization, and variable speed playback. Additionally, the player can also be used as a pocket e-book, supporting intelligent TXT reading, automatic page-turning, bookmarking, and other functions. It also supports radio and recording.
It's a perfect gift for infants and teens, as it can be a great companion for traveling, listening to stories, and even sleeping.
2. Portable MP3 Player for Kids by AGPTEK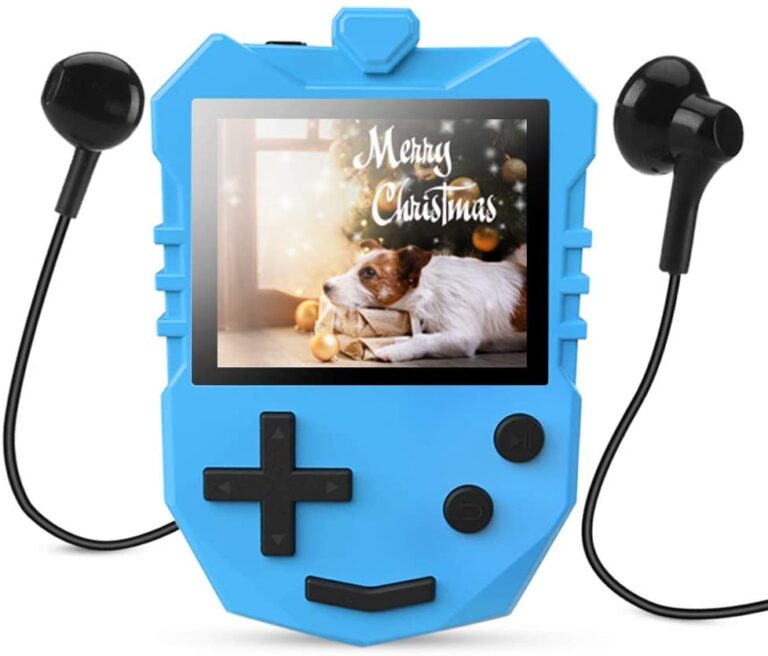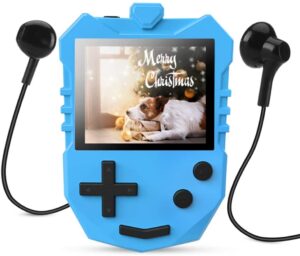 Another great model by AGPTEK. This MP3 Player for Kids features a cartoon-style casing and is equipped with a high definition color display with adjustable brightness for vision protection. Parents can also adjust the maximum volume limit, preventing their kids from listening to loud audio and protecting their hearing.
This player is great for both learning and entertainment. It supports various functions, including music playback, A-B repeat, variable speed playback, e-book, FM radio, voice recording, alarm clock, and even different puzzles and games. The device supports different languages, including German, English, Italian, French, Russian, Spanish, and Japanese.
Thanks to its intuitive button layout, the player is extremely easy to use and operate. Your kid won't have any trouble holding it or carrying it in a pocket as it's very compact and lightweight.
It features a built-in loudspeaker, allowing the youngsters to enjoy their favorite music and audio stories with their friends and family. With its 8GB of built-in memory and up to 26 hours of playtime after full charge, this player makes for a perfect travel companion.
3. IQ Toys MP3 Player and Karaoke Machine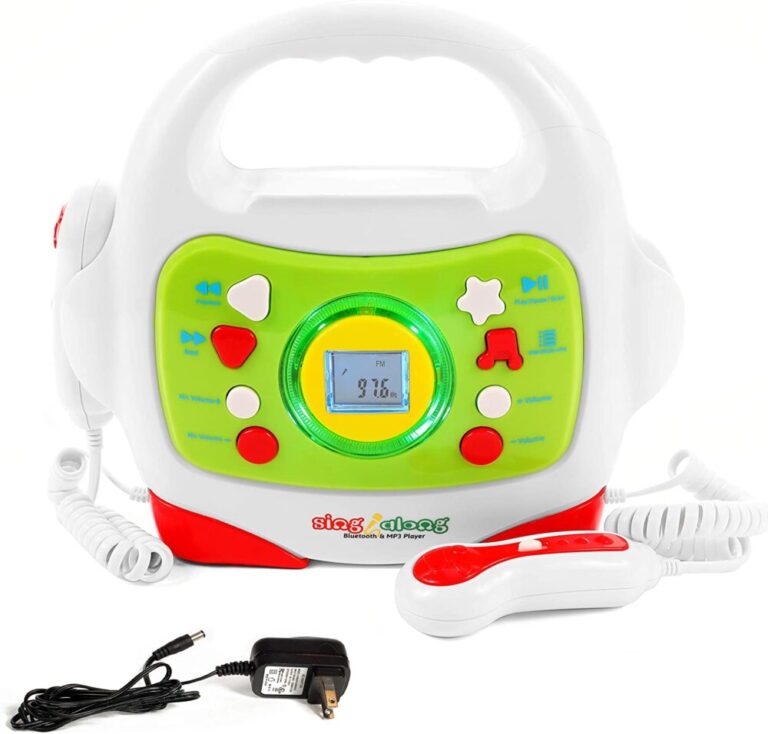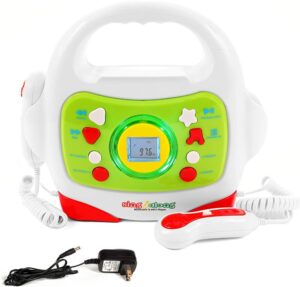 Connect your playlist by Bluetooth or USB and stream your kid's favorite tunes with this MP3 Player by IQ Toys.
Besides listening to music or audio stories, this device is also a karaoke machine with two microphones. Your youngsters will love it and have fun singing along to their best tunes, alone or with friends.
It features an LCD display and a front panel with various buttons layout, although the functions such as play, pause, skip, next, volume, and back can be controlled via Bluetooth. Bellow the front panel, there's a sing-along lettering for karaoke mode.
It's designed with super durable materials and can withstand years of playing. This music player is super lightweight and has a carry handle, so your kids can carry it around without any issue.
The IQ Toys player is an ideal gift for any parent as well as child, as it's a great way to keep the kids busy and entertained when you need some time for yourself.
4. Frozen 2 Sing-Along Boombox with Microphone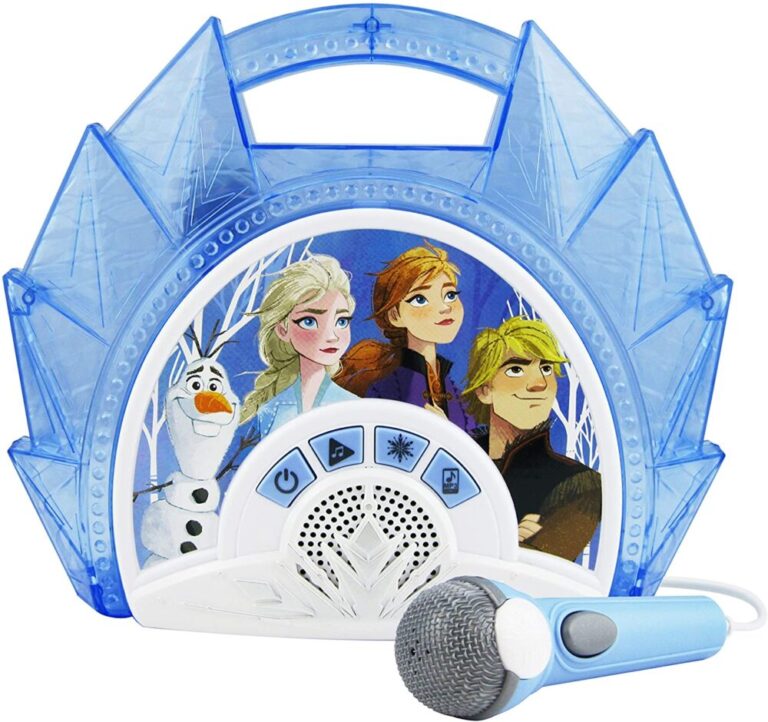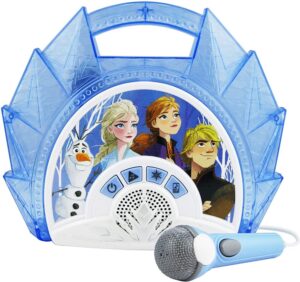 Every little girl will adore this Sing-Along Boombox by EKids with a cute Frozen 2 theme. It features built-in lights and music as well as a real microphone for your kid to rock out their favorite tunes and sing their heart out. It also has an aux-in, allowing you to connect a compatible MP3 player or any other device and enjoy your loved playlists and stories.
Thanks to its lightweight design and a built-in microphone handle, your youngsters can carry their boombox wherever they go, so the fun never stops. With a charming and kid-friendly Frozen 2 design, this player and the karaoke machine is a perfect gift for any girl of ages three and up.
Every party will be more fun with the eye-catching and flashing lights that go along with your favorite music tunes. Connect your tablet or phone with a 3,5 mm audio jack and have fun listening to your own playlist via a built-in speaker, or play and sing along to the built-in tunes, including the popular Disney song 'Into the unknown.'
Watch the following video for more Sing-Along Boombox' features:
Read Also: Best Microphone for Kids and Toddlers
5. eKids Sing-Along Portable MP3 Player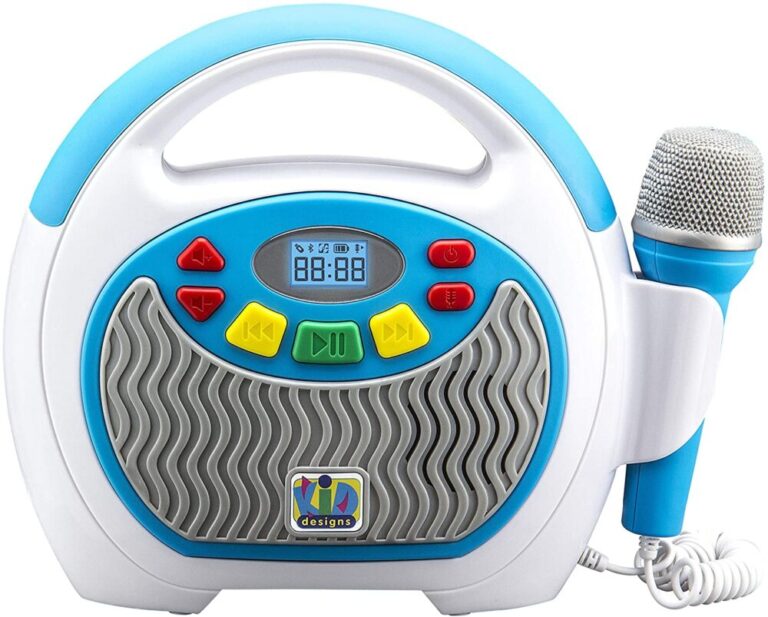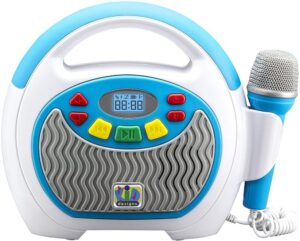 Another excellent model by eKids. This Portable MP3 Player and Sing-Along Karaoke Machine features Bluetooth connectivity, a real built-in microphone, and 1GB of storage to save your favorite tunes.
It comes with 24 popular songs and nursery rhymes from Mother Goose Club, including The Hokey Pokey, Bingo, Itsy Bitsy Spider, and many more. Just press play and enjoy any of these tunes or connect via Bluetooth and stream your favorite music, audiobook, or stories wirelessly.
This player is equipped with rechargeable batteries and a charging cable, ensuring endless hours of fun, singing, and dancing. You can listen to your favorite content via a built-in speaker or headphones if you don't want to disturb others, as it features a headphone jack for wired headphones.
This device is extremely lightweight and portable. It also features a small storage compartment in the back, allowing you to store charging cables and USB and keep them protected while traveling or carrying them around. It's an ideal present for your little ones, and both girls and boys will enjoy it equally.
6. VTech Rock and Bop Music Player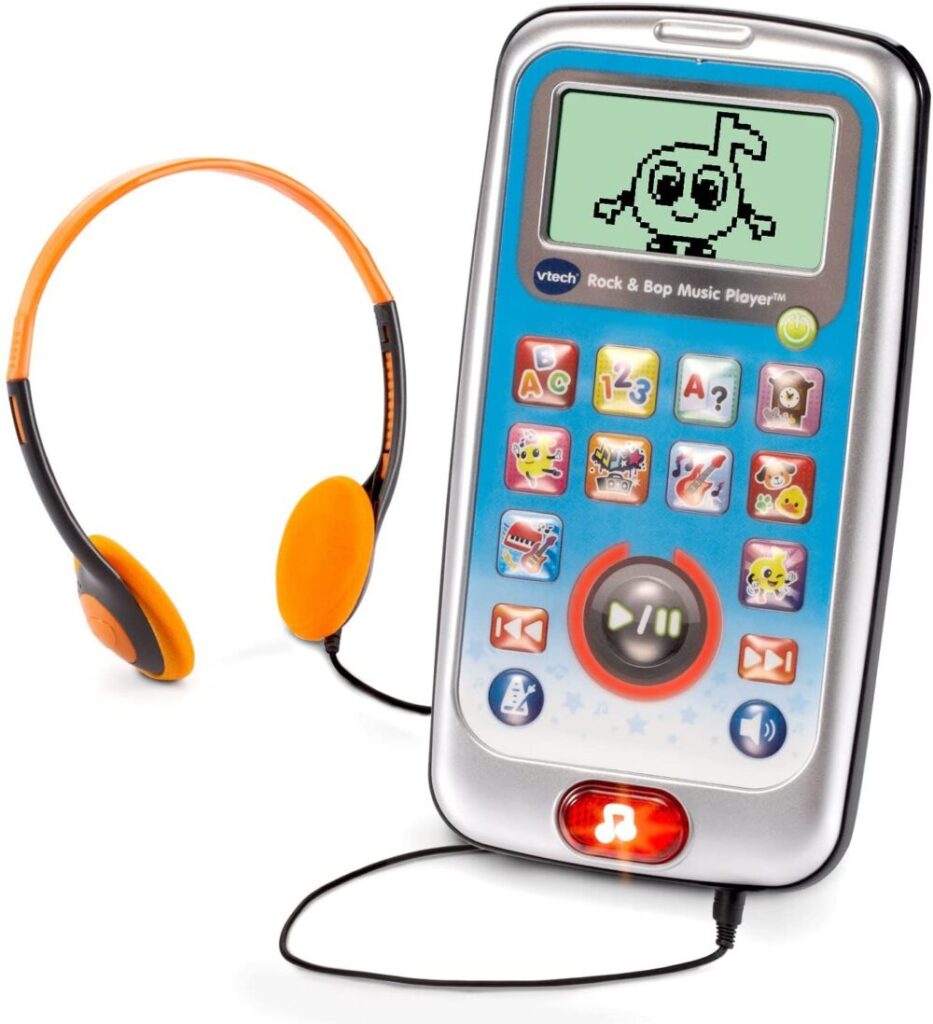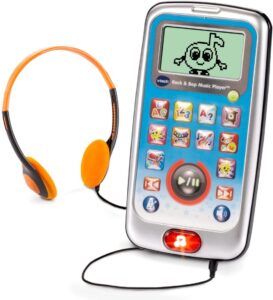 The Rock and Bop Music Player by VTech is a kid-friendly music player that makes learning fun. It features ten different musical learning games for introducing numbers, letters, instruments, animals, time, and much more.
It comes with 100 plus different melodies, songs, sounds, and phrases that you can play in three different styles, including hip-hop, classical, and rock. The player also has an Instrument Remix function, allowing your youngest to experiment with various instruments, such as violin, piano, guitar, xylophone, and saxophone.
This music player is equipped with an interactive screen to select games and make music while developing fine motor skills. The player comes with kid-safe headphones with adjustable volume. It also has a variety of parent-friendly features, including a durable design, volume control, as well as automatic shut-off.
It needs 2 AAA batteries, and it's recommended to buy new batteries after purchasing the player. The player is intended for youngsters from three to six years of age.
7. Alilo Mp3 Player and Sleep Soother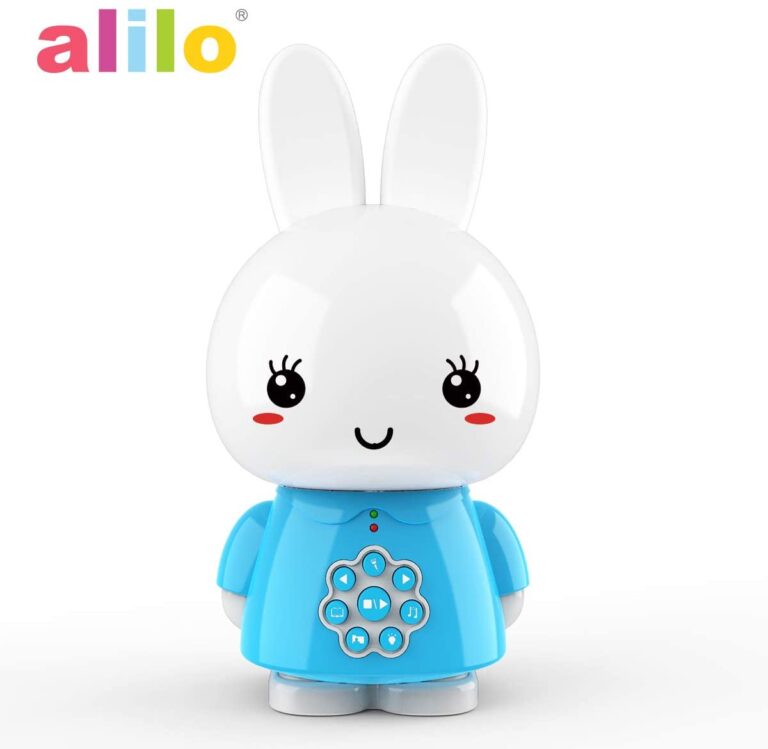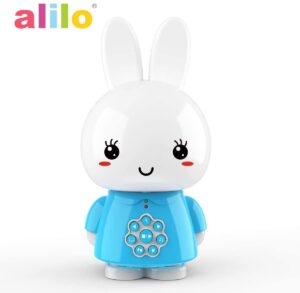 The Music Player and Sleep Soother by Alilo features rich entertainment content, including more than sixty bedtime stories and nursery rhymes. It also has a custom folder with shushing sounds, helping your fussy baby fall asleep. Plus, with its voice recorder, you can record your own voice to soothe your baby or best wishes if the player is intended for a toddler's birthday.
The player is equipped with an 8GB TF card and a HiFi speaker, allowing you to download and play your favorite audiobooks, stories, and songs. Its cute design has soft teether silicone ears with an LED light that can softly glow in seven different colors.
This toy-turn-music-player is made of safe but durable materials, perfectly safe for young kids and babies while drop-resistant at the same time.
Check out this video and see what Alilo also can do:
Buyer's Guide to Help You Make the Right Choice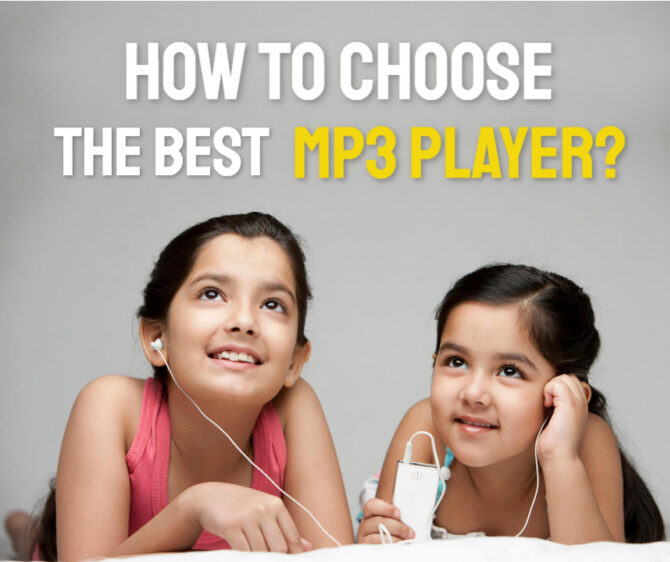 When choosing an MP3 player for your little ones, there are several features to take into consideration:
Feature #1. Easy to use
Preferably, the player should be easy to operate with an interface that's easy to understand and buttons suitable for little fingers, so your youngest can use it without your help. For toddlers or a bit older child, the player can have a more complicated function layout.
Feature #2. Durability
To ensure years of play and fun, you should consider getting a sturdy MP3 player made of durable materials. Make sure that the player has a casing of durable plastic screwed together and other materials that are kid-friendly and able to withstand a rougher play.
Feature #3. Compatibility
The majority of music players for kids on the market today support MP3 audio format, but can also support other formats, including WMA, MP4, and others. Make sure to check for format compatibility before purchasing the product.
Feature #4. Sound quality
To ensure good sound quality, go for reputable manufacturers because even your youngest will notice and potentially lose interest if the sound quality is poor. It's also important to get a player that has an adjustable volume setting, which will allow you to set the maximum volume and protect your kiddos' hearing.
Feature #5. Memory
Many music players come with built-in music. However, if you want to browse your favorite songs and audiobooks, you should opt for those that offer extra storage space in the form of an external memory card.
Feature #6. Additional features
To get the best out of the kids' MP3 player, target those with extra features, such as alarm clock, FM radio, and games. Many music players for kids also have karaoke mode, something that every kid would love. Additionally, you can make use of Bluetooth connectivity, so you can stream your playlist without having to download it.
Feature #7. Safety
Volume control is the most common safety measure found in MP3 players for kids. However, some players, such as those operating on iOS or Android, may offer more parental control options.
Feature #8. Battery life
We would recommend choosing players with rechargeable batteries. This way, you'll be more friendly to the environment as well as child's play, offering hours of uninterrupted fun.
FAQs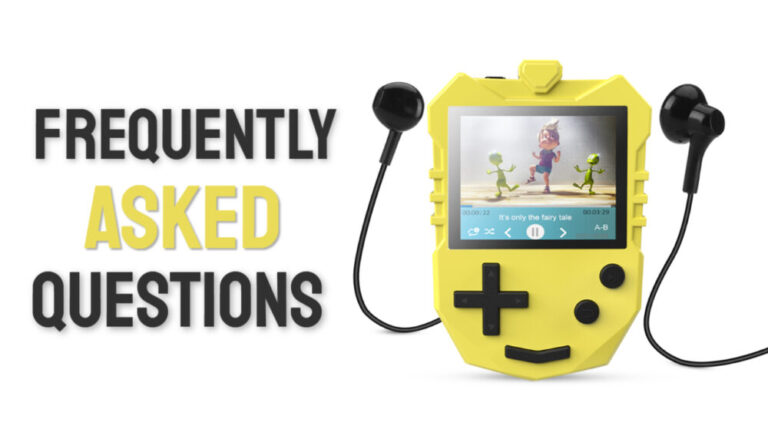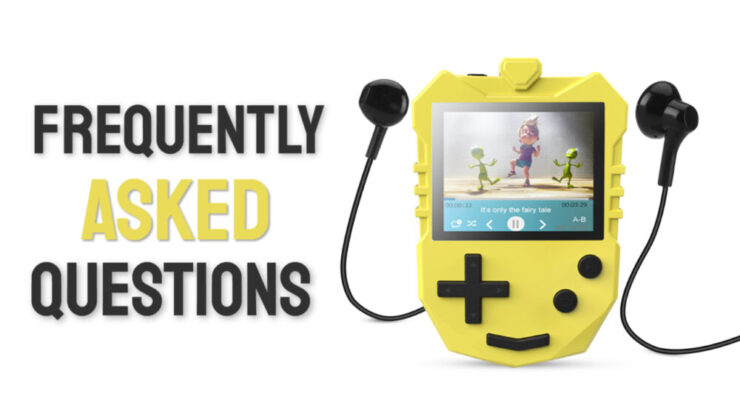 Q: What should I look for in an mp3 player?
A: Our Buyer's Guide should help you navigate the market and choose the right MP3 player for your kiddos. Once you've found a player that's within your budget, you should make sure it's usable, durable, and offering all the features you need.
Q: How long do mp3 players last?
A: Any device is as good as its battery. To make sure your player lasts you for years to come, target the devices with rechargeable batteries. Lithium-ion rechargeable batteries typically last two to three years.
Q: What is the easiest mp3 player to use?
A: If you want your youngster to be able to use their MP3 player by themselves, you need to make sure it's easy to use. Those with kid-friendly interfaces with just the basic functions would be the best options for really young kids. If your kid is a bit older and tech-savvy, you can go for players that are a bit more intricate.
To Wrap Up
An MP3 player is certainly an excellent option for any kid that enjoys music but is too young for a tablet or a phone. Besides, if you're worried your kiddo spends too many different gadgets that have screens, you should definitely invest in a proper music player.
Hopefully, our best-reviewed list, together with the detailed Buyer's Guide, will help you choose the right MP3 player for your child. Nevertheless, no matter what type of player you choose, you should teach your kids how to operate them safely, make use of all parental control functions, and limit the time your kids spend with the new toy.
Now you can also check out some other interesting options available on today's market: