Every caring nursing mom wants the best for their baby, and seeing your precious infant in pain due to spit up can be very disheartening.
Not to worry, here is how to find the best bottles for babies that spit up. Colic or Reflux pains are constant issues in babies as they spit up now and then due to the acidic disturbance in the delicate stomach.
Best Choice
Good Choice
Don't Miss
Also Consider
Lansinoh mOmma 5 Ounce Bottle with NaturalWave Nipple, 2 Count
Philips AVENT Anti-colic Baby Bottle with AirFree Vent, 4 Oz, Pack of 4
Dr. Brown's Natural Flow Anti-Colic Options+ Wide-Neck Baby Bottles 9 oz/270...
Playtex Baby VentAire Bottle, Helps Prevent Colic and Reflux, 6 Ounce Bottles, 3...
Best Choice
Lansinoh mOmma 5 Ounce Bottle with NaturalWave Nipple, 2 Count
Good Choice
Philips AVENT Anti-colic Baby Bottle with AirFree Vent, 4 Oz, Pack of 4
However, you should think of how to avoid this menace, most notably when it does not lead to significant side effects like obesity. Getting the best bottle for babies that spit up is the right way to prevent it.
Why Do Babies Spit Up?
What is spitting up anyway? It occurs when your baby throws up with a 'burp' sound. It is not entirely vomiting as the food content drips from the infant's mouth.
Nevertheless, the spit up becomes stronger when the flow becomes tough, spreading out in all direction. Here is the reason: when you expose your breast milk or formula to air, gas bubbles which are formed enters your baby's mouth.
The intake of these gas bubbles is the cause of the spit-up. The milk or formula accompany the disturbing gas that eventually comes out. This major issue is not peculiar to unhealthy babies, as it also affects perfect babies. This nasty phenomenon is known as infant reflux, and it occurs in the initial three months of your child's life.
Technically, the lower esophageal sphincter, which is a muscle that lies in-between the stomach and esophagus is responsible for storing foods in the belly. And so, this issue is likely to continue till the muscle is stronger. In some cases, the tissue is stretched whenever your child has had so much food.
You should not panic, though; spit up is not a groundbreaking problem. Many infants have this issue from time to time, and it is because their new body system is trying to adapt to feeding. But be mindful of the fact that spit up should not lead to lethargy and weakness.
If this is the case of your baby, it is time to get professional help. Seek help if your baby has trouble breathing as this implies that the usual spit up might have developed into a disease.
How to Prevent Your Baby From Spitting Up
There are different reasons why babies spit up. And it is not dependent on what the baby is feeding on –Breast or formula – there is a solution for spit-up. This is how you can prevent this menace. Don't allow disturbances when feeding: Distractions during feeding can lead to air intake together with the breast milk.
Place your child uprightly as you feed him/her: When a child is not positioned uprightly, the flow of food becomes distorted. Allow the child to remain uprightly some minutes after feeding as this will make the food to settle in the delicate belly.
When a child strains to suck out milk or formula due to the small size of the hole in the bottle or nipple, he/she is likely to take in air.
However, a bigger bottle or nipple hole will lead to giant slugs from the child. This can also cause spit up as the infant will possibly swallow air as the milk or formula come out in large quantity. Burp your baby as you feed.
According to research, burping the child from time to time after every 1 to 2 ounces would decrease the possibility of spitting up. Experts believe that this should eliminate spitting up.
Be mindful of the amount of milk or formula is taken by the child. It is therefore advisable to wait a little while after every spit up. The infant might be taking in too much too quickly, even as the fluid is not yet totally digested.
Feed your child gently taking it one step at a time. This is for working moms who are always in a rush. You know when your child has had enough and you should, so take note and stop feeding whenever the child gives you the feel of satisfaction.
How Bottles Prevent Spit Up
As you now know, your child spitting up is probably caused by the mixture of air together with the breast milk or formula he is feeding.
The best bottle to avoid spit-up is intended with distinctive characteristics such as an inner vent structure that prevents the combination of air with breast milk or formula to prevent foams from forming. This implies that the best bottle for babies that spit will not allow air to get into the delicate belly of the infant.
Considerations for picking the best bottle for babies who spit up
Before selecting the best bottle to get for your baby, there are several distinct features to take note of. Nevertheless, your final choice will determine your child's happiness when feeding. So, what should you be mindful of?
The Making of the Bottle Nipple
Different bottles come in various dimensions of nipples. One key thing you should remember is to choose the correct nipple flow, which is dependent on the age of your child.
I. >3 months old –pick a slow flow to avoid gasping or excessive feeding.
II. Between 3 -12 months – pick a medium flow nipple size.
III. Between 12 – 18 months –Pick a quick flow
You should take note of the additional instructions from any brand you select as it can contain more or better information than the ones already given. Choosing the right nipple can stop countless situations, and hazards as most bottles will provide a range of nipple dimensions & flows. And it is even best to make your choice based on the age of your infant. Why?
Firstly, during breastfeeding, bones and tissues in the mouth and tongue of this infant are built up, which will, in turn, help his speaking skills. However, when you pick a wrong nipple size or flow, the development of these muscles may be hindered.
Secondly, don't get your baby confused; choose a nipple that looks just like yours, or at least a bit resemblance will do. Without this, your baby might refuse any strange looking nipple, which will stop his feeding altogether.
Read Also: Best formula for sensitive tummy and constipation| Reviews
Another reason for picking the right nipple flow is the fact that you don't want your child to suffocate when feeding. If you choose a large nipple size for a three-month baby, this will likely occur. This is also applicable to overeating.
The Making of the Bottle
Consider the size of the bottle before selecting the best container for babies that spit up. Bottles that are small and thinner are generally simpler to handle. It is also advisable to pick a bottle that cannot take much content for your newly born child.
However, as the child grows, you get a bigger bottle. While some bottles are made of glass, others are formed from plastics. No matter the kind of material used, make sure the bottle is safe. Plastics are made from BPA – Bisphenol-A.
This damaging chemical has been associated with many health problems, such as cancer. Therefore, at first, glance, make sure the bottle is free from BPA. Other toxic chemicals to look out for include: Phthalates, lead, BPS and PVC.
Some bottles are created to sort out specific health issues while others can solve all problems. Find out the type of health problem your child is suffering from to pick the best bottle for babies that spit up.
If it is Reflux, choose a smooth feeding bottle to avoid your child spit up. Bottles that are specifically built to stop reflux stop too much flow and air bubbles from entering the mouth of your baby. If your child is suffering from Colic and gas, pick a bottle that has vents so that gas will not enter the bottle. With this kind of bottle, your child won't suck air during breastfeeding.
7 Top Best Bottles for Babies Who Spit Up
1. Lansinoh mOmma Bottle with NaturalWave Nipple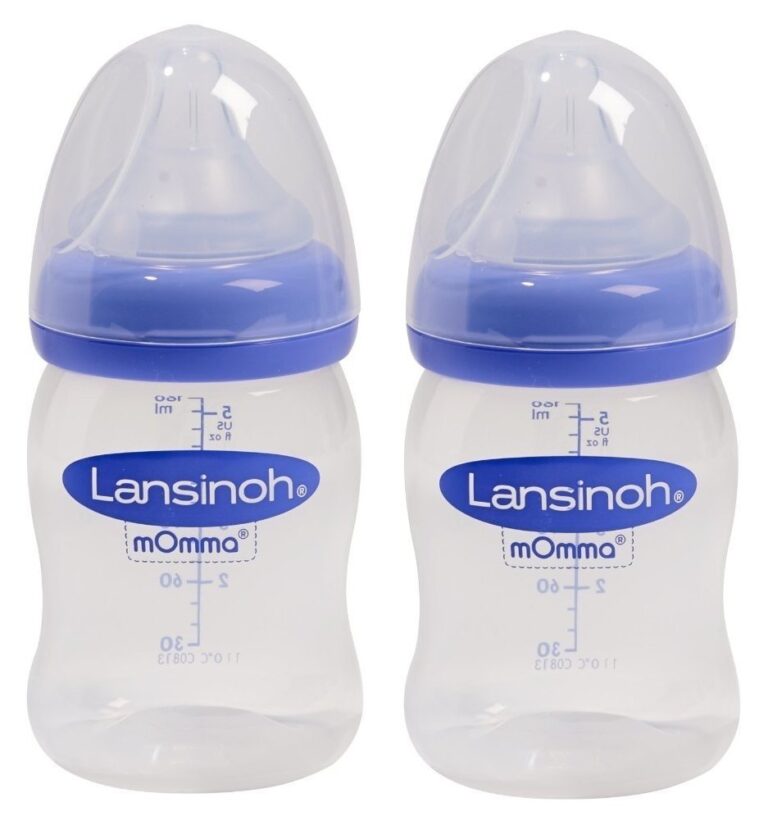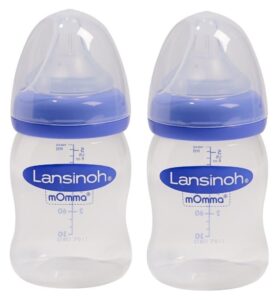 This bottle is specially made to eliminate spit up in babies. With the introduction of an air ventilation system, it is sure to stop the mix of air and formula/breast milk to stop reflux in infants.
The bottle is unique, being more robust and rigid than the rest of the bottles for babies that spit up. Infants love it this way as they can easily handle it without slipping off their hands.
The design is a perfect match for the natural way children take in breast milk directly from their mom. The type of flow through the nipple of the bottle is what the child needs to improve his speaking abilities.
Most nursing mothers adopt it since their babies can easily switch from breast to bottle feeding without noticing the difference.
The texture of the nipple is equivalent to that of the breast and are designed to make them last longer as the babies fondle them. It is healthy and safe as it is free from BPA or BPS. The Lansinoh Bottle is easy to wash and clean up.
Features
It is free from BPA, Phthalates and Lead
Spit up is reduced due to the air ventilation mechanism
Pros
The bottle can be washed easily
The nipple is as soft as the breast itself
The shape and design of the bottle makes it easy to handle
Cons
Sometimes, the contents spill too fast into the child's mouth
2. Philips Avent Anti-Colic Baby Bottle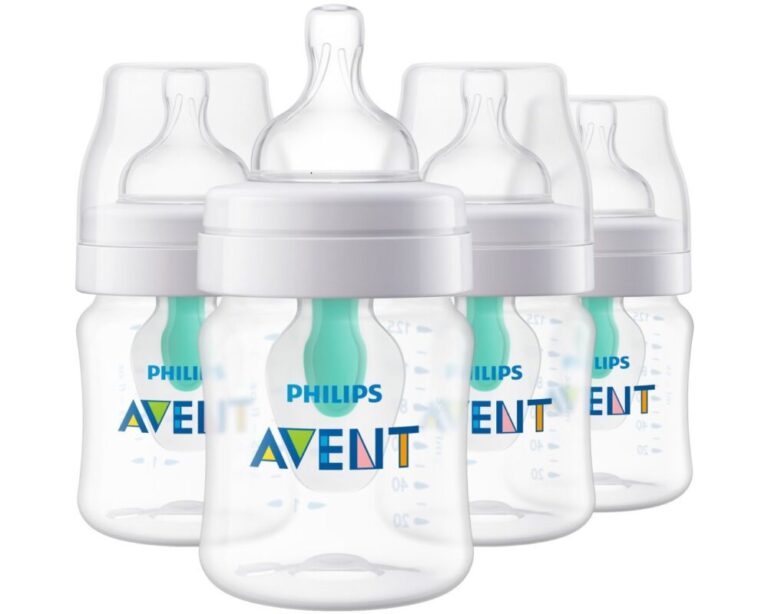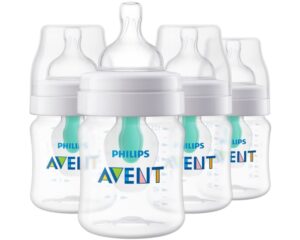 This bottle is a perfect selection for any mother who wants to reduce spitting up of a child. Philips Avent Anti-Colic Bottle is made of unique vents. Within the bottle nipple, there is an anti-reflux valve which will draw the gas away and eliminate spit up as the air does not reach the baby's mouth.
This same valve, with double function, makes the nipple of the bottle soft and mild just like the mother's breast. With Philips Avent, breastfeeding your baby just got easier. In addition to reducing spit up, colic or reflux in babies, this bottle is easy to wash for use at another time.
Even though it is made with glass, the material is designed to withstand very high and very low temperatures.
The handle fits perfectly into the little hands of the child. Fitting all the different parts of the bottle together is easy as there are not many parts that can confuse you. To top it off, the Philips Avent bottle is one of the best bottles for babies that spit up because it comes with different dimensions of nipples.
So, therefore, as the child grows, the dimensions can be changed to fit his requirements. Being flexible, you can easily switch from breastfeeding to using bottles.
Pros
The neck design is made in such a way to make washing and pouring of formula/breast milk simple.
The bottles are robust and can easily be handled.
Very simple to wash
Cons
Joining together the parts might be a little daunting because if it is not done correctly, there will be leakage.
They are costly
3. Comotomo Baby Bottle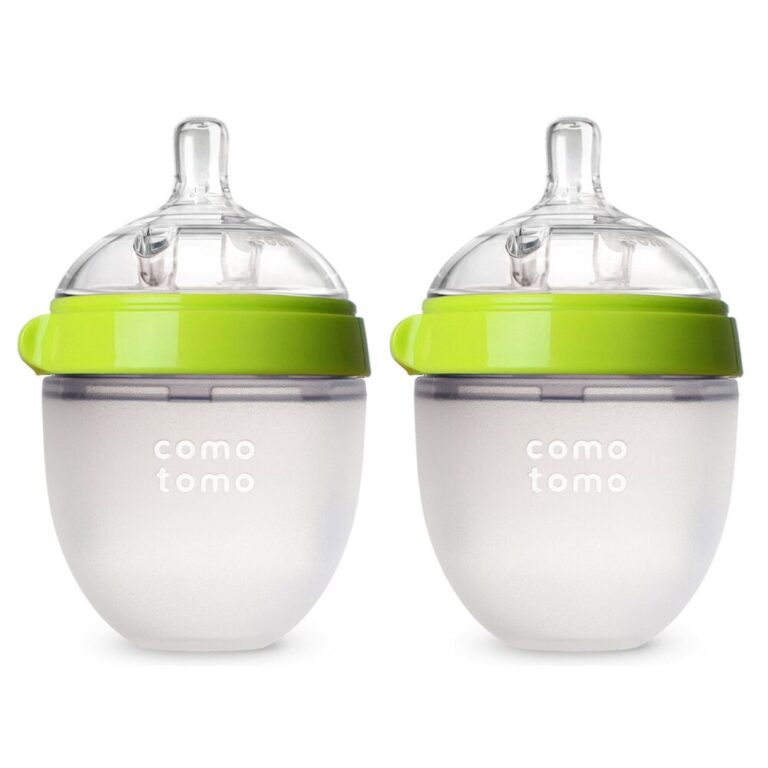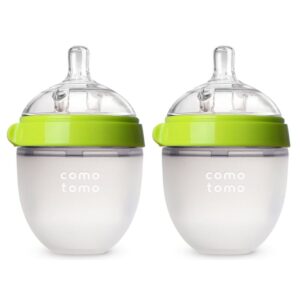 This bottle is common among nursing mothers, and the reasons are worth it. Comotomo baby bottle is made from silicone, which gives it the human body feel.
The bottle is 100% safe and comfortable to handle when pouring the contents or washing. For maximum efficiency, it made of two vents and so, therefore, Comotomo Baby Bottle stands out among others in reducing the amount of air swallowed by the child.
The whole design makes the child's feeding experience feel the same as the mother's. The nipple shape and mound makes the child feel as though he/she was clinging onto his mother's breast.
The silicone further enhances this as the texture of the bottle is the same as the mother's. The bottle can withstand any temperature.
Pros
The bottle can be washed easily without stress
The well-rounded design makes handling easy for the infant
Double vents make it unique
Cons
Many customers complain of lack of color variety
4. NUK Simply Natural Baby Bottle Newborn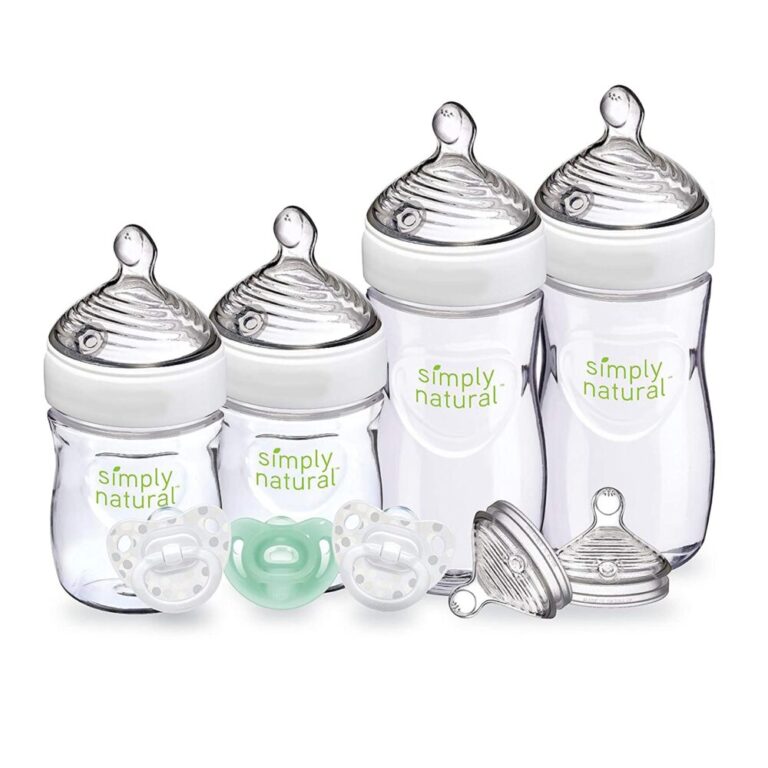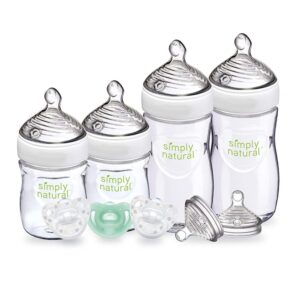 Many mothers pick NUK Natural Bottle for its comfort and the maximum support it provides to the mother when nursing the child. And why not, It is made to look exactly like the natural female nipple. The natural nipple has more than one hole, and the NUK Natural Bottle has nine holes, unlike other bottles.
In addition to this unique feature, the bottle is made with silicone, making it easy to handle and hold so that the infant still feels like it is the mother's breast.
Due to the different sizes of the nipple, the NUK Natural Baby Bottle can be used for infants aged between 0 to 18 months. With its single vent, spit-up is reduced
Pros
It is free from BPA
The nipple of the bottle is formed in such a way to make latching easy
The large bottleneck makes washing easy
Cons
It is not cost-effective
There are instances of leaks
5. Dr Brown's Options+ Wide-Neck Baby Bottle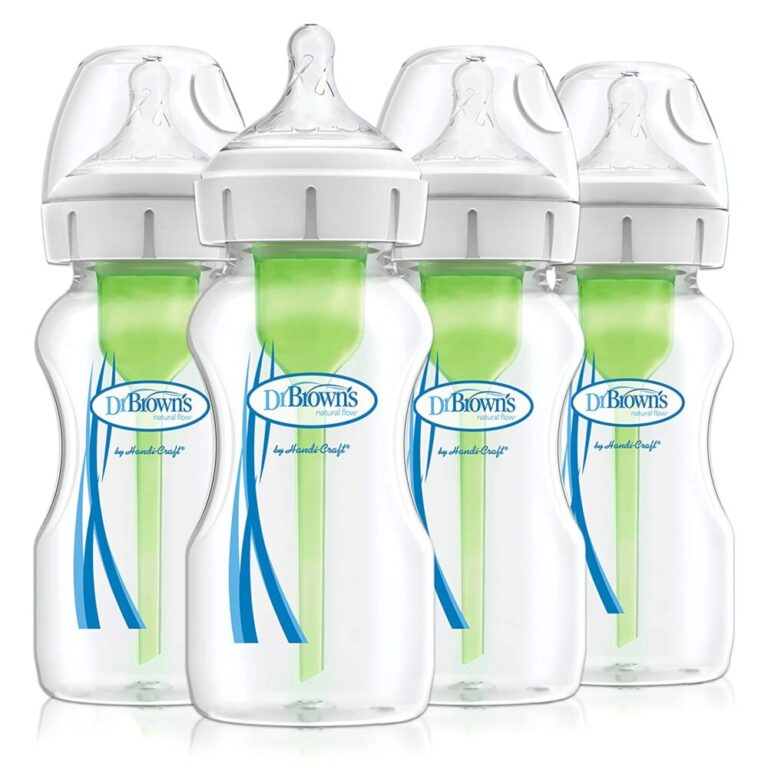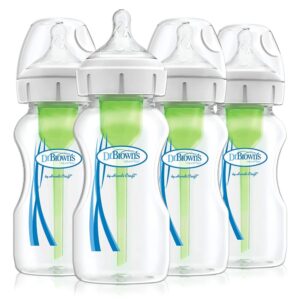 This is a great bottle to use if you want to eliminate spit up and colic so that your child can have a comfortable feeding experience and sound sleep because a belly filled with just food and no gas helps the child to rest.
In addition to this, you can also use Dr Brown Baby Bottle together with a breast pump and working moms will love this feature.
The bottleneck is wide, a stand-out feature among other bottles. This feature enables any mom to mount on any size of the nipple on it, and it also makes it look typical to the natural breast nipple. They are great for storing or pouring formula, and they have added parts attached to it.
Features
Free from BPA
Slow bottle nipple for tiny babies
Pros
It is cheap in contrast with other bottles
It is not difficult to pack
Cons
Without proper packing understanding, the container may leak
Sometimes, it is difficult to wash
6. TommeeTippee Baby Feeding Bottles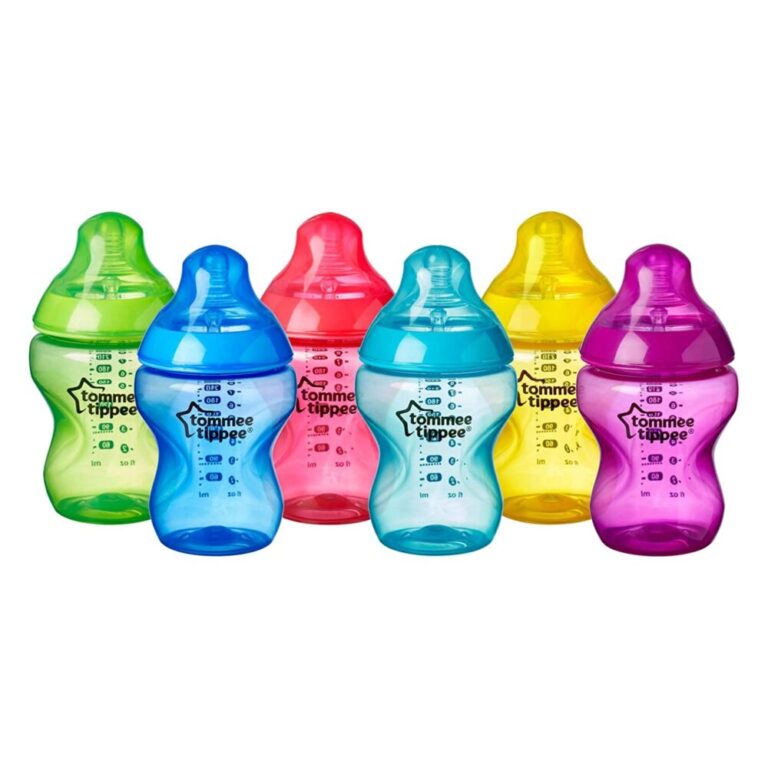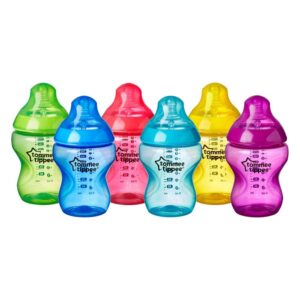 One of the best bottles utilized for babies that spit up is TommeeTippee Closer to Nature Bottle. The bottle is built to resolve acid reflux issues in babies. Being a product that has been around for quite a while, they are trusted and endorsed by nursing moms.
The bottles are wide neck with full nipples, making it simple for your child to change from mother's breast to bottle feeding.
The nipple is made of silicone and yet maintains flexibility to perform exactly like the natural breast.
So, your child does not experience nipple confusion and reject the food given. The vent is smooth and sensitive enough to allow free flow of milk and lesser air passage.
The design of the bottle is structured to fit into the hands of the baby. It can fit seamlessly in hand, supported around the wide neck or even carried at the bottom of the bottle with ease.
Pros
It is BPA Free
The flexibility and texture of the nipple is close to home
Makes feeding comfortable
Cons
Leakages are widely reported
There are so many parts to clean which can be stressful
7. Playtex Baby Ventaire Anti Colic Baby Bottle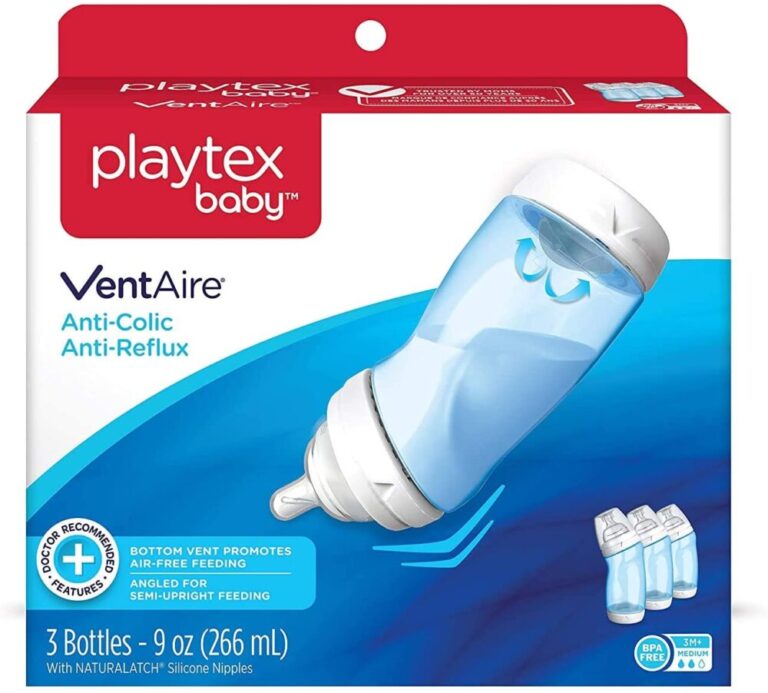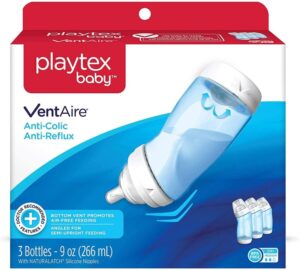 This bottle is made to reduce spit up for infants that are breastfed. Playtex Baby Ventaire Bottle can be gotten in a different range of colors structured to reduce colic and reflux action in babies. As you already know, feeding babies uprightly alone can reduce spit up.
The Playtex bottle is structured in such a way as to enhance upright feeding so that reflux action can be reduced and together with the vent created at the bottom of the bottle, spit up are further eliminated.
It comes with a natural latch that makes changing from bottle to breast seamless.
Features
It is free from BPA chemicals
The bottle reduces spit up and reflux in Infants
Attached to the package are pre-sterilized liners
The shape is designed to aid upright feeding
Pros
The bottle is easy to assemble
• The bottle nipple is structured to perform the same way as the natural breast
Cons
Little knowledge of assemblage can cause leakage
Final Words

Take it from us, TommeeTippee and NUK Baby Bottle remains the best bottle for babies that spit up. The two products have great reviews and are widely accepted and endorsed by nursing mothers around the world.
TommeeTippee has a track record of durability and credibility. With so many years in producing different products, they have the experience necessary to understand what every nursing mother need for their baby.
NUK Baby Bottle is modelled to look and feel like the natural breast, which makes it a great option among other bottles.
Be that as it may, the important thing is the happiness of your baby and therefore taking your time to pick out the best bottle for babies that spit up should be your number one priority as it will ensure that your child stays happy, comfortable and healthy.
Read Also: