Being a first-time mom could be really daunting and tiring due to the fact that one is off experience.
You know, having to take care of the baby and still being able to meet up with your usual daily routine, eating healthy and living happily, you're just starting to figure it all out since its your first baby and the joy of becoming a mother is quite overwhelming.
You sure want to have your stuff well organized and arranged for much easier and reduced assignments, yeah right?
Reading further through this page would get you enlightened as to how you would love to have your little cutie's wardrobe look like even before he or she is born and how you can keep it going all through their growth.
While growing up, I've always loved my stuffs being in place, well arranged and organized. Doing this alone makes me really happy. When I was about to have my first baby, I kept wondering how I'd have all these done but all thanks to my sister who came all the way from Philadelphia to help out.
So sharing this would also be beneficial to other confused moms out there. Little but vital tips as these, from an experienced mother of four beautiful kids, would help serve as a solution to whatever challenges you might be facing with getting your kids' stuff arranged.
Luckily for us, we now have access to a collapsible wardrobe, which is a great option to hold all of baby's things. Many of them come with pockets on the side and the space on the top of the cupboard can also be used.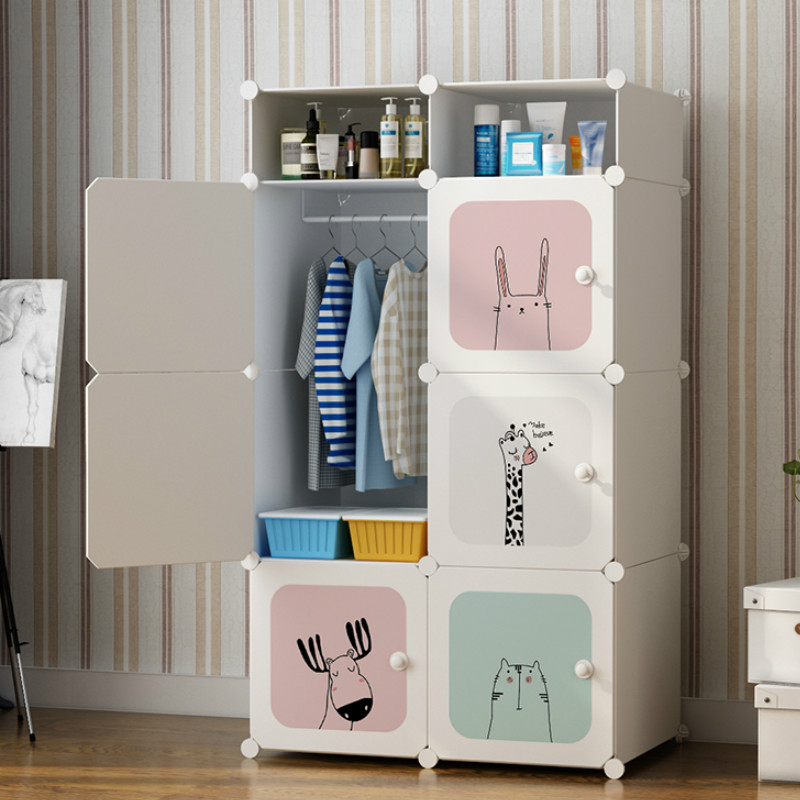 8 Tips on how to Set Up Your Baby Wardrobe: Even First Time Moms Can Do This
1. Make use of Hangers
You hang everything that could be hung at the upper part,all these excluding underwear. I mean the pajamas,jackets, cardigan,t-shirts and the likes. I recommend purchasing your bodysuits in 3-6 months because very few babies fit into 0-3 months for more than a few weeks.
If it makes you more comfortable, you can buy a few in the smaller size and then the rest in the larger. You can have all these well folded in the wardrobe, alongside the undershirts. Outerwear is one of the most difficult areas of baby clothing to figure out. Know that outerwear is a learning experience, and don't be too hard on yourself if you don't get it right the very first time.
A quick tip for you: Some people forget to pick up baby bodysuits. And don't get overwhelmed by the hundreds of styles and prints; plain white works just fine for your first weeks at home, though I do recommend the kimono-style baby shirt or bodysuit because it's great for umbilical cord care.
2. Simplicity is Key
Look for items that will give you easy access for diaper changes, like slip-on pants, side-snap shirts, and coveralls and have them kept in one of the baby's baskets. These make cleaning your baby easy, without constantly having to pull clothes over your little one's head.
3. Sort by Sizes
It can be overwhelming to get a lot of new baby clothes and hand-me-downs from friends and well-wishers. Sort those tiny treasures by size, type, and season, and keep everything separate with some hanging size-tags.
Arranging the cloth in their different sizes and using a size divider to differentiate them for easier reach. This size divider was of great help to me after i discovered what it is and how it works. You could have the first row, size 0-3 months, the other rows, 3-6 months, all through to 12 months.
So if you have it done this way, you won't be left searching for clothes when your baby grows another size seemingly over the night. It would also help you choose clothes that grows best with them.
4. Treat Miscellaneous Items as Important
In as much as you would love your baby's wardrobe much more beautifying, with small drawers by the side, you could have your baby's skin care products, disposable wipes, baby ointment or other barrier cream to prevent rash and medications contained in one side of the drawer, so they could be easily accessible.
However, by the other side, you could keep your baby's miscellaneous items such as combs, nail clippers, wipes, and so on.
You also have to organize the baby's tiny stockings ,pants ,shorts in the other part of side pocket. For Andre"s pants and shorts, we had them kept in there, including his onesies and it was very easy for us locating where they were kept.
5. Labeling is Magical
Making use of labels would also help go a long way. You could use some of these labels to store outgrown baby clothes. Have your baby's clothes well arranged using a growth spurts.
6. Prepare the Bottom Sides for the Shoes
Your baby's shoes shouldn't be left out here as they give compliments to any outfit. So they are as important as the clothes, and so should have a reserved space for them. Okay? The bottom right side of the wardrobe, had Andre's shoes collections.
Having tried other places to keep them, we found out the best place ever,most suitable to have them was the drawer and so it was easy looking at all of the pairs and which would go best for his outfits.
However, if you've got the shoe racks as well, it helps free some spaces in the drawer while it contains the shoes. But in case you don't have this, there's nothing to worry about as the drawer is also a safe place to put your little baby"s fancy shoes including their hats.
7. Keep Diapers close to your reach
Your baby's diapers supplies should be kept one place. I usually have Andre's diapers changed after every 3-4 hours, because I always believed he would have had it messed up way too long and so needs to be changed.
So, I had to keep it somewhere my hands could get to so quick. In the initial months, you'll be spending a good amount of time changing clothing for your baby, so it's well worth your time to make the process run as smoothly as possible. You could invest in a diaper caddy or a basket, to hold all diaper changing supplies in one place.
8. Keep Toys within their reach only if need be
Keeping the kid's toys can be a very real challenge. This minute I get to keep them at the bottom left side of the drawer, the next minute Anderson, is there to pull them out again.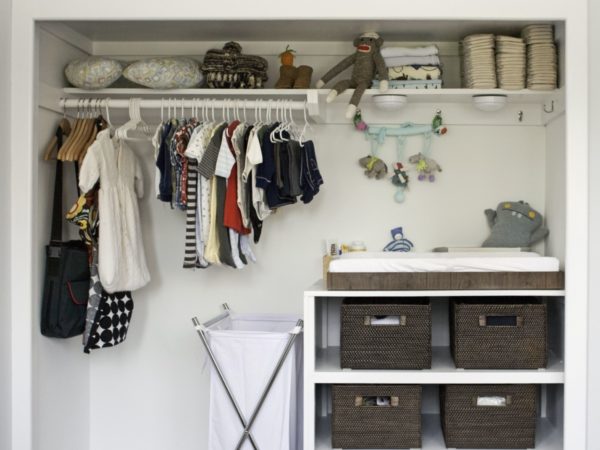 So I had a re-think of a much better place to have them stored, this method wasn't really working for me because having to do this everyday could be frustrating a whole lot. So I device a new means and I began keeping them at the upper part of the drawer, where he had no access to.
Lastly, if there's still space in the drawer, you may need to keep the blankets, baby wrappers and the likes in there.
Final Thoughts
This not only for your kids but also a good one for your wardrobe as well. Life could be quite frustrating especially with little kids that are just learning how to eat with utensils all by themselves, they could get their clothes stained in the process and it may seem hard getting to remove the stains.
You don't have to get these clothes trashed, all you have to do is keep the clothes for your kids to wear during craft time. After all, they would only get to remember the fun time you had together and not the clothes they had on.
Moreover, your baby will outgrow all those adorable little clothes. And when that happens, you may choose to host a baby clothing swap, take them to the consignment shop, or even have a garage sale to get rid of it all.
Some of these outfits might be special (like christening or coming home outfits) and will require special care. Other baby clothes can be packed more simply. You just have to have them washed and keep them in the wardrobe for storage as it may be useful for the next baby.
Read Also: