Every nursing and working mother have one common issue; how to get the best cooler for frozen breast milk. This becomes a real problem most especially when they are travelling with breast milk by car.
Before pumping, it is best to have gotten the best cooler you need to store your breast milk if you want to keep it safe and healthy.
In this review, we would explore the best cooler for frozen breast milk. This is essential for working moms or nursing moms who are traveling with breast milk by car.
Breast Milk
Breast milk is a unique dietary supplement that contains a blend of all the food nutrients required for a child's healthy development. Essential substance like vitamins, antibodies, carbs that promote growth, Cytokines that builds the immune system can be found in the Breastmilk.
Apart from giving your baby the balanced diet he/she needs, breastfeeding is absolutely free and readily available at all times required. But, these are only the apparent advantages of breast milk.
The significant benefits of breast milk will be felt long after the child has stopped taking it. For the mother, just breastfeeding your baby alone will create a unique emotional relationship with the child. This will help you communicate with the infant effectively.
For the baby, Cot Death is reduced, the chance of having dermatitis and allergies are reduced as the child grows, and the child's brain develops significantly.
Proper Breast Milk Storage
For working moms and others searching for efficiency when traveling with breast milk by car, It is essential to understand how to store your breast milk securely.
These are the major steps you need to take when storing breast milk:
Make sure your hands are clean before handling breast milk to avoid any contaminant.
Only store your breast milk in any plastic without bisphenol -BPA which are found in polycarbonate plastics or any safe covered bottle. Special plastic bags intended to collect and store milk are used. Do not keep breast milk in containers that are meant for everyday use.
Mark the container of stored breast milk, noting the time it was stored. Also, write the name of your baby in case you are storing in a public place.
Breast milk needs low temperature, and as such, it is best to store it in the part of the fridge where there is low temperature. An airtight container can also be used.
Store what is needed at a time.
When adding new breast milk to the ones in the fridge, make sure you don't pour hot breast milk to the cold ones directly.
Keep note of the time for storing breast milk. At normal temperature, you cannot store breast milk for more 6 hours. When the surrounding temperature is warm, the time limit is 4 hours. However, you can store expressed milk for as long as 5 days in a refrigerator while the breast milk will still be viable in a freezer for half of a year.
7 Best Cooler for Frozen Breast Milk
1. MOJECTO Cooler Bag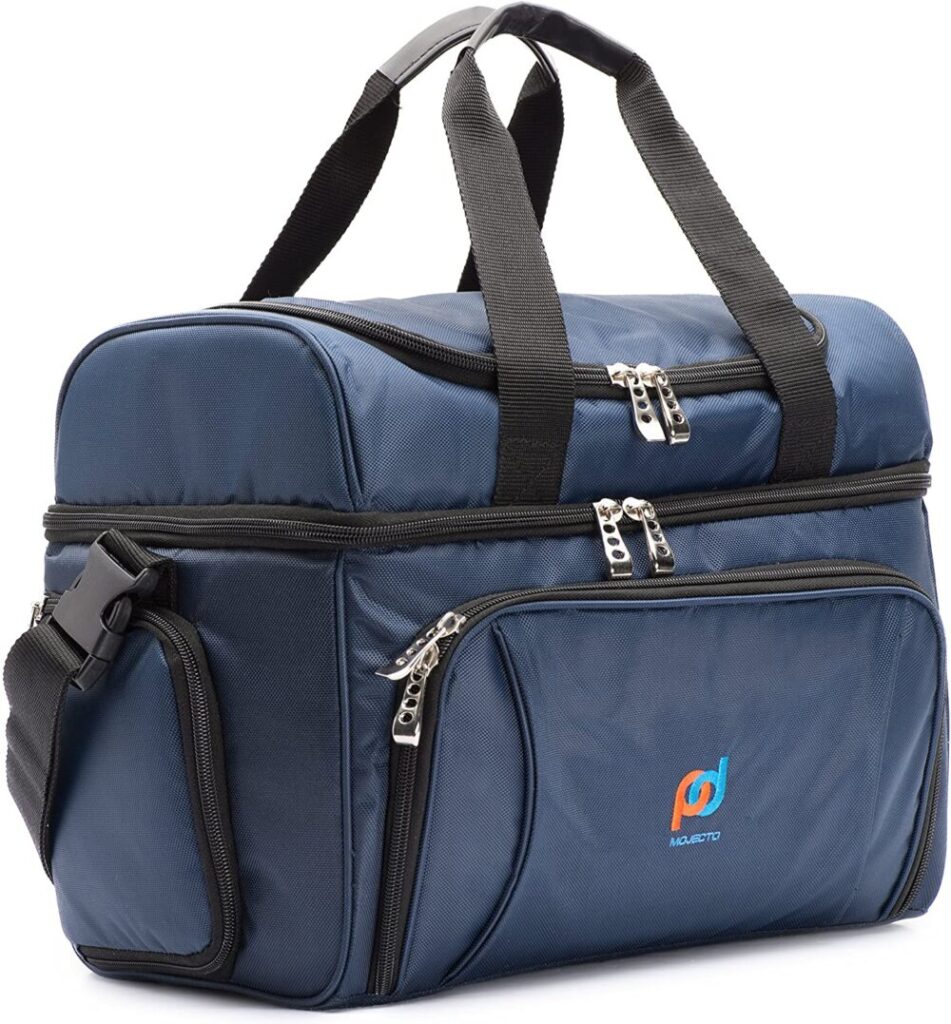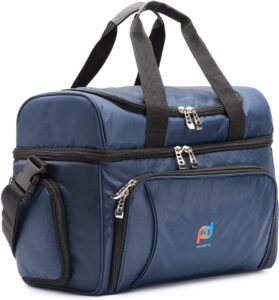 If you are searching for a portable bag that has lots of storage pockets, this is your pick. With so many spaces inside, it is built to contain two square 3 jars which are 6 by 6 in size.
Even with the two containers inside, there is yet some space for other products such as fruit, cutlery, towels, and more. When using an ice pack, The MOJECTO Cooler Bag can keep the breast milk cold for 10-12 hours.
There is ample space within the bag. There is another little space which has a small pouch within it at the top. In front of the bag is another area with two small pouches. This is why it can be used to carry different things.
The bag is very efficient. With so much packed in it, the contents will never spill out because the zipper pulls and straps are of high quality.
Features
High-density insulation
Multiple storage capacity
A replacement liner which can be readily connected as a substitute through a zipper
The side pockets ' unexpected adaptable to hold different things. It can keep a jug with breast milk on the one hand and an excellent supply of snacks and fruits on the second.
The bag comes two handles, the lengthy strap helps you lift the bag over your shoulder while the small one is for carrying the bag in your hand correctly.
Pros
Several spaces to store other things
Great customer service. They provide replacements if a defect is on the bag.
Cons
It is not so big
The liner is not necessary.
2. PackIt Freezable Deluxe Large Lunch Bag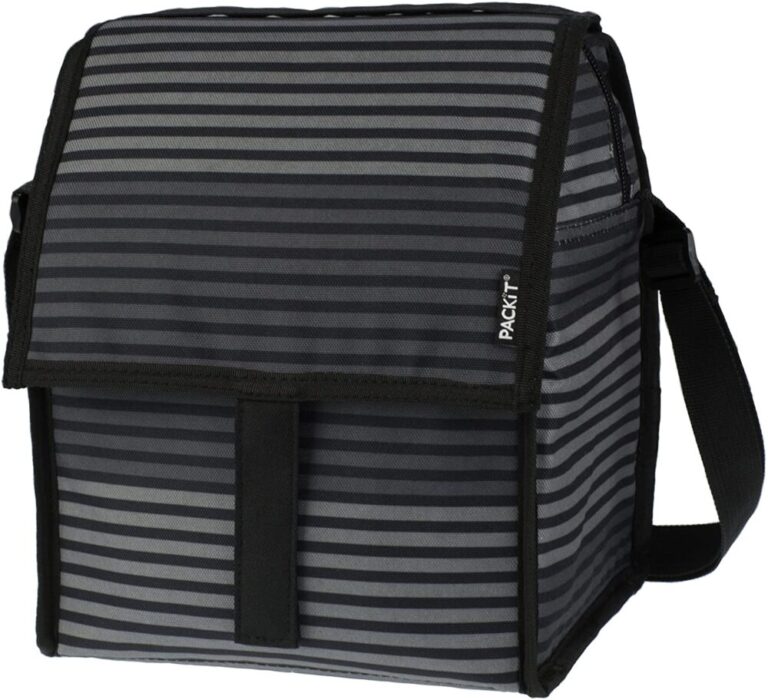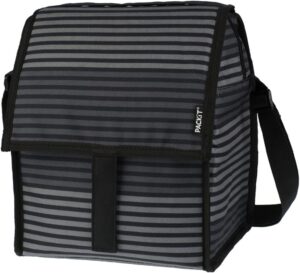 One thing that makes PackIt unique is the in-built freezable cooling design promised by the manufacturer. With this in-built technology, you don't need ice packs to keep your breast milk fresh when traveling by road.
PackIt Deluxe bag can keep a big dinner, a sandwich and a 24 ounces bottle fresh. It is perfect for individuals with restricted nutrition, susceptibility to food, or allergies.
You can fit this bag in a freezer as it is fold-able. After staying the night in a freezer, the bag surface will be frozen and set to keep food fresh for hours. PackIt Deluxe bag comes with a strap that can be easily adjusted.
The zipper protects the content in the bag, keeping in cool air free from moist. Cutlery and private objects can be stored in an external slip compartment of the pack.
Features
The in-built freezable gel that maintains the quality of your breast milk for up to 10 hours. However, this depends on the temperature outside.
Contains drawstring that can be adjusted.
Zipper pulls
Produced from fabric built from non-toxic cotton and EVA which prevents water from entering.
Free from food contaminants like PVC, BPA, phthalate, and lead.
Pros
Comes with different colors to choose
Use of Ice packs are eliminated here
Cons
Poor Insulation
The bag gets wet when it defrosts, which can affect the content. It is advisable to place food contents in Ziploc bags before placing it inside.
3. Medela Breast Milk Cooler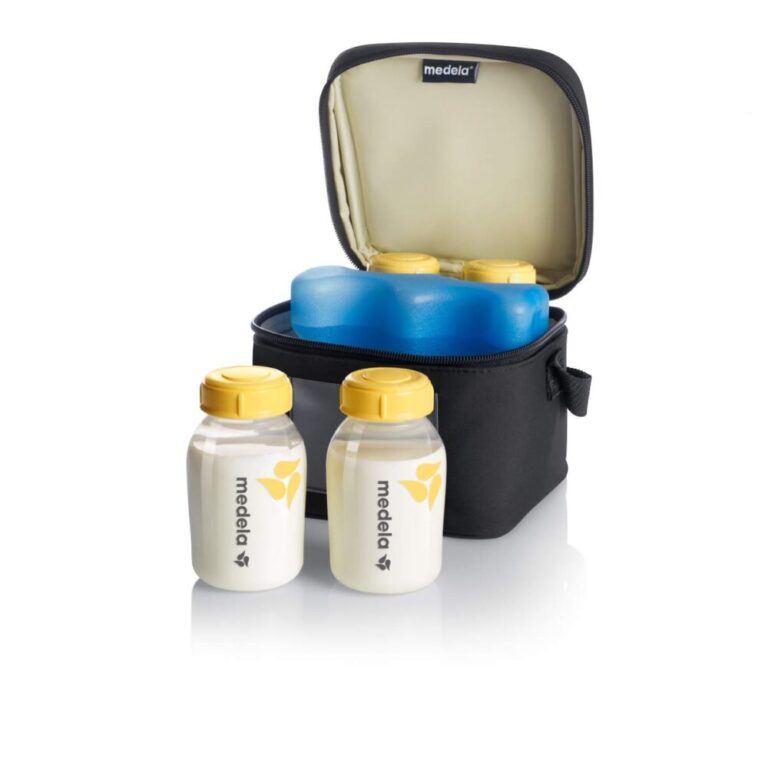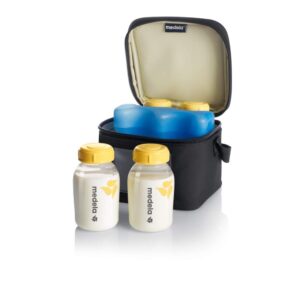 Medela is a company centered on creating only innovative breastfeeding products. It is known for creating breast milk coolers and pumps, so even though this cooler is small, it remains the ideal solution for working moms.
The bag comes with extra containers made explicitly for storing expressed milk, caps and an ice pack. In addition to this, other essential tools you need for storing and moving your expressed milk are included in the bag.
Medela bag is designed to fit each of the 5 ounces bottles. This will maintain the temperature of your breast milk as you travel, go to work, or keep your baby in a daycare. The bag is your ideal option in hot temperature where it is not advisable to keep expressed breast milk on the table. Placing your baby's milk inside the bag alone regulates the temperature.
You can freeze the ice park all through the night (12 hours). After this, the stored milk remains fresh for the rest of the day. This bag is the ideal option if you are looking to store breast milk for just a short-term basis. The containers are of the highest quality as the ice packs preserve the milk's temperature.
Features
Contains one cooler container, an ice pack, and four bottles.
Essential spare components of Medela.
Contains ice pack cooler and contoured.
Contains 4 containers of breast milk collection compatible with all breast pumps of Medela.
Manufactured without BPA
Pros
It is portable and easy to use
Specifically designed for nursing moms
Allows nursing mothers to pump from anywhere
Cons
No color variety, just the black color
Nothing else can fit in except the Medela bottle and ice pack that came with it.
4. Sarah Wells Lizzy Breast Pump Bag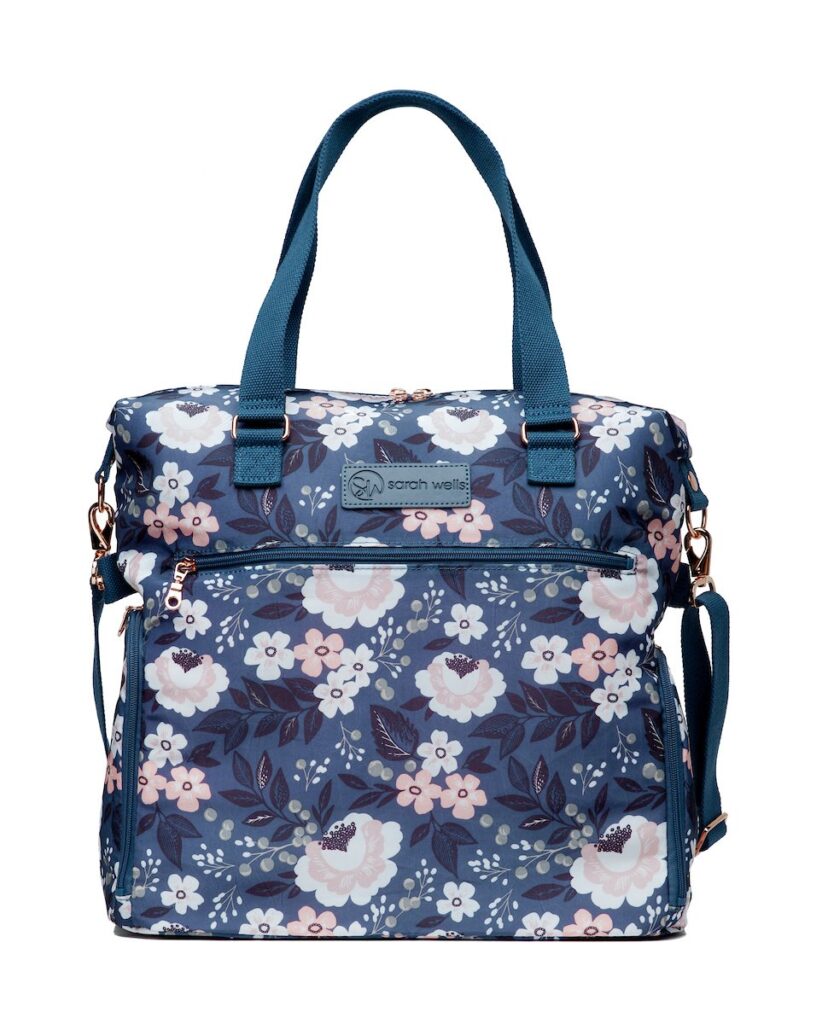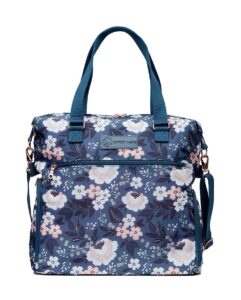 Sarah Wells bag is also centered on meeting the needs of nursing moms. This particular bag is named after Sarah Wells sibling 'Lizzy' with a focus on its design.
This is a bag for young mothers. With personalized features that include breast pumps, the Sarah Wells Lizzy bag will make it easy for you to pump on a working afternoon as well as a dinner night as it helps in opening your breast pump elegantly for you.
There is no other breast pump bag that can match its brand, design, and efficiency. Sarah Wells' Lizzy version is sleek, lasting, and equally simple to clean with lovely straps.
The customization feature enables you to change your bag to suit your requirements; you can adjust it into a little pump pouch or a bigger pump bag that can contain a laptop. Every young mom will love this.
The bag comes with some breast pump supplies, compartments that are heat-lined, which can keep breast milk fresh for up to 6 hours. But, it is more than just breast milk as it contains two picture pockets for images of your child.
Features
Fashionable breast pump bag
Stylish storage compartments
Large space that can contain a laptop
Flexible bottle spaces that fit perfectly
An adjustable bag that can be used on different occasions
Pros
Amazing Design
Flexibility in use as the bottle space can fit pumps like Spectra S1, Hygeia, Medela Sonata, etc
Cons
High cost
Unnecessary storage spaces
5. Igloo Iceless Thermoelectric Cooler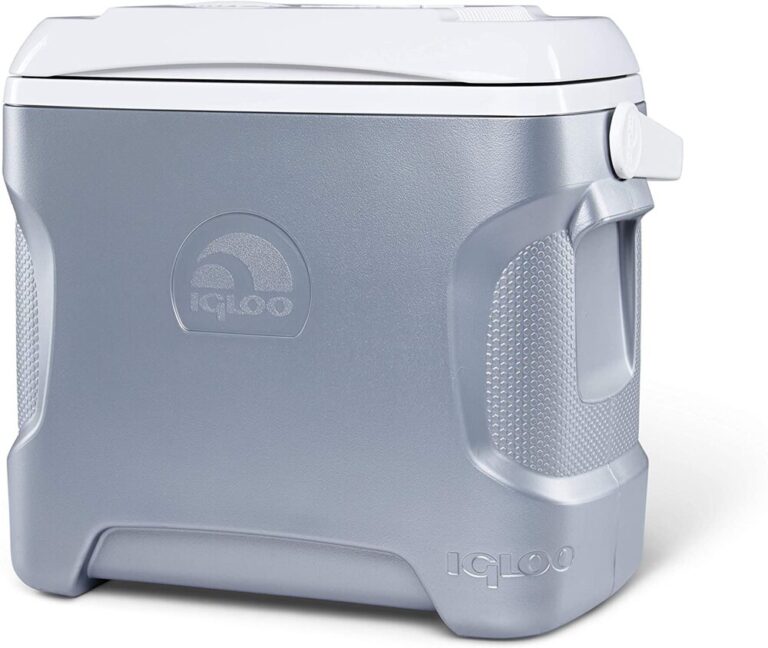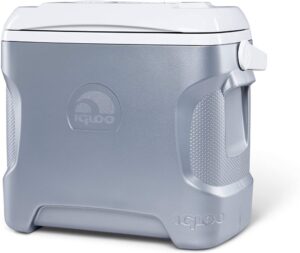 Iceless coolers don't need ice packs to make stored breast milk cold, and it is why Igloo Iceless Cooler is a brand loved by many nursing moms. Igloo also offers their brand according to the number of compartments i.e., Breeze 26 has 26 quarts while the Powerchill 40 has 40 quartz, and this means you can store so many foodstuffs in it.
These are excellent, mobile dimensions that can accommodate the right quantity of products, especially since you don't have to place ice packs in it.
The Igloo thermoelectric bag can lower the inner heating by 36 degrees, but some iceless coolers can break this figure up to 38. However, this cooler cannot be used to heat food substance or maintain the heat as there's no thermal component in it.
The cooler can be plugged into any conventional 12V socket or plugged into most energy sources on a vehicle or RV using a 110V cable. Igloo iceless bag comes with a brushless motor and heat loss system that makes sure every substance within the bag stays cold.
Read Also: Best Pacifier For Toddler|Teething, Orthodontic
For storing breast milk, which can perish, you have to ensure that the cooler is working well. This is the purpose of the LED light on the power plug.
When travelling by road with breast milk stored in this cooler, place the plugin such a way that you can see the LED light. If it is on, it shows that the cooler is working; you can also place your hand over the exhaust vent to ensure the engine is working.
Features
A cooling system that does not require ice packs
Adjustable design that helps you carry the bag over your shoulder
Convection system that ensures there is equilibrium in cooling
8ft power plug for a 12V DC
Pros
No ice pack which means no defrost
The presence of the power plug ensures that the breast milk remains thawed at all times
Cons
It was specifically designed for cooling breast milk and as such, some bottle pumps may not fit in
6. FlexiFreeze Pocketbook Breastmilk Cooler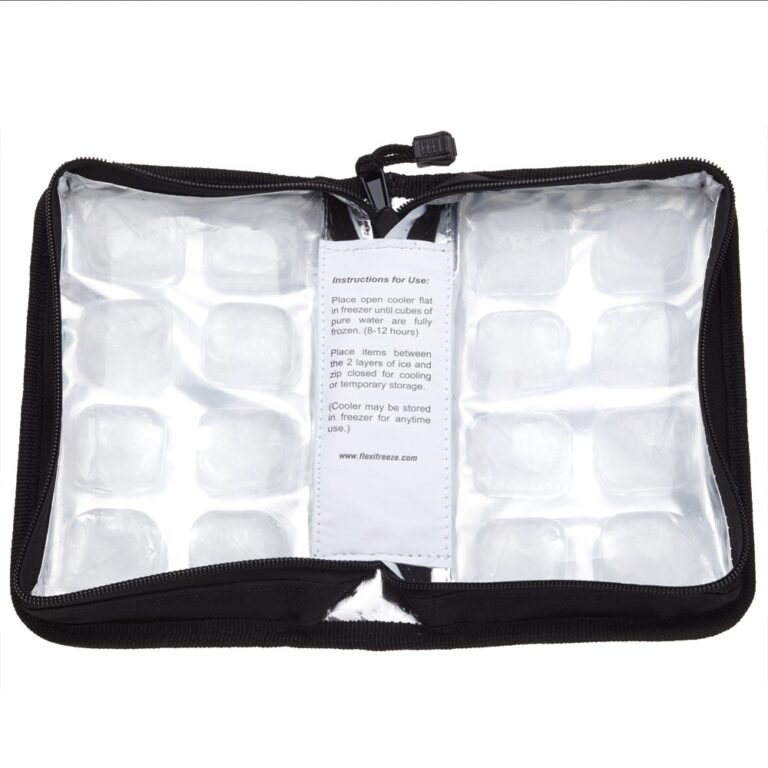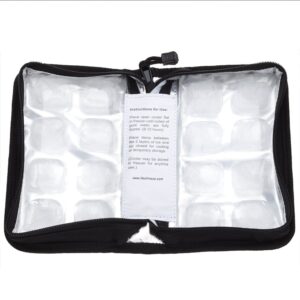 FlexiFreeze Pocketbook Cooler is a secure and comfortable bag for your valuable expressed milk which you intend to keep fresh over a couple of hours or through your trip.
The cooler comes with an in-built 16 ice cube packs which are from 100% pure and treated water. This feature is much better than the traditional ice pack made of gel because frozen water is a lot efficient than gel.
You can keep your expressed milk in between these cubes made of distilled water. Unbutton the cooler and keep it in the freezer.
Then zip readily and position the valuable breast milk in your carrier bag enabling for secure, subtle, dry storage and transport.
Features
• I6 ice cubes made of water
• The size can fit into a handbag or pouch
• 2 mini-hospital bottles can fit in
Pros
• The ice cubes made of water are better than gel
• Keeps food fresh over an extended period
7. J.L. Childress 6 Bottle Cooler, Insulated Breastmilk Cooler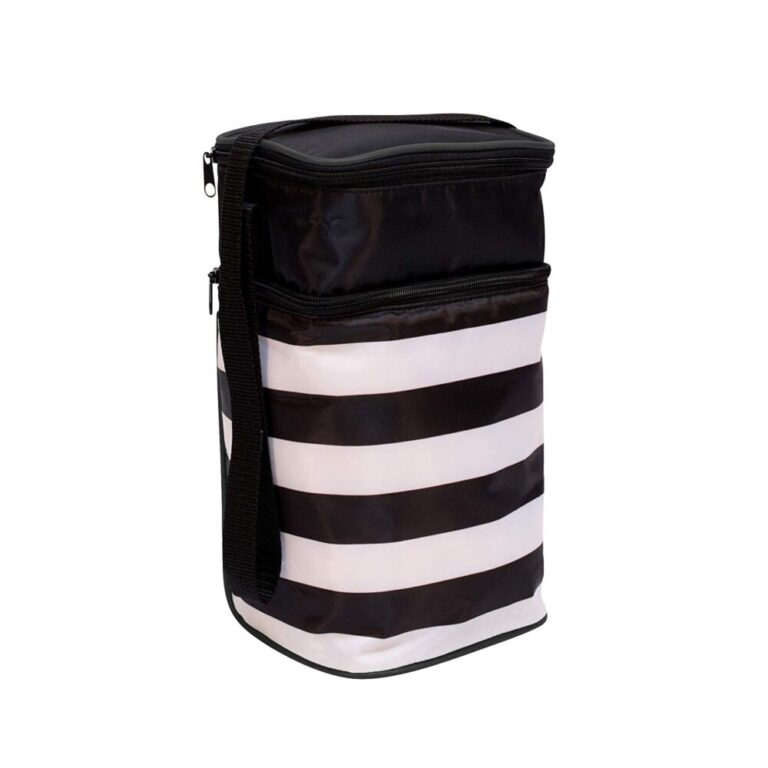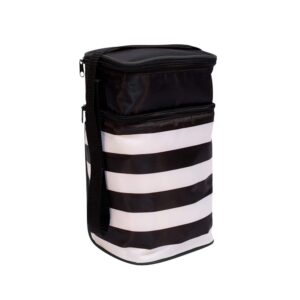 The wholly enclosed 6 Bottle Cooler is a leak-proof handbag with drawstring and a recyclable ice pack which is ideal for storing a day's stock of baby's breast milk.
The 6 Bottle Cooler is also the closest pal of a nursing mother. It will sufficiently hold a manual or tiny pump, bags for dairy storage, ice packs, and containers.
This handbag cooler has 2 isolated zippered cabinets: a base that can retain up to 6 standard containers or 3 bottles, as well as a fruit box and a top cabinet adequately designed to hold 3 food cans, cutlery and socks.
You will also be happy to learn that the inner coating of the bottom cabinet pulls up to prevent bad smells or dry rot for simple washing and is free of PVC, lead and phthalate.
Do already know of the ice pack? It is free from toxins, solidly iced, and the recyclable ice pack is vast. It maintains your snacks and drinks cool for up to 8 hours.
Features
• A sizeable insulated bag that can hold six bottles that are 8 ounces each
• 2 large cabinets
• Lining that is simple to tidy up and PVC, lead, and phthalate-free.
• The space at the bottom can keep and freeze up to 6 standard 8oz. bottles for hours.
• It can be used as storing and pumping breast milk; Fits breastmilk storage bags and a small pump
Pros
• The lining is also leak-proof and heat-sealing
• Top compartment holds 3 food jars, utensils, bibs, and more
Traveling with Breastmilk by Car
Nursing and pumping from home are pretty tricky; however, when you hit the road for a journey, they get more challenging. If you feel like taking your child, breast pump, and expressed milk pack on the highway, you'll need more energy.
Nevertheless, there are some things to remember about travelling with breast milk by car ride so it won't become so daunting.
Most of these guidelines are what you already know, but learning the best methods to keep your breast milk in the vehicle is a little more complicated than throwing it into a bag and placing it in the freezer as you do at home.
When taking a road trip, one thing you must never forget is that it is better to prepare ahead, and as a nursing mother, then storing the breast milk is what you should make for.
Keep it thawed and Allow it to Stay on Ice
It may seem convenient to carry cold breast milk with you when travelling by car, but if you desire to use it in your vehicle, warming it up will take more time than you anticipated.
Read Also: Best Breast Pump For Exclusive Pumping
Even with the possibility of getting bottle warmers, storing your defrosted milk with ice packs in a bag is a fantastic method to ensure it remains cool and rapidly gets warmer.
Breast milk can stay fresh for six hours
There is no need to place ice packs together with your expressed milk in case you intend to use the milk before you get to your destination. Breast milk can remain at ambient temperature for up to six hours without having to be cooled or iced.
Bring more Bottles than you need
It is horrible to forget your bottle for storing milk in the car. When it gets to the necessities of your infant, it's safer to overstuff than under pack. So, therefore, don't hesitate to bring more bottles than required.
Conclusion
Without doubt, storing breast milk in the best cooler is more convenient than simply placing it on a table to be used later. This comprehensive review has highlighted the best products you need when travelling with breast milk by car. However, it is not possible to buy all the seven coolers for just a trip.
So, which of these seven best cooler for frozen breast milk would be perfect for the next trip?
Medela Breast milk cooler is your best option. It is not just the high rating that makes it unique. This cooler has all the characteristics required for the next trip.
Medela breast milk cooler is designed for the nursing mother, and it comes with a perfect set of bottles that fit in the bag. In addition to this, with just 4 spaces, it is very portable.
Another product is the Sarah Wells Lizzy Breast Pump Bag, which is also designed for the working mother and comes with a breast pump.
If you don't like the Medela Breast milk Cooler for its lack of style and size, Sarah Wells Lizzy is the perfect option for you.