Probably you are a first-time parent or not; it is crucial to learn so much about exclusive pumping and the best pumping tools. So in this guide, I have decided to review the best breast pump for exclusive pumping.
Eping is an alternative to formula feeding. It is almost the same as breastfeeding because you're still giving your little one breast milk but from a different channel.
About exclusive pumping
Exclusive pumping is often referred to as Eping is an intentional decision to pump breast milk for babies instead of feeding them directly from the breast. One good thing about Eping is it promises that the baby will get all nutrients necessary that breast milk will offer.
In my comprehensive guide for exclusive pumping, I wrote about tools, tips, and schedules to be an exclusive pumper.
The most essential tool for exclusive pumping is the breast pump. I recommend electric pumps, but you need something convenient and portable.
Types of breast pumps
A breast pump can be single or double; meaning either pumping a single breast or the two breast at a time. Although double pumps tend to bring more milk, but a con is its price being on the high side.
Breast pumps can further be categorized into manual, electric and hospital grade pumps.
Manual Pump: Obviously, this kind has no external power. Your hand is the suction power source by squeezing the handle. Manual pumps are handy, portable, and less costly. However, they have a low suction power, thereby expressing lesser milk than other types of pump.
Electric pump: Electric pumps have a higher suction power and also express more milk than the manual types. Having so many electronic features such as; timer, LCD screen, monitor, nightlight ensures your success in your exclusive pumping journey. However, a downside is the weight and price of this kind of pump.
Hospital Grade/Double electric pump: Double electric pumps are mostly found in hospitals for rent because of the high price. They come in a closed system enabled for expressing maximum milk per day; up to 8 times per day. A significant disadvantage of the hospital-grade pump is the price, and only a few parents can afford it.
Considerations for selecting the best breast pump for exclusive pumping
Saying you should go for an electric pump is not enough. You need to know what to look for in a breast pump before selecting the best for you and your baby. Here is the list of features you should consider before choosing a breast pump.
Price
Naturally, everyone wants to save some cost on any product. You will want a pump within your budget, don't buy a cheap pump because it will end up stressing you and still put you in a situation of purchasing another. I again validate my word by saying "buy a product within your price range." However, my advice is to let your budget be enough to buy the right pump.
Adjustable suction rate
Your breast pump suction speed determines how fast it can drain the breast. You wouldn't want a pump that drains your breast as soon as plugged. The same suction rate won't work for every woman. Therefore, you need to pick a pump with adjustable suction speed so that you can test and find what's best for you.
Portability
As a mom that travels a lot, or wants to return to work after a few weeks of giving birth, portability is a key feature to look for in a pump. A stay at home mom might not need a handy pump, but occasionally you may need to move out of your house.
Pumping Modes
Normal breastfeeding follows two patterns. The baby's first few sucks enable milk stimulation while after a while, there's milk expression. You want a pump that can follow this pattern.
Assembly and Maintenance
As a mom interested in exclusive pumping, you need a pump with few parts for easy assembly and cleaning. If a breast pump gives you a puzzle hassle before assembling for the use, you might easily give up on the whole pumping idea.
Back-up Power
In a situation where there's no electricity supply in your house, and you need to feed your baby. An electric breast pump with battery option has got you covered for such days.
6 Best Breast Pump for Exclusive Pumping
1. Philips Avent Double Electric Breast Pump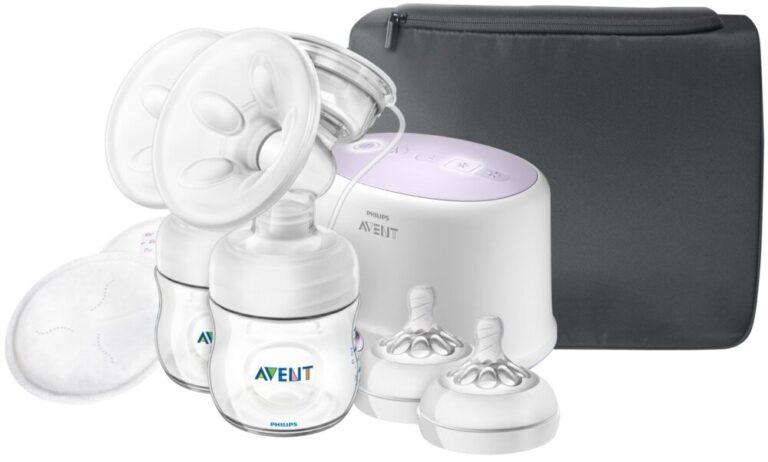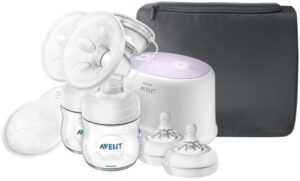 Philip Avent is arguably the most comfortable breast pump today. You will simultaneously express milk from both breasts by a single button touch. Philip Avent features 3 pumping modes for effective pumping. All Philip avents are made from BPA free materials.
The Philip Avent comes with two nipples and bottles with a bag that allows for proper storage of breast milk. The comfortable massage cushions help to stimulate the milk before expression, thereby following the two-way breastfeeding pattern.
Features
Comfort-ability: It has been proven over time that relaxed pumping sessions have a positive effect on the mother's milk quantity flow. This Pump allows you to sit upright, unlike traditional pumps that need leaning forward for active pumping. With the Avent double electric breast pump titled neck, you will be relaxed and enjoy an excellent pumping session.
Multiple Operation Modes: This pump features 3 expression settings that you can explore to choose what is best for you.
Easy Assembly: Any mom can easily assemble this pump. It has very few uncomplicated parts.
Fine Texture Massage Cushion: This feature allows the breast pump to mimick your baby sucking pattern. Making full expression follow easy stimulation.
BPA Free: All components of this pump are BPA free.
Closed System: It's simple closed system design doesn't allow for milk spillage.
Pros
Lightweight
Easy assembly
Few parts
Great suction power
Pain-free expressions
Easy to use
Effective
Customizable
Free Storage Bag
Cons
2. Spectra Baby USA – Plus Premier Rechargeable Electric Breast Pump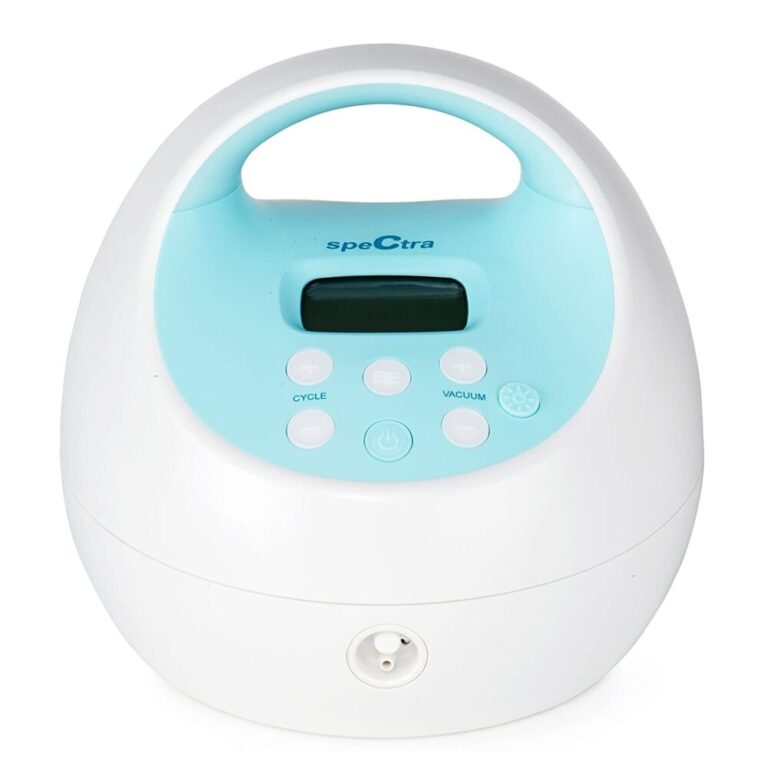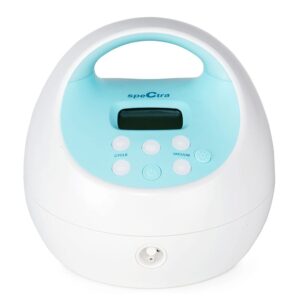 The most affordable hospital grade pump you can see on the market is the Spectra S2. You can easily move around with it in your house because it weighs just 3.3 pounds.
The most beautiful thing about this pump is the adjustable suction strength. The Spectra S2 is capable of establishing up to 300mmHg suction strength. This hospital grade pump allows you to choose a suiting suction speed from various options available.
It also features a noiseless motor which allows you to pump discreetly anywhere at any time. A big downside of the spectra brand is the no battery option. So when there is a blackout, you cannot pump.
Features
Digital Display and Push Buttons: Spectra S2 possesses digital display that enables easing reading and push buttons for suction speed adjustment.
Memory Function: Allows you to save settings and preference. It's best for those who are sensitive to settings or have time constraints.
2 Phase expression technology: This breast pump employs 2-phase expression technology; initial stimulation phase and the final expression phase. It does this to mimic your baby's eating pattern.
Closed system: It's closed system does not allow for milk spillage and doesn't allow milk flow into the motor.
Pros
Hospital grade suction strength
Digital display and push buttons
Nightlight
Closed system
Memory function
Cons
You have to buy pump accessories separately
No battery option
3. Medela Pump in Style Advanced Double Electric Pump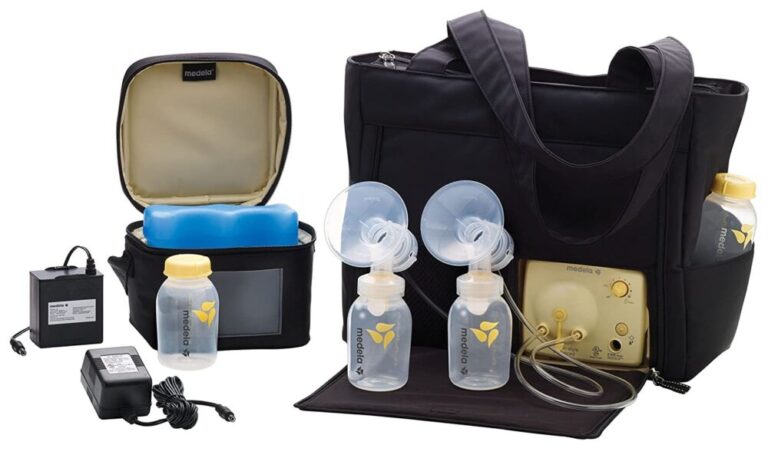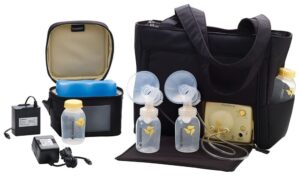 The medela has made its name in the US. It's very popular among moms. I will say this is because it comes with almost all you need for successful exclusive pumping.
The in-built freezer keeps your milk fresh until you get to a freezer for proper storage. A distinguishing feature of this pump is the different sizes of breast shields making it suit almost every mom.
The medela pump in style advanced has over a thousand positive reviews on Amazon. The major downside is the bag has to be close to you whenever you're pumping because everything you need is attached to the bag.
Features
Inbuilt Freezer: The medela pump comes with a built-in freezer that keeps your milk fresh for a long period of time. Although, they still recommend you to get a freezer of cooler for frozen breast milk.
Battery Option: You don't have to panic when there's a blackout or your power generating set is faulty. The battery option of this pump has got you covered for such days.
2 Phase Expression Technology: This feature is very important for optimal pumping and maximal draining of the breast. The two phases are stimulation and expression.
Pros
Cold Storage
Lightweight
Optimal Draining of the breast
Durable
Includes 5 breast shields of varying sizes
Battery option
Cons
The open system might cause spillage
Noisy Motor
Less comfortable because the bag has to be close to you always
4. BelleMa Effective Pro Double Electric Breast Pump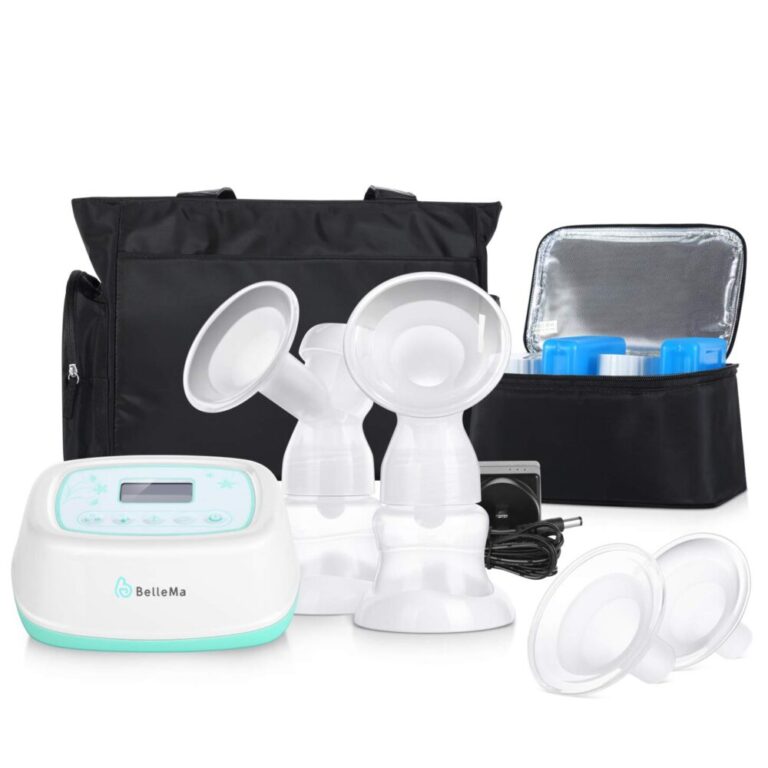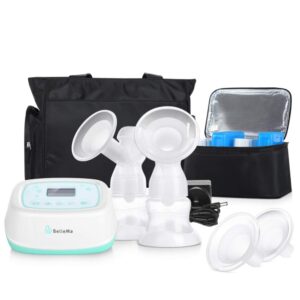 The Bella is a perfect alternative to the big brands out there. Aside from having a close system, 2 phase expression, LCD display, and silent motor, there are several features that make this breast pump stands out.
This includes; IDC technology which allows you to make settings to pump from a single breast of the two simultaneously; the LCD display screen allows for easy reading and monitoring of your pumping data; the memory feature also allows you to save settings and not readjust every time you come for pumping sessions.
Features
IDC technology: This is an integral feature that makes this pump stand out from others on the market today. This feature allows you to control each side of the pump separately thereby giving you three pumping options to choose from.
Memory Function: Allows you to set your preferences and adjustment. This pump remembers prior settings.
Pros
IDC technology
Closed system
Memory function
LCD display
1-year warranty
Cons
The battery pack comes separately with USB charger
Heavy long term use may damage the motor
5. Bellababy Double Electric Breast Feeding Pumps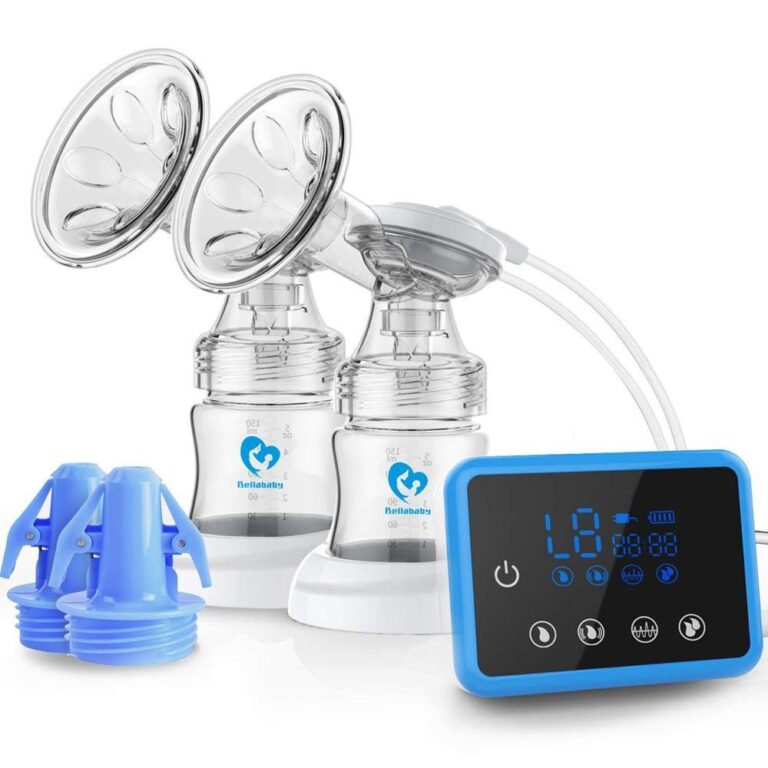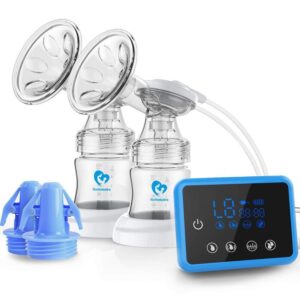 Looking for the best pain-free, high suction power breast pump, the Bellababy pump should be your choice. Its silicon petals are softer on the skin and allow for gentle sucking pattern.
It comes with an HD display screen and touch screen for easy display and operation. There are 3 suction modes to choose from; the continuous, the frequency conversion and normal modes. Therefore, you can choose the suction speed and strength that suits you.
Features
Storage Bag: The Bellababy breast pump comes with a portable milk storage bag that allows for proper storage of breastmilk while at work or home. The 2 storage bag adapters allow you to pump directly into the storage bag.
Closed System: The simple closed system design does not allow milk spillage into the motor thereby, preventing mechanical issues of the motor.
4 modes and 9 suction levels: Bellababy is fully customizable to suit your need an preference. You can choose from 4 different sucking modes and 9 different suction levels.
Pros
HD display
Lightweight
FDA approved
Adjustable suction levels
Car adaptor available (You'll purchase it separately)
Pain-free
Cons
Pouring to cups can be tricky
Loud motor
6. Smibie Dual Motor Double Electric Breast Pump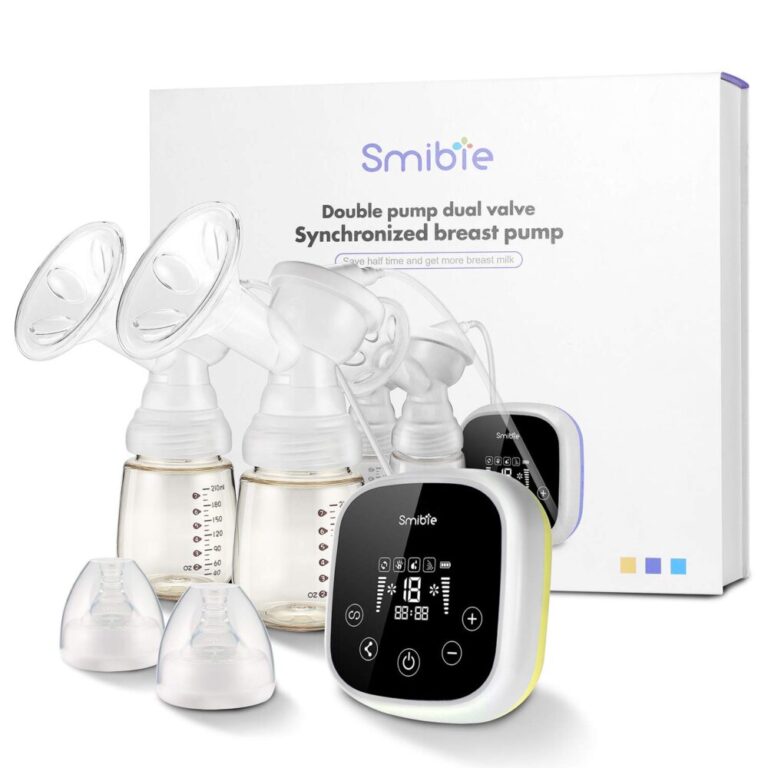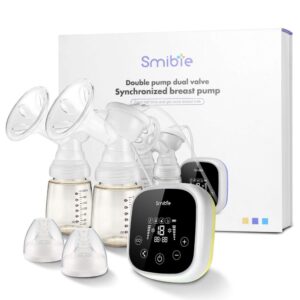 The Smibie is a lightweight compact pump that fits perfectly in a diaper bag without eating much space. It features a good battery which allows you to pump without electric supply.
You have 18 suction levels to choose from which makes this breast pump fully customizable to your preference. The simple close system design of the smilbie does not allow for milk spillage.
A big downside is the small head which doesn't fit well for people with large busts.
Features:
Fast, Efficient and Comfortable: Smibie saves so much time when you're pumping. It can attain a suction strength up to 330mmHg.
Customizable Settings: You have the ability to choose from 18 suction levels and 4 different modes. Most moms make do with suction levels up to level 9.
Pros
19 suction levels
Battery Option
Super quiet
Closed system
Flexible and hygienic
Cons
Small neck which could not fit large busts.
I know with this guide, you should be able to choose rightly for your exclusive pumping journey in 2019 and beyond.
Important Reads: