BabyBjorn Bouncer is one of the special bouncers. It is cute, elegant, and built to be extremely comfortable for babies. It is designed is such that you can use it to carry and rock your baby from a couple of weeks old to about 24 months.
BabyBjorn Bouncer Balance Soft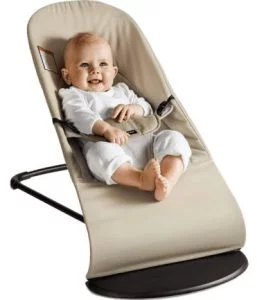 Its seating area is made of a soft and comfy material that will not irritate or be uncomfortable for your baby's delicate skin. The design seating design is fantastic in the sense that it provides support for the back, the neck, and the head of the baby. This is what makes it possible to use this bouncer from a young age.
The most unique thing about BabyBjorn Bouncer is how it moves. It does not require mains power or batteries to move. It just needs the baby to move and then it uses the moment to rock him or her for another minute or two.
The movements are natural and very engaging. Your baby will be interested in balancing and triggering them and this will help them develop both their cognitive and motor skills.
Features
Product dimensions: 36.5 x 15.6 x 4.4 inches.
Item weight: 1 pound.
Target gender: Unisex.
Maximum weight bearing capacity: 29 Pounds.
Minimum weight recommendation: 8 Pounds.
Material composition: 100% Cotton.
Care instruction: Machine washable.
Style: Cotton.