Designed for newborns up to six months old, the BABYBJÖRN Cradle Bassinet is a compact, cozy cradle that soothes your baby with soft rocking motions. Parents can rock the Cradle themselves or let their baby's movements gently move the Cradle back and forth. 
BabyBjorn Cradle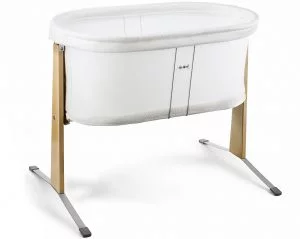 The BABYBJÖRN Cradle provides your baby with a safe and comfortable place to sleep anywhere in your home. This Bassinet comforts your infant with gentle rocking motions and is lightweight enough to be easily moved from room to room. 
Breathable mesh sides allow generous airflow, while the cradle's low height lets you check that your child is sleeping safely and peacefully. Ideal for those early months when your newborn alternates between short periods of sleep and wakefulness. 
This lightweight Bassinet is easy to move anywhere in your home, so you can always keep your baby close. Its durable foot grips keep the Cradle steady without damaging your floors.
The BABYBJÖRN Bassinet is designed with a breathable, soft mesh fabric that provides excellent airflow and lets you keep an eye on your infant. Its low height makes it easy for you to reach in and comfort your baby.
Features
Product dimensions: 31 x 23 x 26 inches.
Item weight: 13 pounds.
Item model number: 041121US.
Target gender: Unisex.
Material type: Metal.
Additional product features: Rocking.
Style: Cradle.
Shipping weight: 15.8 pounds.