Goodnight sleep is never too far away with the Delta Children Sweet Beginnings Baby Bassinet with Waterproof Mattress Pad. This bassinet comes with 2 section storage baskets for all of your baby's essentials. 
Delta Children Beginnings Bassinet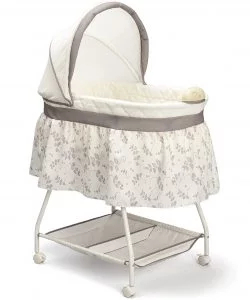 Delta lightweight bassinet is convenient to move from room to room without too much of a hassle. Complete with a nightlight and soothing music your baby will be able to drift off to a deep slumber so you can get back to catching some zzz's of your own. 
The natural leaf pattern with elegant fabrics and sleek profile, make this gender-neutral bassinet perfect for many years to come. Nonetheless, among its part of interesting components, some of them are exceptionally recommendable, Features such as smooth calming tunes, wheels, superb cushioned sleeping pad, additional vast crate and some more.
The dimensions of Delta Children Sweet Beginnings Bassinet are 45 x 17 x 33 inches and it weighs 8 lbs. So it is lightweight. Unfortunately, despite the wheels that come with this bassinet, it is not fit for outdoor use. Unless you decide to carry this manually from one place to another then that would not be an issue.
Features
Product dimensions: 114.3 x 43.2 x 83.8 cm.
Model number: 25021-138.
Target gender: Unisex.
Maximum weight recommendation: 6.80 Kilograms.
Material: Fabric.
Batteries required: Yes.
Battery life: 100 Hours.
It is portable: Yes.
Item weight: 4.81 Kg.
Batteries: 3 AA batteries required.
Item model number: 25021-138.