Chuchik Dinosaur Squishy is made of high-quality PU Foam (polyurethane foam) which is NON-Toxic & Safe which means that you and your kids can have tons of fun with it without worrying about your safety.
Chuchik Sweet-Scented Dinosaur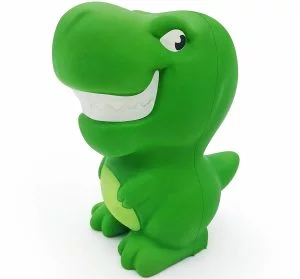 If you have been looking for squishy that is soft and slow rising then your search is over. Our squishies were specially designed and tested by children for the best rising time and softness. be careful, it's addictive and you won't be able to take your hands off it. 
Do you think you're too old for it? Think twice! Our Squishes are great for everyone, especially if you're one of those people who always has to be doing something with their hands or get stressed easily. it will help relieve your everyday stress and anxiety, keep your focus and make you calmer and peace-minded at your workplace, home, and class.
The problem with other squishies is that they have a horrible extremely strong chemical smell that can literally give you a headache. Chuck squishy comes with a slightly sweet and pleasant smell that will make you squishing time the best time of the day.
We are confident with the quality of our Squishies that Your purchase comes with a 100% money back guaranty no-risk no-nonsense. Either you're thrilled or we don't want your money. See why Amazon customer rated our dino squishy 5 stars.
Features
Product dimensions: 5.8 x 3.4 x 1.9 inches.
Item weight: 2.4 ounces.
Shipping weight: 2.4 ounces.
Manufacturer recommended weight: 3 months and up.
Customer reviews: 4.2 out of 5 stars.