Diapers can be hard on the wallet, our planet and your baby's sensitive skin. That's why we've designed our skin love diapers to better fit your values and your baby. Babyganics Ultra Absorbent Diapers made with our new blend of plant-derived materials, our diapers are intended for superior comfort & fit and enhanced absorbency.
The way your baby tears through diapers, you deserve one that's just about perfect. So go ahead and buy them by the ton, so you can appreciate them one-by-one.
Babyganics Ultra Absorbent Diapers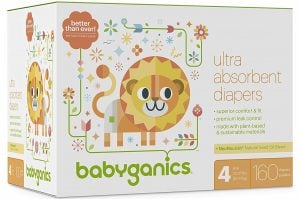 Features
Product dimensions: 16.9 x 14.8 x 8.4 inches.
Shipping weight: 12.8 pounds.
Formulated without: chlorine, latex, petroleum-based lotions or fragrances.
Formulated with NeoNourish Seed Oil Blend: our own blend of tomato, sunflower, cranberry, black cumin, and raspberry seed oils.
Chlorine-free.
Premium fit, premium absorbency, soft stretch sides, leak control.
The wetness indicator on sizes NB 2.