Smaller children ride in the back seat and are the passengers most likely to be bothered by high temperatures and bright sunlight. Shade Sox Sun Shade provides UV protection, cuts sun glare, reduces heat, and prevents your children from getting burned or overheated.
ShadeSox Universal Side Window Baby Sun Shade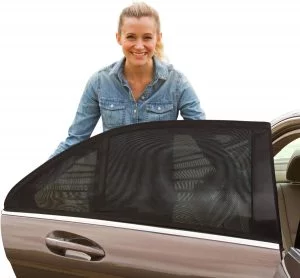 The flexible, stretchy mesh just pulls down over the open car door. Fits almost every car to a maximum of 44. 3 inches by 20 inches. The mesh is breathable, and because it's on the exterior of the door frame, you can still roll down the windows and enjoy a nice breeze from outside while staying protected from the sun. Stick on tinting can't do that.
 Each Shade Sox Universal Car sunshade is well made, durable, and easy to use. Buy a set today before it gets any hotter out there.
Features
Product dimensions: 7.5 x 5.1 x 1.8 inches.
Brand: Shade Sox.
Model: Fit Car Side Window Baby Sun Shade.
Item weight: 5.6 ounces.
Shipping weight: 5.6 ounces.
Easy to install.