The TFY Universal Car Side Window Sun Shade provides full coverage of the window shade to your baby and saves from sun rays. The window shade keeps the sun heat and sun glare away from the car and thus keeps the temperature down inside the car. It also provides maximum protection against UV rays and sun glare.
TFY Universal Car Side Window Sun Shade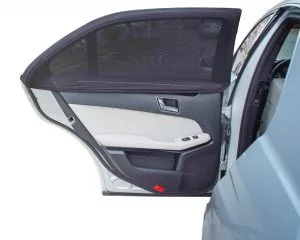 The TFY Universal Car Side Window Sun Shade double mesh layer protects passengers from glare and sunburn. Sunshades simply slip over the top halves of open doors and are held in place once doors are closed.
TFY sun shades are very flexible and its stretchy mesh is quite easy to install. It can fit cars that are up to 25 inches by 45 inches. The good thing about this sunshade is you can still roll down the window even if the sunshade is installed.
Features
Product dimensions: 7.9 x 9.8 x 0.8 inches.
Brand: TFY.
Item weight: 6.9 ounces.
Item model number: SUNMESH65_bh.
Manufacturer part number: SUNMESH.
Shipping weight: 8 ounces.
Clever design.
Durable.
Easy to install.
Universal fitting.