This ergonomic carrier features a unique arched canopy hood that keeps baby in full sight and happily covered. The wide, ergonomic seat supports baby's hips in the "M" position.
Infantino Cudcomfdle Up Carrier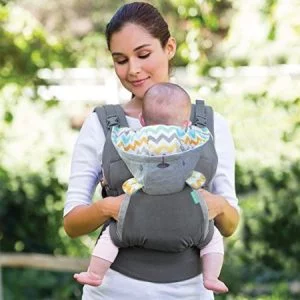 Baby is supported from knee-to-knee with a naturally rounded back for a safe and comfy ride. Mom and Dad will love this carrier too with the plush, adjustable shoulder straps and a wide waist belt that transfers weight to wearer's hips for a more comfortable fit. 
The Infantino Cuddle Up carrier is as adorable as it is functional, with the removable teddy bear hood and a hoodie-inspired pocket for parent's hands. Carries children from 12-40lbs (5.4 – 18.1 kgs). Wear on the front or as a backpack. Font Carry Position – Until your child is able to fully sit upright on their own, this is the correct position.
Features
Product dimensions: 10 x 4 x 10 inches.
Product weight: 1.41 pounds.
Item model number: 200-192.
Minimum weight recommendation: 12 Pounds.
Maximum weight recommendation: 40 pounds.
Specification met: Certified frustration-free.