Similac is the first Baby formula brand with 2′-FL Human Milk Oligosaccharide (HMO), an immune-nourishing prebiotic like that found in breast milk. HMOs feed good bacteria in the gut, where 70% of the immune system exists.  
Similac Pro-Advance Non-GMO Ifant Formula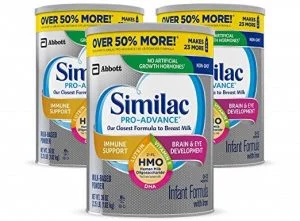 Similac with 2′-FL HMO helps strengthen a baby's immune system to be more like the breastfed infant than ever before. Our exclusive blend has DHA, Lutein, and Vitamin E. These important ingredients help support brain development, eye health, and developing cells.
Similac is the first leading formula brand with no artificial growth hormones. Our dairy ingredients come from cows that have not been treated with artificial growth hormones.
Similac's Pro-Advance is a bit higher in fat and linoleic acid, which is great for your baby's brain health.  All of the other ingredients in this formula are comparable to other Similac formulas and other brands.
Nonfat Milk and Lactose are the first ingredients. When you see the word lactose, the first thing you think is probably that lactose is a sugar. You are correct, and sugar is something I have admonished formulas for.
But remember, human breast milk's first ingredient is lactose, just lactose of the human variety. Sugar is a source of energy meant to improve growth, and lactose is far preferable over a corn-based sugar.
The second ingredient in breast milk is drumroll, pleas human milk oligosaccharide. It helps to nourish healthy bacteria so it can thrive in the GI tract, Score for Similac.
Features
Product dimensions: 16.2 x 6.1 x 8 inches.
Item weight:  8.05 pounds.
Shipping weight: 8.2 pounds.
Item model number: 070074668321.