From the original creator of Tumble Forms comes the NEW Special Tomato special needs equipment line. Special Tomato products are made of a NEW Latex-Free seamless material that is peel-resistant and tear-resistant, as well as impermeable to fluids to withstand cracking. 
Special Tomato Jogger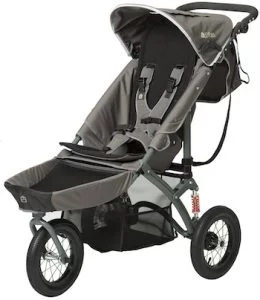 All Special Tomato adaptive equipment products are soft to the touch for comfort that is unsurpassed. But durable enough to endure the stress and damage often caused by frequent use. This uniquely soft, heavy-duty anti-microbial material has become one of the signatures of this top-quality Special Tomato product line.
A special needs stroller that provides mild to moderate positioning support and a light-weight stroller that provides all of the bells and whistles that make it easier for the caregiver on the go.
Features
Product dimensions: 44.9 x 24 x 46.1 inches.
5 point harness.
Head pillow.
Shopping basket.
Adjustable backrest: Recline available through angle-adjustable backrest ( 25º ~ 75º from full upright).
Ideal for all-terrain: Easy to push extra-large, airless wheels for street or park use.
Height-adjustable footpad.
3-point gray pelvic harness with locking buckles.
Footwell and push handle are both angle adjustable.
One-touch rear brake with spring suspension.
Shopping basket.