It must be kept in mind that not all strollers are compatible with your needs. Whether it is a walk on the beach or on a mountain trail or a quiet stroll on a dirt road, you need not worry about what stroller to carry your baby in. Given below is a list of some of the most outstanding all-terrain products for off-road adventures.
Best Choice
Second Best
Also Consider
Don't Miss
Baby Jogger City Mini GT2 All-Terrain Stroller, Jet
Baby Trend Expedition Jogger Stroller, Bubble Gum
Thule Urban Glide 2 Jogging Stroller
Chicco TRE Jogging Stroller - Titan | Black/Grey
Best Choice
Baby Jogger City Mini GT2 All-Terrain Stroller, Jet
Second Best
Baby Trend Expedition Jogger Stroller, Bubble Gum
Also Consider
Thule Urban Glide 2 Jogging Stroller
Don't Miss
Chicco TRE Jogging Stroller - Titan | Black/Grey
The strollers that are chosen for review in this article are the best ones you could possibly find in the market. They are categorized into three groups based on the difficulty level of the terrain and how often you go out. This article will be your guide to buying the perfect merchandise to match your needs and experience on off-road trips.
Best All-Terrain Strollers for Long Walks and Running
This category caters to strollers that can be easily used on all types of terrains. This means that all the products included in this section have excellent wheels. They can be used on any surface that is tougher than pavement. However, sandy surfaces or one that has tree roots are not suitable for these products.
A couple of these strollers can even be used for jogging, together with everyday use. What more do you want than merchandise that can easily perform both tasks? In this way, you don't even have to spend extra dollars on a jogging carrier. Just buy a city stroller equipped with all-terrain wheels and you are good to go.
| | |
| --- | --- |
| Strollers | For whom? |
| | To be used on sidewalks by city people |
| | For off-road strolls and even parks or a playground |
| | Perfect for countryside dwellers who are used to a rough and bumpy terrain |
| | Good for occasional joggers |
| | Very adaptable and good for all terrains; perfect for parents who can only buy one stroller |
| Thule Urban Glide 2 | Great for parents who do not have enough storage space in their homes for a second jogger |
1. Baby Jogger City Mini GT – Editor's Pick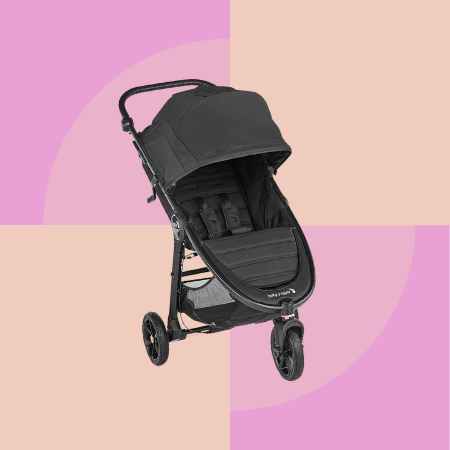 This jogger is a great example of an all-terrain product. However, it proves to be quite a challenge to control and maneuver it on the sand. You must be careful not to use it on beaches to ensure your child's safety.
On the other hand, it moves perfectly well on short grass, dirt roads, and even gravel. Thus, this is the perfect stroller to take your child out for a walk to enjoy nature and the weather.
It is however advised that when going to sandy beaches and other places with looser gravel, use a stroller with pumped tires and larger wheels. It is important to make such safety measures in order to avoid accidents.
There have been times when parents take the wrong merchandise to specific terrain. Such mistakes lead to not only your but your child's discomfort too. Moreover, it can also cause severe accidents. Thus, to avoid all these unwanted situations, you must ensure that the jogger you have is compatible with the area you are going to.
 Furthermore, it is highly important for a jogger to have a shock absorption system in order to cushion a bumpy ride and ensure that your child is safe and comfortable. Infants do not have any control over their head or neck movements.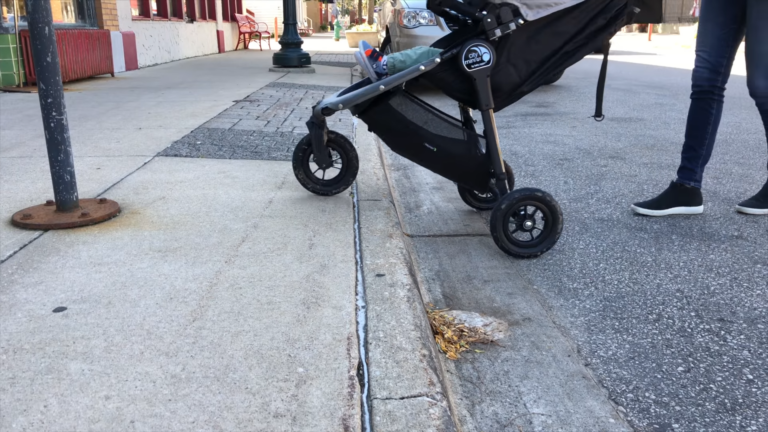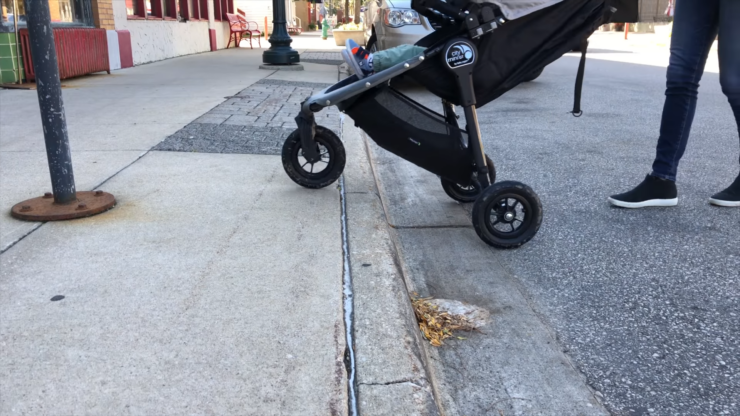 Therefore, it is necessary to have a good shock absorption system to make sure that the baby does not move a lot during a rough ride. Such good quality systems are necessary to have in products to keep the baby safe.
An important feature in this stroller is the three-wheel system. The wheels are 8.5" in size. They are non-inflatable and made of rubber. This quality makes them unable to work well on more difficult terrain.
However, despite this fact, this design in strollers is quite significant. It ensures that the jogger can be maneuvered easily. Furthermore, the three-wheel system is designed in such a way that it ensures a smooth ride for your child.
When on more bumpy terrain, these wheels prove to be quite useful. The jogging product does not bounce a lot and the baby remains safe and comfortable. Places like the cobbled streets in Italy are good examples of areas where this stroller can work perfectly.
It must be kept in mind that on more rocky and uneven terrain, the ride would be jumpier. The suspension is not as perfect as that in a jogging carrier but it is nothing to worry about. It is good enough and the merchandise won't break down.
The suspension system is great for an average difficult terrain and your baby remains safe too. Many parents agree that it has a remarkable design that ensures their child has a comfortable and enjoyable ride.
This stroller is not good for long-distance running. However, slight jogging or a quiet stroll is what it is perfectly made for. Moreover, in order for you to easily convert this product into a convenient travel system, you only have to purchase an infant car seat. The Baby Jogger City GO is a great option.
Another great feature is that this merchandise is equipped with a large three-panel canopy. The presence of a canopy is very useful. It protects your little one from the rough weather conditions; whether it is the harsh sunlight or the chilly winds. Furthermore, there is a peek-a-boo window through which you can continuously keep an eye on your baby and cater to his needs.
A good quality seat is also important so that children can have a comfortable ride. The seat can recline back completely, taking a position where it is an almost flat recline. Such features mean that the baby can be seated quite comfortably. Furthermore, if he falls asleep during the ride the near-flat recline will ensure that he has a sound sleep.
UPPAbaby VISTA, Bugaboo Donkey, Baby Jogger City Select (For a Growing Family)
These city joggers also come with a set of exceptionally good quality wheels. The wheels make sure that your child has a safe ride. Furthermore, if you are planning to increase your family, these will prove to be a great option for you. This is because all these strollers have an excellent feature where you can convert them from a single level to double.
These strollers come with a four-wheel design system. This makes them a little hard to steer around sharp corners, in aisles and narrow streets. However, despite this, it is still comparatively easy to maneuver and control. Furthermore, they are well adjusted to grass and gravel, and even dirt roads and cracked pavement. Thus, you can not only conveniently use it in the city but also in parks and playgrounds.
One great feature that these joggers are equipped with is the suspension system. It is important for each stroller to have good quality suspensions which can cushion a bumpy ride. Thus, your child can also enjoy and be comfortably seated while you enjoy the jog.
Despite all their benefits, it is advised to not use these joggers for a walk on the beach, for hiking, or on bumpy and uneven tracks in the woods that are full of tree roots.
2. Bumbleride Indie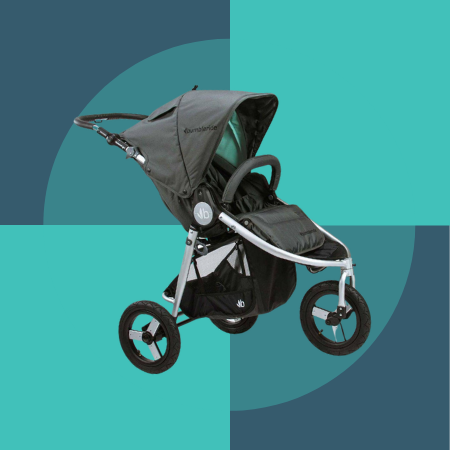 Do you a city parent want to go for an off-road adventure? Do you have a product to take your child along with you? Are you looking for something that serves a multipurpose; something that is both a stroller and a jogger?
If yes then you have come to the right place. We have some of the best options for you. The Bumbleride Indie is one of them. This is a mixture of both a jogger and city stroller for day to day use.
The 12" tires are filled with air. This ensures a smooth ride. Furthermore, the front wheels can be locked. This feature is highly important to ensure your child's safety. Locking the tires is a great way to see to it that the product does not move from its place. This foot brake is an important feature. Apart from ensuring your child's safety, locking the jogging merchandise minimizes its chances of being stolen.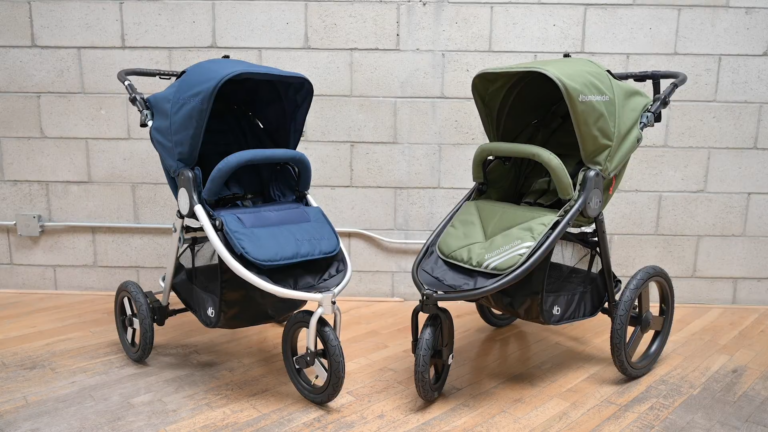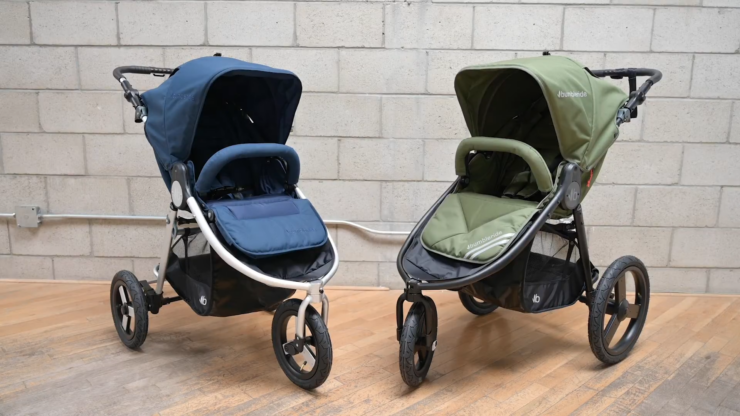 Furthermore, this product can be easily adjusted on harsh terrains like gravel, grass and dirt roads. The wheels are of good quality which makes it easy for parents to maneuver and glide the carrier along. This stroller is great to take your child out for a walk in the park etc.
Even large tree roots do not prove to be a hindrance. A few parents have even taken this product to beaches and rocky trails. Thus, it is safe to say that it truly is one of the best all-terrain jogging products out there.
It is a very Lightweight Stroller and not very bulky as compared to other joggers. However, even despite its little weight and size, it works as good as (if not better) the other merchandise available in the market. It can be used for one's day to day usage and then also for jogging. This makes the stroller multi-purpose and highly convenient for parents who can only buy one.
Another great feature is its multi-position recline. Once the seat is comfortably reclined back, your child can not only enjoy the surroundings but also have a comfortable nap.
One downside lies in how the canopy is designed (this however was in the previous model). When the canopy was pulled back, it caused the fabric to fold. This took up space and the baby had no place to comfortably rest his head. However, there is no need to worry now.
The previous design has been altered to create a new and better version for you and your child's comfort. This newly designed model is only slightly bulky (24 lbs). It is nothing that you won't be able to handle.
Bumbleride Speed is an even better option for parents who are professional runners. It is more adaptable to long-distance running at high speed and even rough terrains like mud, grass, sand and dirt roads, etc.
3. Baby Trend Expedition – Inexpensive Alternative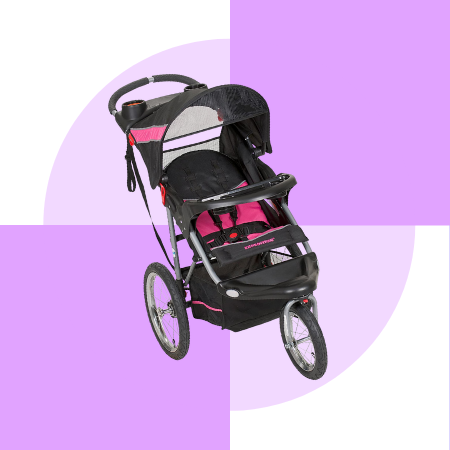 The Baby Trend Expedition was made specifically to counter all your budget problems and can help you save a lot of money as it a low budget option. Moreover, it is great not only for everyday use but also for light jogs.
Hence, you can take your baby out in this stroller to the shopping mall or when you are doing your groceries, and through it all, you would not even have to compromise on your own health as you can still go out for jogs using the Baby Trend Expedition.
However, one drawback is that it is not ideal to be used on gravel and grass or even on sandy beaches. So you cannot take it out almost everywhere with you. Some parents do not like this quality as they prefer all-terrain strollers.
Moreover, it is not even suitable for hiking which is a major bummer! Also, unfortunately, the Baby Trend Expedition does not boast a suspension system. If you want different types of baby products in this category we have 180 Reversible Stroller for you.
However, despite the fact that it might not have four wheels, it does have three bicycle-style tires to provide balance and stability to the jogger. The rear wheels are 16 inches while the front wheels are 12 inches. This kind of design where the back wheels are larger than the front wheel is perfect to keep strollers that only have to work on three wheels, perfectly balanced and firm on the ground.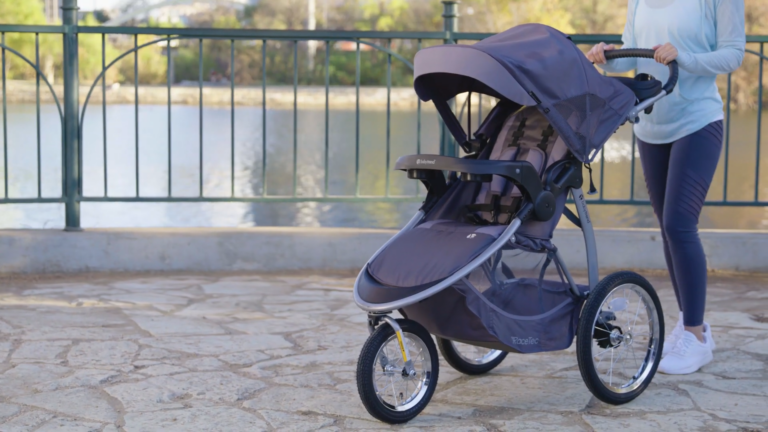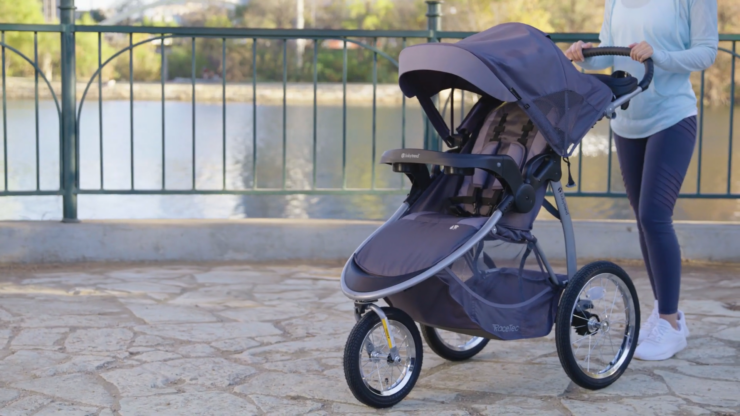 Another great feature that can save your life is the footbrake. Due to this, you can maintain your control over the product when it gains speed, especially while going down a slope or hill. Despite being short, the two-panel canopy would provide protection from the harsh and unrelenting heat of the sun.
Moreover, there is also a mesh sun visor that is present. This sun visor ensures that the baby is safe from the huge amounts of sunlight intensity which would otherwise prove to harmful for the baby's sensitive eyes.
Another interesting thing to notice is that the sun visor is made out of a mesh material. The mesh ensures that air continues to circulate inside the stroller and keeps it well ventilated. The canopy also has a peek-a-boo window attached to it. Due to this, you can keep an eye on your child at all times. You can check up on your kid without compromising their comfort or sleep.
The multi-position seat recline mechanism allows the child to sit upright and also lie back down and take a nap when the stroll gets a little tiring. However, the maximum recline position is still not very deep. Nevertheless, it goes back enough to ensure a comfortable nap. The strolling product also comes with a storage basket to keep all your things in. However, the size of the storage basket is not very ideal as it is quite small.
Moreover, the product can also be folded which is a great help when storing it comes into play. If you have limited space, then you might want to consider this particular brand as it takes considerably less space while storing.
The two-hand folding mechanism is fairly simple and would not take a lot of your time unlike that of most joggers in the market. The overall weight of the stroller is 25 lbs which is a good enough weight allowing you to maneuver and control the product with ease.
One important thing to keep in mind is that the large wheels and pumped tires allow for it to be used on roads that are slightly rough or with little grass or gravel. However, the lack of a suspension system makes it difficult for it to be used on terrains that are highly rugged such as beaches, hiking trails, bark chips, etc. However, if short distances and light jogging are in the question, then why not!
One thing that is a huge drawback in most strollers is that they are not usually ideal to be used everywhere and on all types of surfaces. This stops most parents from buying them because such strollers limit the places you can visit thus limiting your child's exposure to the outside world and experiences.
However, you need not worry about these trivial things anymore! All of the models given below are ideal for difficult and challenging terrains like forest trails, sand and gravel!
The Thule Urban Glide, BOB Revolution FLEX and Joovy Zoom 360, all three strollers are for runners who are more advanced and like to jog for a long distance and on rough terrains.
4. Thule Urban Glide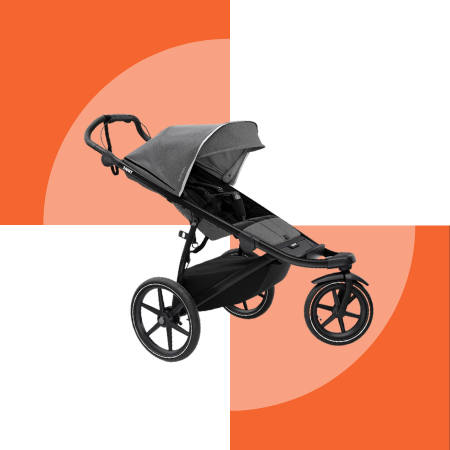 This stroller has two back wheels which are both 16 inches and one front wheel which is not only 12 inches but is also lockable. Moreover, the tires filled with air which further ensures a smooth ride. This is an excellent feature as it provides extra balance when going downhill or when the stroller is moving at a speed (but you still need to be careful as there is no handbrake.
A state of the art all-wheel suspension system also makes it an excellent stroller for use on rough terrain as it absorbs most of the bumps and shocks. Another important feature which makes sure that all of the control is in the parents' hand is the footbrake.
Now you can easily park the jogger without having to worry about someone taking it away. Furthermore, it is not only the air-filled tires or the suspension system that would help with balancing the product but the footbrake also ensures both safety and stability.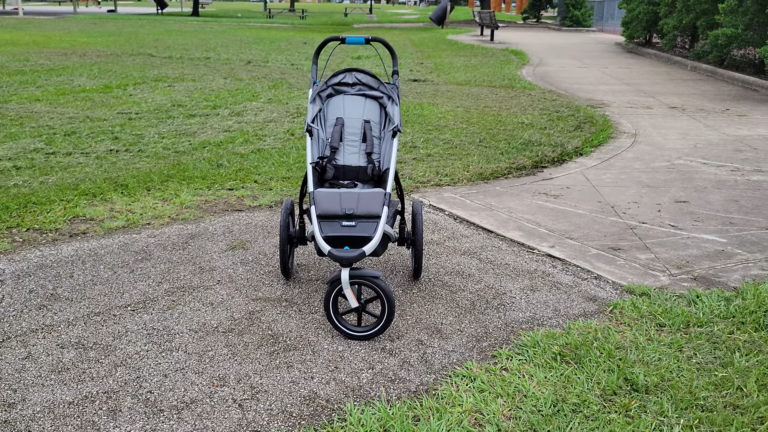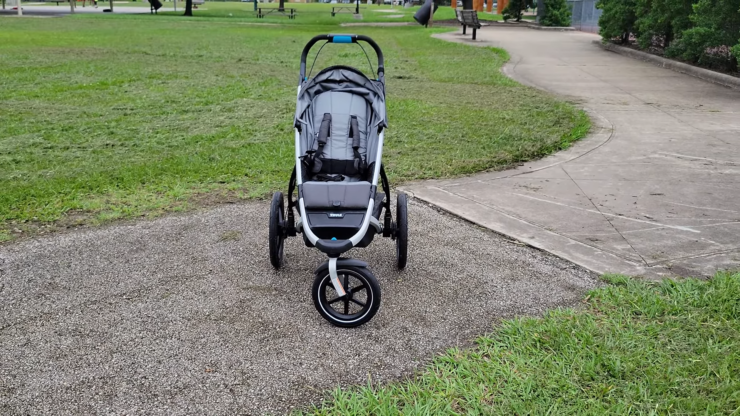 The Thule Urban Glide is ideal as a beach strolling companion. It works excellently on wet and loose sand (you can check example review #1 and review #2). Moreover, it is not only for sandy beaches but also gravel and dirt roads (you can read more on this over here), especially hard-packed gravel.
It is also probably one of the best options for either strolling or jogging in the park. Not only does it work like a dream on cracked, cobbled and uneven sidewalks and streets, but is also superb for normal everyday use as a trip to the shopping mall or grocery store. However, if you are planning to take this stroller on one of your hiking trips, then that would be a bad idea.
This product also comes with a large two-panel canopy which also boasts a sun visor that provides maximum protection from the sun and its harmful ultraviolet radiation. Moreover, a peek-a-boo window allows you to keep a watch over your kid without causing any disturbances for your child.
The seat comes with a multi-position and near-flat recline which makes sure that your child is comfortable not only while sitting upright but also when lying down and sleeping.
The large storage basket allows you to keep your entire essential items. Thus, you can use this brand when going out on day-long trips or even on vacations. Another thing which should not be left out is that it only weighs 22 lbs which makes it so easy to carry it to the car trunk and lift it out from there. The simple, one-hand folding makes your task all the easier.
5. BOB Revolution FLEX

This stroller works exceptionally on sandy trails as well as gravel roads, as well as on bumpy forest paths. It is easy to maneuver and moves very smoothly if the rocks are small but can get a little harder to push if the surface gets extremely rocky. Moreover, the passenger might even bounce a little. However, on deep gravel and dirt roads in the countryside, it works in an amazing manner and won't cause any problem at all.
Moreover, many customers think that it is a great product to use even when you are walking your dog on tall grass, bark chips or gravel. If you want to take it on the beach where the sand is thick and composed, then why not! The superb suspension system absorbs shock masterfully, even when the terrain is tough to handle, such as beaches and cobblestone pathways which ensure maximum comfort and protection for the baby.
Moreover, you can even adjust the suspension system which further helps with comfort. However, it won't be ideal for hiking purposes. Nevertheless, the jogger has a footbrake attached which makes sure that the control is with the parents at all times. So whenever the stroller is going at a fast pace, you can keep the speed and balance in check.
The large two-panel canopy provides protection from the unrelenting glare of the sun. Moreover, it comes with a peek-a-boo window to watch over your child without causing any disturbance. Nevertheless, one drawback is its heavyweight of 28.5 lbs and a two-step folding mechanism which makes things pretty inconvenient for parents.
Parents often use it for strolls on hilly areas and are satisfied with the shock absorption system but I wouldn't suggest using it on hills because of the lack of a handbrake. Moreover, it is ideal for advanced runners.
6. Joovy Zoom 360 Ultralight (cheap alternative)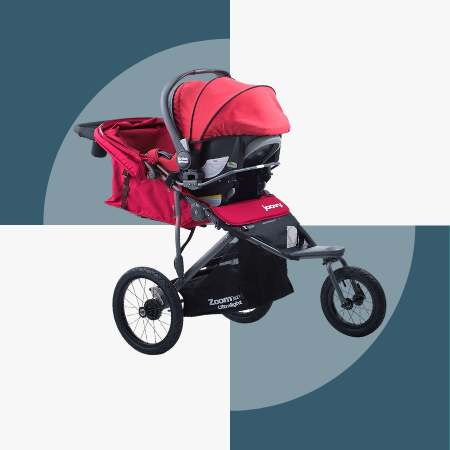 This is an excellent quality strolling companion for use on gravel and grass. On top of that, it is perfect if you are on a low budget. However, on highly bumpy roads, the child may feel the difference and bounce more than in the BOB or Thule jogging products. Although it works exceptionally well on grass and gravel, it is unsuitable to use sandy beaches and hiking trails.
There are three wheels; the front wheel is 12 inches while the rear wheels are 16 inches. Moreover, the air-filled tires further ensure a smooth ride. The shock-absorbing suspension system and the footbrake allow you to have control over the ride and limit the bumpy feeling thus ensuring maximum comfort.
The canopy is huge and double paneled. It is a great way of blocking out sunlight. Moreover, a peek-a-boo window is attached to it so you can always look over your child. The large storage basket helps you to store as many essentials as possible. Although the weight teeters on the heavier side (26 lbs) the one-hand folding is simple, quick and convenient.
However, the tires are more suitable for surfaces that are considerably less rocky and more towards the flat side. If you are an advanced runner who likes rugged terrains, then BOB is the better option for you. Some parents find the shock absorption of BOB and Thule better than Joovy and also find it unsuitable for more difficult terrains. Nevertheless, parents have used it as a beach stroller and liked it.
Best Hiking Strollers
Aren't you surprised all the models of any kind of stroller provide some kind of stability and maneuverability on tough terrains? But these hiking strollers have additional functionality to handle the rough terrains, because of the special attention manufacturers have given to the design of the classic handbrake. Therefore, these strollers are best suited for hiking instead of any other stroller in the market.
We have listed a few brands and who can take advantage of the design, because of their requirements of a particular feature which might not be present in others. There are a few such as:
Thule Urban Glide 2: This particular strolling companion is best suited for any active parent, or couple who likes to keep fit and train on mountain trails, hiking and trekking tracks, or if they situated in a hilly area.
BOB Revolution PRO: Off-road joggers who love an occasional run on tracks not known to many parents and explore the unknown with their child. So, any serious runner should consider this particular stroller.
Chicco TRE: Want to travel the beach, but your toddler is too young to walk all the way to the shore? Well, no worries! This stroller can easily be handled on the beach if you love an occasional trip to a beach nearby.
7. Thule Urban Glide 2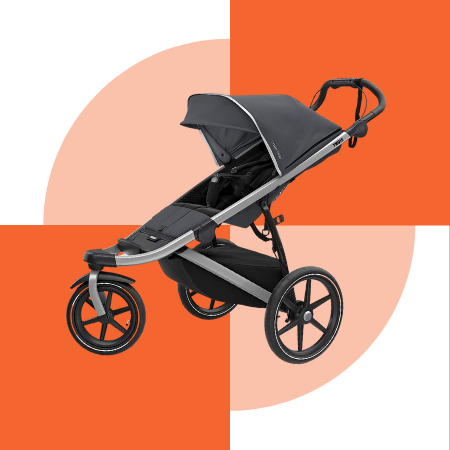 Love your morning hikes to be adventurous and peaceful away from all the urban rush and noise? Who would not love to hike the mountains and explore it with their little angel? If this is what you want Thule Urban Glide 2 has got you covered.
Any parent can use it mountain tracks, or hiking trails without any difficulties. Besides, we would like to give you our advice on purchasing the latest stroller model, because it has a unique additional handbrake. This is a new and improved feature; whereas other features are the same as the previous model launched before.
Why Thule Urban Glide 2? The question should be why not choosing this one of a kind of merchandise in this price range with all the amazing features and the promises it delivers. You wanted something to not be a barrier on your long walks on the beach with your family?
Well, this product delivers on all terrains, especially on the beach speaking from personal experience. It works wonders on grass, gravel and hiking tracks as well. No more worries about thinking whether a new stroller would suffice to satisfy your adventure streak.
This design has an amazing all-wheel suspension system; where the four wheels are 12 inches and the back wheels are 16 inches. The tires are air pumped and thus, would require time to time maintenance and refilling of air to avoid any bumps on your journey.
For maximum control, the manufacturers have added two brakes: foot brake and twist hand brake to use according to personal preference. Moreover, Thule Urban Glide 2 has an enormous canopy that is extendable along with a pop-out sun visor.
Were you previously worried about not being able to ride the beach waves and ride the stroller due to the intense sun for your child? Say goodbye to the days of worrying about harmful UV rays. Apart from an extendable canopy, there is a peek-a-boo window.
Who does not love to keep an eye on their little angel while admiring the scenic beauty around? You can open the flap at any time for a quick look, a random game, and cross ventilation.
Interesting to note the variety of seat reclining position this particular brand has to offer to fulfill all the needs of the hour. No more sleepless trips, as now napping has been made ever so easy. Large basket size is another feature that won our hearts. They tend to listen to the demands of the parents and have provided a huge storage unit that is accessible from the back for convenience.
An amazing weight of 25.3 lbs makes it quite light to carry. Moreover, it has an easy and fairly convenient one-hand folding mechanism. No problem at all. For more information of this one of a kind, the stroller checks Amazon for availability and prices, along with discounts on accessories.
8. BOB Revolution PRO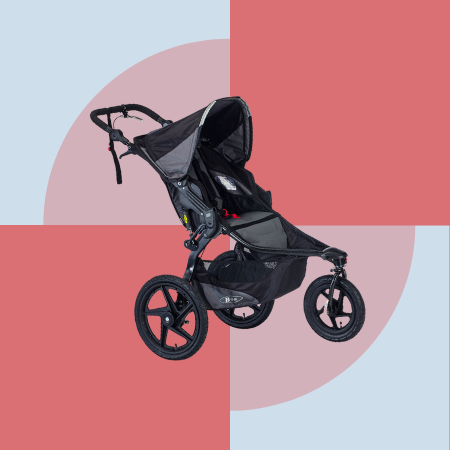 There is a huge fan base of BOB jogging strollers, and we are also raving about this particular brand. We love the design of this brand's strollers, but if you are wondering if this model is model, BOB Revolution PRO the next big brand to ride on hills, or the FLEX?
After taking a closer look at both the models and analyzing the pros and cons of them. We have come to the conclusion if you are a parent, or a couple is looking for expanding their training option while spending time with their child. Hiking as a family training activity has come up. Then, the BOB Revolution PRO is your go-to option.
Why the PRO model? Because it has an additional handbrake which gives you complete control over the stopping on steep slopes if you have speeded a little over the speed you can manage easily.
Therefore, a perfect trekking jogger on rough terrains, but it can be used for running and simple activities, such as strolling on rough surfaces. Any rough surface would be compatible with this product, such as your daily encounters with the cracked sideways, sandy beaches, rocky tracks. Forest trails with branches and bark chips, etc.
This does not mean that a product as sturdy as this BOB Revolution PRO cannot be maneuvered on smooth surfaces, but can be comfortably pushed on grass, dirt roads or roots. This would not give you any wrist pains as it is as light and fun to push around. Want an effortless stroller to push?
Well, no stroller better than this model without disturbing your little angel from their nap. No parent would want to wake up their baby on their hike to watch the sunset from the highest point with their partner and baby. This is all thanks to the amazing features, such as the large air pumped wheels.
This is not the only feature that makes this amazing stroller. Are you wondering what can make it such a sturdy model to go on all types of terrains without any difficulty? It is the amazing advanced suspension the manufacturers have installed in the BOB Revolution PRO. This is an adjustable suspension system that allows easy maneuverability on terrains, such as grass, gravel, sandy beaches, and your occasional hikes.
Just like an average hiking stroller, it has front wheels of 12 inches and the back wheels about 16 inches. It has air-filled tires that make it perfect to handle on all terrains, as it is nimble and agile along with comfortable handling.
As far as the suspension system goes, it has a beautiful adjustable suspension system. It has the most foot brake and hands brake for maximum protection and control downslope. No more panicking about the sudden speed control.
Are you tired of bathing your child with constant loads of sunscreen just to ensure protection from the sun rays? We would not want your little angel to have any sunburn from your hike from a forest or just a day out on the beach. Well, after researching BOB Revolution PRO passes our UV ray protection screening on the basis of their huge canopy.
Moreover, apart from being huge in size, it has 2 panels with a peek-a-boo window to provide maximum ventilation for the child. Who does not love the smell of forest on the camping trip on their walk to see the sunrise? We know you want the best for your baby and we got your back.
The seat reclining system seems to satisfy your baby's needs at all times because it can cater to what the baby wants as it has multiple positions. Furthermore, the manufacturers of this outstanding stroller have great news for you. Now, no more carrying excess baggage on your strolls, as the basket size is huge enough to easily carry a large diaper bag along with groceries. No more worries regarding whether that teddy will fit in the stroller, or not.
The folding system for this hiking stroller has two steps. It will take practice and time to get a hang of it, as other strollers have a single step folding system instead. This is a bulky stroller, as it weighs around 30.5 lbs which is heavier than all the strollers on our list.
It is the heaviest among the three, you can check parent reviews on Amazon to see if this stroller is the one for you. Lastly, for further details on this classic product check out Amazon for availability and prices.
9. Chicco TRE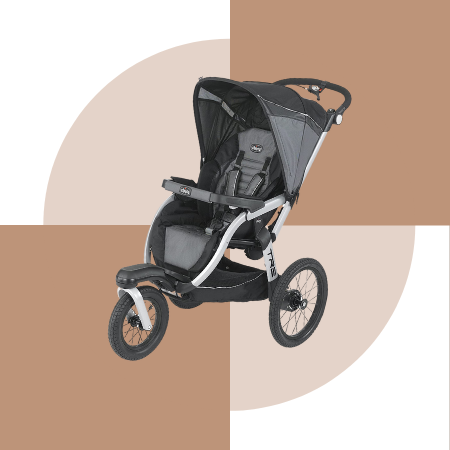 We would suggest Chicco TRE for hikes, mountain tracks and jogging downhill. This particular stroller is not heavy on the pocket. If you are apparent on a tight budget and are looking for a stroller to fulfill all your dreams. A small budget can get you this amazing stroller with all the features any expensive stroller has to offer.
It is amazing to see the manufacturers produce such a quality product well equipped to take on any terrain while giving your baby a comfortable and protected ride. Chicco TRE has this amazing state of kind handbrake system.
Imagine a running stroller with one hand brake, but this gives you the option to slow down and park with the unique 2-in-1 hand brake system.  This won't only make it convenient, but make it easier than ever to control the stroller going downhill, or uphill.
If you live in the countryside, no worries! This outstanding stroller can withstand the country gravel roads with no trouble. It gives the most comfortable ride to your baby; whereas it is perfect for runner parents who like traveling long distances on their daily strolls. A serious runner's dreams come true!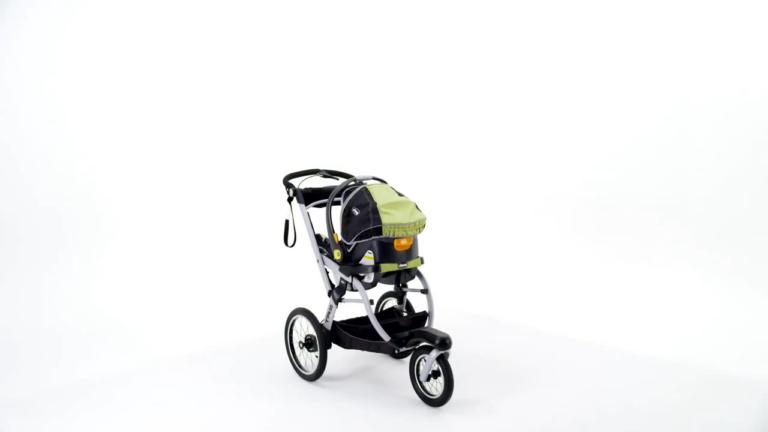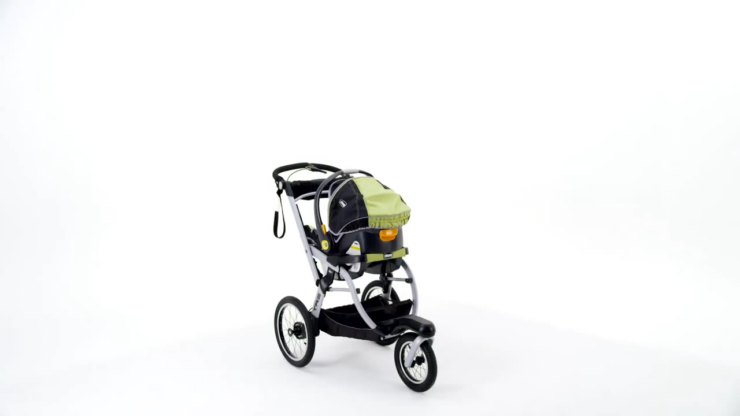 An outstanding stroller which is an all-rounder on all kinds of terrains, such as grass, gravel. Sandy beaches, and even tough hikes. Wondering how it is suitable for all these rough surfaces without being discomfort?
It has an amazing adjustable FlexCore suspension system which makes any hike like a ride on clouds. No bumps because of the front wheels being smaller than the rear wheels. The fore air-filled tires are 12 inches; whereas the back air-filled tires are about 20 inches in size.
Moreover, there is an enormous canopy with 3 huge panels to cover the baby completely from UV rays. Say bye to sunburns, or getting wet from the rain as the extendable canopy protects the baby from all harsh environments on your hike. Also, as a magnetic closure peek-a-boo window. This allows you to keep an eye on your baby at all times and play with them on your stroll on your daily route.
An owe striking reclining system with multiple seating positions for all times. Now, no more being cranky on strolls, because of not getting those evening naps. Furthermore, who would not love extra storage space for their baby's necessary items on a hike?
Sadly, it does not have a huge storage capacity as much as you love, but the manufacturers of Chicco TRE have given nominal space. The basket size range is somewhere between a medium.
Not only do they care about your baby, but about the parent's convenience, as they have an easy single-hand folding mechanism. This makes life easier when you are carrying the baby in one hand and trying to close the stroller after the hike or walk on the beach.
Now, folding is a piece of cake! Besides, the weight of the stroller is as much as an average full-sized stroller. It weighs around 28.5 lbs. For further updates on the product and availability check online on Amazon.
FAQ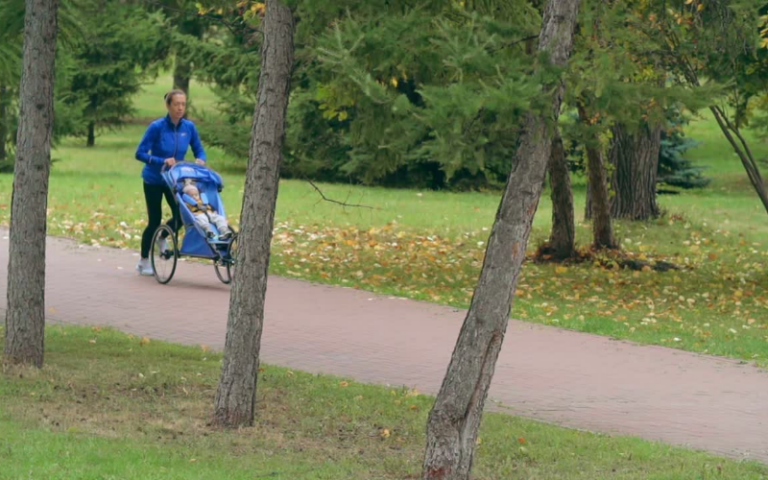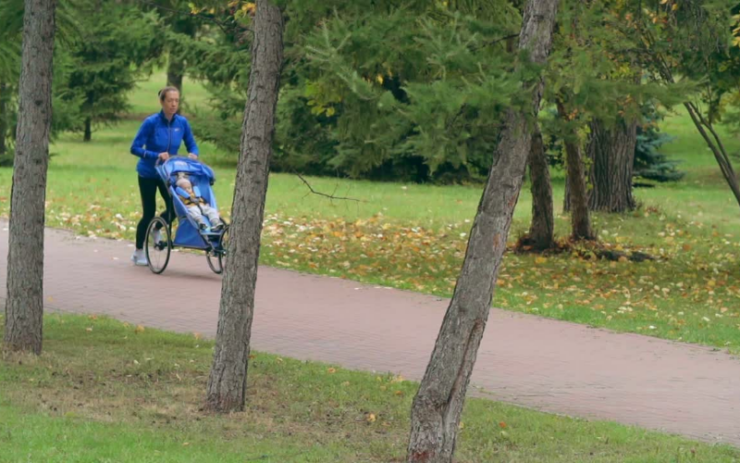 Best Urban strollers for Multiple Surfaces
Don't miss our best all-terrain strollers for winter and snow review! 
Sale
Bestseller No. 1
Baby Trend Range Jogger Stroller, Millennium
Lockable front swivel wheel for ease of maneuverability
All-terrain composite tires
Convenient parent tray includes two cup holders and covered compartment storage
Child tray with two cup holders also accepts a Baby Trend infant car seat to form a Travel System
Extra wide, ergonomically shaped rubber handle
Sale
Bestseller No. 2
Evenflo Pivot Xplore All-Terrain Stroller Wagon (Adventurer Gray)
Push or pull, decide on the fly. It's easy to adapt your ride with a flip of the handle
All-terrain wheels give you the freedom to go from pavement to beach and beyond
Canopies with UPF 50-plus help shield your child from the sun's harmful rays
Spacious Storage: Easy access basket to hold all your child care essentials. Rotates in to the wagon when only one child is seated
GROWTH POTENTIAL: Designed to fit two children ages 6 months to 5 years (each seat holds up to 55 lb) and is easily modified, by adding a toddler seat or car...
Sale
Bestseller No. 3
gb Pockit+ All-Terrain, Ultra Compact Lightweight Travel Stroller with Canopy...
Collapsible & Compact Design: This travel stroller's ultra-compact and collapsible design ensures it will fit in most overhead compartments on planes and...
Lightweight Convenience: This must-have umbrella stroller weighs a mere 9 1/2 pounds and makes one-handed pushing and steering a breeze. It folds down in 2...
Durable and Flexible Construction: Durable for everyday use as well as travel the Pockit+ is designed to roll with the punches. Its flexible construction keeps...
UPF50+ Sun Canopy & Reclining Seat Back: Your little one can take a stroller snooze in total comfort thanks to the reclining seat back and the UPF50+ sun...
Agile Front Swivel Wheels: The helpful front swivel wheels make navigating busy streets and turning corners seem like a walk in the park for this lightweight...
Bestseller No. 4
Baby Trend Tango 3 All-Terrain Stroller, Ultra Pink
Large 8 inch rugged, rubber tire wheels provide a smooth ride on all terrains
Super-fast one-hand fold is compact and stands on its' own for convenience when not in use
Rubber handle for a comfortable grip
Cell phone positioner accepts portrait and landscape modes and parent tray offers two cupholders and a center compartment for easy to grab necessities
Comfort Cabin with over-sized canopy with UPF 50+ protection, premium padding and dual suspension
Bestseller No. 5
Baby Jogger® City Mini® GT2 All-Terrain Stroller, Stone Grey
Forever air rubber tires with all-wheel suspension provide a comfortable stroll on any terrain
Adjustable handlebar and hand-operated parking brake provide comfortable steering and control, all within arm's reach
Customize your ride for 4 different modes of use with accessories like the infant car seat, pram, glider board, parent console, child tray, and more (sold...
The included infant car seat adapter is compatible with all Baby Jogger infant car seats
Upgraded fabrics offer a soft, textured feel you and your baby will love
Sale
Bestseller No. 6
Jeep Cross-Country Sport Plus Jogging Stroller by Delta Children, Charcoal...
Durable steel frame with high quality tech fabric; Includes detachable parent organizer; Convenient fabric parent tray with 2 cup holders & covered storage...
Extendable, quilted European canopy with sun visor and peek a boo window Wide, adjustable foam handle with safety tether Multi position reclining seat with five...
Swing away child tray for easy infant loading Generous undercarriage storage bin Large 16" back metal air spoke wheels with ball bearings; Front 12" swivel...
Quick release back tires for compact folding Assembled dimensions: 45"L x 24"W x 41"H; Folded dimensions: 19" x 24" x 36"
Product weight: 27 pounds JPMA certified; meets or exceeds and ASTM and applicable CPSC standards
Bestseller No. 7
Petique All Terrain Pet Jogger - Blazin' Berry JG01100103
3 TRAVEL ADVENTURE OPTIONS: Walking, Jogging, Biking (Bike adapter sold separately)
PATENTED MAT to insert pee pads for easy cleanups and accidents
PEEK-A-BOO WINDOW to see how your pets are doing
HEAVY DUTY AND LIGHT WEIGHT: Very stable pet stroller provides 360 degree ventilation for an enjoyable ride
SHOCK ABSORBING AND TRACTION: Created with large removable bike tires
Bestseller No. 8
Britax B-Free Stroller | All Terrain Tires + Adjustable Handlebar + Extra...
The B-Free stroller is lightweight with a 3-wheel design for ultimate maneuverability, all-terrain rubber tires and one-hand, quick fold
Convenient features: Adjustable handlebar, 7 storage pockets, XL storage basket with front access, UV50+ expandable canopy and peek a boo window
Relax and recline: Infinite stroller seat recline to accommodate sleeping infants or attentive toddlers
Travel system ready: Compatible with all Britax infant car seats; Adapters included
Fit: Birth to 65 pounds; Maximum unfolded stroller dimensions 44 x 24 x 42 inches (LxWxH)
Bestseller No. 9
Baby Trend Passport Seasons All-Terrain Travel System with EZ-Lift Plus Infant...
8" rugged wheels on front and rear for grip and a smooth strolling experience
The seat back soft goods roll up to convert into a mesh air-flow seat back with pillow to provide your child with ventilation and enhanced comfort in warmer...
Comfort Cabin offers a multi-layered padded seat and UPF 50+ canopy protection for a content, happy child
Deluxe parent tray with multi-directional phone holder and flex-grip cup holders for hands-free accessibility to your essentials
Large storage basket with front and rear access for your on-the-go necessities
Sale
Bestseller No. 10
Baby Jogger® City Mini® GT2 All-Terrain Stroller, Pike
Forever air rubber tires with all-wheel suspension provide a comfortable stroll on any terrain
Adjustable handlebar and hand-operated parking brake provide comfortable steering and control, all within arm's reach
Customize your ride for 4 different modes of use with accessories like the infant car seat, pram, glider board, parent console, child tray, and more (sold...
The included infant car seat adapter is compatible with all Baby Jogger infant car seats
Enhanced with an included belly bar and upgraded fabrics that offer a soft, textured feel you and your baby will love