After going over the Ergobaby stroller we can conclusively tell you about this reversible stroller. There are three major features we would like to highlight and discuss in detail. But just to touch upon them, they are as follows: reversible handlebars, a huge canopy with a vented seat cover and 4 amazing swiveling wheels.
Yes, these four wheels are lockable if you were wondering if you can jog with them, or go on rough tracks, because of increased maneuverability in the urban zone.
You might have many questions regarding this latest reversible stroller, Ergobaby 180 stroller. We can assure you that there is much more coming up ahead to make you fall in love with this one of a kind reversible stroller. There is not one feature we can not seem to get over.
But for that to happen, you need to keep on reading forward. Furthermore, we want to make your life easier and the decision of purchasing this reversible stroller, Ergobaby 180 stroller.
We can not stop ourselves from raving about the advantages of buying an Ergobaby 180 stroller but surely does not mean we would not highlight the drawbacks it comes along with. Ergobaby 180 stroller has a few disadvantages that we would tell you in a little well. Here is our very honest and comprehensive review of the Ergobaby 180 stroller. Ready? The wait is over.
Ergobaby 180 Stroller Review
Ergobaby has been in the manufacturing business of unique and cool baby carriers, so it was time they divided into the stroller market. The manufacturers of Ergobaby 180 have tried to diversify their skill set after being in the baby carrier business, so their first stroller, Ergobaby 180 stroller is a convertible. This convertible single stroller if specially manufactured to hold an individual child up to a maximum capacity of 50 lbs.
You heard us right! It can withstand a weight of 50 lbs, this means can be used a long way into the toddlerhood of your child. Now, you do not need to worry about investing in one stroller after another; furthermore, it is a convenient and easy convertible travel system.
Wondering how can Ergobaby 180 stroller, a convertible system be a travel system, simultaneously? Well, it is all thanks to the amazing compatibility of the Ergobaby 180 stroller with infant car seats after the attachment of the adapter. A point to note that these adapters are sold separately. So, you would have to invest in buying adapters.
Stroller seat
Wondering when is this stroller fully in use? Can your newborn baby fit into it and be safe and protected at the same time? Well, sorry to break it to you but this stroller with a regular seat can be only used when your angel is as old as 3 months.
Before 3 months we would not at all recommend using it, as there would always be a danger of slipping out. Moreover, after your child gains complete control of head movement and is in control, then only should Ergobaby 180 stroller is suitable for use as the seat is not completely flat.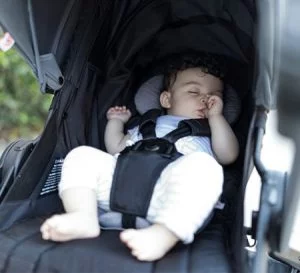 Besides, the seat has an amazing reclination which is deep enough for your baby to relax back and sleep, comfortably. Almost fully flat with the addition of the specially designed cushion for comfort, the Ergobaby 180 stroller Comfort Cushion to help support your angel's body and neck.
We would not want any harms to come to your baby, so we advise what is best. We talk from experience after analyzing and comparing many reversible strollers already existing in the market.
As we are your companions through thick and thin, we would never want anything to mislead, or misinformed to you. Therefore, even though the manufacturers of the Ergobaby 180 stroller say it is newborn friendly and you can use it on the go.
But we would care to disagree and suggest investing in an infant car seat. It will not be safe to use it as a stroller with the regular seat from birth, so with the addition of the infant car seat, Ergobaby 180 stroller is newborn ready.
Ergobaby 180 stroller is one of those handy strollers that can be operated with a single hand, as you can easily lower the backrest single-handedly. Wondering how to operate it with such convenience? Well, the idea is quite simple, a buckle is situated at the back of the seat which can be squeezed to lower the backrest of the Ergobaby 180 stroller cushioned seat.
On the other hand, the lifting part requires a little effort and two hands. It is not as easy as lowering it, because you require one hand to hold the strap in place; whereas the other hand to slide the buckle back in.
After reading parent reviews and comments about Ergobaby 180's stroller reclining system, we heard some complaints and drawbacks. They suggest this is outdated technology compared to the new and improved built-in lever system, which is much more convenient and easier to handle with an offspring in hands.
Not every time you have your partner to add to your difficulties, thus the manufacturers of the Ergobaby 180 stroller need to reconsider the lifting up the design once again in our opinion.
Pro Tip: We would recommend the use of both hands while reclining the seat of the stroller when your beautiful angel is taking a nap. Either to tighten, or loosen the strap with one hand; whereas the other to lower the backrest easily. We would not want our little sleeping beauty to wake up from his, or her sleep.
Other Seat Features
One thing we would like to commend the manufacturers of the Ergobaby 180 stroller is the vented seat cover. Now, usually, this part is just a minor part of the entire panel, or just a meshed window to peek through, but the mesh part of Ergobaby 180 is huge. Thus, Ergobaby 180 stroller tops the chart for Summer Strollers. Maximum ventilation in the hot weather and not make the baby sweat out, or collapse due to overheating due to the harsh sun.
This is not it! Moreover, there is a panel that can be directly taken out and be used to cover the mesh panel for all other kinds of weather. Now, winters and the chills it comes along with is not an issue anymore. Your little angel can be all cozy and warm in their very own Ergobaby 180 stroller.
We would further highlight how the manufacturer's added calf and footrest but failed to give you the option to adjust according to the comfort of the baby. Both are non-adjustable in Ergobaby 180 stroller.
We like models where the leg rest can be lifted and changed according to the reclination position, so the baby can nap comfortably in their stroller. This might not be something most parents are concerned about, as long as they get a foot and calf rest for the baby's comfort. But we have taken upon ourselves to give you the best and most authentic information available online like no other.
Note: Another thing even if your offspring is short and can not reach the seat edge, the seat will be as comfortable as possible. Napping would not be an issue, but if an older child who does not like feet dangling while sleeping that would not be an issue as well, because of the feet rest.
The padding is really cushiony and comfortable of Ergobaby 180 stroller. This makes naps ever so comfortable and relaxing in your baby's very own stroller. A very user friend 5-point harness is also situated with a release button right in the center. It has adjustable straps. Furthermore, it is the word of mouth and online comments parents complaining about the harness being a little too oversized to fit a small baby in, securely.
Pro Tip: But this problem can be adjusted, as the shoulder straps are wide enough to add an adjuster to correct the size according to your baby. This is a unique feature, as not many harnesses allows such an adjustment.
The accessories are not part of the package and thus, need to be purchased separately. The seat has a snack tray attachment zone, the perfect spot for that sippy cup of which you fear of spilling in the stroller.
Compatibility with Infant Car Seat
Many car seats can be used with your Ergobaby 180 stroller, such as Graco, Chicco and Britax. Also, on-demand the manufacturers added an adapter of Cybex and NUNA infant car seats as well.
CanopyHandlebarWheels and Brakes
Not only is this one of our favorite strollers, but makes the top summer strollers, because Ergobaby 180 stroller has a huge 3-panel canopy. It is great to provide the shade and protection from the sun your baby requires on the complete extension. One of the best canopies currently presents in the market with maximum coverage. It even protects your child, after the reclination system is into action. Ergobaby 180 stroller is a complete game-changer in the canopy business. No more cries and waking up on a stroller from the sun rays entering eyes.
A comfortable nap is guaranteed after the canopy extension on a sunny day. Say goodbye to the days of being sunburnt. Florida weather deems a stroller just like Ergobaby 180. Therefore, any parent who is looking for a stroller to beat the sun and heat Ergobaby 180 stroller will not disappoint you. As parents usually throw a blanket over the canopy to protect from, no need for that anymore. A magnetic opening and closing peek-a-boo window are also in it.
As the name suggests itself, Ergobaby 180 Reversible stroller the handlebar is one of most favorite features. The most convenient reversible stroller changing from fore facing to the rear-facing mode in seconds with the flipping handlebar. It works smoothly, so you can accommodate according to your requirement and take your child can take on the world with you as a champion.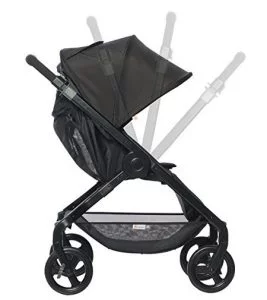 The technology is as simple as pulling the levers up from both sides and you can adjust accordingly. Reversible handlebar the new convenient solution Ergobaby 180 stroller's manufacturers give to any new parent wanting to keep an eye on their angel. Moreover, when they grow up they want to see the world on their own, so one stroller does both of you, a one-time investment!
The hassle of lifting, detaching and reversing the seat is a thing of the past. Ergobaby 180 stroller, a hassle-free stroller at your service. Flip and change the way you want. Riding has never been more fun for your baby. Impressively, Ergobaby 180 stroller has a height adjustment feature, which extends from 39" to 42". Now, a couple of tall and short can stroller with comfort. No more back pains from slouching, or wrist pains from trying to push from above your reach and comfort.
Also, since it is a telescoping handlebar give more space for legs, so no more kicking the back of the stroller. This is something taller parents covet in a stroller so that there is no more hitting the back of the stroller. We are in love with it.
Pro Tip: The official website of Ergobaby stroller is 100 dollars less from the original price when we checked it out the last time.
As this is specially designed for urbanities the wheels on the Ergobaby stroller are not large, but sizeable enough to be used on a daily basis. It would not be sufficient as an all-surface stroller though the desired purpose is achieved. EVA foam tires with no wheel suspension make it best fit for flat, even surfaces, such as pavements, bricks and hard-packed gravel. Shocks won't be absorbed on uneven tracks and performance will greatly lack.
But no need to be disappointed, as the 4 wheels are lockable and swiveling in Ergobaby stroller. A 4-wheel steering option allows all the wheels to swivel a complete 360 degrees. Do you wonder how this is beneficial? Well, it makes Ergobaby stroller agile and handleability increases. Pushing side to side isn't an issue as the turning radius is tight. Now, running daily errands strolls, or any smooth surface isn't an issue.
On gravel, or cracked sidewalks locking the back wheels is the way to go about. An independent lock is situated on each wheel which is easily foot-operated and does not allow it to wobble. You can roll Ergobaby stroller in a straight position and that is it. Therefore, no uneven surface lock all wheels for greater stability. While each wheel has a separate brake on top of it which has a small pedal, easy foot lift and press. In open toe shoes lifting might be an issue.
Pro Tip: On the change of handlebar position in 2-wheel mode steering: fore wheels should be unlocked and lock rear wheels, closer to you! Spin a little to check the lock, before you begin pushing Ergobaby stroller. You will get a hang of it, after a few times. It is a quick and convenient stroller!
Storage Basket
It is so important to have a good and large-sized storage basket when you are the parents of a baby. You have to be prepared for all kinds of situations at all times. There are certain essentials that you have to carry along with you 24/7. For example, diaper bags are really important to keep with you when you have a baby. On the other hand, it is also mandatory to keep an extra change of clothes in the stroller.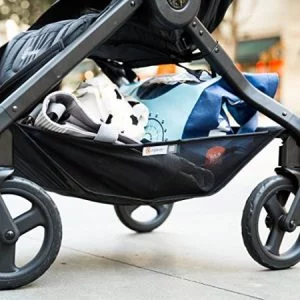 Sometimes, you also need to keep snacks and toys to cheer up your little bundle of joy and help him/her to pass time in the stroller. Parents have also found it useful when the storage basket is big enough to even hold some shopping bags. This is so convenient when you are out on a shopping trip or just visiting the supermarket to buy groceries in the stroller.
When keeping the Ergobaby stroller in mind, its basket is extremely big and roomy. It is not exactly giant-sized but is still perfect enough to be able to accommodate a large backpack diaper bag with plenty of room for other essential items still left behind!
However, there is one thing that parents need to keep in mind if planning on buying this stroller and that is that the sidewalls of the basket are quite small. Hence, you would have to be extra careful as there are chances of items falling out.
It is very simple to access the storage basket from behind the seat. However, this access becomes difficult when the seat is in its fully reclined position. When this is the case, you might have to bend down a bit in order to reach the basket. You can also take a few small items out from both sides.
Note: The access to the basket is restricted from the front since the footrest does not flip up. Hence, direct access to the basket is impossible when the stroller is in its parent facing mode. Therefore, due to this, you would have to go behind the stroller in order to take your items out of the basket.
Moreover, at the back of the seat, where you attach the straps for reclining the seat, one storage pocket is also available. This pocket is big enough to hold your wallet, keys, cell phone and even a bottle of water or some snacks. This pocket turns out to be really helpful especially when the seat is facing the front. This is because it allows you to keep your essentials within reach.
There are not any pockets near you in parent facing mode. Nevertheless, there is a cup holder where you can keep your beverages. The cup holder also comes with an adjustable strap which is why it can fir various different sizes of bottles and cups. I would surely give it big thumbs up for adding this accessory.
Fold
Folding when it comes to Ergobaby stroller is a fairly simple task. All you have to do is pull the handle which is present in the middle of the seat and the entire stroller will not only fold in half but would also lock automatically.
The best part is that you can easily do this with just one hand only. This is such a huge plus point because parents of little babies usually do not have both their hands free. However, the fabric of the canopy might have to be pushed slightly down in order to make the fold more compact.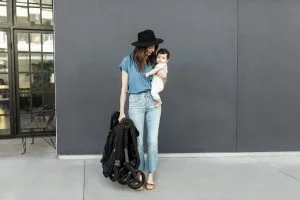 Another great thing is that even when folded, the stroller is able to stand on its own. However, in order to do so, you would have to slide the handlebar in.
However, there are a few things that are a downer for me when it comes to the Ergobaby fold. The first one is that it folds outwards which means that the whole fabric is exposed to dirt. Moreover, upon folded, it stands on the handlebar which is made out of foam – prone to wear and tear! Therefore, you would have to be careful when it comes to storing it in your car trunk or home storage closet.
Furthermore, you can even use it for carrying, the handle that is used for folding the stroller.
When the folded size is in question, I would say that it is fairly compact especially when the fact that it is a standard convertible stroller is kept in mind. The dimensions of Ergobaby are 30" x 23.5" x 14". Therefore, it would most probably fit in all car trunks.
Opening the stroller is a bit of work as it is quite complicated. Nevertheless, even when holding a baby in one hand, you would still be able to do it. All that is required of you is a little bit of practice. Unlocking the stroller would be your first task. There is a button on the frame that will help you with it. Next, you would unfold the handlebar and open the rest of the stroller. If you are using only one hand, then you might have to use your knee as well, to make things easier for yourself.
Moreover, the car also comes with a feature that lets the parents know whether the seat is in a safe and correct position. If the green indicator on the side of the seat is blinking, it means that the seat is perfectly positioned for a stroll. Amazing right!
Size and Weight
Ergobaby 180 Reversible is a lightweight stroller . When compared to other everyday strollers like the UPPAbaby CRUZ or VISTA, Britax B-Free or Chicco Bravo Trio, the Ergobaby is impressive as it weighs only 20 lbs.
Moreover, it is also 23.5" wide which means that movement through elevators and doorways would be extremely easy.
What do other parents think about Ergobaby 180 Reversible Stroller?
When I checked parent reviews on Amazon and the official Ergobaby website, there were a few features I came across which parents absolutely love. So I jotted some down in order to make things helpful for you.
Parents love the fact that folding is very simple. Some have even said that it is the easiest to fold out of all the strollers in the market! The large canopy with the silent window is also a huge plus point. The mesh at the back makes it ideal for hot summer days. Moreover, the reversible and height-adjustable handlebar is another feature that sold this stroller like hotcakes. It is amazing how smoothly it flips to the other side.
Despite being lightweight and easy to carry, the stroller is still quite sturdy and well built. Even the stroller basket is sufficient enough to hold most essentials.
However, steering and adjusting the wheels can prove to be slightly tricky initially. You would have to practice a few times in order to get used to the different steering options of locking and unlocking the wheels.
Nevertheless, upon figuring it out, it proves to be very helpful and maneuverability on flat terrain becomes the easiest, even with one hand, when two wheels are locked at the same time.
There are some disadvantages which parents complain about. One of these is the 360-swivel wheels and the amount of time it takes getting used to them and their locking options. Moreover, it isn't all-terrain and will bounce on uneven surfaces. The wheels may even get stuck in large cracks on the ground. However, shopping trips and visits to the zoo, park or playground are the most fun with Ergobaby.
For older kids who prefer napping in the stroller, the non-adjustable footrest may be quite uncomfortable. Moreover, although it fits through normal doorways and is lightweight, some parents still find the frame quite bulky.
At the given price point, no snack trays can be a huge disappointment. You would have to pay extra in order to get one! For now, even a parent console isn't offered by Ergobaby. Let's hope that things change in the future.
Unfolding requires practice and parents complain because it is difficult to do so with one hand.
SpecificityColor Versions
Ergobaby is a standard, convertible stroller which weighs only 20 lbs and can carry a weight of 55 lbs. the stroller dimensions are 30" x 23.5" x 40" (L x W x H ) while the fold dimension are 30" x 23.5" x 14" respectively. The handlebar is 39" – 40" from the ground and 11" is the seat depth. Moreover, the maximum head height is 24".
There are five different colors of Ergobaby present in the market. The seat would always be black, however, the canopy color can be chosen by the parents. The options you have are: Teal, Misty Blue, Graphite, Black and Red. Hence, you can customize the stroller according to the color of your choice. Keep in mind that color availability may vary so continue checking which colors are on sale and which aren't.  

As a result of Ergobaby and Baby Tula cooperation, there is also one premium fashion – Marigold – present currently. The floral canopy of this stroller is a real beauty! It is important to keep in mind that this is a limited edition. So if you like it, then don't wait any longer in order to purchase it! If you do, an additional black canopy would be included.
Accessories for Ergobaby 180 Stroller
This reversible stroller has a cup holder included. Some other accessories are sold separately. The following are some of them.
Comfort CushionWeather shieldSnack TrayAdapters for NUNA and Cybex car SeatsAdapters for Britax car seatsAdapter for Graco and Chicco car seats
This body pillow would surround the baby and support the spine and neck. Perfect for the first year!
It protects the baby from snow, rain and wind without blocking air flow. With this, Ergobaby can be used throughout the year.
A great way to keep all of your baby's snacks and drinks at an arm's length!
Through these, the NUNA Pipa and NUNA Pipa Lite, along with Cybex Aton, Aton 2 and Aton Q, can be attached to the stroller frame. The stroller can even be folded with the adapters attached.
With these adapters, the Ergobaby stroller can be used with the Britax B-Safe 35 and B-Safe 35 Elite car seats. Removal of these adapters before folding won't be required.
They are compatible with most Graco infant car seats like Snugride Click Connect 30, 30LX, 35, 35LX, 40 and more. They are also compatible with Chicco car seats including KeyFit, KeyFit 30 etc.
Keep in mind
The option of a bassinet isn't included. The recline is almost fully flat and an additional body support pillow for small infants is offered by Ergobaby. The manufacturers say that the main seat can be used right from birth.
Nevertheless, I would suggest that you use it once the baby is at least three months old. From birth, use it with the infant car seat. However, it is up to you.
3 Reasons Why You Will Love This Reversible Stroller
It is ideal for summers because of the large sun protective canopy.
The handlebar is reversible.
Exceptional maneuvering because of the 4-wheel steering.
Read the parent reviews and check up on available discounts if you want to buy this stroller.