There's no rule saying that you must have a baby stroller, but it's hard to imagine not having one. Especially, if you're ever planning to leave the house.
You will really appreciate the extra mobility when your child starts gaining weight. This is an important baby gear; so, you will want to make sure you pick the right one.
There are so many choices on the market than there used to be in terms of style, price, and function.
In the past, you could just pick the upholstery you liked best and made sure it rolled in a forward direction.
Nowadays, buying the best small umbrella stroller is like buying a high-performance piece of equipment.
Our objective today is to help you understand the different models and how each matches up to your needs as a parent. When shopping for an umbrella pram, look for one that meets your needs as a parent.
If you will be traveling with it most of the time in your car, make sure it is small, lightweight as well as easy to fold and unfold.
Learn how to fold and unfold an umbrella pram before you leave the store. Also, make sure you receive all the necessary instructions.
The best small umbrella stroller should fit your lifestyle. The design should be outdoor-friendly, especially if you like doing a lot of walking.
Upright and layback umbrella strollers may not be suitable for newborns. They may only be suitable for babies old enough to support their own heads, at about six months.
An umbrella pram may appear trendy and attractive, but that does not necessarily mean that it is safe for your baby.
The Seat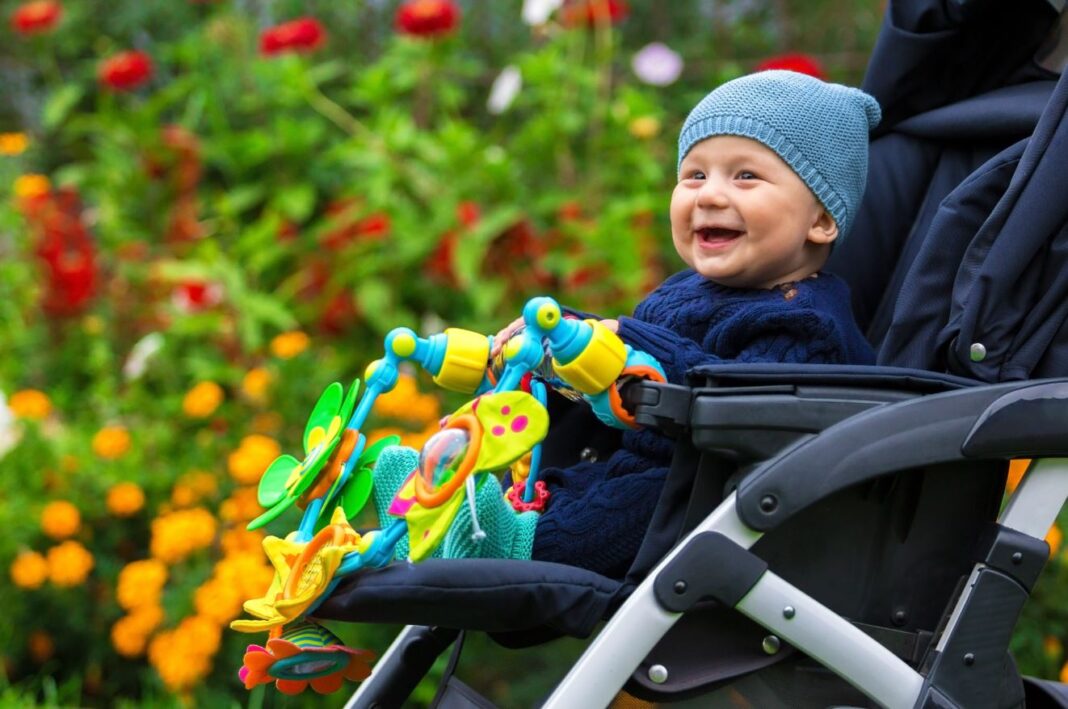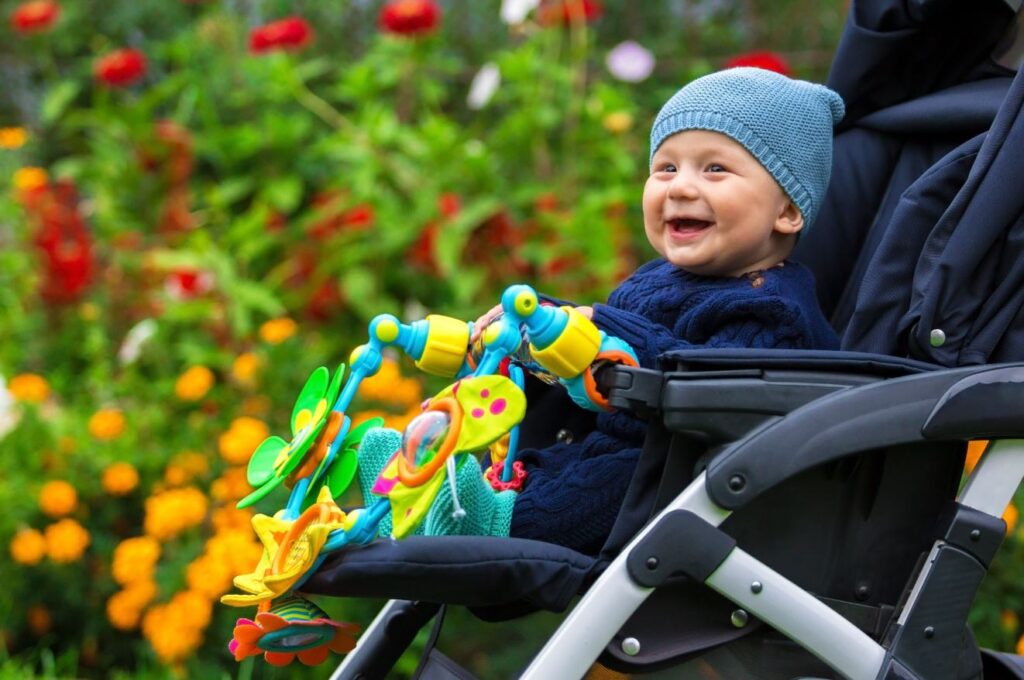 The very first feature that should be of great concern when choosing this type of baby stroller is the seat.
A major complaint with conventional models is that the seat is thin as well as uncomfortable. Therefore, consider a thick seat that is cozy for your child.
A cozy seat is necessary since it allows your little one to sleep comfortably. Check the seat dimensions to ensure that your baby will fit.
Not all babies of the same age will be of the same size and shape. That's why the correct seat measurements are of utmost importance.
For example, a width of 12 inches, a back height of 17 inches, and a base to a canopy height of 28 inches provide you with the most ideal seat size for most babies.
Reclining Seat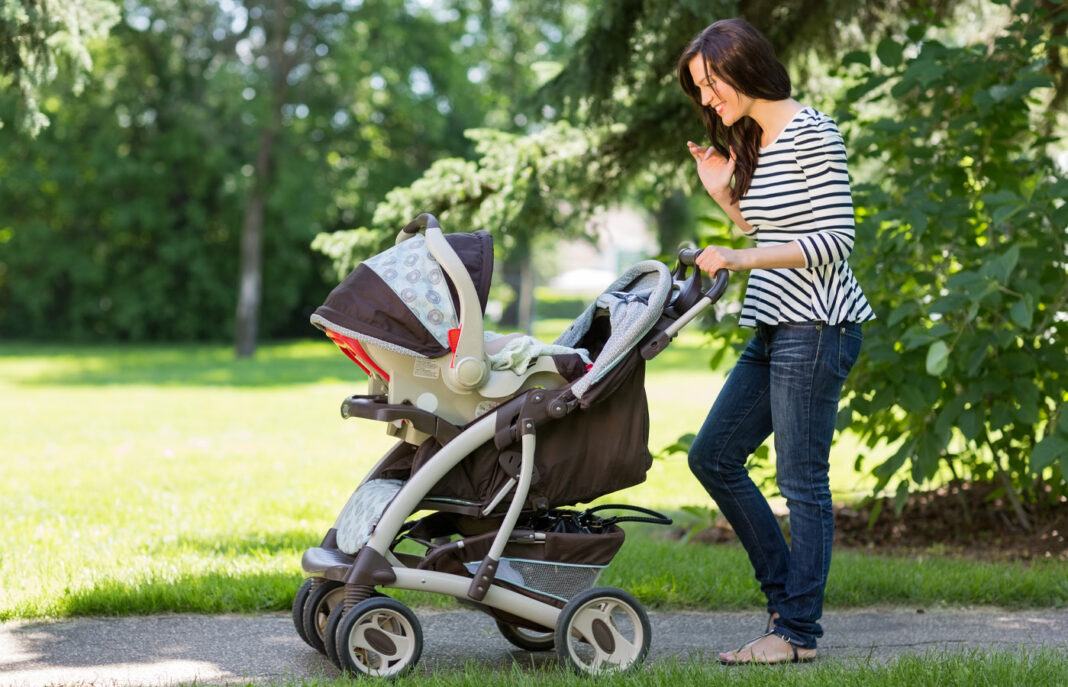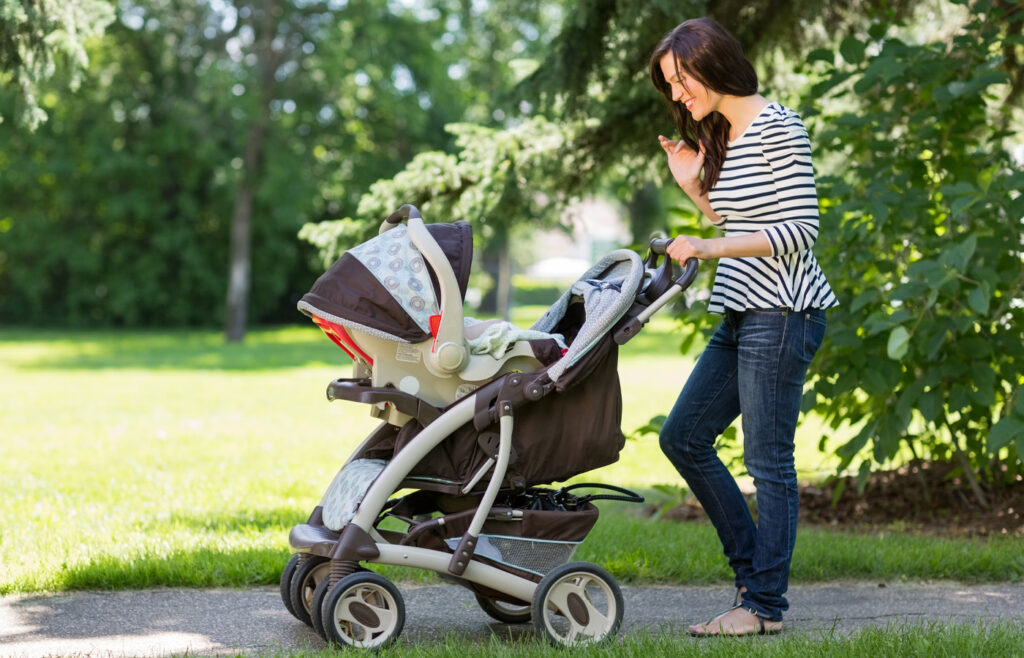 While most umbrella stroller seats recline, some are known to recline more than others. Advanced designs provide multi-position recline.
Young babies who cannot hold up their heads steadily should ride in an umbrella stroller with a seat that stretches out to a flat/nearly flat position.
If you overlook the importance of this feature, you may end up hating yourself when your baby slumps over in her stroller because the seat couldn't recline enough.
Another important consideration is how easy the seat back reclines. In some situations, you may want to gently recline the seat to wheedle your baby into sleep.
A smooth, easy recline is usually the best.
The Canopy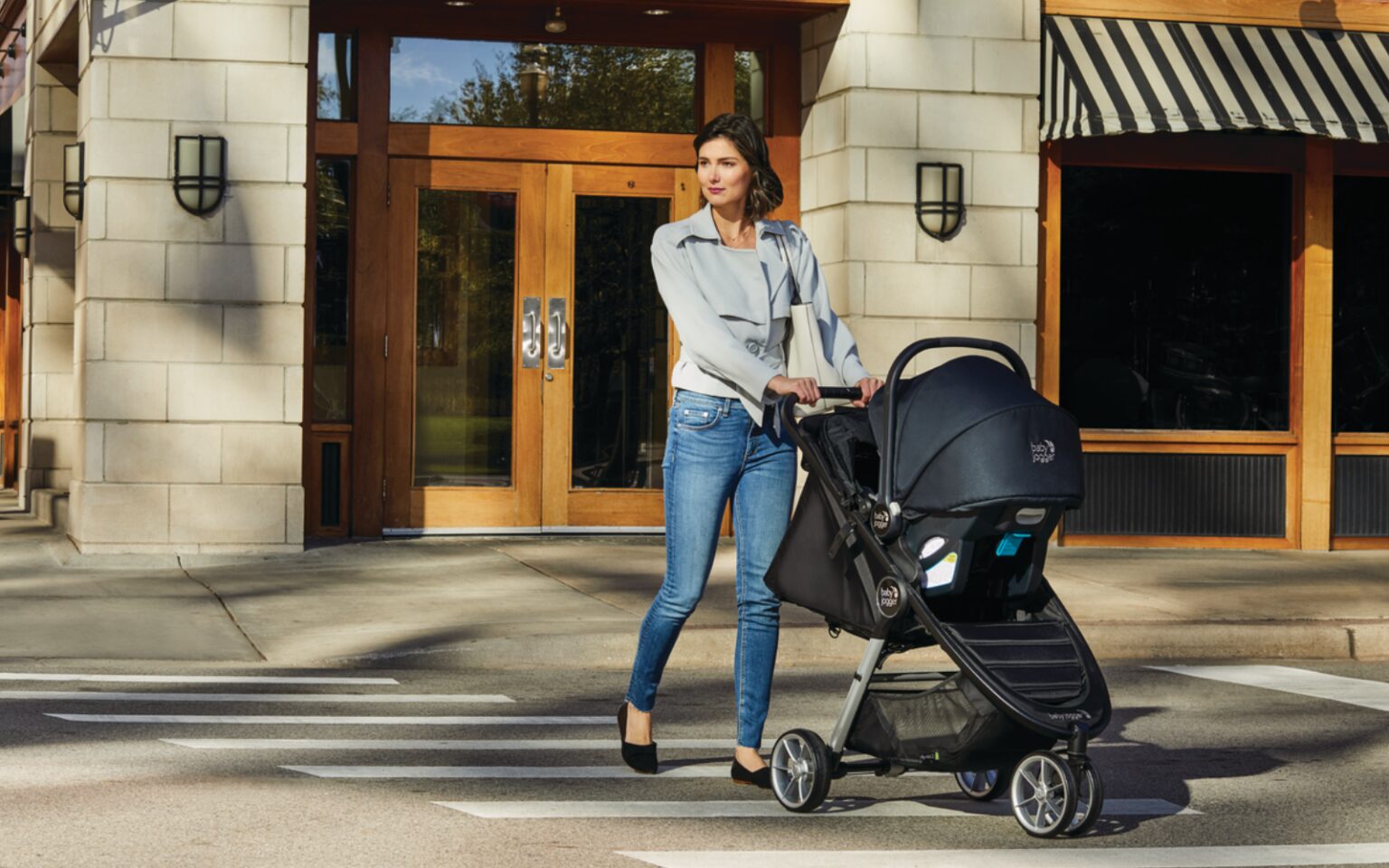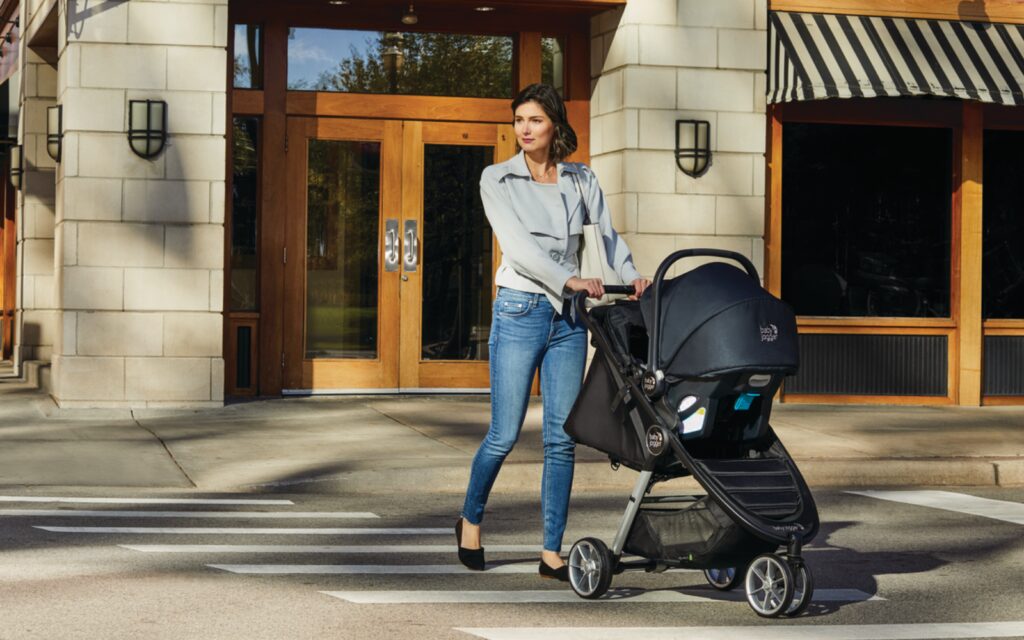 A large canopy is important for a small baby because she cannot wear sunscreen for the first few months.
While the sunshade is obvious, a good canopy can also help shield your child from light rain, wind, as well as cold.
We don't entirely recommend a canopy that has locking bars on the side because you are likely to forget you've got it locked down. As such, you may end up breaking it when folding the stroller.
No matter what size the canopy is, it should always offer sufficient ventilation for your baby. You can even stick your own head under the canopy to ensure it isn't too stuffy.
You should also consider a canopy that is height adjustable. It will accommodate both shorter and taller babies.
The Handle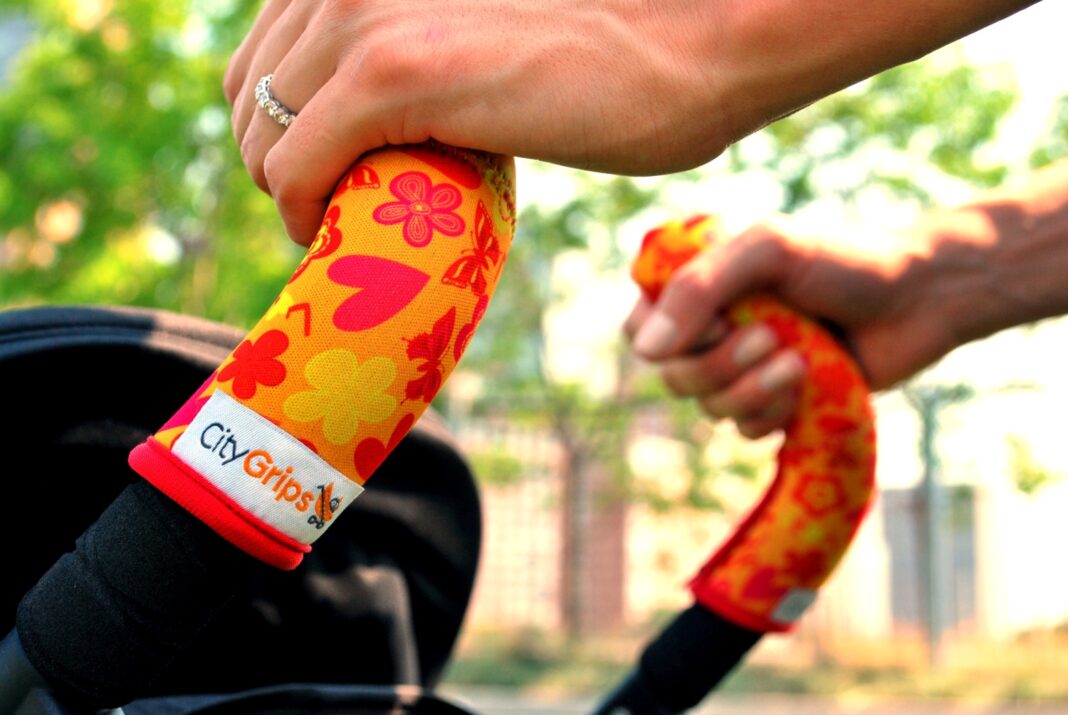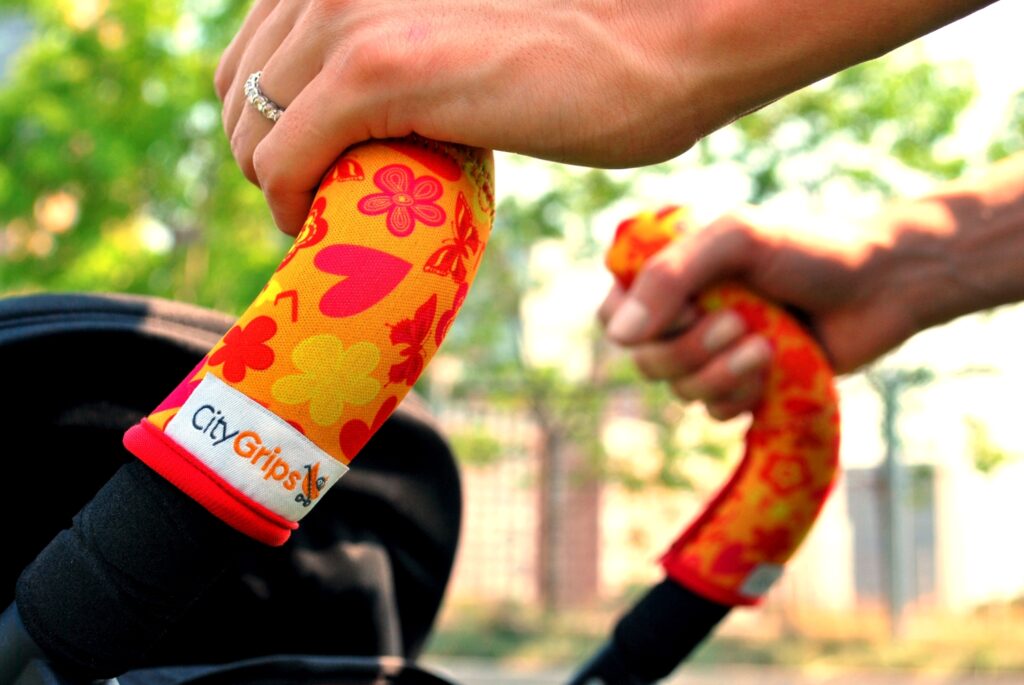 Ergonomics is everything when looking at the stroller handle. While some mothers prefer the single handle, you might prefer two. It is really up to you.
When you are test-driving an umbrella stroller in the store, remember to try it one-handed with your baby in the pram.
You can also consider padded handles and contours for comfort during long walks in the park. Always look for high-quality padding or covering.
If you are a taller or shorter mom, a height-adjustable handle is necessary. Finest strollers provide a height adjustment setting that allows you to lower or raise the handles.
If you have the tendency of hanging things on the handles, you should choose handles that are made of strong materials.
Another unique feature that you should look for is a reversible stroller handle. A reversible mechanism allows you to flip the handle in the opposite direction.
The Wheels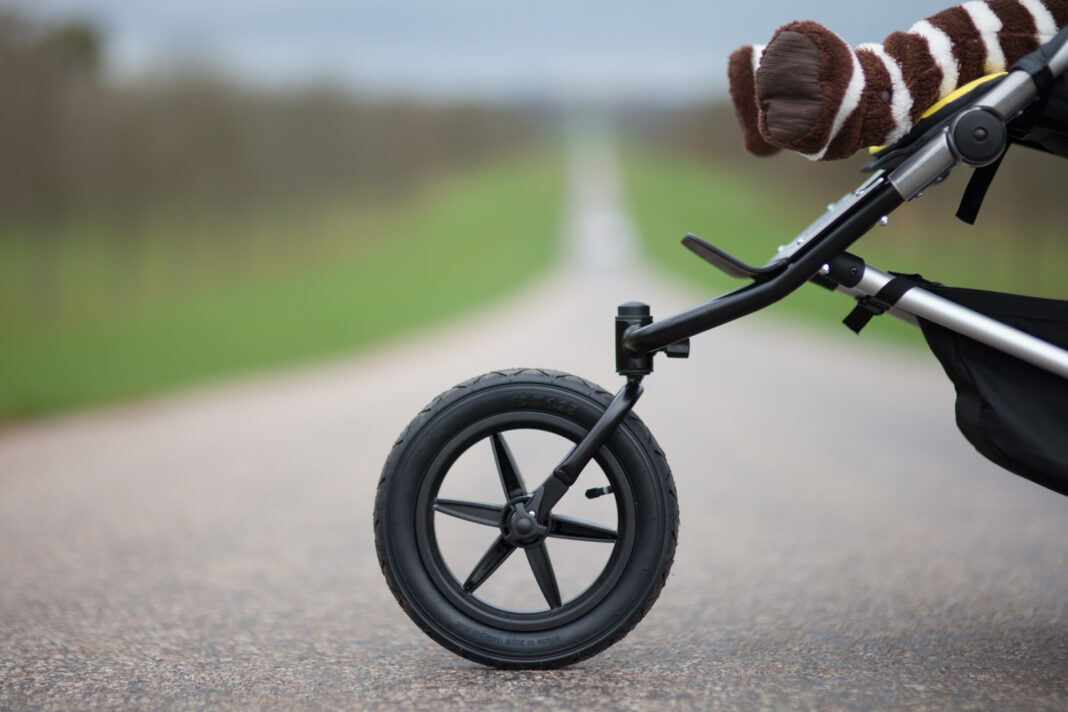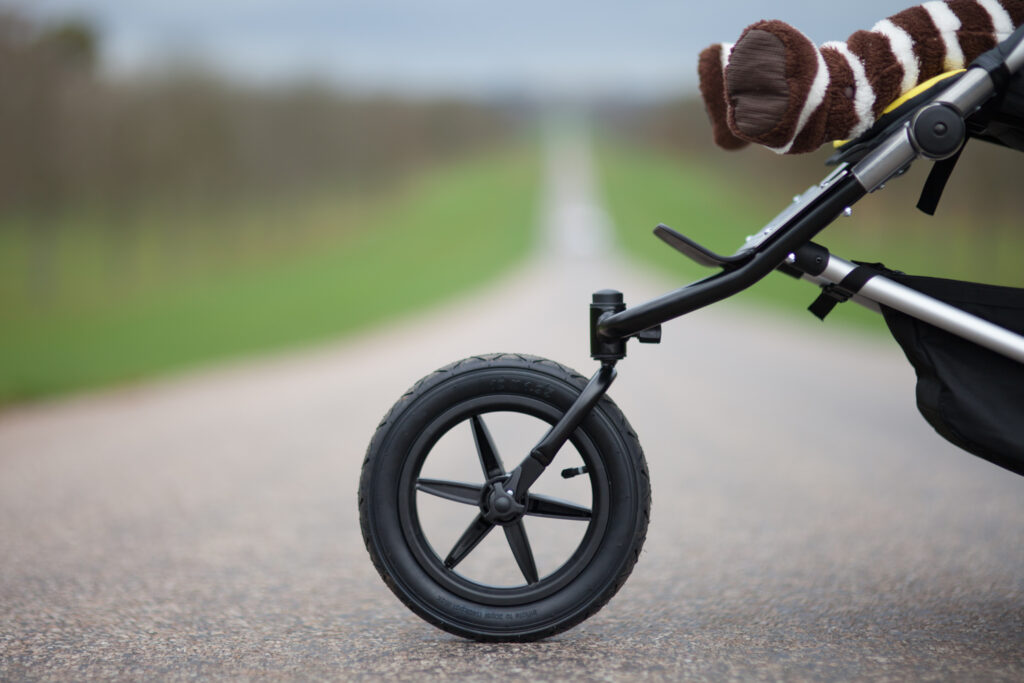 The wheels play an important role in the maneuverability of an umbrella stroller. They need to be well-made, versatile and easy to push.
Most models come with a set of four double wheels. However, the number of wheels may not be relevant.
You should mostly be concerned about heavy-duty wheels, easy maneuverability, and a good turning radius.
You will come across simple plastic, air-filled, or rubber wheels. It is wise to avoid crappy plastic wheels since they tend to wear unevenly.
Rubber wheels are usually the best because they don't wear unevenly regardless of the terrain. Air-filled wheels are particularly resourceful for varied terrains.
The size of the wheels also matters. The bigger the wheels, the easier they are to push, but they will present a significant challenge when folding the stroller.
Folding Mechanism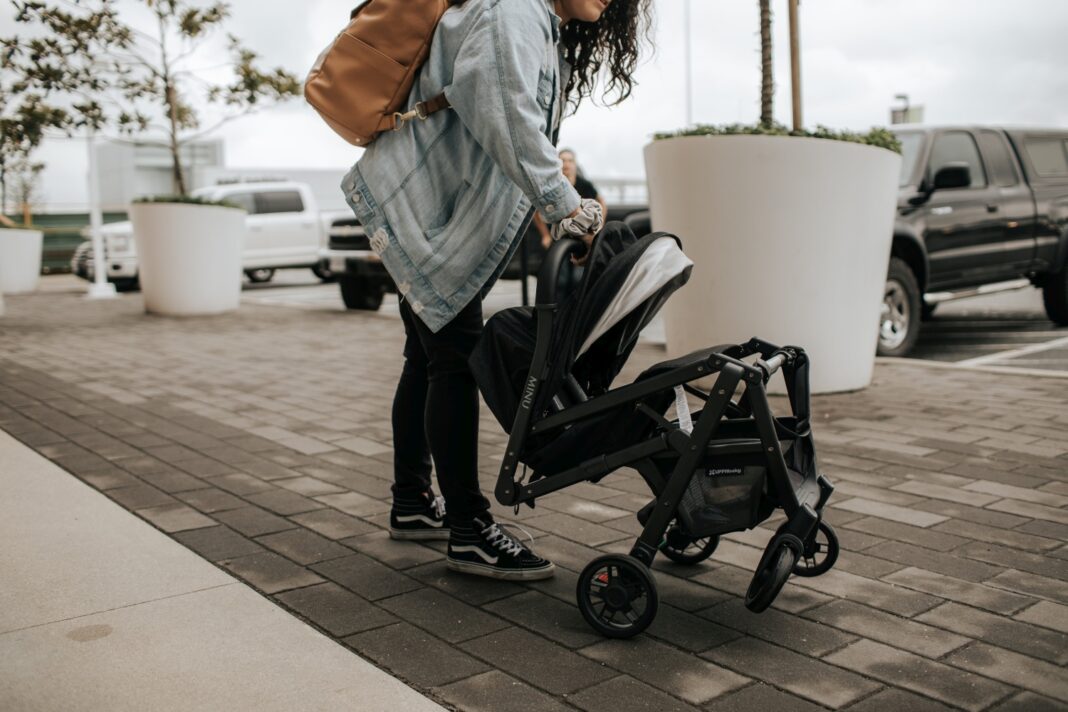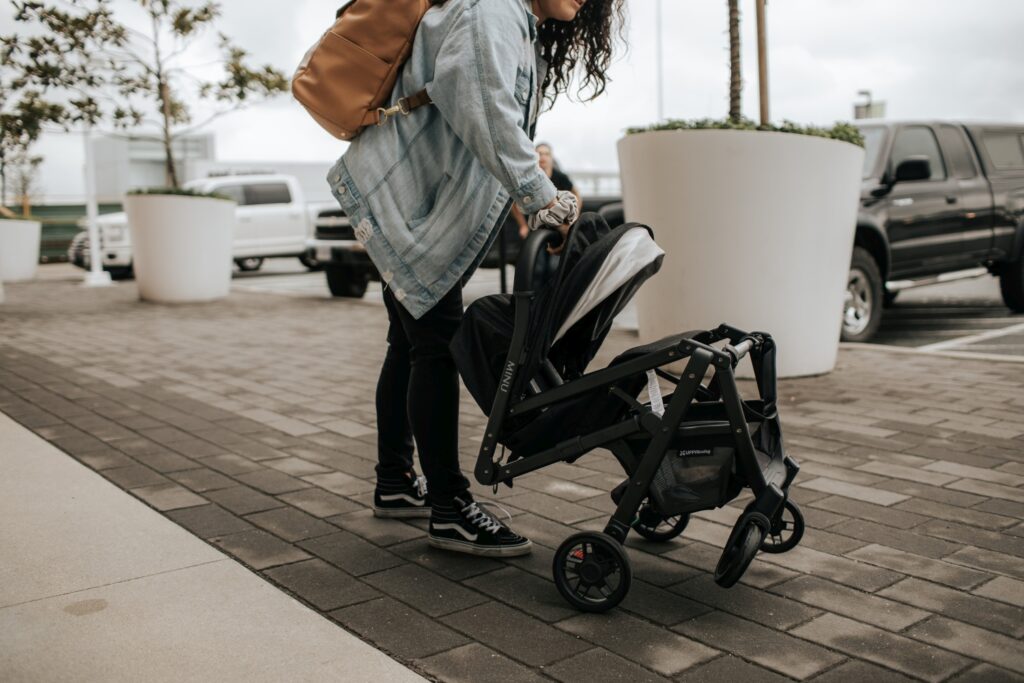 Apart from the small footprint of an umbrella stroller, the next important feature that defines this design is the easy fold and unfold mechanism.
Try folding and unfolding the stroller a number of times while you are still in the store or when it is delivered.
You should be able to do it without struggling. A one-handed folding mechanism is the simplest and easiest of all.
Safety Features
The best small umbrella stroller must have impeccable safety features. So, you should be extremely careful when shopping for cheap designs.
1. Brakes
Any umbrella stroller you buy, either cheap or expensive, should have foot brakes on the rear wheels to help prevent runaways.
You want solid foot brakes that will hold into place firmly. Make sure the brakes are easy to engage and disengage.
Most affordable umbrella strollers may have cheap plastic brakes. So, you want to make sure that you get sturdy cheap plastic.
You will notice that the front wheels turn a lot, making it really easy to move around. However, there are times when it is safer to move in a straight direction instead of swiveling.
To be able to move straight away, you will have to find a stroller that allows the front wheels to be locked into place.
This will help to prevent the wheels from wobbling, especially when they start wearing off.
2. Harness
You will not believe how many children are hurt in umbrella stroller accidents. According to some significant studies, strollers can be dangerous if not used properly.
Do not assume that your baby is super safe when you strap her into the pram. You must ensure the harness/strapping system is safe for your baby.
Therefore, you should make use of all the available straps or harness. Most high-quality strollers come with a superior strapping system.
Make sure there are straps that go over your baby's shoulder, and also around her waist. This way, you will be able to prevent your child from standing or toppling forward.
Ensure that all the straps are adjustable to fit your baby cozily. She needs to be restricted from standing up, leaning forward, or sliding down, but she needs to feel comfortable.
3. Suspension
The finest umbrella prams come with a suspension system, which is basically a springing system over the stroller wheels to help absorb some of the shock of potholes as well as bumps.
Some models only have suspension on the rear wheels, but it is normally more convenient if both the front and the rear wheels have suspension.
But sometimes a full-wheel suspension system may render the stroller wobbly. If you opt for a full-wheel suspension, make sure the pram's frame is strong.
1. Delta Children Revolve Reversible Stroller

– Best Overall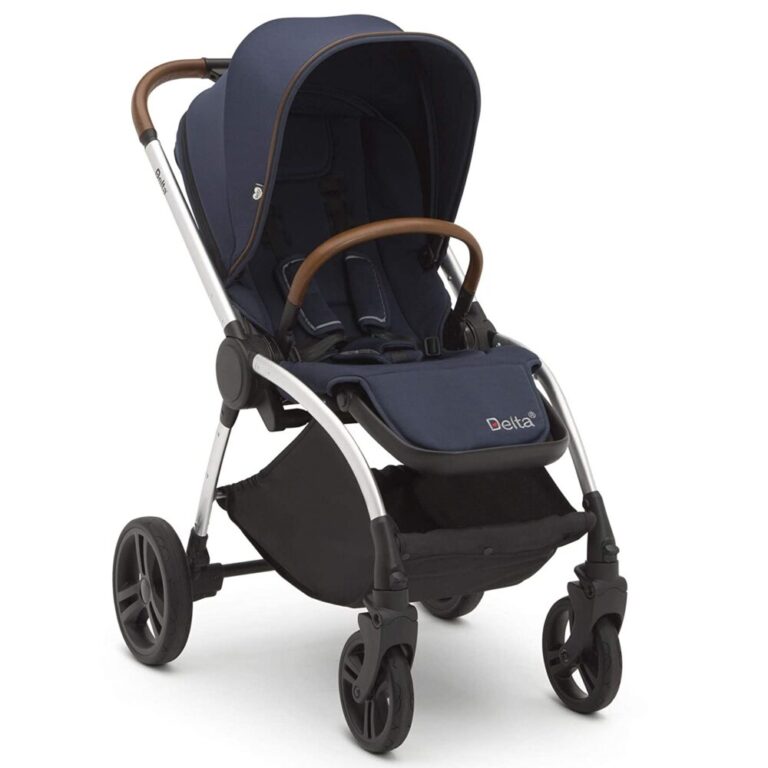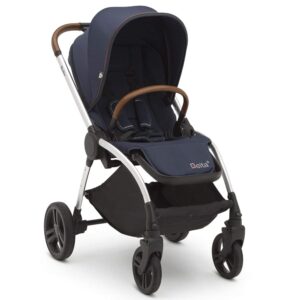 Are you planning for a stroll with your child in the park? The Clutch Stroller by Delta Children is the perfect small umbrella stroller for you.
This lightweight model weighs a little more than eleven pounds and has a remarkable compact fold that fits inside a travel bag. You actually have to fold both sets of wheels one set at a time and then fasten the clamp to keep the stroller folded.
The folded design could fit in the overhead bin of an aircraft. It unfolds into the standing position in a matter of seconds.
When unfolded, the pram has a five-point safety harness with padded shoulder straps. The harness feature heavy-duty buckles that hold firmly into place.
The seat of this model does not recline. Therefore, it may not be the most ideal choice for babies who cannot support their heads.
Highlights:
Multiple award winner
Super lightweight
Two-second fold/unfold
Five-point harness
Rear wheels brakes
Carry all your necessities in the under-seat storage basket, which is easily accessible. Keep your baby comfy with the adjustable sun visor.
It is fitted with good quality brakes for preventing runaways. Press the button on the right rear wheels to lock them, and press the button on the left side to unlock them.
This is a much-decorated product that has received some amazing awards, such as:
Best Mother's Day Gift Forbes 2019 Winner
Best New Baby Gear Fatherly 2019 Winner
Best Travel Product CNN 2019
2. Graco Breaze Click Connect Umbrella Stroller

– Best One-Hand Fold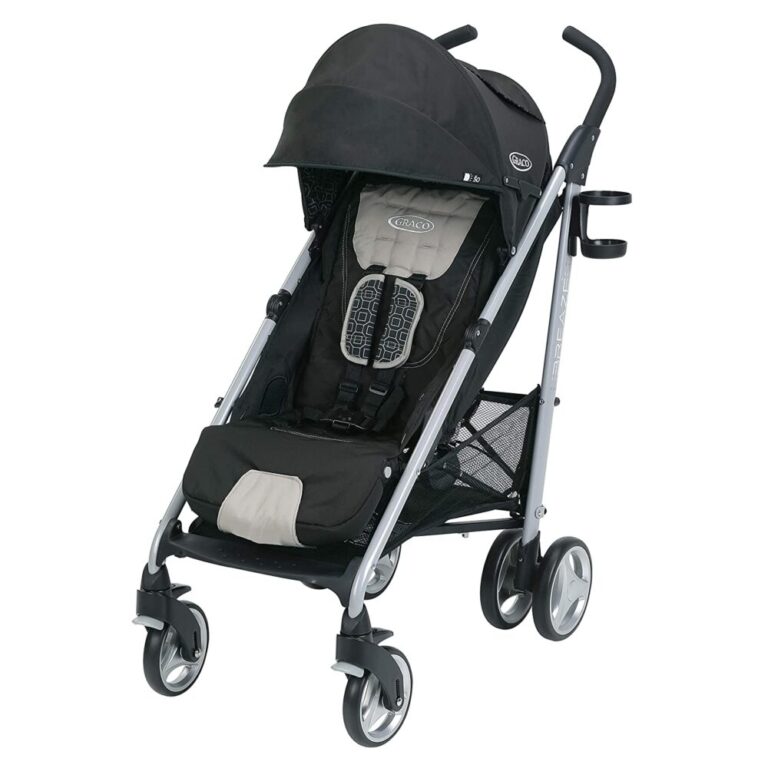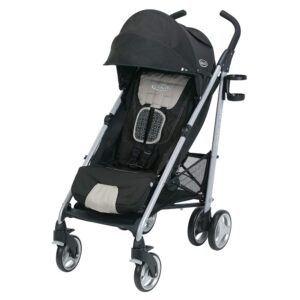 The Graco Breaze Click Connect is the ideal lightweight stroller, providing all the comfort as well as convenience of a full-size design, but with a compact size.
Breaze features a simple one-hand fold, making it the easiest folding design available. To activate the fold, simply push the button and pull the lever on the handle.
Once folded it locks automatically, and the convenient carry strap allows you to grab it and go with just one hand.
This model also doubles as an ultra-lightweight infant car seat carrier. It securely accepts all Graco click connect infant car seats.
To ensure a smooth ride, this model has all-wheel suspension and locking front swivel wheels, which provide added stability for strolling over any terrain.
Highlights:
One-hand fold
50 pounds of weight capacity
Reclining seat
3/5 point harness
Front swivel wheels
Extra-large canopy
Accepts infant car seat
Features brakes and suspension
In addition, the single touch brakes allow for a simple one-step stop when you want to pick a call or get something from the diaper bag.
Your child will ride comfortably in a reclining seat. The seat is also equipped with a convertible three or five-point harness system that grows with your child.
The harness system does a great job of preventing your baby from standing, leaning forward, or sliding of the seat.
She will also be shielded from direct sunlight with the extra larger canopy. You've also got a pop-out visor that offers more coverage.
They're also a lot of amazing features that you will enjoy, such as the removable parent cup holder on the left handle and the easy access extra-large storage basket.
3. Baby Joy Umbrella Stroller

– Best for Travel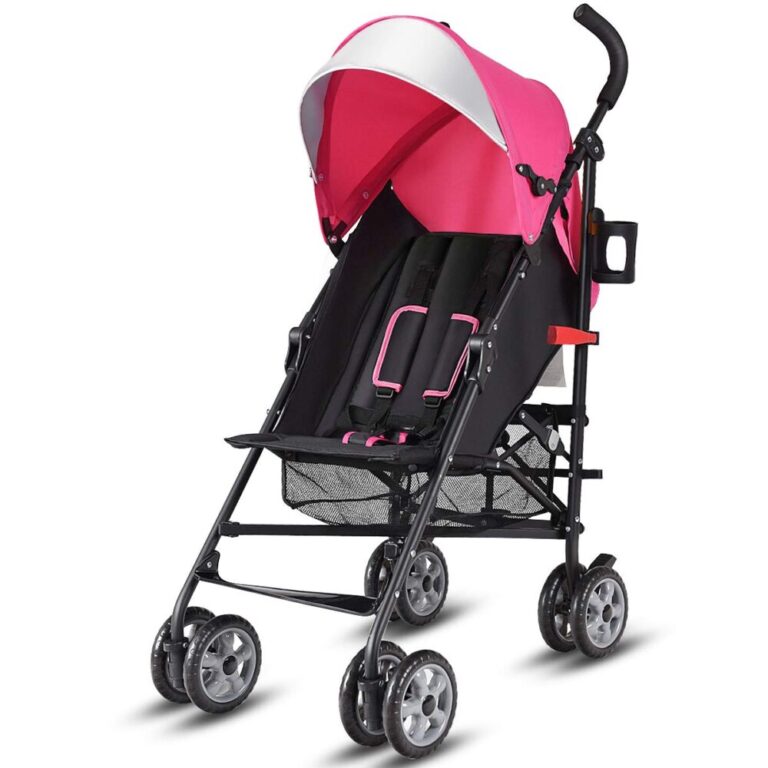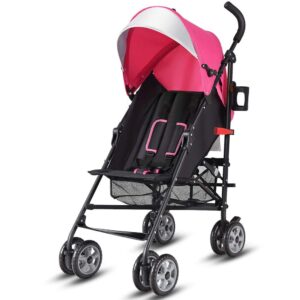 If you are in search of a real-life helper when traveling with your baby, you should look no further than the Baby Joy Umbrella Stroller.
This super lightweight model only weighs 12.5 pounds. However, it comes with a very sturdy frame that can support up to 50 pounds.
Even though this model is recommended for babies who are at least six years old, we believe it can be a good choice for younger children due to the reclining seat.
The backrest can be dropped to a nearly flat position by simply adjusting the strap. But you may need to use some muscle when adjusting the backrest to a sitting position.
The seat itself is pretty well-made and spacious. It is fitted with a heavy-duty five-point harness with padded upper straps for comfort. One key release allows you to quickly open the harness.
Highlights:
Large, adjustable UV canopy
Reclining seat
Lockable rear wheels
Swivel front wheels
Five-point harness
Lightweight aluminum frame
Convenient carry strap
This model comes with a large as well as adjustable sun canopy that ensures your little one is well-protected from harmful sunrays.
You've also got a front visor for additional protection UV protection. In addition, the entire hood can be conveniently rolled back and folded.
You can easily stop the stroller by stepping on the brakes located between the rear wheels. The front wheels are engineered to swivel smoothly for added flexibility.
Below the seat, there is a large mesh basket for storing essential items, including a diaper bag, mom's handbag, or anything else that you may want to bring along.
4. Graco Travelite Umbrella Stroller

­- Best Full-Featured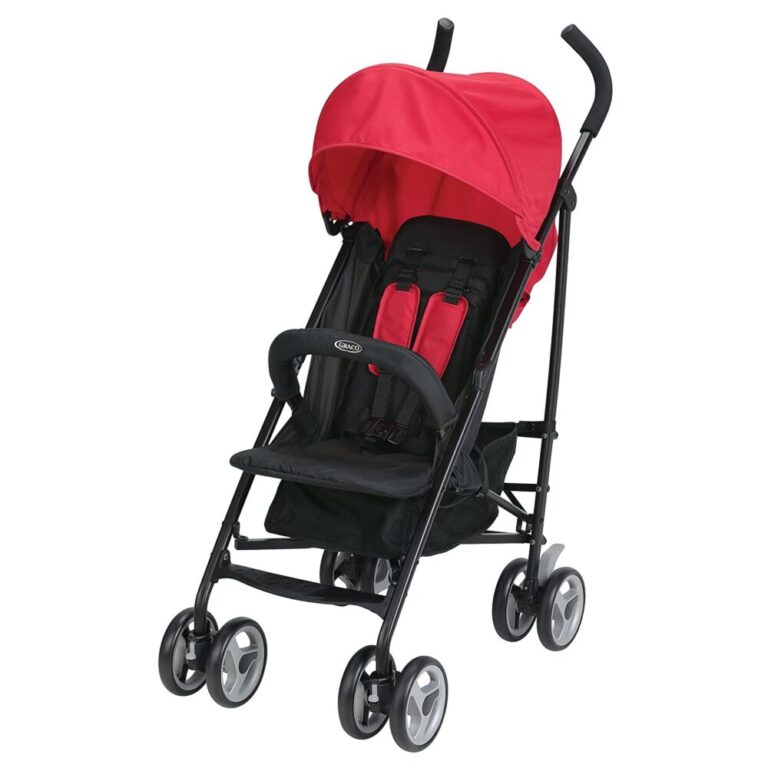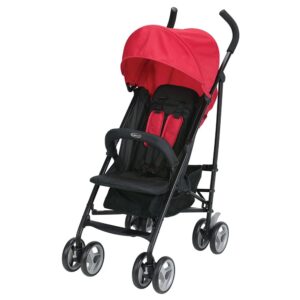 Introducing the Graco Travelite, light and portable umbrella stroller for a mother on the go because it weighs less than twenty pounds.
Ride in styles with a sleek new frame and wheel design that supports a minimum weight of four pounds and a maximum weight of forty pounds.
It is one of the most portable prams on the market. It folds down compactly and it comes with a storage latch that ensures the stroller stays folded.
Taking the Travelite out for a stroll is easier with the unique carry handle. There's a removable padded armbar that provides your baby with something to hold.
Comes with a reclining seat. The seat has two relaxing recline positions and padding for superior comfort for your little one.
This model has adjustable calf support that extends off the seat, supporting the young calf muscles of your baby for a comfortable ride.
Highlights:
Compact fold w/ storage latch
Large canopy
Lockable front swivel wheels w/ suspension
Removable armbar
Multi-position reclining seat
Adjustable calf support
The Travelite features lockable front swivel wheels so you can make smooth easy turns. The front wheels have suspension for better maneuverability on bumpy surfaces.
This model comes with a large sunshade that protects your little one from the effects of direct UV light. The front visor adds UV protection.
The seat a durable and adjustable harness to help keep your child stay securely seated. The upper straps are padded to prevent hurting your child's shoulders.
The most significant safety feature of this model is the rear wheel brakes. One step on the brakes brings the stroller to a halt.
You've also got a removable cup holder for placing a water bottle or anything else. There's also a storage basket for holding travel essentials.
5. Summer Infant 3D Lite Convenience Stroller

– Best Stylish Design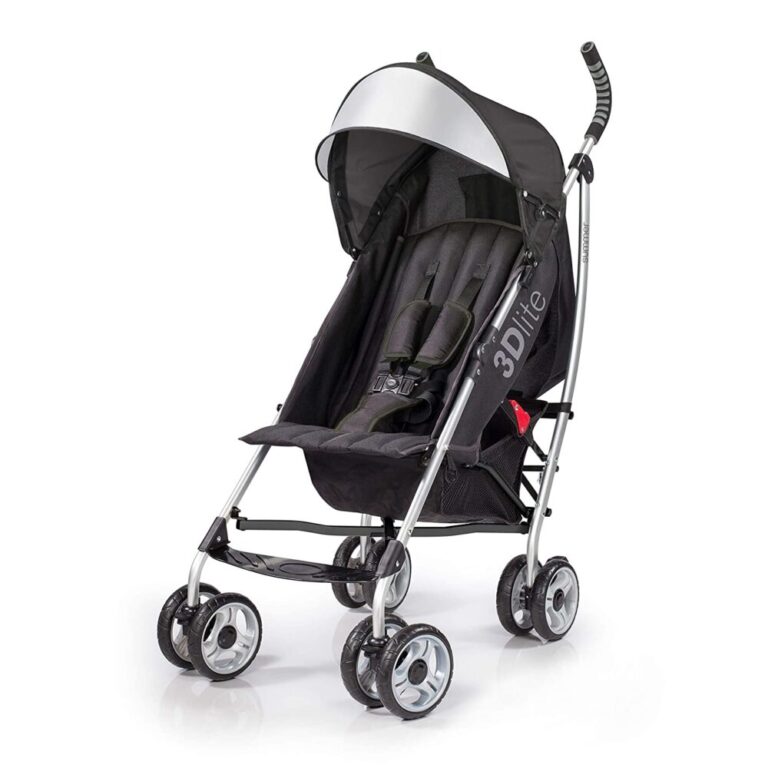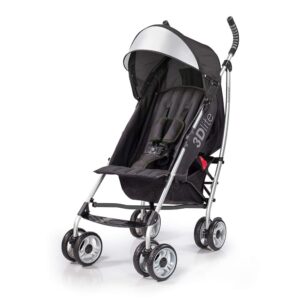 Finally, a convenient umbrella stroller that holds everything you need. High fashion meets outstanding function in this durable pram.
The strong yet elegant aluminum structure with a large seat makes it one of the most practical lightweight designs in today's market.
What qualifies this model as a quality small umbrella stroller is the compact and air-light construction. At thirteen pounds, this model is one of the easiest to fold.
The compact structure folds in three simple steps: lift the rear handle, then use your foot to push the lever, and finally fold down and go.
The open design is fitted with a highly versatile seat that reclines easily to a nearly flat position. This makes it suitable for napping.
The seat comes with a five-point harness that adjusts easily into three height positions that will grow with your baby.
It comes with a uniquely made canopy that is large and adjustable. The canopy offers sufficient protection against direct UV light.
Highlight:
Lightweight aluminum frame
Three-step compact fold
Reclining seat
Five-point harness
Anti-shock front wheels
Rear wheels brake
Adjustable canopy
There is also a pop-out visor that offers additional protection during sunny days.
This model comes with four sets of durable dual wheels.
The rear wheels are fitted with fast-action brakes. The front wheels are shockproof and suitable when riding on bumpy surfaces.
There is plenty of storage in the under-seat basket that is suitable for holding a mom's purse and an oversized diaper bags.
There is a rear storage pocket for stowing cell phones and keys. The included cup holder provides you with a place for a baby bottle.
6. Cosco Umbrella Stroller

– Best Lightweight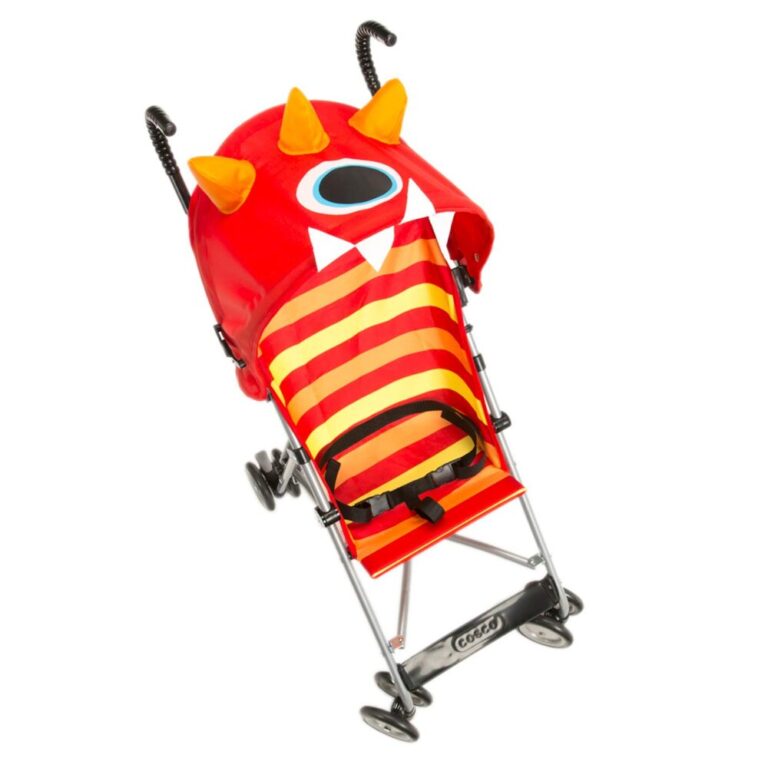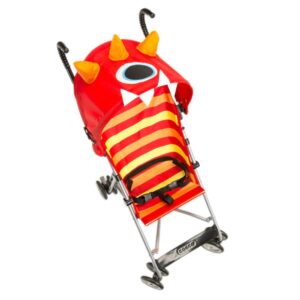 Do you want a colorful umbrella pram for your baby? Look no further than the Cosco Umbrella stroller that is available in three exceptional colors.
Unlike most models you will come across on the market, the design of the Cosco is very basic. It features a compact standing fold that stows away easily in your car.
The canopy is not large, but it is uniquely designed to provide your child with some sort of protection from direct UV light.
She will most likely love the color and the exciting creature features on top of the canopy. You can pull back the canopy when your child wants to explore her environment.
You should not compare the quality of this model with high-end umbrella strollers on the market because you will be disappointed.
For instance, the seat does not recline and it is made from linen fabric, which is not as strong as other seat materials.
Highlights:
Compact standing fold
Double foot brakes
Sun canopy with colorful features
Three-point harness
Swivel front wheels
Your child may lean forward most of the time because of the fixed seat position. Therefore, this model is definitely not ideal for newborns and infants.
The three-point harness offers adequate support for children weighing up to 40 pounds. However, the straps and buckles are pretty well-made. There's a leg rest for added comfort.
The plastic wheels aren't of the best quality, but they will function properly on a smooth surface. The rear wheels are lockable and the front wheels swivel for a safe and smooth ride.
7. Disney Mickey Mouse Umbrella Stroller

– Best Value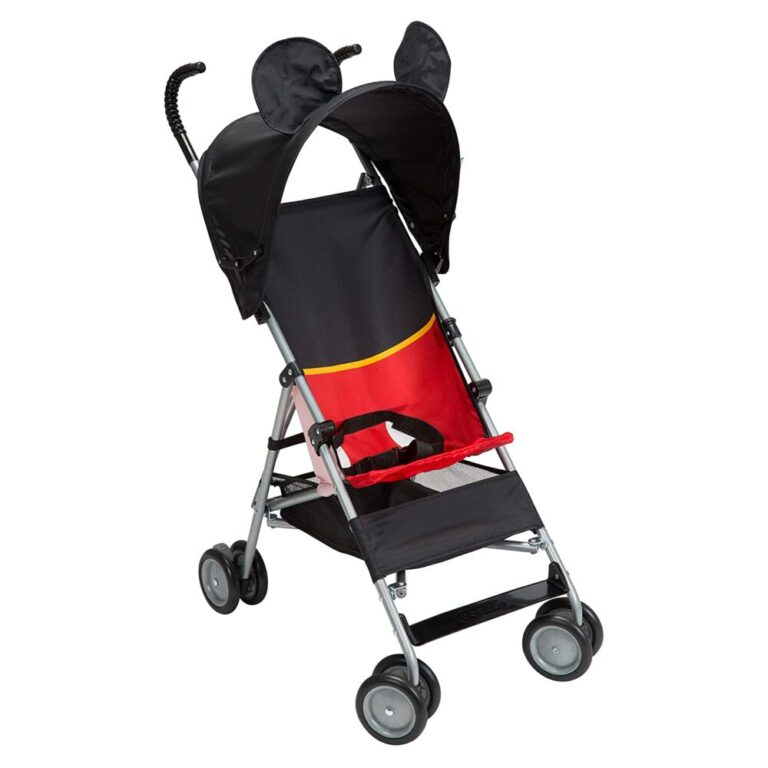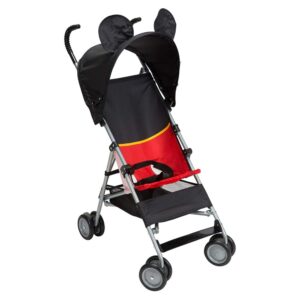 This is a very lightweight umbrella stroller that has a special mouse theme with bright and colorful graphics printed on to the fabric.
It is an amazing design for a day out. You have two Mickey Mouse ears protruding out of the canopy, which is a welcoming feature for children.
The canopy provides adequate protection from direct UV light above your child's head. However, it doesn't have a front sun visor.
It is fitted with a non-recline seat that is definitely not ideal for infants. There is a three-point harness that holds your child safely in place.
The straps are durable and the buckles release the quickly and effectively. However, the harness will not prevent your child from leaning forward.
This Mickey Mouse design has lockable rear wheels for added safety, and swivel front wheel for improved maneuverability in the park.
Highlights:
Compact 3D fold
Mickey Mouse canopy
Three-point harness
Handy storage basket
Lockable rear wheels
Swivel front wheels
The plastic wheels may not be of the finest quality. So, it is wise to avoid potholes, bumpy roads, and uneven surfaces for it to ride smoothly.
The handles are padded for comfort, but they're not that tall. There is a handy storage basket beneath the seat for carrying light items.
It features compact 3D fold, and it is suitable for use with children weighing up to 40 pounds.
8. Joovy New Groove Ultralight Umbrella Stroller

– Best for Mom and Dad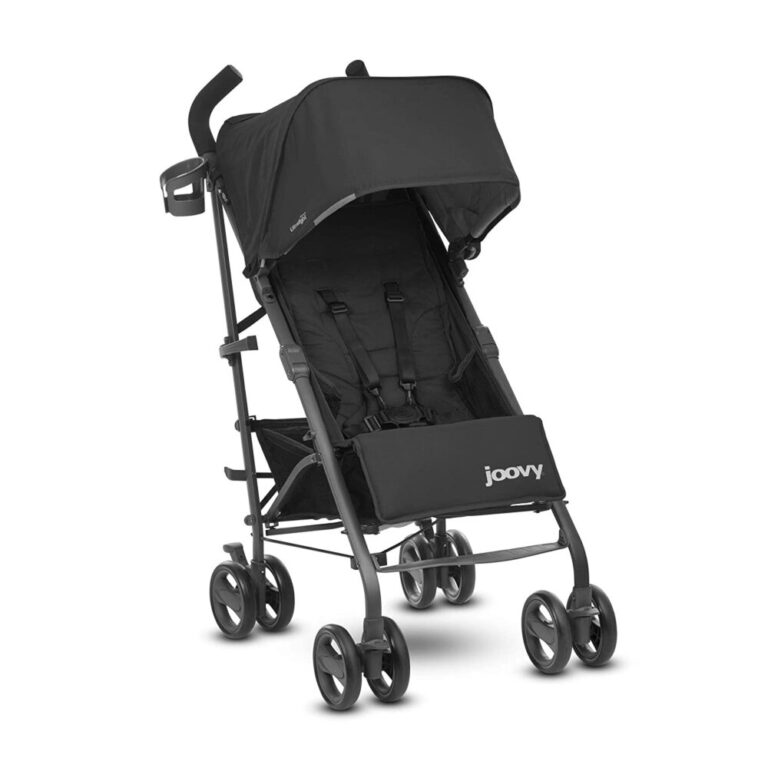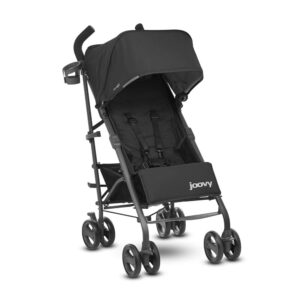 The Joovy New Groove is probably the sturdiest umbrella stroller on the market. It is super lightweight and absolutely full-featured.
Most umbrella strollers are recommended for larger babies, but this model is considered safe for infants. The seat converts to a nearly flat position, making it perfect for newborn napping.
The seat is fitted with a five-point harness that is height-adjustable to accommodate different baby sizes. The straps and buckles will contain your baby in a safe position.
There is a two-position leg rest, which locks in a horizontal or vertical position. Also, there is a little safety guard hidden under the seat that you can pull out and attach around the leg rest.
This model comes with a full-coverage canopy that provides maximum protection against direct sunlight. The canopy also features a peek-a-boo window for checking on your baby.
The handlebars are not adjustable, but they are tall and convenient for taller parents. They are foam covered for added comfort during longer rides.
Highlights:
Nearly flat recline seat
Compact standing fold
Easy carry strap
Tall and padded handlebars
Swivel front wheels
Adjustable rear wheels brakes
4-wheel suspension
This stroller is loaded with storage features, including one cup holder on the back and another one on the left handlebar.
There is a storage pouch on the where you could stow your keys, purse, phone, or your baby essentials. You also have two inner pockets within the seating area for placing baby bottles.
There's a large basket that can easily be accessed from the back or from the sides. It can cozily accommodate a small handbag or a sizeable diaper bag.
The wheels are pretty well-made. The rear wheels fitted brakes for locking the stroller, while the front wheel swivel for easier steering. You've also got a four-wheel suspension.
9. Kolcraft Cloud Lightweight Umbrella Stroller –

Best Steering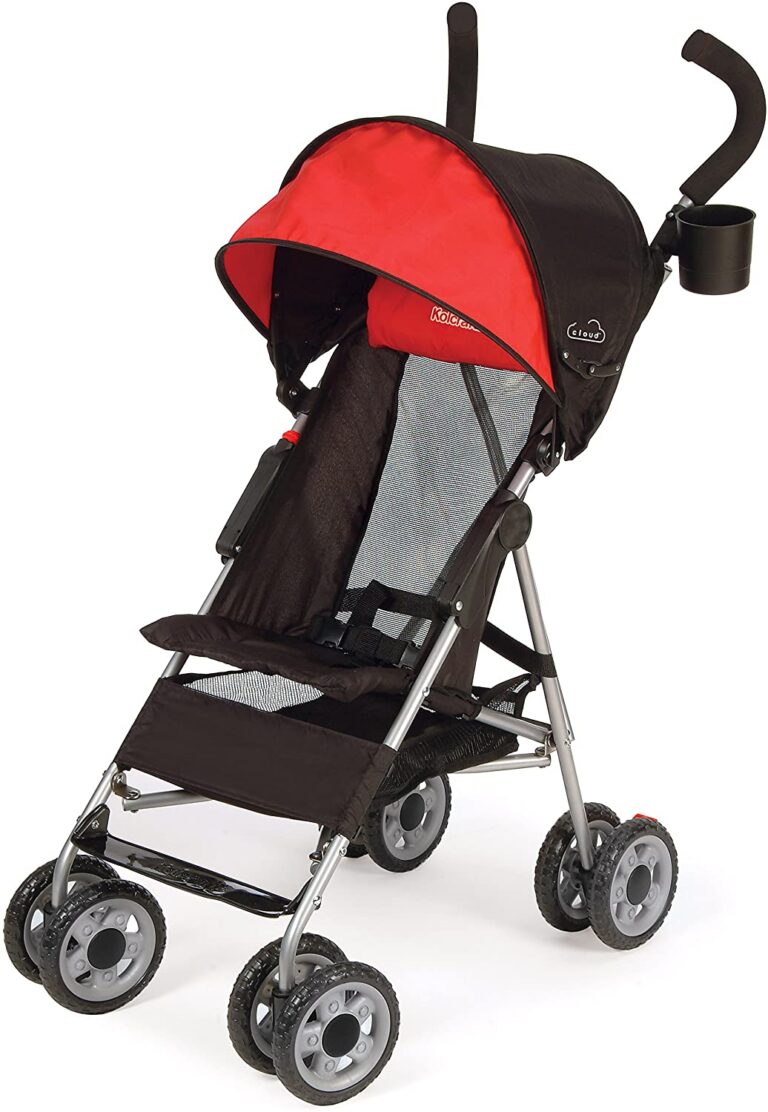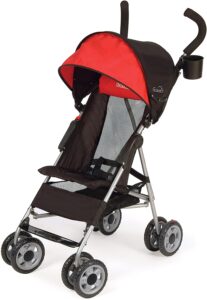 Whether you are taking a stroll to the nearby park or taking a family vacation, the Kolcraft Cloud Umbrella Stroller is suitable for light travel.
It weighs only nine and a half, making it perfect for day trips. The easy and free-standing fold is amazing, it will only take you a couple of seconds.
The stroller has a good quality frame, which is recommended for babies weighing up to 39.9 pounds. The age range includes infants and toddlers.
The seat is well-made and positioned. It reclines easily into a near-flat position. The straps and buckles hold firmly, but the shoulder straps are not padded for additional comfort.
It is fitted with a large rear hood for sun coverage and an extended canopy for extra protection against direct sunlight. Also, the rear hood can be lopsided for superior coverage.
The dual wheels appear well-made and contoured for better traction. The rear wheels are fitted with foot brakes for preventing runaways.
Highlight:
One-step compact fold
Foam padded handles
Three-point safety harness
Roll-up canopy and sun visor
Swivel, shock-absorbing front wheels
Parent cup holder and stow basket
The front wheels are engineered for swiveling when taking those quick corners in the park. They're also shock-absorbing in case you come across an uneven surface.
The ergonomically made handles are foam padded for easy steering and comfort. The left handle is also fitted with a cup holder for placing a baby bottle or takeaway coffee cup.
In addition, there is a roomy storage basket at the bottom for carrying all your baby's necessities along with your own.
Final Words
In the current market, umbrella strollers suffer from several design issues that may negatively affect the safety of your baby.
As such, you should be highly selective when choosing the best small umbrella stroller. You must choose a lightweight design that's easy to fold and carry.
Ideally, it should be 10 to 20 pounds or even lighter. Test it first before you buy and make sure it has the proper harness for safeguarding your baby.
Make sure you like how they handle feels, how the seat reclines, how effective the canopy is, and how easy the wheels are to steer and maneuver.
One word of caution, ensure your baby is at a safe distance away when you are folding the stroller in order to avoid unnecessary accidents.