When you're a new parent or just had another newborn join the family, getting out and about can prove to be quite a challenge. You need to plan well on things like what the baby will wear to ensure he or she is warm or what to eat.
However, if you're looking for a way to make your life easier, especially when traveling, then you need to consider acquiring one of the best baby strollers with a car seat. 
The popularity of these baby travel systems is growing with every passing day, and it's easy to see why. Usually, car seat stroller combos help you save money that you'd have otherwise spent buying the two gears separately. What's more, you're able to transfer your baby comfortably from a car seat to a stroller with minimal disturbance.
What is the Best Baby Stroller and Car Seat Combo?
We set to find out the most convenient baby strollers and car seat combinations that offered the most value for money, and the following are our top 10 best picks. We hope that these reviews will help you make better decisions. Let's get started!
1. Evenflo Pivot Modular Travel System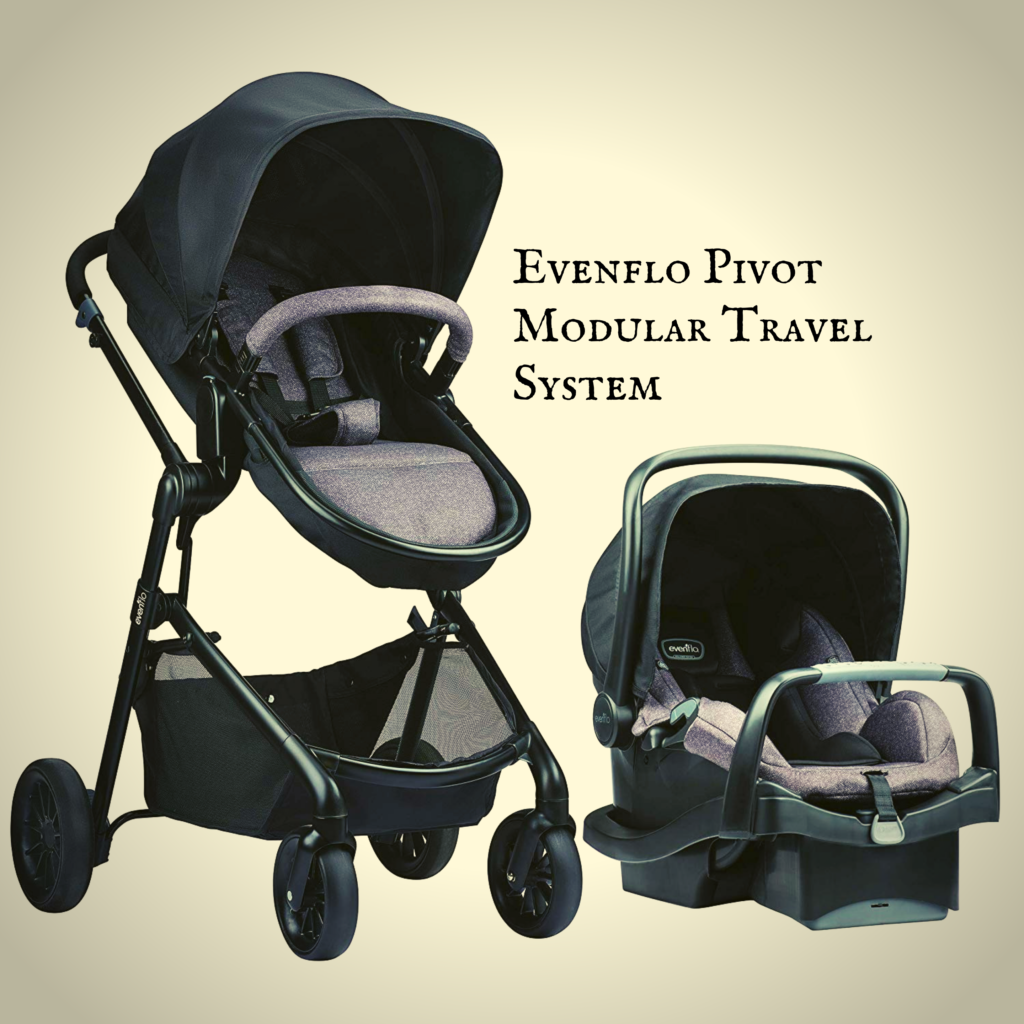 Designed with versatility in mind, the Evenflo Pivot Modular Travel System works perfectly for parents who move places often. It has multiple modes that allow easy conversion into a carriage, frame stroller, or travel system. Its ingeniously designed armbar, which is also removable, makes the switch between the multiple modes easy. 
This stroller features the SafeMax Infant Car Seat to allow you to transition from the streets to your car in a whisker. Parents love it because the infant seat disconnects effortlessly from the stroller's frame and installs equally easily in the car.
The stay-in-car base fastens the seat securely with the capability to face the baby in either direction. Put otherwise, you can have your baby facing the front of the car or the rear for maximum comfort while traveling. 
On the pavements, the stroller is equally a performer and easily wins the heart of the driver, thanks to its secure handling. The sleek frame allows you to navigate narrow sidewalks comfortably with the four large wheels distributing evenly the weight you put on. Moreover, the large canopy shades your baby from direct light for undisturbed naps. 
2. Chicco Bravo Trio Travel System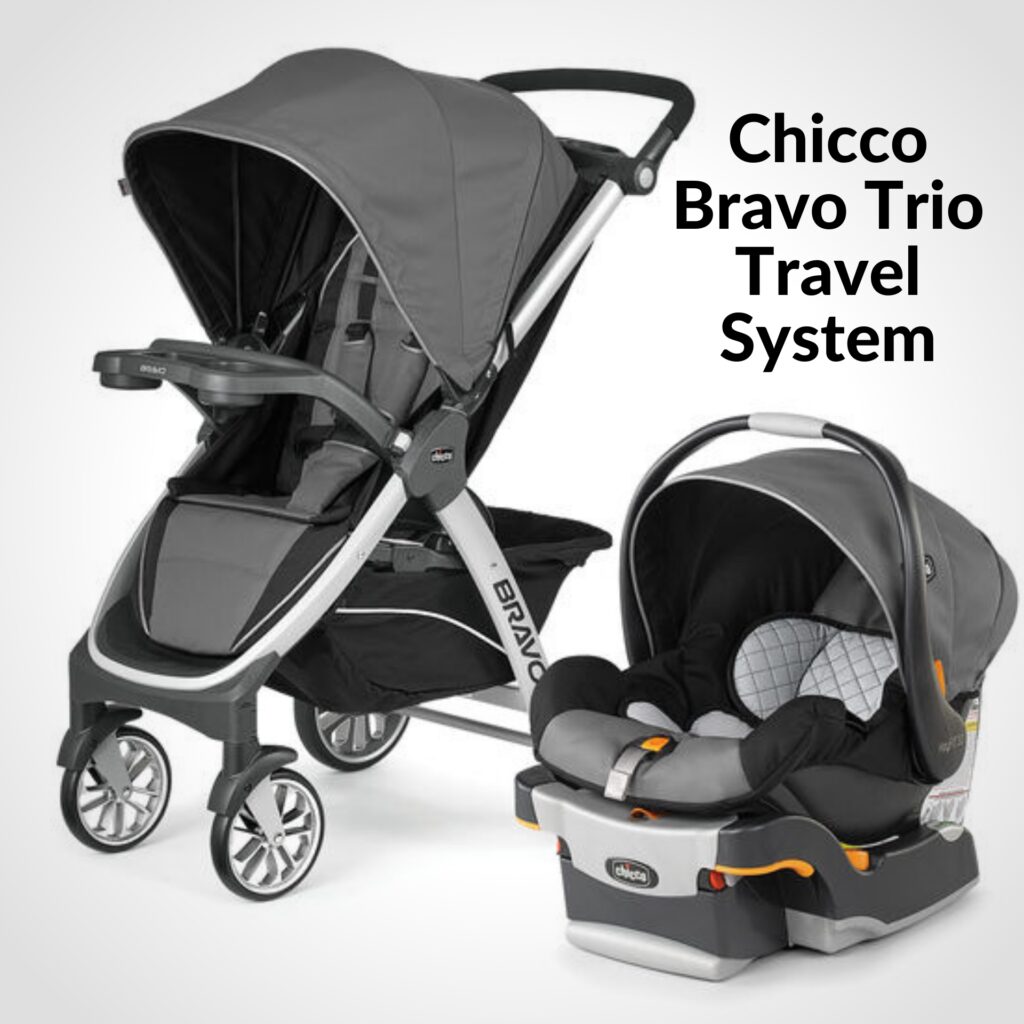 The Chicco Bravo Trio Travel System is easy to favorite after just the first glance owing to its impressive outward appearance. For starters, it has a stylish frame with a removable seat for quick installation of the Key Fit 30 infant car seat and base.
Besides, the wheels are auto-positioned to minimize bulkiness and save carriage space in your car cargo area. With this, you're able to switch between your car and the stroller effortlessly and in seconds. 
If you're into aesthetics, the Key Fit 30 is spice and everything sweet. The elegantly woven jacquard features polka dot patterns with a wave of colors that accentuate its adorable feminine look. What's more, the stroller itself is foldable, thereby allowing you to carry it on hand like an umbrella. 
Did we also mention that the stroller comes with a parent tray? Well, on it are cup holders to carry your refreshments and a storage area to transport other items that would otherwise tire your hands. The Chicco Bravo is capable of holding up to 50 pounds of weight, which is quite decent for a piece of equipment its size. 
3. Graco Jogger Travel System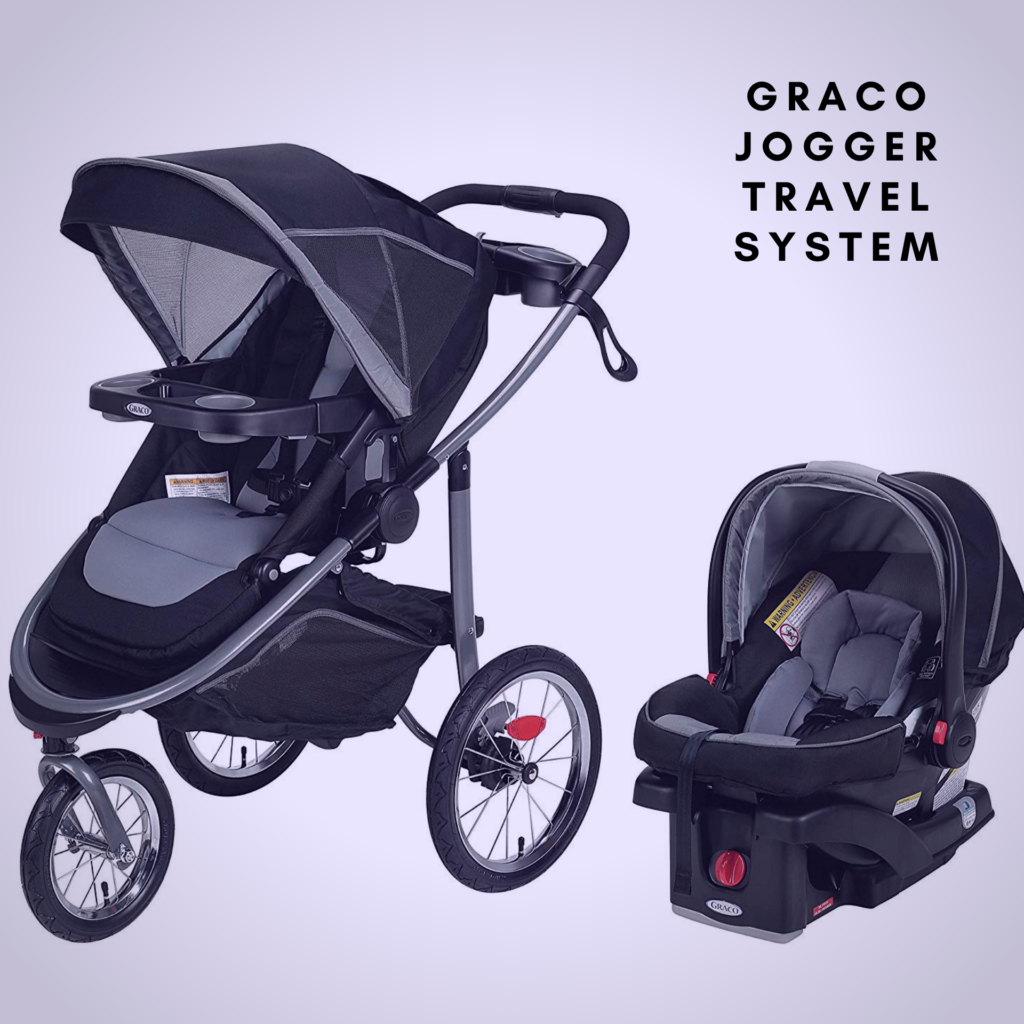 Like to exercise but still needs to babysit? Thanks to Graco Jogger Travel System, you can do both simultaneously without hurting your baby. Designed with fast-action fold, this stroller offers an easy transition from a workout session to other mom activities. It allows you to use only one hand when you need to carry it around.
Besides, it comes with SnugRide 35 Infant Car Seat to securely hold your baby when traveling to workout areas in a vehicle. It conveniently holds up to 35 pounds of weight, which is a decent allowance for infants between 0-6 weeks old. The seat faces the rear while on the stroller and front when in the car, thereby making it easy for you to bond with the toddler at any time. 
Most sportive parents appreciate how smooth it rides even on rough terrains. The air-filled rubber tires and wheel suspensions absorb vibrations to minimize disturbance on a napping baby. Furthermore, the baby's seat reclines to multiple positions, which adds snug, whether on car or jogging. 
4. Baby Trend Expedition LX Travel System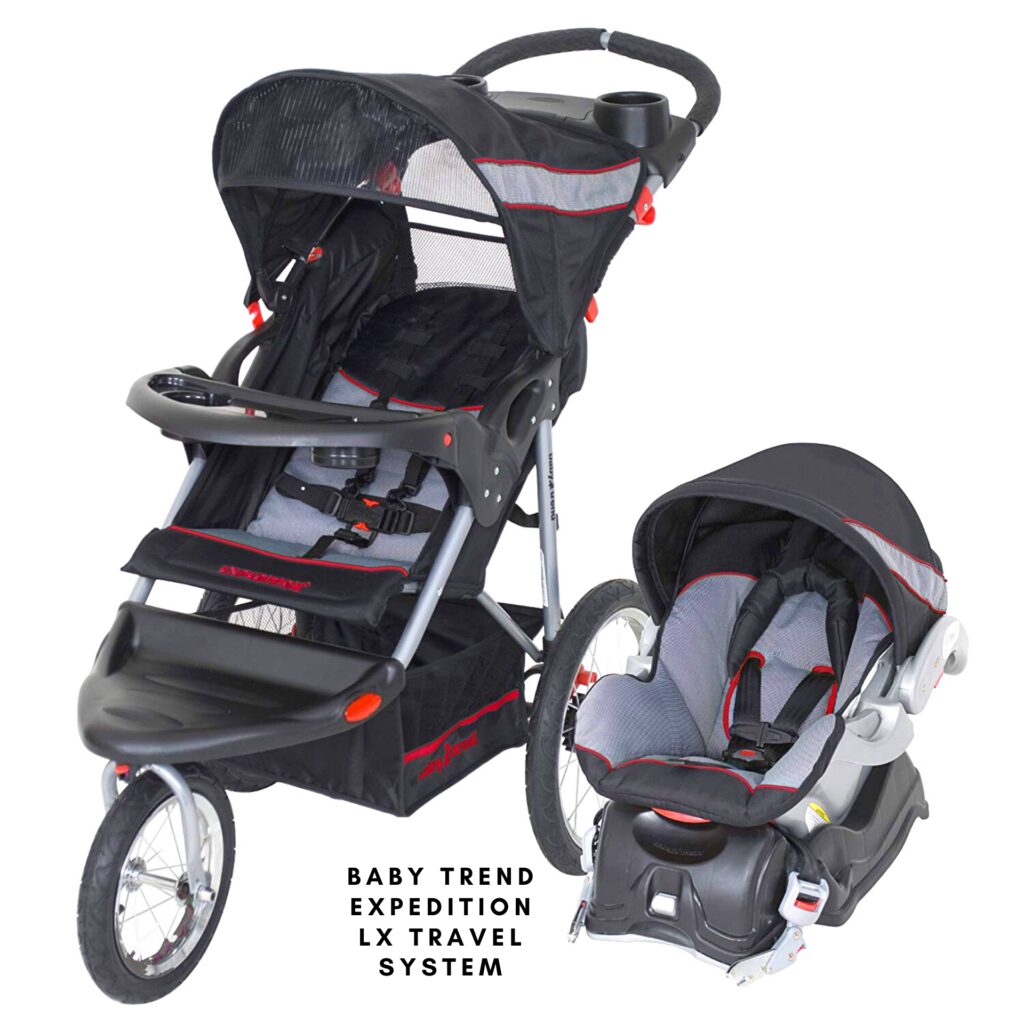 If you like adventure and want to tag your baby alongside, Baby Trend Expedition LX Travel System is a perfect choice and companion. Capable of holding up to 50 pounds, this stroller allows you to conveniently transport your baby and other items you need for childcare. 
Interestingly, it comes with Ez-Flex Lock 5 car seat to securely hold your baby while on a car ride. The seat faces the rear minimizing the light emanating from outside. With this, your baby sleeps longer and undisturbed by nearby surroundings and activities. Its base offers a latch with a protective case that fastens the seat in place even when impact comes from the side. 
Parents also appreciate the stroller's ability to recline in multiple angles allowing your newborn to face forward, backward, or upward when resting. Paired with the padded backrest, this function offers plenty of comfort to the baby and easy monitoring by the parent.
Moreover, it uses large rear wheels and a smaller front wheel for stability when strolling. The tires are air-filled to control the level of snug on various terrains. 
5. Britax USA B-Lively Travel System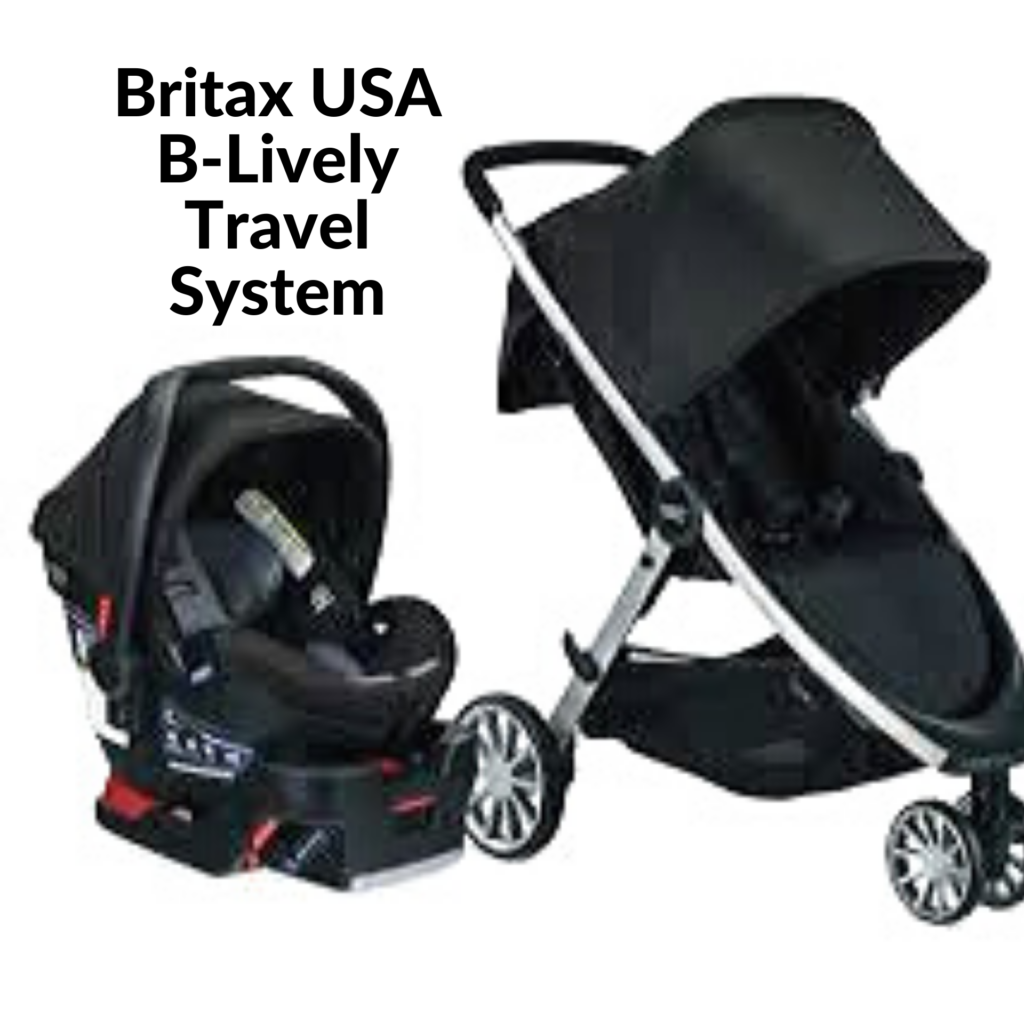 When storage space in your car is minimal, Britax USA B-Lively Travel System will undoubtedly be a perfect fit for you. It only requires one hand to fold and lift, thanks to its nifty design and super-light frame. Additionally, the ventilated UV 50+ canopy and storage basket use foldable materials that easily minimize the bulkiness in your limited cargo area. 
But what's even more impressive is the stroller's infant car seat system. Known as B Safe 35, the car seat is built with a keen consideration of baby safety. On the sides, it has a steel frame with padded edges while the base features SafeCell, an impact-absorbing surface. Excitingly, it comes with a free car adapter that saves you money if you didn't have one previously. 
What about the installation of the stroller and the car? Well, it uses the Click & Go system, which has easy to install connectors that tighten firmly on the car seat base as well as on the stroller's frame. In total, this baby travel system can carry up to 55 pounds of weight. 
6. Chicco Cortina CX Travel System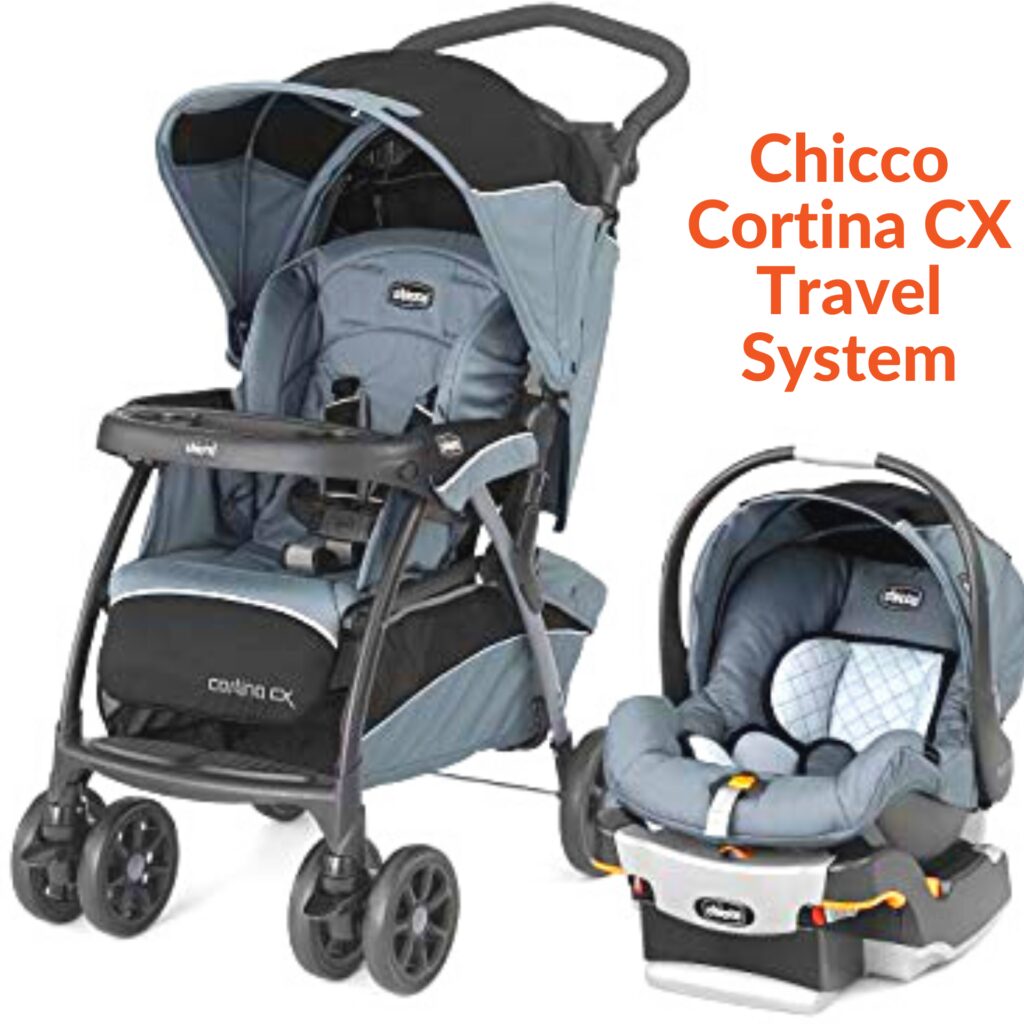 To a driving parent, a stroller that's durable, sturdy, safe, and versatile is an excellent pick. The Chicco Cortina CX Travel System is all of these and more. Its Key Fit 30 car seat works perfectly on the stroller and the car owing to the Key Fit Base that's supplied alongside the travel system. With this, you're able to connect or detach the baby carriage system quickly and easily. 
The travel system offers at least eight reclining angles for your baby to ride comfortably. In addition, it has an adjustable handle with three positions for the maximum convenience of different infant caretakers. Even on sweaty hands, the travel system is slip-free, owing to its padded and comfy handle. 
Outdoors, the stroller is stress-free to handle and very handy when you're a mom that likes to shop. Its large basket underneath the car seat system provides plenty of space to carry snacks, toys, and personal luggage like your purse or bag. Furthermore, it boasts a pair of double wheels at the front and another at the rear for increased stability on most terrains. 
7. Baby Trend Nexton Travel System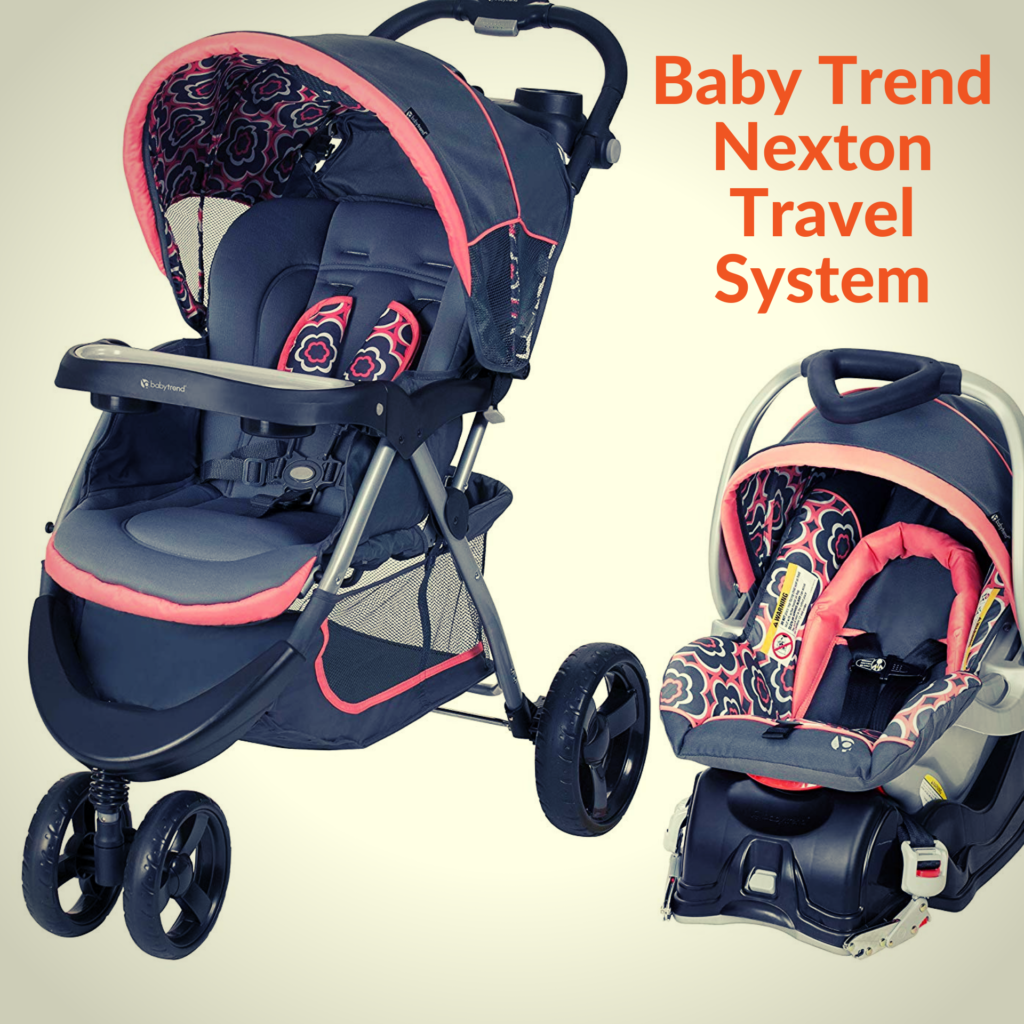 The Baby Trend Nexton Travel System fits parents with babies who like to sleep when traveling. With its large and soft head support, it allows your newborn to rest cozily and undisturbed by the surroundings.
Coupled with the heavily padded seat, any ride, whether on the stroller or the vehicle, always remains a cozy one. Luckily, it can recline to different positions, which add to the baby comfort and convenience when you need to observe the toddler closely. 
Like the rest of the baby strollers on this list, it also has an infant car seat and base. Known as the Flex-Loc, the system can accommodate up to 30 pounds of weight. It comes with a tether strap that acts as a safety harness to hold the travel system in place in case of an impact. Also, you'll like how easy it is to install it on both the car and the stroller's seat adapters. 
Baby Trendy also features a parent tray with two cup holders that are quite deep to prevent your refreshments from spilling. We like that the tray is detachable from the travel system, which allows you to clean it up with the rest of your utensils. 
8. BOB Rambler Travel System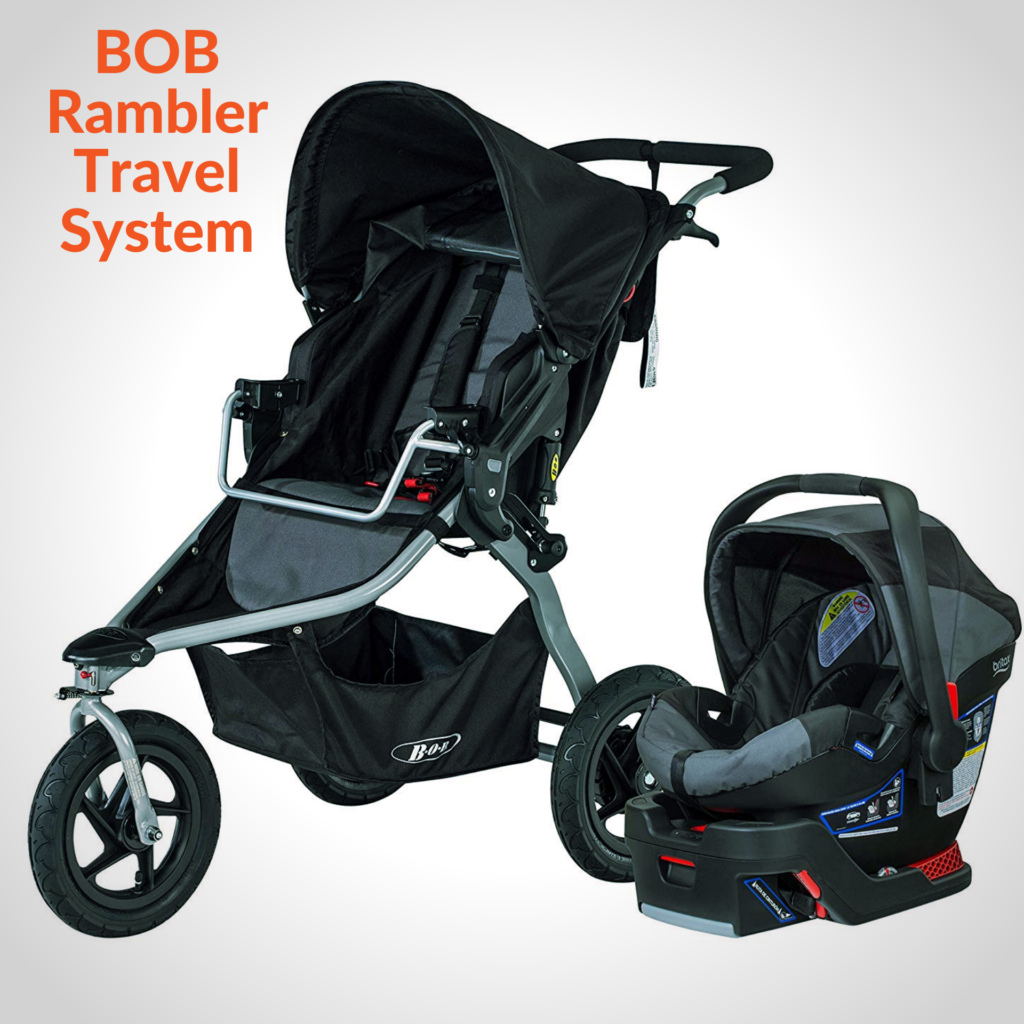 When you come across BOB Rambler Travel System for the first time, the one thing you'll be quick to appreciate is its sturdiness. The fact that it can hold up to 75 pounds on such a lightweight aluminum frame is honestly awe-inspiring. Besides, it works perfectly for parents that like to exercise but still want to have a close eye on their newborn. 
The stroller comes with BOB B Safe 35 infant car seat and an adapter for easy installation on both travel platforms. We like how the Safe Center latch fastens the car seat base in place after installation. With it, the baby stays put following any sudden jerk of the vehicle or even the stroller. 
On the road, this travel system is equally remarkable, with its ability to maintain snug on all surfaces. The mountain bike style suspensions, together with the air-filled tires, absorb vibrations and impact from rough surfaces. Besides, you can easily lock the front wheel's swivel to increase stability when speeding. 
9. Safety 1st Travel System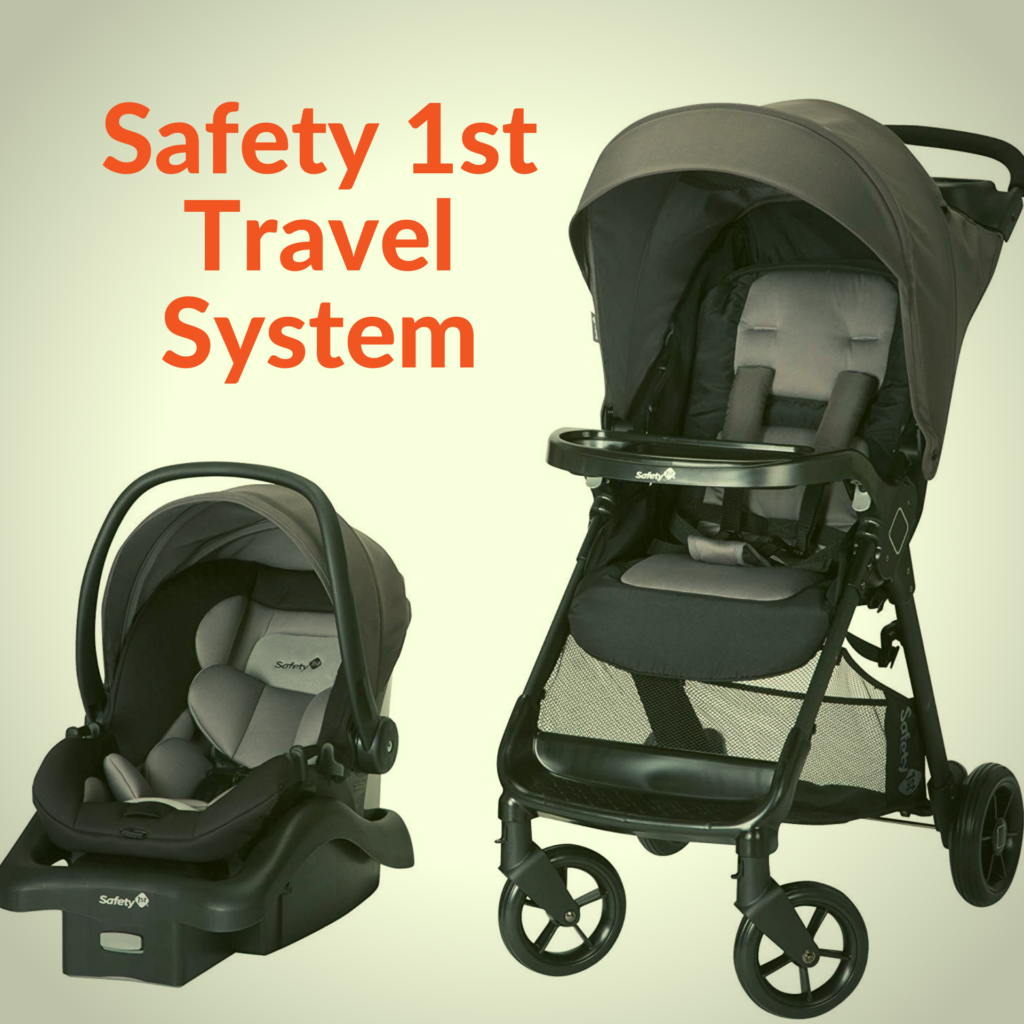 For any parent looking for a seamless switch between the car and the baby stroller, Safety 1st Travel System is by far one of the most reliable travel systems. Besides being a phenomenal build in appearance, it is an easy winner when it comes to baby safety. Indeed, its manufacturer offers a one-year warranty which further adds our confidence in the equipment. 
It's Onboard 35 LT Infant Car Seat features the Quick-Click technology to make it easy to install the stroller. Additionally, the seat comes with a clasp that holds it firmly in place when installing it on the stroller and the car.
On the sides, it has a robust frame that's padded all round to protect your baby against impacts coming from those directions. What's more, it's coupled with back and neck support to ensure that the toddler is always comfy during a drive. 
We are also pleased by the oversized canopy, which offers a pleasant shade when outdoors on sunny days. Together with the peek-a-boo window, they ensure that your baby is ever safe from excess heat and has a good supply of fresh air. 
10. Baby Trend EZ Ride 5 Travel System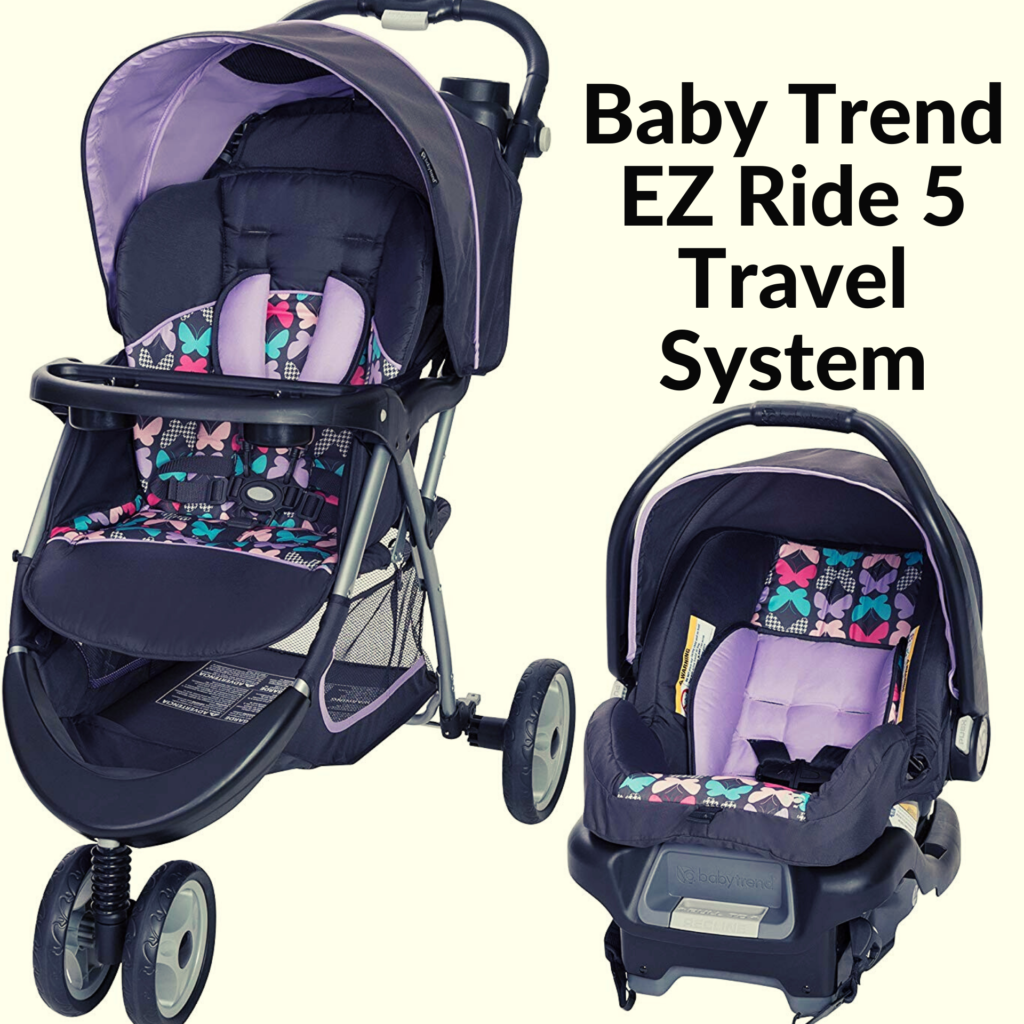 There are ample reasons to love Baby Trend EZ Ride 5, ranging from its extreme lightweight to its admirable snug. The frame is constructed from rust-resistant aluminum with padded edges to add that cozy, soft touch. Besides, it provides extra space to stock other items you need while strolling.
The decently-sized basket and parent tray offer a convenient place to carry refreshments and baby gears. With the ability to hold up to 50 pounds of weight, this is an ideal shopping companion for babysitting moms. 
And when you need to use it in the car, the seat, although small in size, hold your baby firmly and safe from sudden movements. It reclines flexibly on several angles, meaning your child can sleep or enjoy the surroundings with you. 
Another feature we find useful is the ability to adjust the handle to any height. With this, anyone handling the equipment has an easy time carrying or pushing the baby stroller. Lastly, you can quickly fold the wheeling system, which helps a great deal when roaming to different destinations.
Final Words
Which of these ten baby strollers with car seats do you think best suits your traveling needs? We'd love to hear your feedback!