Toy Train sets for toddlers provide hours of beneficial playtime. These sets enhance your child's creativity as well as their imaginary skills.
These types of toys help in developing cognitive skills and hand-eye coordination.
Most of these sets come in bright colors to attract the attention of the toddler. The vibrant bright colors also offer visual-perception exercises.
Train sets together with train tables make a great gift for those kids who love trains and tracks.
These toy sets are available in different designs. Some of them are starter sets for the very young ones while others are advanced sets with detailed accessories for the older children.
These sets do come in different types and sizes. Some of them are wooden while others are made of high-quality plastic material.
Here is a list of best selling train sets.
1. Orbrium Triple-Loop Wooden Train Set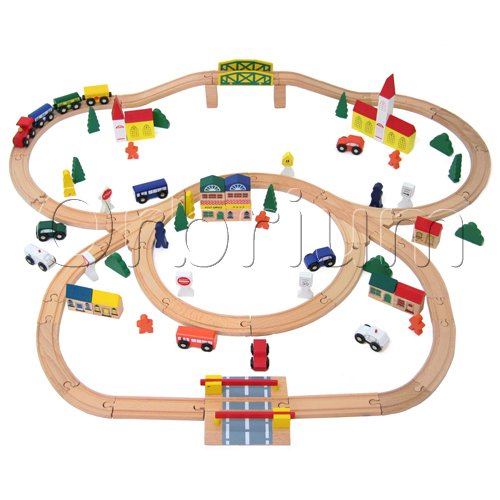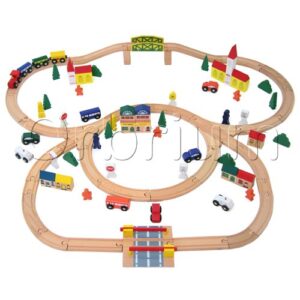 This Orbrium Triple-Loop wooden train set features stunning beech wood. It is designed to work with Brio, Thomas and Chuggington wooden railway system. This set features a triple-loop type of layout. This set comes with a total of 100 pieces including 32 track pieces allowing for varied configurations.
The pieces are nicely crafted, solid, and colorful. The track pieces fit together easily. Included items include a bridge, coaches, engine, trees, buildings, buses, police cruisers, cars, ambulance, figurines and road signs.
Two 3-way track pieces have been included for expanding the set. All the pieces are painted with bright colors. The set comes in an easy to store box. This Orbrium Triple-Loop set has an ingenious design that allows lots of creativity and imagination.
2. Lionel Santa FE Ready-to-run Train Set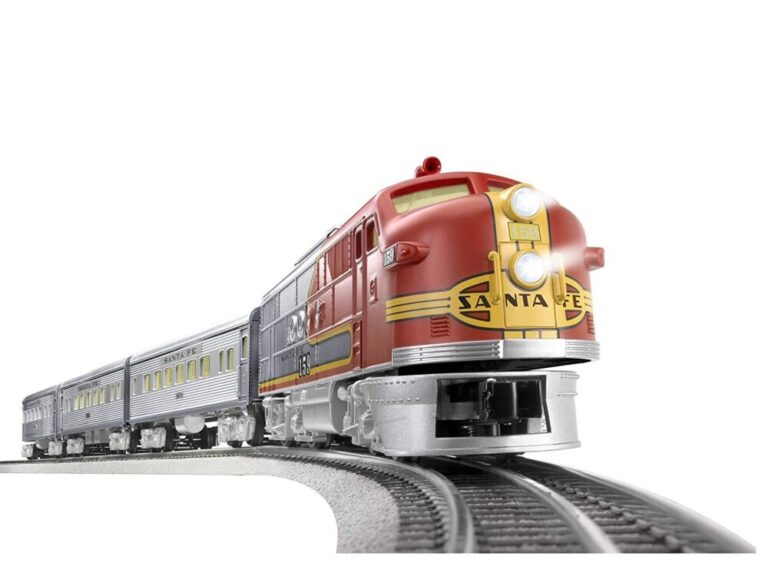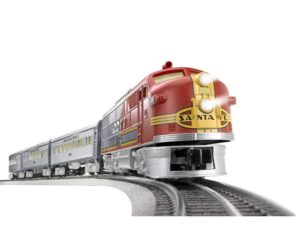 This Lionel Santa Ready-to-run Train Set comes with everything you need and helps encourage imaginative play. It comes with one locomotive, 2 passenger cars, wall pack power supply, an observation car, 8 curved track pieces, a terminal section, 3 straight track pieces, and remote control to operate the locomotive.
The locomotive is equipped with on/off lights, a headlight, a sound system and is controlled by an app via Bluetooth or remote. Easy to assemble. The set is highly detailed and well-made.
3. Melissa & Doug Deluxe Wooden Railway Set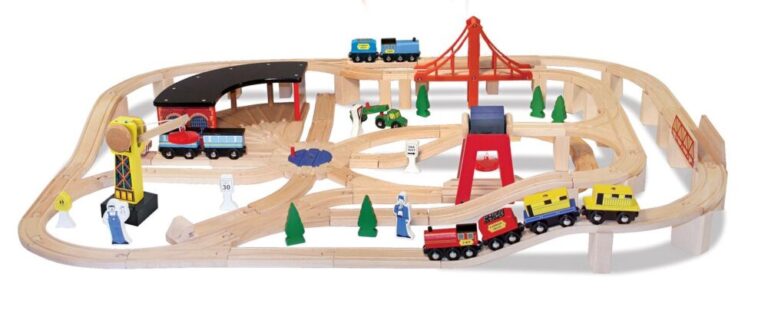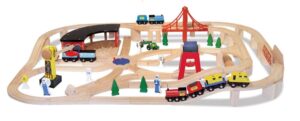 This Melissa & Doug Set has 30 different accessories. It also comes with 100 track pieces made of sturdy wood. Some other parts are made of plastic and steel material. This set comes with 4-piece passenger train, cranes, 6-piece freight train, 3-piece truck, engine shed, trees, trestle & suspension bridges, traffic signs and railroad workers among others.
The different pieces and accessories allow you to make a number of configurations. The track is double-sided allowing different layout options. The wooden track is smooth with no sharp edges.
This set has been designed for kids aged three-year-old and older. It is compatible with Thomas and Chuggington wooden trains. The set also comes with pre-designed layout plans.
4. Lionel Polar Express Train Set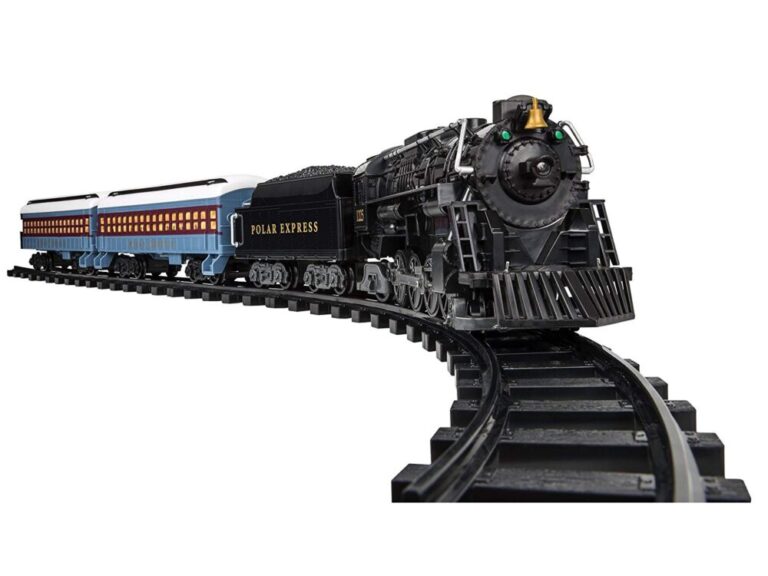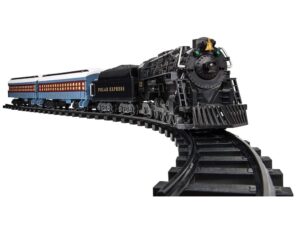 This Lionel Polar Express Train Set comes with plastic track pieces. 24 of those track pieces are curved and another eight pieces are straight, allowing you to configure an oval, a rectangle, or a circle track layout.
Apart from the track pieces, the set also comes with three train cars, headlight, wireless remote control and a steam locomotive.
The steam locomotive features bell, headlamp and sounds. The 3 train cars include two rolling stock cars and one coal tender. This set is suitable for children aged above 3 years of age. Easy to clean with a piece of cloth. Assembling and disassembling the track is very easy. Check Video Below for more features.
5. VTech Go Go Train Station Playset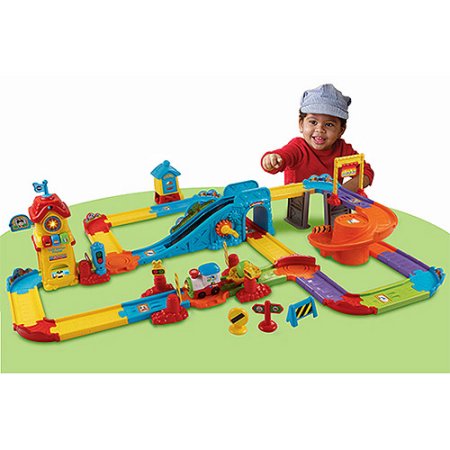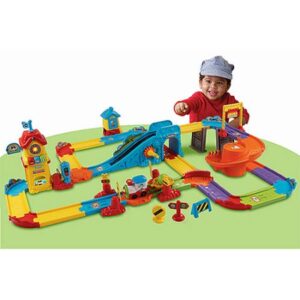 This VTech Train Station Play-set is designed for toddlers aged one to five years. This set allows toddlers to easily set up the track and then push cars around the track.  The set uses the VTech SmartPoint type of technology to make sound, funny phrases and music.
It comes with one motorized train, a cargo car, 32 track pieces, a tunnel, an electronic train station, a bridge and a conveyor belt. The motorized train has on & off switched and an automatic shut off feature. The train can also be operated manually.
The track can be configured in different ways. This set provides 15 feet of track. This set also speaks a few words in different languages including German, French and Spanish.
This VTech set is made of high-quality molded plastic and has an attractive design. It is also easy to operate and assemble.
This set is flexible and can be expanded further. Overall this is a fun, engaging and educational toy that teaches fine motor skills, foreign language, time concept and words. In addition, this play-set enhances auditory stimulation, language development including discovery and exploration ability.
6. Fisher-Price Thomas Train Set




This Fisher-Price Thomas the Train model is a wooden starter set. This 8 figure set includes cargo car, Thomas engine, one bridge, coal hopper, detachable coal cargo, one signal crossing and one stop sign.
This set provides interactive play especially during the loading of the coal and when dropping the coal into the cargo car.


The track is easy-to-assemble and has a figure-8 design. The set is compatible with Thomas & Friends wooden rail sets and engines.  This Fisher-Price set comes with 3 straight wooden track pieces that can easily be flipped over to make a flat road for use with toy cars.
This set can easily be expanded by adding additional track pieces sold separately, to allow the creation of a variety of layouts with twists, turns, and straight paths.
7. Lego Duplo My First Train Set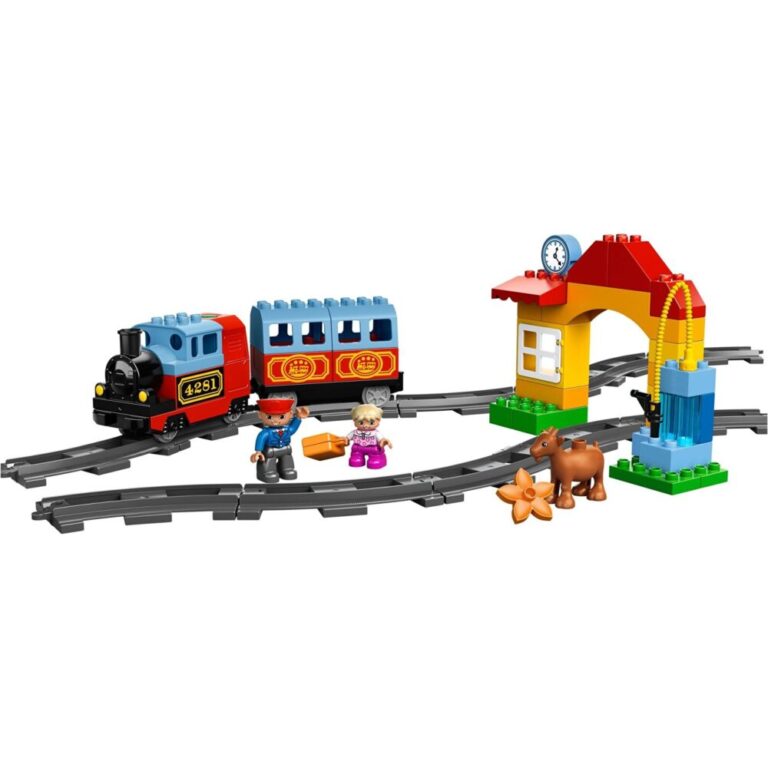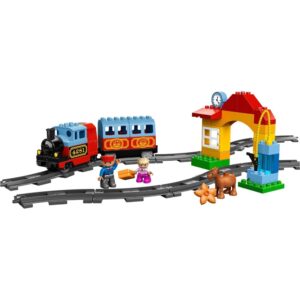 This Lego set comes with a total of 52 pieces including a steam train, a wagon for passengers, a station with a clock & ticket window, fueling pump and signal. The set also comes with 2 figures- a child and a train driver.
In addition, it also comes with a number of track pieces and Duplo blocks. The steam train makes train sounds and measures over 3-inches tall, 5-inches long and 2-inches wide.

The passenger wagon measures 3-inches tall, 6-inches long and 2-inches wide. This Lego set is designed to be used with only Duplo trains only. The track pieces when assembled provide 22 inches of track.
This Lego Duplo train set has been designed for children aged 2 years to 5 years. The track can also be expanded by adding additional track pieces and accessories sold separately.
8. KidKraft Bucket Top Mountain Train Set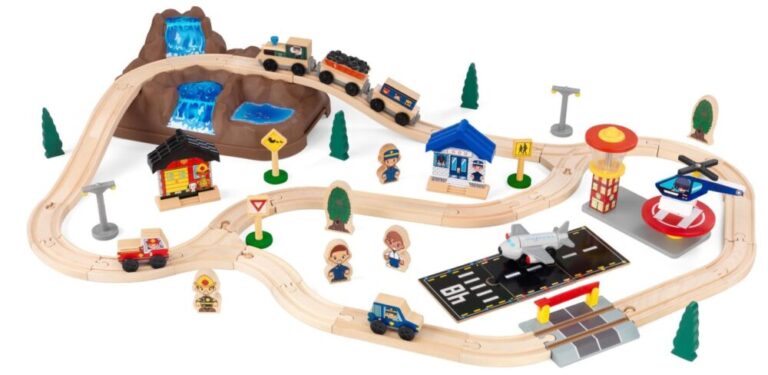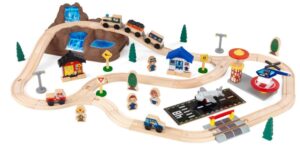 This KidKraft Bucket Top Mountain Train Set comes with a total of 56 pieces, 28 of them being wooden track pieces. Included accessories are police station, street signs, fire truck, trees, helipad, airplane and airport.
The track is wooden and long. The accessories are attractive and multicolored. The track is easy to set up and can easily be expanded by buying additional track pieces.
Notable fun features include molded mountain and 3-piece runway. This set also works with Thomas & Friend and Brio wooden train. Parts and accessories are stored in a plastic bucket.
9. KidKraft Farm Train Set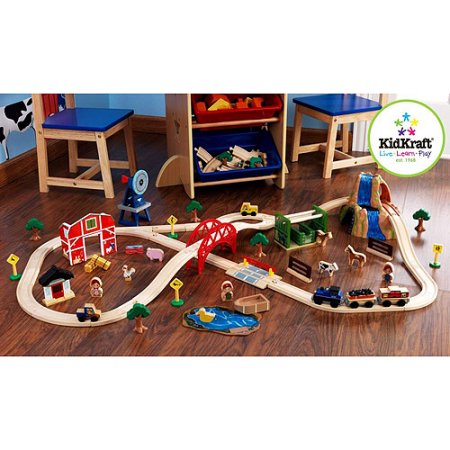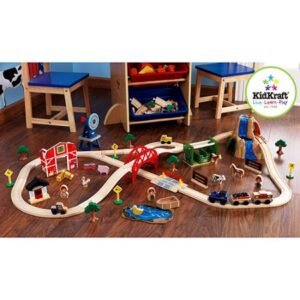 KidKraft farm train set is a great starter set and can also be added to an existing set. It comes with a total of 75 pieces including farmers, large windmill, farm animals, a red barn, stables, buildings, pond and drive-through molded mountain.
The pieces are brightly colored. The animals include a cow, 3 horses, a chicken and a pig. The set can be set up into multiple configurations.
The track is made of birch wood material, and some accessories are made of plastic material. This model works with Brio and Thomas & Friends train sets. The set is recommended for kids aged 3 years and above. This is a nice gift for kids who live in the farm.
10. Brio My First Railway Beginner Pack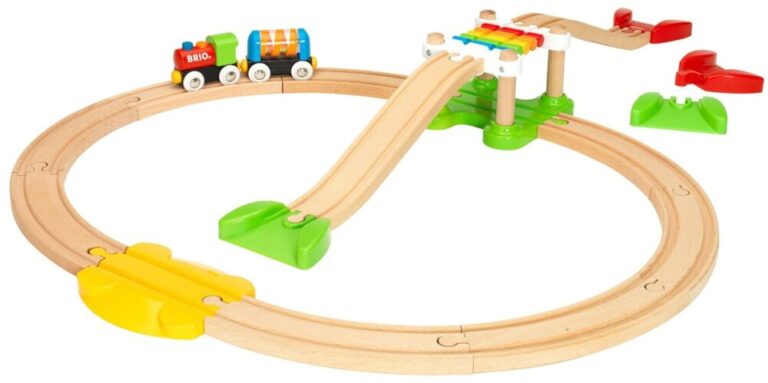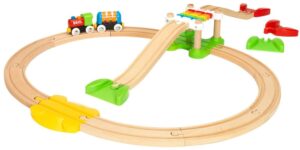 This Brio set is compatible with almost all classic wooden railway tracks and BRIO trains. This is a starter train set for toddlers aged 18 months and up to four years. The set is brightly colored and comes with a wooden track.
This set comes with a train engine; soft fabric padded tunnel house, 8 curved track sections, a rainbow bridge, 3 wagons and on & off two guide ramps.
The train engine with the three wagons full of fruits is designed to run through the padded tunnel on the way from one township to another. The track sections, the train engine and 3 wagons are made of light-colored hard-wood that is smooth and comfortable to handle.
The wagons feature fruit logos on the sides. The 3 wagons can either be played when on the track or off the track. The engine and wagons are held together securely with the use of magnets.
The track sections are double-sided and simple to put together and to disassemble, allowing the child to set up different configurations. This set can also be expanded by buying additional track sections wagons and accessories.
11. Fisher-Price Thomas Trackmaster Avalanche Escape Set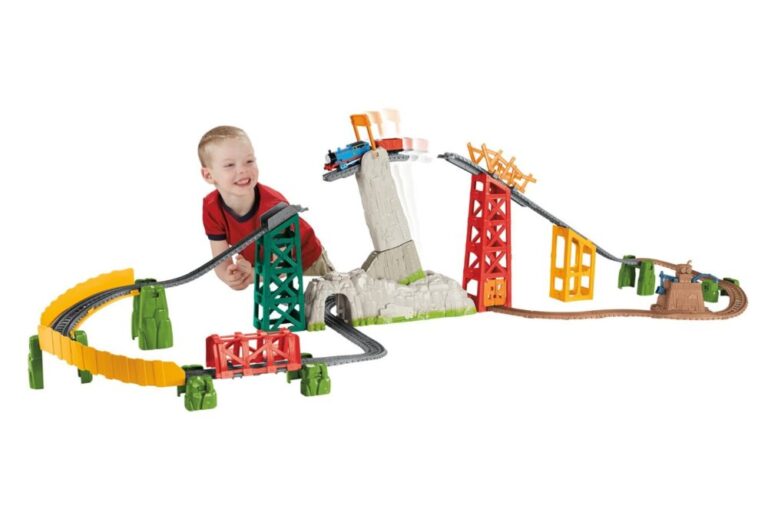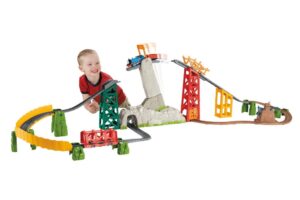 This TrackMaster Avalanche Escape Set has a long track packed with many urban railway activities. When assembled it is a foot tall and over five feet long. It is ideal for children aged 3 years to seven years.
This set has a lot of activities that will keep your child entertained for hours. The set comes with a motorized Thomas train engine. The motorized engine easily moves round and round the track by itself.
The engine is designed to move fast and to climb steep inclines. Other included accessories are the cargo car and the fossil cargo piece.
The different activation features in the layout include the wobbly bridge, a cave tunnel, a tipping tower, scrap monster, taller heights, collapsing guardrails, the swinging track, spooky barricade, an opening gate and fossil discovery.
The swinging track provides the avalanche effect making this set very unique. It requires 2 AAA batteries for the Thomas engine to operate. The set comes with 24 track pieces in different colors.
The track sections are easy to assemble. It is also compatible with other TrackMaster sets and comes with 2 adapter pieces that allow connection to other trackmaster rails. This toy set is made of durable plastic that is easy to clean and also keep sanitized.
The set has a variety of accessories allowing you to create different arrangements and scenarios. The auto-reset function helps to create a continuous loop that keeps the train running around the track over and over.
12. Schylling Brio Metro Railway Set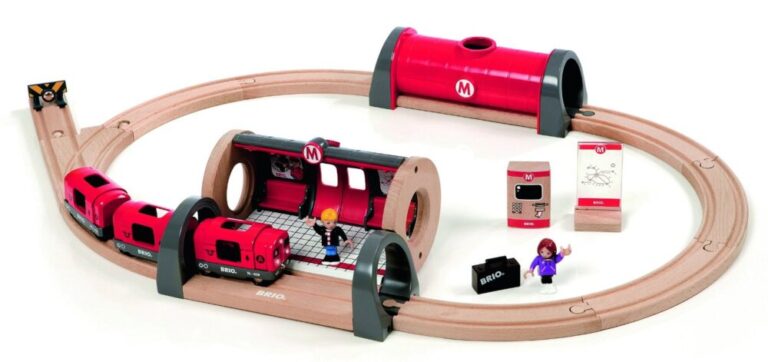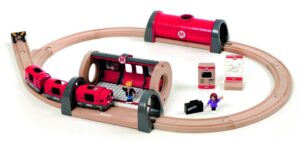 This Schylling Brio Metro Railway set is ideal for children aged 3 years and above. The set has an urban theme where the passengers commute daily into the city using the tube train.
The set comes with 20 pieces which include one train engine, two passenger figures (a man & a woman), and one tunnel section, two passenger carriages, one buffer stop, one map base, one suitcase, one metro map, one metro station and one ticket kiosk.
The wooden track has eight sections comprising seven long curved tracks and one junction track. An end bumper and unique switch section are also included. The passenger cars come with platform seats and sliding doors.
Accessories are made of high-quality plastic material. The train engine is battery-powered and makes sounds and also lights up. The tunnel is bright red in color, closed with entrance doors. This set fits other Brio train sets, tracks and bridges.
This set comes with two LR44 batteries included. The track layout is 66 x 45 cm in size. You can easily expand this set with additional Brio accessories, bridges, tracks, tunnels and trains sold separately.
13. Melissa & Doug Swivel Bridge Train Set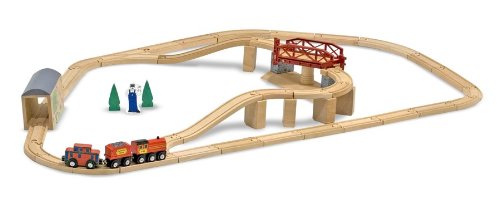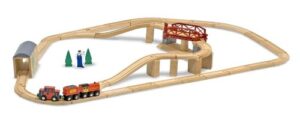 This swivel bridge train set comes with a total of 47 pieces. It is compatible with different wooden railway sets. The track is wooden and comprises of 34 pieces. This set comes with a three-car train (the engine car, caboose & coal tender).
Other features include the swivel bridge and a tunnel. This set is ideal for children aged 36 months and above.


The Swivel bridge and tunnel are both a fun feature for many kids. The set comes with track supports and descending/ascending track pieces that can be configured in different layouts. When assembled this set measures 22.00 x 13.00 x 4.95 inches in size. This set is versatile and very engaging to most kids.
14. Orbrium Toys 52 Pcs Deluxe Wooden Train Set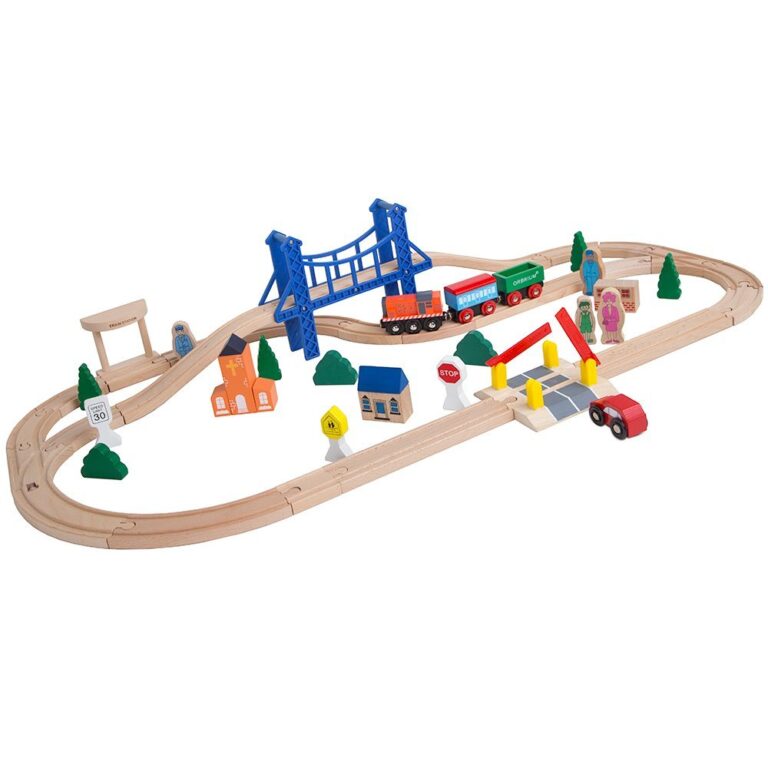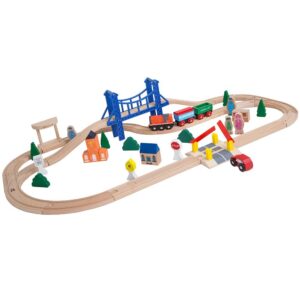 This Orbrium Deluxe train set is a wooden starter set that is ready to set up and can also be added to an existing set or expanded further. The set comes with 52 play pieces which include four trains/cars, one train station, eight trees, 23 wooden tracks, one railroad crossing, one bridge, seven-building pieces, seven figurines and road signs.
The tracks and pieces are compatible with several other sets such as Brio, Imaginarium, Thomas, Melissa and Doug, & Chuggington. In order to offer more track options, the tracks are two-sided and can be flipped over to be used in both directions.
This model is easy to set up and also breaks down. The set is affordable for those looking for budget-friendly units.
Features To Look Out for When Buying Toy Train Sets
Compatibility
Choose toy train sets that are compatible with other brands such as Thomas, Chuggington, Melissa and Doug, and IKEA among others.
Versatility
Sets that are versatile and can be rearranged into different layout plans are an ideal choice to keep your kids entertained.
Expandable
Sets that can be expanded to allow different imaginations and connections are usually a great choice. Expandable sets will allow your kids to build and arrange endless layouts.
Durability
Choose a set that is crafted with durable material that will last for generations.
Safety
Track pieces with smooth edges will protect your toddler during playtime. Material that is BPA, phthalate &, leads free is most preferred.