Bath for your baby is a very significant ritual that keeps your baby healthy and active and her skin nice and clean. Cleaning up a tiny, slippery and floppy newborn is fairly challenging. A dedicated vessel or seat to carry your wet, uneasy, and maybe sometimes screaming kid can make bath time easier on you.
Baby bathtub and bath seats can make your job easier. Does your baby enjoy his bath time? Do you want to make it more fun? Then you should carefully put your eye on baby bath tubs or bathers. Your baby is definitely going to love the fun of having a bath in a baby bathtub and bath seats.
Having your baby in the water safely lying on a bath seat will free your hands for properly washing your little munchkin, so this makes you contented and your baby comfortable and you both can enjoy the bath time.
The sensation of playing in the water, the sounds of splashing, and having lots of toys around will keep them entertained and occupied, Creating waves, blowing bubbles in the tub, and floating their toys will teach them a lot. Doing new thing or activities can enhance their skills.
You will possibly rely on a newborn baby bathtub your baby turns almost 6 months old or at least he or she is physically able to sit on their own.
Why you need a baby bathtub?
Studies have proven that baths help reduce cortisol levels in infants. Cortisol is actually the hormone that is responsible for stress. A pleasant warm bath, along with some aromatic oils, will give both you and your baby a nice happy sleep.
1. Comfort
Baby bathtub and bath seats can make your life much easier if you are a new mom and you will definitely need this especially in the first few months postpartum
2. Safety
Baby bathtub and bath seats are made to provide support and have anti-slip surface thus giving you more relief and peace of mind. Remember: always keep an eye on your infant or toddler, never leave them unattended because even small quantity of water can be a drowning risk and newborns are not even able to support their head, so be VERY CAREFUL!
3. Convenience
If you are using your bathroom or kitchen sink instead of a bathtub then you will have to scrub it every time before giving the bath that requires more time to get things ready before the bath. You will also have to stand over the sink all the time while giving the bath but with a newborn bathtub, you can comfortably sit beside and enjoy the bath time.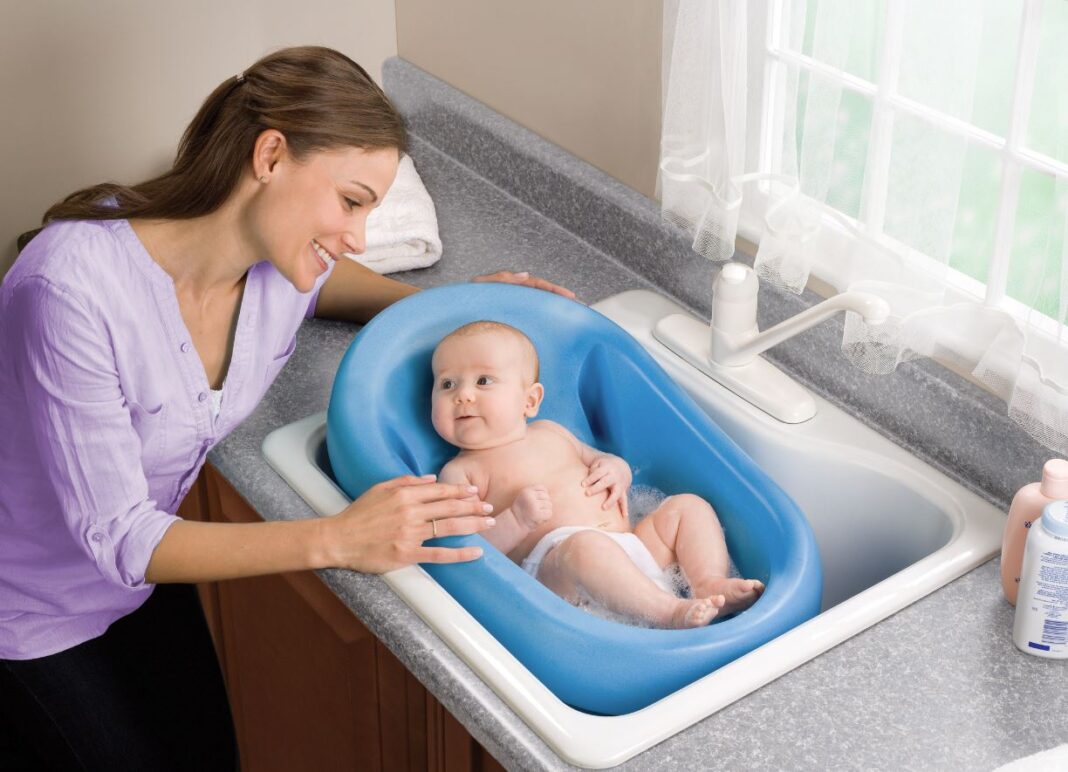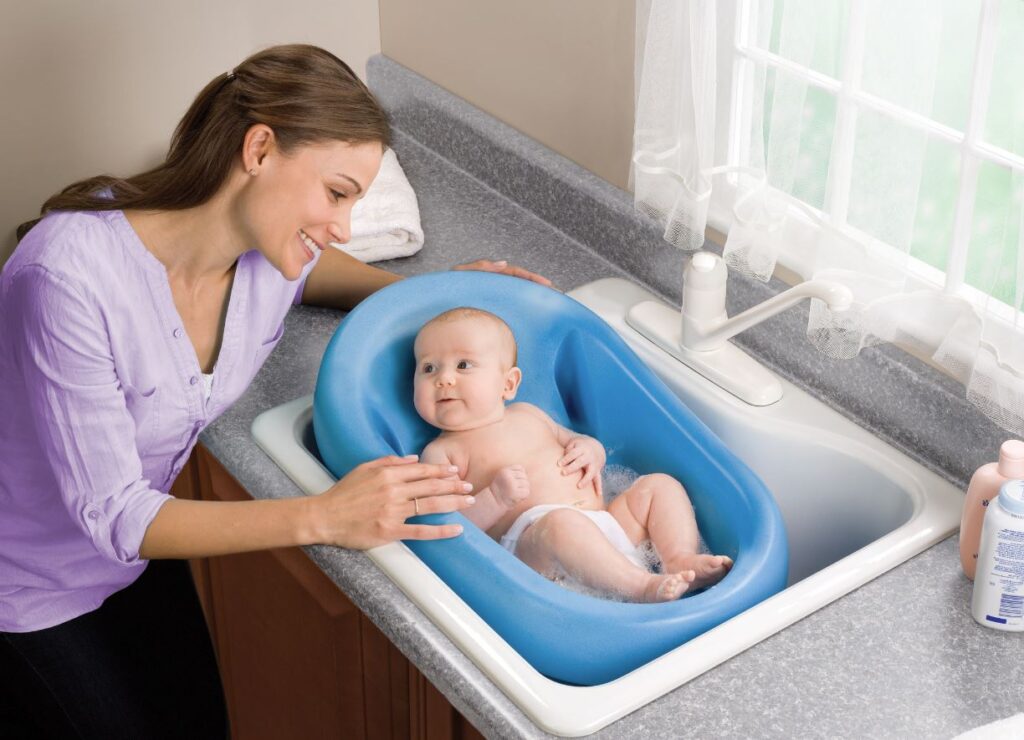 What to look for in a newborn baby bathtub?
Must be designed to have nonskid surfaces both from inside and outside. If they have suction cups on the base, it's an additional point as it avoids any jerks.
A support for your baby's head
Trouble free in draining and quick to dry
Easily washable
Room to grow — because your newborn won't be teeny for long
A portable bathtub is a nice choice if you want to use it somewhere other than your bathroom
If space is tight, abstain from the huge plastic baby tub and think about a soft collapsible or foldable insert having a hook or hanger.
Occupy less storage space, uncomplicated to set up and quick to clean.
Is it easy to get your child in and out of the bathtub and do your baby feels secure and easily keep its head far above the water?
Look for a newborn baby bathtub that freed your hand for washing the baby.
Some newborn baby bathtub and seats have extra perks like soap and shampoo holder and others have toys to keep your baby busy you wash them well. Bathtubs that made it easy to reach everything you need to wash are appreciated.
For how long you will be able to use a bathtub is depended on the size of the baby bathtub and bath seat or its adjustability. Some models did this with customizable add-ons, some had multiple built-in seats to support, and some are large enough to be used throughout the first six to 12 months of your baby
How Long Will You Use a Baby Bathtub?
Every baby bathtub is specific for different age range. Usually, babies start sitting without any support when they are around 6 months old and then you have to use a big tub at this stage. Some baby bathtub is designed to be exceeded in size around them. Thereby, it depends on the age of your baby.
Types of Baby Bathtubs
1. Basin Tubs
A standalone tub.
Can be used  on counters or tables or normal bathroom tubs
Can even be used outdoor.
Most have a newborn-friendly option that can be removed, allowing the tub to last through at least the first year.
2. Sink Inserts
Usually flexible and molds to fit the bathroom or kitchen sink.
You can stand at the sink contentedly during bath time.
Hangs easily—well for limited storage space.
Typically outgrown after 4-6 months.
Newborn Baby Bathtubs and Bath Seats
1. The Fisher-Price tub

If your kitchens sink is very small but need a basin to use in your tub or elsewhere, this is the one to get. The Fisher-Price, weighs a relatively heavy 7 pounds, is just right as compared to other baby bathtub and bath seat.  It takes almost no extra effort to set up and clean, but it gives you more elbow room in the tub makes it easier to reach every part of your baby's body.
The best feature of this tub is its generous dimensions which make is easiest to use and its design can be increased in size as your baby grows which means that Fisher–Price bathtub will last longer than any other newborn baby bathtub.
From newborn to infant to toddler, this tub adapts to you and your baby's changing needs at every stage!
It is easy to handle and safe for your baby because in this tub your baby can lie or sit in any position. As compared to other newborn baby bathtubs which have more complicated designs. Also, it is difficult to reach corners for cleaning, Fisher–Price is much simpler to clean due to its gently sloping surface.
One special feature in this bathtub is that it has a "drying hook" which is actually a surprisingly handy additional benefit. It keeps the tub up and out of the way while drying.
The good thing is that it has drain plugs which means that there is no need for struggle to lift the heavy water-filled tub. It is the only bathtub that has a squeeze bottle for gentle rinsing.
If this tub does not fit in your kitchen sink—which is expected, because of its length i-e 30 inches—then you can place the tub above it. The interior slant of the bath will keep your babies' heads safely above the water and won't let them slip side-to-side or slump down.
If your baby is able to sit without any support behind his head and neck then they can sit in the seat insert placed on the other side of the tub. If you want more space for the baby to play then you can also remove the seat for your toddler. The Fisher-Price tub can easily have room for a baby from birth to a toddler weighing 25 pounds.
If you think your baby has outgrown the sling but still need head and shoulder support then you can use the built-in reclined seat at one end of the tub so that your baby can lounge comfortably. Offering four configurations for baby bath makes it more versatile.
It has a newborn sling for the first few months and also a padded reclined lounge seat on one end along with a more upright seat on the other end. So, both of these positions helps a newborn because they are slowly learning to sit.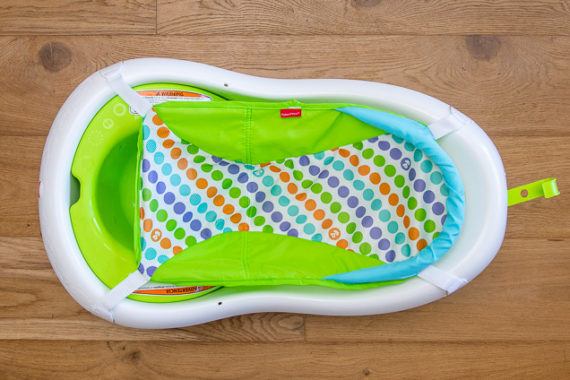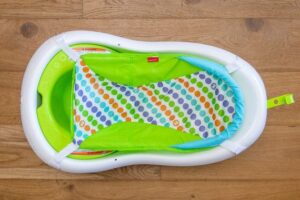 The Fisher-Price's notched feet allow the tub to be set over a split sink so parents can bathe their baby while standing.
Although it is large size is appreciable but it's a little difficult to store due to its weight and size as it weighs approximately 7pounds. As it will not fit in even a 30- inch kitchen sink because of its size so, you will have to kneel beside the tub while giving the bath to your baby.
The removable seat is quite tough to remove because it requires a lot of force and feels like you are actually breaking something. On the other hand, the drain plug is positioned under the seat that is a little awkward to reach as compared to other bath tubs.
At last, the squeezable bottle is an additive but the spray of water is too wide to rinse baby's hair without splashing his face.
2. The First Year Sure Comfort Deluxe
The First Year Sure Comfort Deluxe is smaller and more manageable in size then Fisher-Price so it will easily fit inside a large kitchen sink. This baby bathtub and the seat are as versatile as Fisher-Price but due to its small size, your baby may outgrow it soon. The molded plastic basin is simply as easy to use as the Fisher Price.
If you feel that Fisher-Price is too heavy or big in size then First Year is the right choice for you. It's plenty easy to use and feels safe and comfortable. It offers three bathing positions instead of four like Fisher Price and this makes it little less proficient.
At every end, it has a padded rest and it is reclined on one side to support your baby to sit on the other side —so setup is a breeze. It has an easily usable and handy drain plug, moreover, it is also easier to access than the first bathtub.
This tub is appreciably lighter in weight i-e about 3 pounds instead of 7. Its special perk is its built-in soap holder which can be a blessing if you are using the tub away from the bathroom or the sink.
However, the complex structural design and additional crevices of the soap holder and the bathtub makes it difficult to clean, as it has a lot of peaks and valleys, divots and humps as compared to other baby bathtub and seats which are relatively smooth and easier to clean.
As there is no hanging hook so you will have to lean this bathtub against the shower wall to dry The First Years consist of a mesh sling to support your newborn. The notched feet of the tub makes it easier to fit over some split sinks and this helps parents to bathe their baby while they are standing.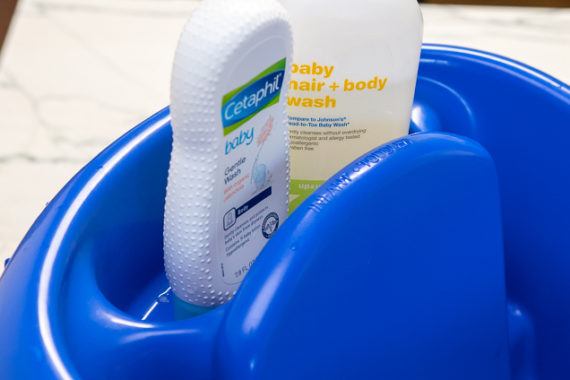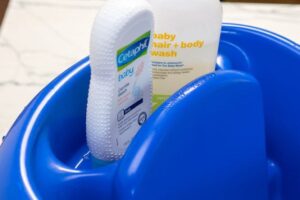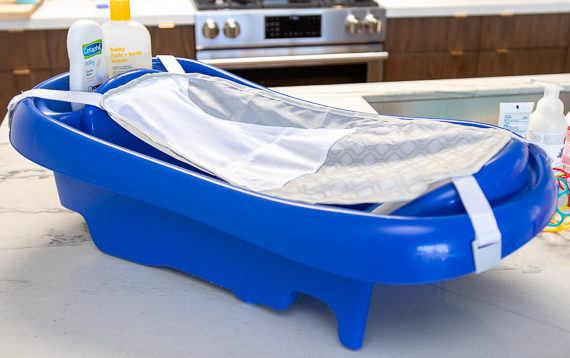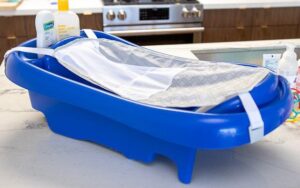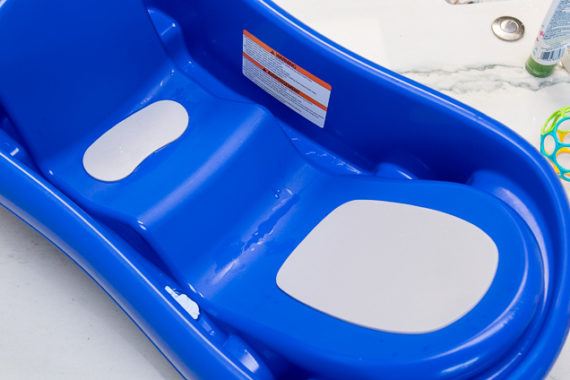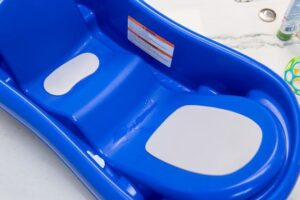 One of the two sides of the tub is upright while the other is tilted back. Unlike the Fisher-Price tub both the sides are irremovable thus not making more space, as in the previous tub.
The First Years tub feels stable and safe if you place it on a flat surface due to its notched feet which help it to sit firmly on the kitchen sink but at the same time, you may feel that it is high and uncomfortable to use in this position and that depends on your height too.
The angle of recline is so smartly designed that your baby will feel safe while keeping her head out of the water at the same time it also keeps your baby's body submerged in the water ensuring proper cleaning. It is narrow enough the baby can't sit up but still she didn't slip to the sides.
Things we don't like
The First Years tub has a lot of places where water and dirt can get stuck making it difficult to clean. Its exterior is only about 2 inches shorter, but thanks to the soap holder and molded design, the interior is significantly shorter and unlike with the Fisher-Price, you can't remove The First Years's seat to make up more room, so we think most babies will outgrow this basin more speedily.
Although the First Years tub can carry infants up to 25 pounds, some Amazon reviewers note that their babies outgrew it long before they reached the weight limit.
3. Angelcare Baby Bath Support

Anglecare baby bath seat is the best baby bath seat to use in a sink or tub because it is light in weight easy to set up, smaller in size as well as easy to clean and store. Not like the previously mentioned bathtubs Angelcare Baby Bath Support is a bath seat meant to be used inside a filled sink or bathtub.
It is trouble free and complicated to use. Both and your baby will feel secure and relaxed using it. In fact, if you have a large sink in which you can put 23-inch long Anglecare bath seat, then this is the best and the most uncomplicated option for you.
The Angelcare is an amazing option for the tub too. If you don't want the hassle of a big basin and don't mind using more water.
Compare to other sink inserts we tried, Angelcare was the most convenient and easiest to set up and unproblematic to clean, so it's handier to pull out at the bath time and store easily when not needed. It is notably lighter and smaller— about 7 inches shorter and up to 5 pounds lighter than other basin styles available in the market.
Some inserts, like the Blooming Bath Lotus, are more like flat pillows that do not keep the babies at what felt like a safe angle. Like our other picks, the Angelcare has a molded butt bump that kept our babies from sliding down the incline into the water.
It has soft perforated plastic molded seat takes no time to dry because it does not soak up water like other plush inserts. The mesh material allows water to drain easily from the bath support and dry quickly. Ergonomically designed bath support, providing optimal support, comfort, and safety while bathing baby. Angelcare also has a hanging loop to help it drying soon.
Many Amazon reviewers also mention how comfortable and happy their babies are in this bath: "We have been using this for a week and our bath time has gone from quick and sad to fun, calm, and much longer… I love that he is fully supported and able to be immersed (at a safe level) in the water to help keep him warm. The bath support is light, easy to keep clean, and pretty fantastic!"
Some drawbacks
The bath seat does not have the option for the baby to sit in an upright position so this can be a deal breaker if your baby loves that position. It does not offer multiple positions for the baby and the hanging loop that it has is also not as convenient as other bathtubs that we have mentioned above. On Amazon, some report that the Angelcare's mesh tore and that the mesh allowed their babies to get cold quickly, while others said that the insert was not so comfy for boys.
Hope these newly born baby tubs will work for you. Let us know which one suits the best for your baby.
Suggested Headings!