For many jogging parents, having a jogging stroller from a Bob brand is the way to go. Most of them are built for long distances and designed to keep the baby safe, so the jogger has absolutely nothing to worry about while they go about jogging.
Bob offers two jogging strollers if you want to go off-roading with your baby – Bob Revolution SE and the Revolution Flex. These products have similar designs and features, and this is what often confuses buyers.
However, we will soon clear the air on that with our detailed comparison on Bob Revolution SE vs Flex and decide which one would make an ideal choice for an active parent. So which one is it going to be?
BOB Revolution SE Vs. Flex – Comparison
| | | |
| --- | --- | --- |
|   | BOB REVOLUTION SE | BOB REVOLUTION FLEX |
| SEAT | Well Padded and Reclinable | Well Padded and Reclinable |
| COMFORT | Extremely Comfortable | Extremely Comfortable |
| BRAKES | Hand Brake | Foot Brake |
| WEIGHT | 25 Pounds | 28 Pounds |
| DIMENSIONS | 51.6 x 25.4 x 40 (inches) | 45 x 24.5 x 43 (inches) |
|   | CHECK LATEST PRICE | CHECK LATEST PRICE |
Bob Revolution SE Baby Stroller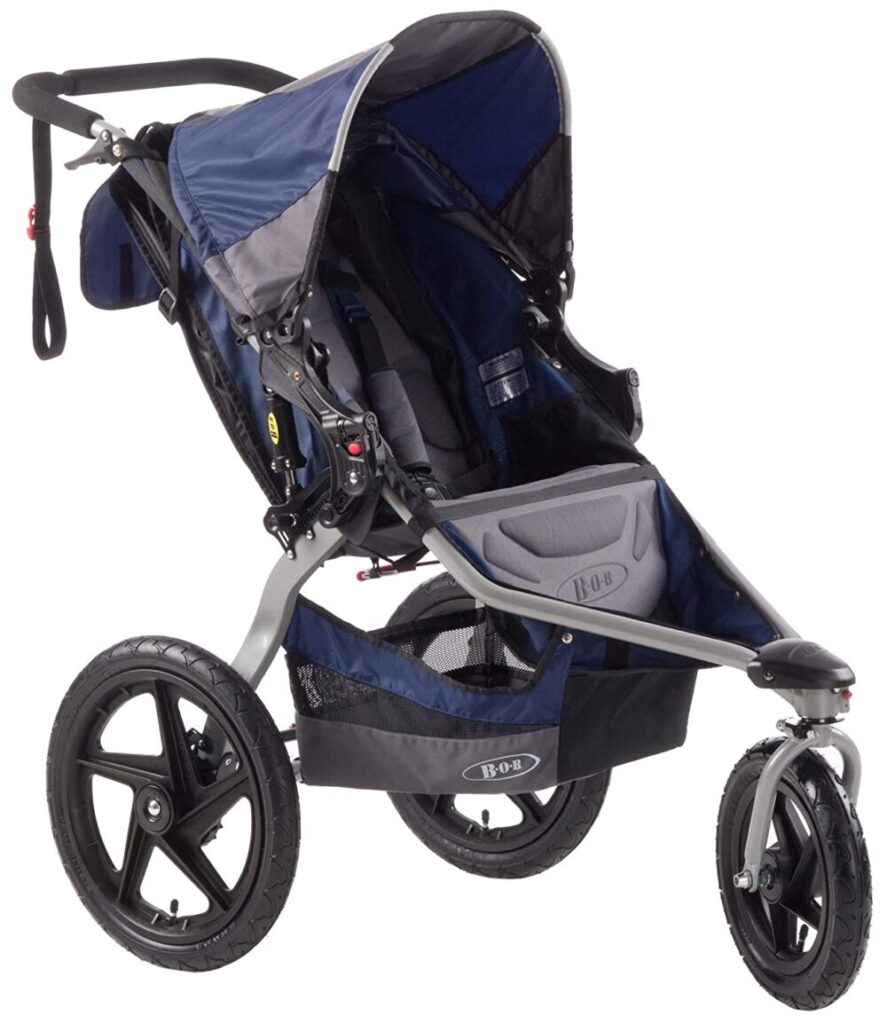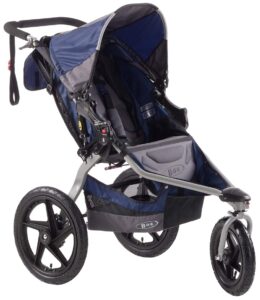 The Bob Revolution SE baby stroller is designed for everyday use, which makes it perfect for jogging parents. The stroller can run on different terrains and has a reliable suspension system that will ensure that our little one has a smooth and comfortable ride.
Like most strollers from Bob, there is a swivel front wheel that you can lock in place or can move around.
It can navigate under challenging turns quickly, which is super great. It has a foot-operated braking system, which can make downhill movement and stopping difficult unless you are strapped to the stroller.
Regarding the folding mechanism, it has two-step folding. This easy folding solution ensures you don't develop any headaches if you want to store the stroller. So easy and convenient. It would be best if you were careful about the frames because they are heavy. Fold it the wrong way, and it might crack in your hands.
The regular five-point padded harness isn't lacking as well. It ensures that your baby is held comfortably and securely. What's more? There is a great infant car seat for your baby below the age of eight weeks old. In case your baby can't fit in securely and comfortably in the regular seat, you can purchase this additional accessory to make your baby feel more comfortable.
One thing we don't like about the Revolution SE is the lack of an adjustable handlebar. Tall parents may find it excruciating to move the Revolution SE around or jog with it because of the non-adjustable handlebar. That aside, every other thing in the Revolution SE is fantastic. It's a great, all-terrain jogging stroller.
Features
Three Big Wheels With Front-Locking Wheels – This Bob stroller is a 3-wheel design, like most joggers from the brand, and has a front-locking wheel. You can lock the front wheel in place or pivot it around tight corners easily.
Suspension System – Your babies can sleep and not be bothered while you go about jogging because the suspension system will ensure that your little one has a smooth ride.
Various Storage Options – The stroller is designed with two interior pockets and a seat back pocket for your storage purposes. In addition to that, there's a storage basket where you can keep things like water bottles, wallet, etc.
Handlebar – The handlebar, alongside a strap, allows you to move the stroller easily without letting go of it.
Footbrake – The brake system available on this stroller is a footbrake and not a handbrake.
Pros
It's easy to navigate.
It comes with a large extendable canopy to offer protection to your baby from the rain, sun, and wind.
Runs on all terrains, all thanks to the three big wheels with air-filled tires.
It comes with a safety strap to prevent the stroller from running away from you.
It has a soft, padded handlebar, which makes gripping less hurtful.
Has a spacious storage basket to contain some essentials.
Cons
Bob Flex Baby Stroller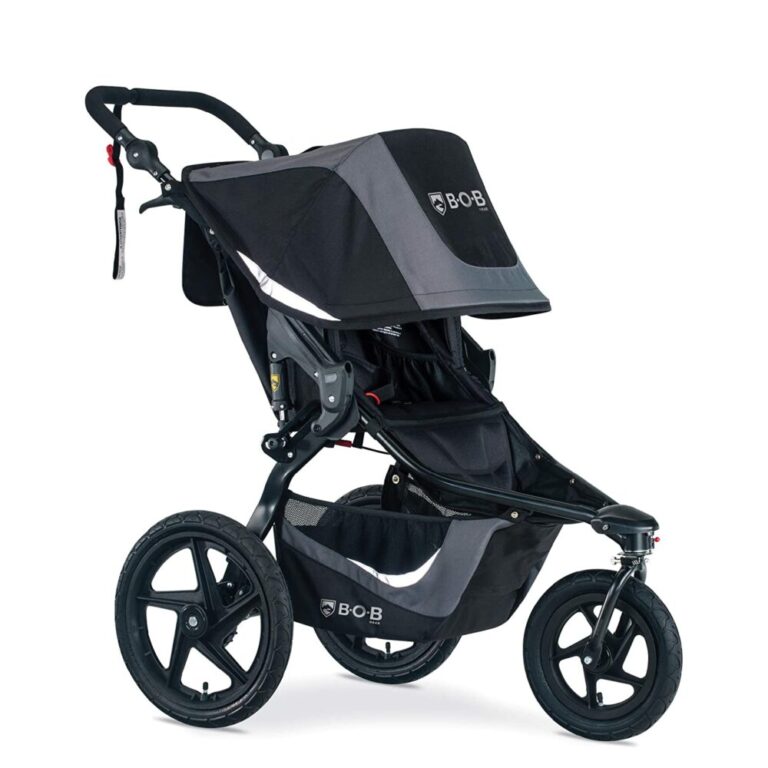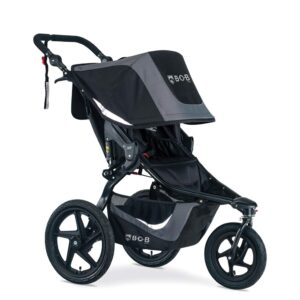 If there's one thing we like about the Bob Flex, it's the adjustable handlebar that it's equipped. For taller parents, this would work great for them because they can adjust the angle and height in nine different positions to their desired level. Aside from this point, the Bob Revolution Flex and the Bob Revolution SE are almost alike in all aspects, including the footbrake.
The Bob Flex baby stroller is also an all-terrain stroller, just like the Revolution SE. Whether you are jogging or just taking a walk, the stroller is up to the task. The front wheel can be locked, and this will prevent excessive drifting if you are on the run on rough terrain, whether it's grass, sand, etc. The front-wheel also swivels, which is great for maneuverability.
This baby stroller comes with a suspension system that nullifies bumps and other road patches that can make your little one feel uncomfortable. In terms of weight, the Flex baby stroller can significantly contain a few extra pounds of a baby more than that of Revolution SE. The seat can also recline, but not to a flat level.
Pros
The baby stroller is ruggedly constructed, durable, and wide.
The canopy is huge and has a peek window so that you can keep monitoring your little one.
The handlebar is adjustable, which maximizes convenience.
Cons
Having a footbrake is a downside of this stroller. For parents who desire more convenience, this could be detrimental.
Which Is the Better Baby Stroller Overall?
Before we further reach a conclusion on which is the best overall baby stroller, let's quickly look at the similarities and differences between the two Bob jogging strollers.
Design
The Revolution SE and Flex both have identical designs and build. They feature three big wheels with a swivel front-locking wheels. On top of that, it has the trademark Bob suspension system that offers a smooth ride over any terrain, a large canopy, and a padded reclining seat. The baby can sit comfortably on the seat, and the canopy will protect him from weather elements.
While both strollers feature a large canopy, the Flex stroller's canopy is more extensive and can significantly cover most parts of the baby starting from the head. It can also act as a car seat because it overlaps.
However, the canopy on the Bob Revolution SE can be adjusted in five different ways and can offer a significant degree of coverage. Both strollers have a peek-a-boo window that allows you to keep an eye on your baby.
The wrist strap is attached to the handlebar and will give you added security in case the stroller starts to pull away from you while jogging.
Weight
Bob Revolution Flex weighs over 28 pounds, while the Revolution SE weighs around three pounds less. This means that the Flex stroller can safely contain a baby that weighs a few more extra pounds when compared to Revolution SE. This huge weight support makes many parents love this baby stroller.
Handlebar
Both baby strollers feature a handlebar, but the difference lies in their adjustability. While the padded handlebar on the Flex is adjustable, the one on the Revolution SE isn't.
Tall parents may not appreciate this feature on the SE because it might be inconvenient for them. On the other hand, parents with different heights can use the Flex baby stroller without any complications.
You can adjust the handlebar on the Flex to 48 inches.
Price
Many budget-conscious parents would prefer the Revolution SE to Bob Revolution Flex. Revolution SE costs approximately $30 less than Revolution Flex, and that might mean because the Flex has better features than the Revolution SE.
Reclining Seats
The reclining seat on the Bob Revolution SE doesn't go pretty far down, unlike the one in the Revolution Flex that can completely recline to a flat level. However, the level of recline on the Revolution SE is enough to give the baby a comfortable nap.
Folding
You can fold the Bob Revolution SE stroller and the Revolution Flex easily in a two-step process. Both strollers don't have an automatic lock, which means that they can't stand alone after folding.
Safety Features
The safety of the baby is the number one priority of the Bob brand. Both jogging strollers have high safety ratings and feature a five-point harness. They also feature a handlebar, wrist strap, and footbrake.
Storage
Both Revolution strollers have many storage options where you can keep essential equipment. They have a cargo basket underneath the seat, backseat pockets, interior pockets, etc.
Accessories
None of the strollers come with an accessory, but you can purchase them separately. You can buy cup holders, snack trays, handlebar console with a tire pump, weather shield, etc. There are car seat adaptors that you can purchase separately as well if your infant isn't comfortable with the original seats on the stroller.
Conclusion
Both Revolution SE and Flex are two great jogging strollers that would make ideal choices for parents. They are versatile, moves well on all terrains, and have great features that will make it difficult for parents to decide which one is the best for their families.
Which is better between the Bob Revolution SE vs. Flex? The answer is it depends on the parent. In terms of features, the Flex stroller is slightly better than the Revolution SE.
The fact that it has an adjustable handlebar is an incredible plus for significantly tall parents. However, the Flex is slightly heavier and more expensive than the Revolution SE.
Many parents will go for Revolution SE because it's more affordable. Overall, they are great joggers for active parents.
Related Posts: